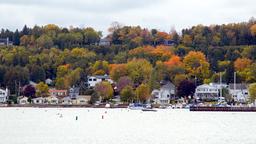 Find cheap flights to Wisconsin
Search hundreds of travel sites at once for deals on flights to Wisconsin
Top tips for finding cheap flights to Wisconsin
High season is considered to be January, February and December. The cheapest month to fly to Wisconsin is January.

Enter your preferred departure airport and travel dates

into the search form above to unlock the latest Wisconsin flight deals.
FAQs - booking Wisconsin flights
Do I need to take a coronavirus (Covid-19) test before flying to Wisconsin?
What documents do I need to fly to Wisconsin?
What other coronavirus (Covid-19) restrictions are there in Wisconsin?
Can I fly to Wisconsin? Are there any travel restrictions when entering Wisconsin?
Can I fly to Wisconsin without having to quarantine on arrival?
How long is the flight to Wisconsin?
What is the cheapest flight to Wisconsin?
What are the most popular destinations in Wisconsin?
How does KAYAK's flight Price Forecast tool help me choose the right time to buy?
Top 4 airlines flying to Wisconsin
Scores according to KAYAK customer reviews
8,3
Qatar Airways
Overall score based on 11 086 reviews
Cons: "Terrible service"
Pros: "Everything about the trip was great excellent customer experience"
Cons: "If I got to sit in first class coz the plane was so empty haha"
Cons: "Seat"
Pros: "The crew was super attentive. The seats were really confortable. I loved that the seat would completely flatten to make a « bed », wonderfully for sleeping!"
Cons: "The check in and boarding in Kathmandu was really not good. I requested wheelchair assistance when I booked, and was never offered a wheelchair nor any assistance for that matter ..."
Cons: "No gate for departure or arrival. No business class longe in Cape Town."
Pros: "Absolutely nothing."
Cons: "Everything. Firstly the flight was delayed, these things happen but nevertheless I end up missing my connecting Qatar flight to Belgrade, put into a horrible little hotel for 24hrs without my bag, no clothes or toiletries. At one point during the flight once everyone had their chairs reclined one hostess told me to not put mine so far back?!?! Then when asked well then person in front of me has to move theirs forward and her response no they don't. Absolutely shocking. To think I wanted to upgrade to business class. I'm traveling the globe over the next year and thought let me try Qatar but never again with this type of service and how they treat their customers."
Pros: "Crew was great. They made up for mistakes in a positive and amenable way."
Cons: "Flight was late. There was no communication about it. The flight from Joburg to Doha was late, therefore I missed my connection. The delay was not officially communicated to any of the passengers — no announcements made, no representatives to talk to at the gate — until well past the time that we should have been in the air. It was distressing."
Pros: "The "mini-refrigerator" for beverage storage at the business class seat."
Cons: "The portion of the Arabic language expression on the live flight mapping software should have been minimized."
Pros: "The plane was new and spotless, the crew did everything possible to make the flight great. Food service, and Wine and Cocktails were always served with a smiling face and it made you think of flying many years ago. Service cleanliness of the restrooms and staff were top notch"
Cons: "Nothing really."
Pros: "Crew was very attentive especially effective helping a mother with a spoilt screaming child!"
Cons: "The food was very mediocre!"
Pros: "Museum of Islamic Art,"
Cons: "No"
Pros: "Service is great, planes were on time or only minimal delay. Wifi access, food is pretty descent, blanket and pillow plus small package with toothbrush. Stewardess very friendly and helpful!"
Pros: "Excellent overall"
Cons: "LAX boarding was chaotic I think they should announce First people with disabilities Then Business class After that board Economy class from last rows"
Pros: "Excellent entertainment very friendly crew"
Cons: "Food is becoming predictable Qatar Airways"
Pros: "Qatar Airlines has amazing service! And they have free internet!"
Cons: "The films are all sensored. And the free internet is only for 30 minutes."
Cons: "Lack of crowd control at the gate during boarding. Ihad to"
Cons: "Service is always bad. This time from bag, all electronics have been stolen. It is 200$ worth things have been missing from my baggage."
Pros: "All crew were nice"
Cons: "Diabetic food not palatable,. No Mango juice, did not serve Diabetic meal earlier. I had hypoglycemia.."
Pros: "Films Service"
Cons: "Not enough films"
Pros: "Heavenly for an airplane ride!"
Pros: "Excellent service. Flight on time."
Pros: "Food was great. Attendants were courteous and nice. Airplane very confortable and clean."
Pros: "All"
Cons: "None"
Pros: "Staff very friendly. Loved the adjustable headrest as I am shorter and this is the first time flying that my neck was so comfortable I didn't need my travel pillow! Food was excellent!"
Cons: "Nothing!"
Pros: "The crew on my side of the cabin was very good."
Cons: "Not having available air for the center seats made our flight a truly awful experience. The older style seats are actually more comfortable for taller and larger people. My wife was virtually ignored by the male crew on her side of the aircraft."
Pros: "Generally good experience at least as far as a very long flight with two children can go. Good food with plenty and quite healthy snacks for kids. Very friendly and attentive crew, comparably comfortable seats, clean and comfortable bathrooms (what not always has been my experience with other airlines)"
Cons: "Due to a misunderstanding at check-in we have been seated away from a baby bassinette (although booked) to sit together with my husband, nobody asked what my preference would be (sitting as a whole family or having a bassinette) and a 17-hour flight with a 9month old baby constantly on my lap was challenging. Also a very disappointing selection of films and documentaries for adults. I ended watching a kids movie with my older daughter and it was the only thing I found appealing. Kids section very good though, my 5-year old was glued to the screen and all the options had my approval :)"
Cons: "- Airline changed flight and offered little forewarning for what was a material change (from 1 hour transit time to 9 hours) - Boarding process was inordinately slow with little attempt to move this along quickly - Service was halting at best"
Pros: "Boarding, the welcome on board, the food choice and quality were all excellent. The seat was comfortable and I got a few hours sleep. The entertainment screen was big and clear, and the choice of films was good."
Cons: "The choice of films and tv programmes, was good, but before watching each one i chose, I had to endure a couple off minutes of an advert- the same one every time."
Cons: "It was all good"
Pros: "Entertainment"
Cons: "Catering and seating. They ran out of food and drinks"
Cons: "Plane configuration; seats were a bit cramped, knee space."
Cons: "I checked in a couple of hours after checkin open but unfortunately I could not get my preferred window seat, got a middle instead. But still the leg room would have been ok but the middle seat (second row behind the bilkhead row) had the front passenger's entertainment system arranged across the footwell, not sideways, so it completely blocked the footwell and prevented any stretching of the legs. I am a tall passenger and this caused much discomfort on the flight, I had to keep getting up to walk around. I also found the seat bottom quite uncomfortable (not enough padding I think), butnghis could have been made worse by the footwell issue. Regards Neil"
Pros: "Nice people"
Cons: "6-hour delays coming and going. Sounds like a an issue."
Pros: "they have a good movie selection"
Cons: "it took awhile for us to get our bags in denpasar."
Cons: "Not enough check in desks operating - very long wait"
Pros: "The aircraft was kinda old.. There was no usp plug to charge ur phone. . This was an issue for me. . I was out of charge and i wanted to make some calls after landing"
Cons: "They supposed to provide Wheel chair for my elderly mother in Law who had a foot fracture, was very hard /painful to walk. I confirmed the wheelchair option well advance before her travel date in Qatar Airways Web site. I got the confirmation also in the Qatar Airways Web site. I usually fly with my family as I have a big family with couple of children and elderly. I will never fly Qatar again, this was the 1st and the last fly with Qatar airways."
Cons: "They supposed to provide Wheel chair for my elderly mother in Law who had a foot fracture, was very hard /painful to walk. I confirmed the wheelchair option well advance before her travel date in Qatar Airways Web site. I got the confirmation also in the Qatar Airways Web site. I usually fly with my family as I have a big family with couple of children and elderly. I will never fly Qatar again, this was the 1st and the last fly with Qatar airways."
Cons: "The seat cussion on the airplane is to hard for a 5+ hours flight. Not enough food for vegans"
Pros: "Crew was friendly. Flight left on time!!!!!! :)"
Cons: "Food was served too late. Unable to get a bottle of water as I was dehydrated."
Pros: "What they get right: The planes are comfortable and the flight attendants are attentive and kind. The price is okay, and there are plenty of flights from Doha to Manama."
Cons: "What they get wrong- Taking the Doha to Manama flight is like riding the commuter bus from New Jersey to New York City in the U.S. You get there, but that's about it. The waiting area is too small for the number of flights and quantities of people processing through. Many passengers were sitting on the floor while awaiting their flights. Not classy. The boarding process is tedious, and, inefficient, with people cutting in line, others trying to re-negotiate seating while getting their boarding cards scanned, and others not allowing room for additional passengers on the bus that takes you out to the plane. They get on, and block the doorway, so that they can be the first off when we get to the plane. It seems like no one is interested in making this quick and easy, so we can leave on time. That's the other thing. How can a local airline, named for its country, not leave on time? We were delayed about 20 minutes, waiting on people. Just leave them behind! Stick to schedule!"
Pros: "Excellent meals (3) and great service. Efficient minimal layover in Qatar."
Cons: "Coach seating on the plane from Nairobi to Qatar, for 5+ hour flight, very tight and cramped. Coach seating on flight from Qatar to NY was slightly bigger but not as spacious as coach seating on China Southern."
Pros: "Excellent food with a lot of variety. Very professional crew."
Cons: "I usually freeze on airplanes, but I was almost too warm. The plane was quite full."
Pros: "The staff was amazing! I started I get a headache- probably because of low blood sugar, and one of the attendant provided me with constant water, ginger ale, and chocolates. It was so sweet- she didn't have to make sure I was okay, but she chose to our the kindness of her heart!"
Cons: "The cramped quarters. I had a very tall person sit practically on my lap the entire flight, as he leaned his chair back the entire time. It left no room for me to use the table for my laptop. I was fortunate that no one sat next to me on my first flight, but for the second one I was not so lucky – so I couldn't work on my schoolwork."
Pros: "Qatar Airways is a nice airline and it's obvious they work on making your flight a pleasant experience with a lot of food, entertainment, etc"
Cons: "My flight was delayed 4 hours upon initially arriving to the airport. While it was important for me to be there when I found out this information because I needed to reschedule my connecting flightso due to the delay, this should not be required. Qatar Airways, knew the flight was going to be delayed at least 10 hours before they announced it. They should have already began the process of rescheduling connecting flights and figuring out problems before passengers arrive to the airport. I probably spent 45 minutes at the ticket counter working things out."
Pros: "The plane was steady on both flights I went from Kuwait to Doha to DAR. It would be good to note getting a visa in DAR is not a quick process and make sure to bring USD with you as they only take cash."
Cons: "The food wasn't particularly my taste of food, but was still decently prepared. Also note the grapes have seeds, interesting as I am used to seedless grapes in the USA."
Cons: "Seats were bunched up together with cramped up leg room."
Pros: "I really liked the service and demeanor of the crew and staff members."
Cons: "I didn't like the handling of an unexpected delay. It seemed to take an hour longer to handle the change over from one plane to another. The staff seemed rather unprepared for how to resolve the issue smoothly and seamlessly. Training in handling unexpected events might be a good way to overcome this."
Cons: "In Doha For security check they asked to empty my purse as well as my bag...which never happened in any of my previous flights in other airlines....when everything is going through X-ray why empty everything before it goes through X-ray.."
Cons: "Friendlier crews"
Pros: "The plane ✈️ itself the attendants . The entertainment on board. Really great"
Cons: "Nothing dissatisfying about the flight nor the airline staff . Very polite, very professional. It was a Great flight. For long trips this airline is one of the best."
Cons: "It's KLM. What else do you need to know."
Pros: "Information sharing by pilots and crew. Economy class leg room is good."
Cons: "All good up to the level"
Pros: "Staff were professional and polite."
Cons: "Despite zone boarding, boarding and disembarkation were very slow. Passengers like me with flight connections were very anxious regarding missing these."
Pros: "Good amount of space on the plane, lots of movies to watch, good food and drink."
Pros: "The crew was amazing, flight on schedule and good entertainment."
Cons: "Space is just reasonable on a long flight, even if there's seats more spacious that you could choose if you pay more."
Pros: "Seats super comfy. Ended up with 3 seats to myself that formed a bed for the lap Uk to NZ. Very nice!"
Cons: "The flight was a bit delayed, but the airline handled it incredibly well. I was put up in a great hotel with good free food and caught another flight the next morning."
Pros: "Checkin 1a at Schiphol had long lines, and no seperate counters for just bag drop. My family and I had to wait for 50 mins, to do a bag drop which in,y lasted 1 min! Flight was delayed, without proper announcements."
Cons: "Seat pitch could've been more. At least let us know via Whatsapp that the plane is delayed, or at which belt the bags would come out. This basic info was lacking."
Pros: "The space at my feet with the chair in front was a bit akward."
Cons: "Not being seated next to small kids. Perhaps they should have a separate section? ;-)"
Pros: "The crew was attentive and the seat at economy comfort was comfortable at the "ok" level. It needs much mor3 to be super comfortable. The plug for the headphones was a mess! It was NOT possible to watch a movie and hear the sound too! I gave up! Not a great offering for the extra dollars..."
Cons: "So many things! Starting with the way assistance in the airport is offered to travellers with mobility issues! This is an important issue that needs to be revisited and changes for better service to be made!"
Pros: "One crew member was very good but all were not very available or checking on people. I had a seat that I purchased and it was very hard to recline I only found out that it did if fact recline it the last hour to hour and a half of the trip! It was a difficult push back to get it to recline"
Cons: "If I knew how to recline my seat earlier. I did try several times"
Pros: "It was all fine"
Cons: "Really was unsure of why I had to purchase a ticket as I was able to pick my own on the way to Billund"
Pros: "The crew was nice and helpful (our flight was 2h late so they put us on the one before in business class for us not to miss our connection)"
Cons: "A lot of delays, on both flights. We spent twice as much time waiting than flying."
Pros: "the crew was nice"
Cons: "Seat confort on long flights, leg rooms,"
Pros: "Best airline in the business quick efficient and outstanding service What else can you say"
Pros: "Crew was in a festive mood, the meal was unexpectedly delicious"
Cons: "Seats ok, but could be more comfy"
Cons: "Flight canceled, poor communication from the airline to the passengers. Møre than 5 hrs delay"
Cons: "Trouble checking in regarding a visa issue?.. no other trouble at the other airports.."
Cons: "Landlords gave an unpleasant service! Which continued with late of 50min of the flight, they didn't do anything to help/ to provide the passengers the answers. The food was cold It was comfort place to sit. Bad experience with KLM"
Pros: "Flying with KLM is a pleasure"
Pros: "The food rocks! I know that I will always be eating well with KLM. The staff is always so nice, professional and cordial...I always know I'll be in good hands with the flight. KLM #605 from Amsterdam to SFO---please pass the praise to all of them."
Pros: "The attention and service!! Excellent. It was my birthday and KLM the head purser surprised me with 2 bottles of bubbles and a handwritten birthday card KlM and the crew of this flight thank you very much !"
Cons: "Nothing to say"
Pros: "Crew"
Cons: "N/a"
Pros: "We are guessing they either overbooked or they didn't have sufficient passengers on a Tuesday afternoon who's final stop was Glasgow. They rebooked him for 1200 the next day. DFW to MN, St Paul to Schipole, Amsterdam to final destination, Glasgow. So he ends up having to pay for another Lyft back to our apartment in Dallas, then another additional one for the 12 noon flight the next morning. If he didn't have family living in Dallas, he would've incurred a hotel fee too."
Cons: "He was bumped to the next day due to his flight being cancelled. Then re-booked the next day, with an additional layover. Then due to a 32 minute layover that left 3 minutes sooner..."
Pros: "The staff are the best European crews I have encountered. Naturally friendly, professional and fit looking. Nothing is too much trouble"
Cons: "Amesterdam airport employee was really rude"
Pros: "Helpful and smiling cabin crew."
Pros: "Nice seats, comfortable."
Cons: "Again, no aisle seat for SkyTeam Gold member. Also, my baggage was lost. First bag arrived a day late, second after I had left Billund and it was six days before the bag with my clothes reached me. I was told I will have 100 euro credit for clothing, but in the winter and for 6 days, this was not even close to the amount I needed for clothing and necessities, to have my time here."
Pros: "The supplied pack of toothpaste/toothbrush"
Pros: "Entertainment was good, and crew was very nice and accommodating. Flight was very comfortable and smooth."
Cons: "The food was okay, not that great."
Pros: "Crew was courteous and polite! Entertainment system had some great movies at no additional cost."
Cons: "Poor communication between delta, KLM and Air France meant that I couldn't check in online and get a digital boarding pass. Furthermore I couldn't use the check-in kiosks because my name was listed as Reidmr instead of Reid, which meant that my boarding pass did not match my passport. Overall this caused unnecessary delays that were compounded by the fact that I couldn't use my TSA precheck. My main problem on the plane was that I had to struggle to get water served to me. It's always so dry on planes and I would have liked to be able to get more than one tiny glass of water at a time. Also, would have loved a window at my window seat. Plus no WIFI!?"
Cons: "Service from airline host Poorly maintained plane Bad food Old entertainment"
Pros: "From downloading the KLM app to the final touchdown of my final flight, everything was an ease, checking in, the option to change my seat, the service received was great."
Cons: "The ability to state a seat or meal preference within the app would be good but otherwise all was good."
Pros: "Great food"
Cons: "Sears we're toooo small"
Pros: "Wider seat than most business class"
Cons: "Row 6 in business is after the first 5 rows and Galley and restroom. Very awkward"
Cons: "The leg room on the long flight was less than I would have wished and it was particularly bad when the person in front put their seat back. this was a day time flight and it would have been good to have a bit more room to use a laptop."
Pros: "I really like the spaciousness, the plug ins and general service"
Cons: "I have a dairy allergy but had no option to prepurchase a dairy free meal. It made for a very unenjoyable flight as I couldn't eat anything they had. What was worse was after I told them of my situation they said they understood and had a meal that would do but there was cheese, yogurt, milk chocolate, etc."
Pros: "great choice of entertainment content, friendly crew"
Cons: "Departure 40 mins late. I took this flight 2 weeks ago and it was also delayed."
Pros: "Easy airport business"
Pros: "Service was good"
Cons: "Delay"
Pros: "Flight crew on flight from Amsterdam to Cape Town were probably the most friendly and enthusiastic I've experienced and no, they were not all young. The plane was spotless throughout the flight. They were always coming around with water and juice and they genuinely seemed to care about all the passengers. The Flight back crew were just the opposite. More like the old lazy farts you get on the American carriers or BA or QF long haul. Whoo have been there for the long haul and should have stopped ages ago."
Cons: "The Entertainment images on the screens promoted Beauty and the Beast, Batman Lego movie but neither were on the system! Food quality was rubbish"
Pros: "Nice, turbulent-free flight. Food was good, service with a smile. Leg space was OK because Boeing 777s are usually better at this."
Cons: "Flight left over an hour late because of a sensor glitch. It is concerning when a technical glitch happens. But, the flight was smooth."
Pros: "leg room economy compared to KLM"
Cons: "full flight, no upgrade possible"
Cons: "With skyteam elite status cannot select free upgrade from economy to premium economy unless it is 30hrs before boarding for this code share which is actually a KLM flight"
Pros: "Excellent service and comfortable flight"
Cons: "Flight delay roughly an hour"
Pros: "If you would like to learn more you can call me 628.600.8825 Very dissapointed"
Pros: "Good food, good entertainment system, comfortable seating."
Cons: "Only one toilet working in business class. A crew member told me that it was a decision to fly with only one toilet to ensure no delay. There was a disgusting stench of sewerage for the complete flight from Amsterdam to Johannesburg. This was in all likelihood due to the broken toilet on the left side."
Pros: "Clean plane , good crew ,"
Cons: "they didn't load my baggage from flight 1 to 2"
Pros: "I loved the different features on the screen and the excellent. Customer service on this flights"
Cons: "The space on the seat."
Pros: "I like the crew and their service, the food was amazing speacially the vanilla cheese cake desert was on point, loved it. I loved the "my flight "interaction on the screen and the different view of the plane, cockpit view, left, right etc.. amazing feature."
Cons: "The seat could have been much better as far as reclining and space. Overall I loved the flight."
Cons: "The Premium Eco seats are a catastrophe. They don't recline: the seats only slide down slightly but the upper part of your body doesn't move much. This makes for a poor experience, especially on a night flight. Except if you need the extra width, Eco has better value."
Pros: "The seat was really comfortable and I was able to sleep the whole flight with no disturbance"
Cons: "N/A"
Pros: "More space in business class (777-300) than many other airlines."
Cons: "Entertainment very limited. No adjustable air vents in this aircraft"
Pros: "Spacious business class seats, excellent meals"
Cons: "Lack of ventilation in cabin, and staff refusal to turn heaters down (in September), very limited entertainment options."
Pros: "Great crew and entertainment. Terrible experience at CDG airport but that's the airports fault."
Cons: "They made me check my carryon rolly which is allowed on every other plane in the world, which meant going all the way back into a chaos of hundreds of people to check in. Because I had a connecting flight to New York in London, the check in caused many problems...and everything inside soaking wet"
Pros: "The crew did its best to make up for the fact that the special meal I ordered was inedible."
Cons: "See previous"
Pros: "The schedule and timing"
Cons: "The airport, some of the crew, the aircraft seats, the entertainment system"
Pros: "Food"
Cons: "Seat"
Pros: "crew great comfortable"
Pros: "Crew was nice."
Cons: "Food could be better, or at least be provided an option to purchase an upgraded meal. Also, insufficient amount of drinking water provided to passengers."
Cons: "Seat was super uncomfortable. Could not fit in my legs at all, could not recline it enough. Maybe sufficient for a one hour flight, definitely not on an intercontinental flight."
Pros: "Crew was amazing. Service and food was good."
Cons: "Random TSA check was not needed at the end when boarding."
Pros: "Left on time. No turbulence."
Pros: "The crew"
Cons: "Seats! They were too small!"
Cons: "Air conditioning too cold. Wasn't offered an evening meal. My luggage went missing and I'm still waiting for it to be delivered."
Cons: "I have never been in a situation were a flight has been delayed due to the co-pilot suffering a knee injury prior to take off. A request for a doctor on board after an hour or so and then having to leave the plane and then re-board after about 40 minutes was quite bizarre."
Cons: "There was no entertainment and there was a lot of annoyed passengers and flight attendants"
Pros: "Flight was on time."
Cons: "Food could have been much better in comparison with other airlines."
Pros: "The Air France service was ok. Got me to my destination on time and alive."
Cons: "I flew out on KLM on what felt like a new plane. Amazing service, seat, temperature, entertainment and food. In stark comparison Air France's plane was old, too hot, poor entertainment choices and system and average food which for the French was surprising!"
Pros: "Not much but the staff"
Cons: "No room, boarding was slow, zero bag or legroom"
Pros: "The crew worked hard, but the food was below the French standards."
Cons: "The flight was delayed for 2.5 hours and the passengers spent this time in the cabin without a/c."
Pros: "It was on time"
Cons: "Hard seats Boarding was 35 min delayed"
Pros: "Great service and food."
Cons: "Tv screen is resolution is to low. Hard to see details."
Pros: "On time."
Cons: "Did not seat together passengers, although booked and checked in at the same time."
Pros: "If the flight would have leave in time we would receive our luggage in time"
Cons: "The food was the worst airline food I have ever been served. I could not eat it. This is very disappointing for an airline like AirFrance which usually serves very good meals."
Pros: "The cabin crew were excellent"
Cons: "We were transported to the plane which was quite some distance to the plane via bus after climbing down steep stairs from the departure gate area. Then we had to climb steep steps in extremely hot weather. We were then delayed for a hour in the plane in very hot conditions as the plane had its air conditioning off and the ground air conditioning was not put on. We were swearing in the heat for an hour!! We arrived at our destination and hour and half late!!"
Pros: "The stewardesses were extremely kind and helpful to me as I was travelling alone with my toddler. I really appreciated their help and kindness."
Pros: "Nothing"
Cons: "The seat seemed smaller and space was very uncomfortable. The boarding process was very painful because we had to wait for a longtime."
Cons: "Flight was delayed 3 times and when I was finally put on a flight that was leaving, they failed to check the connection in Paris (Left me 10 minutes to get from the aircraft to the other plane!) I was moved to SAA in the end after a truly traumatic time in Johannesburg. This is not the first time I have suffered at the hands of Air France sadly. Needless to say, I wont be booking with Air France again."
Cons: "Plane was canceled at the last minute with a transfer desk literally assaulted by 100s of people. Only 3 persons on the desk. No lane for sky priority. Queued for nearly two hours before some airport employee gave us instructions to travel by train without any other information or tickets etc. Had to buy my ticket. Couldn't recuperate my suitcase. Had to wait for it the next day for three hours. Up to this hour I don't know how I am going to be reimbursed (train and plane)."
Pros: "In cabin crew was attentive and friendly. Food was good and came at good times. Middle bathroom on Airbus 380 was big and comfy."
Cons: "Boarding was not too well organized and I followed Security's direction who put me in wrong line and I wasn't able to board with my priority group. Sitting in exit row with no floor storage so this delay made it hard to find overhead storage above my seat. (Grrrr) Entertainment system didn't work which made the flight feel LOOONG. (They offered an in-flight credit, but I'd paid for premium exit row seat and had to choose between moving to working system in crowded middle seat or keep premium, exit seat. I decided to have them move me to a seat with a working entertainment system, which were available and they'd offered, but never happened.) When I got home, I discovered the gift I purchased with in-flight credit and my own money wasn't the one I'd requested from Duty Free catalog so now I have to figure out how to solve this problem. (COULDN'T GET IT RIGHT.) Premium exit row seat was narrow, due to in-seat tray table & entertainment system, but seatbelt mounts and thinly padded seat made it even more uncomfortable on a long flight."
Pros: "Offering a drink on such a short flight is appreciated albeit unusual these days. Crew was very professional and friendly."
Pros: "The fresh bread and cheese."
Cons: "The staff is very unprofessional in receiving the passengers and serving the drinks mainly. The luggage wasn't received and after 24 hrs no news about it! It's a shame"
Pros: "Staff was nice"
Cons: "MD planes are old and not very comfortable."
Pros: "Boarding & crew (inc ground staff & check-in) all good."
Cons: "Food not great - not all menu options available. Limited choice of drinks. Very small, low-resolution, seat-back screens with a luggish & outdated interface. Limited choice of movies."
Pros: "Good service all around, personnel pleasant"
Cons: "Very difficult to find where to register with the flight but this is more tied to the way things are run by the airport"
Cons: "Air France lost my luggage and they can't find it in the computer system."
Pros: "Late, not enough legroom, smell from the toilet. Tiny TV screen, malfunctioning electronics, poorly maintained seats. Friendly crew! They looked tired, but they were still smiling while trying to keep passengers happy."
Pros: "Flight went smoothly"
Cons: "Flight left late The seats are small and crowded There are no entertainment options"
Cons: "Food and coffee were cold. Service on AF is getting worse."
Cons: "We tried to check our bags through Charles DeGaulle onto our connecting Air Canada flight and the agent refused to even discuss it. Pretty bad service."
Pros: "Movie selection was awesome! Food was good too."
Cons: "Too many interruptions. Every time there's an announcement, it interrupts the movies and some of the announcements were completely unnecessary and there were so many of them, it was like constant interruptions, really annoying."
Cons: "Flight was delayed by 1 hour 30 minutes. After over 24 hours of travel this was not appreciated. Also no lounge access at Toronto airport."
Pros: "Friendly crew, clear information about the delay"
Cons: "Chaotic boarding process at CDG and my seat was broken"
Pros: "The crew was nice .."
Cons: "We were very late for take off. Don't understand why No USB plug. No charging spots. No video. No movie. No radio. No wifi."
Pros: "Flight was quick and easy"
Cons: "Seats are small. Luckily the flight is short bit for anything longer than one hour I do not recommend this aircraft"
Cons: "Airplane temperature was freezing"
Cons: "The departure gate was changed four or five times, including after we had traipsed from one end of the concourse to the other, only to have the gate changed BACK to the one from which we came. This was at supper time; we wanted to eat in the terminal but were rousted from two different lines to change gates. We couldn't stop running back and forth long enough to eat! I got updated info more quickly from Kayak than from United, despite having signed up for email and text notifications and having the United app. Come on!! Eventually we were marched down to a narrow hallway, crowded with passengers from two other departing flights, held in formation by obviously harried gate agents and finally led outside to the ramp to board the plane. The worst boarding experience. Ever. Give me Southwest anytime."
Pros: "On time departure."
Cons: "It was a CRJ-700, but I was cramped..."
Pros: "Love the movies available on the United app"
Cons: "The A/C was blowing ice cubes at me, which wasn't the worst because it was pretty warm yesterday, but still it was less than ideal."
Cons: "When flight is delayed (by taxing for 45min or delayed take off of 3h40) allow passengers who are trying to connect disembark first."
Pros: "The crew made the best out of it and thankfully it's an extremely short flight."
Cons: "A 20 minute flight was delayed for 2.5 hrs. United did a terrible job with notifying passengers, just simply bumped out departure in 15 min increments. Original excuse was inbound delay, although plane was there for 6 hrs already. Passenger soiled himself in cabin and there was no ventilation."
Pros: "Flight was extremely late!"
Pros: "Free snacks they gave us for the 6 hours delays."
Cons: "Everything, the delayed no one knew what was going on. It was also expensive and not as comfortable as other plans"
Cons: "Late again"
Cons: "Tuna and crackers as a first class snack option? And yes, pay for WiFi again."
Pros: "the flight was cancelled!!!"
Pros: "Mediocre. The attendant was lovely."
Cons: "I hate being charged for one bag. It should be included. I'm glad I wasn't bumped off and dragged off the plane bloodied, it was a concern. Especially because I'm an Asian person."
Pros: "Flight and crew great"
Cons: "I had one small bag and just did the economy and was going to put it under the seat. The guy at the checkin did not allow my bag and made me check it EVEN THOUGH it fit in their mock tray. He said I squeezed the sides 1 inch and that it just need to go in the tray by gravity. That is complete BS. As long as it fits under the seat and I am not putting my feet in others space thats is all that matters. Check in people at least one guy in Denver needs to be retrained."
Cons: "Flight delayed 45 min to change a tire. Takes too long to get paperwork for mechanical issues completed. Delayed 10 min on arrival while gate was readied. They had 2 hrs to get ready!!"
Pros: "N/a"
Cons: "I didn't like that I had to tell someone to meet me so I could hopefully be on time at work. I was not on time .! I'm unhappy !"
Pros: "Nothing"
Cons: "Gate attendant did not help people asking questions and snickered as an elderly couple walked away confused."
Pros: "It is hard to do poorly on such a short flight"
Pros: "Everything!"
Cons: "Nothing"
Pros: "I made it home"
Cons: "No plugs for electrical, no entertainment and no internet. The seats were very tight. Especially the man next to me was 300+ lbs. Also I had to pay for baggage even though I have united cc. American has all these things and doesn't charge me for baggage."
Pros: "It was a quick flight that was really nice"
Cons: "People got on at the last moment"
Pros: "I actually was upgraded (for once) so the flight was fine."
Cons: "The onboard entertainment is ridiculous. And on top of that you have to pay for it?!?"
Cons: "Firat flight wver. Age 28. Lots of turbulence. 4 hour delay with no explanation"
Pros: "Nothing"
Cons: "Uncomfortable seats. Crew did not stop talking on the speakers"
Pros: "The flight was short and left on time."
Cons: "The same problem as with the other flight: no headrest tabs and not much leg room."
Pros: "Flight was delayed almost missed connection."
Cons: "Wouldn't let us off the plane for over an hour. 100 yds from the gate. Got home after midnight."
Pros: "Never been treated so disrespectful and like I was insignificant in allyour life!"
Pros: "Being told how unimportant my issue/ need was"
Cons: "Customer service, terrible desk agents and a triple delay."
Cons: "My flight was delayed by an hour and a half. That's the amount of time I could have spent to drive home to Milwaukee. I stuck around because there was no indication of a flight cancellation. I would rather hop on a 15-30min flight than go through the hassle of renting a car. BUT the flight did get canceled, the next flight was completely booked and the next flight out after that was at NIGHT. I arrived in Chicago in the morning. The gate agent told us all to head to United customer service. There I received RUDE, poor excuse of a "service" only to be told they don't give refunds at the counter as we were told by the gate agent. So do that on your own time. THEN I had to buy my bus ticket and spend 1.5-2hrs on top of already waiting 1.5hrs for the flight that got canceled. HORRIBLE. Will never fly United again. Did i mention upon my arrival home I found out American was WIDE open seat wise to chicago?? And no one checked for me!"
Pros: "Efficient and arrived early."
Pros: "It never took off. I should have just drove from NYC to Milwaukee. It would have been faster! Now, I have to deal with baggage issues because they made me unnecessarily check my carry on."
Cons: "All of it"
Cons: "The return flight took about over 4 hrs of delay."
Pros: "Smaller crowd"
Cons: "Had to rush from one terminal to another to just barely make boarding, there was a bad smell on the plane, and the staff was not friendly."
Cons: "There were no snacks on the second leg of the flight. I guess the flight was too short."
Pros: "There's really nothing good to say, because it never happened."
Cons: "Same problems I had with the Phoenix to San Francisco leg. The flight never happened. It was cancelled and I was stuck in Phoenix another night, missing my kids. No compensation was offered. When I asked, they said, "oh, we don't do that." Yet another reason to never fly United ever again. Alaska doesn't have to be asked for compensation, they just compensate you, period."
Pros: "The movie selection was great"
Cons: "The food was horrible"
Pros: "Friendly crew. Very short flight so rating entertainment & food is not really relevant. 15 minutes in the air."
Pros: "What can you say ?? It's a 20 minute flight on a tiny cramped plane but it got us from A to B on time. Crew was as friendly as they needed to be. Landing was very hard."
Pros: "How helpful the flight attendants were. And how they didn't disturb me while I slept."
Cons: "How there wasn't much elbow room for the person sitting in the middle seat."
Cons: "The flight was canceled with no explanation or an offer to reschedule. The next flight available was tomorrow afternoon which was not acceptable. When I asked customer service about a refund I was told to go to the website, but it was not guaranteed. Highly disappointed."
Pros: "Crew was efficient, professional and pleasant."
Cons: "No food; only a drink. Tight seating. No entertainment. The sun kept bouncing off the magazine and iPhone of the lady kitty-corner across the aisle into my eyes-- very uncomfortable!!"
Cons: "I missed my connection due to long lines in customs and security. United was unable to get me another flight out that day and I ended up taking a bus back to Milwaukee instead."
Pros: "Easy and on time!"
Pros: "The smooth take off & landing. The flight attendants were very helpful."
Cons: "Nothing"
Cons: "In Houston, At the gate with my ticket in hand, I was told I was not on the flight and would have to be scheduled on the next flight. The boarding pass in my hand matched the flight and time with the seat I picked out online when I purchased the ticket. Then a bad storm went through and many flights were cancelled. (Not the fault of United of course). About 9 hours later with a new boarding pass, I went to the gate to board and was told once again that I was not on that flight even though I was holding a new boarding pass!! What is going on here!? How can this happen twice to the same person, let alone happen at all??!"
Pros: "We were on time and that was great!"
Pros: "The flight attendant tried to work with the overpacked plane."
Cons: "Overcrowded, items stolen from luggage, my bag was open when I was trying to get it off baggage claim, I only had half a seat, the flight smelled horrible."
Pros: "Had crosswinds and thermals but pilot and crew handled it well. On time arriving,"
Cons: "Terrible gate issues, confusing layout, flight attendant was a bit harsh, very uncomfortable !"
Read more about Qatar Airways
Safety measures for airlines flying to Wisconsin
Airlines flying to Wisconsin have enacted additional safety measures and adjusted policies to better accommodate travellers. Policies vary by airline.
Heightened sanitation
Daily cleaning, installation of cabin HEPA filters on flights to Wisconsin
Mandatory masks
Masks required on board, masks provided on flights to Wisconsin
Social distancing seating
Middle seats unavailable to book on flights to Wisconsin
Pre-flight testing
Testing for antibodies, testing for symptoms for flights to Wisconsin
Book Cheap Wisconsin Plane Tickets
Recent return flight deals
Search by stops
Search by airline
Search by price
Recent domestic flight deals
Search by stops
Search by airline
Search by price