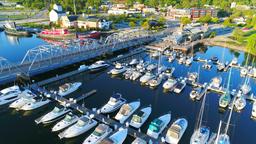 Find cheap flights from Johannesburg to Wisconsin
Search hundreds of travel sites at once for deals on flights to Wisconsin
Top tips for finding cheap flights to Wisconsin
Book at least 4 weeks before departure in order to get a below-average price.
High season is considered to be January, February and December. The cheapest month to fly to Wisconsin is March.
FAQs - booking Wisconsin flights
Can I fly to Wisconsin? Are there any travel restrictions when entering Wisconsin?
Can I fly to Wisconsin without having to quarantine on arrival?
Do I need to take a coronavirus (Covid-19) test before flying to Wisconsin?
What documents do I need to fly to Wisconsin?
What other coronavirus (Covid-19) restrictions are there in Wisconsin?
How does KAYAK find such low prices on flights to Wisconsin?
How does KAYAK's flight Price Forecast tool help me choose the right time to buy my flight ticket from Johannesburg to Wisconsin?
What is the Hacker Fare option on flights to Wisconsin?
What is KAYAK's "flexible dates" feature and why should I care when looking for a flight to Wisconsin?
Top airlines flying Johannesburg OR Tambo to Wisconsin
Scores according to KAYAK customer reviews
7,9
Delta
Overall score based on 29 577 reviews
Cons: "Broken tray table literally off its hinges and unusable."
Pros: "Definitely pick comfort plus on this flight if you can. You can walk around a lot more on this flight compared to other flights. Food was really good! Recommend the overnight flights...."
Cons: "More leg room would have been nice..."
Pros: "Good Flight"
Pros: "Good crew, on time flight and departure."
Pros: "The head flight attendant was very nice and fun!! She made a delayed flight so much better. Plus, or pilot was great!"
Cons: "sat on the tarmac for 3 hours because the pilot was late."
Cons: "The check process was ridiculous. There not enough room in the box for me to explain my experience but the ticket agent lied to me, said he couldn't take my bag until I got a paper receipt and boarding pass from a kiosk despite having had pre-paid for my bag and digital boarding pass. 25 mins wasted"
Pros: "Reliable - on time - good service - made up time for a late departure"
Cons: "All Good stuff"
Pros: "The crew was great. Honestly, they remembered my face and greeted me when I saw them that night in the hotel."
Cons: "I can't think of anything. I had great service on the ground and in the air. All the personnel were kind and helpful."
Pros: "Crew was good. It was great to be able to watch a movie, TV, or play a game to pass the time."
Cons: "More let room when someone puts back their seat."
Cons: "Baggage"
Pros: "The A/C worked, that's about all"
Cons: "Old plane, no entertainment in head rests, had to use iPad not the same movies to choose from. Seats were so uncomfortable."
Cons: "at last minute itinerary was changed.. instead of routing through Brisbane, was now routed through Sydney. Flight from Sydney to LAX was delayed by 4 hours, then missed flight LAX to LAS... overall long delayed arrival. Checked the route through Brisbane, and those flights we're all there, departed and landed all on-time... so wondering what the reason was for the change of the itinerary without a cause (no cancel or delayed flights through Brisbane)"
Pros: "Everything except lack of internet connection AFTER paying $19.95"
Cons: "Not getting internet after paying $19.95"
Cons: "The floor of the aircraft was cold!"
Cons: "Seating poor — crowded and little leg room"
Pros: "It felt like it was over before it even started!"
Pros: "Great employees, genuine, quick drink service, early arrival, available entertainment"
Cons: "Boarding process was slow and backed up due to extra baggage needing to be checked involuntarily"
Pros: "The flight was fine. I don't do 5 stars ever since they started pushing the limits on seating. I also have a problem with the wide swing in prices for the same flight but know that is marketing."
Cons: "Seating is too crowded for anyone to be truly comfortable"
Pros: "Snacks, drink, and spacious leg room in emergency exit row. Friendly and helpful crew."
Cons: "No entertainment"
Pros: "Cornell and Dorothy and the other flight attendants were the BEST! Cornell actually welcomed each passenger as they came onboard. Dorothy modeled the emergency info in such a graceful way... that you chose to pay attention because she made you feel secure. My colleagues and I have all agreed to fly Delta again ( specifically the Atlanta/ Milwaukee flight) Because of these courteous, caring, and professional people!"
Pros: "Snacks"
Pros: "Nice crew, no delays"
Cons: "Stood by as people blocked aisle during boarding, making snide comments. Instead, the two should have assisted & encouraged the passengers to step out of the aisle & move along. Was very cold hit call light fir blanket. No response for 10 min so went to the bs k of plane where the crew was chatting & eating. When I asked about blanket, they didn't look fir any & said they didn't have any unopened. Upon leaving big plane, I saw a stack of about 5 packaged blankets in the front. Just rude & lazy older crew. Time for a different job fir them"
Pros: "Comfort Plus seating was good for the long flight, lots of choices for entertainment."
Cons: "Some crew members were rather cold in their manner, either disinterested or grumpy. Electric outlet didn't work. On screen entertainment touch screen was very difficult to use (unresponsive to touch)."
Pros: "Direct flight, on time, friendly crew, smooth flight"
Pros: "Once we boarded the plane, we still had to wait for the pilots to arrive and then for them to run through their pre-flight checking before we could get underway."
Cons: "The flight was delayed and the departure gate moved at the Atlanta airport 3 times to 3 different concourses before we were finally able to depart around 1 hour later than scheduled."
Cons: "Older plane and seemingly frustrated crew. They had very little patience."
Pros: "The boarding was ok due my on pert on being able to board early. The stewards were nice, friendly and helpful"
Cons: "The seats were the same size as economy. I was disappointed due to fact I traveling with a larger friend and hoped to be comfortable. So much for that idea. The snacks and monitors were limited on each flight. I felt my prices should have as well. I guess this was a learning experience for me. Now I know there is only 1st class and economy."
Cons: "Seats are too small in both width and knee room"
Pros: "2 Delta employers went out of their way to address our messed up situation and make sure we got home without robbing us blind."
Pros: "Staff was awesome."
Cons: "The plane was an older plane and just not as comfortable."
Pros: "Someone was sitting in our sit. But put us in three sit so happy . She was so nice lady"
Cons: "Food"
Pros: "Very comfortable plane, 4 snack choices, friendly crew."
Cons: "It was all good, except that the charging stations were difficult to figure out since they were out of sight under the seats. I had to have the flight attendant plug in my charger."
Cons: "The flight attendants were unfriendly and borderline rude. I felt like when I asked for anything or was just up stretching my legs that I was bothering them. There was also quite bit of turbulence in the first two hours- I have traveled a lot and I felt like it took the pilots too long to find a smoother altitude."
Pros: "Friendly crew"
Cons: "Seats too close. Food lacks salads. Fruit salad tasteless--fruit not ripe--looks good, but no taste."
Cons: "The plane was delayed by more than 3 hours due to "weather problems" earlier in the day. Delta did not permit re-booking to flights that left JFK for Boston earlier, even tho there seats available, instead insisting that we had to wait for our assigned flight. Small snacks (regular Coke, no Diet) did not really compensate well."
Pros: "On Time"
Pros: "Very nice entertainment and staff"
Cons: "Flight was completely full and I was seated next to someone who required TWO seat belt extenders! I was so uncomfortable, they were sitting on top of me, couldn't even put down the arm rest. The flight attendant said there was nothing they could do."
Cons: "Hello allow upgrades to first class if they're available even when the flight takes off -on my flight in to Atlanta the pump three people up to first class and love them to sit in on my flight home to sit still empty what's up with that ?"
Cons: "Not having a seat assignment until arriving at the gate."
Pros: "Friendly crew, on time"
Cons: "Ended up stuck at Laguardia for 9 hours, tried to get onto earlier flight and wasn't able to because as I arrived as the jet bridge door was closing. The delta crew was pleasant, but I sat at the terminal watching to see how quickly that plane would back out to depart.... it sat there for another 45 mins, while I sat there wishing I was on it. My later/original flight ended up being delayed multiple times (not due to weather) and given no explanation for why."
Pros: "First time I've seen Delta have zone boarding areas near the gate, kinda like what Southwest does with their boarding numbers. Kinda worked, kinda still a mess. One crewmember was nice to my son at the end of the flight, offered to get him into the cockpit for a photo op."
Cons: "Very little legroom. My knees just barely fit in the aisle."
Pros: "Don't know yet. We're still waiting to leave."
Cons: "That you're asking how it was before I left."
Pros: "That we got home. Delta was apologetic but it would be nice if you didn't get stuck for hours touching and looking at the grime left by others."
Cons: "Too bad the attitude of one crew member wrecked it for her coworkers but this can happen. Sorry for Delta and pasengers. The plane was disgusting, filthy, miserable. Dirty trays for more than one in our party. The lavatory on starboard side was a wreaking urine splattered mess before the plane took off. Come on airlines. Take your profits and at least clean your crappy old planes if not replace them."
Cons: "Delayed."
Pros: "It was a pretty comfortable flight, with lots of options for entertainment. The food they serve was fairly good and the whole crew was very helpful and kind."
Pros: "Flight was quick and easy"
Cons: "Seats are small. Luckily the flight is short bit for anything longer than one hour I do not recommend this aircraft"
Cons: "Airplane temperature was freezing"
Pros: "Trenton was outstanding. Very professional"
Cons: "The departure gate was changed four or five times, including after we had traipsed from one end of the concourse to the other, only to have the gate changed BACK to the one from which we came. This was at supper time; we wanted to eat in the terminal but were rousted from two different lines to change gates. We couldn't stop running back and forth long enough to eat! I got updated info more quickly from Kayak than from United, despite having signed up for email and text notifications and having the United app. Come on!! Eventually we were marched down to a narrow hallway, crowded with passengers from two other departing flights, held in formation by obviously harried gate agents and finally led outside to the ramp to board the plane. The worst boarding experience. Ever. Give me Southwest anytime."
Pros: "On time departure."
Cons: "It was a CRJ-700, but I was cramped..."
Pros: "Love the movies available on the United app"
Cons: "The A/C was blowing ice cubes at me, which wasn't the worst because it was pretty warm yesterday, but still it was less than ideal."
Pros: "The crew made the best out of it and thankfully it's an extremely short flight."
Cons: "A 20 minute flight was delayed for 2.5 hrs. United did a terrible job with notifying passengers, just simply bumped out departure in 15 min increments. Original excuse was inbound delay, although plane was there for 6 hrs already. Passenger soiled himself in cabin and there was no ventilation."
Pros: "Very clean and comfortable seats."
Cons: "I wish United had better snacks."
Pros: "Flight was extremely late!"
Pros: "Free snacks they gave us for the 6 hours delays."
Cons: "Everything, the delayed no one knew what was going on. It was also expensive and not as comfortable as other plans"
Cons: "In flight entertainment system not working."
Cons: "Late again"
Pros: "On a recent trip it was very good to be in the new dreamliner and with staff that were enthusiastic and being able to deliver a good product, food and comfort wise was a big bonus. Thank you"
Cons: "Tuna and crackers as a first class snack option? And yes, pay for WiFi again."
Cons: "The flight was not comfortable at all"
Pros: "No layover and the guy was nice to sit all 3 of us together."
Cons: "Unorganized for boarding, unorganized for check in, no snacks, no meals available on flight or at the airport due to it being a late flight."
Pros: "Mediocre. The attendant was lovely."
Cons: "I hate being charged for one bag. It should be included. I'm glad I wasn't bumped off and dragged off the plane bloodied, it was a concern. Especially because I'm an Asian person."
Pros: "Flight and crew great"
Cons: "I had one small bag and just did the economy and was going to put it under the seat. The guy at the checkin did not allow my bag and made me check it EVEN THOUGH it fit in their mock tray. He said I squeezed the sides 1 inch and that it just need to go in the tray by gravity. That is complete BS. As long as it fits under the seat and I am not putting my feet in others space thats is all that matters. Check in people at least one guy in Denver needs to be retrained."
Cons: "Flight delayed 45 min to change a tire. Takes too long to get paperwork for mechanical issues completed. Delayed 10 min on arrival while gate was readied. They had 2 hrs to get ready!!"
Pros: "N/a"
Cons: "I didn't like that I had to tell someone to meet me so I could hopefully be on time at work. I was not on time .! I'm unhappy !"
Pros: "Nothing"
Cons: "Gate attendant did not help people asking questions and snickered as an elderly couple walked away confused."
Pros: "It is hard to do poorly on such a short flight"
Pros: "Everything!"
Cons: "Nothing"
Pros: "I made it home"
Cons: "No plugs for electrical, no entertainment and no internet. The seats were very tight. Especially the man next to me was 300+ lbs. Also I had to pay for baggage even though I have united cc. American has all these things and doesn't charge me for baggage."
Pros: "It was a quick flight that was really nice"
Cons: "People got on at the last moment"
Cons: "Firat flight wver. Age 28. Lots of turbulence. 4 hour delay with no explanation"
Pros: "The terminal was well supplied. I was worried because the line for security was so long, but it was automated and fully staffed - it was so seamless!"
Pros: "The flight was short and left on time."
Cons: "The same problem as with the other flight: no headrest tabs and not much leg room."
Pros: "Flight was delayed almost missed connection."
Cons: "Wouldn't let us off the plane for over an hour. 100 yds from the gate. Got home after midnight."
Pros: "Never been treated so disrespectful and like I was insignificant in allyour life!"
Pros: "Being told how unimportant my issue/ need was"
Cons: "Customer service, terrible desk agents and a triple delay."
Cons: "My flight was delayed by an hour and a half. That's the amount of time I could have spent to drive home to Milwaukee. I stuck around because there was no indication of a flight cancellation. I would rather hop on a 15-30min flight than go through the hassle of renting a car. BUT the flight did get canceled, the next flight was completely booked and the next flight out after that was at NIGHT. I arrived in Chicago in the morning. The gate agent told us all to head to United customer service. There I received RUDE, poor excuse of a "service" only to be told they don't give refunds at the counter as we were told by the gate agent. So do that on your own time. THEN I had to buy my bus ticket and spend 1.5-2hrs on top of already waiting 1.5hrs for the flight that got canceled. HORRIBLE. Will never fly United again. Did i mention upon my arrival home I found out American was WIDE open seat wise to chicago?? And no one checked for me!"
Pros: "Efficient and arrived early."
Pros: "It never took off. I should have just drove from NYC to Milwaukee. It would have been faster! Now, I have to deal with baggage issues because they made me unnecessarily check my carry on."
Cons: "All of it"
Pros: "Smaller crowd"
Cons: "Had to rush from one terminal to another to just barely make boarding, there was a bad smell on the plane, and the staff was not friendly."
Cons: "There were no snacks on the second leg of the flight. I guess the flight was too short."
Pros: "Friendly crew. Very short flight so rating entertainment & food is not really relevant. 15 minutes in the air."
Pros: "What can you say ?? It's a 20 minute flight on a tiny cramped plane but it got us from A to B on time. Crew was as friendly as they needed to be. Landing was very hard."
Pros: "How helpful the flight attendants were. And how they didn't disturb me while I slept."
Cons: "How there wasn't much elbow room for the person sitting in the middle seat."
Cons: "The flight was canceled with no explanation or an offer to reschedule. The next flight available was tomorrow afternoon which was not acceptable. When I asked customer service about a refund I was told to go to the website, but it was not guaranteed. Highly disappointed."
Pros: "Crew was efficient, professional and pleasant."
Cons: "No food; only a drink. Tight seating. No entertainment. The sun kept bouncing off the magazine and iPhone of the lady kitty-corner across the aisle into my eyes-- very uncomfortable!!"
Cons: "I missed my connection due to long lines in customs and security. United was unable to get me another flight out that day and I ended up taking a bus back to Milwaukee instead."
Pros: "The crew was very pleasant and accommodating"
Pros: "Crew were nice and the seats were comfortable."
Cons: "No entertainment. At the last min board many had to check their carry on."
Pros: "The smooth take off & landing. The flight attendants were very helpful."
Cons: "Nothing"
Cons: "In Houston, At the gate with my ticket in hand, I was told I was not on the flight and would have to be scheduled on the next flight. The boarding pass in my hand matched the flight and time with the seat I picked out online when I purchased the ticket. Then a bad storm went through and many flights were cancelled. (Not the fault of United of course). About 9 hours later with a new boarding pass, I went to the gate to board and was told once again that I was not on that flight even though I was holding a new boarding pass!! What is going on here!? How can this happen twice to the same person, let alone happen at all??!"
Pros: "We were on time and that was great!"
Pros: "The flight attendant tried to work with the overpacked plane."
Cons: "Overcrowded, items stolen from luggage, my bag was open when I was trying to get it off baggage claim, I only had half a seat, the flight smelled horrible."
Pros: "Had crosswinds and thermals but pilot and crew handled it well. On time arriving,"
Read more about Delta
Safety measures for airlines flying from Johannesburg to Wisconsin
Airlines flying from Johannesburg to Wisconsin have enacted additional safety measures and adjusted policies to better accommodate travellers. Policies vary by airline.
Heightened sanitation
Daily cleaning, installation of cabin HEPA filters on flights from Johannesburg to Wisconsin
Mandatory masks
Masks required on board, masks provided on flights from Johannesburg to Wisconsin
Social distancing seating
Middle seats unavailable to book on flights from Johannesburg to Wisconsin
Pre-flight testing
Testing for antibodies, testing for symptoms for flights from Johannesburg to Wisconsin
Book cheap flights from Johannesburg to Wisconsin
Recent return flight deals
Search by stops
Search by airline
Search by price
Johannesburg - Wisconsin Flights