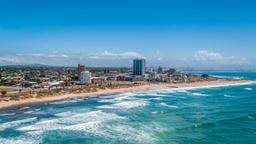 Find cheap flights from the United States to Port Elizabeth
Search hundreds of travel sites at once for deals on flights to Port Elizabeth
Top tips for finding cheap flights to Port Elizabeth
High season is considered to be June, July and August. The cheapest month to fly to Port Elizabeth is January.

Enter your preferred departure airport and travel dates

into the search form above to unlock the latest Port Elizabeth flight deals.
FAQs - booking Port Elizabeth flights
How does KAYAK find such low prices on flights to Port Elizabeth?
How does KAYAK's flight Price Forecast tool help me choose the right time to buy my flight ticket to Port Elizabeth?
What is the Hacker Fare option on flights to Port Elizabeth?
What is KAYAK's "flexible dates" feature and why should I care when looking for a flight to Port Elizabeth?
Top airlines flying United States to Port Elizabeth
Scores according to KAYAK customer reviews
8,3
Qatar Airways
Overall score based on 10 971 reviews
Pros: "The crew was amazing. Food was great. Clean bathrooms. Great entertainment."
Cons: "We had our passports and boarding passes checked five times in the course of 2 minutes by five different people one after the next. My cabin luggage was searched right before boarding. I appreciate the need for security, but that was excessive and unnecessary. In the peak of the Corona virus craze, the security made all passengers take off shoes and walk without any protection. This is not Qatar Airways doing - New York JFK security B S, but I am sure airways companies have some say to change it."
Pros: "Excellent crew. Very good food. Comfortable seats."
Pros: "The 1-hour complimentary wifi."
Cons: "Hope they had the immigration/arrival card on the airplane."
Pros: "The crew provide good service but personally i did not like the food that could be lot better."
Pros: "The customer service was amazing. Air hostesses were very courteous, friendly and helpful."
Cons: "Seats were too small to sit comfortably on a long flight I wish Qatar had better seats for long journey and had advanced entertainment system."
Cons: "Extraordinarily care taken On board. Very impressed with Qutar Airways. Excellent"
Pros: "The food was good and many entertaining movies."
Cons: "When first boarding the airplane and sitting in my assigned seat. There was terrible smell, the smell of vomit. I notified a crew member and she used a fragrance spray to help."
Pros: "The crew was super amazing and went to all extent to make our journey with infant comfortable"
Pros: "Yes"
Pros: "Crew was very accommodating"
Pros: "On line flight experience"
Cons: "The food has to improve especially they have to provide fresh food"
Pros: "Attentive crew. Good selection of meals excellent wines"
Pros: "Airlines' diligence in arranging an alternative flight in place of the missed connection because the initial departure from JFK was delayed due to technical reasons"
Cons: "Much ballyhooed A350-1000 has noisy engines rudely interrupting my enjoyment of the entertainment system - may be my seats were too close to the engines. The seats are not all that comfortable though perhaps wider than usual configuration in economy."
Pros: "Qatar is impressive. The airbus was incredible."
Cons: "It would be noce for flight attendants to give coughing passengers a mask. 12 hours on a flight next to two sick people."
Pros: "Love the service of qattar"
Cons: "Everything was amazing"
Pros: "Legroom was great Staff were great Bathrooms were very clean and cleaned often in the flight"
Pros: "The service was great and was on time"
Cons: "The service and was"
Pros: "Passengers with kids up To ten yrs should be boarded with passengers with infants...otherwise excellent service...i like flying with Qatar airways.."
Pros: "Best business class I have ever been on. Better than most First class."
Pros: "Went out of their way to be helpful"
Pros: "The service is Top Knotch!!!"
Cons: "Wasn't much music to choose from..."
Pros: "First time flying on Qatar and must say that the crew was excellent. One of the best crews I have ever flown in the last 22 years of New York - India sector. Special mention for HAIFA my hostess for flight QR702 on April 12th. She was the best hostess I have ever had!"
Cons: "The food wasn't bad but since I flew Etihad in July 2017 from New York to Abu Dhabi to Mumbai and back my memories were fresh and Egihad's food was definitely a notch higher."
Cons: "Connecting Qatar flight should have been held, instead wen had to spend 9 hours in the airport until next flight"
Pros: "The bag with socks and toothbrush with paste was a nice touch. The flights operated on time! The seats were fairly comfortable for coach class."
Pros: "The food was great with three options for each meal and there were a lot of options for in flight entertainment"
Pros: "Service, attentiveness, food."
Cons: "lack of ability to pay to upgrade even though there was plenty of empty business class. (Almost all seats were available)"
Pros: "Good service!! Good food!! Great staff!!"
Cons: "Service is always bad. This time from bag, all electronics have been stolen. It is 200$ worth things have been missing from my baggage."
Pros: "Great hospitality"
Pros: "Would be very happy to fly again on qatar if options for Indian food menu is increased"
Pros: "It's was good"
Cons: "The plane from Qatar to Nairobi new modern plane needed"
Pros: "Crew was good, they were trying hard to keep customers happy."
Cons: "Limited food selection on top they ran out of available options so basically only one beef option was given. Either u like it or not. Pretty old movies in entertainment section, broken seat controls, charging ports and headphone inputs. No clear announcements by captain."
Pros: "Worst customer service"
Pros: "Food is good"
Cons: "Economy seat"
Pros: "Everything"
Pros: "Professional courteous friendly and communicative"
Pros: "If we had arrived on time everything would have been perfect. However I did not arrive in Johannesburg because a flight delay (even though our flight was set to let ontime) caused probably 40 people to miss their connections. To their credit, Qatar Airways did find accommodations for us and gave us food vouchers. Otherwise it'd be a zero rating."
Cons: "Boarding took far too long and caused us to be an hour late. Because of this, I am missing out on events scheduled in South Africa. This is very upsetting and it appears that Qatar Airways is too slow with boarding, there was no explanation given for why it took so incredibly long to board."
Cons: "It's been more than 50 hours and I still haven't received both of my checked in luggage"
Pros: "Clean. Friendly staff. Good food. Good entertainment."
Cons: "Small cramped seats."
Pros: "Quite journey"
Pros: "Okay"
Cons: "Okay"
Pros: "The professionalism of the staff"
Cons: "No comment"
Cons: "- Airline changed flight and offered little forewarning for what was a material change (from 1 hour transit time to 9 hours) - Boarding process was inordinately slow with little attempt to move this along quickly - Service was halting at best"
Pros: "Services"
Cons: "Food"
Pros: "Everyone on duty!!"
Pros: "Best Arab airline so far.5 star but if I could give more i would"
Pros: "The crew were nice"
Cons: "The screen of my seat and my mom ( sitting next to me) and the lady near the window stopped working after launching and we had to stair in the dark for eleven hours the flight attendant tried but couldn't fix it. The seat itself was broken and I had to put the bottom Cushing back every time I stand up.the cue to the rest room ( one off them has a broken lock so you can't lock it ) was very long and I had to wait for 25 minutes tell I got in ( the first time I waited too long standing in an air plane )"
Cons: "Ran out of meal options in both flights"
Pros: "Price and schedule"
Cons: "Food. Waiting place at Qatar airport. Arabian crew on board due to their non- friendly attitude."
Pros: "Economy is always Economy and I got what I paid for therefore I am satisfied with that fact. In addition we were on time."
Cons: "All was well with the Airline and British Airways met all the safety protocol, I expected. The booking with Kayak was made online. I had questions after the booking, I called. The representatives were very helpful,. professional and courteous. Thank you."
Pros: "The crew were great but the entrainment socket on my seat was broken so I couldn't watch anything"
Cons: "Making sure everything works properly"
Pros: "Efficient well groomed staff, thoughtful amenities such as baby seat belts & toiletry kit containing toothbrushes. Palatable tasty cuisine."
Pros: "Crew were excellent, seats were relatively comfortable and in flight entertainment was great."
Cons: "The plane was old and dirty. It really needed a good clean as there was food debris on my seat belt buckle and sticky finger prints all over my screen. Additionally, the connection time at LHR was too short. While we made the flight (having to run) but our bags did not, which was an annoyance."
Pros: "Friendly staff, good food, comfy seats, clean plane"
Cons: "The lights broke on the plane so we all had to sleep with the lights on. That was the only negative."
Pros: "Over all good means.........., All well nothing to my dislike"
Cons: "Nothing to dislike"
Pros: "To be honest, I liked that some of the flight attendants were friendly. Honestly, all but Nicola were nice and friendly. Nicola was the only rude one. So rude that I took note of her name for such a review like this :). I also liked that we got to our destination safely."
Cons: "Flight was delayed almost 3 hours total. The first 45 minutes we were in the airport and they said they were delayed because of an engineering issue which was fine. They then stated that they resolved it and had us board the plane.... ten minutes later the pilot states that the same engineering issue is still being worked on and it'll be about another ten minutes. Well... TWO HOURS after being trapped on the plane and told repeatedly "it'll be another 10-15 minutes" ,we finally took off. The food was subpar, most of the airline staff was polite save for one gentleman at the gate who made a sarcastic comment to me about them trying to board quickly when I couldn't find my passport (after making us wait 45 minutes... then another 2 hours... yeah board quickly for what?). And the flight attendant Nicola was incredibly rude and appeared to condescend to some passengers in various ways. That 3 hour delay ended up costing me my connecting flight and I was booked on an overcrowded flight leaving 4 hours later and that was also delayed almost another hour (surprise!). My first day of vacation, I basically lost my whole first day as I arrived 8 hours after I was meant to because of delays by B.A."
Pros: "The staff was kind"
Cons: "Too many people"
Cons: "I did not like a lot of things, overall impression was very disappointing compared to a few years ago. I will NOT recommend BA to anyone."
Pros: "We liked the Economy Plus amenities lovely service from all staff"
Cons: "Heath row. Was very disorganized"
Pros: "No hassle with hand luggage"
Pros: "The only positive is that you don't have to worry about missing your flight due to the fact LHR isn't in the Schengen zone so there's no hangup at passport control during your connection."
Cons: "From check-in to flight attendants snotty attitude and a bunch of control freaks. Service and amenities inferior to other airlines."
Pros: "Courteous and friendly staff"
Cons: "Outdated ife and unpleasant buzzing noise from the headphones"
Pros: "Timely."
Pros: "On-time departure and arrival. Courteous efficient crew, both on land and in the air."
Cons: "My main gripe is that if you want a plain cup of coffee or a bottle of water, you are charged for it and can pay only with a credit card, but only if that card is chip and pin, and my US card isn't. Yes, it is high time that the US move into the current millennium and get chip and pin cards, but that is beside the point. I also flew BA from London to Seattle (part of same trip) and the on-board meal & drink service was PHENOMENAL - the best I have had on an airline in years, and I did not get charged for anything, including alcoholic beverages. How can this be the same airline?"
Cons: "Missed the connection"
Pros: "Crew on the flight home was extremely friendly! Flights were all on time. Food service and drinks were very good. Great in flight entertainment options"
Cons: "Customer service personnel over the phone was so rude to me. Flight crew on the flight from dfw to lhr wasn't friendly at all."
Cons: "My bags didn't make it into this flight. Pathetic operations. Have to wait 24 hours for bag to come. Very inconvenient."
Cons: "Just the room and comfortableness of the economy class seating"
Pros: "Perfect landing"
Cons: "Not enough food in a meal"
Pros: "Crew"
Cons: "Food"
Pros: "Smooth flight, New airplaine."
Cons: "I had a isle seat and almost everyone passing by would hit my shoulder and I could not rest. The corridors were perhaps too narrow."
Pros: "The crew on the plane were pleasant and helpful in a difficult situation."
Cons: "I didn't like that the plane was late, at a different gate that planned and wheelchair assistance did not catch up with the changes. The consequence of the two situations is that I missed my connection to Chicago. I also didn't like that the airline now charges for even a cup of coffee."
Cons: "I told the ground crew that I would prefer an aisle seat when I checked in, and she acknowledged my need. Yet, it turned out that I was given a window seat while there are vacant aisle seats on the plane."
Pros: "This flight was operated by British airways but the price with Finn Air was much cheaper."
Cons: "The cushion of my seat was not comfortable."
Pros: "Service"
Pros: "I really liked that the crew were friendly, information was clearly communicated and process smooth."
Cons: "For a long flight the seats weren't that comfy and if it's an overnight I would suggest they let you know when food is coming or lights out so you can plan. Also, just a suggestion but I would prefer to pay less and not have the entertainment stuff or just use a BA app on my phone."
Cons: "The flight was cancelled due to hurricane Harvey."
Pros: "Na"
Cons: "I didn't know that it's so complicated to reschedule a flight or return money! That was the worst part."
Pros: "There were no complications with my flight"
Cons: "Food is not so good, and the flight entertainment and amenities are not as good as other airlines."
Pros: "I could not have been happier with my flight to London."
Cons: "The flight back could not have had worse service. I paid for an upgrade and got none of the treatment I expected from the flight there."
Pros: "Check in, boarding were well organized. Crew and attendants at the airport were very friendly. My luggage was not lost."
Cons: "The flight from Houston was delayed, but Captain said that he will make up, and we should arrive to London on time. Only when we landed I learned that we are still late by an hour, and I missed my connection in London by a few minutes. Whoever was assigning a seat for me in Houston, could seat me closer to the front, so I would have a better chance to catch my connection. Instead, I was placed at the very last row. (Very uncomfortable by the way)."
Pros: "The staff and food option wasn't bad for plane food. We left and arrived on time. Theu kept us informed with what was happening with the turbulence."
Cons: "There were no usb chargers. The tiny screen had white scuffs all over so you couldn't see. The chairs were super cramped."
Pros: "The crew was great at taking care of everything"
Pros: "I flew economy. I was happy that I didn't feel tightly confined in my seat. I'm 5ft. 11 in. tall and had enough legroom so that me knees didn't get pressed up against the seat in front of me. I had the vegan meal and it was good! The staff on board were friendly and professional even when a customer a few rows ahead argued with them! They were able to hear the man out and resolve the problem amicably."
Pros: "Everything was good! Something to be said when here are no issues!"
Cons: "No issues."
Pros: "Wider isle and overhead space."
Cons: "TV screen difficult to see."
Pros: "Food and crew were nice. Smooth landing and take off."
Cons: "Entertainment was terrible. Very limited choices. Water dripped on me from the AC when landing. Headphone jack was nearly stripped out."
Pros: "Seats were a lil comfortable than the ones i have flown in before."
Cons: "Switched to a different plane because of delays. Was issued a ticket without getting an alert that i required a visa for italy, was detained and had to spend a night in an italian airport cell and deported the following day (not a honeymoon experience i was looking forward to)."
Pros: "Cabin crew was very good"
Cons: "Cabin temperature was a little warm."
Cons: "I missed my connecting flight because I got an email from kayak that the flight was an hour delayed. And it was not delayed."
Pros: "Everything was ok. Just OK. Decent meal - if small."
Cons: "Not much space in the cabin. Plane was quite tired. Breakfast, as always, terrible."
Pros: "Discreet and attentive customer service"
Cons: "Foot rest did not fully deploy. The remote for IFE was stuck I the cradle"
Pros: "Professionalism of staff"
Cons: "Boarding system"
Pros: "Leg room was much better than in economy particularly for those of us over 6 feet tall. The food was quite good and better than what is normally served in Economy."
Cons: "Toilet facilities were in the economy cabin so there was no benefit to Premium Economy passengers - so much for a separate cabin as advertised. The seats weren't comfortable in fact normal economy seats are probably more comfortable. I was near one of the separating curtain as the cabin crew were often "bursting" through rather than pulling the curtain apart. Being on overnight flight it meant I got very little sleep let alone the children yelling and laughing loudly through the night - could the cabin crew say something! I had paid the extra for premium economy so I could do some work and get some sleep before I landed. I managed to do some work but got very little sleep."
Pros: "I loved the headrest on the seat. Easiest headrest for sleeping I have ever had. No neck rolling around. Especially important for long overnight flight. The recline on the seat was also lovely. For economy class, I slept amazingly well!"
Cons: "Food was ok, and seats were quite close together. I have status on another airline and usually fly in a premium economy seat. This was absolutely fine in a pinch, and I would do it again. But more room between seats would be nice."
Pros: "Straight forward boarding pretty good food and the flight crew was very professional"
Cons: "Still very cramped seating."
Pros: "We were traveling with a newborn and toddler. The crew and staff were very accommodating and helpful. They seated us in a row with an extra empty seat, refilled my daughter's bottle several times, and were friendly and kind to our kids. The entertainment options were great and the food was good, too."
Cons: "The seats were not very comfortable but this is the case with pretty much any economy seating on any flight."
Pros: "Our original flight was delayed an hour, then 4 hours, then eventually cancelled. The last gate crew gave us no updates other than saying it was being delayed to a maintenance check. We eventually had to rebook our direct flight from ORD to CDG to then ORD to LHR and then to CDG. Because of this delay we missed most of our first day in Paris. The flight crew from LHR to CDG was very polite and friendly! I will be doing business with British Airways again in the near future. I will not be doing business with American Airlines anytime soon. Neither will my friends and family once they find out about my horrible experience with their lackluster customer service."
Cons: "Everything that involved American Airlines and my 7 hour flight delay."
Cons: "I feel cheated to get a "window" seat that lacked a window!"
Read more about Qatar Airways
Safety measures for airlines flying from the United States to Port Elizabeth
Airlines flying from the United States to Port Elizabeth have enacted additional safety measures and adjusted policies to better accommodate travellers. Policies vary by airline.
Heightened sanitation
Daily cleaning, installation of cabin HEPA filters on flights from the United States to Port Elizabeth
Mandatory masks
Masks required on board, masks provided on flights from the United States to Port Elizabeth
Social distancing seating
Middle seats unavailable to book on flights from the United States to Port Elizabeth
Pre-flight testing
Testing for antibodies, testing for symptoms for flights from the United States to Port Elizabeth
Book cheap flights from United States to Port Elizabeth
Recent return flight deals
Search by stops
Search by airline
Search by price
Recent one-way flight deals
Search by stops
Search by airline
Search by price
Flights to Port Elizabeth
Browse origins:
R24 399
R15 512
R15 570
R15 210
R17 039
R14 374
R15 570
R14 086
R12 919
R17 356
R17 312
R17 082