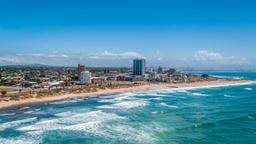 Find cheap flights from North America to Port Elizabeth
Search hundreds of travel sites at once for deals on flights to Port Elizabeth
FAQs for booking flights from North America to Port Elizabeth
How does KAYAK find such low prices on flights from North America to Port Elizabeth?
How does KAYAK's flight Price Forecast tool help me choose the right time to buy my flight ticket from North America to Port Elizabeth?
What is the Hacker Fare option on flights from North America to Port Elizabeth?
What is KAYAK's "flexible dates" feature and why should I care when looking for a flight from North America to Port Elizabeth?
Top airlines flying North America to Port Elizabeth
Scores according to KAYAK customer reviews
8,3
Qatar Airways
Overall score based on 10 971 reviews
Pros: "The crew was amazing. Food was great. Clean bathrooms. Great entertainment."
Cons: "We had our passports and boarding passes checked five times in the course of 2 minutes by five different people one after the next. My cabin luggage was searched right before boarding. I appreciate the need for security, but that was excessive and unnecessary. In the peak of the Corona virus craze, the security made all passengers take off shoes and walk without any protection. This is not Qatar Airways doing - New York JFK security B S, but I am sure airways companies have some say to change it."
Pros: "On March 4, my wife and I made a flight from New York to Sydney with a transfer in Doha, Qatar. We flew the Qatar airline business class. Everything was great despite a very large flight. New plane, very clean. Wide comfortable seats turning into a large comfortable bed. Great menu and good wine list. All staff are professionally trained and very friendly. All this made this flight very comfortable and we were not tired."
Pros: "The 1-hour complimentary wifi."
Cons: "Hope they had the immigration/arrival card on the airplane."
Pros: "The crew provide good service but personally i did not like the food that could be lot better."
Cons: "Extraordinarily care taken On board. Very impressed with Qutar Airways. Excellent"
Pros: "The crew was super amazing and went to all extent to make our journey with infant comfortable"
Pros: "Yes"
Pros: "On line flight experience"
Cons: "The food has to improve especially they have to provide fresh food"
Pros: "Attentive crew. Good selection of meals excellent wines"
Pros: "Airlines' diligence in arranging an alternative flight in place of the missed connection because the initial departure from JFK was delayed due to technical reasons"
Cons: "Much ballyhooed A350-1000 has noisy engines rudely interrupting my enjoyment of the entertainment system - may be my seats were too close to the engines. The seats are not all that comfortable though perhaps wider than usual configuration in economy."
Pros: "Qatar is awesome. Amazing service and great new planes."
Cons: "All good"
Pros: "Legroom was great Staff were great Bathrooms were very clean and cleaned often in the flight"
Pros: "Excellent meals. Pleasant cabin crew. Good inflight entertainment system and choices. Concerned about short connection in Doha but no problems. Good signage."
Cons: "No complaints."
Pros: "Passengers with kids up To ten yrs should be boarded with passengers with infants...otherwise excellent service...i like flying with Qatar airways.."
Pros: "Food and flight attendants were excellent in Business Class"
Cons: "Sitting near bathrooms was a bit noisy and difficult to sleep"
Pros: "Went out of their way to be helpful"
Pros: "The service is Top Knotch!!!"
Cons: "Wasn't much music to choose from..."
Cons: "Even though we landed in Doha before our connection left ( barely-20 min)on Qatar airways, they would not hold the connecting flight for the 7 of us who were connecting. This was extremely disappointing as we then lost a full 8 hours of our first day arrival. If they schedule you for a 45 minute connecting flight, I suggest you book a later one. Our flight from NYC left on time but was 20 min late landing. Their only compensation to us all was use of the airport lounge in Doha ( quite nice with free food wine and showers, but would rather have had the extra day in Bali."
Cons: "Connecting Qatar flight should have been held, instead wen had to spend 9 hours in the airport until next flight"
Pros: "The bag with socks and toothbrush with paste was a nice touch. The flights operated on time! The seats were fairly comfortable for coach class."
Pros: "The food was great with three options for each meal and there were a lot of options for in flight entertainment"
Pros: "Staff was courteous. Food wasn't too bad. Plane was clean and modern. Ambiance was relaxing. This was a very pleasant flight compared to other airlines."
Pros: "Service, attentiveness, food."
Cons: "lack of ability to pay to upgrade even though there was plenty of empty business class. (Almost all seats were available)"
Pros: "Good service!! Good food!! Great staff!!"
Cons: "Service is always bad. This time from bag, all electronics have been stolen. It is 200$ worth things have been missing from my baggage."
Pros: "Great hospitality"
Pros: "Would be very happy to fly again on qatar if options for Indian food menu is increased"
Pros: "It's was good"
Cons: "The plane from Qatar to Nairobi new modern plane needed"
Cons: "Seats are too small"
Pros: "Worst customer service"
Pros: "Food is good"
Cons: "Economy seat"
Pros: "Everything! Great budget price that still delivers first class service. The stopover in Doha is wonderful. Could not be more pleased!"
Pros: "Very kind & friendly crew. Boarding was smooth & flight was comfortable. Food was good considering it's airline food."
Pros: "Everything"
Pros: "Professional courteous friendly and communicative"
Pros: "Food was better than expected. Entertainment as good as any major airlines. Planes were new and modern."
Cons: "Flight attendants are not friendly and rude. Seat had a problem reclining."
Pros: "If we had arrived on time everything would have been perfect. However I did not arrive in Johannesburg because a flight delay (even though our flight was set to let ontime) caused probably 40 people to miss their connections. To their credit, Qatar Airways did find accommodations for us and gave us food vouchers. Otherwise it'd be a zero rating."
Cons: "Boarding took far too long and caused us to be an hour late. Because of this, I am missing out on events scheduled in South Africa. This is very upsetting and it appears that Qatar Airways is too slow with boarding, there was no explanation given for why it took so incredibly long to board."
Cons: "It's been more than 50 hours and I still haven't received both of my checked in luggage"
Pros: "Clean. Friendly staff. Good food. Good entertainment."
Cons: "Small cramped seats."
Pros: "Quite journey"
Pros: "Okay"
Cons: "Okay"
Pros: "The professionalism of the staff"
Cons: "No comment"
Cons: "- Airline changed flight and offered little forewarning for what was a material change (from 1 hour transit time to 9 hours) - Boarding process was inordinately slow with little attempt to move this along quickly - Service was halting at best"
Pros: "Services"
Cons: "Food"
Pros: "Everyone on duty!!"
Cons: "Food options on both legs were terrible. On the first leg, only one of the three options was actually available. I understand that you have to account for varied decisions by customers, but only having one of the three listed options when you're just half way through the cabin is pretty weak. Disappointed that entertainment options hadn't changed from the previous month."
Pros: "Best Arab airline so far.5 star but if I could give more i would"
Cons: "Ran out of meal options in both flights"
Pros: "Price and schedule"
Cons: "Food. Waiting place at Qatar airport. Arabian crew on board due to their non- friendly attitude."
Pros: "You messed me up since. Am still in Atlanta Have canceled your tickets. Would have been in Nigeria now. Even with your rescheduling for tomorrow, i was told i have to quarantine for 3 days in London where i don't know anyone. Just refund my money. Thanks"
Pros: "Overall good flight"
Cons: "Free snacks and drinks"
Pros: "Free Wifi"
Cons: "Free Wifi all over the flight"
Pros: "Staff were professional and courteous"
Cons: "This was an old plane. Seats not as comfortable, and entertainment system was lacklustre."
Cons: "Food was below average"
Pros: "Good entertainment options"
Cons: "The armrests did not fully extend, making the seat incredibly uncomfortable for my husband...the flight crew did not seem to care..."
Pros: "good"
Cons: "ok"
Pros: "We made very good time. Crew members were courteous and helpful. Check in was very easy. ."
Cons: "Uncomfortable and tight seating on the 787. No room to walk around on 7 + hour trip."
Pros: "Excellent crew and good food."
Pros: "everything"
Cons: "nothing"
Pros: "In-flight entertainment was good."
Cons: "Food choices were not good-cold creme cheese tomato sandwich for breakfast and horrible curry chicken for dinner. Staff was young and seemed somewhat inexperienced. They were constantly rushing and couldn't keep up with servicing customers. When we looked at a make steward to let him know that we were finished with our trays, his response was "give me a second!" Unacceptable customer service!!!"
Pros: "Landing and disembarking"
Cons: "Paying $275 to upgrade and experiencing one of worst flights and service I've travelled. No water supply for hot beverages, wash hands or brush teeth during eight hour international flight, not given special diet meal requested as crew unable to locate it, Entertainment monitor not working or housed in seat back correctly to adjust angle, remote handset buttons barely working to watch or make selections, unable to call cabin crew who did not visit through cabin for approximately two and half hours as 'assumed most passengers were sleeping', no wine choice only Sauvignon blanc and I wanted Chardonnay so had nothing. Breakfast 'special diet request' meal was cold hard bagel with colourful lump of cream cheese, which seemed to be what everyone else had. No orange juice, grapefruit that can't take medication with, so had nothing to drink except allotted splash of water into small paper cup. Dreadful journey"
Pros: "The A380 is roomy with large overhead bins. Its quiet and smooth. Flight was on time!!"
Cons: "It was impossible to select a seat in advance. I could not even get to seat selection at online checkin. It was very frustrating. When I went to BA in London and Los Angeles they said it was responsibility of AA and when I went to AA in London & Los Angeles they referred me back to BA. Why can I not choose seats like on other airlines????"
Cons: "one hour late departing"
Pros: "Nothing"
Cons: "Cancelled our flight and cost us a lot of money. Then Rebooked us through another carrier and we waited and they wouldn't take us, said there was only two seats left and we would have to wait until the next evening for another carrier. Wow just terrible service. We drove five hours for this. I'm afraid British Airways is too big of a company and doesn't really care!"
Pros: "Excellent food and service!"
Pros: "Professional, nice and pleasant staff, food, timeliness"
Cons: "Small leg room, thinness of Sears such that any small movement from person behind was like a kick to the waste/back, old small entertainment screen, no eye masks"
Pros: "The ride was very smooth! Pilot did a great job!"
Cons: "The leg room and ovearall size was very small. My husband couldn't fit his knees in ."
Pros: "No hassle with hand luggage"
Cons: "Everything was for sale"
Pros: "Easy boarding, friendly crew."
Cons: "Food and Entertainment"
Pros: "The flight attendants were polite and efficient. The flights were on time. Easy check-in."
Cons: "Our return trip was "cancelled"__ However, we were bumped and rescheduled to fly Sunday and given no options. So, the return flights definitely put a damper on our overall experience with flying BA. Hopefully, customer service will do the right thing in the end."
Pros: "Excellent"
Pros: "The staff"
Cons: "We got delayed for 2h. Also,I traveled with BA before and I received an eye sleeping mask and a thooth brush, but this time those items were not provided. The blanket was smelling quite bad."
Pros: "The landig was the best I have ever experienced in 20 years of travels, I was then informed that the pilot was a woman :) great to see more female pilots around"
Pros: "The flight was on time"
Cons: "The airline is very mechanical Customer service in non personal and robotic"
Pros: "Entertainment system worked well and had good selection of movies"
Cons: "Armrests didn't go up which is a problem with a toddler needing to sleep. Seat was broken so that pressure would make it lean back. Left over an hour late."
Pros: "The flight to London was fine."
Cons: "Was one hour and 45 minutes late leaving Atlanta for London."
Pros: "Great plane - new and quiet"
Cons: "Cramped in the back. Ridiculously so"
Pros: "Was notified many times about flight delay, but was on time. Ground personnel very congenial!"
Cons: "Seats very uncomfortable, food and coffee almost inedible! Layover in Heathrow nearly killed me after overnight flight (5 hrs. of chaotically organized airport). Unhelpful and unnecessarily officious personnel in Heathrow."
Pros: "Nothing. Zero. Zilch."
Cons: "Flight was delayed 3 hours due to a mechanical issue, per pilot before takeoff. SOMETHING happened & we were all tossed about the cabin of the plane. When it was all said & done, 1 flight attendant had a broken nose, 1 had a concussion, I hit my head in 2 spots, and a little boy hit his head & threw up. I am not a dramatic person, but I've never been on a plane & thought I was going to die – until this flight. Emergency landing in St. Louis instead of Chicago. The EMT crew on the ground? Felt like amateur hour. I have photos to back these events up."
Pros: "Crew was polite, helpful."
Pros: "i love wverything"
Pros: "Friendly and helpful staff."
Cons: "Father with two young daughters was presented at checkin with separated seats, so we had to request others to trade with us once we were on the plane. Which they happily did. I was not able to reserve seats online for some reason; therefore the staff at check in should know that they should try to reserve three seats together for a parent traveling with two pre-teen kids."
Pros: "Nothing special at al!"
Cons: "International flights never charge baggage fees for 2nd bag. Older aircraft. Mediacore friendly by the crew. They cancelled my return flight cost me lots of head aches and money!"
Pros: "Safe flight"
Cons: "Very poor service. Did not offer drinks. When asked for drinks the crew said they are doing duty free and did not serve water or drinks."
Pros: "The friendly staff and the entertainment (movies) made my first international flight very enjoyable!"
Cons: "I paid $100 to sit my the person I was traveling with. I think that's overkill!"
Pros: "Check in staff was friendly, and flight attendants nice. Also liked not having to pay for the 2 servings of wine I had."
Cons: "Food was very average and was served really late, after midnight local time. Special order meals were delivered to people and then there was a long gap before everyone's else's was served. btrzkfast very ordinary, but tea was decent"
Pros: "crew attention and politeness"
Cons: "the food variety"
Pros: "I got this 'heap ti"kept from airfare.com and there was no difference to other passengers."
Cons: "Flying is uncomfortable and painful. The seats are thin with little padding. I kept getting poked and prodded by the person in the seat behind me, and it wasn't even a little kid kicking the seat. I have a problem with my foot, and there is piece of hard plastic or something that runs the length of the plane, under the aisle seat. I had to make sure my foot didn't rest on time because it was painful to my foot."
Pros: "They blackmailed my daughter pay an additional $940.00 for a return flight bcus here flight was over 90 days."
Cons: "Purchase was allowed by Kayak and BA. This should not have taken place."
Pros: "Entertainment was excellent"
Cons: "Food was okay"
Pros: "staff were good"
Cons: "out of date entertainment food"
Pros: "Good and on time flight. Loved the information given by all crews."
Cons: "My bags arrived a day later on 25th night which caused alot of inconviniency because i had to travel back to the Airport the following day for my cloths. The baggage handlers opened my bags and removed some items which is unacceptable . Stressed still about that"
Cons: "Cancelled with no opportunity to rebook. I missed my entire trip!"
Cons: "When I asked for a options, they never answered clearly."
Pros: "The staff is always friendly and working at it to make everyone feel welcome and happy. Thanks for the great effort! we do appreciate it."
Cons: "Peppers in the food does not make the food taste nicer, it just adds a flavor that i think does not add great value for airport food. It is the same with raw onions. Once in a container everything tastes like the onions. This has been done away with and my personal opinion is that the same should be done to the peppers. When peppers are added to food, you only taste the peppers and not the rest of the flavors of the food. Hope you find this helpful. Thanks"
Cons: "Delay, delay, delay.....I understand that plane was struck by lightning and inspecting and checking the plane out is serious business. So British Airways could not spare another plane? Passengers connecting flights were not processed by staff at airport who did not want to rebook passengers. In fact they offered to rebook my flight to Helsinki????? Hey British Airways, my destination is Budapest. I booked this flight based on the reputation of British Airways. I guess it's tarnished as far as I'm concerned."
Read more about Qatar Airways
Safety measures for airlines flying from North America to Port Elizabeth
Airlines flying from North America to Port Elizabeth have enacted additional safety measures and adjusted policies to better accommodate travellers. Policies vary by airline.
Heightened sanitation
Daily cleaning, installation of cabin HEPA filters on flights from North America to Port Elizabeth
Mandatory masks
Masks required on board, masks provided on flights from North America to Port Elizabeth
Social distancing seating
Middle seats unavailable to book on flights from North America to Port Elizabeth
Pre-flight testing
Testing for antibodies, testing for symptoms for flights from North America to Port Elizabeth
Book cheap flights from North America to Port Elizabeth
Recent return flight deals
Search by stops
Search by airline
Search by price
Flights to Port Elizabeth