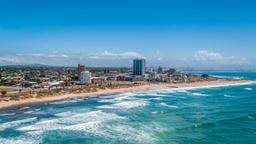 Find cheap flights from Illinois to Port Elizabeth
Search hundreds of travel sites at once for deals on flights to Port Elizabeth
FAQs for booking flights from Illinois to Port Elizabeth
How does KAYAK find such low prices on flights from Illinois to Port Elizabeth?
How does KAYAK's flight Price Forecast tool help me choose the right time to buy my flight ticket from Illinois to Port Elizabeth?
What is the Hacker Fare option on flights from Illinois to Port Elizabeth?
What is KAYAK's "flexible dates" feature and why should I care when looking for a flight from Illinois to Port Elizabeth?
Top airlines flying Illinois to Port Elizabeth
Scores according to KAYAK customer reviews
8,3
Qatar Airways
Overall score based on 11 090 reviews
"Kayak/Qatar Airways tore one of my bags. I'd like compensation for it. Also, the check in at Chicago was time consuming and tedious owing to RT PCR checking. That should be made more efficient. Likewise, the check at Mumbai airport."
"Recommend Qatar Airways to everyone! Service, leg room, and food are all great."
Pros: "Nothing"
Cons: "If the police and security in the airport respect the people more!"
Cons: "The crew at check in was really inconsiderate and has given us false information! Despite of what documents were required and submitted I was not allowed to board the plane."
Pros: "Crew was wonderful. Comfortable seat with nice meal. Overall loved it"
Pros: "Having social distance space to take a nap"
Cons: "I sat in the middle seat of the middle of the plane and the staff kept skipping me during meal and drink service because they assumed the other side took care of me. So that was annoying. I had to keep flagging them down."
Pros: "The check-in crew in Chicago was very nice and efficient. The flight crew on-board were not friendly, they were very curt and rushed, and did not go out of their way to be helpful."
Cons: "Friendlier staff during the flight. Better food for breakfast. The connection port for my headphones did not work...I would not have been able to watch movies if I hadn't brought my own single connection head phones."
Pros: "The crew was really nice and very attentive."
Pros: "Food is delicious"
Cons: "Paid WIFI this time was horrible for the half of the trip WIFI don't work"
Pros: "The aircraft was comfortable and the electronic amenities were decent and needs improvement"
Cons: "Free WiFi and Dancing boys"
Pros: "The flight crew/staff were professional and very helpful and accommodating to the passengers from check in to deboarding."
Cons: "Seats were a little close, especially for a long flight, with meals."
Pros: "The crew was great."
Cons: "Food wasn't that great."
Pros: "The crew was amazing. One of the onboarding staff was exceptional. Some onboarding staffs were unfriendly."
Cons: "Not allowing a laptop bag unlike Etihad, Emirates and other airlines was a bummer."
Pros: "I was at airport 1 hour before the flight time But they already closed the gate, and I missed the flight, and my return flight is gone too Omg to much for me"
Cons: "I wish you can do something for me Because the tickets is really expensive"
Cons: "Slow boarding while passengers stand in the queue, late take off"
Cons: "Refund my ticket"
Pros: "This was my first experience with Qatar & it was outstanding. Crew members are extremely courteous & helpful. The aircraft seats in economy class were roomy & comfortable. Bathrooms were kept clean throughout the long flight. Food was very good as was the selection of flight entertainment. Can't thi"
Pros: "Q-suites are fantastic."
Cons: "Boarding was a mess. Premium boarding line was tied up by economy passengers and ground crew did not turn them back"
Pros: "seat was great"
Cons: "flight attendant should be nicer"
Pros: "The crew was very friendly and helpful throughout the flight"
Cons: "The boarding process in Chicago wasn't great. Zones were not used"
Pros: "Delighteful experience"
Cons: "Better guidance at transit stop"
Pros: "Plenty of room to move around"
Pros: "Food was excellent and the crew updated us through out the flight"
Cons: "That fee for overweight was excessive"
Pros: "Q-suits. Very comfortable and private. Great upgrade to the 777. WiFi now available for very reasonable price"
Cons: "Bus transfer to Termial 5 is VERY poorly organized and takes over an hour. This makes it harder to get to Terminal 5 even if you don't have to clear security again. Seats had a bar under the padding at about the position of my hips. Uncomfortable to sleep for several hours"
Cons: "Ord to Doh: People kept window blinds open all through 15 hour flight Flight temperature kept very warm"
Pros: "Good food and good hospitality"
Cons: "The gentleman next to me had broad shoulders, so I spent most of the flight with my body a bit twisted, and eating without being able to move my right arm normally was undesirable. The cabin was kept a bit warm throughout the flight. We had a long wait (30 - 45 minutes after leaving the gate) before takeoff."
Pros: "Video on Demand at each seat in coach. Friendly staff. Also patient staff, what with the languages they have to cover with each flight. The airline goes everywhere so it's impossible to say what anyone will be speaking."
Pros: "B777 Dreamliner is dreamy. Lots of overhead luggage space. Decent leg room (could always be more). Great individual entertainment screen for long transcontinental flights. Flight staff was a mixed international crew, very friendly, unpretentious, polite and just nice compared to other airlines. The planes they use seem very new. Would definitely recommend Qatar Air over Aeroflot any day."
Cons: "Food was decent for airline food but nothing to rave about and as with most airlines uses too much plastic packaging. Although I was pleased that some of the flights used metal flatware, but still too much waste in the industry in my opinion. Also, the headphone jack was not compatible with my headphones. The type used on the 777 is the dual pronged one. I did not have an adapter so had to use the crappy headphones that are provided."
Pros: "Food was great Seats were comfortable Everyone was super nice"
Cons: "I'm a 6'3" in shape man. I selected the bulkhead seats for extra leg room. Great crew, but my shoulders stuck past the seat edge 3" on both sides. Qatar should revise their claim of most room in cabin - this 12 hour flight was one of the roughest I've had in a long time comfort wise."
Pros: "Good food. Great staff and service"
Cons: "I wish there was more seating room and unusually long waiting time for toilets."
Cons: "Boarding at JFK very disorganized. Poor system. No vetting of wheel chair users many fakers."
Pros: "Every thing is great."
Cons: "Food Seat great service"
Pros: "On demand entertainment systems seem standard, as I've flown Qatar several times and always had it. Friendly staff. And Doha is a great connection airport."
Pros: "I have made more than 6 round trips on Qatar Airways for AMD-ORD-AMD in last 18 months and can not be happier!!"
Pros: "Cabin crew including the ground staff were awesome in providing best of its class customer service. Food and entertainment onboard was really good."
Pros: "My flight from Chicago to Doha was late to come in and there was a gate agent waiting for us and two other passengers with a sign when we got off the plane. He told us that our flight had already left but he would get us on the next one. We ended up getting seats on the next flight but then were also given the option to get a temporary visa and explore Doha for the night. We opted for the comped night which included a very nice hotel and $100 in meal vouchers. We absolutely LOVED Doha and the hotel and food was fantastic! I don't think I have ever received better service from an airline or a hotel. We ended up walking around Souq Waquif and the downtown until 1am (we are two young females!) with no issue and just used Uber to get to and from the hotel. Everything was so well laid out for us! No complaints whatsoever!"
Pros: "smooth and on time with efficient service."
Pros: "The aircraft from US to Qatar was upgraded and looked new. I love the new on demand video streaming, the touch controls are precise and better than previous version"
Cons: "I wish the airline was a bit more organized with boarding. I saw people with other zones boarding even when they were not called. The air hostess was friendly but I kinda got a feeling that she is doing me a huge favor when I asked for something more."
Pros: "Hospitality, boarding process"
Cons: "Food was slightly undercooked (chicken). Should have better process to check for that"
Pros: "Enjoyed the food and the service from the crew. Plane was new and relatively new and comfortable."
Cons: "The check in agents were not very polite or helpful. They did not offer much assistance and help for a first time customer on Qatar Airways. My bags were also not loaded onto the plane and had to arrive on a later flight"
Pros: "Seats are comfortable with plenty of leg space. Aircrafts were clean and tidy. Landing and take off were smoothest I have ever experienced."
Cons: "Menu choice was very basic and quantity was also poor. Food quality was below par in terms of taste and presentation. In-flight crew was inefficient and flow. Meal trays laid on meal tables for hours after the passengers finished food. Flight attendants literally responded in over 30 min of call. I pressed special meals online before boarding. However, the flight attendants were not sure. They went back to kitchen to verify that and return with the ordered meal."
Cons: "No consistency with hand luggage. My companions and I were held to strict weight limits. Others were getting on with three and four bags."
Pros: "The entertainment options were fantastic! The flight attendants were very cordial and hardworking."
Cons: "I was very pleased with my flight. I really have I complaints."
Pros: "everything was as expected from a world-class in the travel world."
Cons: "In economy class, the seats are not as roomy as I thought and leg room space is not suited for overseas 12+ hours travel comfort."
Pros: "Vegetarian food options"
Pros: "The Chicago flight was more than hour late so had to miss my cincinnati connection. Had to wait for 4 hours at the airport to catch my next flight- making the long journey even longer. No priority lounge access provided to make up for the delay. Qatar never getting my business again."
Pros: "Inflight services, food"
Cons: "Wheelchair services in India, person left in between and had to walk with pain in my foot for a distance."
"The flight was not full, there were some empty seats."
"The best thing was that the flight was not full. My 10y.o. was able to sleep over 3 seats. The timing was great too, the plane was leaving Chicago at 8:50 pm. That was a perfect schedule to settle down and go to sleep."
Pros: "Crew had filled overhead lockers with their bags leaving no room for ours"
Pros: "Blanks were comfy, staff very friendly and the food was tasty"
Cons: "One overhead speaker was crackling and not sure if it worked quite right, couldn't hear announcements very well."
Cons: "Don't approach"
Pros: "Service was good on the plane"
Cons: "Thought I had purchased an optima coach, but was forced to pay $60 baggage fee. At checkin, asked for aisle seat, but agent had already assigned a middle seat. Then asked to change to an aisle seat, but she demanded $30 to change. Aftwr boarding was complete, there were at least 6 aisle seats empt"
Pros: "Nothing."
Cons: "My flight was supposed to be at 4:40pm on May 16th. It was cancelled and rescheduled to 2:00pm may 17th. I have been waiting in line for three hours to check my bags, and get on a flight. Still at the original destination, VERY UNHAPPY."
Pros: "The crew was friendly. The boarding process was very organized."
Cons: "The seat and entertainment were terrible. The TV worked only in the last hour and the seat was not comfortable. No leg room, and the passenger in front of me wasn't considerate -- I couldn't move in my chain when his chair was down)."
Pros: "On time"
Cons: "Better more comfortable seats"
Pros: "I loved the in flight service and entertainment. Also, the flight had seats that actually reclined and I was able to sleep."
Cons: "I did not like switching airlines between my flights. It caused a lot of confusion and made check in extremely difficult. In addition, my bag was lost between changing companies between flights. Not happy at all."
Pros: "Typical solid British Airways service."
Cons: "Delayd by 4 hours."
Cons: "Seat in row ahead was broken, causing it to recline too far and not correctly return upright"
Pros: "Movies"
Cons: "Dinner"
Pros: "Roomy for the economy seats"
Pros: "When we finally took off."
Cons: "Flight was delayed >3.5 hours because of an "electrical problem affecting in-flight entertainment system and 1st and Business Class seats. After powering down the aircraft c. 3 times at 11:15pm CT the electrical system miraculously worked as normal."
Pros: "At least we were able to wait in the lounge."
Cons: "One of the jet bridges malfunctioned. Had to board >500 passengers via remaining bridge. An hour late departing."
Pros: "Priority boarding and bulkhead seating for family travelling with infant."
Cons: "My 'infant on lap' (23 months old) was too big for the airline-provided seat (weight limit 12.5kg, and he weighed 13kg)."
Cons: "Canceled for no reason ca"
Pros: "The food, entertainment, and service was superb! Very easy to overlook how late the flight was. I appreciated the blanket and other items provided!"
Cons: "After a week, I still do not have my luggage. This is due to the flight being delayed 2 hours and I do not know why it was delayed. Because it was delayed, I missed my connecting flight."
Pros: "Good entertainment. More comfortable. The ride was smooth."
Cons: "Service. Having to ask for my food being skipped and also having food choices."
Cons: "Flight crew was just ok; nothing they did made me want to fly with British Airways again. Salad was good but the chicken nondescript."
Cons: "Lounge needs updated."
Pros: "Flt attendants. Esp the english guy."
Cons: "Once again just some measly pretzels."
Cons: "No adapters availNle for the nonstandard power outlets."
Pros: "The entertainment on the plane was plentiful. The overall comfort was superb. The staff was very kind."
Cons: "Everything was pretty enjoyable, however, the food really needs to step up. The food at business class lounge and on the plane were below average comparatively to other airlines and their business class offerings."
Pros: "The women at BA in Chicago O'Hare airport were awesome Christine, Carole, Diane & ankther one but I forgot the last lady's name. Very polite attentive and professional. We had a difficult situation & they helped us get through our problem with the less stress as possible!"
Cons: "Airplane food was a bit below average. Also there was not a good selection in music. I did not recognize 95% of the option of music to listen to."
Pros: "The check-in process at the airport in Chicago was efficient and the person who helped us was friendly"
Cons: "-I was unable to check-in online and I think it's because my name got messed up in the reservation system even though I entered it correctly -Compared to other airlines, BA does not stop by frequently to offer beverages. Food and beverage service provided by BA faded in comparison to what was provided by American Airlines on the way back. - Our flight was delayed due to weather, but we also sat in the plane for a long period of time with no explanation. -We appreciated that BA automatically re-booked us on another flight (although it was not the next flight), and provided 2 meal tickets for 10 euro each. There was no other compensation for the incurred delay (about 2.5 hours)"
Pros: "Entertainment system"
Cons: "The width of the seats in economy are so narrow they don't fit my back. I am not a fat person. 6 feet 170 lbs and fit. No legroom and the tray table is not deep enough to support the food tray. Breakfast after an 8 hour flight consisted of a Kellogg's snack bar in a wrapper. I am used to Southwest Airlines which allows more than one peanut bag so I took two breakfast bars and the stewardess scolded me and said only one and made me return my extra. Not everyone in my roll even took a bar. They treat you like dirt in coach."
Pros: "good movies"
Pros: "Flight attendants really are nice folks"
Cons: "1. Bought ticket via kayak chicago to prague, so I got outgoing trip on British airways but they codeshare it out to Aer Lingus. Unfortunately, these dumbos haven't figured out that no matter what the gyrations they do, I still want to be able to pick my seat beforehand. Nada. Not possible online. And forget calling aer lingus 800 number. called twice and was on hold for 30 min each time, they dont bother answering. 2. At airport, I was willing to pay extra for a good seat because of the issues above, so they said they would help me out. Ha - the manager who purportedly was helping me out gave me a seat up front next to a shrieking infant and behind a bassinet (he knew exactly what he was doing but didnt care). They really lie and think we're idiots. 3. Same thing for flight from dublin to prague. This time last row next to toliets Dont fly aer lingus if you dont book directly with them, same for british airways I looked at BA's website - they do let you book a seat in advance but you must pay something for every single seat. Crazy. There are no free seats"
Pros: "Got me there"
Cons: "Basic"
Cons: "Missed flight due to connection delay"
Pros: "NOTHING!"
Cons: "I had been waiting a few hours for my next connecting flight ant at about 8:00 pm (45 minutes before departure), they announce that our flight might be delayed do to mechanical problems on our plane. It took them 4 hours to fix it. Which was not too bad. What was bad is that they lied to us. Because I missed my connecting flight, they said that they would be waiting for us with our new flights and not to worry. When we arrived in London, we were scrambling to find out where to go. there was several families in front of me that missed their flights and they were having problems trying to re-book their flights. It took about 3/4 hours for me (one person) to re-book my London to Glasgow because I was stuck behind families. I was trying to explain one of BA employees that I (1 person) needed a flight to Glasgow. It was getting late and I was worried that I might miss the last flight of the day and would be stuck in London until the next day. She didn't like that I told her that and didn't want to help me. so it took me about 4 hours in line to get my flight and had to rush to get it. I had also purchased a window sit that I was not able to get. The guy that help me re-book my flight told me that I would have to call for that. Which I did now but the first phone # I called, the guy said that I had to call this other #. I called the # he gave me and a recording comes out that they are too backed up with calls and cannot help me to go to the website. At the website, they are asking for the flight # of the re-booked flight (I only have my original flight #'s on my email). I don't know what happened to the ticket they gave me to board the re-booked flight so I don't have it. I don't know where else to call about my refund and also think I deserve some kind of compensation for missing a day at both airports with horrible treatment and service. CAN YOU HELP ME ON HOW TO TALK TO A REPRESENTATIVE ABOUT MY REFUND AND SOME SORT OF COMPENSATION?"
Cons: "Everything was great about this flight, except that I had a row of seats that would not allow the arm rest to go down. So even though I had 2 empty seats to my left I could not utilize them, which would have made the flight so much better. When asked I was told that the "curve" of the plane would not allow it. This should have been mentioned when I booked and chose those seats."
Cons: "Seat selection process was cumbersome."
Cons: "The flight was 2.5 hours late."
Cons: "The flight took off and 30 minutes into the flight to Paris, we were returned to Chicago for an unexplained mechanical problem. After 5 hrs delay, the flight was cancelled. I had to run to another desk for help and was rebooked on an Air France flight but did not receive miles for either BA or AF. Completely unprofessional and chaotic. Miserable to say the least because I missed the wedding that I was flying to, the only reason I flew there!"
Pros: "Nothing"
Cons: "Worst flight ever! Crew very unprofessional. The plane was filthy and most seats did not recline. It was a night flight but they were unable to turn the lights off. We took off almost an hour later because they did not have ice nor snacks."
Cons: "No working entertainment in our entire row. Bad qaulity seats"
Cons: "It was extremely hot on the plane. for the first 30 minutes there was no ac available and there was little to no help from the staff. I asked for water to cool myself down and ov waited about ten minutes to get it after hitting my help button multiple times. The flight attendants may have been overwhelmed with the requests as there were many just like me who struggled so they came off very rude. The plane was also not updated at all - not personal entertainment and once again, no ac/air for people to control."
Pros: "Everything was great! Thank you so much!"
Pros: "The staff is always friendly and working at it to make everyone feel welcome and happy. Thanks for the great effort! we do appreciate it."
Cons: "Peppers in the food does not make the food taste nicer, it just adds a flavor that i think does not add great value for airport food. It is the same with raw onions. Once in a container everything tastes like the onions. This has been done away with and my personal opinion is that the same should be done to the peppers. When peppers are added to food, you only taste the peppers and not the rest of the flavors of the food. Hope you find this helpful. Thanks"
Pros: "Saved 5 hours by being changed to a non-stop for the same fee."
Cons: "Working with Iberia to get accessible seating took ten irritating phone calls."
Cons: "The flight was awful! Boarding was unorganized. Once on the plane, space was TIGHT! I have flown with Iberia before and had leg room and TVs behind the chairs. This was not like this. Seats were uncomfortable for an 8 hour flight, smelly, and flimsy. I have never been more uncomfortable. The crew were nice but one was very rude to a passenger snapping at him and all ignored a very drunk man on my flight as much as possible. This man was very disruptive for most of the flight singing, shaking seats, touching other passengers, and walking about the flight. I did not feel safe at all! The staff would tell him to sit down, walk away, and he would be instantly back up. Staff would see this and ignore. I had no idea what to do. I felt unsupported and unsafe. The flight had constant turbalence to go along with it. To the point that they canceled dinner. I wanted to kiss the ground when I got off the flight. This was absolutely miserable. I could not be more disappointed."
Pros: "Entertainment was decent with new releases"
Cons: "Temperature of the aircraft was too cold, felt like being in the north pole, despite telling the crew, it remained like that the entire flight Delayed flight Crew not very nice"
Pros: "Friendly helping crew"
Cons: "They changed the gate three times and there was one and a half delay in take off"
Pros: "The crew was helpful and nice. The food was also nice. I had a gluten free meal and it was enjoyable."
Cons: "The plane itself was old there were no tvs on the seats so the "in flight entertainment" was awful. When you plugged headphones in there was an awful noise that prevented you from hearing anything from the movie/show. Considering this was a transatlantic flight, the plane should have been better. We were also delayed due to maintenance that needed to be done on the flight. Luckily London was my last stop so I was not late for anymore flights but a lot of people on the plane were. I was very disappointed and will be disappointed again if my return flight has the same issues."
Pros: "ORD -> MAD The flight was on time, it boarded on time, it took off only a few minutes late (you can blame that on incredibly crowded ORD). It landed, on time, to an empty terminal. The plane itself was new, very clean, and very well kept. The crew was friendly and spoke a wide variety of languages, including English, French, and of course Spanish. They had no issue with Latin American Spanish or European Spanish accents, which is a concern for some. Overall the flight got me to my destination on time, in one piece, and without breaking the bank."
Cons: "The seats, oh the dreaded seats. In economy class the seats are the most uncomfortable thing you can sit on for 8 hours. If they replaced them with plastic folding lawn chairs, you would have a better time. But that is what you get for flying coach."
Cons: "The complete handling of everything with weather, communication, gate changes, mgt of people on the ground and non communication of cancellation were unforgivable"
Pros: "Everything about this flight would have been perfect, if not for the delay and missing flight. The crew was extremely nice and accommodating, I enjoyed the spacious seats with complimentary pillow & blanket, and the entertainment was an excellent selection. I also requested to change seats which they were able to do at the gate without hassle."
Cons: "There were a few missing passengers, so our flight decided to try and wait for them (which is extremely kind and generous), however, this caused our flight to have a delayed landing. Because of this, I missed my connecting flight and had to wait in the airport for an extra 6+ hours for the next flight. What should have been a 17 hour travel day turned into a 25 hour travel day."
Read more about Qatar Airways
Safety measures for airlines flying from Illinois to Port Elizabeth
Airlines flying from Illinois to Port Elizabeth have enacted additional safety measures and adjusted policies to better accommodate travellers. Policies vary by airline.
Heightened sanitation
Daily cleaning, installation of cabin HEPA filters on flights from Illinois to Port Elizabeth
Mandatory masks
Masks required on board, masks provided on flights from Illinois to Port Elizabeth
Social distancing seating
Middle seats unavailable to book on flights from Illinois to Port Elizabeth
Pre-flight testing
Testing for antibodies, testing for symptoms for flights from Illinois to Port Elizabeth
Book cheap flights from Illinois to Port Elizabeth
Recent return flight deals
Search by stops
Search by airline
Search by price
Flights to Port Elizabeth