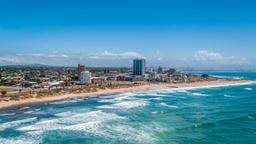 WAS - PLZ
Find cheap flights from Washington to Port Elizabeth
Search hundreds of travel sites at once for deals on flights to Port Elizabeth
When to book flights from Washington to Port Elizabeth
Top tips for finding a cheap flight
High season is considered to be November, December and January. The cheapest month to fly is November.
FAQs for booking flights from Washington to Port Elizabeth
How long does a flight from Washington to Port Elizabeth take?
Which airlines provide the cheapest flights from Washington to Port Elizabeth?
Which airports will I be using when flying from Washington to Port Elizabeth?
How does KAYAK find such low prices on flights from Washington to Port Elizabeth?
How does KAYAK's flight Price Forecast tool help me choose the right time to buy my flight ticket from Washington to Port Elizabeth?
What is the Hacker Fare option on flights from Washington to Port Elizabeth?
What is KAYAK's "flexible dates" feature and why should I care when looking for a flight from Washington to Port Elizabeth?
Top airlines flying Washington to Port Elizabeth
Scores according to KAYAK customer reviews
8,3
Qatar Airways
Overall score based on 10 972 reviews
Cons: "Food is served in heated plastic containers. I would request Qatar airways not heat the food in the plastic container."
Pros: "Overall experience was good!"
Cons: "Keep the good work up."
Pros: "Excellent service on both flights. Truly a 5 star experience. Well done Qatar Airways."
Cons: "Nothing. Keep up the good work"
Pros: "Staff are very polite and helpful (ground staff and in the air)."
Cons: "The food was hit and miss. Some of it was good and some of it used ketchup as a sauce. The economy seats have been stripped down to budget airline level padding and the rows seem have been been jammed in a little closer."
Pros: "Yes overall probably the best flight to Chennai from DC"
Pros: "Crew was very friendly"
Pros: "Justfly stoled my money as i booked for seat and paid 30$ And the seat didnt booked I want my money to be returned"
Cons: "I don't understand how this company has a high rating in service. We missed our connection because the plane was delayed and they treated us poorly. How can you have a complimentary lounge for people missing their flight but not allow people in. I guess because we were only economy. When asked could we pay for an upgrade to business class, the attendant responded with "oh, its expensive" I didn't ask how much, I asked if we could. I never felt so insulted. The food was terrible. By the time they got to us, our food was cold and they ran out of the menu item we wanted. I have no intention of flying Qatar again. I will stick with Emirates"
Pros: "The customer service and food were excellent."
Cons: "Next time I will fly business class for more space and comfort."
Cons: "Great"
Pros: "All the crews are awesome and very helpful, especially to the parents with young kid."
Cons: "More variety and quality of food"
Pros: "Was the crew amazing and nice"
Pros: "The flight attendants were fantastic. They paid attention to every detail and anticipated requests. Always had a smile on their faces."
Cons: "The service and the aircraft with QSuites were superb."
Pros: "The service was great! I slept almost the whole way in economy and was very comfortable!"
Cons: "The flight got delayed which caused me to miss my connection flight. I was at the gate of my connection flight 5 minutes before the departure, however, they did not let me in. They transferred my flight and now I have to wait 24 hours for the next flight."
Pros: "qatar airways"
Cons: "serving alcohol to passengers more than once is disturbing the passengers on the side"
Pros: "Excellent seats..."
Pros: "On screen entertainment"
Cons: "Food options- they start serving from front when they reach behind of plane food options exhausted pls ask ground catering to provide more non veg food"
Pros: "Service is courteous, both on the ground and air. Food & entertainment was top-notch as well. Enjoyed my flight, again on Qatar!"
Pros: "The flight from Doha to Beirut was not fully booked, we could move easily."
Cons: "I have requested seafood for my meals. Unfortunately I was told that no such request was mentioned on the list as special meal. Overall the food was okay, we had 2 small pieces of beef in one meal, the two salads has no taste and the sandwich was too salty. A passenger who sat next to my husband snored all the time and leaned a bit over my husband as he was heavy."
Pros: "Awesome experience provided by inflight crew, who attended to all your needs for this long for flight. Made us feel really at home!"
Pros: "Fantastic flight...Qatar's QSuites are fantastic, very comfortable, Amazon my service from the crew, fantastic entertainment options, and with the privacy of the suite ...very close to first class...in fact it is better than the first products (from a seat perspective) of many other airlines such as United, Delta, Virgin, BA, etc."
Cons: "I wish there were more vegetarian options on the menu"
Pros: "The entertainment was good without any hiccups"
Cons: "The crew was in a hurry burry which didn't give a very good experience. I would suggest the crew to be little more tolerant and make their customers feel good.foo"
Pros: "Very unfriendly and non cooperative ground staff. They treat different colored people differently"
Cons: "Staff looks down at Brown skin"
Pros: "Great service and excellent flying!"
Cons: "Food was a bit dry"
Pros: "Great service and great meal options!"
Pros: "Onboard crew pleasant and service efficient as always. Seats more comfortable than other airlines but aisles so narrow EVERYONE bumped me going by for 15 hours."
Cons: "Ground crews remain the downfall of this airline. Long line in Doha to re-clear security on international connection FROM USA! Fastidiously weighing and forcing mutiple repacks of carry-on bags even though well under total limit of checked & carry. (Doha agent told me dfferent rules appied for carrry on 2nd plane even though I asked specifically frm original agent who checked me thru to final dest--insisted I check main carry on even though there turned out to be plenty of overhead room on board). Poor coordination of checkin lines, security lanes, and flow of people -- all fixable with a little forethought, engineering, and better utilization of circulation space -- and much clearer communication!"
Cons: "The seats were cramped"
Pros: "I love this app , it's awesome it's save my money and time"
Pros: "I love the smiley flight attendant , especially for long distance flight. It would make it better trip to have smiley and helpful flight attendant. The meals provided by QA is good. it would be better with more fresh fruit on every meals."
Pros: "I liked staff , boarding was organized food was not very good needs to be improved"
Pros: "Food, seat, overall comfort and timeliness."
Cons: "The entertainment system was not working - on a 12+ hour flight..."
Pros: "The in flight service was great.. Crew was excellent."
Pros: "Boarding was very ease and helpful for my family while I was traveling with kids I appreciate that fact that customer service at boarding was reached out to my wife to help and make us feel great thru the process thanks"
Cons: "No comment"
Cons: "Leg space in economic class is too less. No options in vegetarian food. They don't give you what you want."
Pros: "Easy boarding. Courteous, helpful and professional crew members."
Cons: "No internet service on long international flight."
Pros: "The personnel are what makes the airline so special. Everyone of them was so nice and so attentive to our needs. Great experience overall."
Cons: "So the seats while comfy are not as nice as the seats now on the reframed United Polaris and Delta and Air France in their newer planes."
Pros: "Very attentive flight attendants-very courteous and responsive to all of the folks sitting in the "cheap seats"."
Cons: "Nothing to complain about in the entire process from ticketing through flight and disembarkment"
Pros: "Good food, good service and clean planes."
Cons: "They flight was moved up about 1 hr earlier. But no email/SMS/call etc. I totally could have missed the flight as a result! Why would they change it and not let passengers know?"
Pros: "The crew were all lovely + meals were excellent."
Pros: "The crew was fantastic!! They saved this rating."
Cons: "Old plane. No power outlet, no wifi, entertainment system was glitchy... if it was not for the crew, this would have been the poorest u could get. Doha security and transfer were unruly, long, and a mess. Terrible experience there. Nearly missed connection. Dreading going through there on return flight"
Pros: "Spacious air craft with comfortable seats, crew was very friendly , and efficient"
Cons: "Service,"
Pros: "It was just a lovely airplane with a lovely crew. Also, good airplane food."
Pros: "The leg space is what got this flight a 3 star."
Pros: "The QA Crew acted with courage during very severe turbulence, continuing to be professional despite injuries"
Cons: "QA HQ did not respond to the emergency with professionalism. They did a decent job w/hotel accommodation but only the hotel reception provided any communication. Only constant complaints led to food being provided at the airport after a 6 hour wait to board. No compensation was offered by QA when we arrived in Doha. Nothing. Exceptionally poor performance by an airline you expect more from."
Pros: "Roomy seats & clean appearance and modern cabin."
Cons: "Boarding would have been improved by utilizing both cabin doors (front & rear). The entertainment system did not work during my 13 hr flight."
Pros: "Boarding was easy and. Convenient."
Cons: "Seats are pretty cramped, food quality was ok didn't have a lot of variety in inflight movies."
Pros: "A380 - was amazing. Roomy and quite"
Pros: "Crew.. single person was okay. Overall company operation plus late flight was poor"
Cons: "Luggage handling could be better. Flight on schedule will be good."
Pros: "Flight attendants"
Cons: "Free water please!"
Cons: "Die Wartezeit in Londonit 5,5 Stunden war viel zu lang, das sollte auch kürzer möglich sein"
Pros: "Staff was friendly and responsive."
Cons: "USB slot that works and also headphone jack that works. Warm food will be appreciated"
Cons: "We left Baltimore an hour and a half late and missed our connecting flight to Paris."
Pros: "Check-in at BWI could not have been nice/more courteous. Great flight and crew!"
Cons: "We love this BA flight out of BWI."
Pros: "The one saving grace, however, was the arrival lounge at Heathrow, which did have excellent breakfast food."
Cons: "The seats in business class were very small and uncomfortable. We are not large people, but there was no room to sleep. Plus the service was not warm, the food unappetizing. We will never fly on British Airways again."
Pros: "British airways and the customer service"
Cons: "The fact that I was use inbooked a premium economy ticket on Kayak and when I got there it was an economy ticket."
Pros: "Lovely wide windows!"
Cons: "Surprised at check in with a $60 fee for my one and only checked bag for a 2 week trip. Felt robbed. Seats very close together on flight. Sore knees."
Cons: "Dear Sir or Madam: My two colleagues and I bought our tickets from BWI to Geneva, via London Heathrow, through Kayak as I have many times in the past. However, the Kiwi.com travel agency did not flag that the ticket from BWI to London Heathrow allowed for one piece of checked luggage, but the ticket from London Heathrow onwards to Geneva did not allow for any checked luggage. Also astonishingly, we had to pass through Customs, reclaim our checked suitcases from the baggage carousel, and check in again through Customs to board the onward flight, both coming and going through London Heathrow. In addition to the extraordinary inconvenience that we could neither transit at London Heathrow to our connecting flight without going through Customs twice and that we could not check our luggage through to our final destination, we also had to foot a higher baggage charge to allow for checking in our suitcases, now that we had arrived in London Heathrow only to discover this that our onward ticket did not cover one piece of checked luggage. Had we known that the seemingly better price posted by Kiwi.com on Kayak's comparative offerings came at such a high price of inconvenience and additional expense for the luggage, we would have taken our business elsewhere. It was deceptive of Kiwi.com to engage in such practices, even if it disclosed these conditions in fine print (for no one would expect, nor have I ever seen previously in the hundreds of flights I have taken as a Million Miler on United), without flagging this. And similarly, it was irresponsible of Kayak.com to allow this "apples with oranges" comparison on its website. I'm making three more international trips in December, but I'm inclined not to use either Kayak.com and most certainly not Kiwi.com for future airline ticket purchases."
Pros: "Safe flight"
Cons: "Just wanted a glass of coca cola."
Pros: "The crew was great and made the flight comfortable and easy! They brought drinks as needed, free of charge, movies and headphones were provided, and the flight arrived ahead of schedule in London! A wonderful experience! Would absolutely fly again and was so pleased to find the deal on kayak!!!!"
Cons: "Absolutely no leg room despite paying additional fee"
Pros: "Staff were friendly."
Cons: "Check-in did not include my TSA-Pre or airline frequent flyer membership. Food was stale and inedible."
Cons: "First flight cancelled. Customer service hung up first time. Almost 2 hours on hold to reschedule"
Pros: "The new Dreamliner made for the smoothest, quietest flight I've ever taken."
Pros: "It was efficient and on time"
Cons: "British air is not what ir used to be. It is no longer high caliber flying. The attendant were not impeccable a it once were. The plane was not grand as o expected. Just average like any other airline"
Pros: "No hassle with hand luggage"
Cons: "Cramped seating with no leg room and dinner was barely edible."
Cons: "Seat space too cramped"
Pros: "Spacious. Great movies. Funny safety instructions."
Cons: "Arm rests on plane do not raise up all the way. I tried to lay down because the seat next to me was empty but I could not. Person operating the jet bridge took 20 minutes to learn how to operate it. We sat on the tarmac for an extended time"
Pros: "Sitting in exist row with leg room"
Cons: "Seats are small, not enough elbow space. Movie selection was bad."
Pros: "The crew was very polite and friendly, making this 7-hour flight enjoyable."
Cons: "There was nothing I disliked."
Pros: "Free wine and drinks with dinner"
Cons: "Flight was delayed for two hours. One hour on the tarmac. Missed the connecting flight to Munich and even though there were two flights BA could have booked us on while in the air they did not. We had to stand in a long queue 1.5 hrs to change our flight to the last one out and arrived at 10pm instead of 2pm. Also, the dreamliner Economy seating is a nightmare. Sardines thats what passengers are to BA. Never again."
Pros: "Safe, comfort, reliable"
Cons: "Food was NOT good at all. Go with theBeef & Potatoes"
Pros: "Crew was hospitable"
Cons: "Headphone jack in seat arm was inoperable . Seats were so cramped a fellow passenger who was taller seated on the aisle was moved."
Pros: "The food was fine, and there was plenty of it. The movie selection was good."
Cons: "The crew turned the lights out when we took off, then when everyone was asleep they turned them on and served dinner, at like 10-1030 pm... Way too late to be eating. Then they turned the lights off, then on again for drinks, then off then on again for a breakfast snack, then off then on again for more drinks. Just pick one, on or off please."
Cons: "The British airline flight was operated by american airline and someone who handled her bag stole everything. We purchased prior to the flight. 2 pairs of sneakers a gift spoon for our grandson and other items not mentioned. Then they put her bag on another flight which made her wait for 1.5 hours in Madrid for her bag. Your handlers ruined our trip.How can you allow thieves to do this especially with TSA supposedly there monitoring it? I want a claim form sent to me ASAP so I can recover my goods. A notice was not placed inside, stating it was checked."
Pros: "I like everything the service provided by the crew and the airplane"
Cons: "For the second London trip in a row, my return flight to BWI was cancelled. Not weather, not equipment, just cancelled."
Pros: "Entertainment selection was above average, curried chicken dinner was good too!"
Cons: "They lost our suitcase full of outdoor gear (boots, coats, underwear, socks and thermals) days before we head to the inside of the arctic circle on an anniversary trip. Pretty upsetting to say the least"
Pros: "Crew was friendly and helpful."
Cons: "We learned the connecting flight from BWI TO PHL was canceled when we tried to pull boarding passes.This started a five hour panic for our party of four which was a leisure travel nail biter. We lost a day, flew into JFK and had to make other arrangements to avoid canceling our trip."
Pros: "Overall good experience for short flight - entertainment and breakfast not included."
Pros: "We were given a snack & drinks. You checked my 2nd bag free which was FABULOUS so I didn't have to deal with gate checking when you asked for us to do that."
Cons: "Was seated in bulkhead & the media screen wouldn't stay facing me. What a pain. Ended up unable to watch it without holding it in place. Seat cushion was very flat & uncomfortable; head rest of poor design did not allow sleep."
Pros: "Overall all was excellent. The only is the sear do not have enough leg room. Particularly if the person in front of you put the seat all the way back. Would prefer a flight from Baltimore to Madrid."
Cons: "Seating was to close"
Cons: "Flight from London to Baltimore attendant stood in the back talking and laughing ignoring my call button. Waited 20 min before someone came so I could get water for my daughter. Flight attendant who responded was very rude."
Pros: "The crew inside the plane was amazing"
Cons: "As soon as i got to the check in window i was informed my flight was delayed and I had planned everything to be on time and since my flight was one hour late it kind messed things up a little bit. It seems that british airlines had a delay on purpose just to have a full flight, i wanted to change seats im a skinny guy and i was seated between TWO BIG people my elbows had to be tucked in all the time"
Cons: "air stewardess was very rude unecessarily"
Cons: "My flight from BWI-JFK was cancelled due to weather related issues and was rebooked to BWI-MIA-MAD, 5 hours late from my original departure and without providing any meal voucher despite asking from the agent. BWI-MIA flight was delayed due to air traffic clearance from the thunderstorm and almost missed my connection MIA-MAD by few minutes. Upon arrival in MAD, my baggage didn't make the connection and had to wait for 3 days before my baggage arrived"
Pros: "Customer service."
Cons: "Embracardo plane is small."
Pros: "Good food. Beautiful plane. Great stuff. Free beverages of all kinds."
Cons: "There is not enough space to sit. It is insulting to be squeezed into such a small amount of space, particularly on such a long flight."
Pros: "I liked everything! Free drinks, movies on demand on the seat-back screen on the seat in front of you... comfortable seats. I would definitely fly BA again!! (The American Airlines return flight was a bit less desirable in all categories. Comparatively, BA was awesome!)."
Cons: "Not a thing!"
Pros: "Quiet and peaceful."
Pros: "On time, no issues, friendly staff"
Cons: "Freezing, air cond blowing cold air the whole time"
Pros: "Nothing in particularly"
Cons: "Disorganised boarding, people standing to find a seat, upgrades being handed out on a whim. Meal service poor."
Pros: "Food and entertainment were great"
Cons: "Crew started out way too smarmy. First half hour of flight was nearly continuous, repetitive stream of innocuous announcements. After that, the general mood from the crew was snotty. One male attendant in particular was grouchy and touchy, physically grabbing tables and seats and repositioning the passengers for landing. Another wider attendant seemed to make it a personal vendetta to barrel into anyone who dared extend a shoulder into "her" aisle. During last two hours of flight, the cabin temperature soared into the high 80s (I blame the grouchy attendant), which was made worse because that model of plane didn't have personal air vents."
Pros: "Not much"
Read more about Qatar Airways
Safety measures for airlines flying from Washington to Port Elizabeth
Airlines flying from Washington to Port Elizabeth have enacted additional safety measures and adjusted policies to better accommodate travellers. Policies vary by airline.
Heightened sanitation
Daily cleaning, installation of cabin HEPA filters on flights from Washington to Port Elizabeth
Mandatory masks
Masks required on board, masks provided on flights from Washington to Port Elizabeth
Social distancing seating
Middle seats unavailable to book on flights from Washington to Port Elizabeth
Pre-flight testing
Testing for antibodies, testing for symptoms for flights from Washington to Port Elizabeth
Book cheap flights from Washington to Port Elizabeth
Recent return flight deals
Search by stops
Search by airline
Search by price
Flights to Port Elizabeth