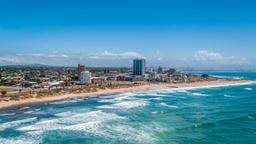 Find cheap flights from California to Port Elizabeth
Search hundreds of travel sites at once for deals on flights to Port Elizabeth
FAQs for booking flights from California to Port Elizabeth
How does KAYAK find such low prices on flights from California to Port Elizabeth?
How does KAYAK's flight Price Forecast tool help me choose the right time to buy my flight ticket from California to Port Elizabeth?
What is the Hacker Fare option on flights from California to Port Elizabeth?
What is KAYAK's "flexible dates" feature and why should I care when looking for a flight from California to Port Elizabeth?
Top airlines flying California to Port Elizabeth
Scores according to KAYAK customer reviews
8,3
Qatar Airways
Overall score based on 10 993 reviews
Pros: "Very comfortable and enjoyable flight"
Pros: "Great crew, excellent staff at the airport. Planes were nice and comfortable. Food was ok. They have an excellent price to quality ratio; you can often get great prices on some of the more popular destinations and the service is 5 stars."
Cons: "Some alcoholic drinks"
Cons: "Flight was a little long!"
Pros: "The portion for LAX to Doha was fairly comfortable and crew was helpful.. they kept running out of meal options by the time they reached us mid flight .. Doha to Bengaluru portion was less classy— the TV/ remotes etc didn't work well and overall service not as good .."
Cons: "Great service."
Pros: "Food and leg room"
Cons: "Unorganized too shaky flight made me sick to stomach ,foods are not good service not good"
Pros: "Crew was amazing and aircraft was clean and seats comfortable!"
Cons: "I would like to have more air fresheners during the flight as there are some people who eat special food and it smells so bad in aircraft"
Pros: "Great flight in-service was fantastic. I didn't use the entertainment service because is the old movies."
Cons: "Please include Nigerian and Ghana movies"
Cons: "I had a carry on plus a laptop bag. On the website they say you are allowed to carry a personal item such as handbag or a laptop bag along with the carry on piece. This guy at Nagpur airport says the weight of both these combined should be under 15 lbs. are you kidding me?"
Pros: "Everything!!!"
Pros: "food ok, economy seats not too bad"
Cons: "old entertainment system. Tight connection and first flight was late, so we got bumped off our connection (they literally removed our names from the flight, even though we could've sprinted through the airport and made it if they waived the 20 minute before departure gate closure). It was an exhausting and long wait for the next flight and I did not think it was well-handled. Staying in a hotel is not a great option, because it takes 2 hours to get out of the airport, another 2 hours cushion to get back in time."
Pros: "I had a family emergency and couldn't go. I wasn't allowed to switch my flight or change it. Lots of money spent with nothing in return. Unfortunte."
Pros: "The facilitated transfer in Doha within twenty minutes"
Cons: "The repetition of vegetarian food menu"
Pros: "Service basically. For such a long haul flight they did everything they could to make it comfortable."
Cons: "They could have checked the bathrooms more often as trash bins were very full."
Pros: "Nice,clean, efficient"
Cons: "The movie selection was not the best. There were a lot of choices but not that many newer popular ones"
Pros: "Excellent overall"
Cons: "LAX boarding was chaotic I think they should announce First people with disabilities Then Business class After that board Economy class from last rows"
Cons: "Unfortunately WiFi services was off"
Pros: "Seat next to me was empty, helping with the very cramped conditions. Great food. Movies were okay."
Cons: "Late boarding, then delayed further due to departing passenger. Delay caused me to miss my connecting flight in Doha. 5 Star Airline marketing is nonsense. Same cramped seats as any other airline. Boeing 777 is a disappointment. 787 is much better."
Pros: "Food service was good"
Cons: "Flight was delayed leaving LAX and was about an hour late to arrive at Doha. Fortunately, despite the 45 minute window for connection, I managed to get my connecting flight to Islamabad thanks to good support from ground staff in Doha"
Pros: "The wider space between all seats and the selection of the food"
Cons: "Nothing at all"
Cons: "they need to do family section"
Pros: "Everything"
Cons: "No HE"
Pros: "The service was excellent, the hostesses were very friendly, smiling and helping. The food was tasty and delicious..."
Cons: "Nothing"
Cons: "Flight delay by 4 hours!!"
Pros: "Everything was fine except the flight delays"
Cons: "Flight delays"
Pros: "It was booked for my elderly parents and they were very pleased by the service they received."
Pros: "Check-in counter and gate staff were really accommodating and professional."
Cons: "Cabin crew lacked training. They skipped rows, didn't apologize, forgot to bring things when requested and had to be reminded again & lacked common courtesy. One guy barely opened his mouth and talked by pointing fingers. So rude! The food portion size is an absolute joke! Never have I seen such a skinny sized meal. It was insane. I'm a lean guy and even I wasn't full! The quality of the food in the second service was awful. My rice wasn't cooked all the way & the bread was clearly stale."
Pros: "The crew was friendly and very attentive."
Cons: "The plan was very hot and made the experience less than desirable."
Pros: "Price"
Cons: "Food"
Pros: "Arrival and departure is on time treatment is excellent very courteous For all category of passenger"
Cons: "South Indian food may. Made available"
Cons: "Did not know what Vegetarian Jain meal should taste like! Even goats and sheep woud not have liked the taste of this special meal. Fortunately, cabin crew member was kind enough to give me a regular Hindu veggie meal rather than my pre-selected Vegetarian Jain meal (VJML) - DO NOT CHOOSE VJML on Qatar, unless you wanna faint from the horrible food! The tray was dirty! Co-passengers in the row behind me were also complaining The audio lead of my headphone would not go into the outlet in the seat armrest! So I had to use audio from neighboring (empty) seat and sync it with video from screen for my seat. What a pain!"
Pros: "Food for kids wasn't great my kids did not eat while traveling more food choices like fruits and cereal and milk and stuff would have been much better please take a look at kids nutrition chart and popular food for kids I think need attention I have a lot food service mangament experience and own one now thanks"
Cons: "N/a"
Cons: "The boarding process was strange, with one guy directing several different zones to stand in line, people not cooperating and just overrall not very organized."
Pros: "Good attentiveness from crew, food was fine. Entertainment was good."
Cons: "Boeing 787 was uncomfortable on the trip to Doha - hard seat cushions and little legroom. 777 much more comfortable on the leg to USA."
Pros: "its a five stars trip in its services"
Cons: "My 17 yr old son is stranded in Doha because Qatar cancelled his connection to Nairobi which is unprofessional and terribly worrisome . I, his mother, am in Greece with no way ofhelping him get to Kenya. Qatar offers no restitution and no help . The worst situation right now!"
Pros: "Great take off and landing. Nice comfort packet, blanket, and pillow Good service and spacious seating in economy class."
Pros: "First time I got ice cream on a plane"
Cons: "Low calorie meals were horrible."
Pros: "We were late for our originally flight, got to LAX 15 minutes after check-in was closed, although we checked in online prior, but due to 4th of July weekend the freeway was very heavy traffic. So we ended up going back next day with the supervisor's incredible allowance, offer. I got very emotional when she told us our option. Thank you. Unfortunatley I didn't get her name, due to our shock))"
Cons: "15 hours flight no WiFi...!!!!!! Last minute flight time change was sent via email..!!!! Almost 1 hour delay after boarding..!!!"
Pros: "Boarding, the welcome on board, the food choice and quality were all excellent. The seat was comfortable and I got a few hours sleep. The entertainment screen was big and clear, and the choice of films was good."
Cons: "The choice of films and tv programmes, was good, but before watching each one i chose, I had to endure a couple off minutes of an advert- the same one every time."
Pros: "Good service all the way to final destination. A+ service. Newer model airplane."
Cons: "None"
Pros: "Great service and food"
Pros: "The plane number one is very good but the onther one to cairo is good not like the first"
Cons: "When I checked my two bags, I was told to pick them up in Doha and recheck them to my final destination at Rwanda. When I arrived in Doha I was told by the transfer desk that I did not need to pick up my bags because they had been checked to my final destination. I even asked them to pull up my flight information and to confirm that, which they did. However, when I arrived in Kigali, Rwanda, my bags were no where to be found. No one has found them yet. I also called Qatar Air before my flight and asked about hotel accommodations for my layover because my layover was from 6:00 pm to 7 am. When I called, I was told that I would be given a complimentary hotel room because of the length of the layover. However, when I arrived I was told that I did not qualify for the hotel accommodation. Then, I was told that a hotel room would cost 250. When i arrived at the hotel, I was told the cheapest was 325."
Pros: "Seat arrangements excellent Crews nice"
Cons: "Very disappointed about quality and frequently of food offered"
Pros: "Service, friendliness of that staff"
Cons: "Other passengers used my carry-on baggage space and my carry on was placed far from me."
Pros: "Comfort, entertainment, amenities"
Cons: "You have to improve the food service. The food tasted horrible. You have to circulate the beverage cart more often."
Pros: "On time"
Cons: "Seats were tight"
Cons: "was a packed old plane. It left nearly 2 hours late without any proper explanation food was awful the service was dull. It was a very bad experience overall and checking in and making my reservation was bad because all the information BA already has about me I had to re-enter including my passport."
Pros: "The crew was mediocre, nothing special. I asked for a extra pillow and was denied. Seats were cramped, I expected more from British Airways but comparing them to China Eastern, I found China Eastern more memorable."
Cons: "I expected more from British Airlines, maybe my expectations and reality didn't chive?"
Cons: "We had to leave our surfboard bag @ our departing airport because they said it was too big to fit into a 787 international aircraft. I'm a pilot, this is a huge lie."
Pros: "Moving to window seat appreciated"
Pros: "Seats are comfortable"
Cons: "No complementary water on Baird."
Pros: "Not much"
Cons: "Our trip to Vienna from London was less appealing than the one from Montreal to London. No food, no entertainment and seat space was cramped which reminded me of my Air Transat experiences."
Pros: "The representative at Miami took forever to get a wheelchair. She did not pay attention to my ticket that states assistant needed until I said so. She was in a hurry n did not give me all her attention. I think she was rude and inconsiderate based on my age or don't feel like been bothered"
Cons: "The representative at Miami took forever to get a wheelchair. She did not pay attention to my ticket that states assistant needed until I said so. She was in a hurry n did not give me all her attention. I think she was rude and inconsiderate based on my age or don't feel like been bothered"
Pros: "."
Pros: "No hassle with hand luggage"
Pros: "Liked the big plane. Didn't particularly like the food. And although enough alcohol was offered, I thought we didn't get enough to drink to stay hydrated. ( I meant water/thee)"
Pros: "The Crew were great"
Cons: "Boarding could have been more efficient"
Pros: "We didn't make the flight from London to Rome because of flight delays. there was a huge time delay with our plane sitting on at the terminal and unable to de-board due to scheduling errors. This delay prevented us from making our connection to our next flight and now we are staying in a mediocre hotel for the night and have to wake super early and miss a day of fun at our final desitination. In general I would just move on, but we heard the customer service agent reference that they over booked the two flights to Rome. I guess we were the u lucky customers x two flights because we didn't get a standby seat in the next flight then the prior agent gave us positive hope that we would get on. Lesson- make sure you have at least 3 hours between connecting flights."
Cons: "Hearing that we were booked on an overbooked flight."
Cons: "Missed the connection"
Pros: "Nice new plane. Spacey."
Cons: "Ba.com app is flaky. Looks like s/w not tested properly"
Cons: "Poor boarding process No charging outlets on flight (on a 10 hrs flight)"
Pros: "The Crew was very helpful and friendly!"
Cons: "It was a little cramped for space for my legs and I am not very tall."
Cons: "Service was incredibly slow Seats were tight No USB port or charger Tiny entertainment screens Forced to check laptop despite this not being a standard with any other airline for the same route"
Pros: "Seats were comfortable enough (by incredibly low economy seat standards)"
Cons: "Was not alerted that my flight had been canceled and rescheduled (albeit only for another flight 2 hours later, so no huge deal). All I got was a little notification that randomly popped up on the app and didn't seem worth taking seriously, and when I asked the flight attendant about it to double-check, she said it was inaccurate."
Pros: "Great crew"
Cons: "Being charged more than $3 for a cup of tea!"
Pros: "The crew of British airlines were nice"
Cons: "Changed flight , couldn't check in. I bought ticked on kayak but vayama was the actual ticket seller on behalf of Iberia which is a British airlines company. I couldn't check and and customer service of vayama didn't want to help and asked me to call Iberia. I called Iberia and after staying on hold for 40 min they told me to use the same confirmation number of Iberia flight on British airlines website. After a long day and a long and expensive uber ride I made it to sfo to see the flight has been delayed... never ever ever going to buy an international flight from Iberia, and very hesitant about kayak redirecting sales."
Pros: "The crew are always nice, trying to compensate for the lack of service provided by the company. sadly, its not enough anymore."
Cons: "Everything.. Check in was a nightmare, only one representative for over 50 people. and much more horrible behavior from once a great company, today nothing more than an over paid low cost one."
Pros: "Entertainment good, comfortable seats."
Cons: "Snack was pathetic, chips and chocolate. Lunch was not very good, only two choices. A lot of airlines have three."
Pros: "The entertainment was great. The food was enjoyable and happy to see they offer vegetarian choices. Overall great experience."
Cons: "Food was dry for dinner and not very tasty. Breakfast was terrible"
Pros: "The price of the flight offers is what made me purchase through kayak, but the disconnect with the airline and booking agency left me stranded and ultimately required me to buy a flight directly that will take me almost half a year to pay off not to mention the inconvenience of switching airports and sleeping on a bench for 4hrs."
Cons: "When I missed my flight, the airline would not offer assistance because I booked through an online vendor (webjet through kayak) and when I called webjet they failed to help me rebook, made me buy a new flight, then when I called looking for the flight information, they managed to cancel the flight and then claimed I had requested this when I had done no such thing. On top of this they only offer next calendar day booking so even though they are fully responsible for botching up the second flight I booked. I have talked to 10 individuals from different agencies. Everyone passes blame and responsibility off on someone else. On top of everything else, noone but the American Airlines representatives showed any empathy or concern for my being stranded for the night. Based on this experience, I will do everything in my power to dissuade people from using Kayak, webjet, amadeus and British Airways."
Pros: "Its hard to consider a flight where you got bumped up from premium economy to business as anything other than a 10!"
Cons: "The dining choices in the terminal British Airways uses are dismal. I am not sure British Airways has any input to this but the line in arrivals for US passport holders was approximately 2.73 miles long while the line for UK/EU passports was perhaps 40 feet long - not a very welcoming situation. Perhaps a little pressure applied by the major airline could improve this situation."
Pros: "All was good"
Cons: "Nothing"
Pros: "Large seats, fast service."
Cons: "Nothing."
Pros: "Movie choices were great."
Cons: "I ordered a vegetarian meal well before day of flight. They said they did not have my order. Thankfully there were still vegetarian options (and I was at back of plane)."
Pros: "I loved the on-demand entertainment which starts as soon as you board the plane and continues all the way into landing / taxing to the gate."
Cons: "The system would not allow me to check-in / get my boarding passes 24 hrs prior to barding, which basically left me with a middle seat all the way to Seattle. I considered this a terrible process and didn't get a good explanation why I was blocked from doing my check-in online."
Pros: "Food was ok."
Cons: "One of the worst business class experiences I ever had. Seats are small (7 per row, 3 of which are facing backwards). If you have a non aisle seat you need to climb on top of another passenger to get up (which is unacceptable I'm business class)"
Pros: "Flying in 787 is always a joy. Quiet; great movie and music selection; nice contemporary user interface."
Cons: "The seat legroom was not the worst I had but sleeping in the chair was somehow very hard. I think the seat needed a little more backward inclination. There was a headrest, which was a good idea but didn't work out as expected."
Pros: "Service and food"
Pros: "Friendly and helpful crew Simple boarding process Good entertainment (when it worked)"
Cons: "Entertainment system failed partway through flight No hot breakfast"
Pros: "Movie selection was great!"
Cons: "Short staffed. No coffee with breakfast! Cream and sugar on tray. Flight from London to Stockholm delayed one hour due to air traffic!"
Pros: "Comfort. Entertainment. Service. Comfort. Did i mention it was comfortable? Also dark. Very dark. Which is exactly what you need on a long flight. Food was also exceptionally good for an airline. The bathrooms were also clean and had nice sinks."
Cons: "Nothing."
Pros: "Landed ahead of schedule"
Cons: "Baggage did not arrive as was not put on flight at San Jose despite checking it in 2.5 hours before flight"
Pros: "we got a 787 dreamliner, the coach seats had good space between rows, so we had enough legroom. food - dinner - was tasty, and breakfast was plain but was completely OK. entertainment was excellent, lots of new movies, and also older movies and TV programs. crew was courteous and very helpful, and boarding was quick and smooth. all in all, a very positive experience."
Pros: "The flight crew were nice, the flight was over before they could even finish drink service."
Pros: "Nothing"
Cons: "No good provisions for infants"
Pros: "nice modern electronics"
Cons: "breakfast high in calories but very low in pleasure"
Pros: "Good service friendly cabin crew"
Cons: "Food"
Pros: "Quick and a clean aircraft"
Cons: "Nothing special to say"
Cons: "Nasty food! Frozen solid salad."
Pros: "Timely departure; early arrival. Customer service oriented crew. Due to an oversight on the crews' part (turbulence during distribution of meals), my neighbor and I were not provided meals. When they eventually discovered their oversight and our choice of meal was no longer available, they provided us with meals from first class. Applaud owning a mistake and fixing it."
Cons: "Chair configuration is appalling. Paid extra to sit in exit row of standard economy, seat 30J (middle seat). Leg room was ample, seat width was adequate (for someone of small stature) but separation from neighboring seats was non-existent. My neighbors on either side were both plus-sized. I had nowhere to place my arms and effectively had to sit with my arms folded from SJC to LHR. Room for improvement."
Cons: "The diabetic meals lacked variety and there was no choice. I was given a chicken dish with potatoes and mushrooms for the first meal and then given another chicken dish with rice for the second . Unlike other passengers I was not offered a choice. Both meal had a high carbohydrate load as they came with a separate bread bun . The first meal had peaches for dessert but my second meal offering had no substitute for the cake given to other passengers. The snack box contained sweet and salty popcorn,salted crisps and malteasers which are to be avoided by diabetics . Overall my dietary needs were poorly serviced by BA on this flight."
Pros: "Standard BA dependability. Like a dependable but stodgy old uncle."
Cons: "Chaotic boarding process. No enforcement of boarding groups"
Pros: "The seats were comfortable and the crew helpful."
Cons: "More than an hour late in taking off, and the food is almost inedible - get the Air Canada chef on board!"
Pros: "I did not enjoy at all that some of the middle rows (3 seats) were either empty or had only one seat occupied, while the front sections were occupied with 3 passengers!!! Dont they have computer programs that should sort that out?"
Read more about Qatar Airways
Safety measures for airlines flying from California to Port Elizabeth
Airlines flying from California to Port Elizabeth have enacted additional safety measures and adjusted policies to better accommodate travellers. Policies vary by airline.
Heightened sanitation
Daily cleaning, installation of cabin HEPA filters on flights from California to Port Elizabeth
Mandatory masks
Masks required on board, masks provided on flights from California to Port Elizabeth
Social distancing seating
Middle seats unavailable to book on flights from California to Port Elizabeth
Pre-flight testing
Testing for antibodies, testing for symptoms for flights from California to Port Elizabeth
Book cheap flights from California to Port Elizabeth
Recent return flight deals
Search by stops
Search by airline
Search by price
Flights to Port Elizabeth
Browse origins:
R17 273
R19 345
R16 265
R16 265
R16 707