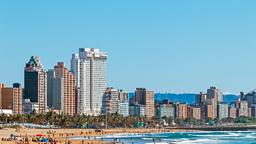 Find cheap flights from England to Durban
Search hundreds of travel sites at once for deals on flights to Durban
FAQs for booking flights from England to Durban
How does KAYAK find such low prices on flights from England to Durban?
How does KAYAK's flight Price Forecast tool help me choose the right time to buy my flight ticket from England to Durban?
What is the Hacker Fare option on flights from England to Durban?
What is KAYAK's "flexible dates" feature and why should I care when looking for a flight from England to Durban?
Top 4 airlines serving England to Durban King Shaka Intl
Scores according to KAYAK customer reviews
8,3
Qatar Airways
Overall score based on 10 971 reviews
Pros: "Qatar Airways are still flying, in the midst of Coronavirus, unlike their competitors. This is fantastic! Onboard, there was a full service and excellent crew, all through the night, unlike their competitors during the early days of Coronavirus, when I last flew. Thank you. Qatar Airways"
Cons: "The movie selection, although vast, was not great. I resorted to downloaded Netflix on my tablet."
Pros: "The crew were welcoming and accommodating, whether you wanted to sleep or to watch entertainment or eat/drink."
Pros: "The crew was v good"
Cons: "The seats and boarding staff"
Cons: "More refreshments"
Pros: "The crew, Venyat looking after my aisle was exemplary. He kept note of when I was asleep when the service passed through. Whenever I go to the galley, he would notice and asked if I needed anything. And this is in Economy!"
Cons: "On the A350, the seat doesn't recline much. It was quite uncomfortable."
Pros: "Crew was great. TV Entertainment system was excellent."
Pros: "All the crews are awesome and very helpful, especially to the parents with young kid."
Cons: "More variety and quality of food"
Pros: "flight attendants were not friendly enough."
Cons: "both flight from Bos-Doha, Doha-Hanoi was delayed"
Pros: "The crew was amazing:)"
Cons: "The availability to have vegan meals...."
Pros: "Very efficient and comfortable flight."
Cons: "The airline appears to have done away with the courtesy pack, and this was the one time I was travelling without ear plugs!"
Pros: "crew amazing,"
Pros: "Efficient, and courteous,seats too were comfy, neat amd clean"
Pros: "All"
Pros: "The airlines' film library offers plenty of movies to watch."
Cons: "I had an aisle seat. The crew pushed the service carts in the gangway and hit me a couple of times, and I was very much annoyed because I was waken up while asleep."
Pros: "Everything....The service,the food,the in-flight entertainment(so many films to chose from) the flight attendants were brilliant,the flight was smooth it went by so fast as though time didn't exist.I recommend Qatar Airways to everybody."
Cons: "Can't find any fault...Sorry!"
Pros: "We carefully taken care . The Hotess were alright"
Cons: "Their food are ok"
Pros: "While my Qatar airways flight from Houston to Doha (# 714) was almost perfect, flight #1335 from Doha to Nairobi was a huge disappointment."
Cons: "The flight attendants didn't seem to know what they were doing, food ran out before i got any breakfast, the IFE system for my seat didn't work,"
Pros: "Super check in, great entertainment options"
Cons: "Cabin crew were not very helpful. Food was average at best."
Pros: "The crew was very polite. Being able to track flight path. Assortment of videos. Plain was very clean. Blankets, pillow, headphones, and all beverages free of charge."
Cons: "The food was not good. Not very much leg room. Did not like the 15 lbs. carry on weight limit."
Pros: "Excellent service from check in to disembarkation. I was surprised at the amount of leg room, as being a 6+ footer it has always previously been an issue, but not with Qatar."
Cons: "Only downside was the lack of the free traveller pack, eye shade and ear plugs, sleep was denied as I could not block out the sound of the very talkative travellers behind me."
Pros: "All good thank you + food and crew and entertainment"
Cons: "All good thanks"
Pros: "Food and entertainment"
Pros: "The overall experience"
Cons: "Passengers in front of you slamming their seats back that crushed and spilled my food all over me. Happened 3 times!!!"
Pros: "FLIGHT ATTENDANTS WERE WONDERFUL"
Cons: "CRYING BABY BUT I UNDERSTAND THOUGH"
Pros: "inflight and qatar airport crews were accomodating eventhough there were backlogs due to delays caused by snow storm."
Cons: "The Ground crews in boston airport were not accomodating."
Pros: "Films Service"
Cons: "Not enough films"
Cons: "Seat number was the same but different position from one reserved online"
Pros: "The Qatar crew was great and the entertainment was on point."
Cons: "That my departure times were 1 to 2 hours earlier than what was on my electronic ticket, if I hadn't checked on the airport website, I would've missed all my flights!!"
Pros: "Service was on point. The crew was very helpful."
Cons: "The flight from Sao Paulo to Doha was canceled which delayed our travel by 24 hrs. With the baggage being mis-labeled from Rio we almost lost our bags. the crew was not communicative and the entire experience terribly stressful."
Pros: "best airline food ever"
Cons: "for an international carrier, leg room is horribly cramped. singapore airlines and qantas offer better leg room in their economy class seats."
Pros: "Transit airport lounge allowed owing to gold status"
Cons: "3 hour delay in take off on Riyadh - Doha sector. No food was served while we waited in the plane to take off. There was no definitive time given for take off during the three hour wait in the plane."
Pros: "Crew Service"
Cons: "If a customer has not ordered Vegeterian / Special meal earlier, the crew doesn't carry any extra meal."
Pros: "Ground Crew was friendly and did adjust my seating."
Cons: "Food quality was average. More choices needed."
Cons: "They gave us a small chicken sandwhich for breakfastand the next meel was over 6 hrs later with a small bag of chips in between. I was actually hungry when we got off our 13 hr flight."
Pros: "Excellent"
Cons: "good"
Pros: "The hospitality of the crew in both flights from Atlanta to Doha and from Doha to Chennai"
Cons: "The seats were not that comfortable for a long flight and i had a very disturbed sleep"
Pros: "High quality gluten free meals (best I've had on Qatar Airways)."
Cons: "Seating needs to be more spacious."
Pros: "Flight was good. Cabin crew very good. Food good."
Cons: "Qatar Airways check in at Heathrow was a dis-organised shambles. Arrival at Qatar Airport passport control was even worse at 12.45 am. Long queues,very slow to move, police checking passports unbelievably slowly. Retina scanners should speed up the process. Why then take 5 minutes to check each passport? Poor advert for Qatar, after nearly an hour of queuing I would think most passengers wished they had gone somewhere else."
Pros: "The timing was spot on and I had no major issues. The staff was great. They showed that they truly value customer service and were patient"
Cons: "The song selections were somewhat old and should be looked at."
Pros: "Flight attendants were very courteous and attentive. Comfortable seats and smooth flight. Didn't feel that the flight lasted for 16 hours."
Cons: "Food needs to be asked for rather than offered."
Pros: "Service always attentive , availability of food on demand outside scheduled meals ."
Cons: "Film selection outdated , I flew in April and the WORLD movies had not changed much Aircraft not as good as more recent ones"
Cons: "Arrival in Johannesburg was a nightmare due to queues at immigration - I nearly missed my connecting flight."
Pros: "When I missed my connection in Dohar, I was put up in an excellent hotel with all expenses paid and great food."
Cons: "When I arrived late in Doha because my flight from Heathrow was delayed, it was difficult to find help when I was trying to rush to make it in time for my connecting flight to Haneda."
Cons: "1-one hour delay in departure. Although pilot tries his best to reduce the delay time but still lost our connection flight. it is known that the whole operation is complex but still believe that effective cooperation by flight crew, ground personnel and others could result in a better outcome. the hotel chosen by the office at airport was not satisfactory. Qatar Airways customers deserve better treatment."
Pros: "everything was great. huge seats, large legroom."
Pros: "the comfort of the flight was very good."
Cons: "there could have been a little bit bigger portion of food."
Pros: "Almost every thing except TSA searching"
Cons: "TSA part"
Pros: "Crew was amazing and aircraft was brand new."
Pros: "Excellent care of crew to ensure social distancing is adhered at all times."
Cons: "I wish the 777 had slightly wider seats like the A380"
Pros: "I had better experience with Emirates before...we had to wait ages for our food but maybe because we were the last one on the list. Food was nice and crew friendly."
Pros: "Comfortable seats, nice entertainment and food"
Pros: "Crew was good, flight was on time."
Cons: "They could have given the amenities, which I think they forgot"
Pros: "Very pleasant and helpful"
Cons: "All good"
Cons: "Improve cabin comfortable"
Cons: "The boarding could have been better."
Pros: "Crew were great! Emergency exit was great too"
Pros: "Friendly cabin crew, new movies"
Cons: "Long wait after boarding before takeoff"
Pros: "The staff worked hard but it must have been impossible to satisfy everyone"
Cons: "Too many and too crammed seats. Too narrow aisles. You wont even allow seat allocation to loyal customers reserving months in advance. Greed must be intoxicating! Time to look for a fairer airline who appreciate and care for their customers."
Pros: "Nothing."
Cons: "Crew some times get angry and work without passion"
Cons: "Caused me a 20+ hour layover in dubai in a horrible hotel"
Pros: "The food and entertainment on board was the best I've ever experienced on a flight."
Cons: "The headset didn't work properly so had to listen to music and movies through half the earphones."
Pros: "Food was okay. Staff on plane. Ice"
Cons: "I got singled out."
Pros: "Smooth flight. Attentive crew. Good entertainment options"
Cons: "The toilet had no toilet paper so I used the paper hand towel and prayed it did not block when I flushed. The beef option was not that great. I should've chosen the chicken."
Pros: "Everything. Nothing negative."
Pros: "Everything other than food"
Cons: "While they gave good AVML food on DXB-HYD flight, not sure what stops them from repeating it on SFO-DXB flight., It was worst to the end."
Cons: "Very good"
Pros: "Emirates is a great airline with friendly staff and an amazing fleet of aircraft"
Cons: "I had updated for my flight from Jeddah to Dubai, but found that business class passengers were not given priority boarding and had to wait for all other passengers to board. The plane also took off late."
Pros: "The overall experience was good from boarding to disembark. emirates is a quality airline with affordable pricing. Planes were neat and clean cabin crew did their job at their best."
Cons: "In some instances their was a shortage of food option. Although the menu said you could have a choice but some of the choices were exhausted by the time crew served it to the half of the travellers and the rest have to eat whatever was leftover. I think Emirates should stock a bit more of the food especially on a plane like Airbus 380. Its a huge aircraft and passengers sting at the vey end had to wait almost 45 min to 1 hr to get their food and that too was whatever leftover. They should make efforts to server all the passengers within a short amount to time rather than keep them waiting for so long. Most of the time more than half of the passengers had already eaten while those sitting in the back were still waiting for their food. Its not cabin crew's inefficiency but rather a policy problem that needs to be addressed."
Pros: "Quantas Operated by Emirates is definitely not Emitrates standard."
Pros: "Everything from food to seating was quite comfortable."
Cons: "Boarding was a bit more difficult since they did not call boarding zones"
Pros: "A380 economy cabin, excellent legroom for a 6"2 bloke like me. Seat was wide enough too. Really good food and a cracking entertainment system. Happily fly them again."
Cons: "That no accommodations were made nor provided"
Pros: "It was a smooth and pleasant journey."
Cons: "Menu options were somewhat limited"
Cons: "There were not proper announcements for delay of flight. Flight moved from gate while overheads bins doors were still open, lots of passengers were still standing, walking in the aisles. Even though I told Steward not to wake me for the meals but still I was woken up 3 times for two serving of meals."
Cons: "The crew was not friendly and very slow. I was flying with an infant and a child and have had excellent experiences on a number of other less expensive airlines and I am disappointed that I had bad service on Emirates business class."
Pros: "Boarding process followed at LHR #3 was well done and organized, made good use of passenger's time. Desk personnel at LHR #3 was professional, as was crew on aircraft into Dubai."
Cons: "No breakfast (had sticker on seat to wake up if needed) and ended up awake whole flight. Flight for LHR to Dubai did not provide breakfast although 1950 -> 0550 red-eye flight"
Pros: "great lie flat bed, was too tired to take advantage of the service"
Pros: "I like food, hospitality, comfort."
Pros: "This was my first time getting a bump up to First. Loved the dining options and comfort level. Staff on board were wonderful. Shower a particular novelty but it did perk me up prior to landing."
Cons: "I cannot fault anything about his experience. Simply fantastic."
Pros: "Emirates flight was amazing"
Cons: "Bug in Kayak app cost me £60 through the flight not being confirmed and having to rebook. Be vary wary of the Kayak app."
Pros: "Timing, service, comfort"
Cons: "Nothing"
Pros: "Staff did their best and were polite but ultimately had no solution for the issue"
Cons: "I was unable to get an aisle seat therefore I was stuck in an middle seat. I am rather tall and the man on the window seat was morbidly obese and half of him was sitting on top of me for most of the flight. He also sweated all over me, snoredand snorted for the whole flight. I spent much of the flight standing and now have terrible leg oedema. It was the most uncomfortable flight I've ever been on. the flight was full so there were no reseating options apparently. It was extremely unpleasant."
Cons: "Staff or what resembles a cabin crew came to ask me to give them Back a water bottle that anther staff gave me earlier ? Asked me to switch off my Movie to fight for a water bottle ? Very unprofessional"
Pros: "The entertainment system, the items handed out for our comfort, the food, the attention."
Cons: "The problem which happens when the person in front of you leans back his/her seat. It makes watching something on the entertainment system very difficult!"
Pros: "I enjoyed excellent service of this airline"
Pros: "I felt that the crew kind of forgot about us; there were lots of trolleys going by with drinks but each presumed that we had been served. I also felt that the crew in this section weren't friendly. I know it was an extremely busy flight but there wasn't much eye contact with the some of the crew, I felt that the stewards (men) were the least friendly."
Cons: "The food was bland and boring but i do like having real knives and forks. The white wine choice wasnt good. The crew didn't seem that familiar with the types on offer, ie savignon blanc, chardonnay etc. They just handed you the wine and hoped it would be ok. I felt for such a long flight the crew could have announced that if anyone would like extra snax or drinks then feel free to call a member of the crew or even go to the kitchen and ask. Wifi was offered on the flight but it wasn't explained how to use it so I didn't have this facility as I couldn't connect! Once we asked it was explained but I still wasn't able to connect. Would be helpful if this could be explained / announced to the passengers."
Pros: "The crew were friendly."
Cons: "wifi wasn't good - I couldn't connect. Wine choice wasn't good (white). Would have preferred a sav blanc"
Pros: "Entertainment and flight information was very good.Service also very good."
Pros: "First class service in economy."
Cons: "The head phone jacks in the arm rests need to. E replaced. I had to frequently jiggle it to get good sound."
Pros: "More spacious and easy navigation on entertainment screen. Good food."
Pros: "This airline is consistently great. Comfortable, lovely staff members, and great in flight entertainment."
Cons: "Was a bit disappointed in the food this time."
Pros: "Everything"
Pros: "Safety, on time, A380 is better than B777 (comfort)"
Cons: "Food, i like the hot bread rather than cold bread"
Pros: "Crew v good"
Cons: "Food .. Fish undercooked ... Aircraft bit dated"
Pros: "The A380 was much more comfortable way to fly than the 777"
Cons: "I disliked the food"
Pros: "No lunch coupons or future flight discounts given"
Cons: "Unapologetic about causing so many subsequent delays"
Pros: "Seats were very comfortable. Plane interior was in new condition, including electronic window shade tinting."
Cons: "Staff was not particularly warm or attentive. Was never offered more to drink, and after asking for more wine was ignored."
Cons: "Bigger seats the new ones are way to narrow"
Pros: "Comfort"
Cons: "Internet"
Cons: "I paid for the preferred seat .and i found that people beside me didnt pay anything when i asked them ,"
Pros: "The crew was great. The soecial meal request was hadled well despite oversight."
Cons: "Soecial meal request was made in advance but overlooked. Did not mind it so much as eating less is not a bad idea! To err is human."
Cons: "Flight got delayed 30 minutes"
Cons: "Head support for 6 feet plus people on seats would be good"
Pros: "Everything was smooth and effortless."
Cons: "Can't think of anything."
Pros: "The crew are amazing! Attentive and friendly."
Cons: "The seats could have been bigger."
Pros: "Being fed was amazing and watching free TV was great!"
Cons: "I wish there were personal fans because it got uncomfortably hot sandwiched between people"
Cons: "I bought tickets thrue you for me two months ago Iit went well but on the last few days I also bought ticked for my brother and his wife and it was a disaster night mare for them bound for Montpellier too to attend a wedding the damn suitcase didn't get to final destination it was at Orlando but got"
Cons: "Larger meals."
Pros: "Economy comfort was very nice, food decent, plenty of toilets to avoid overcrowding, and good entertainment selection."
Pros: "The flight started with a visit in the recently renovated KLM crown lounge in Amsterdam airport. I liked the various seating options and of course the upstairs bar. The service on board was attentive and efficient, the food options I really liked (especially the Chinese dish) but also the little touches like the nuts & gouda cheese which were served in small porcelain bowls. The seat itself was very comfortable when sitting and the structure gives a lot of privacy. However for couples or friends travelling it's a bit cumbersome to have a conversation even when sitting in seats next to each other. Overall my expectations were fulfilled."
Cons: "This seat is not ideal for sleeping for taller persons (I'm 185cm tall) as the space to put the feet is very narrow and it's uncomfortable when lying on the back (as one cannot put them in the natural resting position). Cabin temperature could have been a bit lower for my taste. Crew needs better training with regards to transfer procedure in Chengdu."
Pros: "Everything OK"
Pros: "The flight AMS to MEX was smooth, very helpful personnel on board, we enjoyed a bit more space and the seat seemed a bit more comfortable."
Cons: "Besides the seat relative comfort, it did not recline much at all, i wondered what the extra money (at least $5 or $600) got us. The food, wine/ beer service was same as regular economy, the boarding took place at same time as economy, no drink before take-off if only sparkling water. And the plane was old generation 747 and the entertainment was same vintage: screen was not very bright and the selection of films was poor. No plug to charge electronics. We were disappointed with KLM when comparing with other airline companies offerings when you book in Premium Economy."
Pros: "Crew was great, very nice"
Cons: "Not enough legroom"
Pros: "Easy flight; loved the crew and their friendly customer service. Great food, kept everyone hydrated and fed."
Cons: "The movie options, as well as music and TV options were limited. There were no electrical outlets."
Pros: "Great food"
Cons: "I paid a top price for my ticket and expect the advertised amenities to work. Upgrade or replacement for entertainment system."
Pros: "More than adequate room, And very good service from a very professional staff. Head and shoulders abovevany American carrier, and several European lines I have flown."
Cons: "Can't think of anything."
Cons: "KLM lost my luggage during the layover. My luggage didn't arrive even after the next flight to Prague. Customer service wouldn't give me any idea what flight my luggage would arrive on, nor would they tell me what time my luggage might be delivered to me."
Pros: "Professional crew. Good boarding."
Cons: "No entertainment on board in business. Stale buns - staff unapologetic. Older 737 with uncomfortable seats."
Pros: "Everything is top notch for an airline company."
Cons: "Nothing.... I enjoyed every moment of the flight."
Pros: "The attendants took great care of us. Super smooth flight."
Pros: "Wifi on Board"
Cons: "Nothing"
Pros: "Good services!"
Pros: "Nice to have a wrap for the snack."
Cons: "Would have preferred boarding by row - back of the flight first so would have been more organized."
Cons: "The cabin crew was racist! She asked me to move from a seat because she wanted another guy ( obviously from her country ) to take it! Rude and racist."
Pros: "Arrived Early!"
Cons: "Left Late :-)"
Pros: "Crew was very nice and helpful, entertainment system worked well and had good choices"
Cons: "Seats were not very comfortable, it was uncomfortably hot and there was not air conditioner vent above like most other airlines"
Cons: "I can't take the flight because i'm not Chilean and I don't have a reembolse or other flight ,... nothing . Finally I take other flight with other company"
Cons: "Bit cramped for space"
Pros: "Very friendly service!"
Pros: "Clean airplane, friendly crew, no rush, nice snacks for a short one hour flight. Just generally a positive experience."
Pros: "Pretty basic one hour flight so there's not much to complain about or praise about. I got some sleep which was good."
Cons: "The crew had their general Dutch aloofness on form. Chatted to one of the stewardesses in Dutch up until she saw I had a British passport then she decided she could only speak English to me."
Cons: "KLM crews look unhappy with their work. Everything they do is a favor not duty."
Pros: "Boarding/unboarding"
Cons: "Didn't allow my carry on. Said too big. Same bag was on earlier connecting flight on much smaller plane. Also on flight on Southwest week prior. But larger intercontinental flight wouldn't allow it."
Pros: "Jet airways flight till mumbai"
Cons: "Poor legspace in Klm flight till Amsterdam"
Pros: "No chargers or tv on planes"
Cons: "At Amsterdam we were told that our checkin luggage wouldn't be at Sydney!! Some low fat meals were terrible!"
Cons: "The bags where damaged from the staff"
Pros: "Easy airport business"
Pros: "Boarding was very efficient."
Cons: "Limited movie selection. Crew seemed stressed. Gave me wrong meal and then swaped for the right one. I asked for Diet Coke and was given white wine. Food quality was not good."
Pros: "Wonderful"
Pros: "Excellent service"
Cons: "Having to pay extra to pick a seat prior to check-in. I didn't, and got a decent seat anyway."
Pros: "Except for my negative comment, a good flight."
Cons: "I paid extra for a window seat, but due to the poor alignment of the seats with the actual windows, I actually sat next to a wall! Nol much to see out of a wall. If KLM are going to charge extra for a window seat, then they should make sure there is a window there! If the seat had actually had a window it would have been an excellent flight."
Pros: "Quick and efficient flight. Crew very organized. Great language skills"
Pros: "--"
Cons: "One and a half hour delay on a 50 minute flight. Flight was operated by Cityjet on behalf of KLM. Never have I seen such bad customer service: from rude people at the bagage drop off to incompetent hostesses at the boarding gate."
Pros: "crew"
Cons: "food"
Pros: "Left on time, arrived ahead of time. Baggage arrived very promptly. Seats comfortable."
Cons: "Very limited movie choices on inflight entertainment. Seatbelt short, unable to keep secured except sitting straight in seat. No food which is now typical most domestic flights 4 hours or less."
Cons: "My Kosher meal never made it on-board. The cabin (and the airport) were way too cold"
Cons: "Hi, Pliz sort out the menu,the food was rubbish."
Pros: "It was great."
Cons: "Great experience"
Pros: "No"
Cons: "Checking, boarding and overall experience"
Cons: "Rerouted thru LA and I have filled in all the challenges faced in previous review."
Cons: "British Airways did not correctly issue ticket to American Airlines and we have to wait another day before departure. Resulted in my loss of monies on various reservations"
Cons: "It started over an hour late and they lost my luggage"
Cons: "It was good"
Cons: "way too crowded"
Cons: "Never took the fly"
Pros: "Ease of boarding"
Cons: "Nothing"
Cons: "When I reserved in Kayak it said it included luggage!! I was charged 65 pounds!!! I need a regund for this!!!! Please let me know what to do!!"
Pros: "Efficiency"
Cons: "You had to pay for your drinks and snacks on the plan."
Cons: "same as above"
Pros: "It was short and fine"
Cons: "None"
Cons: "Nothing"
Cons: "not much room. cant explain the boarding. too complicated and required going down stairs."
Cons: "12 hour delay. Very disappointed with British airways"
Pros: "Easy trip, well managed, efficient"
Cons: "No drink or snack unless you pay for it"
Cons: "Freezing cold cabin"
Cons: "You charged me for coffe after flying all night"
Cons: "Please include a complimentary tea and/or snack."
Pros: "Same as above"
Cons: "Same as above"
Pros: "Did not like that I had to buy a coke. Like common really?"
Pros: "polite, efficient"
Pros: "He was courteous, highly efficient and kind. Also, Captain J. Cook made a very smooth landing."
Cons: "Bread could be more defrost or warm. But cold bread seems a common thing on airlines."
Pros: "everything went smoothly"
Pros: "aer lingus was good"
Cons: "Same as above."
Pros: "Punctuality"
Cons: "I bought an extra piece of laugagge and I had problems on both check in processes because I wasn't shown on the system."
Pros: "Quick and painless"
Cons: "very crowdy with suitcases on the board"
Pros: "The staff was pleasant & helpful. Queues for boarding moved along quickly & efficiently. Overall positive experience"
Pros: "All"
Cons: "Nothing"
Pros: "I would have liked a better choice than chips. Something less salty and more healthy."
Pros: "The price! BA direct was twice the amount. Traveling with three adults can get costly"
Pros: "Polite and helpful"
Cons: "Lost my bag with items in it that are irreplaceable."
Cons: "Very very late. So much for British punctuality."
Pros: "It was short"
Pros: "Everything was fine."
Pros: "Lunch salad! Great idea. Mini forks too cute to stand."
Cons: "The gate not being announced until 20 minutes before boarding. However, this probably wasn't BAs fault."
Pros: "See overall comments"
Cons: "luggage didn't arrive and not able to track it or contact the airline"
Pros: "It's a short trip on Aer Lingus 1.5 hours so all was good"
Cons: "Wish Cork airport had an enclosed ramp for de planning rather than a step outside in the rain."
Pros: "puntualidad y servicial"
Cons: "En el aeropuerto la recogida de la maleta venía con otro número de vuelo, me tocó ir a información a averiguar."
Pros: "it was very nice,"
Cons: "They lost my luggage and I still had a 4 hour train ride to go. My luggage made the transfer in LHR BA scanned claim checks and confirmed they had them. This was on Friday, I finally picked them up on Tuesday. They never called me, and it cost me a €70 taxi. Not happy with BA or Iberia."
Pros: "Everything else."
Cons: "Both the British Airways attendant who check me in in Chicago, and the British Airways attendant who checked me in in London, were not paying attention to my final destination and did not mark my luggage for my final destination."
Read more about Qatar Airways
Safety measures for airlines flying from England to Durban
Airlines flying from England to Durban have enacted additional safety measures and adjusted policies to better accommodate travellers. Policies vary by airline.
Heightened sanitation
Daily cleaning, installation of cabin HEPA filters on flights from England to Durban
Mandatory masks
Masks required on board, masks provided on flights from England to Durban
Social distancing seating
Middle seats unavailable to book on flights from England to Durban
Pre-flight testing
Testing for antibodies, testing for symptoms for flights from England to Durban
Book cheap flights from England to Durban
Recent return flight deals
Search by stops
Search by airline
Search by price
Recent one-way flight deals
Search by stops
Search by airline
Search by price
Flights to Durban
Browse origins:
R12 707
R12 736
R10 394
R9 975