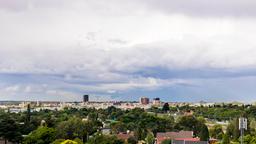 Find cheap flights from Costa Rica to South Africa
Search hundreds of travel sites at once for deals on flights to South Africa
FAQs for booking flights from Costa Rica to South Africa
How does KAYAK find such low prices on flights from Costa Rica to South Africa?
How does KAYAK's flight Price Forecast tool help me choose the right time to buy my flight ticket from Costa Rica to South Africa?
What is the Hacker Fare option on flights from Costa Rica to South Africa?
What is KAYAK's "flexible dates" feature and why should I care when looking for a flight from Costa Rica to South Africa?
Top 5 airlines serving from Costa Rica to South Africa
Scores according to KAYAK customer reviews
8,0
SWISS
Overall score based on 8 997 reviews
Pros: "Crew was great, seating comfortable."
Pros: "Crew was great! Food was actually very good! However seats are very tight in the economy class...I'm 5'6" and 130lb and had a hard time during the 10,5h transatlantic flight.."
Cons: "No complaints about anything but the seats on this particular aircraft: Boeing 777-300ER... very tight!!! Ok for a few hours of flying but not for an 11 hour flight!!!"
Pros: "Quick and easy."
Cons: "Attitude of the flight attendant."
Cons: "seat comfort"
Cons: "A little more leg room would be great"
Pros: "Crew was nice"
Cons: "No WiFi on a 12 hour flight, but we could all see the full signal WiFi for the crew, aptly named. LXCrew. Awful to see them using WiFi when we are unable."
Pros: "Food"
Cons: "Seat confort"
Pros: "This was a very short flight. They gave you a great little snack and drink. Was a very smooth flight and the crew were very friendly and welcoming."
Cons: "Could not check in online because the system was down."
Pros: "Great friendly crew. Efficient systems."
Cons: "Tight seats. Very little leg room."
Pros: "We had a turbulent trip but our pilots were very competent and got us to Zuroch safely. Bathroom was pretty clean."
Cons: "The plane was an older model and very outdated. The flight attendants gave us a choice between chicken or vegetarian pasta. I chose chicken, but it was actually beef. The salad was literally iceberg lettuce and a slice of cucumber. Overall, the meal was one of the lowest quality I've ever had in am airline. The outdated onboard entertainment system was annoying to operate and it was impossible to even see the screen when the person ahead leaned back."
Pros: "Swiss took care of arranging hotel for us and substitution flight."
Cons: "Missed connection flight because of delay"
Pros: "There wasn't much that stood out as likable. The food was pretty good."
Cons: "The plane was too hot. I asked multiple times throughout the flight for the temperature to be reduced, and it was not. I was wearing light jeans and a short sleeve shirt, and I was sweating all flight. Each time I asked throughout the duration of the flight, I was told it take a while for the temperature to decline. It's one thing to be uncomfortably warm on a flight; it's another thing when the flight crew lies to you. Further, I was not the only one to request that the temperature be reduced. This made an 11 hour flight particularly miserable."
Pros: "Very little."
Cons: "Boarding was difficult with poor communication, before impolite request for spot check of carry-on bag and person. Ended up being one of the last to board. Entertainment system did not work, and after 4 requests for assistance to different crew members finally gave up asking and so had no entertainment for whole of flight. The last of the crew members suggested that an alternative seat or a future flight voucher could be given, but neither of these materialized. Food mediocre, and crew polite, but some not particularly friendly."
Pros: "Everything, but the lack of entertainment."
Cons: "The lack of entertainment."
Pros: "Sandwiches"
Cons: "The flight was delayed 30 minutes. Not once did we hear an apology. They also changed the gate on us last minute and didn't communicate. We discovered accidentally"
Pros: "The food wasn't bad"
Cons: "Business seats suck"
Pros: "Nothing remarkable"
Cons: "I got up to use the bathroom and I was seated in the 10th row. When I was trying to make my way back to my seat, the beverage service had started. They were at the 12th row and after bumping into me, the flight attendant asked me to back up and wait until the beverage service was over to go back to my seat. This was a flight from Frankfurt to Zurich, only about an hour long, and I would have easily spent half of it standing up had I complied with their request. I had to be pushy and ask them to just back up the cart 2 feet so I could get to my seat, which only took them 5 seconds. This was a very rude, illogical, and unreasonable request from the Swiss Air crew."
Cons: "Mackenzie Gray/ My flight was cancelled due to bad weather conditions unfortunately. I'm upset that I never received my initinerary for my substitute flight! I tried online and calling the # that was provided no results. I managed to get thru to someone and they told me they would send the info to my email but they never did."
Pros: "Air hostesses were very courteous, friendly and the cabin was clean and comfortable. My flight from jfk to Geneva (then Zurich) was cancelled due to weather in Geneva (Swiss 23) so I got upgraded to a delta flight to Brussels then to Zurich Comfort+ !!! Thank you!"
Cons: "Flight from Zurich to Johannesburg: Swiss 288 (airbus a340-300) Sat in the last row of the Swiss air flight, economy, which was okay but our whole row video enternatinment system didn't work. You'd pick a movie and it wouldn't play. The games, camera and flight status animation all worked but not the movies. Air hostess tried resetting , still nothing. But it was a great opportunity to have a lovely conversation with my new German Friend Barbara and read my book! More lactose intolerant alternatives for breakfast which had much (cheese, yogurt, croissant) Other than those two , excellent flight. Thank you Swiss!"
Pros: "It was very efficient and the staff was very nice. The line was long but fast. The seats have quite the lean which made it easier to lie back. Getting Swiss chocolate is always a plus."
Cons: "The seats weren't as comfortable or fluffy but it was a short flight so it can very well be overseen."
Pros: "Quick and easy- no problems. We had drink service and a yummy croissant. Flights attendants were really nice and spoke great English."
Pros: "Crew"
Cons: "Food"
Pros: "Kind crew and a short flight"
Cons: "Snack choices too limited, but it was great that they even had them."
Pros: "The woman who checked in my baggage was very helpful and patient. I had to re-arrange some weight and she assisted me in maximizing weight and minimizing cost. The flight attendants we very kind in trying to assist me in finding appropriate food. The flight was very comfortable and the flight attendants were wonderful all-around."
Cons: "Boarding of the flight was delayed which impacted our arrival time in Zurich. I had a connecting flight- but so did at least 10 other Swiss flights at that time. The queues for customs were incredibly long and the only reason I made my flight was because I ran through the airport. I also had a challenging time with food. I am celiac and often cannot eat the standard fare on planes. I called in advance of my flight to notify someone of my allergy - and they told me the only way I could ensure such a meal was by purchasing a meal that cost $30. I was not willing to pay such a hefty surcharge for food because I had already payed a bit extra than budgeted because my partner had recommended the excellent service of Swiss. I have traveled on several airlines for intercontinental flights between Boston and Europe - and have always had my allergy accommodated at no extra cost. Once on the flight - I was offered an orange and banana for dinner and a small yoghurt for breakfast. I will be flying Swiss again in December and I sincerely hope they will be better equipped to provide for my dietary requirements."
Pros: "Crew was professional and attentive. 55 minute flight so food was ice cream, beverages, and a piece of Swiss chocolate. Plane's entertainment system in my section did not work. I had to check my carry-on!"
Cons: "All of the above with the exception of crew & food comment."
Cons: "My seat did not recline and my tv did not work"
Pros: "Service was great staff very attentive food was good and crew makes sure you are never hungry or thristy"
Cons: "It was a 11 hour flight and coach seats too small to sleep"
Cons: "Did not get to make this flight either. Horrible."
Pros: "A snack was actually served on board! With a beer if desired."
Cons: "Change of planes at gate produced some boarding confusion."
Pros: "Crew and people were fabulous!"
Cons: "LONG lines at check in. Almost missed flight even being there 90 mins early."
Cons: "On ticket it said time between flights was 1hr 25min, but as soon as we got off the plane we had to RUN through Zurich airport, where 1000 other people were all trying to funnel down the single escalator to Passport Control, to get to our gate. Then we had to wait in another Passport Control. TERRIBLE and stressful. The actual flight was fine."
Pros: "By far the worst experience I've ever had in my life. 1. A day after I perches a multi destination tickets I called Swiss air costumer service requesting to upgrade my tickets to business class. no one would even try to help me. They just kept saying I need to contact my travel agent. After 3 phone calls I gave up and decided to wait and upgrade my ticket at the airport. 2. In Prague the night before my second flight I hurt my knee real bad to a point that I couldn't walk at all. The next morning I call Swiss air costumer service again trying to explain them my situation telling them I can't fly and won't be able to make it to my flight. Costumer service cancelled immediately all of my remaining tickets and try to sell me new tickets for a full price. I said I don't mind buy and pay for the one flight I missed but there is no reason for her to re sell me the rest of my tickets that I already paid for, again. Then she start to change prices up and down like in a Chinese flea market. At that point I begged her to talk to a supervisor but she Kept ignoring my request and just try to negotiat for a lower charg she kept me on the phone for 5 hours. My hotel phone bill for that one call cost me 150€. I never got to talk to a supervisor but she took down the charge to 517$ Not included a new ticket flying out of Prague. 3. For my last flight going home. I showed up 2.5 hours Earlier. asking to upgrade my sit to business fin desk send me to talk to asupervisor. The supervisor was trying to process my request but didn't seem to know what he was doing at all. One minute he was on his computer then the next minute on the phone with Swiss air headquarter then back on his computer for more then 35 minutes with no resolute. I still had an hour and half before take off when he told me he can print me the ticket but it's to late now since the gate for my flight is close and I already missed my flight. I said that's impossible cause I still have an hour and half to my flight but he insist on the gate been close and there is no way I can get on that flight. Right away I run back to front desk asking them to print my ticket as fast as possible cause I would really like to get on that flight. In front desk they told me not to worry cause I got plenty of time to get on that flight. So I gave up on the business upgrade and told them that at that point I'll be just as happy to sit by the window. Of course they put me on the very end exactly in the middle. After the door was locked I looked around and saw plenty of free sits available including by the window. 4. In Zurich I finally managed to upgrade my last flight coming back to Tampa fl to business and noticed that the only way they could do that was by contacting Swiss air headquarter for approval. When I asked why is that since I fly a lot and never seen anything like that before one of the lady's there told how Swiss air left all of their front desk powerless and all decisions must be made by headquarters."
Cons: "When we finally arrived in Tampa. It hook them an hour and a half to get are bags out. I honestly doubt I'll ever fly Swiss airlines again. Ever. Absolutely the worst experience I've ever had flying. Ps the crew on the plain ware a lot nicer and more professional the people on the ground."
Cons: "Slight delay."
Pros: "It was quick and the crew was really nice!"
Cons: "No organization for boarding. It didn't matter what class you are in, everyone boards at the same time. business class o. The plane we were on was just the front seats....they were not larger seats."
Cons: "They charge you an extra $ 100 DOLLARS FOR THE OPTION TO PICK YOUR SEAT AND WHEN YOU CHECK IN THEY SAY THAT IT WAS JUST TO SIT IN THAT SECTION OF THE PLANE. WE PICKED OUR SEATS BY THE FRONT BULKHEAD AND WHEN WE CHECKED IN THEY REFUSED TO GIVE US THOSE SEATS BECAUSE THEY SAID OTHER PEOPLE PAID MORE THAN US TO HAVE THEM. THEY SHOULD BE INVESTIGATED FOR THIS KIND OF FRAUDULENT ACTIVITY."
Pros: "the punctualty"
Cons: "little space betwwen the rows, bad food no entertainment and a very unfreindly crew"
Pros: "Great customer service."
Cons: "Breakfast was a strawberry yogurt, orange juice and a croissant. Sugar free options ie. Eggs, rye or whole grain bread are a few examples of sugar free breakfast items that could be provided."
Pros: "my wife needed a wheelchair, so we were whisked between terminals. but if we had had to negotiate that long distance by ourselves we would probably have missed the connection because there was only an hour layover and the distance between gates was great"
Pros: "The flight attendants were very nice and the chocolates were nice. Food was mediocre and I'm not sure I'd take Swiss again."
Cons: "Seat pitch was too small and the food didn't taste that great. I was lucky enough to get a whole row to myself but on the way back I did not and there is not a lot of room at all. And for an 11 hour flight it was really uncomfortable!"
Pros: "Crew was very nice & humble"
Cons: "Food quality could be better it was tasteless very low standards, & boarding crew in Chicago or in Mumbai needs training because they don't want to give you a choice for food or the seat From Zurich to India & they runout off Nonveg food & crew was telling they have only veg take it or leave it samething Zurich to Chicago if the boarding crew do write thing then this could be avoided ."
Pros: "Everything"
Cons: "NA"
Cons: "No inflight entertainment."
Pros: "I got business class upgrade, so everything was pretty much awesome. Also, Swiss Air gives you a fun little bag as a souvenir."
Pros: "Got upgraded to business class and had the best flight of my life!"
Pros: "Nothing"
Cons: "The most racist and unfriendly and uncivilized people ever."
Pros: "Flight attendants were friendly, and also very skilled so that their service was unobtrusive, graceful, and helpful. They took great care to get people what they wanted, and I saw them fulfill a few special requests from the people around me politely and quickly. The entertainment selections were good. The variety of interesting musical selections allowed me to go the whole flight without running down the battery on any of my own musical devices. The seat space was comfortable, especially compared to domestic flights I've taken for the last 10 years. The enforcement of carry-on luggage rules meant the overhead compartments were sufficient for what was brought aboard and people weren't filling the foot-space with bags."
Cons: "Headsets did not work"
Pros: "The extra level of Swiss security at the gate. The highly professional cabin crew. The inflight food service was well above the norm. The demeanor of the flight deck crew was exceptional. I'm going to try and fly Swiss whenever possible now."
Pros: "Not applicable."
Cons: "I was not permitted to check in and board the flight due to incorrect information about the policy and refused to consider my written proof to the contrary."
Pros: "CREW WAS GOOD FOOD AND SERVICE WAS TERRIBLE"
Cons: "NO SEAT MONITOR WAS WORKING. ANNOUNCEMENT WAS TERRIBLE.SEAT WAS MUTILATED FOOT REST WAS NOT WORKING.OVER ALL VERY POOR SERVICE."
Cons: "Outstanding airline either to IST or beyond!"
Cons: "they allowed either carryon or a personal pack"
Pros: "Great food. Great seats. Great stuff. Great plane and the landing did not feel st all! Definitely am happy!"
Pros: "Everything...the food was delicious, the staff was gracious and always went the extra mile."
Cons: "Our name wasn't on the plane first ! After a while our names showed up than the plane left 25 minutes earlier and we were stuck in the airport and no one try to help they just informed us after 4 hours that we need to pay 600$ penalty!"
Pros: "Nice plane , nice crew. Ok food , not as good as Sfo to Ist ."
Cons: "We left delayed as it seemed they were waiting for someone. Older 777 wich shows wear."
Pros: "Great helpful staff, nice cabin layout with lots of space to sleep, excellent food, free internet, Live TV - what else could you ask for."
Cons: "There was nothing really to dislike here."
Pros: "Movies"
Cons: "I had to rearrange my bags 3-4 times even though I paid $80 additional for extra weight"
Pros: "Everything! Food was amazing!"
Cons: "Missed this flight due a layover and had to wait in the airport overnight."
Cons: "long lay over"
Pros: "Sleeping accommodations, storage, crew attentiveness in business class was outstanding. 5he business lounge in Istanbul was the best ever. Great airline."
Cons: "On time"
Pros: "Boarding and arrival was on time."
Cons: "Crew unprofessional, gave my vegan sister a chicken sandwich, forgot to serve some guests, they were unpolite and inpatient."
Cons: "Why were they first from the Turkish Airlines staf to puschese new tickets and pay out of packet"
Pros: "Comfort and service."
Pros: "Service and food"
Cons: "None"
Pros: "Only the stewardesses very helpful and professional"
Cons: "The seats"
Pros: "Food"
Cons: "After bus arrived at steps kept on it 20 mins. 2 more buses arrived in this time. Still wait. Then let out all at once. Massive queues to board. Poeple not dressed for this. Poor babies crying Maybe 15 mins waiting in 2am cold on tarmac."
Pros: "Flight was on time, relatively clean and the food was quite nice"
Cons: "For a flight leaving at almost 1 am, it's quite annoying to be force fed dinner and prevented to sleep for the first two hours of the flight. Dim the lights and do "on demand" dinner please."
Pros: "food was good"
Cons: "wifi was announced but did not work"
Pros: "Turkish Airlines is a wonderful airline. The service was excellent and the food was delicious and plentiful. They are organized and helpful. On time and smooth flying and landing."
Cons: "Seats are very tight (for those of us who always have to fly economy). Wish there was more legroom."
Cons: "Delayed flight. Lost baggage. Although promised to be delivered on the next day, it didn't happen. Still waiting for resolution of this issue."
Cons: "Very disorganized the gate checking, staff ne d hospitality training . You ESP not have time for your queries and concerns . They are always in a hurry to finish talkign to you . Poor hygiene. The bathrooms are very dirty and has nomjand soap to wash your hands . Male staff in board come across unpolite. ingelt inwelcomed by the male flight attendant port side at the back.?"
Cons: "They changed checkined seat numbers. Air conditioning was a total failure."
Pros: "The flights themselves were fine"
Cons: "However, having a long layover in Istanbul airport was a problem as there are no seats available to sit it for hours. If Turkish Airlines wishes to continue to be a major travel hub they will need to cater to transit passengers."
Pros: "A much nicer 777 on this leg."
Cons: "The lounge at IST is overcrowded and lacks sufficient showering facilities. There was leftover food everywhere that the overworked staff tried, in vain, to keep up with."
Pros: "Boarding was easy"
Cons: "Food, service and very mean crew. Upon landing in Istanbul no guidance is provided about your next flight and nobody helps. Very crowded and small airport."
Cons: "they lost my lagge and I been in JFK airport waiting over 2 hours I am soo upset it is a very bad experience I hope they found my stuff"
Pros: "not much"
Cons: "flight delays, lost bag, did not get delivered for over two days"
Pros: "The flight was smooth"
Cons: "They had rotten food and didn't even tell us when serving would begin. Also they lost our luggage in spite of having our tag #. How does an airline not put a tag on a bag and give a bagage tag to a customer. ?? And after going on a cruise with one Carry on and everything Lost they don't even give us an allowance or a normal kit for toiletries and no one answers our questions. All the calls go to the call center that has no idea about how to track a bag. There are no managers to help and the customer service stinks"
Cons: "Food was dried out and tasteless"
Pros: "As above"
Cons: "As above"
Pros: "I used the prime lounge in Istanbul and when it was time to go, I was able to practically walk on the plane without any wait. The seats were comfy and didn't have a ton of legroom but it wasn't bad. The staff we're friendly and helpful. The in-flight entertainment had a pretty impressive selection and had one of the best-designed interfaces I've seen so far (and I've ridden a variety of airlines). Last and most important, the food was hands down the BEST I've had on a plane. Turkish is killing it, they're my new go-to airline!"
Cons: "I really can't complain about anything, even if I try! Maybe the touch screen sensitivity on the entertainment console seemed a little off, but that's just nitpicking"
Cons: "great delay without explanations"
Pros: "Quick and nice"
Cons: "We stayed on plane for long time before it took off, and we arrived late, food was not good"
Cons: "Leg space a nighrmare!! Was uncomfortable for all the 13 hrs of the flight. Terrible experience"
Pros: "It was a 12 or 13 hour flight and except for sitting too much we were never uncomfortable. The service level made me think we were back in the 80's. Hot towels, attentive service, tons of food and free drinks. There was actually one meal that we would have eaten even if it wasn't on a plane. They gave out full size blankets and pretty fluffy pillows. (I bring our own anymore, because you never know if you will get one on most airlines, and if you do they're usually useless). Their entertainment system was amazing. We caught up on all the recently released movies that we've wanted to see for FREE! If only Netflix had this quality of movie offerings. They had fresh flowers in the huge bathrooms. It's that type of attention to detail you just really don't see anymore."
Cons: "Can't think of a thing that could actually be changed."
Pros: "Service when it was done"
Cons: "Infrequent service Crowded Entertainment system bad"
Cons: "I don't why the take-off and landing are late. The boarding started late! the plane stayed on the ground for minutes doing nothing! and in the end the plane arrived half an hour late!"
Pros: "The crew was very nice and accommodating. The seats were comfortable."
Cons: "There was no order or control when we got to the gate. Three lines were converging on one to get to the gate and no one from security or the airline was trying to have order."
Pros: "Service was outstanding!"
Cons: "I have no complaints!"
Pros: "The crew is excellent"
Cons: "The seats area are too small my knees hurt as they hit just the edge of the food tray, impossible flight with the seat other than straight as you will be disturbing a lot the other passengers, although unfortunately some people do not care about the confort of the others"
Pros: "On time. Comfortable. Clean. Efficient"
Cons: "No non dairy alternatives in food. Chicken was tough and stringy."
Pros: "Food, service, attitude."
Cons: "In Istanbul airport not enough people speaking English. No USb to charge my phone."
Pros: "Attention, service, flight."
Pros: "It was an excellent trip with THY. The crew was very attentive for the requests and the needs of the passengers at all time (regardless of inconsiderate traveler). Since it is usually too expensive for me to travel with THY, one still can get a great deal if looked for deals in advance. Some of the best things about traveling with THY are being able to check 2 bags, unlimited drinks and food at all times and more leg room. Max"
Cons: "delay due to lack of deicing equipment"
Pros: "The plane was nice, entertainment options were great, pilot was super kind."
Pros: "There is Nothing that like"
Cons: "If you allowed me to get in this flight everything would've been fine.?"
Pros: "Everything was great. Our 4-hour flight went off without a hitch. We've flown with Delta many times and have never had any problems."
Cons: "the flight was delayed and so I missed my train home"
Pros: "Everything except landing at the same time my next flight was boarding. I had to sprint and was greeted my the meanest delta agent I have ever known. I didn't know you could be that snotty. She would not Listen to me or help me get the correct seat o had signes up for"
Cons: "Attends on flight said to go ask gate crew to help me and I rushed out to be greeted again by the bus mean crude snotty agent. She told me to get my rear on the plane The attendants didn't have a clue that she had others to board ( they all got upgrades) and I better move my rear. I was shocked."
Pros: "room and services"
Cons: "can't think of anything"
Cons: "People that take up more than one seat should be required to purchase two seats. The woman on the isle was over the arm Rest in my seat the entire trip. It is unfair to me. No one came to Take trash for 2 hours so we had to keep our tray tables down."
Cons: "Have to call out the delta lounge...excellent and healthy. My experience was outstanding. Thanks Delta"
Pros: "The flight was not crowded and plenty of flight attendants offering service throughout flight Also smoo5h flight."
Pros: "Priority boarding and on time"
Cons: "Nothing"
Cons: "Poor service"
Pros: "It's become a mediocre airline."
Cons: "Everything."
Pros: "Nothing"
Cons: "Everything"
Cons: "My departure from NY flight tv was not working"
Pros: "love that Delta is now giving out Kind bars. Thanks!"
Pros: "Nothing - missed flight"
Cons: "Need to reschedule flight to tomorrow morning...."
Pros: "Every Delta employee that we encountered was professional and pleasant"
Pros: "Professional, courteous, and responsive crew and attendants."
Cons: "Nothing."
Pros: "The crew both going and coming from San Jose, Costa Rica were incredible."
Cons: "The long waits on the tarmac waiting on other planes to leave. Which was a big problem because it caused a lot of us to either barely miss our flight or miss our flight."
Pros: "My flying experience with Delta was and has always been great. Always professional and courteous crew and employees."
Cons: "On time, free upgrade."
Cons: "My flight was delayed several times and had to rebook. Total delays were > 6 hours."
Pros: "Good abording"
Cons: "problems with seating assignment"
Pros: "The crew was gracious and accommodating."
Cons: "The plane showed wear and tear. We paid for delta+ premium economy and an exit row. The seating map online was misleading and we ended up next to the bathroom. The exit row food tray was broken and was hard to even sit a good tray on. The emergency exit door isn't well insulated and we were absolutely freezing cold the entire flight. The seats were hard and uncomfortable. The food was not good for international travel. Overall I was very disappointed in this flight. I travel the world and on long hauls the planes need to be cleaned well and seats in working order."
Pros: "Great experience"
Pros: "No lines at the baggage drop off. No lines at TSA. Efficient and organized boarding. Seat area was clean. No delay, friendly energetic flight attendants."
Cons: "Lots of turbulence on the last 20 minutes of the flight. Captain had warned us. Nothing they can control though."
Pros: "Great service!"
Pros: "Like the airplane - Boeing 757. More comfortable than the 737."
Cons: "Don't like the towel dispenser location and function. Can't find it when standing and a bunch of them come out at one time."
Pros: "Thai was the first time in years delta was fast friendly and ONTIME with both departures and arrivals! That's he most important to me!"
Cons: "No wifi available and The video entertainment service was bad: my video screen didn't work- I asked for head phones and no one ever came back to me with some- luckily I had already Dwnld my own you tube and videos so I watch's dmh own. I hope going home to hawaii these won't be issue again"
Pros: "I flew on a basic economy fare (I understand the restrictions) and was seated in Economy Comfort +, so that was appreciated."
Cons: "I could see on the Fly Delta app that I had been placed in seat 10B, but neither the app nor my boarding pass gave me a group to board with, so I assumed that I needed to board with group 3, which necessitated gate-checking my rollerboard bag. Only when I approached the gate to board did I notice on the info screen that I had been "upgraded" to Comfort + and granted boarding with the Sky Priority group. I wish this had been clearer so I could have avoided waiting to board and gate-checking my bag. Minor inconvenience but room for improvement on Delta's part."
Pros: "Food"
Cons: "Leg room"
Pros: "The flat bread pizza was good. The drink selections were good. The meals were terrible! Besides that, we had a great flight (13 hours)"
Cons: "The food The air was super dry (had nosebleeds twice)"
Cons: "The prices of the available snacks."
Pros: "Staff lovely"
Cons: "Flight delayed so we got bumped to a later connecting flight An eight hour trip became a 12 hour trip"
Pros: "I asked for a change of seat at the gate and was given it. It really made a difference to be at the window."
Pros: "That I was able to sit next to my husband"
Cons: "Everything else."
Pros: "Airport was being remodeled so there was a bit of confusion and lack of accommodation but other than that the flight was good"
Pros: "I liked the boarding process."
Cons: "Bigger seats are more helpful."
Pros: "We were two for two on not being able to understand the gate agents announcements. Please keep in mind that not everyone flies frequently. I'm convinced that the routine of the job blinds both the TSA and airline employees to this fact. Clear and concise instructions would be great, regulars will continue to ignore you. So no harm, no foul."
Pros: "It was on time"
Cons: "Too short of a layover in Atlanta"
Pros: "Friendly crew"
Cons: "The cost of the ticket"
Pros: "Easy boarding. Due to bad weather they kept us well informed. One hour late but not their fault."
Cons: "A little chilly in the waiting are."
Cons: "Delta doesn't manage their flight schedules and personnel with backup or standby crew in order to assist whenever there are delays across domestic flights. The plane was late to arrive at the gate and we were also told that while the pilot was ready to take off, we couldn't leave because we were waiting for a flight attendant to land from Pittsburgh (we were in La Guardia airport in NYC). delta would rather I convenience the flyer instead of hiring more personnel or figuring out standby or backup plans for delayed flights."
Pros: "on board service was nice and promptly"
Cons: "Delta continúes to use an older 757 in this 6-hour flight with cramped seats and seating arrangement in business class. I have taken this flight several times in the last 2 years and written about this issue but now doubt anybody cares about these comments. To make things worse, my seat would not recline!"
Cons: "Arrived at my destination almost two hours after the initial arrival time"
Cons: "1. Boarding order is not by seating making boarding very inefficient"
Pros: "Bulkhead seats - logos legroom"
Cons: "Very long boarding process - security checks and a long walk from connecting flight"
Pros: "The crew is always great. I liked the environment was cooler. It doesn't need to be refrigerator cold but keeping things on the cooler side is helpful."
Cons: "Boarding class and queuing for boarding is always a clusterf***. People will crowd the gate and board with the wrong class and that creates anxiety and leads to edginess. If a system could be worked out and enforced that would help."
Pros: "When our flight was delayed by four hours they gave us snacks at the gate. No one offered to reschedule."
Cons: "The 45 minute wait in the Sky Priority lane to drop off baggage. The flight was delayed because of weather and then their scheduling system crashed. Had to wait for a pilot. When we finally boarded at 5 we got peanuts in first class. That was worth the mileage upgrade. Upon landing there was a 1/2 wait on the tarmac to get a gate. That same plane, upon taking off back to DTW blew a tire upon take-off, had to do an emergency landing and everyone had to spend the night in NOLA after being delayed all day."
Cons: "The least leg room in any flight I've taken. We had requested vegetarian and the flight from Frankfurt to Nairobi gave our meal to other passengers.they told us we had to eat the best dish or nothing. This on an 8 hour flight."
Cons: "Everything was excellent! I will be flying with them again!"
Pros: "The crew. The punctuality."
Cons: "The confort of the seats."
Pros: "Smooth and easy flight"
Cons: "Food and drinks served late"
Pros: "We landed safely. I like the A380."
Cons: "One crew member in particular looked very frazzled and was rushing to do everything. They also took away my suitcase which would have very easily fit in the overhead."
Cons: "Server was mean"
Cons: "No complaints. Good vegan food."
Pros: "Comfort and space"
Pros: "Leg room, comfortable seats, staff great"
Cons: "Nothing"
Pros: "Flight delayed 30 min. Customs in ORD overwhelmed by two planes coming at once. Missed my connection and had to stay overnight."
Cons: "Flight delayed 30 min. Customs in ORD overwhelmed by two planes coming at once. Missed my connection and had to stay overnight."
Cons: "My bag was lost, exsept close I lost life-saving drags like insulin and other. I not live in Finland and don't have there my medical record that can go in farmasy without medical prescription to buy medicin. Today is my 70 years burthday. This is a good present to celebrate. Thank you"
Pros: "Flight crew was amazing, as well as the first meal....restaurant quality."
Cons: "Food quality"
Pros: "The service was outstanding!"
Cons: "Someone stole my phone charger :("
Cons: "Delayed in plane almost an hour after landing before being allowed to deplane"
Cons: "Seat pocket was damaged and couldn't be used. Food was at best mediocre. Old salad, old bread, no salt with warm meal."
Pros: "In this day of continuous service cutbacks Lufthansa has managed to keep amenities that make long flights bearable. The boarding was early and efficient. Meals were decent and plentiful. Hot hand wipes were provided. Hundreds of video entertainment options and fairly friendly English speaking flight attendants. I recommend paying the small upcharge to choose seats with extra legroom. totally worth it on the long haul"
Cons: "Be there early. They board early"
Pros: "The staff was communicative and genuine. The food was decent. Even though the flight arrived late I felt ok about it due to the direct communication of details about the situation. I was stuck in the extremely cramped space of seats just in front of the lavatory making the seat in front me 5 inches from my nose when reclined but the staff was sympathetic offering to ask the passenger in front of me to redress their seat more upright and also allowing me to spread out across two seats to compensate."
Cons: "While the staff compensated for the more than standardly cramped seating arrangement, I think the row of seats just in front of the lavatories should be either better designed or designated not usable. I am only 5'3" and 125lbs but still was faced with a mere 5 inches in front of me when the passenger in front of me reclined his seat. I couldn't even stand in order to exit the row and had to crawl over the seats to my side. This had me thinking how dangerous this row could be in case of an emergency. Please consider designating these seats either not to be used or optional for passengers."
Pros: "La atención del personal y el sistema de entretenimiento."
Cons: "La comida, no tenía buen sabor. El avión es poco cómodo (Airbus A340, clase económica)."
Pros: "Lufthansa is an efficient operation."
Cons: "1. The comfort in economy class was insulting and horrible. I am 6'3", 175lbs and was trapped in one uncompromisingly uncomfortable position for 8+ hours. Torture is a word that comes to mind. If I were a smaller sized person, 5'8" or less, perhaps this may be acceptable, but for anyone over 6'. forget it. You must pay loads extra to be given a respectable seat. I am hopeful that I don't develop a blood clot from this flight. This lack of room is a seriously dangerous situation for many people on long-distance flights. 2. The seat recline feature added further insult to the mix. Once airborne, the lady in the seat in front of me sent her seat into what was left of any personal space or legroom I had. The video screen on the setback in front of me was literally 6" from my face now. Several people who were also of taller size complained, one was so adamant about retaining his space that he fought verbally with the lady in front of him, and eventually a stewardess had to be called. My wife complained on my behalf, and was able to get the lady in front of me to reposition her seat, but eventually, I noticed it somehow found its way back to recline again. I know Lufthansa is not alone with this predicament, but something HAS TO BE DONE to fix this huge problem with air travel. 3. The food on the flight to Germany was way better than the return trip. The meal consisted of mushy carrots, greasy mashed potato-like side, and a piece of OK chicken smothered in 'Murican BBQ sauce. I was insulted. Lufthansa had been better than this in the past. Oh, and the dinner roll was so dry and crumbly, it could have been weeks old. The snack before landing was called pizza, but I wouldn't call it that It was a bunch of tasteless dough, a little bit of tomato like sauce and a smattering of cheese. I wish Lufthansa would stick to what they do best; German-influenced food. Be true to who you are. Most people I know love German food, and I always have looked forward to LH food selections. Not now."
Pros: "Nothing"
Cons: "Very Negative Experience and I will never use, and strongly discourage others from using Kayak or Lufthansa or Flyus.com unless you correct the problem!"
Pros: "crew is nice"
Cons: "breakfast was pretty lame !"
Pros: "Boarding was great. Easy. Fast"
Cons: "Seat was cramped. Blanket was inferior."
Pros: "I enjoyed just relaxing, eating good food, drinking as much quality alcohol as I pleased and having all the entertainment I could ask for"
Cons: "The entertainment system could remain active till the actual opening of the doors. Why not?"
Cons: "There was a 3 hour delay."
Pros: "Great service and food!"
Cons: "I didn't like sitting in the middle cause it was hard to sleep and go to bathroom"
Pros: "Nothing"
Cons: "Water was spilled on me by flight attendant. Luggage was left in Frankfort. Did not have clothes or medications, or daily necessities. Must wait 1 1/2 days to get luggage"
Pros: "On all my flights everything was on time and ready to go. Crew was super helpful and friendly. Ready great service and constant visual of crew for us if we needed them. Was not expecting to be fed sooo much on my flights which was awesome! Seats were comfortable, pillow and blanket were a nice accommodation as well! The entertainment was awesome - made 8 hours quickly disappear! Will definitely fly with Lufthansa again when I go overseas!"
Cons: "The entertainment systemis was sub par."
Pros: "Pretty much everything. A joy after the Condor flight"
Cons: "What's not to likr?"
Pros: "Comfort"
Cons: "Food"
Pros: "No vegetatarion food on return flight"
Cons: "No vegetarian food on return flight from Frankfurt"
Cons: "Late departure"
Cons: "The on board entertainment sucks you need to upgrade"
Cons: "The ticketing when purchasing a ticket from NEW YORK is very unclear and even though we wanted a JFK ticket, the NEW YORK search showed a ticket for NEWARK NJ so my step dad ended up going to the JFK airport - An elderly man who has trouble with English and no one was willing to help him to rebook his ticket. Not only that - the Lufthansa people VOIDED his entire ticket including the second leg because the agency wasn't picking up for a rebooking so the entire ticket cost was lost - $1200 - GONE! We couldn't even get him a one way ticket so he could use the return part of the one he bought. This is an absolute customer service disaster. This man lost all his money, he saves up all year to go see his family. That's an ugly way to take advantage of people."
Cons: "Food was awful. Looked like something you would find in prison. My second leg did not even have vegan options for me, as I ordered online weeks ago. I was so hungry after almost 14 hours of flying plus a 12-hour layover. I am not impressed with this airline."
Cons: "The cabin got a little hot during the night and made it hard to be comfortable. Also, the seats lean pretty far back so I had little room in front of me when the person sitting in front of me leaned their seat all the way back."
Pros: "Clean plane tho old 747. Great crew."
Cons: "Of course really tiny seats. Meals can only ever be mediocre but better than American carriers."
Pros: "On time"
Cons: "Leg room"
Pros: "Everything"
Cons: "Not a thing"
Pros: "Had no problems. Was a comfortable flight."
Pros: "Everything was pretty good. Except for the seats."
Cons: "On the long haul flight the seats started to hurt after a few hours. The seats on the short haul flight felt more comfortable."
Cons: "It was delayed by 9.5 hours!!!!!"
Pros: "The flight attendants were very friendly and efficient."
Pros: "The food was ok"
Cons: "There was no way to check seats or gates ahead of time."
Pros: "Munich airport is convenient and boarding went smoothly"
Cons: "This was an SAA plane, not Lufthansa. I have only had excellent service on Lufthansa. This flight again did not have a functioning entertainment system. I asked for this to be addressed and the SAA crew ignored the request and in the morning looked surprised to find out that several of the TV monitors had not worked at anytime on the flight. Not impressed."
Pros: "Among the most comfortable economy I've ever been on"
Cons: "too few toilet facilities for the plane section--and curtaining off other sections so one couldn't go to them"
Pros: "I used to fly lufthansa for my europe travel for work about 15 years ago a lot and thought in recent years it may not have been as good but these flights made me appreciate Lufthansa anew. Crew extremely helpful and polite, always followed up to any requests. Instead of barking at us like United or American crew, they went out of their way to help my daughter get a makeshift icepack for some very painful bumps she got during our vacation. Crew also kept the bathrooms clean from time to time, which was a welcome relief for such a long flight. Desk staff/service desk also was helpful in directing us during the 5 hr layover to things at the airport itself that we could do. They also helped reprint the boarding pass and write down the baggage tags when security made me lose those by separating my wallet and boarding passes into mutliple bins."
Cons: "Phone service. When I tried to book my seats and meals, the lady kept getting things wrong, and ended up not getting me the seats I had specifically ended up asking for. So, when I arrived at the airport and printed my boarding cards, those were seats I did NOT want and all the service desks insisted that's what I asked for. No low carb meal option was surprising. Meal service sometimes felt like too close to each other else too far apart from snacks - didn't feel like we had enough time to digest and get some sleep, while at other times we were seeking out snacks.Overall good quality of food however."
Pros: "Easy flight nice bottle of reisling"
Cons: "No on flight entertainment"
Pros: "Good flight, liked the extra leg room."
Pros: "The plane condition."
Cons: "The flight attendants could have served some drinks in between the meals. They actually refused to serve something additionally when asked."
Pros: "The seats were so comfortable"
Cons: "Free wifi"
Pros: "The plane ✈️ itself the attendants . The entertainment on board. Really great"
Cons: "Nothing dissatisfying about the flight nor the airline staff . Very polite, very professional. It was a Great flight. For long trips this airline is one of the best."
Cons: "Boarding at Florence is always chaotic but this isn't within the control of KLM or their crew."
Pros: "The crew was informative"
Cons: "Inflight sandwiches"
Pros: "Comfortable seat, great crew."
Cons: "Flight delayed, no USB port and no entertainment"
Pros: "The crew and the timing were ok"
Cons: "The seats were uncomfortable"
Pros: "Slow service."
Cons: "Better communication!"
Pros: "Friendly crew"
Cons: "Can't think of anything"
Pros: "Crew was friendly"
Cons: "Passenger who needed wheelchair assistance it took KLM 50 minutes to get him off plane which delayed our boarding. KLM not prepared to handle passengers with needs"
Pros: "Crew was fantastic, seats and entertainment was great. Very good food choices."
Cons: "Everything was very good."
Pros: "Crew was very engaging and service was good."
Cons: "My seat was horrible. Right at the door, crammed, and no place to store my carry-on luggage."
Cons: "Dozens of high school students screaming and climbing onto seats, crew did not intervene."
Pros: "Nice aircraft"
Cons: "Unexpected refueling stop. 2 hr delay Lost connection Reached destination after 18 hr delay"
Pros: "Helpful and kind crew"
Cons: "I wish there was WiFi"
Pros: "All good"
Pros: "Once aboard the plane, all went well and I experienced excellent service from the cabin attendants."
Cons: "The flight was delayed (again!) for some 40 minutes and I was worried that I would miss my connection flight in Atlanata. Fortunately the pilot made up for the delay (probably costing the airline thousands in fuel). It seems these days that every KLM flight I take is delayed. This stretch goes back to 2015! Yet KLM prides itself as being punctual. Not the KLM that I have been flying!"
Pros: "Crew's hospitality, good music, good destination material, terminal info, good system overall"
Cons: "Less legroom, storage space, bad food, few movie options."
Pros: "Gaps between seats are very narrow."
Cons: "when serving drinks, cabin crew limited to serve liquor only once and it was poor service."
Cons: "old screens and entertainment system leg room to small"
Cons: "wasn't able to take the flight since I missed it"
Pros: "Excellent service. A meal , drink and a coffee included which we were not expecting."
Pros: "Comfortable and well laid out seat area"
Cons: "Food was a little substandard for business class"
Pros: "The flight to Gdansk took off and arrived on-time and the staff were professional."
Cons: "The flight to Amsterdam from Gdansk was late and I had to RUN to the connecting gate. 50 minutes is NOT ENOUGH time to go through passport control."
Pros: "I slept pretty much the whole time"
Cons: "KLM lost my luggage during the layover. My luggage didn't arrive even after the next flight to Prague. Customer service wouldn't give me any idea what flight my luggage would arrive on, nor would they tell me what time my luggage might be delivered to me."
Pros: "The cabin crew was so kind, efficient, and attentive. All meals and snacks were delicious."
Cons: "The cabin crew was racist. She told me to move back from an empty seat just because she wanted one of the guys ( from her country ) to set on it! Very rude and racist."
Pros: "Good service onboard, good food. On time."
Pros: "Comfortable seats. Warm plane with happy staff."
Cons: "Maybe a second sandwich option for food, not everyone likes cheese."
Pros: "Only thing we liked was the fact that we were able to get onto our flight at all..."
Cons: "Was not informed that checking in online is the only way to secure a seat. So, regardless of whether you book your tickets 3 months in advance or the day before, you're not actually guaranteed a seat unless you check in online. We weren't told this until we were at the airport and checked in there that we might not be able to get our pre-booked in advance flight because of over-booking from KLM. We then had to wait and see if there were seats available when boarding. Luckily, there were, but we were not sat together. Not the greatest start to our first holiday together as a couple. We were told that if there weren't seats available, they'd pay for us to get to another airport to fly out, which would have meant a huge delay on the only time off we'd get together this year and have to rearrange our pre-booked and pre-paid living arrangements for the week. All because there wasn't a lot of emphasis on the need to check in online before hand. You'd think if someone checked in at the airport, that would be more of a guarantee that they'd be flying with you that day, but apparently not. Definitely not impressed or happy with this part of the KLM experience. This is the only company that we've had this problem with, they should make it clearer that it is essential to check in online."
Pros: "Just great crew."
Cons: "Not comfortable at all and will not book KLM again."
Pros: "Flight was lovely, crew were friendly and very helpful and food was delicious!! We travelled with assistance for mum and it was excellent and we were kept updated all through the flight."
Pros: "Everything"
Cons: "Nothing"
Pros: "Excellent experience with the cabin crew."
Cons: "Seats on the 777 were too narrow. This 777 had a 3-4-3 seating arraignment, it would have been better with a 3-3-3, similar to a 787 configuration. With the current layout, even with an aisle seat, I was sitting in the aisle. And I am not a large person! The flight was full, so use the 787 and two daily non-stops. For a twelve hour flight, the food was only Okay, could have been better and with a better selection. Meal timing was poor."
Pros: "Service provided by the staff"
Cons: "The navigation of the entertainment system is not very friendly"
Pros: "The supplied pack of toothpaste/toothbrush"
Cons: "The Guy who had an accident when boarding causing a delay. Also I didn't like the wait fir checking as passengers with children went before business class and should be after."
Pros: "quick and relaxed"
Pros: "Wider seat than most business class"
Cons: "Row 6 in business is after the first 5 rows and Galley and restroom. Very awkward"
Pros: "Nothing"
Cons: "Late Cabin extremely warm Full flight and centre seat means no room to relax or carry out work"
Cons: "Flight delayed by one hour which meant I missed by train at Southampton by 10 minutes and subsequent bus connect home. Next bus would have been 2 hours later so 45 minute walk home from train station. Didn't bother with food offering, put off by that supplied from Hannover to Schiphol."
Cons: "Pet was left behind at vacation destination as pet's reservation (made and confirmed through KLM) was not found at check in. Waiting for Customer Care to help get pet home and take responsibility for situation and getting no response. Very dissapointed, considering law suit."
Pros: "The staff was fast and curteous."
Cons: "There is not anything to complain about besides the usual discomfort of travel."
Pros: "Same as above"
Pros: "It was a short flight so it was O.K."
Cons: "Boarding was odd. Go to airport early and counters were not open, did on line check in so was able to avoid the self check in at airport. Also self check in luggage seems confusing with no ground crew to help. It didn't affect me but lots of confused passenger."
Cons: "seats on Jet air flight are very uncomfortable"
Cons: "Fewer entertainment options than the delta flight. I got excited with that first flight."
Pros: "Even for this short flight, drinks and sandwich was provided staff were efficient and friendly"
Read more about SWISS
Safety measures for airlines flying from Costa Rica to South Africa
Airlines flying from Costa Rica have enacted additional safety measures and adjusted policies to better accommodate travellers. Policies vary by airline.
Heightened sanitation
Daily cleaning, installation of cabin HEPA filters on flights from Costa Rica
Mandatory masks
Masks required on board, masks provided on flights from Costa Rica
Social distancing seating
Middle seats unavailable to book on flights from Costa Rica
Pre-flight testing
Testing for antibodies, testing for symptoms for flights from Costa Rica
Book cheap flights from Costa Rica to South Africa
Recent return flight deals
Search by stops
Search by airline
Search by price
Recent one-way flight deals
Search by stops
Search by airline
Search by price