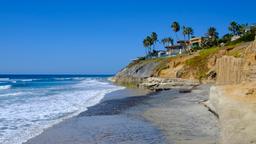 Carlsbad car hire
Search hundreds of travel sites at once for car rental deals in Carlsbad
Carlsbad, CA, United States
Carlsbad car hire information
| | |
| --- | --- |
| Pick-up location | Carlsbad |
| Hire locations | 7 |
| Airport locations | 3 |
Carlsbad car hire reviews and directory
Enterprise

╳
Enterprise reviews
Car hire locations
Enterprise
Locations in Carlsbad
1060 Auto Center Ct Ste M
+1 760 931 1111
| | |
| --- | --- |
| Monday | 07:30 - 18:00 |
| Tuesday | 07:30 - 18:00 |
| Wednesday | 07:30 - 18:00 |
| Thursday | 07:30 - 18:00 |
| Friday | 07:30 - 18:00 |
| Saturday | 09:00 - 12:00 |
| Sunday | 00:00 - 00:00 |
6050 Avenida Encinas
+1 760 918 0883
| | |
| --- | --- |
| Monday | 07:30 - 18:00 |
| Tuesday | 07:30 - 18:00 |
| Wednesday | 07:30 - 18:00 |
| Thursday | 07:30 - 18:00 |
| Friday | 07:30 - 18:00 |
| Saturday | 00:00 - 00:00 |
| Sunday | 00:00 - 00:00 |
Cons:
Never again!!!! Fooled me at The Carlsbad rental Station. Put some extra insurance on the receipt so it Looks like the Same Price with the different San Diego Airport drop off I had on my kayak reservation. At San Diego i was billed the Different drop off on top. Never again Enterprise
9,6 Excellent
Feb 26 2019
Cons:
a bit difficult to find the office, but everything worked out ok. nice to be offered a free upgrade. easy to work with. these folks.
10,0 Excellent
Mar 6 2019
Pros:
Brandon at this location was 100% committed in making customers like myself happy. I had a small issue with the windshield wiper blade and fluid and he went above and beyond to correct this issue. People like Brandon should be recognized for their efforts.
10,0 Excellent
Jul 18 2018
Pros:
customer service was great, everyone was friendly kind and knowledgeable.
8,0 Excellent
Jan 23 2019
Pros:
The car was great. Nissan Altima. Good gas mileage and very smooth ride.
Cons:
Check in Friday night- at first the enterprise employee tried to put me in a mazda miata or an suv. That wasn't what I reserved. Fortunately they had a Nissan Altima which did work but I had to ask for it. And returning the keys on Tuesday morning the employee was late only by 6 minutes but still la
Hertz

╳
Hertz reviews
Car hire locations
Hertz
Locations in Carlsbad
6030 Avenida Encinas, Ste E
+1 760 579 0072
| | |
| --- | --- |
| Monday | 07:30 - 18:00 |
| Tuesday | 07:30 - 18:00 |
| Wednesday | 07:30 - 18:00 |
| Thursday | 07:30 - 18:00 |
| Friday | 07:30 - 18:00 |
| Saturday | 09:00 - 12:00 |
| Sunday | |
Car was excellent!! Rental process a nightmare!!
Pros:
The car was a 2015 Toyota Camry and was a beautiful car. It drove amazing and was spotless inside and out. I made my reservations online for a one week rental from Monday to Monday November 9 - 16 for an economy car. Money was a factor in using Kayak, it had the best rates. I was in Carlsbad visiting family for Veteran's Day, which is also the 3rd anniversary of my son Navy SEAL Rob Guzzo's passing. He rests at Rosecrans National Cemetery. I was staying in Carlsbad with his 5 year old daughter's family. The Hertz Rental officer was 3-5 mins away and therefore very convenient. I went to pick up the car with my granddaughter's mother, Rachelle Trussell.
Cons:
We picked the car up on Monday 9 November, it was a rainy day. The rental associate was very kind, funny, and accommodating. I've rented dozens of cars in my 30 years in the military and very familiar with the up sale efforts at the rental counter. I made it clear I did not want an upgrade car, insurance, or any other added expense. The rental associate acknowledged my position and assured me the rental amount for the week...$139.00 including tax and fees I believe....would be honored. Rachelle Trussell wanted to pay for the rental car for me as a kind gesture and her debit card was used. Billing was a nightmare!! Her card was put on hold for a total of $600!!! and it was VERY difficult to get it released. It reguired several phone calls between Hertz (requiring a Superviser's attention) , the bank, myself and Rachelle. Finally the excess money was released! The hold of over $400 for over a week put a financial strain on an already stressful and emotional situation.
Cons:
When I booked the car I was only given the pickup time choice of noon even though I wouldn't pick it up then. When I went to pick up the car the location closed at 1 pm on a Saturday... Ruined a trip for me.
10,0 Excellent
Feb 21 2017
Pros:
The customer service gal, Jade, was professional and knowledgeable.
Cons:
Location, customer service person Jade, clean car
10,0 Excellent
May 20 2017
Pros:
Really fast and efficient transaction. Clean car. Very happy with the experience!
Very low end vehicle with taped up fenders
Cons:
The Toyota Yaris is not what I had ordered, very low end with no interior mirror adj, no key fob, no speed control, and no center armrest or console. Front fender had been taped up, rear fenders came apart from both ends from main body of vehicle, creating a possible disastrous situation if fenders blew off onto rodeway Hertz rented me a vehicle not roadworthy, and could have caused major hey accident.
10,0 Excellent
Jul 8 2017
Excellent
Pros:
The guy who helped me when I picked up the car was great.
10,0 Excellent
Jul 10 2017
The Nice Man At The Desk
Pros:
The man working the desk was incredibly friendly and helpful. Gave me my options, made sure I got the best bang for the buck (I pre-paid online so it didn't really matter) and got me a great Camry.
Pros:
Everything worked well
Cons:
Customer service was clunky
8,8 Excellent
Aug 23 2017
Pros:
I got upgraded for no charge.
Pros:
Upgraded the car with no extra charge, comfortable and service is friendly and helpful.
Cons:
Easy to find location and quick service.always meets your demand...
Avis

╳
Avis reviews
Car hire locations
Avis
Locations in Carlsbad
2198 Palomar Airport Road
+1 760 931 1393
| | |
| --- | --- |
| Monday | 07:30 - 17:30 |
| Tuesday | 07:30 - 17:30 |
| Wednesday | 07:30 - 17:30 |
| Thursday | 07:30 - 17:30 |
| Friday | 07:30 - 17:30 |
| Saturday | 08:00 - 16:00 |
| Sunday | 09:00 - 16:00 |
9,2 Excellent
Oct 17 2016
Pros:
Cheerful greetings, efficient service
Cons:
Nothing to do with the agency but the car was a bit too used; as the seat was not that comfortable, the ambient noise was louder than a similar vehicle rented a week prior; and the driver seat had a coffee stain, that I had to ask be included in the contract.
10,0 Excellent
Jun 22 2017
Pros:
Excellent value for money.
Flat tire
Cons:
Slow leak in the tire caused me to pull over continually to fill it up. Super annoying.
Pros:
I got an upgrade because a small car was not available. I paid exactly the amount that was estimated in the Kayak site. However, it was more than $100.
Cons:
I spent more for gas because I got an SUV instead of a compact car.
10,0 Excellent
Jul 13 2017
Great selection of Vehicles and very fast processing
Pros:
fast process , great selections of vehicles
No hassle rental
Pros:
Staff was courteous and accommodating Easy locations to pick up and drop off.
Wrong airport
Pros:
I did not like anything because this website is very tricky and searches nearby while still saying your initial search area- misleading
Cons:
Was searching San Diego and was brought to carlsband instead.. couldn't get there and had to pay walk in fees at different rental place
Cons:
Unfortunately, I booked during spring break week and so the prices ($90/day for a Toyota Corolla) were higher than I had budgeted to pay.
9,2 Excellent
Jun 28 2018
Cleaner is better
Cons:
Car could have been cleaner / Glass very poorly cleaned. Is important for safety.
10,0 Excellent
Dec 10 2018
Budget

╳
Budget reviews
Car hire locations
Budget
Locations in Carlsbad
2198 Palomar Airport Road
+1 760 931 2469
| | |
| --- | --- |
| Monday | 07:30 - 17:30 |
| Tuesday | 07:30 - 17:30 |
| Wednesday | 07:30 - 17:30 |
| Thursday | 07:30 - 17:30 |
| Friday | 07:30 - 17:30 |
| Saturday | 08:00 - 16:00 |
| Sunday | 09:00 - 16:00 |
Lame Duck
Pros:
They gave me a car with a Candadian License plate, then the break lights came on and the car had to be towed and replaced.
Pros:
Representative was friendly and fixed the billing error that the LA representative made and wouldn't own up to.
Cons:
Nobody at drop off !!!
Pros:
Agent very nice. Drove me to the area where I could get taxi/ride home because it was off site and too far to walk. Very kind, thank you!
Where are staff?
Cons:
We returned car 330 pm and not one person was in return area. There was a sign for us to mark contract with the mileage and gas level and drop it in the drop box. I understand if car is returned after hours but this was in middle of work day in the afternoon. Did not leave me eith a comfortable feeling.
Customer service was not customer service
Cons:
You would think that after all the hassle, I asked for a discount or to please find us something and honor the price I agreed to pay - no discount on the current issue, no discount on a future rental, etc., etc. They obviously don't need or want our business.
10,0 Excellent
Nov 13 2019
Pros:
After trying several rental car companies directly without success, Kayak was able to get me several options for my trip. It seems that rental car companies are not overly excited to rent cars for one way, day trips. I needed to travel 200 miles, one way, to pick up my new car. Kayak was able to find cheap rentals with major companies that I just couldn't get directly. Thanks Kayak!
Cons:
You should have been there earlier! Oh, wait, no that was my fault. Next time I know where I will check first.
EZ Van

EZ Van
Locations in Carlsbad
6511 Avenida Encinas
+1 866 735 8267
Zeeba Rent-A-Van

Zeeba Rent-A-Van
Locations in Carlsbad
800 Grand Avenue
+1 800 940 9332
41 travellers who hired a car in Carlsbad gave the car agency they used an average rating of 7,1
Car hire locations in or near Carlsbad
When to book a car hire in Carlsbad
Average daily price per month
Car hire prices as pick-up date approaches
Top tips for renting a car in Carlsbad
Book your car hire in Carlsbad at least 1 day before your trip in order to get a below-average price
FAQs about hiring a car in Carlsbad
What is the best car hire agency in Carlsbad?
Based on ratings and reviews from real users on KAYAK, the best car hire companies in Carlsbad are Enterprise (8,5, 12822 reviews), Avis (7,6, 2284 reviews), and Hertz (7,4, 3876 reviews).
Which car hire companies will pick you up at the airport: Los Angeles airport (LAX)?
The only car hire company that offers shuttle or pick-up services from Los Angeles airport to off-airport locations is Dollar.
How can I find a car hire near me in Carlsbad?
Take a look at our extensive car hire location map to find the best car hire deals near you.