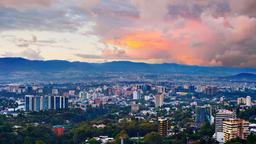 Find cheap flights to Guatemala
Search hundreds of travel sites at once for deals on flights to Guatemala
Top tips for finding cheap flights to Guatemala
High season is considered to be March, April and May. The cheapest month to fly to Guatemala is March.

Enter your preferred departure airport and travel dates

into the search form above to unlock the latest Guatemala flight deals.
FAQs - booking Guatemala flights
How long is the flight to Guatemala?
What is the cheapest flight to Guatemala?
What is the most popular destination in Guatemala?
How does KAYAK's flight Price Forecast tool help me choose the right time to buy?
Top 3 airlines flying to Guatemala
Scores according to KAYAK customer reviews
7,7
KLM
Overall score based on 3 651 reviews
Cons: "The airline lost my suitcase and deliver it only 72 hours later... They refused to give me proper compensation for items that were broken..."
Pros: "Due to business I travel allot so I deal with allot of airlines. This is by far the best airlines I have used. Excellent crew and airport staff. I don't think words can express how satisfied I am with this airlines and airport. The nicest people and great service. Clean and modern aircraft. Going to try flying only with KLM from now on."
Cons: "Nothing"
Pros: "Perfect"
Cons: "Nothing. Flight was amazing"
Pros: "Everything works and quick to get to destination."
Pros: "Planes were on time and connections made."
Cons: "One bag delayed as not put on flight and food could be better."
Cons: "Crew members in Amsterdam were very rude and disrespectful"
Pros: "The crew was amazing, flight on schedule and good entertainment."
Cons: "Space is just reasonable on a long flight, even if there's seats more spacious that you could choose if you pay more."
Pros: "Great crew, comfortable seating with enough leg room."
Cons: "Provide dinner before getting to joburg, instead of a snack. Flight arrives late so dinner would be appreciated"
Cons: "There was no wifi on flight"
Pros: "Everything was smooth and effortless."
Cons: "Can't think of anything."
Pros: "Food, entertainment and crew was exceptionally friendly."
Cons: "Seats not great for such a long flight."
Pros: "The space at my feet with the chair in front was a bit akward."
Cons: "Not being seated next to small kids. Perhaps they should have a separate section? ;-)"
Pros: "the crew was nice"
Cons: "Seat confort on long flights, leg rooms,"
Pros: "All good"
Pros: "Crew was good"
Cons: "Food"
Pros: "Friendly and efficient crew. Flights were on time if not even early."
Pros: "Best airline in the business quick efficient and outstanding service What else can you say"
Pros: "Very personable staff. Food acceptable for airline fare. Ticket price was outstanding."
Cons: "Paid for extra legroom, but very narrow seats not comfortable. Very difficult to sleep. Old plane--could not hear movies and unclear screen. Music sounded OK and choice was good."
Cons: "Flight canceled, poor communication from the airline to the passengers. Møre than 5 hrs delay"
Pros: "Nice people and good service"
Cons: "Not much"
Pros: "The staff tried to help me when it was evident we would not arrive on time"
Cons: "The connecting flight is too short of a time. We were late out of LAX and I missed my connection and had to sit in airport for 5 hours. Missed my grandson's third birthday party. Just made me sad as Travelled from far to try to make it."
Cons: "Still waiting to board after missing this connection had to be booked on another airline"
Pros: "Great food"
Cons: "I paid a top price for my ticket and expect the advertised amenities to work. Upgrade or replacement for entertainment system."
Cons: "Customer service"
Pros: "Sound was broken on my TV set!"
Cons: "Called stewardess twice to assist. No response!"
Pros: "The aircraft felt clean and quite spacious (decent legroom). Cabin crew was friendly and everything went as expected. Bonus points for the Beemster cheese sandwich (I was totally disappointed when they served the food, but more than pleasantly surprised by the quality of the cheese - I even bought some afterwards, from the Albert Heijn just outside the security area)."
Cons: "Very odd queue separation at boarding. Passengers were divided in 5 lanes, depending on their seating area withing the plane (for a more efficient boarding, I presume) but, by the time we all got to the actual aircraft, we formed another queue in the boarding bridge so it didn't feel like any time was saved or anything."
Pros: "Fast boarding"
Cons: "The entertainment system wasn't working for the whole 10 hour flight."
Pros: "Entertainment"
Cons: "Food and one bathroom out of service makes an awful flight"
Pros: "He missed it due to having a 32 minute layover, which he ran all the way to board."
Cons: "he had no choice but to look at the closed door of his flight, and wait an additional 7 hours and they didn't even give him a voucher for food. I'm his mother, I'm currently visiting family in Scotland, so couldn't help him much. I'm pretty disgusting and disappointed by the whole experience."
Pros: "Delayed flight but staff apologized as for safety reasons."
Cons: "Very late arrival"
Pros: "Absolutely nothing!"
Cons: "the connection flights was the worse! The gate was changed in Amsterdam 3 times! From D82 to C6 and then to C11. The distance between B82 and C was 20-30 minutes walk. No rushing was needed though, the flight was delayed for 1:30h and after we all boarded a further delay was announced. I will never fly with KLM."
Cons: "Please Endeavour to put the expiration date on the food served in the flight."
Pros: "The staff was extremely pleasant. Food was good!"
Cons: "Have no complaints"
Pros: "Flight crew; legroom even in cheap seats."
Cons: "Exceptionally unhelpful customer service when asking about extra kilos/bags. Just quoted the online info back at us. We simply wanted to know how much would be charged if the bag was 1-2kgs overweight. We could not get a straight answer, just quoted the unclear company policy. Extremely frustrating and annoying. KLM offer a superior flight experience - it is a shame their terrestrial customer servic does not match it!"
Cons: "Boarding was a free for all. The travelers did not pay attention to the priorities."
Cons: "KLM crews look unhappy with their work. Everything they do is a favor not duty."
Pros: "Excellent experience with the cabin crew."
Cons: "Seats on the 777 were too narrow. This 777 had a 3-4-3 seating arraignment, it would have been better with a 3-3-3, similar to a 787 configuration. With the current layout, even with an aisle seat, I was sitting in the aisle. And I am not a large person! The flight was full, so use the 787 and two daily non-stops. For a twelve hour flight, the food was only Okay, could have been better and with a better selection. Meal timing was poor."
Pros: "The supplied pack of toothpaste/toothbrush"
Pros: "From pre-boarding, to boarding, to the food, and the attentiveness, everything was top notch! The cleanliness of the plane was only topped by the friendliness of the crew."
Cons: "The flight was marked at almost 11hrs but ended up being only 9...not a negative other than it meant not spending as much time on board!"
Pros: "Flight crew was pleasant and attentive. Seats were comfortable for economy as well. We were allowed to check in extra baggage for free at check in which really helped since we would be catching a connecting flight in Amsterdam"
Cons: "Long stop over at Schiphol. Too Long!!!!"
Cons: "Why do the crew have to slam the overhead and catering compartments to get them to shut?"
Pros: "The cabin crew, the flight and communication and the cleanliness of the plane."
Cons: "It was really unclear which desk to use at Birmingham airport to check in. It was extremely stressful for a first time flier as I had no idea what to do - the desk location wasn't marked clearly and when no staff were there it wasn't clear that the desk was open."
Cons: "One of the senior stewardesses we're very rude. Whether it's her personal opinion or KLM's policy, it's unreasonable to think that a 3 years old child could or should hold her pipi over 20 minutes, while they slowly and inefficiently trying to give out food. Several parents were there with the request to let us through to the toilet with small children and she smiled in our face and said "no, we will finish first and than you can go". She might be not fit for the job anymore, but KLM can't afford this kind of treatment."
Pros: "Everytime she passed she was hitting me or I had to hold my drink so that she wouldn't knock it off"
Cons: "The fact that there are different airline carriers for one flight is hard. In my second flight they made me check a bag which was considered a carry on during my first flight"
Pros: "Quick (relatively) flight."
Cons: "Skinniest seat ever. Couldn't even lean back. I now have hunchback."
Pros: "Flight crew on flight from Amsterdam to Cape Town were probably the most friendly and enthusiastic I've experienced and no, they were not all young. The plane was spotless throughout the flight. They were always coming around with water and juice and they genuinely seemed to care about all the passengers. The Flight back crew were just the opposite. More like the old lazy farts you get on the American carriers or BA or QF long haul. Whoo have been there for the long haul and should have stopped ages ago."
Cons: "The Entertainment images on the screens promoted Beauty and the Beast, Batman Lego movie but neither were on the system! Food quality was rubbish"
Cons: "The crew on the Lagos Amsterdam route (in economy) are particularly unfriendly and brusque. This is my experience each time i fly this route in economy"
Cons: "The cabin was to cold 🥶"
Cons: "Passenger that sat next to me occupied part of my seat."
Pros: "Fast boarding"
Cons: "WiFi didn't work"
Pros: "Crew was nice and comfort was okay."
Cons: "There was no internet most of the flight it only worked for the first 20-30 minutes of the flight then they tried resetting it but it didn't work for the rest of the flight."
Pros: "SeAts"
Cons: "No entertainment no WiFi. Lots of angry people about that."
Pros: "Crew was super friendly and accommodating."
Cons: "Affordable fares equate to such a small amount of space."
Pros: "Mostly pleasant flight crew"
Cons: "Better gate agent and mechanics"
Pros: "comfortable"
Cons: "boarding delay, we must arrived at 13:48hrs, but our flight return to miami due to problems in navigation, we have to await at airport and arrived at Guatemala at 18:30hrs."
Cons: "The seats are extremely restrictive and in a aisle seat I had the gentleman sitting next to me with thighs touching and attendants brushing by me as I squished to left to avoid contact with him. Entertainment screen between center seat and window seat so I just didn't even try to look at it and mostly just leaned forward to have a little space. Also another inch or 2 was taken by person in front of me putting their seat back. With such restrictive space why is this even possible??? Flying has become ridiculous and I try not to as much as I can."
Pros: "Boarding crew was rude an unaccomadating"
Pros: "The crew was friendly. The airline brought out some snacks for the passengers after an hour or so."
Cons: "There was a mechanical failure. We all had to deplane. The flight was delayed longer than the travel time to the destination."
Cons: "There was a delay on the departure"
Pros: "Amazing crew, comfortable seat"
Cons: "Less delays and gate changes"
Pros: "The crew was very efficient and kept things running snooth"
Cons: "There was no flight entertainment and the seats and rows were cramped"
Cons: "Food was payable so should not even be a criteria here We had to collect our luggage coming from portugal to check them in Again in Miami. Really a burden. After 20 hours flying this was really annoying. Again Iberia saving money at the cost of clients"
Pros: "Everything in order and on time."
Cons: "-"
Pros: "The flagship first seats in American Airlines are among the best in class given that I only flew from Miami to JFK. Fully flat beds and ample room."
Cons: "Very limited food options."
Pros: "Ummm . . . the colors?"
Cons: "10 years ago, American was a great airline. It has just gone down and down. The flight attendants are miserable, grabbing things out of your hand when they come to collect stuff before landing. No smiles, no grace. The plane was old, but also poorly cleaned between flights, so the bathrooms on our LAX-Atlanta flight smelled of urine from minute 1--you can imagine how they smelled by the time we landed. There was trash in my seat-back pocket when I took my seat. Supposedly food was available for purchase, but I couldn't activate the food menu, only the drinks menu, on my little seatback screen, so I just waited until I got to Atlanta to eat."
Pros: "Nothing"
Cons: "Our honeymoon started off with American airlines delaying us by 3 hours in Miami causing us to miss our flight to Iceland and now we are stuck in Dallas paying out of pocket for everything because American does not reimburse anything. Just brutal."
Pros: "Pleasant service ; courteous team"
Cons: "Flight delayed"
Pros: "Great and safe"
Cons: "Compared with the 3 x 3 seating configuration on the AA A321 fleet, the 737-800 seating is very cramped. Significantly less leg room."
Pros: "AA staff in Guatemala are great, everything else about AA is bellow any other airline, definitely the worst airline."
Cons: "AA is the worst airline in everything, but worst of all is the AA staff attitude in Miami airport, AA staff in Guatemala are great."
Pros: "Nothing, American Airlines is the worst major airline now."
Cons: "The staff in Miami Airport is really bad, worst attitude I have seen, old planes, not comfortable, definetly the worst major airline now."
Pros: "Left close to time and arrived early"
Cons: "Wifi was offered, but could not get it connected."
Pros: "Right on time."
Cons: "I wish more food"
Pros: "Crew were pleasant Arrived safely"
Cons: "Seats are way too cramped especially for my broad shoulders. Beverage service was minimal"
Cons: "Delayed flight, multiple gate changes"
Cons: "There were no available snacks and drinks between meals in a long international flight. In other airlines, they have continous supplies of snacks and drinks at the food area for passengers to enjoy at their leisure."
Cons: "No screens in each seat."
Cons: "The plane had several problems mechanically. After we boarded we spent another hour waiting for the problems to be repaired. It added an extra hour to sitting."
Pros: "The smooth flight"
Cons: "The smell in the plane"
Pros: "Friendly crew Smooth flight"
Cons: "Couldn't select seats"
Pros: "AA customer service was great because we had missed our connection from Rome to Chicago. They got me and my daughters on the next available flight back to LAX with preferred seating that we had already paid for. They proactively checked my carry-on and the flight had all the individual entertainment amenities we were hoping for. The crew was friendly and attentive."
Cons: "There was nothing about this flight I didn't love."
Pros: "This was a great flight! I love the brand new plane, very comfortable even in coach. Entertainment system was well-done with good selection of movies. I didn't need my own device to be entertained on the long flight."
Pros: "On time dep/ arrival"
Cons: "Incompetente of Ground agent. Uninterested flight attendants in business class. Luckily it was a n In revenue ticket. Would never pay for that level of service."
Pros: "Service, flight experience, entertainment"
Cons: "Checkin Personal It was delayed 4 hours"
Pros: "The food was actually really good and not just by airline standards. The entertainment choices were excellent and by the time i finished viewing " the comedisn" and 12 years a slave", the pilot was descending inyo Heathrow.."
Cons: "The aisles are very narrow with the food carts constantly banging into my arm as I was seated in an aisle seat. . One of the 2 nearby bathrooms was out of order, which led to a rather long line awaiting to use same."
Pros: "Remodeled plane style"
Cons: "Liked it"
Pros: "Everything"
Cons: "This leg of my flight was closed out on me!"
Pros: "The plane was really nice."
Cons: "The food was not good."
Pros: "Treated very bad and rudely by the staff crew with disrespect and yelling around. Have to manners and respect for passengers. Do not want to mention names. Even the ground staff have no control over the hand carry on luggage, just allowing everyone on board and ended up with horrifying situation which caused the delays in take off, disrespect between the black and white AA staff. No respect for each other. My worst experience in history flying with AA."
Pros: "Good Entertainment. One flight attendant was great."
Cons: "American Airlines Seats were too close together. The plane was way way too hot. Asked the flight attendants and spoke to the captain after the flight as the front coach section of the aircraft was at least 10 degrees hotter than the rear. We were all taking layer of off cloths as it was so hot. Seems the first class attendants were not monitoring the temps which regulars the temps just behind first class. Told the flight attendant who also acknowledged it but the first class attendants did not make the change Many were angry. We were on the Tarmac for almost 1.5 hours waiting for the plane to be de-iced. No AC during the process."
Cons: "Okay, but flight was delayed."
Cons: "Service was great but seating was cramped and uncomfortable, entertainment system was massively out of date, and no power outlets were available. Nickel and diming for extra (proper?) legroom was not appreciated."
Pros: "One of my flight was cancelled I have to repay for a ticket which did not make sense"
Cons: "Why I have to pay for another ticket for my son when did it and then"
Pros: "Boarding"
Cons: "Food was horrible. A lot of seats in economy do not work properly and power supplies for cell phones are broken in a few seats. The flight attendants had to assist passengers by manually pushing seats back to up right position. Overall, needs a little remodeling."
Pros: "It was exactly what I was looking for. Comfortable, easy and faster to board. I loved to be able to use the ticket on my phone as boarding pass, that made shorter the whole process."
Pros: "Evriting"
Cons: "Delayed by an hour and then the took nearly an hour to board when they made people check their carry-ons and their printer broke.."
Pros: "Crew was excellent seat was as usual"
Cons: "Something to Fill your tome a little more"
Cons: "Food could have been provided"
Pros: "Nothing in particular."
Cons: "We took 2 United flights today... Both were delayed. Really annoyed by it. We took some other flights using AA and Delta, and both were on time. United failed horribly at it."
Pros: "Avaiability"
Cons: "Service"
Pros: "Good crew."
Cons: "Puddle jumper so very basic n"
Cons: "Make sure you bring your own device for entertainment"
Pros: "Boarding was fast"
Pros: "The crew members were nice!"
Cons: "Idk the fact that we sat in the airplane for over 40 min after landing since there weren't any gates to get off..."
Pros: "empty"
Cons: "food"
Cons: "My baggage was left in Houston"
Pros: "Good. Thank You united airlines.!! Excellent 10.00"
Cons: "The bathroom gets messed ( wet paper towels on floor) by irresponsible passengers, stays yucky ."
Cons: "Very small screens, poor service when flight was delayed from boarding hostess"
Pros: "Great flight"
Cons: "The comfortable seat and leg room"
Pros: "getting bumped up to economy plus and being in an exit row."
Pros: "The arrive time was excellent. Courtesy and smile faces of the Crew in Business Class"
Cons: "The boarding process was ugly, in disorder and it is a big lie you have with your business class ticket the priority option. The food was very poor. I had to avoid continue eating because I felt the food was not fresh."
Cons: "Food choice was awful. Ended up eating just a salad"
Pros: "Crew was very nice under difficult conditions"
Cons: "Flight was late, baggage was damaged"
Cons: "It's not their fault but the flight was delayed."
Pros: "We arrive a half hour early."
Pros: "Nothing"
Cons: "They don't care about their passengers one bit"
Pros: "The service at the automated counter was very good"
Cons: "Entertainment"
Cons: "Very turbulent flight"
Pros: "Comfortable"
Cons: "As common as this might be, I think 4 hours delay is the worst advertising for an airline. I completely understand things can happen but, what would happen if I show up 4 hours late? will you be ok with that. We gotta be fair. I think passengers deserve a compensation for this"
Pros: "tsa pre"
Cons: "My flight was overbooked could fly out until the next day"
Cons: "Booked on flight next day but much less convenient than original direct flight."
Pros: "First time flying in a small plane. Experienced some turbulence but the flight attendant was very nice so it helped calm me."
Cons: "N/A"
Pros: "Nothing"
Cons: "They charge de luggage, didnt gave anything to eat, the luggage in orlando came like 2 hours late. The flight back from Houston was cancelled with no reason, they overbooked the flight.. and worst of all the only offer us a $10 disccount in a cheap hotel.. no food nothing"
Pros: "Nothing"
Cons: "Alerted Flight Attendant and Gate Agent and United at 31,000 feet that there was toxic black mold in the plane and I was choking. Advised Customer Service at ORD and they handed me a brochure to call 1-800."
Pros: "My last flight to Europe was on Lufthansa and I have to say, this was better. Decent food, efficient staff, relatively comfortable plane."
Cons: "They were a bit brusque, but not rude."
Pros: "Awesome Illy coffee and stroopwaffel cookie for my flight to Guatemala for my first medical mission trip on a snowy cold morning was a welcome snack. It was so much better than the snack mix or nut packs that you usually get."
Pros: "Schedule"
Cons: "My bag didn't came with came, it was a direct flying. The air conditioned was too cold"
Pros: "I bought through kayak, bought he insurance when I got here flight. Tried to change my flight.. they wouldn't except the insurance... I fly out tomorrow.. Hopefully things go well"
Cons: "I thought insurance gave me any reason to cancel or change my flight"
Cons: "Having to pay $7.99 for entertainment is ridiculous, especially on an international flight. Just one more way to gouge customers. Especially as a 1K flyer, having to pay for entertainment is just a slap in the face."
Cons: "Flight was delayed 2 hours from Manchester, which would have made me miss my connecting flight to MIA"
Cons: "I am handicapped. Boarding agent abused me. Made me walk to plane on tarmac in stocking feet. Asked for wheel chair and was denied. Have congestive heart failure and could hardly make it on the plane. The man should be fired. Deputy sheriff with him was just as bad glad to go into more detail with someone. Will report united to govt. small Airport would not ever be reorder."
Cons: "Wifi not working"
Cons: "I never made it on the flight due to weather conditions they couldn't even hold the flight, and then when I have to get my own accommodations had to pay for my own hotel that is not cool"
Pros: "New, clean United planes! Happy crew! Snacks!"
Pros: "The plane was clean, comfortable and seemed to have a bit more room. The staff was professional and courteous."
Cons: "The plane was 2hrs delayed but that was due to weather. The food was over priced and not good."
Pros: "Roomy"
Pros: "It was a pretty smooth flight and it was pretty well organized."
Cons: "The plane was in the Houston hanger most of the day, but it seems they didn't test it. Even after being delayed on the ground due to rain and a mechanical problem with the ramp for three hours, the plane had to turn around and come back to Houston due to another mechanical issue. Finally left 13.5 hours late. I did receive a hotel room, breakfast and 10,000 miles compensation for the hassle, but I would rather have been in Brazil on time."
Pros: "Absolutely nothing! My flight was scheduled for takeoff at 8:15 pm on Wednesday.I boarded my flight on two different occasions only to be informed that there were mechanical issues.that first delayed & eventually cancelled my flight. I was kept waiting and inconvenienced until 5am, when I was finally offered an alternate 12noon flight later that day as well as a comped room at a nearby hotel. My time is very valuable & limited and because of this experience my itinerary was adversely affected. I will be hard pressed to ever fly United again. Michael Aponte- Very Disappointed!"
Cons: "Please read above comments"
Pros: "every thing"
Pros: "Kindness of crew"
Cons: "Flights were delayed, no entertainment... Only pay-per view... No free food..."
Pros: "Friendly and accommodating flight attendants."
Cons: "awful handling of the flight delay with lack of info and updates. We were told we were boarding in twenty minutes for four hours."
Pros: "We arrived 10 minutes early which allowed me to catch connecting ground transport"
Read more about KLM
Safety measures for airlines flying to Guatemala
Airlines flying to Guatemala have enacted additional safety measures and adjusted policies to better accommodate travellers. Policies vary by airline.
Heightened sanitation
Daily cleaning, installation of cabin HEPA filters on flights to Guatemala
Mandatory masks
Masks required on board, masks provided on flights to Guatemala
Social distancing seating
Middle seats unavailable to book on flights to Guatemala
Pre-flight testing
Testing for antibodies, testing for symptoms for flights to Guatemala
Book Cheap Guatemala Plane Tickets
Recent return flight deals
Search by stops
Search by airline
Search by price
Recent one-way flight deals
Search by stops
Search by price