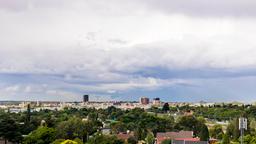 Find cheap flights from Guatemala to South Africa
Search hundreds of travel sites at once for deals on flights to South Africa
FAQs for booking flights from Guatemala to South Africa
How does KAYAK find such low prices on flights from Guatemala to South Africa?
How does KAYAK's flight Price Forecast tool help me choose the right time to buy my flight ticket from Guatemala to South Africa?
What is the Hacker Fare option on flights from Guatemala to South Africa?
What is KAYAK's "flexible dates" feature and why should I care when looking for a flight from Guatemala to South Africa?
Top airlines flying from Guatemala to South Africa
Scores according to KAYAK customer reviews
7,9
Delta
Overall score based on 29 227 reviews
Pros: "Social distanced seating"
Cons: "Mechanical issue put us out late, then weather kept us circleing for another 45 minutes. Spent the night at msp had to fly out the next day to final destination."
Pros: "The staff was exceptional with the distance to loading the plane and with serving us food. It was flawless."
Pros: "Precautions taken appropriate"
Cons: "Environmental controls, it was a little warm. Seats seemed more uncomfortable than usual. Air vents, lights, too far from aisle seats."
Pros: "Everything..."
Cons: "Brighter, kinder and nicer faces."
Pros: "The gate crew were very responsive and told us accurate estimates about the delayed departure time. They even distributed snacks for us."
Cons: "The flight crew was subpar. We had been delayed by 2 hours and they did nothing to assuage anyone's frustrations. Service was minimal and lacklustre. In flight WiFi didn't work with any streaming service. Plane was noisy and old. Seat was about worn through. Truly the worst in flight experience I can remember having domestically."
Pros: "Nothing"
Cons: "Terrible flight experience from delta"
Pros: "Good service great aircraft"
Cons: "Takes along time to get off airplane with everyone getting their bags from the overhead bins"
Pros: "Crew and all folks. I had not flown Delta for a while. Based on this flight, I'll put Delta as a first option in future plans."
Cons: "Always need more room"
Cons: "It was FREEZING throughout the entire flight. Freezing. No blankets. Missed having screen in seat but was able to start a movie on my phone so it was fine."
Cons: "Vegan options"
Pros: "Amazing entertainment display and the boarding process is smooth."
Pros: "Crew was great (once they arrived)"
Cons: "1.5 hour delay added 5+ hours to our travel day. Not fun..."
Cons: "Stop being LATE!!!!"
Pros: "they let me drink the whole can of soda..."
Cons: "turn lights on during service. be friendlier. allow to purchase seats anywhere BESIDES the middle seat. seriously?"
Pros: "Smooth and comfortable flight."
Pros: "New plane. Great movie selection. More stylish seats + bathroom. Overall very good and I think Delta has really made an effort to improve it's service. It's noticeable."
Cons: "Plane felt very dry compared to others. The electrical plug outlet jams right at around your knee level. Bread was cold and rock hard (seriously, can we not come up with a good solution for this?)."
Pros: "From the pilot...FAs....gate agents....everyone was very pleasant and professional. Plane was clean as well."
Pros: "Everything was on time and efficient. I also liked that the captain came on and updated us on arrival, turbulence, weather, etc."
Pros: "Delta employees are a cut above American AIrlines and I have to say everything went very well with the flight. THe last flight I took on American went horribly wrong and it was not even completed."
Pros: "Friendly crew and on time flight"
Cons: "N/A"
Pros: "overall flight great,pleasant trip, courtious well informed crew"
Cons: "In flight entertainment screen down"
Pros: "At the counter the staff is friendly, nice."
Cons: "There is no one to organize the lines to the self check in on the computers, basically a mess, nobody knows how many lines are there."
Cons: "Pilots did a great job in informing us why the seat salt had to be turned on."
Pros: "Quick flight"
Pros: "Flight was on time, flight attendants were very nice and professional."
Pros: "How nice and gentle they were."
Cons: "Long waiting lines."
Pros: "Arrived early. Got a beverage & snack which is becoming rarer with American carriers. Video selection was very good. Staff was nice and attentive. Overall a good flight at a reasonable price."
Cons: "Narrow corridor to seats"
Pros: "Great friendly crew. Great entertainment with movies on a short narrow body flight!"
Cons: "Boarding and disembarking was again slow. Must be a cultural thing as each flight in the US seems to be like this as people take ages to get their bags organised on arrival. Chaotic boarding is compounded by the back of the plane boarding last.... everywhere else in the world loads everyone together or does the back of the plane first and it's much quicker!"
Cons: "Flight was delayed over 1hr."
Pros: "Loved having the Movie and tv options on the flight, really passed the time"
Cons: "Flight was overbooked, seat assignment at gate, was very anxiety provoking. I was concerned would not get on flight."
Pros: "Great service, comfortable plane"
Cons: "Waited 45 minutes for de-icing"
Pros: "The movies were spectacular"
Cons: "Food was a bit plain"
Cons: "Both ATL-SGF and SGF-ATL flights got cancelled, requiring 2 overnight stays in Atlanta, including Christmas morning."
Pros: "Due to strong tailwinds, the flight arrived nearly an hour earlier."
Pros: "Smooth flight"
Cons: "45 minute delay (due to airport, not airline"
Pros: "The crew was extremely nice and helpful."
Cons: "Small crowded aircraft with minimal overhead storage. The seat pitch was so limited my knees were against the seat in front of me. The tray table couldn't be lowered completely. Small child behind me kicked my seat during the entire fight."
Pros: "They have great and friend staff."
Cons: "Delta treats any passenger that isn't a member of their skymiles or anyone that doesn't purchase a seat in advance like peasants. You don't get assigned a seat until YouTube up at the airport... That's fine, not really a big deal. But because you didn't select a seat, they don't let you print or view your boarding pass on your phone, forcing you to go to the checking desk. For someone that has TSA pre check and travels alot, all that extra time adds up and can sometimes cause you to miss your flight. Because there is on "fast line" when you check-in like there is at the security check point. I only have this problem with Delta, never American airlines..."
Pros: "none of it"
Cons: "It was Terrible I will never do it again"
Pros: "Landed from Sydney at 8am. Flew to San Francisco at 4pm. Long wait. Not good."
Cons: "Landed in Los Angeles at 8am. Left for San Francisco at 4pm. Aweful."
Cons: "Delayed"
Pros: "The entertainment"
Cons: "The boarding process is a bit backwards. They board by zones with the front of the plane going first, so if you're in the back you get stuck in the aisles waiting for these people to sit down. They should board the back of the plane first."
Pros: "El personal abordo muy amable llegamos a tiempo"
Cons: "En el ahereopuerto de guatemala para chekiar las maletas siento q nesesitan mas personal estuve una ora y quince minutos para poder chekiar mi maleta"
Pros: "I had to change seats as my wife had surgery while we were away, Delta made that happen with little fuss. Seating was quite good."
Cons: "Air travel isn't what it once was, seats are smaller and closer but that applies to most airlines. Nothing specific and I usually fly Delta as it is my first choice above it's competition."
Pros: "It was quick and on time relatively smooth flights with little turbulance."
Cons: "Economy seats are too small you literally can't move your elbow without hitting the person next to you. And there was no point at which we weren't all touching legs."
Pros: "Fast as always. Very professional"
Cons: "Inwasny aware my small pocket knife wouldn't be accepted at the airport even though it has been cleared before and the staff was a bit rude about it.the food"
Cons: "I didnt like that my flight was canceled and rebooked for no reason. This created me big problem in Athens that they couldnt find my ticket in delta. Also I didnt like that i had to stand and wait for 3 hours in the line because my flight was canceled but no one could let us know if there gonna be any flights within the day. I slept in the airport because i couldnt find a hotel to spend the night close to the airport. They were all full and i had no time to find one since I was waiting there for 3 hours with no informational. I slept on the floor and delta didnt even offer us a blanket. That was my worst trip ever."
Pros: "Clean plane, good service. on time departure, early arrival."
Cons: "I did not like the way the plane was boarded- people could not get into their seats because others blocked the aisles - so chaotic. Passengers were not being rude to one another, it was simply that the process is poor. Could the zones instead reflect both location of seat and area of plane, so that those with window seats at the back board first, then middle seats, then aisle? That way if aisle seats fill first, seated people are not stepping back into the aisle to accommodate others needing to get a seat in that row, while everyone on the gang way must wait for the aisle to clear."
Cons: "The cabin pressure gave me such a migraine, I couldn't think"
Pros: "Amazing crew and comfortable seats"
Cons: "Food, movies"
Pros: "staff was nice"
Cons: "it was late as always, so instead of getting home tonight, I am in a crapy hotel in Houston ...."
Cons: "food"
Pros: "I know how everything works with United Airlines."
Cons: "Free Wi-Fi for everyone!"
Pros: "A quick flight between the two cities."
Cons: "After we all boarded the plane, there was an issue to be resolved. This meant we were stuck on the plane, mostly in our seats, for an hour before we took off. This meant there were numerous people on our flight who either missed or had to run to their next flights."
Pros: "The crew was pretty amazing."
Cons: "The lights could have been dimmed down longer on the overnight flight."
Pros: "Losding procedure orderly, staff helpful."
Cons: "Pretzels are getting old, anything new out there?"
Pros: "Smaller plane was awesome. Flight service great. Checkin easy."
Cons: "We are okay with seat area but would ask that united freeze seat backs. The inconsiderate bumpkins in front of us put seat back and then leaned forward the whole flight. we could not even put our tray table all the way down. Coke spilled all over us in turbulence as liose tabke bounced significantly more than if set in place. Give people rude, freeze saet so cant recline or remove tray tables so we dont hurt ourselves due to rude people."
Pros: "I had economy plus so was comfortable. The check in and boarding was great, no complains there. Flight was before time both ways."
Cons: "For a 10.5 hour flight the food served was not enough. I am a 123 lb female and was hungry. I always carry snacks with me because of previous experiences like this. Also when you are at a window seat it is hard to get up frequently to even get water as the people next to you are sleeping. The stewardess came by twice offering only water. I remember before they offered juice and came around more often. They gave 1 small bottle of water after serving the meal. Wish that was a bigger bottle."
Pros: "There was room for 26+ standby passengers to board. Power outlets & more leg room in Economy Plus."
Cons: "No reclining! No screens, power outlets didn't work well, not enough room for carryon baggage. No food other than pretzels. Drinks took a long time."
Cons: "Gate agent 'bag Nazi'"
Pros: "Full flight but still received great care and attention from the crew."
Pros: "Me gusto que el vuelo fue puntual y la cortesía de la señora que nos atendió. Viaje en Business Class y no hubo nada excepcional que me gustara"
Cons: "La película que pusieron fue realmente mala"
Pros: "Everything was fast"
Cons: "emtertinment screens in the front Row couldn't turn Iran's it was a midnight flight."
Pros: "nice plane. good service good job of getting our missing bags to us."
Cons: "delays on both ends. luggage did not arrive with us on either end"
Pros: "United is an OK airline, but their planes are old and not comfortable, entertainment is inexistent since it has old and bad screens and everything is paid, better to have your own tablet."
Cons: "Seats aren't comfortable, airplanes too old, food is bad, crew members don't have the service as Asian or Middle east airlines."
Cons: "Waiting in the airport for 8 hours."
Pros: "The flight was full. I was upgraded to an exit row seat which was wonderful."
Cons: "Nothing"
Pros: "Gate agent was also rude when I inquired about changing it. There were clearly open seats but she wanted me to pay to upgrade. The way this company operates boggles my mind."
Pros: "Was excellent i like thank you"
Cons: "Nothing al contrario all excellent"
Pros: "Smiling attendants."
Cons: "After buying alcohol in Guatemala, at the duty free shop, the workers at the shop taped the small boxed jars in bubble wrap - not, I discovered in an official duty free bag. So security stopped me in Houston, I went back to the United counter where they were going to charge me $15 to send it to Sacramento. I didn't spend the money. Dissapointing."
Pros: "It was fine."
Cons: "No one notified me that my trip was cancelled I found out myself and then had to rebook after waiting two and a half hours on hold for someone at United for assistance no one ever answered"
Cons: "Wish there was an option for me or even Lufthansa to resell the ticket I couldn't use. $500 wasted"
Pros: "No layover and the guy was nice to sit all 3 of us together."
Cons: "Unorganized for boarding, unorganized for check in, no snacks, no meals available on flight or at the airport due to it being a late flight."
Cons: "Everything was good"
Cons: "The plane was old, the Premium Economy was a joke (and not worth the extra $150), food was poor and they lost my bags AGAIN. United has lost me as a customer for good."
Pros: "Arriving in the states"
Cons: "Charging 28$ to check one bag on an international flight? When did that change and why? I will fly somebody else from now on. What greed!"
Cons: "I had to wait 16 hours, it was a serious delay"
Pros: "Smooth flight, good landing."
Cons: "Seats are very uncomfortable, too small and too close together!"
Pros: "I overslept my flight and United was able to find the next available flight into Denver which helped me tremendously. The guy on the phone was very pleasant and helped so much."
Cons: "Boarding was disorganized and hard to understand. Flight was delayed because of paperwork that wasn't signed, which caused me to miss my connecting flight."
Pros: "On time flight and no problems at all"
Cons: "The plane was having some air conditioner issues but the flight crew informed every one of the problem and what they were doing to fix it. They also came around with water very quickly for everyone to help cool them down. It was either push forward and wait for it to cool down once we got in the air or change planes, I was totally ok with how they handled it."
Pros: "On time"
Cons: "Not entertainment"
Pros: "Nothing"
Cons: "The staff was disrespectful when I asked for water the lady told me I had to stand up and get it myself. I try to use the liegjt above my seat to call for another staff and this lady yelled NO No No you have to stand up and get it yourself. Also flight delays, i went on 4 flights with UA this time and they were terrible"
Pros: "I was wirried about making the connection. Enddd up with an hour which was ample."
Cons: "Delayed flight"
Pros: "Polite crew, very helpful"
Cons: "Legroom seemed so very tiny. My husband is fairly tall and long-legged, and has had knee trouble, The seat-back position of the chair in front made a normal sitting position impossible for him."
Pros: "Very good"
Cons: "The return flight took about over 4 hrs of delay."
Cons: "Dead battery on plane. Delayed flight caused missed connection. No hotel voucher. Sit in terminal all night."
Cons: "One of the male crew was not too friendly. He never smiled. The other attendant was more pleasant."
Pros: "Able to pick seat"
Cons: "A little tight"
Cons: "Two hours Delay not good"
Pros: "The only thing i lkied about the flight was that they delivered my bag even though it came out 3 days later"
Cons: "I had a really bad flight my flight was supposed to be a 8hrs flight n i got home 14hrs later also they forgot my bag n they delivered to me 3 days later i was really disappointed"
Cons: "Need to pay for movies. We need at least some free channels. Also would like to see the map of where the plane is, as it used to be few years ago"
Cons: "Free entertaiment. Not only pay"
Cons: "Delayed, needed to change the second leg"
Pros: "The bar tender nice service the flights excelent"
Cons: "The service"
Cons: "Flight was canceled and United offered no reasonable options for returning home that evening."
Read more about Delta
Safety measures for airlines flying from Guatemala to South Africa
Airlines flying from Guatemala have enacted additional safety measures and adjusted policies to better accommodate travellers. Policies vary by airline.
Heightened sanitation
Daily cleaning, installation of cabin HEPA filters on flights from Guatemala
Mandatory masks
Masks required on board, masks provided on flights from Guatemala
Social distancing seating
Middle seats unavailable to book on flights from Guatemala
Pre-flight testing
Testing for antibodies, testing for symptoms for flights from Guatemala
Book cheap flights from Guatemala to South Africa
Recent return flight deals
Search by stops
Search by airline
Search by price