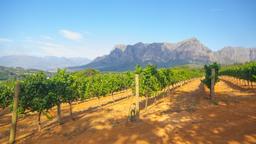 Find cheap flights from Guatemala City to South Africa
Search hundreds of travel sites at once for deals on flights to South Africa
Top tips for finding cheap flights to South Africa
High season is considered to be January, February and December. The cheapest month to fly to South Africa is January.
FAQs - booking South Africa flights
Can I fly to South Africa? Are there any travel restrictions when entering South Africa?
Can I fly to South Africa without having to quarantine on arrival?
Do I need to take a coronavirus (Covid-19) test before flying to South Africa?
Can vaccinated people travel to South Africa?
What documents do I need to fly to South Africa?
What other coronavirus (Covid-19) restrictions are there in South Africa?
How does KAYAK find such low prices on flights to South Africa?
How does KAYAK's flight Price Forecast tool help me choose the right time to buy my flight ticket from Guatemala City to South Africa?
What is the Hacker Fare option on flights to South Africa?
What is KAYAK's "flexible dates" feature and why should I care when looking for a flight to South Africa?
Top 4 airlines serving Guatemala City La Aurora to South Africa
Scores according to KAYAK customer reviews
7,9
Delta
Overall score based on 29 844 reviews
Pros: "Crew was great, cabin was clean"
Cons: "Wi-Fi was very spotty."
Pros: "Comfortable seats and the plane was not crowded."
Cons: "Wheelchair for my mom was not at the gate in Atlanta, she had to walk and we had to still check immigration, customs and reroute our luggage."
Pros: "Seat comfort was average for a small jet. Bottled water was cold."
Cons: "Cabin was too warm"
Cons: "Nothing"
Cons: "Come on, business class is better in the train than in a plane? My foot was a box of 20 small chips, sausage and a very small candy"
Cons: "Great flight. No issues."
Pros: "Crew could have been more helpful, had a 30 min layover and the gate was very far away. They could have told us directions"
Pros: "They left the bags at LAX. We we're driving to Sun Valley and don't have our ski clothes and equipment"
Cons: "Get our bags to us in the morning"
Pros: "Good flight, got home early."
Pros: "Flight was Good"
Cons: "checked baggage was damaged"
Pros: "Everything..."
Cons: "Brighter, kinder and nicer faces."
Pros: "The crew was very courteous and friendly"
Cons: "Delays Why is it always a surprise for the crew that the plane needs to be de iced in the winter"
Pros: "It was an intern final destination and the boarding crew answered all my questions and put me at ease."
Cons: "Everything was perfect."
Cons: "The most courteous staff - on ground, in air, and at destination!"
Pros: "I appreciate the choice of snacks."
Cons: "The coffee served on the flight was lukewarm."
Cons: "Late"
Pros: "Not a lot"
Cons: "Customer service"
Pros: "Plane was clean & modern"
Cons: "More leg room"
Pros: "The crew was so nice especially the man who came to thank me for keeping my body out of the way of those who were serving and those using the bathroom. My husband an I were in the last row. He offered me a free drink, which I didn't accept but I felt so good."
Pros: "Food and movies"
Pros: "The flight crew was amazing! Very helpful and did everything they could to assist!"
Cons: "The plane was pretty toasty! It didn't really mellow out once we got in the air, either! That was my only complaint."
Pros: "Crew was great (once they arrived)"
Cons: "1.5 hour delay added 5+ hours to our travel day. Not fun..."
Cons: "Late arrival"
Cons: "Perfect"
Cons: "All was good"
Cons: "Compostable"
Cons: "Not much legroom."
Pros: "Overall, flight was great."
Cons: "The couple next to me were a little on the plus size. A little tight for my flight. But I was ok"
Pros: "It felt like it was over before it even started!"
Pros: "Delta employees are a cut above American AIrlines and I have to say everything went very well with the flight. THe last flight I took on American went horribly wrong and it was not even completed."
Cons: "Always delays in between transfers from Mexico City"
Cons: "Friday when I supposed to depart at 7:21 am my flight was delayed to 6:00 pm and yesterday when I supposed to depart from New York at 7:21 pm my flight was delayed until 11:20 pm was horrible! I never again i would took Delta because I call a day before my departure to see if they would help me changing my flight by morning and they couldn't they told me that i have to pay $300 dollars."
Pros: "At the counter the staff is friendly, nice."
Cons: "There is no one to organize the lines to the self check in on the computers, basically a mess, nobody knows how many lines are there."
Pros: "How nice and gentle they were."
Cons: "Long waiting lines."
Cons: "Aircraft seemed shabby despite refresh of Comfort Plus, food was really mediocre. Steer clear of the Asian Veg option."
Pros: "No wifi couldn't do any work"
Cons: "Was looking forward to completing some work but the wifi never came on."
Cons: "No help with baggage when boarding the plane, they hurry you up for nothing, because we had to wait 20 mi utes to take off."
Pros: "Service was fast and the inflight entertainment is free. Lots of movies to chose from, which is nice for the long flight."
Cons: "It was the most cramped I have ever felt in a plane and also the longest flight. Horrible combination. Some of the crew were snippy."
Pros: "Boarding was good, crew was friendly and we were on time."
Pros: "The best service"
Pros: "El personal abordo muy amable llegamos a tiempo"
Cons: "En el ahereopuerto de guatemala para chekiar las maletas siento q nesesitan mas personal estuve una ora y quince minutos para poder chekiar mi maleta"
Pros: "There is nothing I like the most. Everything was downside from the day one immediately the purchase of the tickets."
Cons: "With the purchase of tickets there was no meal selection option available. Had to ask at the reporting time and then seat was messed up. 3 seats were three different row while I had two minor sons. Spoke to the travel agents (justfly.com) and requested meal was not properly recorded. I requested, two kids meal and a Hindu meal, when meal came it was told I had Muslim meal. How on earth did it make any sense, I am not even muslim? I did not even mention about muslim. Those dumbass at justfly.com do not have any level of professionalism. I tried to contact china southern airlines, they are always busy, after several attempts, finally somebody on the phone talking chinese shitty accents that only understood a few english. Chinese passenger crowded and with the shitty attitudes. One of the old guy drop the heavy coffee cup on my son's head and hurt real bad when he pulled his bag immediately after the land when he is not supposed to. I have a return ticket to deal with again with pain in a few days. then I will never fly with this shitty airlines. At Gongzhau, kids are hungry in transit, tried to buy food, told they only take Yuan. there was no ATM in transit. had to exchange Yuan and thats the only option there if you want to buy something. Airport wi-fi sucks, no connectivity even after logging into the shitty local advertisers websites. Finally, crew were to manage some kind of food, but did not like it at all. shitty shitty. do no fly this airlines of chinese route at all."
Pros: "Fast as always. Very professional"
Cons: "Inwasny aware my small pocket knife wouldn't be accepted at the airport even though it has been cleared before and the staff was a bit rude about it.the food"
Cons: "Everything was great"
Pros: "Movies"
Cons: "Sat in Delta Comfort and a loyal Delta flier, except had the bad fortune of taking off at 830 ATL time and apparently Delta doesn't find it important or a good idea to sell food after that time. The logic behind this is beyond me. I'm willing to pay $9 for a few cheese slice and crackers or a sandwich yet they don't offer anything, not even to first class which would really irritate me had I paid 1000 bucks. Ontop of that the crew which is normally excellent, was feisty and rude and wanted nothing to do with their job"
Pros: "Whoa, we flew Coach and had plenty of space! How marvelous to not be packed in; crew and passengers were wonderfully relaxed, and all went well despite turbulence on takeoff and landing. Great daytime flight experience with my toddler grandchild!"
Pros: "Nothing to like -- didn't fly"
Cons: "Delta delayed my flight so long that I'm now traveling another day."
Pros: "flight crew was nice"
Cons: "Very old dirty plane"
Pros: "Wonderful staff, very helpful after our plane was diverted"
"Could not hear announcements from staff. Luggage in hold was delayed on both legs of trip."
"4 flights in 3 weeks between arrival and departure and all flights delayed about 5 to 6 hours ! What's going on with AF ?! Not a low cost and you paid for that service !?!? Not anymore"
Pros: "The crew is nice"
Cons: "No respect of distancing the seats ; all the seats were occupied. No wifi"
Pros: "I loved the different features on the screen and the excellent. Customer service on this flights"
Cons: "The space on the seat."
Pros: "I"
Pros: "The sear was messy they didn't clean it it was full of pieces of bread."
Cons: "boarding the flight on time instead of delaying it two times... and also putting the information at the flight information screen if I haven't gone to ask to the airport information stand I would never know the flight departure gate that was at the complete opposite side of the airport of were the initial flight was going to depart."
Pros: "More space in business class (777-300) than many other airlines."
Cons: "Entertainment very limited. No adjustable air vents in this aircraft"
Cons: "Seat angle adjustment was not the most comfortable for sleeping."
Pros: "Quick boarding, comfortable seating. Great food!"
Cons: "The seats and IFE were a bit outdated. Comfortable, but outdated. My family had issues with their screens and one had to use the remote as the touch screen was no longer functional."
Pros: "Not much, seats are super uncomfortable"
Cons: "Better code sharing with KLM"
Pros: "Amazing crew and on time flight"
Cons: "None"
Cons: "Train your ground crew. Our luggage was not placed on our flight from Paris to Amsterdam and were sent to Amsterdam on separate planes. My husband's medication was in his bag. This was a great inconvenience for us. Never again on Air Canada. I suggest you explore the baggage process used by Delta."
Cons: "There was no entertainment and the food could be better"
Cons: "Better in flight entertainment"
Pros: "FA kept bumping into my seat waking me up"
Cons: "Return the 777 to 9 across"
Pros: "Crew was friendly and attentive but hard to understand"
Cons: "Airport experience was inefficient. Long unattractive walk, boarding was tedious: the automatic check-in was not helpful and required so many more staff. Random security check was redundant and chaotic."
Pros: "The crew was very gentile."
Cons: "No enterteinment on the plane."
Pros: "The staff..the attentions..food."
Cons: "Food"
Pros: "Extremely hot the plane"
Cons: "Flight was delayed by at least an hour leaving Paris - a regular situation I experienced with AF."
Pros: "Really liked the new touch screens (with very good responsiveness). Also liked the food selection (the champagne was nice, so was the menu we were given)."
Pros: "I was given a great seat and the food was OK- not the Air France food of 5 years ago but still good"
Cons: "I didn't really use the in flight entertainment - the usual movies, tv etc"
Pros: "Short flight so I can't really complain. It was no frills, standard small aircraft with no high tech entertainment system. Seats were fairly comfortable"
Pros: "Check in process was easy. The flight attendants are all very helpful and kind. We are playing was OK but it could've been cleaned a little better before we got on board."
Cons: "Check in process was easy. The flight attendants are all very helpful and kind."
Pros: "Nothing"
Cons: "The plane (Boeing 777) is packed like a sardines can, with 10 narrow uncomfortable seats across in Economy Class. The crew didn't even bring water for an 1,5 hr into the flight! The plane was very hot, with very little air flowing through the salon. Food was bland for dinner and inedible for breakfast. The crew was barely there, and borderline rude when asked something."
Pros: "Friendly crew, good meal and entertainment"
Cons: "Boarding agent forced me to check in my carry-on even though the carry-on fit in the cage and fullfilled all the requirements. I specifically called Air France prior to the flight to make sure I won't have any issues as my 1st flight was operated by Delta and I wanted to confirm the luggage requirements were the same. My carry-on weighted only 5 kilos. I was extremely upset the way I was treated w/ the boarding agent behind the counter in Prague. On the top of that, her and the supervisor were very rude to my mom as they told her she had an extra carry-on which wasn't the case. She traveled w/ a small briefcase where her mask for sleep apnea was. This is not considered an additional carry-on. The boarding agent (Czech lady and her supervisor) were not only rude but obviously lacked knowledge as well. My carry-on suitcase would easily fit in the overhead bin plus there was plenty of space inside the plane as it the flight wasn't completely full."
Cons: "Tiny uncomfortable seats."
Pros: "If the flight would have leave in time we would receive our luggage in time"
Pros: "It was a wonderful flight and service . Hospitality and welcoming."
Cons: "Nothing everything was amazing ."
Pros: "Everything!"
Cons: "We paid for Business Class from JFK to TLV. The flight to Tel Aviv was in a small plane with 3 across seats that hardly reclined. We are most unhappy and will complain to American Express Platinum Card."
Pros: "The crew and flight was faultless"
Cons: "We were not advised of a flight number change or checking in location change. This could have resulted in us missing our flight."
Pros: "Yelling, cheering and literally rolling in the aisle made for a really annoying flight"
Cons: "Infusions bad behavior. Also, flight number was changed and AF. Was understaffed to handle questions on squirrelly luggage check."
Pros: "Sometimes you get surprised, with this specific flight, we had an excellent young and perfect cabin crew. Thanks, Joon!"
Cons: "It was delayed. I missed my flight. Now I don't have a bag. I am not sure when I get it back or if I have to go all the way back to the airport"
Cons: "Its been a week. My trip has ended. I still do not have my bags. Terrible customer service."
Cons: "There should be more layover time as I almost missed my flight and My luggage was delayed!!"
Pros: "Good service at gate and on board"
Pros: "Always like Air France. They are in tune with keeping the traveler updated."
Cons: "Walked all over the terminal looking for signage for Croatia Airlines. Information services sent me to the right location, but it was marked Air France. I asked serval Air France employees for Croatia Air. None new that Air France was the CA carrier. Finally found one who bothered to look it up on her computer and low and behold, AF was the carrier!"
Cons: "We were rebooked, which understandably happens for any number of reasons. However, we were not informed or asked about our preference until our luggage was checked through! The staff especially in Chicago where we began this awful experience couldn't care less about our situation. Then AIr France lost our luggage and provided no help in locating them. We had to rely on folks who had friends working in Zagreb Airport to locate them. Air France is incompetent, insensitive and unprofessional. If you have an important trip avoid Air France - they treat you like captives not customers."
Pros: "Nothing..worst experience ever. Simply apologising for delayed doesn't help"
Cons: "Flight into and out of indiapolis was delayed by 2 hours. Missed my connection flight to LHR because of the delay. never had such a flying experience. Flight was operated by Delta. I won't be flying them again."
Cons: "We tried to check our bags through Charles DeGaulle onto our connecting Air Canada flight and the agent refused to even discuss it. Pretty bad service."
Cons: "It was all good, only in comparison with Turkish airlines and etihad it is not at par."
Pros: "The food was great. Very filling and hot foods were hot and cooked thoroughly. For our 8 hour flight we were served 2 meals and snacks and plenty of hot drinks which was nice.The entertainment was great got to watch movies and play games and also learn language through games."
Cons: "It was very hot in there probably hotter than it should be. Not much air flow I was sweating the whole flight. Because of this I couldn't sleep it was kinda miserable not gonna lie."
Pros: "Croissants instead of pretzels was a nice change of snack"
Cons: "Computer failure rendered the check in process a total mess. Staff seemed utterly at a loss and also totally unprepared for this very early and very full flight. Most passengers seemed to have multiple bags to check. Since this is a regular flight it was hard to understand why check in staff wandered in late when time was already tight - let alone having a system failure as well to deal with. We were 50 minutes late leaving. This resulted in many of us either missing or having extremely tight (stressful) connections at CDG Paris."
Pros: "The plane is roomy and bright"
Cons: "N/A"
Pros: "Same as above, the crew was very friendly and the food was great."
Cons: "Seating was cramped and uncomfortable for a tall person."
Pros: "No complain about Air France. The service and food are very good. Enjoy it."
Cons: "Our return flight is Milan--CDG--SFO. The transfer time at CDG is 1 hour. The line at CDG is incredibly long. We barely made it. IMPOSSIBLE for tax return. Very bad flight connection experience."
Pros: "Bar/Coctail service on AF was excellent."
Cons: "Boarding area at CDG had almost nothing in the way of food and drink. Only one small Illy. Unbelievable in a major international airport."
"A little puddle jumper to go to SFO from LAX seems strange to me. Its cramped and slower than just taking SWA from BUR. Its a little bitty plane, and the added time with the baggage, transferring on the buses and all the extra time needed for these things just don't add up to a quick and dirty business trip."
Cons: "Why do we accept this humiliation from AA, they charge for breading inside the plane, they don't give anything nice to eat or drink, and the tickets are more expensive than others. You know why?, Because we are stupid"
Cons: "The crew seemed like they didn't know what they were doing."
Cons: "Snacks could be better....seats are small.... it was freezing....no free WiFi and no Tv"
Cons: "The entertainment app didn't worked"
Pros: "Crew was nice. Had no problems with my carry on."
Cons: "Paying for an assigned seat is ridiculous so my friend and I didn't sit next to each other."
Pros: "The crew was friendly."
Cons: "I didn't get to Dallas. There was a mechanical failure. We all had to deplane. I was put on the flight for the next day."
Pros: "Fast boarding"
Cons: "No WiFi at all on the plane. Entertainment was only their station on screens on the barriers. As often happens with American First Class staff, they did the requirements in the same way service is better at chipotle than Taco Bell. Interior plane noise was very loud. Must be the last year on lease"
Pros: "More comfortable seats"
Pros: "Prior to boarding, we had help with our seating. My wife gets anxiety and our son is three, so I felt like I needed to be there for them both. A crew member ensured we sat together."
Cons: "Everything else."
Pros: "So frendly"
Cons: "Everything"
Pros: "the food was great, and they served dinner right away so passengers could get some sleep before arrival"
Pros: "Seat ok, crew was good and flight left right on time"
Cons: "Just the entertainment need to have options"
Pros: "Great service"
Cons: "All good, maybe keep the lights off more often"
Pros: "Time of flight"
Cons: "Aircraft had no screen, old, uncomfortable"
Pros: "Everything was time."
Cons: "Sitting next to the toilet."
Pros: "Nothing"
Cons: "Overcrowded Bad service Attitude"
Pros: "Calm flight that was ahead of schedule"
Cons: "One surly flight attendant. No enough chance to sleep"
Pros: "Everything on time."
Cons: "The air conditioner on the plane."
Pros: "The cookies. Quiet plane."
Cons: "Took longer to take off than the flight to Buffalo."
Pros: "The non stop flight Guatemala- Chicago"
Cons: "Just a cookie and drink for international flight(4 hrs +)"
Pros: "The pilot sounded nice"
Pros: "The people I spoke to on the customer service line and then especially at the service desk in Miami were able to help me get a sooner flight so I didn't have to be driving home until the wee morning. I am VERY grateful to them and American Airlines policies which empower its employees to assist its customers."
Cons: "I have to say, I'm a medium sized 6 foot guy, but I felt very uncomfortable in the seat with another 6 foot man to my right. I felt like I couldn't use rest my shoulder, since he was using the armrest. i know this is a calculated decision made by very high ups, but the seats just need more comfort. I was even in an exit row, which has more legroom in comparison, but the actual seat was almost painful."
Cons: "I didn't like the fact I had to wait 5 and a half hours in the airport and not being compensated by the airline, who for some reason penalize anyone of their passagers if they are late or want to change a flight. I was also late for a meeting"
Cons: "was seated between 2 to very overweight persons, the person in the aile side, extrememly heavy needed extension belt, plus removing the arm rest next to me and using great part of my seat. not a very comfortable situation and the plane was FULL, no empty seats"
Pros: "Entertainment"
Cons: "Delay"
Pros: "Comfortable seats, good food and entertainment, on time"
Cons: "More water should be offered throughout the flight."
Pros: "The Crew was friendley."
Cons: "Could not checkin on internet."
Pros: "I am happy to have made it to my final destination."
Cons: "This was a disappointing experience to say the very least. The boarding process in Quito was chaotic to say the least. The AA staff did not make an effort to maintain any kind of order. My husband and I are both enrolled in the AA frequent flyer program and had at least 6 people cut in front of us while on-line. When we finally approached the AA representative, Dayana Gómez, She was rude and not helpful. Our seats on the UIO-Dallas flight did not even recline. We sat completely upright for the duration of the 6 hour overnight night flight into Dallas."
Cons: "Delayed!!"
Pros: "The food and drink were abundant and served at a decent pace. The boarding seemed quick and I was able to get to my seat quickly."
Cons: "I had a 2 hour layover to switch from my BA flight to my American Airlines flight in Heathrow, but since I, and every other AA passenger had to wait in line to reprint my boarding pass to an AA boarding pass after we had taken the bus to the terminal, I waited about 45 minutes in that line. Then we had to go through security again. By the time I made it to my gate the flight said it was "closing." We took off about 15 minutes after that. The "hot box" snack had goat cheese and I'm not a fan."
Pros: "So great to see the flight attendants help a family (not my own) make sure that a child could get to the toilet even though it meant a brief delay before we could take off. so helpful."
Pros: "The flight staff did the best they could for how few of them there were."
Cons: "Flight cancelled, and the gate was understaffed, so it took forever to even get up to the counter to try arranging alternate flights. Also, the Kayak/Webjet tickets we were issued interfered with the process as the airline could not reissue us tickets directly. Moreover, one Kayak & Webjet got actively involved, they even tried to deny us passage on the alternate flights that American Airlines suggested. By the time we did make it up to the desk, everything was taken/full for the next few days & we have been struggling to make our overseas travel even possible ever since."
Pros: "Flight was good overall , free pretzels were tasty. Drink service on point."
Cons: "Crew came off as annoyed the whole time. Glad I didn't pay the $$ to upgrade my seat."
Pros: "Legroom"
Pros: "Flight was on time, seats were comfortable."
Cons: "Because it was a day later!!!"
Pros: "On time. Quick boarding."
Pros: "In flight individual movie screen at no charge"
Cons: "Had issue with continuing flight after Dallas. Gate agent told me to go to AA.com and wouldn't even try to help. If you can't do it on line, forget it. Tried to call the 800 number and told to wait 2 hours!"
Pros: "Very nice crew. Full meal"
Pros: "Flights were boarded efficiently and on time. Crews were courteous and helpful."
Pros: "No delays except for weather."
Pros: "Courteous"
Cons: "No snack"
Cons: "Everything on this flight was considered an EXTRA. It was uncomfortable and the lay over in Miami made it even worse. Long lines, long distances and extreme delays!"
Cons: "They Only serve pretzels, nothing else different."
Pros: "Same"
Pros: "The flight overall. Also, it landed early."
Cons: "In Charlotte, they had to deplane on the tarmac and my daughter had a crutch, so she had to sit on the steps to go down them."
Pros: "We boarded, then left on the plane for an hour, then offered the opportunity to unboard, then required to unboard. We left several hours late and missed our connecting international flight."
Cons: "Everyone was anxious about missing connecting flights. It was a chaotic scene. The flight staff were clearly annoyed with all the questions they were getting."
Pros: "Crew was polite and professional"
Cons: "Overall experience with American Airlines and those under them was definitely not a good one. In the future I will probably look at other airlines."
Pros: "The flight was comfortable, and I was glad that it was direct without layovers"
Cons: "The flight attendants were a little stand off-ish. I sat directly behind a screaming toddler on a red-eye. Not that the airline had any control over that, but it was terrible."
Cons: "kayak geat flighthub the worse ROBERS"
Pros: "Amazing crew and comfortable seats"
Cons: "Food, movies"
Pros: "staff was nice"
Cons: "it was late as always, so instead of getting home tonight, I am in a crapy hotel in Houston ...."
Cons: "food"
Pros: "I sat next to two of the flight attendants prior to our departure. When they got up to board, their negative comments about getting on the plane made me think Wow, why are you doing this job, if you don't really want to go. The two attendants at the check in, they need some training."
Cons: "More professional staff."
Pros: "It was a very old and TINY plane."
Cons: "Newer and atleast a midsize plane."
Pros: "Good flight, nice staff."
Cons: "Food not the greatest and flight over-crowded."
Pros: "Losding procedure orderly, staff helpful."
Cons: "Pretzels are getting old, anything new out there?"
Pros: "Me gusto que el vuelo fue puntual y la cortesía de la señora que nos atendió. Viaje en Business Class y no hubo nada excepcional que me gustara"
Cons: "La película que pusieron fue realmente mala"
Pros: "Nothing."
Cons: "Both outbound and invound flights were delayed 3 hours and no reason was every given. The staff at the gate and on the plane in both directions were not friendly or helpful at all."
Pros: "The plane, crew and boarding was great, and the food and drinks were quite good. Legroom in standard economy class was passable for a 6'2" person."
Cons: "I booked through the United website as trip from US, have Silver status on United, and Lufthansa's policies of not allowing advance (1-2 mo before flight) seat selection (never on UA nor LH websites) are just horrible. Hard to get through on 800 number, and 1 day before trip answer was still to do it in Frankfurt. Economy plus was $1000 more/person, and even then no guarantee I could choose a seat far in advance. Then, at computer kiosk in Frankfurt, they had a wrong diagram of the plane,as we ended up on what turned out to be a no-recline row which I would never get. I'm 6'2", 230lbs, and wasn't able to sleep on that flight. Had I been able to reserve a seat behind a bulkhead or in exit row 2mos in advance, I would have been fine."
Pros: "Everything was fast"
Cons: "emtertinment screens in the front Row couldn't turn Iran's it was a midnight flight."
Pros: "nice plane. good service good job of getting our missing bags to us."
Cons: "delays on both ends. luggage did not arrive with us on either end"
Pros: "United is an OK airline, but their planes are old and not comfortable, entertainment is inexistent since it has old and bad screens and everything is paid, better to have your own tablet."
Cons: "Seats aren't comfortable, airplanes too old, food is bad, crew members don't have the service as Asian or Middle east airlines."
Cons: "Waiting in the airport for 8 hours."
Pros: "The flight was full. I was upgraded to an exit row seat which was wonderful."
Cons: "Nothing"
Pros: "Departed early for an early arrival which was pleasant."
Cons: "It was fine, roomie since I had my own seat section to myself"
Cons: "Flight delayed three hours because of malfunctioning fuel valve . United needs to figure out how do identify the problem I had of time to allow more time to fix"
Pros: "Flight attendant"
Cons: "No door operations"
Pros: "Was excellent i like thank you"
Cons: "Nothing al contrario all excellent"
Pros: "comfortable and on time"
Pros: "Smiling attendants."
Cons: "After buying alcohol in Guatemala, at the duty free shop, the workers at the shop taped the small boxed jars in bubble wrap - not, I discovered in an official duty free bag. So security stopped me in Houston, I went back to the United counter where they were going to charge me $15 to send it to Sacramento. I didn't spend the money. Dissapointing."
Pros: "Boarding was efficient"
Cons: "I fly a lot. Other airlines do pretty much everything better. Only thing that was slightly better was the boarding process."
Cons: "the boarding process is horrible and feels rude. The design of the united gates is horrible, the long lines block others walking by. The lack of enough overhead space for carryon's is obnoxious. Overall very disappointing."
Cons: "No one notified me that my trip was cancelled I found out myself and then had to rebook after waiting two and a half hours on hold for someone at United for assistance no one ever answered"
Pros: "I loved the pilot taking time to greet my boys and give them wings! My boys loved sitting in the co-pilot's seat and hearing "the plane talk." Once we got to our seats, the flight attendants were very helpful and kind and we, actually, landed early! Yaaayyy! My boys won't forget their flight to Houston because of the cool female and male pilots they met while traveling. Thank you!"
Cons: "I did NOT like how the seats are grouped in twos. I flew with two small children who could only sit together and I had to sit by myself and watch them; which was very hard. If I could change anything about my flight, I would change the age of children who need to purchase seats to four and up as most children under 4 want to sit with their mothers, so why should I pay for a seat they will not be using?"
Pros: "No layover and the guy was nice to sit all 3 of us together."
Cons: "Unorganized for boarding, unorganized for check in, no snacks, no meals available on flight or at the airport due to it being a late flight."
Cons: "Everything was good"
Pros: "Arriving in the states"
Cons: "Charging 28$ to check one bag on an international flight? When did that change and why? I will fly somebody else from now on. What greed!"
Cons: "I had to wait 16 hours, it was a serious delay"
Cons: "Gate attendant recommended we check bags because overheads were full, but there were multiple empty overheads when we entered. This caused us an extra delay when we landed."
Pros: "On time flight and no problems at all"
Cons: "The plane was having some air conditioner issues but the flight crew informed every one of the problem and what they were doing to fix it. They also came around with water very quickly for everyone to help cool them down. It was either push forward and wait for it to cool down once we got in the air or change planes, I was totally ok with how they handled it."
Pros: "Nothing"
Cons: "UNITED employees are very rude"
Pros: "The flight had no delays and boarding and flight went smoothly."
Cons: "The crew were not very polite and in some instances rude."
Pros: "On time"
Cons: "Not entertainment"
Pros: "Nothing"
Cons: "The staff was disrespectful when I asked for water the lady told me I had to stand up and get it myself. I try to use the liegjt above my seat to call for another staff and this lady yelled NO No No you have to stand up and get it yourself. Also flight delays, i went on 4 flights with UA this time and they were terrible"
Pros: "Flight was on time, except that we had to wait a few minutes for more oxygen to be boarded because the flight was completely flow (overbook in fact)."
Cons: "Both my daughter's and my seats were broken. We were not given seats until just before boarding, luckily they were together."
Cons: "Delayed flight"
Pros: "Got to flight on time"
Cons: "Everything good"
Cons: "Both flights were INCREDIBLY delayed. First, the flight from San Jose was delayed 1.5 hours because they were "waiting for the aircraft." After everybody finally boarded the plane an announcement was made that somehow the luggage crew had damaged the cargo hold, and that everybody would have to deplane. It would take 45 minutes for maintenance crew to arrive to assess the situation. People got up, got their luggage out of the overhead bins, and started moving to the front of the plane. The pilot then came back on the intercom and told everyone they would have to return to their seats. Roughly an hour later we finally took off. It would have been the decent thing to do to AT LEAST offer the passengers something (i.e. comp drinks or snacks), but the cheapskates at United DIDN'T EVEN APOLOGIZE. Multiple people missed their connections. Fast forward to IAH--> SAT. Another late flight. This time, everybody boarded the plane only to be informed that due to a problem with the plane's computer everybody would have to sit on the plane while they "rebooted" its computers. This was done TWICE. UNITED AIRLINES, GET IT TOGETHER. There is a very good reason you are consistently ranked one of the WORST US-flagged carriers, which makes you one of the MOST HATED AIRLINES ON THE PLANET. I really and truly pray that the US airlines and their lobbyists lose their battle to prevent foreign flagged carriers from operating within the US, because you all deserve to go bankrupt."
Pros: "Polite crew, very helpful"
Cons: "Legroom seemed so very tiny. My husband is fairly tall and long-legged, and has had knee trouble, The seat-back position of the chair in front made a normal sitting position impossible for him."
Pros: "Arrived to find the flight was canceled due to mechanical problems. The airline was prompt to provide alternative flight arrangements. I taxied from BWI to IAD and took a different flight. The airline provided free lunch meal and transportation was covered as well."
Cons: "Dead battery on plane. Delayed flight caused missed connection. No hotel voucher. Sit in terminal all night."
Cons: "Delayed 3 hours sitting in tight space on the plane"
Pros: "All fly is in good plan"
Pros: "They got us on this flight (the last one to SNA for the day) after we missed our original connecting flight due to delays on the Frankfurt to Houston flight."
Cons: "crowded"
Cons: "Two hours Delay not good"
Pros: "The only thing i lkied about the flight was that they delivered my bag even though it came out 3 days later"
Cons: "I had a really bad flight my flight was supposed to be a 8hrs flight n i got home 14hrs later also they forgot my bag n they delivered to me 3 days later i was really disappointed"
Cons: "Need to pay for movies. We need at least some free channels. Also would like to see the map of where the plane is, as it used to be few years ago"
Cons: "Free entertaiment. Not only pay"
Read more about Delta
Safety measures for airlines flying from Guatemala City to South Africa
Airlines flying from Guatemala City have enacted additional safety measures and adjusted policies to better accommodate travellers. Policies vary by airline.
Heightened sanitation
Daily cleaning, installation of cabin HEPA filters on flights from Guatemala City
Mandatory masks
Masks required on board, masks provided on flights from Guatemala City
Social distancing seating
Middle seats unavailable to book on flights from Guatemala City
Pre-flight testing
Testing for antibodies, testing for symptoms for flights from Guatemala City
Book cheap flights from Guatemala City to South Africa
Recent return flight deals
Search by stops
Search by airline
Search by price
Guatemala City - South Africa Flights