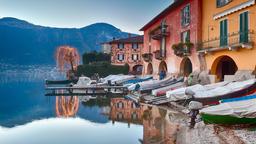 Find cheap flights to Como
Search hundreds of travel sites at once for deals on flights to Como
Top tips for finding cheap flights to Como
There is no major airport in Como,it is instead served by Milan's airports. We recommend you fly to Orio Al Serio Airport, however you can also fly to Malpensa airport or Linate airport.
High season is considered to be July, August and September. The cheapest month to fly to Como is November.

Enter your preferred departure airport and travel dates

into the search form above to unlock the latest Como flight deals.
FAQs - booking Como flights
How to fly to Como?
What airports are near Como?
How far is Milan Linate Airport from central Milan?
What is the name of Milan's airport?
How does KAYAK find such low prices on flights to Como?
How does KAYAK's flight Price Forecast tool help me choose the right time to buy my flight ticket to Como?
What is the Hacker Fare option on flights to Como?
What is KAYAK's "flexible dates" feature and why should I care when looking for a flight to Como?
Top 5 airlines flying to Como
Scores according to KAYAK customer reviews
7,9
Lufthansa
Overall score based on 28 069 reviews
Pros: "Movie selection. Flight attendants very polite and friendly and helpful. Roomy upstairs with room to stretch and stand."
Cons: "Poor wine selection (one red one white) Flight attendants overserved alcohol to passenger in my area to point of slurring and not walking off plane. Food..bread hard and poor."
Pros: "As a United 1K member and Star Alliance Gold member, I expected a little better treatment than being charged a premium to sit with my family in a 'rock bottom' basic seat."
Cons: "I was surprised to have to pay more for a basic seat. I really thought I had paid enough already. I could not get boarding pass tickets for the last leg of our fight. I was told that Lufthansa''s system does not communicate with United Airline System. I found this to be untrue because I have had code share flights between United and Luftansa for 20 years. At Munich I was told that they could not get me tickets either and said that there may be a security issue with me. Once I heard this I walked away."
Pros: "The entertainment was wonderful the staff was nice."
Cons: "CONSTANT ANXIETY!! Our flight to Chicago was delayed. By 2 hours. This normally is not a big deal but it caused us to miss our connecting flight from Munich to Bremen. Then our new flight with a later time to Bremen was cancelled 20 minutes prior to boarding with no more flights to this area. The service center helped us redirect another flight to Hamburg, Germany. We had to fly to Vienna and then to Hamburg. We made it to Vienna after a 40 minute delay however, this delay caused us to miss our connecting flight once again. We were placed on an early flight the next morning to Hamburg which was an easy flight. When we got to luggage in Hamburg we noticed our luggage was missing. Supposably still in Munich. We then missed this flight and missed out on valuable time with friends who live in Germany."
Cons: "Still in Munich."
Cons: "Delay of 45 minutes made me almost miss my connecting flight."
Pros: "Good choice of movies."
Cons: "The tightness of the seat arrangement when the row ahead reclined is extremely awkward. We are not large people but getting over the aisle armrest was very difficult to maneuver to avoid injury (falling). The security in Munich was upsetting in that one man yelled at me , "Get it out! Get it out! Get it out! because I put my electronics in one of the bins before my husband. I was confused as to what I had supposedly done and I said, "This is my husband" (who was removing his shoes) and this man's reply was "I didn't know that". We were not trying to cause trouble and we cannot understand why he had to yell."
Pros: "crew is nice"
Cons: "breakfast was pretty lame !"
Pros: "I believe Lufthansa does more than the majority of other airlines for economy class passengers."
Cons: "There was nothing I didn't like."
Cons: "Everything was great except the seat is about an inch too close"
Pros: "I liked having the option to upgrade to a Premium Economy seat for this long flight. It made a big difference in my comfort during the flight."
Cons: "My bag did not make the connection. Had to make a claim and was told it would be on the next flight arriving at 12:30 PM. I did not receive it until 10:00 PM at our lodging."
Pros: "Friendly crew"
Cons: "when seats recline in economy you can barely get in and out of a seat"
Pros: "Accurate. Friendly."
Cons: "My suitcase weal broke during the flight!!"
Cons: "The vegan meal. No airline appears to know how to make a healthy and tasty meal."
Pros: "Timing"
Cons: "Food"
Pros: "The boarding process is very efficient."
Cons: "Lufthansa's people are mostly good. But there are some obvious opportunities for people to be more friendly. Also, LH like many others continues to serve cold rolls and cold butter on international flights. KLM warms the rolls! It's the one small touch that would make Lufthansa's meal service so much nicer."
Pros: "They were average in terms of comfort and crew. You can only get so conofortable in economy class and the crew did what they were expected to. I did feel that my empty meal tray was left on my table for quite some time though."
Cons: "We had no individual entertainment on the flight, only very old CRT screens hanging from the ceiling, circa 1995. They did show movies but the sound quality was poor and my headphone jack did not work so I had to share with my husband. They offered no explanation for this, since their website clearly promises individual screens for international flights. When asked, the FA simply said "this isn't our usual plane for these types of flights." However, we had the same issue when flying to Frankfurt with them, so the company seems to just be lying. The food can barely pass as food. Everything was ice cold except the main dinner entree, even the bread. The only vegetable available throughout our 8+ hour flight was shredded carrots absolutely swimming in mayonnaise. The boarding process was exceedingly slow and they would not allow use of cell phones for boarding passes, although their check in provides the attachments. This required probably 1/4 of those boarding to have to step aside to another line for a paper copy. Again, no apologies or explanations from the company. Overall, I wish I had shopped around a bit more and chosen another airline. International flying is supposed to be somewhat enjoyable, even in economy class. Instead, this was the longest 8+ hours of my life."
Cons: "My first flight was delayed by well-over an hour, having me arrive an hour late for my connecting flight home. There were no efforts to assist me in locating my connecting flight, to set up any accommodations while at the connecting flight's airport for the additional 4 hours of waiting time, no apologies for making me late for wedding rehearsals (I'm the officiant!). I had to actively seek out the ticket counter for another airline, through which my connecting flight was re-routed."
Pros: "The snack was really good (a salami sandwich and a glass of wine)."
Pros: "The flight was on time. The crew was friendly and efficient."
Cons: "I had to endure 10 hours sitting next to an obese passenger, who was to big to fit into his seat and had to rest his shoulder and elbow over my seat. The crew couldn't do much and so I had to shift myself sideways for the entire journey in order to make space for this obese passenger to rest his arm into and over my seat."
Cons: "They had overbooked the flight and asked to reroute me. I asked if I would still be able to get to my destination at the same time and to make sure I would have a window seat. Everything from the moment I said yes was a terrible. They rebooked me twice on two different routes when I was in the air. Said a steward would meet me (never happened) instead I was running to catch flights on different airlines in two different airports. The entire situation was disgusting. The running was with all of my luggage. Because of the rebooking I was in the last row of 75 rows on a plane with an additional connection. Every flight had delays creating more chaos for the next flight. The only helpful airline in the bunch was Delta."
Pros: "service was excellent, food was good, flight crew very pleasant."
Pros: "Crew friendly, good food"
Cons: "Cramped seating, can't select seat until checkin without paying (only airline we were unable to select seat)"
Cons: "Food Crew appearances"
Cons: "They rescheduled me for 40+ hours of flight instead of the 19 that I had paid for. Instead of flying me directly Turin to Munich, I had to go Turin to Frankfurt, 5.5 hour layover, then Frankfurt to Munich, 13.5 hour layover, then Munich to Denver. 2 of those 3 flights were an hour delayed."
Pros: "Organized loading. Flight attendants engaged, took great care of passengers. Did not act like we were a bother."
Cons: "Need more elbow room. Folks on either side of me took up the arm rests. Felt squished"
Pros: "Crew was great and the plane was clean."
Cons: "Nothing."
Pros: "The problem was a family with 4 children who failed to parent their children which made this 7 hour flight a nightmare. Their children yelled, screamed and cried the entire flight and their parents did nothing. Their children laid in the center aisles, jumped up and down in the seats like a trampoline. They played with the trays like a toy repeatedly opening and closing them for fun. They tossed pillows at each other and the father handed them back to them to do it again and again. The parents didn't even seat their children in - the flight attendant had to do it. In our section there was no sleeping only total frustration. I love kids but sitting behind totally irresponsible parents made this return flight a nightmare while awake"
Cons: "Flight crew inability to handle unruly passengers"
Pros: "Good entertainment options and nice choice of movies and TV. Complimentary drinks are good and service is frequent."
Cons: "Difficulty with Lufthansa's website made it so that I could only complete check in for one person in our party. When we arrived at the airport and they printed boarding passes, the Lufthansa agent re-assigned seats without asking or telling me and gave us all middle seats. Very poor form. Food was either average or bad, depending on what was served. Boarding is unorganized, with people lining up over an hour prior to boarding and almost completely ignoring their boarding groups."
Pros: "The staff on the flight were friendly, food was good and the overall flight was pleasant."
Cons: "The ladies at the check-in counter were very rude. Completely disregarded my wife and I. Then made jokes to each other, while servicing us."
Pros: "On time"
Pros: "SAS and BA can do better"
Pros: "Excellent Flight"
Cons: "Nothing"
Pros: "Still loads of leg room in economy which is great for a tall person like myself."
Cons: "The food, dinner and breakfast from Johannesburg to Frankfurt was not very nice and not the usual good standard."
Cons: "The seat in front of mine was reclined in the already cramped space provided, twice as far back as any other seat I could see. Please look into the recline on that seat for future passengers. The crew hit my seat, repeatedly with their carts and did not remember to offer drinks to us as they pushed it by. The airlines should consider removing that seat as an option to passengers if there is not ample room for the flight crew to maneuver around it. It made for an unpleasant experience overall."
Pros: "Entertainment."
Cons: "Staff was extremely sassy and unhelpful when I had been traveling for 40 hours."
Pros: "Very prompt, good food. We encourage trip very much!"
Pros: "The flight was half empty, so can't complain about anything. The crew was also super nice and helpful."
Cons: "Nothing, everything went smooth."
Pros: "Courteous staff."
Cons: "Did not depart on time. No entertainment."
Pros: "The staff we're grate really helpful and friendly"
Cons: "The entertainment was not working so this made the flight long and boring."
Pros: "The entertainment system is fantastic, much like Singapore Airlines'. Lots of leg room."
Cons: "There was a mix-up of seats in the back of the plane. I didn't mind being asked to switch seats, but it took them a while to sort out the mess. So uncharacteristic of Lufthansa."
Cons: "Air conditioning was poor . Despite bringing the issue to the attention of cabin flight attendants, nothing was done to correct the problem"
Pros: "I can't really think o anything."
Cons: "The entertainment was very limited to a few movies. The headphone jack didn't work properly. The stewardess kept bumping into my fathers seat as she passed by. Seats (like other airlines) were unbearable after a few hours of flight time. Food was cold. Just before boarding the plane my carryon was taken because we had made some purchases at the airport and I had a backpack. I always stow my backpack under my seat and I would not have minded so much if my carryon was returned upon exiting the plane in Frankfurt but it wasn't. I had to go pick it up in baggage claim and then go through customs and security again. I am so glad I had a few hours to spare. If not I would have missed my flight to Houston. Please be considerate of this. I always take carryon to avoid uneccessary time consuming issues such as this or lost baggage. Lufthansa did not have an issue with my bags."
Pros: "Normally I fly a code share partner for my long haul flights to and from Germany. This is my first flight in Lufthansa and I can only say that I will be scheduling many more flights on this wonderful airline."
Pros: "Nothing"
Cons: "Manipulating customers , clearly improfesional and pregedious"
Cons: "The flight was cancelled with very little notice due to a strike. Lufthansa management should've capitulated at once to the union to avoid this inconvenience to their passengers. I was forced to book an expensive alternative flight with another airline. I expect to be reimbursed for the cancelled flights, and will pursue redress vigilantly."
Cons: "Boarding would be better if they started boarding the back of the plane and then move forward"
Pros: "Food was excellent!"
Cons: "Seats unbelievably tight :("
Cons: "Because of slow boarding process flight was delayed by 15 minutes. I had short connection in Amsterdam."
Pros: "10 hour flight - I was well looked after, regular drinks, the food and snacks were good enough and tasty. The in flight entertainment was good - latest movies and worked a great variety of tv, books and movies. The airplane was modern and comfortable"
Pros: "Flight was delayed by over three hours."
Pros: "Reasonable seat space for economy. Good selection of movies. Food reasonably good. Crew very efficient."
Cons: "Boarding at Amsterdam was disorganized. All economy boarded together. No row number boarding (which was the process for the outbound flight from San Francisco). Lights in economy were not switched off or even dimmed during the flight making it difficult to sleep especially if you had a window seat."
Pros: "During my first flight from East Midlands England to Amsterdam I lost my baggage by another airlines and the KLM crew was very dedicated and supportive until they found it and check in for me... Many thanks and I wouldn't forget it."
Pros: "Very good flight.I recommend it to everyone."
Pros: "On schedule. Great crew."
Cons: "Limited foot space small seat."
Pros: "The flight attendants were amazing. Great entertainment system."
Cons: "Seats were a bit uncomfortable for long distance flight."
Pros: "cheap(?)"
Cons: "everything - absolutely no frills"
Pros: "We love flying with KLM as their flight staff are such a lovely bunch :-) Always ready to support. Actually they are proactive and will check in advance for your needs. Thumbs up guys! Keep up with the professional level."
Cons: "What I didn't like was that the monitor at my seat as it was broken. So for 12 hours I had not a chance to watch a movie or anything :-("
Pros: "15 years ago I told myself not to fly Delta anymore. But these 2 flights Detroit to Amsterdam and back changed my mind. I enjoyed the flight very much and I'm looking forward to the next one."
Cons: "I paid for the preferred seat .and i found that people beside me didnt pay anything when i asked them ,"
Pros: "The crew tried to be helpful but were equally frustrated with the ground crew."
Cons: "Follow your own policies. Allow people to board (economy plus) with their hand luggage who have followed all the rules and chosen a seat in the front of the plane. My daughter and my KLM approved baggage were taken by the boarding crew while allowing other passengers to go with more than allowed"
Cons: "The plane is so old..,"
Cons: "The KLM crew are always great serving and treating you. Well above many other airlines."
Pros: "The crew was amazing, flight on schedule and good entertainment."
Cons: "Space is just reasonable on a long flight, even if there's seats more spacious that you could choose if you pay more."
Pros: "Slow service."
Cons: "Better communication!"
Pros: "Pleasant flight"
Cons: "We were delayed & missed our connection"
Pros: "the trip was excellent and comfortable. LOved the windows that shaded out rather than the having to pull down the plastic blind. entertainment on board top notch screen huge One hostess , Helen was absolutely fantastic and the best I ve had on my many trips. I will recommend KLM whenever I can"
Cons: "the headrest is hard. Apart from that- all was fine"
Cons: "Entertainment"
Cons: "They left my bag off the plane. Ridiculous."
Pros: "The space at my feet with the chair in front was a bit akward."
Cons: "Not being seated next to small kids. Perhaps they should have a separate section? ;-)"
Pros: "The crew are amazing! Attentive and friendly."
Cons: "The seats could have been bigger."
Cons: "We had 4 hour delay causing a stop over at 3am. So yeah"
Pros: "Comfortable seat, friendly crew. Crew were conscious of recycling which I like a lot as there is so much waste on flight. Anything we can do to reduce waste is very welcome."
Cons: "Food wasn't very appetizing, pasta didn't have much flavor and I don't eat red meat so the other choice wasn't an option for me."
Pros: "Crew was amazing, seats were comfortable with enough leg space even without choosing extra space seats. It was my childhood dream come true to fly with KLM. It was really an exciting trip for me, just that it was short."
Cons: "Well, for me everything was on point. Those who have never travelled with KLM, I would encourage them to do so and I'm sure they will not regret."
Pros: "the crew was nice"
Cons: "Seat confort on long flights, leg rooms,"
Pros: "On time and friendly crew"
Cons: "Boarding needs improvement"
Pros: "Good food, friendly service"
Cons: "More trash pickup; only one round of beverage service"
Pros: "Best airline in the business quick efficient and outstanding service What else can you say"
Pros: "Crew was in a festive mood, the meal was unexpectedly delicious"
Cons: "Seats ok, but could be more comfy"
Pros: "We got to Amsterdam on time"
Cons: "1. Paying for the seats we chose...that will never happen again...I'll fly another airline first. 2. The food was terrible. I have flown KLM for years, this was not what I expected. 3. The plane was very dirty"
Pros: "Nothing to mention"
Cons: "Crew was rude when I asked if there was a vegetarian option for the snack. I did request special meals for the trip. Even if they did not have a vegetarian option, they don't need to be rude!! Boarding was ridiculous. we were supposed to form a line and wait. Would have been a lot better if they boarded by seat numbers. Also they made me check in my fairly small and light carry on bag resulting in its contents arriving broken!"
Pros: "MCR airport Mert & Greet parking was smooth and efficient."
Cons: "Flight was delayed 2 hours due to bad weather. Additional baggage payment to Air Baltic did not show up on the KLM system and we had to pay again. Nowhere to address this with Air Baltic even in Tallin. Handlers seem uninterested and refer us to 'the website to address the issue.....'"
Pros: "Nice crew pilot food and beverage"
Cons: "No wifi"
Pros: "Face recognition was amazing"
Cons: "Too hot on plane"
Cons: "Very slow service at checkin, was not even available when I arrived at the airport"
Pros: "Good entertainment options. Nice flight attendants"
Cons: "It would be helpful for short people to be able to adjust the head rest lower on the seat. More recent released movies would be helpful. More leg room. Not charging more money to choose seats."
Cons: "You are almost always late!"
Pros: "Need better quality tvs for such a long flight and better movies There were only 4 Bollywood movies and not the latest ones either"
Pros: "Good services!"
Pros: "Service, technology"
Cons: "Could not print by boarding card and was not allowed to board in Amsterdam"
Pros: "The time keeping was very good. We left on time and arrived early on both occasion. Good organisation. Excellent service."
Cons: "Nothing"
Pros: "All cabin crew were courteous. Refreshments were light. Check stuff were helpful, they did devise that the flight was full and due to space hand luggage would prefer to be put in hold free of charge. We did not have any problem with this. Plane was clean."
Cons: "Service was a little slow going through the gate, it seemed to take a while for everyone to get on board."
Cons: "They stole my money"
Pros: "The food was excelent"
Cons: "I have to pay to pay a little more confort"
Pros: "The supplied pack of toothpaste/toothbrush"
Pros: "Easy Boarding"
Pros: "Crew was very helpful.food"
Cons: "Food was not upto the mark."
Cons: "old plane, tight and uncomfortable"
Pros: "cookies were great"
Cons: "we paid for two seats together (one aisle and one middle) an exit row with extra legroom from paris to LA. but when we got to Prague they had one of us in the middle seat in the exit row and the other in a completely different part of the plane, also a middle row. The folks in Prague couldn't fix this, they moved one ticket to a different exit row, not together, different part of the plane. In Paris, but ONLY after I located my receipt on my phone, they moved us to the seats we had paid for."
Pros: "Entertainment center is brand new and Cleanliness Crew was ok And yeah there's wine (that way you can get plastered and ignore the uncomfortable seats)"
Cons: "Checking in was ridiculous. They're charging for literally EVERYTHING now. On economy class you have many options: - Normal (free!) "ergonomic" seats: uncomfortable, narrow, really close to the one in front of you. - Normal (exit row): just give up. There's like 6 of these and they're taken immediately. - Normal (middle of the plane): are you kidding me? These are NORMAL seats and you charge an extra €30? - Normal (2 seats per row!): what a bargain. Same crappy seats, but two people instead of three! This is really worth my money. - Upgrade to business! Why are you so poor! AF food went from being the best in international flights to disgusting microwave food (especially vegetarian)."
Pros: "should let first board passenger in rear rows and not everybody together."
Pros: "I normally like to take an Air France flight. I love the food and the crew treatment. I like this French know how."
Cons: "I really don't like this new scedule at 11.00 My flight from Nantes needs to take off at 6.10 I need to leave home at 3.00 I imagine that I am not the only one with this kind of problems. Please, try to help"
Pros: "Only the food"
Cons: "I struggled to check in online line not user friendly site And then I went to the airport early and stood in a question for 1h50min to check in and they where difficult with because my bag was exactly 24kg and asked me to remove something I have flown oven over 50times I my life and this would be the firest and last time with air France"
Pros: "The snack/beverage service was unexpected and generous for such a short flight."
Cons: "The airline lost both of my bags and destroyed a twin seat stroller. Dealing with the personnel at the airport was very difficult since I didn't have one of my baggage tickets, they acted like they couldn't help me at all. They have computers and could have cross – checked with my name, but they refused to do so until I told him to try to use the one claim ticket that I did have. They did and the matter was eventually resolved, and I am awaiting my bags now at the place where I am staying."
Pros: "That it was not an Air France operated flight. Crew were kind and helpful. Seating was very comfortable, and everything was on schedule."
Pros: "Cabin Food"
Cons: "Boarding (a mess) Delay Headphone plug (almost impossible to access)"
Pros: "flight was cancelled due to mechanical reasons, had to rebook in other flight company code sharing with Air France, than - nightmare happened - luggage has been lost for 3 days. therefore, enormous issus and problem to find luggages and to claim the ridicolous compensation to urgent needs"
Pros: "Priority boarding, no passanger next to you."
Cons: "Food and drinks are very poor."
"4 flights in 3 weeks between arrival and departure and all flights delayed about 5 to 6 hours ! What's going on with AF ?! Not a low cost and you paid for that service !?!? Not anymore"
"It was so helpful to be able to board the plane front and back. It makes it so much faster. It was also helpful announcements were made in French and English. I cannot thing of anything that would have made that short flight better."
Pros: "El entretenimiento"
Cons: "Demasiadas mascotas sin posibilidad de descanso. Un gato en ej asiento del frente que no dejó de hacer ruido y dos asientos atrás un pero en la misma situación. Debería tomar más medidas para el viaje de mascotas"
Cons: "Boarding was a disaster as my companion was selected for random search which held us up as there was no urgency to process us. Then there was no sign for where we should go since upper deck on 747 so we went in "economy" line as indicated on ticket and then was sent to correct line when we got to the front, wasting more time. The seatrs were the most uncomfortable I have ever beeon on for a long flight. I also paid extra to be in the exit row, to have people constantly congregating in front of us.The food was also mediocre."
Pros: "How great everyone was and smooth sailing."
Cons: "Made sure the flight was not over booked."
Pros: "The crew"
Cons: "The time. The flight was late for 1 hour. I miss everything and also I get very late to our Airbnb and I was with my family and child"
Cons: "Comfort plus seats need some work. Very thin padding on a hard seat. The leg rest needs to come up higher so you don't slide down while semi reclined. Nice compromise between business and coach though."
Pros: "I've never been on a flight with such narrow seat and thin cushion. There was no entertainment offered for the almost 4 hour flight. There was no means of charging any electronic gears. The airplane seems to be 30 years behind time. Crew was unfriendly and smiling faces are not part of the uniform."
Cons: "Very narrow seats and thim cushion. No entertainment offered an do means of recharging electronic devices."
Pros: "The seats were spacious and the crew was wonderful. The crew actually made the long flight more tolerable. Will seek out Delta/Air France for further international flights."
Cons: "Boarding (by bus) was a total chaos. I had to stand for about 50 minutes, either on the crowded bus or, after climbing with great difficulty three flights of stairs to a high jet-bridge (I am 76), standing there forever with 200 persons waiting to get access to the plane. Totally unacceptable. They started the boarding process early (50 minutes before departure), but passengers were allowed to actually board the plane at the time it was supposed to take off."
Pros: "The seat was very comfortable."
Cons: "My boyfriend and I were required to gate check our carry-on luggage which required us to go through customs in Paris to get to our bag and re-enter security for our connecting international flight. I am unsure why this was the case as other passengers brought the same size luggage. Very upsetting."
Pros: "Not much, seats are super uncomfortable"
Cons: "Better code sharing with KLM"
Cons: "Our request for vegetarian meals got lost after a glight was cancelled."
Pros: "Friendly crew"
Pros: "Crew was very friendly and seat in KQ is super comfortable in Business."
Pros: "The flight departed on time and arrived early. The crew were all courteous and kind even to the man who was sitting next to me who seemed quite demanding."
Cons: "I am small but the seats seemed a bit too tight. The plane itself seemed a bit outdated."
Pros: "I really liked my seat, but it was one of the only ones that didn't have a USB port."
Cons: "See above. Overall, very nice experience."
Pros: "The new movies selection, food was very good, staff more friendly than previous flights"
Cons: "Boarding always a problem on MEA we have to wait too long in the queue"
Pros: "Everything! It was a wonderful experience."
Cons: "Nothing"
Cons: "The fligh Washington delay more than a hour"
Pros: "Entertainment"
Pros: "Efficient and smooth flight. Service was great and flight attendants were friendly"
Cons: "Nothing"
Pros: "The size of the plane was nice. They had a good move selection. The vegan meal I was given was great."
Cons: "It was loud, cold, the food was just okay at least my vegan meal was the bomb but it would have been better had when we booked the flight it allowed me to also choose this option for my husband. Since he is vegan as well."
Pros: "Modern aircraft with power, big screens etc"
Cons: "Teenage crew, poor service (not even water brought on request, all "self service" at back of flight, and not being allowed a second drink with dinner), poor language skills (crew not very helpful when 2 hour delay meant I could miss connecting flight, suggesting I "walk fast")."
Pros: "Good seat width Great movie selection Great food and drinks Nice and large A380"
Cons: "The interface of the screens seemed old Need to anticipate the needs of the customer better For example, they brought me my special meal first, but I had to wait 30 minutes later to get a drink to accompany it. The food was getting old. Did not see any newspaper/periodical selection. That would have been nice."
Pros: "Late leaving - no reason or apology. A bumpy flight all flight. Food almoat inedible. Seat gave bum axhe after 45 minutes. Staff friendly, but they dropped my meal"
Cons: "Nothing to like"
Pros: "Nothing"
Cons: "1/ the transfer crew needed 50 mn to enter my son's visa number in her computer and she almost let us miss our flight 2/ we were separated (party of 3, my son being 5 YEARS OLD) - how can they allow a boarding and expecting my 5 year old to do a 10 hours flight BY HIMSELF???? 3/ no kids menus, even if I had ordered it before 4/ food in general was very mediocre 5/ crew was unprofessional and they acted bored"
Pros: "I liked the crew, they were professional and tried their best"
Cons: "The flight was a chartered flight . Air France informed us that due to cabin crew shortage they couldn't operate an air france flight and hence they hired Air Belgium. Whilst the crew were nice , the actual plane was old and creaky. It wasn't up to the standards expected of Air France. They could have done better in getting a plane up to standard. A lot of the passengers were disappointed ."
Cons: "Took very long from landing/ arrival until baggage could be collected. Priority luggage came out last!"
Cons: "Movies were dated. Crew spoke limited and broken English, not good enough for international flights."
Pros: "Nothing... and we were late which made me miss my connecting flight and I wasn't reimbursed because it was with a different airline"
Cons: "See above and the food was disgusting"
Pros: "Very poor sound quality on the earphones. Made it very difficult to watch a movie and almost impossible to listen to music."
Pros: "Nothing special"
Cons: "They start serving late the apperitif before taking off and take it back right after."
Cons: "The room between seats is unbearable."
Pros: "Staff was nice"
Cons: "Very cramped. Poor leg room also with.metal bars under seats that further. Limited foot room. Terrible options in movies. The seats in front of us reclined so far that I couldn't do anything but stare at the back of the seat anyway."
Pros: "Love the flight attendant, loads of food couldn't take it anymore. Professionalism at its peak."
Cons: "NA"
Pros: "Got pillow, blanket, headphone and eye cover"
Cons: "Older plane Very small tv screen Didn't get the bread roll with my dinner. Asked for it but she didn't bring it to me. No usb plug to charge"
Pros: "The price 50€ cheaper than the other operators. Quick flight. Kind crew."
Cons: "Lack organisation for checking. No difference if you have done the checking online. No breakfast on a 7am flight though included in the price."
Pros: "Efficient on and off Staff polite and helpful"
Cons: "My baggage was broken"
Pros: "Good overall experience"
Cons: "Food can be tastier and less fattening"
Pros: "The staff is always friendly and working at it to make everyone feel welcome and happy. Thanks for the great effort! we do appreciate it."
Cons: "Peppers in the food does not make the food taste nicer, it just adds a flavor that i think does not add great value for airport food. It is the same with raw onions. Once in a container everything tastes like the onions. This has been done away with and my personal opinion is that the same should be done to the peppers. When peppers are added to food, you only taste the peppers and not the rest of the flavors of the food. Hope you find this helpful. Thanks"
Cons: "They gave us the smallest sandwich in the history of the world! Older, outdated plane."
Pros: "Crew were very efficient and friendly"
Cons: "Premium economy seats weren't as good as Singapore airlines ones. The seats had small screens and leg room was a bit restricted"
Pros: "British Airways really surprised me by offering a free sandwich and dessert with a beverage: outstanding!"
Cons: "N/A"
Pros: "I was so happy to be able to stretch out and sleep. The service was impeccable, although as a first-time passenger in this class, I felt a little overwhelmed by the new set up."
Cons: "Wish I knew what was in that spray can they had to empty before we could take off from Johannesburg."
Pros: "The boarding was efficient. The in-flight entertainment was decent."
Cons: "One of the two stewardesses in my section was quite rude. The other one was fine but the other one was awful and made snarky comments any time she was asked a question. Her customer service was terrible and she might do well in considering a different line of work. The seats were uncomfortable, but every airline has uncomfortable economy seating. Other than that, the airline lost my baggage. It has been almost two weeks since my flight and they still have not found it. I have been advised to file an itemized list of everything that was in my bag for reimbursement but I have been informed it will most likely be several months until I receive any payment. I have spent a lot of time waiting on hold to talk to anyone from baggage services and any time I have got through the people have been very unhelpful. I feel the airline should be going above and beyond to rectify the situation but thus far I have been doing all of the work. That is pretty poor seeing as the airline is completely at fault. WIth the terrible service that I have received so far, I am not holding my breath for that reimbursement check."
Pros: "Nothing"
Cons: "Everything Delayed boarding Delayed flight without informing us. 45 min Beverage (Apple juice and water was not cold) Airconditioning was non existent whille waiting for take off."
Pros: "I like BA as they tend to have comfortable seating with a little extra legroom."
Cons: "The plane is definitely very tired. Some of the headrests were even broken. The plane does need an overall."
Pros: "Well mannered air hostesses"
Cons: "The delay"
"It was cancelled and I was forced to buy another ticket."
Cons: "Exiting passengers from the rear exposed the entire flight as people had to walk past those seated from the back to front. Great social distancing and we'll done British Airways"
Cons: "I really did not find anything to improve, it was a pleasant flight"
Pros: "My air hostess was very friendly and kind"
Cons: "Food for vegetarians"
Cons: "4 hs delay"
Cons: "No assistance to mothers with strollers. While boarding, picked a few people randomly to inspect our bags right before getting on a plane. Held us in a separate room including me who is single mother traveled with 2 year old for 3 flights in the row. My son didnt get his meal. Also had to ask for any juice. Horrible menu. Late food serving, but quick to clean up in a rash. Loud people on phones and nobody stopped them. Horrible experience."
Pros: "The flight was on time and landed early"
Cons: "The bags could have come out earlier and the food could be better"
Pros: "The crew members are super friendly and caring."
Pros: "The crew were very attentive and there was a large variety of in-flight entertainment."
Cons: "I am not a heavy set guy but the seats were unreasonably close to each other, this meant that when you eat a meal your elbows push into your sides making it hard to bring food to your mouth."
Cons: "Very narrow seats"
Cons: "Stop losing my luggage and stop charging for food."
Cons: "Seating is a big problem. I am only 192 cm tall and cannot really fit my legs into the space. Have them out in the corridor"
Cons: "Seat was broken. Reclines without requesting. Tray also needs attention. Seat 15C"
Pros: "Quick boarding."
Cons: "Nothing. Pretty good for a short trip."
Cons: "Better business class seats"
Cons: "Delayed, twice!"
Pros: "Friendly crew, new release films"
Cons: "Quicker boarding and better food"
Pros: "Crew were very good"
Cons: "Poor entertainment system"
Pros: "Pleasant staff, very poor entertainment systems, screens too small and kept needing to be reset."
Cons: "Poor entertainment systems Plane too cold Only 1 meal Ran out of gin for the second flight in a row"
Pros: "New plane and good service"
Cons: "Delayed 1.5 hours."
Pros: "Friendly crew and a good value for money flight"
Cons: "Very bumpy ride but this wasn't anyone's fault"
Pros: "boarded and landed on time. staff was nice."
Cons: "i slept this whole ride so i don't have much to stay that was bad! Most of it just didn't apply to me!"
Pros: "Service was excellent"
Cons: "Entertainment system getting a bit long in the tooth on 747. Hot breakfast could have done with some colour"
Pros: "BA in South Africa run a clean efficient airline. Planes are new crew well trained and food is good."
Cons: "Preseating totally random no matter your status. Booked state of my choice well in advance and was presented at the back of the plane on check-in"
Pros: "Very good"
Pros: "No hassle with hand luggage"
Cons: "same as above"
Pros: "Very room seats."
Cons: "They even charge for water."
Cons: "There was no food or movie"
Pros: "Plane kept to time schedule fabulous"
Cons: "Traveling economy"
Pros: "I managed to get onto an earlier flight than anticipated when my original flight to Milan was canceled. The flight went well and service was certainly completely acceptable. I don't recall many details more than two weeks later."
Cons: "The exit row seat available on the rebooked flight was a middle seat, and I can't really complain since I did get the extra leg room I originally booked. I didn't like the length of time I had to wait at Heathrow, however, due to the canceled flight. It was several hours! My apartment rental landlord and I were both inconvenienced somewhat by the late evening arrival when an early afternoon arrival was initially scheduled."
Pros: "Crew, boarding process, food, cleanliness, movie choices were all good."
Cons: "There should still be more leg room in coach. The screen in just my seat had a "loose connection", as it was a bit blurry sometimes -- enough to be annoying, but I still watched a movie OK. No other screens around me had the problem; they were crystal-clear."
Pros: "Efficient processes. All went to plan"
Cons: "Tight seating. Old plane. Entertainment screen sub par"
Pros: "Quick and efficient boarding."
Cons: "The way that the crew (both in economy on right of plane) spoke to, and handled sensitive situations with several of the passengers in a loud and rather rude manner. This is not the British way that I have been accustomed to on previous BA flights, and is rather upsetting. The crew were very abrupt in general, and did not have that seasoned and polite demeanor which I expect from BA."
Cons: "I paid for TWO EXTRA suitcases for my flight. I carefully packed and weighted them in advance. The "lady" on the counter made me remove one jacket and one pair of boots from each suitcase because it was GRAMS over the limit. Grams those that my hand scale did not accuse at all. The following customer right after me had KILOS OVER the limit (almost SEVEN) and were not flying business or first class, regular economic class just like me. And they did not had to remove a thing from their extra heavy suitcases. What is the company criteria? Anyway, I bought me another return flight on OTHER airline and simply lost my return flight on BA. I am never flying this horrible company again."
Pros: "There were no passengers in middle seats. I liked the M&S food for purchase, although they ran out of sandwiches by row 10."
Cons: "I made the connection from T3 to T5; my bags didn't, again, BA!"
Pros: "Your staff were truly excellent, helpful and engaging."
Cons: "My TV worked only intermittently and I therefore could not relax and enjoy the entertainment..."
Cons: "We waited 3 hours in the airplane before they would take off, first because they said there was a line for the taxi gate, then they said something was wrong with the airplane they needed to fix it. Shouldn't they do maintenance before they load a plane?"
Pros: "It was a smooth landing."
Cons: "Do difference between business and coach except no one in the middle. Same seats, same everything. Save your money."
Pros: "Made up for time due to a big tail wind"
Cons: "Took off late and had to wait 45 minutes for luggage"
Pros: "The plane is quite comfortable"
Cons: "Boarding and keeping time."
Pros: "I got a free upgrade."
Pros: "terrible airline"
Cons: "delayed my flights twice"
Cons: "According to the KQ App the flight was direct to Cape Town but when we got to the airport we found the plane was stopping in Livingston's. The result was we were an hour late. Most annoying. Surely the App can be amended to alert us of such changes"
Pros: "Both segmrnts left on time. The on- flight crew were pleasant. The 787 on first flight comfortable in biz class for a nap. Food service well carried out by crew."
Cons: "The 737 on second flight ....the long overnight one... Was very uncomfortable in biz class. On arrival in Nairobi...the hub city...there was no staff. A.c. no working or escalator in airport. Biz line for security not open. Food below average. No breakfast as we one meal."
Pros: "Same comment as the Ebb to nbo flight ."
Cons: "Same comment as the Ebb to nbo flight ."
Pros: "Crew efficient and eager to please. Generous with food and drink."
Cons: "Some seats had damaged entertainment equipment. One seat had a damaged USB charging port. We just used the one from the next seat. Another had a damaged remote control for the entertainment system. Still usable via touch though."
Pros: "I enjoyed the crew...they were friendly the whole time. The food was great."
Cons: "The delay was painful. Hope they work out overlays properly to avoid further delays."
Pros: "The crew was fantastic. The food was good as well."
Cons: "The delay was painful."
Pros: "Kenya airways theme song"
Pros: "staff crew on the plane were very nice and accommodating"
Cons: "food portions are too small and movies selections. most movies were very old"
Pros: "I liked the staff members in the plane. they were very nice"
Cons: "the food portions are too small"
Pros: "The planes are clean, the attendants friendly but formal."
Cons: "The food selections was basic - the entertainment selection was mediocre"
Pros: "Te time of te flight"
Pros: "Friendly crew"
Cons: "At one time the flight got too cold"
Pros: "Great job by entire crew"
Cons: "outdated uncomfortable seats, no cell phone charging available which is needed for international travel. This must be fixed asap."
Cons: "Entertainment system plays very old films Stop over 5 hours."
Pros: "The crew was professional and friendly."
Cons: "My flight was delayed. The gate changed at least four times with no clear announcement."
Pros: "Trip on the Dreamliner to/from Nairobi/Joburg went very smoothly. Entertainment was limited but worked and was fine for a 4 hour trip. Food was nothing great but nothing disastrous, booze was handed out willingly, staff were efficient, plane was on time - I rate it higher than SAA for the same leg and would choose KA again."
Cons: "Expensive at $800 but limited choice in Africa so what can you do?"
Pros: "The plane was pretty comfortable, they gave us blankets and pillows even though it was only a 4-hour flight."
Cons: "They served "breakfast" halfway through which was two tiny servings of meat and a piece of chocolate cake. Not much food and not really what I wanted to eat in the middle of the night! Boarding was completely chaotic, some screens said the flight was delayed, others said it was on time (it was delayed). When we arrived in Nairobi they hardly apologized for the delay, and also insisted on sending a bus to come pick us up from the plane because it was raining, which took forever. Missed my connection by about 5 minutes and had to wait almost 10 hours for the next one."
Pros: "Not much"
Cons: "35 minute departure delay with not even an attempt at an explanation. Broken seat. Cramped."
Pros: "Boarding was early"
Cons: "Plane full and didnt have enough room for a number of hand luggage, mine invcluded"
Pros: "They no take care of my bag"
Pros: "Everything fine! Especially appreciated that flights were on time, even early."
Pros: "Convenient morning flight"
Cons: "Not enough leg room for tall passengers"
Pros: "I loved the short flight will book again!"
Cons: "Everything was great!"
Pros: "5 star service"
Pros: "The flight was delayed in leaving but the Captain didn't say anything until we were about to land. The overnight flight was pleasant but the food was pretty mediocre."
Cons: "Crew were pretty good and the Dreamliner is an excellent aircraft, particularly in business class."
Cons: "The flight was delayed. Food was so-so. No entertainment."
Pros: "Friendly staff Good food"
Cons: "The movies were not working"
Pros: "flights were slightly delayed but we were updated often and accurately. Flight staff were awesome, super nice and well spoken!"
Pros: "Quick"
Cons: "No complaints"
Pros: "Everything was great except for all but one flight attendant who could have done with a lesson in charm. There was one very charming attendant whose name began with M but was an unusual name. She was a world class attendant and the others could learn from her. The pilot was well spoken as did a great job taking off & landing."
Pros: "Overall very nice"
Pros: "Nothing"
Cons: "Poor organization regarding flight cancellation - I was stuck in the CDG airport all day long to find out more information and get a hotel voucher. And then next morning, there was no clear announcement regarding a rescheduled flight; the flight was delayed AGAIN. This trip caused so much problem in my work."
Cons: "Not much space between rows,everybody reclined their seat, you could barley move"
Pros: "The service was great. From the time I boarded I was treated very well. The staff was friendly and it made traveling an ease."
Pros: "Fast"
Cons: "No food"
Cons: "no headphones available in economy class!!!"
Pros: "Always treated with respect, economy seats were comfortable. Attendants always managed to accommodate. In the morning, i asked for a diet coke and she said, I just have juices and water. So I changed my order. Then when she got a chance brought me a can of diet coke with ice. So nice!! I'll definitely fly with Kenya Airways again."
Cons: "IN Bangkok while waiting to board the flight, the gate attendants stopped making announcements and just held up cards. I was trying to follow instructions and not crowd the gate and missed my time to board. It's totally a minor thing but at the end of the trip at 1am it was just frustrating."
Pros: "we got there on time and safely"
Cons: "bit of body odor coming from the crew weird temp control - freezing to hot to freezing food needs work badly"
Pros: "Reception"
Pros: "Nice crew"
Cons: "My luggage zipper was cut open on my checked baggage. My bag is greatly damaged Unannounced gate change in Nairobi"
Pros: "The staff were great."
Cons: "The flight was delayed 35 minutes."
Pros: "Food was good."
Cons: "Plane too old, zero entertainment. Couldn't charge my phone. Chaotic dinner service."
Cons: "Typical airline food that tastes like cardboard."
Pros: "Everything. Food. Entertainment. Everything."
Pros: "Friendly service on a near empty flight from Dar-NBO, we waited for a bit for a flight to Dubai that never came."
Cons: "Breakfast was fruit and bread with a side of bread. No protein. It was very hard to hear announcements during the flight while passengers were boarding there was no airflow in the cabin. Eventually the staff responded by turning it on, but it was not quite the welcome into the cabin I had hoped for."
Pros: "Nothing"
Cons: "Old plane, no power to seat in Business, seat not working properly, taty all round, staff non communicative, let noisy child and parent mess around the plane."
Pros: "Crew was corteous. Flight was uneventful."
Cons: "Police attempted to get a bribe from us on the way to airport. There is a security gate where they were stopping cars and making people standing in the rain in a line for a "security check" unless they gave them money. Flight was late."
Read more about Lufthansa
Safety measures for airlines flying to Como
Airlines flying to Como have enacted additional safety measures and adjusted policies to better accommodate travellers. Policies vary by airline.
Heightened sanitation
Daily cleaning, installation of cabin HEPA filters on flights to Como
Mandatory masks
Masks required on board, masks provided on flights to Como
Social distancing seating
Middle seats unavailable to book on flights to Como
Pre-flight testing
Testing for antibodies, testing for symptoms for flights to Como
Book Cheap Como Plane Tickets
Recent return flight deals
Search by stops
Search by airline
Search by price
Recent one-way flight deals
Search by stops
Search by airline
Search by price