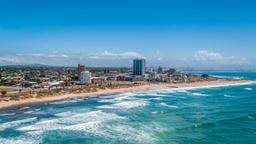 Find cheap flights from Europe to Port Elizabeth
Search hundreds of travel sites at once for deals on flights to Port Elizabeth
FAQs for booking flights from Europe to Port Elizabeth
How does KAYAK find such low prices on flights from Europe to Port Elizabeth?
How does KAYAK's flight Price Forecast tool help me choose the right time to buy my flight ticket from Europe to Port Elizabeth?
What is the Hacker Fare option on flights from Europe to Port Elizabeth?
What is KAYAK's "flexible dates" feature and why should I care when looking for a flight from Europe to Port Elizabeth?
Top airlines flying Europe to Port Elizabeth
Scores according to KAYAK customer reviews
8,3
Qatar Airways
Overall score based on 10 971 reviews
Pros: "The 1-hour complimentary wifi."
Cons: "Hope they had the immigration/arrival card on the airplane."
Pros: "Yes"
Cons: "Good flight"
Pros: "Excellent crew, quick serving a lunch on a 1.5 hour flight."
Cons: "Just don't like all the trips to and from flights on the bus at Doha."
Pros: "Crew was very attentive & met all my expectations."
Pros: "The crew was amazing!"
Cons: "The internet service was not working!"
Cons: "Lights did not work, so diner was guessing whats was in the tray"
Cons: "Good job keep it up"
Pros: "As efficient as ever"
Pros: "amazing"
Cons: "better food"
Pros: "The staff at Qatar Airways did everything they could to make this flight one of the most enjoyable of my entire life. The food was well prepared and exceeded my expectations. I also enjoyed that the food was served at times that minimized the impact of the time change."
Cons: "The movie and TV options were impressive; however, in-flight WiFi and power would have been convenient and improved the entertainment on board the flight."
Pros: "food ok, economy seats not too bad"
Cons: "old entertainment system. Tight connection and first flight was late, so we got bumped off our connection (they literally removed our names from the flight, even though we could've sprinted through the airport and made it if they waived the 20 minute before departure gate closure). It was an exhausting and long wait for the next flight and I did not think it was well-handled. Staying in a hotel is not a great option, because it takes 2 hours to get out of the airport, another 2 hours cushion to get back in time."
Pros: "The trip was very comfortable and food suited me"
Pros: "The business class service is second to none. Very courteous staff, superb on demand menu with ausome selections."
Cons: "Cleanliness of cabin. Aminity kit is outrageous."
Cons: "food options exhausted pls tell ground catering to provide more food Plane was freezing on international flights and at 3:50am in the morning pls provide blankets to all"
Pros: "US airlines should model Qatar. New plans with exceeding long courtious staff who are happy to make your flight as comfortable and pleasant as possible."
Cons: "The food was actually very good, nothing was an extra charge and the flight attendants were wonderful. US airlines should really do a better job!"
Pros: "Service is courteous, both on the ground and air. Food & entertainment was top-notch as well. Enjoyed my flight, again on Qatar!"
Pros: "Very polite and friendly crew. Very helpful."
Cons: "Did not have the duty free item I wanted in stock"
Pros: "Qatar Airlines has amazing service! And they have free internet!"
Cons: "The films are all sensored. And the free internet is only for 30 minutes."
Pros: "Crew was excellent. Very nice and helpful."
Cons: "Food was terrible. Need a variety. Curry is not for everyone."
Pros: "Best business class I have ever been on. Better than most First class."
Pros: "The wider space between all seats and the selection of the food"
Cons: "Nothing at all"
Cons: "Everything !!!"
Pros: "Everything very smooth. Staff delightful and always helpful!"
Pros: "Crew were supportive because pain in my heel and they ran out of food selection even though front of plane. Thanks especially to supervisor Jane."
Cons: "Need to provide further quantity of non veg selection even though front of plane. Plus the taste of all food were Unsatisfactory and could not finish that was starving at end of flight. Recommend hire international famous gourmet chief. Removing casing of my tablet for Qatar security airlines into usa was painful that broke 6 finger nails. Need to warn on the website or ticket security requires remove casing at Doha to usa. Had no issue from USA TO Doha which requires no removal of hard cover casing."
Pros: "Qatar airways is the best airlines and they serve you like a 5 stars hotel"
Cons: "The problem is when they linked a flights frome other airlines companies. Under ( one world ) On this flight the were linked with sirlankian airlines The flight was full and a lot of older asian on flight they don't respect people and speak loudly The smell was not good enough"
Pros: "smooth flight"
Cons: "- the baggage drop off counter guy was rude, so was his supervisor, they forced us to check our carry-on luggage and made it as they're doing us a favor for not checking our backpacks - there was a problem with the flight and got delayed 90 min, we missed our connecting flight and had to stay in DOH airport overnight - the food was really bad compared to other flights by QA, my wife got food poisoning from their food"
Cons: "Boarding at JFK very disorganized. Poor system. No vetting of wheel chair users many fakers."
Pros: "Overall better than most of domestic US or Korean national airline in terms of food and service."
Cons: "Boarding took longer than other airports. Too many redundant checks for no apparent reason."
Pros: "Although we flew economy, we received excellent service from an attendant from the Philippines."
Cons: "We have no complaints."
Pros: "Liked the in flight movie great distraction for the time."
Pros: "Food was great and one of the flight attendant, who is a Filipina (didn't have the chance to get her name :() is very accommodating and very nice."
Pros: "Over all great"
Cons: "Nothing"
Pros: "We enjoyed the comfort, food , staff and entertainment."
Cons: "The queuing for check-in, luggage control and plane boarding was much too long, 1 1/2 hrs +. The online check-in couldn't be used."
Pros: "Airport staff were friendly, Flight crew were good. I was in an exit row so I can't comment much about normal economy, but my legroom was fine. lots of movies to choose from. Deplaned onto a bus, that took us right to the Transfer Security which saved me a recently long walk."
Pros: "Great selection of movies and tv shows"
Cons: "I had to ask for everything. Crew members kept passing me by for food service and drink service even though I was awake. I had to tap/call them each time they passed by. It turned into a joke among me and the people sitting next to me. Entertainment screen is too dim even on highest brightness setting"
Pros: "Clean. Friendly staff. Good food. Good entertainment."
Cons: "Small cramped seats."
Pros: "Could not be more impressed with the airline, absolutely would recommend to anyone!"
Pros: "Food was good for once"
Cons: "They said they would fix the sound on my sons t.v. but that never happened so we had to swap seats and one of us didn't have any onboard entertainment although we asked about it 4 times"
Pros: "Great take off and landing. Nice comfort packet, blanket, and pillow Good service and spacious seating in economy class."
Pros: "Crew professionalism"
Cons: "Food: at best a B+ Laptop Wrapping at gate: very slow process Entertaining: movie variety is poor. Seat: even in business class the seat doesn't recline completely... not very comfortable as compared to other airlines"
Pros: "Could have done without the awful sexist ads they play on in flight entertainment."
Pros: "The trip was very pleasant as usual, being frequent flyer on Qatar airways since 2005, I can only tell that this is so far the best airline company. Great service. On time if not ahead Never lost a bag or got it delayed. Very diversified entertainment program Lovely staff Confortable and clean flights. And of course convenient price. Briefly, I love Qatar Airways and it is my first choice wherever I travel."
Cons: "So far nothing."
Pros: "Excellent in every way. Clearly a top tier airlines. I will choose Qatar Airlines at every opportunity."
Cons: "Nothing"
Pros: "Comfort, entertainment, amenities"
Cons: "You have to improve the food service. The food tasted horrible. You have to circulate the beverage cart more often."
Pros: "The attitude of the staff"
Pros: "I travel from Sydney to Europe (UK and Greece) regularly. My experience with Qatar airways was fantastic: I highly recommend it. First of all, the travelling hours are a bit shorter (compared to travelling via Singapore or Hong Kong) probably because of the geography of the cities/connections and the corresponding flight times between Athens-Doha-Sydney. The aircraft was exceptional (I believe it was Airbus A380). It was a double-deck, wide-body and four-engine jet airliner. Cabin and economy class seats were very comfortable and more spacious compared to other aircraft. There was minimal turbulence, which is partially due to the type of aircraft: at least this is my understanding. The aircraft also had wi-fi (complimentary for the first 15 min) and one was allowed to use the mobile phone during the flight (except during take off and landing times). The flight attendants were absolutely amazing. Also, the crew was very understanding and friendly with children. Food was also excellent and in good portions. Overall there was high tech aircraft, excellent service and no delays. I will choose it again in the future."
Cons: "On the downside, I had a problem with my entertainment device during the whole flight: there was no sound, so I was not really able to watch any movies/TV.. The flight attendants tried to sort it out, but it was not possible. They kindly brought complimentary magazines and drinks/snacks, however it would have been much preferable if I could watch a movie or if free wi-fi was offered for the whole flight, as compensation.. My understanding is that this was not an option, due to problems providing free password..."
Cons: "Being a replacement flight due to delays in original flight from London, the airways chosen our seats beside the emergency exit my son who is 15 and other customer asked to swap seats for safty reasons which I fully support. computer and staff should be smart enough to choose for my son a proper seat."
Pros: "Everything"
Pros: "Food and entertainment on board was good"
Cons: "They delayed boarding by over 30 mins (without any notices on any screens), and then kept us on the flight for another 30 mins after doors shut before pushing back from the gate. Overall flight was delayed over an hour. The pilot tried to make up the time on the way, and we had a connection officially scheduled for 45 mins layover. We requested the crew if we could disembark earlier but she said no. We missed our connection."
Pros: "We got to London on time."
Cons: "Asked me to check luggage when there was plenty of room on board... Brand new, two week old, luggage is now broken."
Pros: "It was incredibly quick!"
Cons: "Actually not bad - had to wait a few min at terminal 5 for gate to be free - but pretty good overall"
Cons: "They broke my guitar"
Cons: "More open counters for the plethora of people trying to check in. Started the trip off with frustration"
Pros: "The sit"
Cons: "Initial delay and then take off delay because slot time had not been updated. Our family missed connections. Disaster follow up in terminal!!! So far far we have been over six hours from check in and are still not through immigration. This for an hour flight."
Cons: "steak was dry. lite lunch was very salty shrimp"
Pros: "The seat was comfortable when it came leg room"
Cons: "N/a"
Pros: "Everything"
Cons: "Flight was canceled forcing us to spend an extra night in Paris. British Airways was extremely unorganized in dealing with an 11 hour delay. I will not fly BA ever again."
Pros: "Real nice equipment."
Cons: "No information on connecting flights was provided. Also no heads up on the connection process ie. the need for a shuttle etc."
Pros: "Flight crew was amazing! And also appreciated the envelope for the lose change going to charity"
Cons: "Long delays"
Pros: "I got free juice and a snack, almost unheard of nowadays!"
Cons: "I don't know what happened. Check-in took almost an hour. Usually it only takes 10 or 15 minutes. I am glad that I got to the airport 2 hours a head of time."
Pros: "Nice flight and service. Very professional crew."
Pros: "It was a short flight so we only got drinks"
Cons: "Short flight so par for the course"
Pros: "No hassle with hand luggage"
Pros: "The food and the services. The plane looks new and clean. Many new release movies."
Cons: "seat space is too small and not comfort."
Cons: "Nothing"
Pros: "I like the flight left on time"
Cons: "There were no self check in kiosk, only 3 people working to serve 50 took over and hour"
Pros: "Your teammates, Fatou and Sarah at the check in desk in charles de gaulle made our lives doo easy after a stressful and ling journey. Their kind service and forethought helped us a lot."
Cons: "BA's poor customer service team who don't explain extra baagge charges correctly and don't have the decency to say they were in the wrong for not dealing with my issue correctly ans giving the run around"
Pros: "It flies"
Cons: "No courtesy! At least soft drinks ought to be on the house - they even charge for water - disgusting compared to US airless that at least offer you nuts and a drink for free! BA is now in the EasyJet-RyanAir league! Awful!"
Cons: "There was no food."
Pros: "Arrived early, earned oneworld status points."
Cons: "BA are a budget airline charging premium prices."
Cons: "Did not hear a warning for additional, strict security screening and lines at Heathrow. Had only 1h 5m layover, barely made my connection."
Pros: "Check-in was very efficient, boarding was excellent. Onboard service was non existent. Onboard service...not even a glass of water when requested. If you did not pay for a drink you got nothing"
Pros: "Everything"
Cons: "Nothing"
Pros: "The ground crew was good"
Cons: "They loss my bag"
Pros: "Check-in was very easy and actually quiet compared to the rest of the airport."
Cons: "When we walked into the airport (upper floor), I didn't see any signs directing me to British Airways. We walked a long ways and finally asked someone who said we must go downstairs. More signs would help."
Pros: "Overall quick, easy and event free...just as flights should be."
Cons: "Plane got a little hot sitting at the gate and our seats were the only ones that didn't have air vents."
Pros: "Early, relaxed boarding process was excellent."
Cons: "Only strong negative was the absence of any free drinks or snacks. A cup of tea cost over 2 pounds - ridiculous!"
Cons: "Boarding at Charles de Gaule airport in Paris. Always a mess."
Pros: "Left on time"
Cons: "Charged me an extra 120 to check my bags"
Cons: "€75 to check a bag PER PASSENGER"
Cons: "Servuce"
Pros: "Plane was not most modern. Average. Nothing stood out good or bad"
Pros: "Cleanliness"
Cons: "Attittude of Ground Staff and difficult to find check in counters at CDG airport"
Pros: "the flight was two hours late and I missed the connection, but it wasn't BA fault. the service at CDG was so, so; service at LHR was much better!"
Pros: "They closed boarding early"
Pros: "My luggage was lost and had to wait 2hrs."
Pros: "EVERYTHING"
Pros: "The plane itself had nothing wrong with it. They gave me priority boarding because I had a musical instrument with me as my carryon, and then let me put it in the flights crew closet so it wouldn't get damaged. I appreciated that."
Cons: "Flight check in was an unbearably long process, in a hot and stuffy area. Once through check in, the passport check line took over an hour. 100-150 people all corralled in like cattle, while ONLY ONE agent was checking passports to enter the security area. This was outside the secure area!!! Anyone could have entered here and executed a terrorist attack with large casualties. It was unsafe, uncomfortable, and unreasonable. Shame on you Paris Airport. Then the flight was late on arrival, and late again on departure, causing me to miss my connection to Los Angeles. This opened up a whole new list of botched customer services."
Pros: "Excellent aircraft, seems very new. Main meal served (I had vegetarian option) was great. Blankets provided were very nice. Good entertainment."
Cons: "The smaller snack served later in the flight was not good. I had the vegetarian option, and the items in the box were meant to be served at room temperature but I believe the box had been heated up with the regular meals, and everything in the box was piping hot - chocolate bar was melted, mustard packet was hot, lettuce on sandwich was wilted, dried fruit mix was hot."
Cons: "plane didn't leave for 45 minutes"
Pros: "Short flight, on time , no complaints ts"
Cons: "Is way below par when compared to emirates or any other international airlines"
Pros: "Great"
Cons: "Great"
Pros: "Liked the space between seats , able to stretch and the food was quite good . The crew was very good too"
Cons: "2 hr delay in Paris very poor choice of movies"
Read more about Qatar Airways
Safety measures for airlines flying from Europe to Port Elizabeth
Airlines flying from Europe to Port Elizabeth have enacted additional safety measures and adjusted policies to better accommodate travellers. Policies vary by airline.
Heightened sanitation
Daily cleaning, installation of cabin HEPA filters on flights from Europe to Port Elizabeth
Mandatory masks
Masks required on board, masks provided on flights from Europe to Port Elizabeth
Social distancing seating
Middle seats unavailable to book on flights from Europe to Port Elizabeth
Pre-flight testing
Testing for antibodies, testing for symptoms for flights from Europe to Port Elizabeth
Book cheap flights from Europe to Port Elizabeth
Recent return flight deals
Search by stops
Search by airline
Search by price
Flights to Port Elizabeth