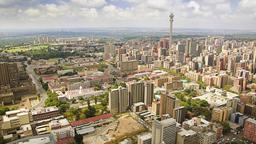 Find cheap flights from Virginia to Johannesburg
Search hundreds of travel sites at once for deals on flights to Johannesburg
FAQs for booking Virginia to Johannesburg flights
How does KAYAK find such low prices on flights from Virginia to Johannesburg?
How does KAYAK's flight Price Forecast tool help me choose the right time to buy my flight ticket from Virginia to Johannesburg?
What is the Hacker Fare option on flights from Virginia to Johannesburg?
What is KAYAK's "flexible dates" feature and why should I care when looking for a flight from Virginia to Johannesburg?
Top 4 airlines serving Virginia to Johannesburg OR Tambo
Scores according to KAYAK customer reviews
7,9
Delta
Overall score based on 29 821 reviews
Pros: "Crew were friendlier than many other airlines"
Cons: "Excelente"
Pros: "Customer service as always"
Cons: "Nothing!"
Pros: "Leg room in comfort +"
Cons: "Removal of food trays could be done sooner"
Cons: "Flight into Seattle delayed, flight out of Seattle to Minneapolis delayed flights out of Minneapolis to Bismarck delayed. Ran from gate F to gate c24 arrived at 10:23 p.m. Slight to the park at 10:25 p.m. and they closed the door on me as I was running up there. Ran across the entire terminal to get there and they would not let me on. Last Flight of the night to Bismarck. Missed my uncle's 90th birthday party. Would not give me food voucher. Delta gate agent told me she would lose her job if she did not close the doors 8 minutes prior. However the Minneapolis flight waited for 15 minutes for people to board that plane. How does that compute? Why would they not wait 3 minutes for me rather than pay the money to put me up in a hotel?"
Pros: "Not a lot"
Cons: "Customer service"
Pros: "Crew was great"
Cons: "All was great"
Pros: "Fine crew. Fine entertainment."
Cons: "Clumsy boarding process. After a 2.5 hour delay on tarmac before takeoff there was almost no food on board for a 6-hour flight"
Pros: "The crew was amazing! They were helpful and professional. Made the flight wonderful. Our stewardess, Brenda Joyce, has great energy. My daughters and I were taking a trip to honor my husband who recently passed and she was phenomenal at keeping our spirits up."
Cons: "Better snacks."
Cons: "More leg room."
Pros: "Crew was friendly"
Cons: "Ticket printed out incorrect gate information"
Pros: "The crew was very friendly and helpful. With the plane full they managed to serve all with smiles on their faces and solved all problems, including cabin luggage problem."
Cons: "Overall, a good short flight."
Cons: "Crew was grouchy and rushed past you without really trying to cater to your needs/ get you what you want."
Pros: "Boarding was quick"
Cons: "No entertainment, plane was small"
Pros: "Convenience. Smooth ride. On time. Great staff."
Cons: "N/A"
Cons: "Going to Delta today to see if they can help me...we'll see!"
Pros: "Ease of boarding and deboarding"
Cons: "The flight was delayed (naturally) so the crew was rushed and inattentive. No pre-flight beverages in first class, and then no follow up service once aloft unless you asked. Makes me wonder why I'm paying extra for mediocre service."
Pros: "Great view of the mountains, EVERYTHING was one time and EARLY!! Staff was great and we had a smooth ride. wish all flights were this good. Even touchdown was amazing, like landing on glass. Compliments to the captain."
Cons: "Ac not working properly. Hot."
Pros: "Courteous flight attendants"
Cons: "Nothing"
Pros: "Great crew on board!"
Pros: "Me atendieron muy bien , tuve un excelente viaje"
Cons: "Nada"
Cons: "Loud annoying flight attendants. On the plane, off the plane. Terrible delays"
Cons: "insufficient overhead luggage space"
Pros: "The space"
Cons: "No TVs"
Cons: "Aircraft seemed shabby despite refresh of Comfort Plus, food was really mediocre. Steer clear of the Asian Veg option."
Pros: "The plane was on time, the crew was friendly, no delays, landing was fine. In fact we actually made it a little before the time that we were scheduled. Since the flight was so short, I did not have any food."
Cons: "The seats were a little small."
Pros: "Seat back movies Staff was attentive and patient with my sick teen daughter."
Cons: "Old plane with no seat back entertainment on one leg of journey."
Pros: "Flight attendant Gillian Awesome. Crew was fun and made my kids first flight great."
Pros: "This was not my original transfer flight but everyone was much nicer and helpful than serious and being rude. Love Delta, I did not flight United because I wouldn't have met my United flight once landing in ATL. The Young African American woman who was at the gate was amazing and so reassuring that I would make my flight to Chicago. Would book Delta, just because of how nice she was to me."
Cons: "Alhamdoulillah"
Pros: "Service was fast and the inflight entertainment is free. Lots of movies to chose from, which is nice for the long flight."
Cons: "It was the most cramped I have ever felt in a plane and also the longest flight. Horrible combination. Some of the crew were snippy."
Cons: "A very large, unfriendly person was taking up half of my seat."
Cons: "Great"
Cons: "They charged $300 for 3 bags"
Pros: "Service was excellent in spite of the terrible weather conditions. Flight attendants were very friendly."
Pros: "everything was very nice"
Pros: "Boarding went smoothly. No delays were encountered. Everyone behaved themselves.no"
Cons: "Only problem was I couldn't get connected to the wi-GI."
Pros: "For a short-haul flight on a small CRJ, it was the most pleasing and comfortable flight. No delays and everyone was pleasant from ground staff to flight crew."
Cons: "Boarding wasn't very prompt, but went smoothly once it began."
Pros: "Free tv"
Cons: "Our flight was delayed by an hour, which didn't really affect me, as Detroit was final stop. However, there were a large amount of people on the flight with connecting flights coming into Detroit. I am POSITIVE that several of those people missed their connecting flights as the flight attendants and crew did not allow for them to leave the plane first. As people seem to be so self-centered anymore, the attendants should have announced that people were not to leave until all passengers with connecting flights had left the plane. Very sad that people can't use common courtesy all by themselves, but as they can't, it should have been enforced by the team on the plane."
Pros: "Getting to ATL"
Cons: "We boarded, they closed the door, told us to turn our phones off, acted like we were leaving, then informed us we had an hour delay. The flight attendants remarked that they couldn't hold us hostage and could get off if we want. The whole thing wasn't done properly."
Pros: "Entertainment options"
Pros: "We were delayed due to weather and Delta brought a cart of snacks and drinks over to the gate for us."
Pros: "Very nice Flight Crew from Detroit to Las Vegas!!"
Cons: "The ground crew (in Detroit) were unfriendly and rude. I asked two simply which line I should be in, the First lady just ignored me, the second gentleman rudely told me where to stand. They were not terribly busy at the time and I politely asked as I was unsure which line to be in. The flight attendants (only from ORF to Detroit) also were unfriendly with an attitude. Just simple stuff. I asked for extra ice, she thought I said no ice. Simple mistake, no big deal but when I explained that I actually wanted extra ice she was perturbed!"
Pros: "Upgrading to First Class made it worthwhile."
Cons: "As a minority provider of service at BWI, the gate was the furthest from the entry. Gate security is almost always a source of delay here."
Pros: "The flights were all on time, in fact a bit early. The crew was very helpful, both on the ground and in the air. They were courteous and not patronizing."
Cons: "Offer more healthy choices for food. Give larger amounts of beverages particularly water."
Cons: "All was good"
Cons: "Everything was excellent! I will be flying with them again!"
Pros: "We had a "light" fare which didn't include checked bags, but airline let us check our carryon bags for free"
Cons: "Nothing"
Pros: "Smooth and easy flight"
Cons: "Food and drinks served late"
Pros: "Na"
Cons: "Na"
Cons: "Multiple technical issues on each leg of the flight for both airlines. Took 1.5 hours to deboard the aircraft on final leg of journey"
Pros: "New-ish aircraft"
Cons: "Prompt departure; better food/snacks."
Cons: "Better selection of movies"
Pros: "In-flight crew was friendly, the food & beverages were OK and there were plenty of in-flight entertainment options."
Cons: "They double charged the baggage fees: I prepaid in advance but upon checking in for the return flight the representative wasn't able to locate the appropriate information, although I had a printed copy of the confirmation email they sent. I had to pay for it again which is a lousy experience."
Pros: "Friendly and professional staff, comfortable and on-time flight."
Cons: "Clear up-front notification about first checked bag not being included in ticket price. This info did not appear at the time the booking was made. Very frustrating."
Cons: "No complaints. Good vegan food."
Pros: "Quick, efficient, relaxing."
Pros: "The flight was very pleasant. The flight attendants were also very nice."
Pros: "the service from boston to frankfurt was flawless, great crew, great entertainment."
Cons: "i was promised the business lounge when i got to Riga because of the lengthy connecting time, i was refused entry and 2 out of the 3 staff were very rude and dismissive. my upgrade included the use of the lounge at both ends of the business class, i understand that it maybe should not of been promised but thats not what happened. i was very tired and ended having to walk round concourse A for 4 hrs with nowhere to go."
Pros: "Premium economy seats make a huge difference in terms of comfort. The Vegan pre-selected meal was way better this leg of the trip than the LAX to FRA trip. Entertainment was good too."
Pros: "The service was outstanding!"
Cons: "Someone stole my phone charger :("
Pros: "Nothing. It was ok at best which is fine on a good day."
Cons: "Flight out was late due to the bus being late picking up the crew. We had to run for our connections. On the way back we were delayed again , leaving 20 minutes to make our connection. Security at Frankfurt was so poor. Of the potential number of lines available, there were only two operating despite the number of passengers, most of whom were late for their connections. It took us over 30 minutes to get through. Luckily the connecting flight was delayed over an hour."
Pros: "Cabin staff were pleasant and effective."
Cons: "I got a headache on the flight; it did go away until I got good air in Frankfort. Bathrooms were a bit low in number necessitating long waits. This has become routine."
Pros: "Cristobal, the flight assistant, was lovely. He made my flight very pleasant."
Pros: "The plane was new and modern. Overall impression very good - until I took my seat."
Cons: "The most uncomfortable long distance flight I've ever experienced. The space in economy class is never impressive but this one was a joke. I had isle seat and I'm a small person. I don't know how can you survive being a big man in a middle seat. Torture!"
Pros: "Nothing"
Cons: "Water was spilled on me by flight attendant. Luggage was left in Frankfort. Did not have clothes or medications, or daily necessities. Must wait 1 1/2 days to get luggage"
Cons: "Staff wasn't particularly friendly, seats were the most uncomfortable ever"
Pros: "The boarding process was very fast and smooth"
Cons: "The seating space is very tight, more space is needed specially for tall people."
Pros: "Individual screens for all seats with a varied selection of entertainment options. Plenty of room under the seat for my carry-on. (It helped that no one was in the seat next to me.) Beverages were offered frequently. Smooth flight, smooth landing."
Pros: "Excellent crew and service on board."
Cons: "Airport boarding staff have room to improve in customer care."
Cons: "I was asked to give up my seat to make space for people to sit together. Being a single traveler I had selected a seat in the 2 seats side. But my new seat was surrounded by all kids. Couldn't relax a bit."
Cons: "Airline lost my luggage on the last leg of our trip."
Cons: "The flight was late."
Pros: "nice and polite crew"
Cons: "no screens/maps with route information no enterteinment unless downloaded on your own devise, I had an Iphone which is too small to watch anything.... seat hardly reclined at all and felt extreemely uncomfortable"
Pros: "On time and straightforward - unlike the previous night when an Air Traffic Control weather delay prevented a connection at Chicago (no fault of Lufthansa). So I stayed over in Arkansas at home as there was no offer of compensation (hotel or $) for the delay."
Cons: "Nothing"
Cons: "The on board entertainment sucks you need to upgrade"
Cons: "The cabin got a little hot during the night and made it hard to be comfortable. Also, the seats lean pretty far back so I had little room in front of me when the person sitting in front of me leaned their seat all the way back."
Pros: "Everything"
Cons: "Not a thing"
Pros: "Food was pretty good except for breakfast. Hospitality is great. Wish there was more access to water."
Cons: "Big passengers sitting near smaller passengers is annoying as they encroach on the limited space that exist and armrests suck as per usual."
Cons: "I missed flight to Los Angeles because of laziness and carelessness of Lufthansa employees. I came with the train on 12/26/16 at 8:33 am to catch flight to Los Angeles at 10:05 am. I had plenty of time. As soon as got of the train I got into line to check my luggage. I had boarding pass already. Line to check luggage was huge with 2-3 clerks to check luggage for all US flights. After while I complained that I will miss flight to several clerk who were standing around talking on the phones all the time but answer, if I got one was, sir you will be fine. After one hour I got to security check line which was equally long. I complained again no response. With probably 20 minutes left I cut the line on my one mad as hell. I got at 10:00 am at the gate and some older lady was like " Sorry sir we closed the flight". I said "What do you mean, it is 10 am and flight is at 10:05am??? "Sir we sold your ticket" I couldn't believe her words. Anyway they sent me to Munich to catch flight to LA next day. Best part I HAD TO PAY HOTEL IN MUNICH BECAUSE LUFTHANSA DID WANT TO COVER EXPENSES. I don't know what happened to famous German organizational skills or this is just Lufthansa and her careless employees."
Pros: "ample food and no $ to check baggage."
Cons: "Seats were very uncomfortable"
Cons: "It was delayed by 9.5 hours!!!!!"
Pros: "Geat customer service by flight attendants."
Pros: "Legroom and arm room, good light overhead in premium economy. Bilingual crew friendly and efficient."
Pros: "Munich airport is convenient and boarding went smoothly"
Cons: "This was an SAA plane, not Lufthansa. I have only had excellent service on Lufthansa. This flight again did not have a functioning entertainment system. I asked for this to be addressed and the SAA crew ignored the request and in the morning looked surprised to find out that several of the TV monitors had not worked at anytime on the flight. Not impressed."
Pros: "Most of all."
Cons: "The headphone connection method. It is difficult to replace the headphone w/ your own because the connector is located deep in the headphone compartment and you cannot see it in easily. As far as you use the built-in headphones, no problem."
Pros: "Service confort timimg"
Pros: "Nothing"
Cons: "Crew Service, food,"
Pros: "Cleanliness. Crew members were up and doing. Very efficient."
Cons: "Food needs an upgrade."
Pros: "The crew were professional, service is excellent, plenty of food, beverage, and entertainment."
Cons: "Gate crew unfamiliar with child restraint seat regulations and recommendations."
Pros: "Space and service"
Cons: "Food"
Pros: "Easy flight nice bottle of reisling"
Cons: "No on flight entertainment"
Pros: "Likes? Food, drinks, courtesy."
Pros: "The seats were reasonable for the long flight The crew was very friendly and helpful The food was good for me (I'm vegetarian and had not asked for a special meal but the curry calcone was great The video system and range of films and shows was great"
Cons: "The boarding process was a little random but in the end worked out OK."
Pros: "more comedies movies and more up to date soccer"
"4 hour delay Lost connection"
Pros: "The boarding process was very smooth and we took off early and the crew was great and then we also arrived 30 minutes early."
Cons: "Nothing could be changed."
Cons: "Full flight"
Pros: "The fact that no one sat next to me believe me it was not a my choice there was just not a body to put in the seat"
Cons: "The staff was not friendly or say hello or goodbye"
Cons: "Both female flight attendants were very rude and pushy, the male was the only pleasant person. Also the in flight entertainment didn't work half the time."
Pros: "The crew was amazing but I was on a United flight since American was late leaving Athens. AA booked me on a later flight from Chicago to San Francisco on United. They issued separate inside seats for my wife and I. United showed me their kindness by putting us together in economy Plus."
Cons: "I don't blame American for being late but putting me on a United flight and splitting up my wife and I seperate seats was a little under the bar."
Pros: "Good leg room. Seems to have improved."
Cons: "Additional food options would be good."
Pros: "Nice crew"
Cons: "Zero entertainment - no screens, no wifi, no plug ins for phones/computers - poor!"
Pros: "On time. Fast boarding. Comfortable seating."
Cons: "Checking bags in PHF very poor. Disorganized and poorly managed. Staff needs more training and explicit direction. Kiosks should ALL be in working condition!"
Pros: "Crew was very nice."
Cons: "Boarding took forever and made me almost miss my connecting flight."
Pros: "After we boarded there was a lot of confusion with the flight attendant. Apparently people 's bags got mislabeled. He didn't know the those passengers final destination. Then he called out to see if a passenger was on board...shouldn't he know? He had the list in his hand. Another baggage issue. Third, he asked if there were children under 10...was thoroughly confused when he only found one. It was a bit unsettling to the point where we were wondering where we were really going to end up. But our pilot, Hercules, got us there."
Cons: "Newport News airport was exceptional."
Pros: "Boarding was efficient the flight left on time in spite of rain. Lots of air traffic departing JFK and we were delayed in the take off queue for an hour. The captain made up time and arrived Paris almost as scheduled. Food was very good for coach class and it was a hot meal."
Cons: "The coach seats even on this 6.5 hour flight were uncomfortable. The seat backs have no support. The aircraft was an older 767 and did not have entertainment screens on the seat backs. Thus there were no games or other interactive programs. It had the overhead monitors for movies. Hopefully they will modify that plane soon."
Cons: "Lines are very long and the check-in staff are not good at their jobs. For example, I arrived 2 hours early and they ended up letting half the line cut in front, which made me barely make my flight."
Pros: "Boarding at Springfield was fast and simple. The check-in agent were friendly and efficient. I especially appreciated that the flight arrived early into Dallas. I had a little more time to find lunch before my next flight."
Cons: "N/A"
Cons: "The connecting flight from Barcelona was delayed and there was inadequate time to connect. Horrible travel via AA to and from Barcelona. You guys should be embarrassed to tears ... and that is be overly gracious to AA."
Cons: "Cancelled flight"
Pros: "We really appreciated the comfort of the seats and the staff are great. Although fully booked, we were still comfortable."
Cons: "My husband and I were assigned seats away from each other and the boarding took a long time."
Pros: "New plane. Excellent service. Absolutely a delightful experience."
Pros: "The actual flight itself was fine and the inflight entertainment provided good entertainment."
Cons: "From the begining the trip was plagued by delays. I was supposed to leave Monterey at 0600, we didnt leave until 0630. Then my Phoenix flight was delayed by two hours that caused me to shift flights in Charlotte because i would miss my connection. Lastly, they had to change a break on the plane leaving Charlotte so instead of getting home at 7 like i was supposed to, i got into Norfolk at 1139 pm."
Pros: "nothing"
Cons: "Sat on runway for 30 minutes before the announcement was made that the First Officer had called out. Deplaned. Then once we reboarded an 1.5 hours later, we sat on the runway for over 2 hours waiting to be deiced, then waiting to take off with absolutely NO TRANSPARENCY from the crew or the pilot. We were updated ONCE every HOUR. I missed a day of my vacation because a crew member didn't arrive on time. UNACCEPTABLE."
Pros: "The fight was not over crowded."
Pros: "Nothing"
Cons: "It got delayed and delayed, cancelled and re-routed and delayed two more time. I have yet to make it to Knoxville."
Pros: "Nothing. Had a family emergency"
Cons: "I had a family emergency and had to buy a ticket to Pittsburgh to get home instead of going to Portland."
Pros: "USB Outlets are nice to have"
Cons: "Nothing was bad on this flight"
Pros: "Got to DC fast once we finally boarded."
Cons: "Flight was delayed several times."
Pros: "smooth flight, great crew, decent food with beverages, good entertainment selection with nice screens to watch movies"
Cons: "just a tiny bit cramped"
Cons: "Meh"
Pros: "The crew was very accommodating. We were delayed at the gate one hour and the captain allowed us to deboard which was nice."
Cons: "The food was not great- a very plain pasta for dinner and a muffin top and yogurt for breakfast. I thinking was an older plane because there were no individual screens and no place to plug in devices. They played Pirates of the Caribbean on small overhead monitors."
Cons: "I wish they have two sheets. I don't like to sit next to stranger. And hard to go to bathroom"
Pros: "Entertainment system Leg room"
Cons: "Just one package of snacks for a 6 hour flight Delays going out of NYC"
Pros: "It was an ok airplane, entertainment system worked"
Cons: "The flight was delayed 2.15 hours and didn't even offered water or anything, after a while they said if we wanted we could go out of the plane... really bad!"
Cons: "Plane needs updating. Pretty outdated and dirty"
Pros: "There was an air traffic back-up for a few minutes, and instead of just letting us sit there wondering what was going on, the pilot gave us periodic updates on what was happening, which made the process much easier. Also, the flight attendants were friendly, which makes a big difference."
Pros: "Good variety of entertainment options. Wifi reliable"
Cons: "Food options were horrible. Need to offer non seafood/pork option."
Cons: "Everything was great."
Pros: "very friendly staff"
Pros: "I suppose the food / wine was okay."
Cons: "The plane was one of the oldest I have been on in years. The center aisle overhead bins were not even big enough for luggage and there was one TV every 5 or so rows. We were at the mercy of the crappy movies American Airlines chose for us. Most flights these days have individual entertainment and at a minimum room for luggage. The plane was old, dirty and not up to date. Never flying American again. Extremely disappointed with the service on the flight, as well. A little more than halfway through the flight, the woman in the row next to me began reading the airline magazine. Her window shade was up and the sunlight caused a horrible glare on the magazine pages that beamed like a laser over everyone near by. My friend seated next to me and I both have extreme sensitivity to light that causes migraines. I asked the woman to close her shade which at first she did about an inch or two. This didn't do anything to help the glare so I asked again and she refused to do anything more. I explained it was giving us migraines and she didn't seem to care. I asked the flight attendant to help navigate the situation, which was just as useless. She said she could ask but not force her to close her window shade. While I understand that AA can't control that some people can be selfish, I find it incredibly hard to believe that the crew can't intervene when a passengers actions are making other people physically ill. Our only other option was to be relegated to the last row, next to the crews stinking pile of garbage that had been accumulating for the first five hours of the trip. Almost every crew member we interacted with was completely apathetic to the situation. We spent the rest of flight nauseous and with splitting headaches. But I sure hope my row mate and fellow human being in 32A enjoyed the article about the dinosaur flea market in Bolivia This entire situation could have been mediated by the flight attendants who chose to disengage. Furthermore, when we were deceding to land, overhead bins were still open, and people were starting to stand up to gather their belongings in the overhead bins. Again, the apathetic flight attendants were no where to be found. Overall, disappointing experience. Glad to never have to fly them again."
Pros: "The quality of aircraft"
Cons: "The service lacked any sort of empathy. The crew on this flight especially the African American lady, I think are in the wrong profession. Didn't care at all. Seemed miserable."
Cons: "Delays"
Pros: "Everything"
Pros: "I'm in the military so thank you for allowing active duty to board with 1st class passengers. Also having the free movies available to watch is great too!"
Cons: "No bad comments to put here. The only thing I would recommend would be to add a free Internet option"
Pros: "No vouchers were given out to customers"
Cons: "Delayed flights"
Pros: "Very kind crew and staff."
Cons: "Newport news has no comfortable seating in the airport...no where to nap until the flight."
Pros: "Very nice crew. Full meal"
Cons: "No personal screens on each seat-,makes international flight very long."
Cons: "When I booked my flight, I used Kayac like I always have in the past. To begin with, I selected several flights that were listed, only to have it tell me that this flight is no longer offered, which I assume is engineered to get me to select a more expensive flight. Once I finally found a flight that was still available, I selected it and began the process of providing information and selecting seat assignments. On 2 of the 4 legs of the round trip, there were no more seats available except for upgrade seats, which resulted in an extra $100.00+ in charges. Then when I finished the transaction, I noticed an extra $200.00 charge added. End result was that I ended up paying over double what I would normally pay for this same round trip that I have made many many times. I feel, no I know, that some customer relations person will look at this comment and reply with a pre-generated response apologizing and hoping I have a better experience in the future and thank me for using Kayac. Big companies like yours look at one customer as no big deal. I'm a Physician and have the ability to reach out to multitudes. I'm going to make it my mission in life to reach out to as many people as I can through word of mouth, signs in my office, Internet and social media to let them know about the deplorable practices of your company."
Pros: "The entire process from check in to boarding to the actual flight was wonderful"
Pros: "On time. Good crew and nicer flight."
Cons: "Actually no complaints."
Pros: "does not have compensation during my stay, sad"
Cons: "United canceled the flight ~36 hours in advance of the departure time because of anticipated severe weather. The forecast did not include any bad weather, and the apparent reason for the cancellation was excess capacity on routes to non-Newark United hubs from Norfolk. United refused to accommodate us on a comparable flight on another airline, and Delta offered a direct flight for less money than we originally paid United. United alienated a previously loyal United customer."
Pros: "The crew was nice and came by often."
Cons: "There was a dog on the 10 hour flight, I thought United Airlines had an 8 hour limit. The dog barked throughout the flight, so obviously it was a pet not a service animal. UA needs to enforce its own policy."
Pros: "Crew was very attentive and professional, and the food and beverage on the Lufthansa transatlantic sector were better than US carriers offer."
Cons: "The economy seats on the Lufthansa A350 were extremely uncomfortable and seemed excessively narrow as well has having cramped legroom. I could not get comfortable let alone sleep, and my backside felt like I had been sitting on a park bench rather than a long haul coach airline seat. I will avoid this aircraft if possible in the future."
Pros: "Crew was friendly, professional, and communicative."
Pros: "Great boarding service and flight crew"
Cons: "no in flight entertinment"
Pros: "Friendly crew and comfortable seats"
Cons: "N/A"
Pros: "Good flight, nice staff."
Cons: "Food not the greatest and flight over-crowded."
Pros: "Comfort was fair"
Cons: "It was delayed - enough to miss the flight"
Cons: "The flight took off late due to baggage not being loaded in a timely manner and the wait on the flight when we arrived was much longer due to equipment not being handled properly; because of this my family and I missed our connecting flight."
Pros: "enjoyed getting moved up to economy plus with my premier silver status."
Cons: "the little kid kicking my seat behind me which is no one's fault except the parent which you can't police."
Pros: "Everything was great. Flight attendants were enthusiastic and friendly."
Pros: "The plane, crew and boarding was great, and the food and drinks were quite good. Legroom in standard economy class was passable for a 6'2" person."
Cons: "I booked through the United website as trip from US, have Silver status on United, and Lufthansa's policies of not allowing advance (1-2 mo before flight) seat selection (never on UA nor LH websites) are just horrible. Hard to get through on 800 number, and 1 day before trip answer was still to do it in Frankfurt. Economy plus was $1000 more/person, and even then no guarantee I could choose a seat far in advance. Then, at computer kiosk in Frankfurt, they had a wrong diagram of the plane,as we ended up on what turned out to be a no-recline row which I would never get. I'm 6'2", 230lbs, and wasn't able to sleep on that flight. Had I been able to reserve a seat behind a bulkhead or in exit row 2mos in advance, I would have been fine."
Pros: "Not a crowded flight, Norfolk is usually a easy transit even when busy."
Cons: "Very cramped seating when your 6' 260;"
Pros: "Early arrival. Smooth flight"
Cons: "Check in was confusing."
Pros: "It was good. One crew at the boarding station was not helpful but another stepped in and she was awesome."
Pros: "Everything was excellent but the decent was probably the roughest I've ever experienced. The poor Stewart ran with bags and wet naps up to touch down. The beverage and pretzels were great."
Cons: "Everything was excellent. We did receive a beverage but no pretzels."
Pros: "The staff that is it"
Cons: "The plane broke down I was put on standby offered a middle seat and I'm a bigger guy I was stuck in between 2 other bigger guys and wasn't offered any compensation I'm anyway!!!! The next review will be on yelp"
Pros: "The check in process"
Cons: "See above"
Cons: "The delays and cancellations overwhelmed the gate attendant. She was not able to effectively manage the situation and quickly became chaotic"
Cons: "The flight was delayed 2 hours"
Pros: "Despite all the restrictions, my wife and I were able to be seated together."
Cons: "When I booked the flight, I was not aware that I was booking a seriously restricted flight, ie no carry on baggage, can't sit together, etc. This is the first time I experienced these kinds of restrictions on a major airline. I did not like the having to pay for checked baggage of a carry on. A bit too much."
Cons: "I hit the side of my foot on a sharp piece if metal that was exposed on the right side of my seat. I bled and took pictures"
Pros: "i was slow getting off the plane but a person was waiting patiently. when i boarded the plane a flight attendant helped me figure out why my luggage wasnt going easily into overhead compartment and at the end of flight helped me get it out."
Cons: "aisles on plane too narrow to get luggage easily down aisle"
Pros: "Nothing"
Cons: "You cancelled my flight without telling me and you made me miss my flight to Sydney. Your staff didn't help. I want to be compensated for my flight that I missed"
Pros: "Nothig"
Cons: "Everything, TSA agent said my guess is as good as his when and if we are leaving I was upset at that kind of response. Never will use united ariline agian."
Cons: "Near 5 hour delay at departure airport with very poor communication."
Pros: "The plane was not very full...that made the experience so nice. All passengers were there early and boarded quickly allowing us to leave the ground ahead of schedule. They offer entertainment using their app on your phone or notepad."
Pros: "Nothing."
Cons: "Missed my connecting flight from Newark to Ft. Lauderdale due to a 30 minute weather delay, and then an hour long delay imposed by Newark Airport due to air traffic volume. I had to sleep (barely due to all of the nighttime maintenance going on) on the damn floor by my standby gate because I couldn't afford a hotel and United refused to pay for one."
Pros: "The people on the plane were friiendly enough, the customer service once we were on the ground was terrible"
Cons: "United Customer Service Blamed weather for a delay, I am a pilot and didn't see any weather delays posted for Newark. Even if there was weather, they didn't hold our outbound flight and missed it by 15 minutes. Didn't comp us for a hotel, had to stay in Jersey out of pocket, Jersey is busy, dirty, smelly, and overcrowded. Not enough infrastructure for the people. We were lucky we got there 2 hours prior to flight time and had TSA Pre Check."
Pros: "The crew was pleasant."
Cons: "Delayed for an excessive amount of time before the flight was finally Cancelled. Got stuck waiting for over 7hrs before the flight was eventually cancelled. Barley made it home in time for my grandfather's funeral as a result."
Pros: "Free wifi, snack was yummy"
Pros: "I had not been given a choice of gluten free meal before boarding so I declined the food offered, and the attendant, without my asking her to , went and found something gluten free."
Cons: "The entertainment screen did not work well."
Pros: "Pilot did a great job tried to hit as little turbulence as possible. Smooth landing. Flight attendants were very nice from Norfolk to Newark"
Cons: "Both planes were late, and you sent this questionnaire before flight had even arrived in Omaha"
Pros: "The United skybus we were on from ORF to EWR was comfy."
Cons: "Waiting on the tarmac at ORF for 1.5hr to find a de-icing crew and nearly missing the next flight leading to a multi-terminal sprint to make it."
Pros: "All flights on time. Always I used the same apps for my tickets!!"
Cons: "The flight was 1 hour late because soeone forgot to turn the batteries off. After waiting 50 minutes in line they would not assis with new connections endwd ip spending the next four hours getting to a new Airport and flight which was also late"
Pros: "The people were really nice. We left on time or early on most flights which was also nice. Like the variety of liquor and prices for beverage that's offered."
Cons: "The in flight entertainment doesn't compare to delta. Our last plane was getting retired so it didn't have any in flight entertainment and the snacks tasted really old. The other flights had spotty connection at best and was hard to connect to their movies."
Pros: "Nothing"
Cons: "I don't think it's fair that you don't any money back of you cancel your plane ticket. It shouldn't matter what type of ticket it was. You should at least be allowed a voucher for the amount of the ticket at a later date. Even if it's a percentage off, you should be allowed something. How is it that you can buy a car worth thousands, and be allowed to return it under the Lemon Law. When a company called can make billions of dollars doing this, it's just taking advantage of the little people."
Pros: "I think your agents on up did well handling rebooking and upset people. I was told I would miss my flight first thing this morning but the agent was able to get me on and I arrived in CR only 1. Hour late. Thank you for the great service. It has to be hard picking up the pieces after the hurricane."
Pros: "wheelchair and cart to get to my plane because of a knee injury"
Pros: "Appreciated the heads up of slight flight delay and baggage carousel location."
Pros: "Norfolk is always good and professional"
Pros: "The flights were on the empty side so there was an open seat next to me"
Cons: "The first flight got delayed so I missed my connection. My connecting flight got delayed about five times and sat on the runway for over an hour. I ended getting home at eleven PM when I was anticipating getting home st 9:45 AM"
Pros: "Nothing"
Cons: "The fact that not only was my flight cancelled but so was its replacement with no explanation."
Cons: "Our flight had a "mechanical delay" which drug on for several hours (every 30 min there would be another 30 min delay). This eventually meant we would miss our connection to Munich and had to be rescheduled to the following day. The next day we had another round of "mechanical delays" and just barely made the connection."
Pros: "Absolutely nothing. Worst customer service my 15 month old daughter and I have ever experienced. United airlines does not care about us one bit. They put my daughters safety at risk with such lack of compassion. Caused such unbelievable stress and chaos. I will continue to tell everyone I know how horrible this was. No one will want to fly United after they hear what my daughter and I were put thru."
Cons: "everything"
Cons: "Typical horror story... Lied to by gate attendants... Hours late to destination with no apologies... Essentially got totally screwed without reimbursement."
Pros: "Absoluteky nothing. I mean literally NOTHING. I take that back, a pilot for another flight who saw my predicament and tried his best to help me figure which flight to take in the morning. Also, as far as floors go, the airport terminal was maybe only the ninth worst I've slept on. Kudos!"
Cons: "Wretched customer service. Flight delayed multiple hours after my ride departed and stranded at airport for fourteen hours with no food or beverage comps, or even kindness from the their agents. Was told "oh well, weather". I had left my remaining cash (and didn't bring my card) with my lady friend to get the kids some nice things (she is driving back on a seperate day and was already two hours away by the time we found out flight wasn't happening in time) and absolutely zero compassion given by United. Also, required to add an 80 dollar uber when I get home because there will be no ride as my orginal ride can't make it. May also have to call out of work. Not even an offer to bump my seat on next flight to close to the cabin or exit row. Two hours on phone with customer service with no offers of even slight compensation even when this entire situation is explained. I get it. I agreed to terms of service, but your service sucked and is costing me an armful of money at this point, wouldn't it be in the slightest interest of theirs to give me a meal, or a room or even a lousy coffee?"
Cons: "Apparently flight crews are limited and even though our plane was ready to leave we had to wait for a crew member to arrive that was delayed at another airport which in turn delayed our flight."
Read more about Delta
Safety measures for airlines flying from Virginia to Johannesburg
Airlines flying from Virginia to Johannesburg have enacted additional safety measures and adjusted policies to better accommodate travellers. Policies vary by airline.
Heightened sanitation
Daily cleaning, installation of cabin HEPA filters on flights from Virginia to Johannesburg
Mandatory masks
Masks required on board, masks provided on flights from Virginia to Johannesburg
Social distancing seating
Middle seats unavailable to book on flights from Virginia to Johannesburg
Pre-flight testing
Testing for antibodies, testing for symptoms for flights from Virginia to Johannesburg
Book cheap flights from Virginia to Johannesburg