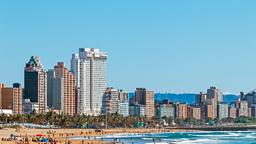 Find cheap flights from Texas to Durban
Search hundreds of travel sites at once for deals on flights to Durban
FAQs for booking flights from Texas to Durban
How does KAYAK find such low prices on flights from Texas to Durban?
How does KAYAK's flight Price Forecast tool help me choose the right time to buy my flight ticket from Texas to Durban?
What is the Hacker Fare option on flights from Texas to Durban?
What is KAYAK's "flexible dates" feature and why should I care when looking for a flight from Texas to Durban?
Top 3 airlines serving Texas to Durban King Shaka Intl
Scores according to KAYAK customer reviews
8,3
Qatar Airways
Overall score based on 10 972 reviews
Pros: "Yeah everything was good flight timing was very accurate I loved their service"
Cons: "Hotel or a waiting area should be arranged in case of flight delay"
Pros: "Nothing"
Cons: "Everything and being on time and not loosing all my luggage"
Pros: "best airline"
Cons: "when its best there is no comment"
Pros: "I love your hostesses"
Pros: "The customer service was amazing. Air hostesses were very courteous, friendly and helpful."
Cons: "Seats were too small to sit comfortably on a long flight I wish Qatar had better seats for long journey and had advanced entertainment system."
Pros: "Crew were amazing, superb."
Cons: "Food verity, seat comfort ability, wider range of entertainment."
Pros: "Service and entertainment"
Cons: "On boarding and on time departure"
Pros: "Crew was amazing"
Cons: "Check-in for ticket took 2 hours!"
Pros: "crew was nice and helpful"
Cons: "food quality needs to be better food quantity needs to be increased slightly food options need to be better entertainment system was ok but content was mediocre."
Pros: "The airplane trip was ok"
Cons: "I had 14h of layover in Doha and I did not have a hotel to sleep that night."
Pros: "The crew was amazing and welcoming and warm."
Cons: "The toilets was not clean and the boarding delayed without any explanation"
Pros: "crew is good and helpful."
Cons: "The food was terrible. Needs to improve the quality of the food."
Cons: "The boarding process was ridiculous. The staff delayed boarding of zone 2 passengers until ALL zone 1 passengers could be located and boarded which could easily have delayed takeoff. They went so far as to page missing zone 1 pax several times and asked people sitting on gate area which zone they"
Pros: "No delays"
Cons: "Improve your carry on lagguge policy. I was made to throw away some of my expensive clothes by the stuff to fit the weight, when it wasn't a problem when I was checking in ."
Pros: "The crew were very friendly"
Cons: "The boarding was delayed"
Pros: "Same as earlier flight"
Cons: "Nothing"
Pros: "Customer service and food."
Cons: "Cramped and full flight with no entertainment. Stewardesses were also talkin too much among themselves."
Cons: "Did not make this flight. How can I confirm that my ticket is still valid for the return trip?"
Pros: "Spacious for economy, pleasant flight attendants"
Cons: "Nada!"
Pros: "Hotel to freshen up was great idea"
Cons: "Visa took forever. Ended having only 2 hours at the hotel"
Pros: "Great services"
Cons: "Boarding slow"
Pros: "In-flight treatment"
Cons: "The seat"
Cons: "My personal stuff been stolen in airports"
Pros: "Leaving that god forsaken airport after hours of waiting in lines."
Cons: "Everything"
Pros: "Hindu meal only be vegetarian"
Cons: "All is good"
Pros: "I really enjoyed the flight, which was almost 15 hours long. I give an overall 4 star review for this flight. The boarding process was pretty organized (without including the ignorant passengers who can't read their zone numbers, haha) because they called us up group by group, in a speedy process. Even inside, the cabin crew welcomed us aboard and showed us where our seats are. This leads me to my 5-star rating of the service. Very warm, friendly, and generally helpful cabin crew Qatar Airways has. They fulfilled all my needs even if they had to go out of their way. As for entertainment, I was very surprised at how many great movies they have! Especially the new ones! I would not be bored again with this selection. Food was okay to be honest. It was a hot meal that satisfied my hunger and tasted good, but maybe it's just me and airplane food. Doesn't taste right for me. And to be honest, I was cramped. Not even me but many other passengers felt like the seats were too small. Overall, Good experience!"
Pros: "Gate crew was great"
Cons: "Boarding seemed haphazard as it took quite awhile for all of the pasengers to stow their luggage and settle down."
Pros: "Dallas to Doha wheel chair service and boarding was good."
Cons: "My parents did not get wheel chair in Delhi after that long,tiring journey..this is the service airline provide,it's so disgusting..they didn't even get the porter..they had to carry the heavy luggage when they have problem in walking..I am so disappointed.what is the use of this survey."
Pros: "Selection of alcohol."
Cons: "The selection of food."
Pros: "This airline cares about service and customer care. My son was not feeling well and they attended to him and made sure he was feeling good. They even suggested taking him to the clinic at the airport, yes the airport has a medical crew on site to treat passengers."
Cons: "Seats are crammed like US airlines. Not much leg room. But still far better than flying any US airline."
Pros: "This flight had one of the best selections of movies I've seen on a flight.....a damn good thing given the 15-hr duration of the flight. I had so many screaming babies around me that the flight attendants helped me to move to another part of the plane. They were incredibly sympathetic and accommodating. Airlines from the USA could learn a thing or two from Qatar Airlines."
Cons: "Small seats (I'm fat, so this is my problem really)."
Cons: "The legroom is ok but the space between two seats is very tight and felt very cramped throughout."
Pros: "Plane was perfect"
Cons: "Transit was just tedious very long line , had to wait for along time. The crew have very strong accent which makes difficult to understand them, but they are very nice and helpful"
Cons: "not friendly staff delayed and no help. cost me so much did not get anything"
Pros: "The crew was very nice and seemed very accommodating. The flight was on time to leave, or maybe even a few minutes early. The food was very good. Overall it was a very comfortable flight.Oh and the little toiletry bag was a very nice touch. I for sure used the socks in there and the toothbrush was bonus."
Cons: "I didn't have any issues on this flight. Everything was great for me."
Pros: "Food is palatable. Crew are acommodating"
Cons: "Many of the films have no English subtitle"
Cons: "Not allowing water on the flight made it extremely long and unbearable."
Pros: "Food, crew, in flight services and entertainment were amazing. Definitely recommend this airline for trans-atlantic flights."
Cons: "I flew on the Boeing Dreamliner which is pretty loud. I recommend noise cancelling headphones or earplugs."
Pros: "Service was excellent and food was all right. I do not eat meat or dairy but there was still some food for me on this flight."
Cons: "No complaints whatsoever."
Pros: "The staff were friendly"
Cons: "Food The seat were terrible The next flight rebooked because the first fight were delayed"
Pros: "Flight was very good"
Cons: "Food"
Pros: "Great crew members.. Very helpful"
Cons: "Boarding was very slow... Just one person Also lost 1 bag from Dallas to Delhi"
Pros: "Boarding team was considerate with hand baggage and also as we were with a toddler they understood the need of extra wieght."
Cons: "Food menu wasnt good."
Pros: "The in-flight entertainment selections were top notch. Also the service was very good. I would definitely fly with them again. They replaced our flight from an A380 to a B777. The 777 was much smaller and cramped. Also we no longer had the option of choosing our seats. I later found out this was due to an issue with Delta and Atlanta not allowing proper booking of larger planes."
Cons: "Since their service is new to Atlanta we had a bit of a problem checking in. They had separated their economy class section from business class at two separate areas within the terminal. These areas were not close to each other too and made it very difficult to find where to check in. The economy area was actually hidden away and made it difficult to find. It was so difficult that they finally started letting economy people check in at business class since everyone was getting lost. I am sure with time they will resolve these minor issues however."
Cons: "No legrooms"
Pros: "Nothing"
Cons: "Food could have been better, I mean the quantity could have been more. The attendants were not so nice. Breakfast was only a half slice of bread. Please increase the quantity of food."
Pros: "Plenty of entertainment variety."
Cons: "Not enough leg and elbow room. For a flight this long, seats should be a little more comfortable."
Cons: "Better kits for kids to keep them busy longer. The one that was provided kept my kid busy for about an hour or so in a 12hr flight."
Cons: "I wish the 777 had slightly wider seats like the A380"
Pros: "Everything"
Cons: "Economy seat leg support could be better"
Pros: "Seats were comfortable"
Pros: "Crew looked stressed and rushing things. Didn't look very friendly."
Cons: "Smiling crew"
Pros: "Crew was amazing. Flight was on time. Seats were good per economy class"
Cons: "Food could have been better"
Pros: "Good check-in experience."
Cons: "Entertainment Systems are old, low-resolution and difficult to view & operate compared to, say, A380 aircraft. Some did not work. Seats were cramped. One recliner was broken. Cabin crew smiled less. African legs should not have lower quality of equipment and service than other legs."
Pros: "The seat was not up to the usual Emirates business class standard. The lights were never completely dimmed."
Pros: "Jenna our crew member was amazing. My wife and I traveled with our 5 kids ages 8, 6, 4, &11month old twins. Thought it would be a total nightmare but the crew was so helpful and understanding. They made sure the older 3 got their infotainment system working and setup the bassinets for the twins."
Pros: "Today amazingly the service was too good, the hostesses were coming forward and asking if we needed something and making the journey comfortable."
Cons: "Was nicr"
Pros: "I had the whole row. Food pretty good for economy. Good movies"
Pros: "Entertainment system"
Cons: "The food and the crew way of speaking to people"
Pros: "First time we flew on business on international (we upgraded)."
Pros: "Excellent service"
Pros: "Friendly cabin crew, new movies"
Cons: "Long wait after boarding before takeoff"
Pros: "The entertainment selection."
Cons: "The watermelon in the salad was almost spoiled."
Pros: "Legroom and seats Entertainment"
Cons: "Slow service Sparing on refreshments"
Pros: "Everything was great"
Cons: "N/a"
Pros: "Emirates handling of the crisis was good.they delivered snacks at the boarding gate. Considerate ground staff kept us informed and profusely apologetic."
Cons: "The delay"
Pros: "For a 15 hour flight the crew made it comfortable"
Cons: "The restrooms were non functional by the end of the flight"
Pros: "Great crew and comfortable seats"
Pros: "Food was okay. Staff on plane. Ice"
Cons: "I got singled out."
Pros: "Smooth flight. Attentive crew. Good entertainment options"
Cons: "The toilet had no toilet paper so I used the paper hand towel and prayed it did not block when I flushed. The beef option was not that great. I should've chosen the chicken."
Pros: "Food is good . Service is good"
Cons: "Airline appear to be harassing passengers with excessive overage charges. DXB is supposed to be a shoppers paradise. They are weighing dutyfree bags too along with cabin baggage. Eg: they charged me $56 for 2 kgs overage. I am very disappointed."
Pros: "Food was good when we got it."
Cons: "Flight crew was horrible. They rarely picked up Trash and I had my call button on for 2 hrs before someone actually responded just for something to drink. They also continually bumped into everyone walking down the aisle as well as hit people with the food carts. They definitely need a lot more training. Not happy at all."
Cons: "Full aircraft so pick you seats early"
Cons: "Very good"
Cons: "Upon arrival at the final destination, I couldn't find one of my 2 checked baggages, asked the emirates ground staff and i was told that they were unable to track the bag and not sure if it was loaded on to the aircraft at the origin airport or lost in transit. Lost my wedding suite and fiancé 's wedding gown and plenty other wedding things."
Pros: "The staff was excellent"
Cons: "The wet bun for a snack was terrible."
Pros: "Everything from food to seating was quite comfortable."
Cons: "Boarding was a bit more difficult since they did not call boarding zones"
Pros: "After our trip from Cape Town to Dubai with Emirates which was not that great we where pleasantly surprised when we where bumped up to business class from Dubai to Bangkok. We did not expect this. Although we did not take advantage of all the extras business class has to offer we had a great nights sleep and the breakfast was superb. The cabin crew was excellent all the time. Thank you Emirates."
Pros: "service , crew , food entertainmentminimal"
Cons: "not much"
Pros: "Food n movie selection"
Cons: "Noisy seat n very less leg room"
Pros: "Everything from the plane, crew service and timing. Excellent"
Pros: "I loved everything from the food, the crew, the in flight entertainment."
Cons: "I think this is hard to fix which is the comfort level. I was not avale to sleep well as the seats were a bit stiff. But it still one of the better seats I have been on for a long flight."
Pros: "Great entertainment set up, a free hour of wifi and good food. The wifi was priced fairly. Overall, it was a pleasant flight that I even managed to go to sleep. I normally can't sleep on planes."
Cons: "The entitled passengers and other rude passenger behavior."
Pros: "Love the idea of informing every leg of my flight. Thanks"
Pros: "Seating Services Entertainment"
Pros: "Evening thing"
Pros: "First off my flight was cancelled due a passport issue; my passport would expire in 5.5 months and was not permitted to fly . I contacted Web jet hoping that I would be rescheduled after I renewed my passport but unfortunately they would not allow me to rebook or to be reimbursed. I was traveling with my young son so I ended up loosing over $2,000, and now I have to start looking for other tickets which are extremely expensive at this time. I have waited all year for visiting my family and now I can't anymore . It's a nightmare!!!"
Cons: "Nothing at all"
Cons: "Boarding of gate A20 location in Dubai"
Pros: "Bumped up to first class"
Cons: "Service"
Pros: "Entertainment was good"
Cons: "The seats were terrible and not enough cushioning"
Pros: "The crew were friendly."
Cons: "wifi wasn't good - I couldn't connect. Wine choice wasn't good (white). Would have preferred a sav blanc"
Pros: "Whole experience was poor"
Cons: "Passenger seated next to me was bigger than the seat could take the whole flight it was u uncomfortable for me to even move an inch He was a smoker and smelt really bad I was told the seat next to me would be empty There was no space for my bag as others brought more than 1 piece of luggage with them on board The toilets weren't checked it was wet and dirty throughout Usually I fly 2/4 times in 60 days with emirates but this was the worse experience I had things on my tray before landing the hostess rudely asked me to put it in the pocket ahead of me as she didn't want to take it from me which is what I had originally requested for On the outbound flight I think your net package by mistake charged me Twice ! I strongly suggest if someone is bigger than a certain size then they should book 2 seats as 17 hours it wasn't easy for me to ask him to sit in a correct manner or have the handle half up so he uses my seat too Overall u satisfied and painful experience Net was slower on outbound too"
Cons: "Eveything"
Cons: "We had a long layover in Dubai and decided to go out to explore the city. When we went to go back with the same carry ons that we had been using our entire trip (with three different flights with them), They made us check in our hand luggage because it was over 7kg. When we went to talk to the person at the gate about it, he was very condescending and rude and not helpful at all. They were also not nice on the plane. Never flying again."
Pros: "Crew v good"
Cons: "Food .. Fish undercooked ... Aircraft bit dated"
Pros: "Slept well with minimal disturbances form the air hostess."
Cons: "Cannot specify dietary restrictions while checking as it was not enabled"
Pros: "Not much I liked at all for the rave I've been hearing."
Cons: "Crew needs attitude adjustments, as well as the whole aircraft could use a makeover - it's completely outdated. Plus, the layover in Istanbul was horrible! There were people not wearing masks, and airport staff wasn't even enforcing any safety even if they saw wrong things happening."
Pros: "Great service! Very safe flight!"
Cons: "Warmer food, maybe... but safety was great."
Pros: "Outstanding and conscientious crew."
Cons: "Seats continue to get more narrow and rows are moved closer and closer. However, the Turkish Air seats are among the most comfortable, relatively speaking."
Pros: "The food"
Cons: "My seat wasn't working properly and wasn't comfortable."
Pros: "Cabin cree was helpful"
Cons: "Boarding need to be in order with back boarded first followed by front. Painful boarding at Houston and Istanbul both."
Pros: "Turkish continues to go above-and-beyond to provide all of its passengers with a quality experience. Meals were actually good (I opt for the Vegetarian offering) and Economy seats are perfectly fine."
Cons: "Both ground staff and inflight crews border on rude, but I choose to believe it's a cultural thing and not a corporate or personal failing. Really, it's a coldness more than anything. No warmth or empathy. Planes are showing their age, particularly in the seat monitors. Screens have dead zones with inoperative icons. Also, quite a few seats were literally falling apart. But, when you fly to more countries than any other airline, some wear-and-tear is to be expected."
Pros: "Probably best economy class service and amenities and timings."
Cons: "They dont give water when u ask for it, everything else was good"
Pros: "On time"
Cons: "Seats are not very comfortable. Narrow and hard."
Pros: "Nothing"
Cons: "I sent my old grandparents trusted them to take care of them but they were treated very badly and had a horrible trip"
Pros: "Food, service, movie selection, wine selection, seats in business class."
Cons: "Unimpressive selection of scotch when compared to competitors."
Pros: "Service, professionalism"
Cons: "Food is good but very bland."
Pros: "The friendly people and the ease of flying alone so far away."
Pros: "Food"
Cons: "Narrow space between seats"
Pros: "Food and entertainment was great"
Cons: "space little cramped but maybe same with other airlines in economy."
Pros: "Everything went perfect."
Pros: "Service over all"
Cons: "Everything"
Pros: "Everything"
Cons: "Nothing"
Cons: "Turkish Airlines sells you a long layover business class ticket but then cannot deliver the promised hotel as American passport holders cannot leave the airport So enjoy your 22 hour layover in the gate area This is fraud This change in visa for USA passport holders was known for weeks but they chose not to let customers know when booking the tickets Kayak You should take this up with Turkish Airlines as this is blatantly false advertising and you are supporting this fraud on your site by not highlighting the restrictions"
Cons: "Alaways delays"
Pros: "I was very impressed that I am already looking to travel again with the airline on my next travel!"
Pros: "Nothing"
Cons: "all of it"
Pros: "Flight left on time. Crew was friendly and was multilingual. Entertainment on our personal monitors was good."
Cons: "Overall it was a good flight but since I was not familiar Turkish Air, there were some glitches. Although I'm not wheelchair bound, I have great difficulty walking distances with fear of falling. I was never offered some assistance by the Houston airport or the airline at this point. The seating on the plane is difficult to maneuver for a disabled person. The flight was OK except for cramped spaces. The flight left on time and that was good considering Houston had just gone through the hurricane."
Cons: "The country"
Pros: "The food, when you get what you ask for, isn't bad"
Cons: "Rude attendants, running out of food frequently, not getting options, intermittently working entertainment with poor choices."
Pros: "Very uncomfortable seat. Very narrow walk way to lavatory."
Cons: "After ordering Asian vegetarian meal, I got pasta. That was disappointing"
Pros: "Ground & air crew was very nice on all steps."
Cons: "."
Pros: "They went above and beyond to ensure comfort"
Pros: "I like the food in the air craft it was good, but the crew seemed not wanting to speak inglish The are more willing to serve turkish speakers, They were not even able to solve seat problem. that I and my next seat guy decided to solve the issue by offering our seats to them so that they can sit together, the crew spoke poor english and we were held up by that seat problem, ask that crew member they will tell you what happend, After we gave up our saets to random girls who were also angry about turkish airline, we were able to take off for nairobi And yes the coffee store by the cafe nero and nearly all business refused to give us a wifi And turkish airport offers wifi to only those who have a turkish phone number that is so very low Shame on turkish airline for treating us the give us a free rides we are their bussiness and we will make sure that we stop giving our bussness It looks like they took their customers for granted and we will just tollered it but I will not and many people whom I know will not It is simply desaster... 0% service from the time you come to the airport untill boading time I had to ask about 5 deffrent men to tell me if where I was terminal. One but none of them know what i was saying And at the time my flight was sopposed leave 7:50 so I was freaking out And no one helping at that crtical moment I finaly got the delay flight info after running somany times up and down the road"
Pros: "Everything was good"
Cons: "Nothing"
Pros: "That I heard great things about Turkish Airlines"
Cons: "Staff at the gate and on the plane were rude. At the gate, I asked if there was an isle seat or an emergency row seat available (because I have long legs and long feet) and he said he would check and see. Well, he failed to inform me if any of the seats were available, so I sat in a window seat to Istanbul and a middle seat to Venice. I had to pay $160 for an extra bag to Venice. I asked if the airline allowed military members to check a third bag for free, I was laughed at, and told that US military members get charged more because we're not in the Turkish military. So as you can see, this trip started off horribly. My flight attendant seemed like she was having a horrible day because her attitude and customer service was bad."
Pros: "The food on board was better than average."
Cons: "The whole operation was shabbily done. Because of a Turkish airlines' flight delay, we wouldn't be able to make our connecting flight to Venice from Istanbul. So the agents booked me and my traveling companions on DIFFERENT flights the next day, long after we had paid to be getting to Venice. It took a long time and a lot of work on my part to get our tickets corrected to all be on the same flight, and the whole thing was very unprofessional. The lower price for Turkish airlines is not worth it when you have to spend an entire day of your vacation sitting in the Turkish Airlines airport hotel because Turkish Airlines can't properly get you to your destination on time."
Pros: "The crew was very nice. The entertainment quite rich."
Cons: "Since the flight was very crowded, they didn't let me bring in the cabin my garment bag, I had to stuff it in the suitcase."
Pros: "All service, atention, food,"
Pros: "The seats not very comfortable. The staf not friendly at all."
Cons: "Too long"
Pros: "great!"
Pros: "Good chow, decent beer, and stewardesses that can walk straight down the aisle!"
Pros: "From extra free bag, to all the little things they give you to make you feel much more comfortable, to the scrumptious meals and constant attendants attentiveness to passengers needs. Loved everything!!! Especially the way we can follow our route on the screens."
Cons: "Nothing at all"
Cons: "Flight attendant didn't instruct the passenger infront of me that during having food he have to upright his seat"
Pros: "Flight attendant cared a lot about the older lady sitting next to me, was grateful when I helped her. Food was excellent, screen size and selection of viewing material was very good. We were on time and the little comfort bag was very good, lip balm!"
Cons: "Nothing that I didn't really like, the price was good and the service excellent."
Pros: "The service was excellent. We actually got upgraded because my wife had status on United which was AWESOME."
Cons: "The interior of the planes seem a little outdated. The seats were cloth and had a slightly strange smell to them."
Pros: "Great price, service, food"
Cons: "they just skipped me once to offer me a drink, but they were very nice when I requested it"
Cons: "Flight from Houston to Istanbul got delayed; Turkish Airlines representative confirmed that flight will catch up on time and I can reach my connecting flight on time, however changed my ticket for the connecting flight so I would leave Istanbul next day - without informing me about the change.Once I realized changed "date/time" in the ticket (VS what I booked) and complained about it, all Turkish Airline representatives were acting line they don't understand English...this is unacceptable. I ended up spending the night in the Airport."
Pros: "Food was ok."
Cons: "I was so cramped and I'm only 6'. My back has hurt for days after that flight."
Pros: "Overall everything was good, I liked the entertainment and food the best."
Cons: "I had no issues."
Pros: "Great food and crew"
Read more about Qatar Airways
Safety measures for airlines flying from Texas to Durban
Airlines flying from Texas to Durban have enacted additional safety measures and adjusted policies to better accommodate travellers. Policies vary by airline.
Heightened sanitation
Daily cleaning, installation of cabin HEPA filters on flights from Texas to Durban
Mandatory masks
Masks required on board, masks provided on flights from Texas to Durban
Social distancing seating
Middle seats unavailable to book on flights from Texas to Durban
Pre-flight testing
Testing for antibodies, testing for symptoms for flights from Texas to Durban
Book cheap flights from Texas to Durban
Recent return flight deals
Search by stops
Search by airline
Search by price
Flights to Durban
Browse origins:
R16 658
R13 800
R13 800
R18 955