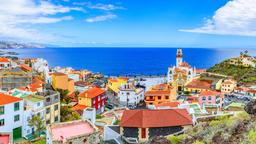 Find cheap flights to Tenerife
Search hundreds of travel sites at once for deals on flights to Tenerife
Latest Tenerife Flight Deals
Top tips for finding cheap flights to Tenerife
High season is considered to be June, July and August. The cheapest month to fly to Tenerife is March.

Enter your preferred departure airport and travel dates

into the search form above to unlock the latest Tenerife flight deals.
FAQs - booking Tenerife flights
Do I need to take a coronavirus (Covid-19) test before flying to Tenerife?
What documents do I need to fly to Tenerife?
What other coronavirus (Covid-19) restrictions are there in Tenerife?
Can vaccinated people travel to Tenerife?
Can I fly to Tenerife? Are there any travel restrictions when entering Tenerife?
Can I fly to Tenerife without having to quarantine on arrival?
How long is the flight to Tenerife?
What is the cheapest flight to Tenerife?
What are the most popular destinations in Tenerife?
How does KAYAK's flight Price Forecast tool help me choose the right time to buy?
Top 5 airlines flying to Tenerife
Scores according to KAYAK customer reviews
8,0
SWISS
Overall score based on 9 047 reviews
Pros: "Not one thing about my experience."
Cons: "The alertness of the staff, the boarding process, the knowledge of the staff. Not breaking my luggage!"
Cons: "A solution to the seat problem. If the seat only reclined 1/2 the distance they do now, the flight would be enjoyable."
Cons: "Nothing"
Pros: "Wasn't awake, can't say"
Cons: "Probably it would be nice to have a bit bigger screen with general information about the flight and local time"
Pros: "Staff was very friendly and loved the food."
Cons: "For economy class, nothing."
Pros: "Good crew, food was good for airline food. Entertainment offerings were good."
Cons: "Too many seats, 3-4-3 configuration means not even enough room to walk down aisle without bumping people in their narrow seats."
Pros: "The kindness of all people working on Swiss was very special"
Cons: "The food was not very special, but the chocolates were awesome"
Pros: "I like that the plan wasn't that full and the movie was great also when I flew back the food and monies was different"
Cons: "More snacks maybe lackerli"
Pros: "The food was amazing"
Pros: "the CREW WAS FRIENDLY AND CELEBRATING EASTER WITH THE GUESTS"
Cons: "THE FOOD WAS ADEQUATE, GIVEN THAT WE WERE ON AN AIRPLANE"
Pros: "Great entertainment and food- all excellent."
Cons: "Uncomfortable, small seats in Economy."
Pros: "Very friendly and attentive crew. Clean plane."
Pros: "Great scenery!!!"
Cons: "45mn late"
Pros: "Awesome business class seat, or rather throne"
Cons: "Limited selection of movies"
Pros: "The crew were personable and the chocolate that was offered near the end of the flight was a nice touch."
Cons: "Cramped, cramped, cramped!!!!! The seat pitch was just so uncomfortably short so much so that when the person in front of me reclined his seat, the TV screen was a mere 1-2 feet away from my face making it impossible to watch anything without getting crossed eyed or a headache. This unfortunate situation has influenced this review greatly particularly because this wasn't a 2 hour flight but a long haul one."
Pros: "The stewardesses were absolutely amazing, asking/ offering beverages in between main meals t/ out the whole flight! They were just doing their job above and beyond! Wonderful crew especially the girls in the section 30's on the side FGJK, THANK YOU SO MUCH! YOU WERE AMAZING!"
Cons: "Placed in back row. Ran out of food choices twice!!! Requested they start serving from the back after the first shortage. Told that was not the procedure. The Swiss need to apply customer care to all in the same class equally."
Cons: "Palermo never ready for plane arrival"
Pros: "On time, nice crew"
Cons: "2.5 hour delay, missed connection, arrived more than 5 hours after originally planned. Entertainment system did not function. Crew did not collect garbage/unused items prior to landing and I was holding garbage in my hands during landing (and some spilled on my lap)."
Pros: "The lovely nice stewardess and Crew kindness."
Cons: "I have faced the horrific flight ever in my life last days, I never imagined a completely 4-5 Hours such horror turbulence on a long Night flight. thank God we made, and thank the lovely crew for their super support.."
Pros: "Dinner was excellent. Staff very friendly. Bathroom toiletries (facial spray and hand cream) appreciated."
Cons: "Seats are pretty tight (lucky if you don't have one of the metal boxes in your foot space)."
Pros: "On time. Friendly employees. No issues at all."
Pros: "The food was quite good and the crew was perfectly friendly. The entertainment choices were useful on such a long flight."
Cons: "It was extremely warm on the flight; consequently, I was unable to sleep. This was my second overly warm Swiss Air flight. After numerous complaints on the first flight, the temperature was lowered, but the second flight remained warm."
Pros: "Proper business service all the way."
Cons: "The seats did lay flat but were hard and uncomfortable in the down position. The breakfast barley was completely unappetizing."
Pros: "I had a wonderful experience the whole way through."
Cons: "The TV froze and stopped working for me. Thankfully it was the last thirty minutes of my flight. Mine was the only that appeared to be broken."
Pros: "Seats a bit tight"
Pros: "Nice experience."
Cons: "Seats are not so comfortable. Crew is nice, but not too nice"
Pros: "Fast flight and crew was amazing."
Cons: "Seats are terrible. Food is just ok, could me better, I remember 2012 when I was flying first time with Swiss (same route), food was excellent and seats were much more comfortable. I'm thinking to get back on Turkish Airlines although the trip is much longer, they are much better in both above mentioned segments."
Pros: "All went fine and the crew friendly. 12 hours from Switzerland to Sao Paulo is extremely long time to sit in an airplane, but temperature and air were fine and the flight was without delay."
Pros: "The flight was perfect until we hit horrible turbulence. 1 out of every 4 people was throwing up. We had to redirect to Milan."
Cons: "Swiss air is completely inept at handling a very normal reroute due to weather. 200 displaced people are standing in line. I've been here 5 hours and have not heard a word of announcement from them, our questions are rudely thwarted, and they continue to take half-an-hour to an hour per person with uncertain results. Give use new flights or a hotel."
Pros: "perfect and easy"
Pros: "It was an 8.5 hour flight and we got fed 2 meals, 2 snacks and had lots of beverage breaks! We were delayed a little but it was due to an issue in France, not anything to do with the airplane, and the captain found a solution faster than he had originally said he would (with the help of the tower of course)."
Cons: "The legroom in economy is just as bad as you would expect."
Cons: "My seat was semi-broken, it was in constant state of reclining."
Pros: "I liked the staff and the chocolate"
Cons: "I didn't like the meal much and the lighting was too bright most of the time."
Pros: "Staff & service were super nice & friendly. In this day & age that airline travel is getting really hectic, it was a breath of fresh air to see friendly & dedicated staff who clearly enjoy what they are doing."
Cons: "Can't think of anything"
Pros: "Short flight.."
Cons: "They gave me and the 2 other black people who were flying, the seats all the way in the back. I'm never telling the people at check in "just give me any seat" ever again! It was so obvious I almost complained to all the attendants! I just tried to keep my cool... HORRIBLE FIRST EXPERIENCE TO EUROPE!"
Pros: "It's such a short flight that to me the experience is pretty insignificant. I liked that it was on time and the rest was very average for what I expected in a 45 minutes flight"
Cons: "I would have loved a video"
Pros: "entertainment was fine"
Pros: "Very friendly crew."
Cons: "Seating is too tight and uncomfortable and I'm only 5'6"!"
Pros: "Services"
Pros: "non stop food was a great distraction from being on plane so long. Loved blanket and pillow and having own TV. Service was constant and the crew were so wonderful! I would be delighted to fly swiss air again."
Cons: "Boarding was unorganized but I am sure that is no fault of your own."
Cons: "flight was delayed half and hour and i missed my connecting w"
Pros: "Very comfortable seats for coach, good service."
Pros: "The food was good and I enjoyed the Swiss chocolates."
Cons: "The Seats were real cramped and the entertainment system was outdated"
Pros: "Easy and comfortable. Service was good and with a smile. The planes were clean and arrived on time for my connection."
Cons: "The WC was so small I could barely even stand in it."
Pros: "El espacio dentro de la cabina y la atención de la tripulación. Me informaron de la inmediatez de mi siguiente conexión"
Pros: "Lots of snack service and real dinner's! So much yummm"
Cons: "Boarding was kinda weird and confusing."
Pros: "the food on LH755 was decent. LH454 second snack, a cold sandwich was inedible! Too salty, soggy and just plain yucky!"
Cons: "Food!"
Cons: "Boarding of all economy passengers was done on first come and stand in line, first served basis with no zone separation. This caused aisle congestion. I was randomly asked to check in my standard size carry one although many passengers with larger bags were allowed to take them with them. Overall there was a lack of planned approach."
Pros: "Missed flights due to driver not turned up at Bellano yesterday"
Cons: "We have a new flights"
Pros: "No crying babies around :-)"
Cons: "It was cold on the flight IAD->LAX, there was a cold stream coming from the storage bins, and no food. Food was bland and too little on the transcontinental flight."
Pros: "It didn't crash."
Cons: "Food no screaming babies . Comfy seats and armrests,"
Pros: "The crew was very nice and attentive, I really like the food on Lufthansa"
Cons: "The movie selection was limited and dated"
Pros: "Good service."
Cons: "Check-in procedure. Plane was delayed a bit."
Pros: "no drama ....just good, timely service."
Cons: "The seats are tight and sitting on the aisle is a bit uncomfortable for me but I didn't pay extra for a better location."
Pros: "Canceled and not rebooked untill 4 days later"
Cons: "Still waiting to fly"
Pros: "The crew were very considerate. Also they have the best baby beds we have seen so far"
Cons: "The entertainment system was glitchy."
Pros: "I am always amazed how Lufthansa gets it right."
Cons: "Legroom was tide. When the person in front of you put their seat down you feel like ham in a sandwich."
Pros: "Lounge was very clean"
Cons: "In a 10 hours flight Frankfurt to Atlanta only one main meal. Service was rushed job. My seat wasn't working and Tv remote didn't work."
Pros: "The seats are comfortable and the plane was clean and well-presented."
Cons: "The flight left with a slight delay. As I boarded, I was issued a new seat in the middle, as opposed to the window seat I had selected. There was zero explanation for this change. When I approached the flight attendants about it, with a smile on my end, I was offered the equivalent of a shrug. As I gave up, I was also informed there was no more room in the overhead bins, so not only did I end up sitting in the middle (which I loathe), but also with my carry-on under my feet. I've always been a fan of Lufthansa, but I'm a little disappointed this time around."
Cons: "Crew was nice, but big push to check-in carry-on. There was in fact plenty of room in overhead bin"
Pros: "The crew did a great job. The flight turned out to be nearly 10 hours since we had 150 knot headwinds. The food and free wine made things much to tolerable. You can't go wrong with Lufthansa."
Cons: "the flight info was off"
Pros: "Boarding areas are very comfortable and spaceous. The personnel are professiona and friendly. All flights were on time. Online check in was easy and relaxing which made for a quick check in at the München Airport."
Cons: "between lunch and supper snack one isle had only one water serving and my isle had none. So for 6 hours we had no water serving. This is why I gave crew rating OK only. Also the supper pizza snack was horrible. By comparison, United gives full drink cans so they last longer. I suggest Lufthansa also should serve full drink cans in long flights."
Pros: "it was quite comfortable"
Cons: "luggage got delayed by 2 days. No dresses to even wear. Plus lufthanse didn't know where my bags were."
Pros: "All"
Cons: "Nothing"
Pros: "Friendly crew"
Cons: "when seats recline in economy you can barely get in and out of a seat"
Pros: "Seats on PE were comfortable, on time, clean flight."
Cons: "The worst crew possible, absolutely no concept of customer service, Last flight on lufthansa....so no more complaints Customers needs training on how to use the LOO."
Cons: "Seat size and spacing is at an absolute minimum level even for small people."
Pros: "The boarding process is very efficient."
Cons: "Lufthansa's people are mostly good. But there are some obvious opportunities for people to be more friendly. Also, LH like many others continues to serve cold rolls and cold butter on international flights. KLM warms the rolls! It's the one small touch that would make Lufthansa's meal service so much nicer."
Cons: "We were late, had to run through the airport just to catch our next flight"
Pros: "Great crew, good humor and helpful!"
Cons: "Could have had more beverages served. But to many kids crying & screaming (not crews fault)"
Pros: "I LOVED the Crew. Exceptional! Polite, accommodating, kind, friendly. Just wonderful. The food was pretty good too! The entertainment was great. I loved that the toilets were in a separate area downstairs! The flight was overall pretty comfortable. The cabin temperature was also great, not the freezing temperature found on American planes. Thank you LUFTHANSA!!!"
Cons: "The flight was late boarding and late arriving in Munich. I had a connecting flight to make and that was a harrowing experience. I had no precedence offers the other passengers in deplaning. I was given no help in making my connecting flight. I had to queue up for border control. I had to go up and down numerous escalators. I was stopped by a policeman asking for papers which I had already given to border control. I had to take a train and change terminals. My connecting flight was departing from the farthest gate possible in the terminal. I was running the entire time, and I barely made it. Had I not been running, I would have missed my connection."
Pros: "The Quietness of the trip. Enough to sleep."
Cons: "There is no possibility for me ti eat. I have a sugerless diet without any aotmeel, rice, corne and other wheat. Just almendraflour is allowed and cooked vegetables and fruit and chicken and fish. I always have huge difficulties in flying intercontinental."
Pros: "Very friendly staff!"
Cons: "Monitor was very slow and at some moments not working at all (even after restart)"
Cons: "I had to endure 10 hours sitting next to an obese passenger, who was to big to fit into his seat and had to rest his shoulder and elbow over my seat. The crew couldn't do much and so I had to shift myself sideways for the entire journey in order to make space for this obese passenger to rest his arm into and over my seat."
Cons: "They had overbooked the flight and asked to reroute me. I asked if I would still be able to get to my destination at the same time and to make sure I would have a window seat. Everything from the moment I said yes was a terrible. They rebooked me twice on two different routes when I was in the air. Said a steward would meet me (never happened) instead I was running to catch flights on different airlines in two different airports. The entire situation was disgusting. The running was with all of my luggage. Because of the rebooking I was in the last row of 75 rows on a plane with an additional connection. Every flight had delays creating more chaos for the next flight. The only helpful airline in the bunch was Delta."
Pros: "Crew friendly, good food"
Cons: "Cramped seating, can't select seat until checkin without paying (only airline we were unable to select seat)"
Pros: "On time rout"
Pros: "Great job in general"
Cons: "The B747 is big and takes longer to board and longer to get your bag. WIFI is expensive at about $19. Seats are cramped or that's what I felt."
Cons: "Bathroom was at the back of the plane and the drink service was slow so I had top wait overt half an hour to use the bathroom; I was in row 4."
Cons: "First flight mechanical issue so couldn't make it to any of my connecting flights and they had to reroute me, however they couldn't get me to Torino so they got me to Milan and I had to take a two hour bus and then the metro to get where I needed to be. And it took them over an hour to reroute my flight!"
Cons: "The in flight entertainment was slightly inadequate."
Pros: "crew was very nice engaging. shopping at Munich airport was unexpectedly good."
Cons: "My seat didn't recline. I changed seats with my sister mid flight so I could sleep."
Pros: "SAS and BA can do better"
Cons: "Limited space"
Pros: "Excellent Flight"
Cons: "Nothing"
Pros: "we sat in row 9 which has extended leg room so it was a pleasant surprise."
Cons: "the staff were not very good at reading the different instructions and one of the gentlemen was of Asian decent and it was very difficult to understand his English."
Pros: "Spent to much on the bus, bus was crowd. 2 hours delay. Without clear information of the reason."
Pros: "Still loads of leg room in economy which is great for a tall person like myself."
Cons: "The food, dinner and breakfast from Johannesburg to Frankfurt was not very nice and not the usual good standard."
Cons: "The seat in front of mine was reclined in the already cramped space provided, twice as far back as any other seat I could see. Please look into the recline on that seat for future passengers. The crew hit my seat, repeatedly with their carts and did not remember to offer drinks to us as they pushed it by. The airlines should consider removing that seat as an option to passengers if there is not ample room for the flight crew to maneuver around it. It made for an unpleasant experience overall."
Pros: "The food"
Cons: "Was not offered a head set inlees it eas in thr blanket and pillow package. But was a nice flight snd srrvice. I injoyed the food."
Pros: "Entertainment."
Cons: "Staff was extremely sassy and unhelpful when I had been traveling for 40 hours."
Pros: "Everyone was very nice and I enjoyed the entertainment onboard."
Cons: "The food was average."
Pros: "Very prompt, good food. We encourage trip very much!"
Cons: "No power outlets"
"Great flight Will go again!"
Pros: "Seats were very comfortable. Plane interior was in new condition, including electronic window shade tinting."
Cons: "Staff was not particularly warm or attentive. Was never offered more to drink, and after asking for more wine was ignored."
Pros: "Salimos a tiempo . El business es muy confortable"
Cons: "La comida horrible . No se limpian los baños"
Cons: "Bigger seats the new ones are way to narrow"
Pros: "I was sorted on Row 3 and the drapes kept hitting the back of my head."
Cons: "Move the drapes a few more inches back."
Pros: "The crew was informative"
Cons: "Inflight sandwiches"
Pros: "Seat was comfy and spacious for economy class"
Cons: "Vegetarian meal was okay but could be more enjoyable if served with bread at start of meal."
Pros: "Friendly crew, upgraded seat was worthwhile"
Cons: "More snacks in between meals,"
Pros: "the drinks"
Cons: "seat reservation. having to pay for luggage...."
Cons: "The air conditioners fan was bad and they had to fix it in London which took over 40 minutes off travel time...we arrived much later than expected in Lagos"
Pros: "The crew"
Cons: "Seat comfort"
Pros: "Cabin facilities"
Cons: "They didn't bring one of my bags"
Cons: "Lost a single baggage item, a car seat. Critical for us to leave the airport, and delayed us for over an hour upon arrival. Gave us a loaner car seat that barely fit our child."
Cons: "The website I booked on and the Delta phone line on the printed ticket said that I had baggage when it turns out that I did not according to the check in staff and they made me pay."
Pros: "The flight was smooth, the service was friendly, and the food with plentiful."
Cons: "Too much activity in the cabin during the flight."
Pros: "Lovely crew, very helpful"
Cons: "N/A"
Cons: "None of our 4 checked bags arrived with us. This was despite ample connection time (2+ hours) in Amsterdam."
Pros: "Nice crew pilot food and beverage"
Cons: "No wifi"
Pros: "Friendly hostesses"
Cons: "Flight was delayed 3 hours"
Cons: "Nothing special"
Pros: "Great service"
Pros: "Excellent service. A meal , drink and a coffee included which we were not expecting."
Cons: "Flight departed 35 minutes late"
Cons: "KLM lost my luggage during the layover. My luggage didn't arrive even after the next flight to Prague. Customer service wouldn't give me any idea what flight my luggage would arrive on, nor would they tell me what time my luggage might be delivered to me."
Cons: "Boarding was confusing and disorganized"
Cons: "Our two hour connection in Paris became 30 minutes because Air France was late in leaving Washington. So our luggage didn't make to to KLM to Amsterdam. My poor rating was because the luggage handling was really poor. Lots of flights from Paris to Amsterdam (almost hourly), but my bag showed up 12 hours later. My wife's bag took 36 hours. And yes, we checked in together. There were lots of confusing messages"
Pros: "I enjoyed the attention to detail and comfort. Helped to make the flight easier to handle."
Pros: "Friendly staff"
Cons: "Entertainment was dated and poor in function. Our bags were 99 dollars each and we're both lost and didn't arrive. I just filed a claim and got rude service saying I should have filed the claim at the airport baggage area but there was not anybody there to do the claim then he agent upstairs said they just spoke to them and they are there and I should have done it there. This was so rude and there is no way to get back into customs area. If we paid 200 for bags I expect them to arrive on time. I'm asking for a refund of the baggage fees."
Pros: "Due to lightening bolt strike our pre-Y2K era plane got switched out with a newer plane with modern media delivery at the seats."
Cons: "This caused a two hour delay in boarding and another 30 minutes on the JFK T4 tarmac. Same crappy headphones so it wasn't the"
Pros: "Everything. A truly faultless experience!"
Cons: "Nothing"
Cons: "I don't like the limited choice of drinks on these short KLM flights."
Cons: "Without any explanation the plane I was due to go to Istanbul on at 11.30 was not available. I had to wait for a small plane coming from Edinburgh then wait for it to be emptied of passengers and cleaned. This meant we were over 2 hours late into Istanbul. No explanation or apology. I then missed my next flight in Istanbul and had to purchase another ticket. I cannot believe that air passengers are treated in this way!!! I will follow this up with KLM when I go home from my holiday."
Pros: "Staff both at the airport and in the plane were professional and welcoming. Depsite short distance sandwich and drink were offered."
Cons: "Nothing to be honest . All positive."
Pros: "Good multi media access and content"
Pros: "Professional, welcoming and very friendly crew, well-maintained aircraft, comfortable seat and good food. Keep up the good work, KLM."
Cons: "Not much to comment on here."
Pros: "Comfort economy well worth the extra."
Pros: "Flight crew was pleasant and attentive. Seats were comfortable for economy as well. We were allowed to check in extra baggage for free at check in which really helped since we would be catching a connecting flight in Amsterdam"
Cons: "That I was forced to check my baggage. I never received a chain ticket for my luggage. The flight has a 32 hour layover and KLM lost my luggage and it was not found until a week after my arrival back home. I still have not received my bag at this time. The boarding crew was manually tracking who boarded and who didn't. It was a cluster."
Cons: "Our flight was canceled from Amsterdam to Bordeaux and did not receive any direction and had to find alternate flights for ourselves with the personal expense of using our own cell phones. Then our luggage lost for 3 days. Not happy! We ended up flying from Toronto to Paris then to Bordeaux. Lost my upgrade money for seats. Now have to deal with KLM for refund!"
Cons: "Pet was left behind at vacation destination as pet's reservation (made and confirmed through KLM) was not found at check in. Waiting for Customer Care to help get pet home and take responsibility for situation and getting no response. Very dissapointed, considering law suit."
Pros: "Service"
Cons: "Only one queue for boarding. Flight late on arrival."
Pros: "."
Pros: "Quick (relatively) flight."
Cons: "Skinniest seat ever. Couldn't even lean back. I now have hunchback."
Pros: "Short, comfortable flight. Nothing special. Got us where we needed to be without incident."
Cons: "Nothing. This is filler text to meet the min. characters."
Pros: "Comfortable flight to Amsterdam for vacation in UK. More meals than expected. Also wasn't expecting some of the comforts offered to "regular" class seats like eye masks, ear plugs, pillows and blankets. It was an overnight flight, so maybe that should have been expected, but I don't think we had those 4 years ago when traveling overseas."
Cons: "Nothing. This is filler text to meet min characters."
Pros: "We love the flight all the way"
Pros: "Plane service"
Cons: "1h30min delay at airport"
Pros: "It was very comfortable"
Cons: "The crew was great"
Pros: "Service of the staff was great"
Cons: "Turbulence, with all our technology we still cannot avoid this?"
Pros: "10 hour flight - I was well looked after, regular drinks, the food and snacks were good enough and tasty. The in flight entertainment was good - latest movies and worked a great variety of tv, books and movies. The airplane was modern and comfortable"
Pros: "The crew saw I was travelling with my young son; baby and elderly parents. We were placed at the front of the crew and were kind enough to allow me to board first."
Cons: "Most passengers had to put cabin bags into the hold. These were taken at the gate, it would have been nicer to have had this notified by text or when checking in so the bags could have been left at the check in desk."
Pros: "Boarded and left on time"
Cons: "Food was awful. It was so hot I was fanning myself. I had a 11 hour flight and than a 10 hour flight after both British airways, and the same exact food. So I just went hungry. I smelled something amazing so thought I would get a good hot meal as my last meal since I had not had anything in 9hours, but nope, just got a measly cold sandwich. I won't book British airlines again for international travel, I'll stick to emirates."
Cons: "Hardly saw a steward in business class the whole flight. Must be part of BA's cost saving initiatives, but means you don't get food on time, offered drinks or even a menu"
Cons: "Distance between seats on the low side i.e. not much leg room. TV screen again on the small size in comparison with other airlines. Ear phones poor build quality and sound. Plastic cutlery. Small meal trays. No hand wipes with meals. In comparison with other airlines BA is only an average carrier."
Pros: "Flight was on time."
Cons: "Not applicable."
Pros: "The crew was super nice and very helpful!!! Wine included was awesome."
Cons: "The boarding process was chaotic. My TV screen kept going in and out. We"
Cons: "Only one round of drinks served?"
Cons: "For a first class flight, I think they gotta change everything. Concorde lounge in london outdated, bad food, no snacks.. on board monitor was so low in resolution that watching was a pain and movies with subtitles impossible to watch. Compared to LH Air France or any Asien Avery bad"
Cons: "The people handling the boarding were rude and inefficient. Not a way to staty an 11 hour flight."
Pros: "Crew fantastic. Seats very cramped so hard when travelling alone with people crammed next to you. I am very short and still found seat cramped. Blankets skimpy. Heathrow to San Fran. Johannesburg to Heathrow was more comfortable."
Cons: "Most things I give a high rate on BA but travelling economy these days is very cramped especially as I did two long international legs with short four hour break between."
Pros: "This was a charter by BA. Airbus A320 with amazing legroom. Was slightly annoyed by them not having coffee ( to wake me up for the drive home) but I suppose I get why they weren't serving hot beverages."
Cons: "The beverages thing above."
Cons: "Lost my luggage"
Pros: "The flight was great and was on time. Down side, no entertainment at all."
Cons: "Lack of entertainment"
Pros: "More legroom than other aircraft, plentiful IFE (in-flight entertainment), and a USB charging point in the seat back near the video screen. Decent food and wine, great crew."
Cons: "We departed the terminal for takeoff but a passenger had a medical emergency requiring a return to the gate and off-loading along with finding the passenger's baggage down below. Not the airline's fault, of course, but maybe passengers should carefully consider their health before embarking on an 11.5 hour flight from one continent to another."
Pros: "Everything"
Cons: "No complaints"
Pros: "Good range of in flight snacks and food"
Cons: "No Wifi capabilities"
Pros: "On time, attentive staff"
Cons: "price"
Pros: "Flight arrived 30 minutes early."
Pros: "Quick boarding, good crew."
Cons: "Greasy food."
Pros: "The Crew were great"
Cons: "Boarding could have been more efficient"
Pros: "I loved the new modern plane. It was a bit more comfortable and conveniently designed. Less like a cattle truck and more like a luxury bus."
Pros: "There was no flight"
Cons: "The flight did not take off. What little information we were goven was inaccurate. We called and were rebooked on another flight without being told it was overbooked and our tickets were standby . Dozens of other passengers had the same experience"
Pros: "Boarding"
Cons: "Seats spacing, food"
Pros: "All pretty good."
Cons: "I received an email before the flight telling me as the flight would be operated by another carrier there would be free refreshments - but it wasn't and there weren't. Rather odd."
Pros: "Cabin Crew flight data punctuality"
Cons: "That I had to PAY for water to drink that was not tap water No room for my carry-on in overhead bins...took some arranging."
Pros: "Crew great, Food great!"
Cons: "Nothing"
Pros: "Nothing"
Cons: "Flight has now been cancelled twice. Communication by BA has been lacking. Flight now scheduled to leave 48 hours later than scheduled.See above"
Pros: "Excellent flight. Staff very helpful and professional."
Pros: "Lots of delays due to technical problems with the plan. Had to be moved onto another plane. More than 3 hour delay."
Pros: "Hostess was very nice, helpful and friendly. entertainment was ok and pilot was very informative on delays and info. I think the comic relief video is a keeper. People tend to watch just to see the characters and reactions"
Cons: "Seats were to close together, really squashed, no space for 2 arms on the arm rests and leg room is rubbish. Food is wasn't bad.. could do with more on the trays, seems there have been some budget cuts. Continental breakfast option would be really nice."
Pros: "I did not use the entertainment. The crew was refreshingly professonial, helpful, and cheerful [in a British way]."
Cons: "I'm tall and the budget seat was 'tight'. But it was to be expecdted."
Cons: "Food cost was a surprise. No biggie, just glad I brought a snack"
Pros: "The meals were reasonably nice and the flight was on time"
Cons: "The entertainment screens were old and not clear and not easy to use. The crew was not efficient, not very friendly and not very accommodating. They offered minimal service, contrary to another crew on the A380 flight with BA going from LHR to JNB. Between flights, I guess I saw the better and the worse of BA."
Pros: "Boarding was a breeze, the A380 is so much quieter than the usual 747 and really clean. We arrived on time."
Cons: "As a silver Avios member I've gotten used to the cabin crew calling me on my name when they come and talk to me. This time they spoke as little as possible and it was all incognito. They seemed to be more interested in various Facebook updates than working business class."
Pros: "Good food, good service, everything on time."
Cons: "I paid for an exit seat and didn't get one and then I had the only seat with no entertainment for 11 hours overnight and no Joyce to move"
Cons: "Food was terrible. Make sure you buy food before your board. Business class seats are too narrow and you can extend out properly because the leg area turns sharply. The TVs must be 20 years old on the plane."
Pros: "The food out of London was excellent, as was the overall service."
Cons: "The flight was oversold and so I lost my seat, and had to wait on standby before I was given a seat, even though I had an assigned seat when I booked my ticket. Very bad!"
Pros: "The crew inside the plane was amazing"
Cons: "As soon as i got to the check in window i was informed my flight was delayed and I had planned everything to be on time and since my flight was one hour late it kind messed things up a little bit. It seems that british airlines had a delay on purpose just to have a full flight, i wanted to change seats im a skinny guy and i was seated between TWO BIG people my elbows had to be tucked in all the time"
Pros: "We boarded almost 1hr early, took off on time and landed just before scheduled."
Pros: "What a different experience in relation to last week!"
Cons: "No direct communication. Really bad"
Pros: "Great Crew, smooth operation. Efficient service."
Cons: "Boarded flight only to be unboarded at midnight: got to hotel 4am. Long delay in check in/appallingly disorganized. No communication from BA as to problem or when flight would go. Next day checked out of hotel and taken back to airport only to find flight not going as problem not fixed. Passengers taken back to hotel and checked in again! All this time, no official communication from BA. No attempt to reroute elderly passengers or those with small children. Very unimpressed"
Pros: "Very upscale aircraft, Polite staff and overall nice flight."
Cons: "They did not do much to help accommodate us sitting together on the long flight. Poor food. Poor service."
Pros: "Nothing"
Cons: "Seating configuration was ridiculous as flight attendants constantly leaning across me with trays and their arms nearly hitting my face. Seat & bed functions didn't work. Privacy screen was a joke!"
Pros: "I'm sure there was something but nothing comes to mind."
Cons: "Lack of assistance regarding my missing belongings. Incorrect information relating to landing card to be completed when arriving in London. Stretching over me to pass food etc to passenger sitting facing other direction, and literally millimetres from my face, without any politeness having to do it. Configuration gives no privacy as you look at the passenger next to you. Functions of chair did not work. Pillow was thinner Than a piece of paper. Crew showed no concern."
Cons: "I HAVE FLOWN OFTEN ON OTHER AIRLINES & IT WAS THE FIRST TIME TO FIND OUT THAT BRITISH AIRWAYS ONLY ALLOWED ONE FREE CHECKED BAG AND I HAD TO PAY $200 WHEN I ARRIVED AT THE AIRPORT, $100 FOR THE 2ND BAG & $100 BECAUSE IT EXCEEDED 51 LBS"
Cons: "Each rep we spoke to said they couldnt help us and to just open a support ticket online.. Kept telling us they dont have a customer service team who can help us and its only available online."
"La variedad de películas estuvo excelente! El servicio muy bueno en general."
"Everything was good"
Cons: "The gates were announce at the time of boarding. No enough time to get the gate"
Pros: "The crew was good and the seats were fine."
Cons: "It was a short flight but it would have been nice to have a glass of water."
Cons: "Information,connection,airline staff,customer service, Ivan go on forever"
Pros: "Seat small. No air flow control for seat."
Cons: "Need more than 2 beverage services in 10 hour flight."
Pros: "Puntuality"
Cons: "At leasr a cup of water during the flight"
Cons: "very rude gate crew. impatient and not helpful. they need a new job if they are so miserable."
Pros: "Excellent flight, timely"
Pros: "Not much it's a very regular flight"
Cons: "Delayed almost 1 hour. No entertainment on board and nothing offered except for purchase"
Cons: "I was not informed about having to pay for checking my luggage and it did not even showed at the Iberia website when doing my online checking. I had to pay a total of $50, $25 each way, in Madrid. I was never informed of this in Boston or, again, while processing my checking using Iberia's website."
Pros: "Not full, attendants went out of way to accommodate seating requests"
Pros: "N/A"
Cons: "N/A"
Cons: "There is not enough space for my legs and specially when the passenger in front move the seat"
Pros: "Iberia Premium Tourista is an absolute gem, don't overlook an upgrade from Tourista."
Cons: "The food is just marginal, but I wasn't expecting anything different"
Cons: "No where when I booked the ticket it said I would need to pay for luggage and I had to pay 50euros for 1 checked bag"
Pros: "Fairly standard international flight. In flight meals were fine. Seats were spacious enough (6'3" I need the legroom)."
Cons: "Not a terrible negative in the slightest; the onboard entertainment won't load until the plane is in crushing altitude. Thought it was weird as that has never happened before, but not really a problem"
Pros: "Nothing special"
Cons: "Nothing special"
Cons: "I paid for wifi and I could not use it. There was a problem with the connexion. So, I paid for nothing"
Cons: "The crew was rude and Inattentive. They keep the cabin so cold, most people more miserable and had their blankets all they way up to their necks, and still cold. Seats were very thin and not very comfortable and so close together, there's was no room to stretch out at all."
Pros: "same"
Cons: "same"
Pros: "Plenty of space for a long flight, left and landed on time. Overall very pleased"
Cons: "Only complaint is that there was not dairy-free friendly food option for either meal. I figured this would happen so I brought my own food and was glad I did"
Pros: "Landed in foggy night. Crew fantastic. On time. Cabin clean"
Pros: "On time, Very professional crew."
Cons: "Could not do online check-in."
Cons: "old plane not comfortable"
Cons: "Bumpy ride in parts."
Pros: "Aircraft is comfortable (A340-600)"
Cons: "One of the flight attendants was rude."
Cons: "Movie options weren't that great; I couldn't Buy extra baggage online because I didn't book directly through Iberia (not my fault that BA didn't fly this route and I didn't know it and it costed extra at the airport)"
Pros: "Our flight to Bologna via Madrid on Iberia Airlines was wonderful from take off to landing! Friendly, courteous staff. Good food and entertainment."
Pros: "Great crew, good dinner but below Average breakfast"
Cons: "I didn't have any video for over two hours. I had to speak to 4 different crew members to get them to reset my monitor. They were not very friendly."
Pros: "Decent flight"
Cons: "No snack, no drink, no entertainment - not the end of the world on a short flight, but they're categories you asked about"
Pros: "Landing was perfect"
Cons: "Everything was fine"
Pros: "A321 feels outdated but the seats were not bad for sleeping. It was a basic 3-hour flight."
Cons: "Stuff was busy SELLING drinks and food. When I asked for a glass of water the stewardess said she would come back after this round... no she didn't. Although it didn't matter that much for such a short trip."
Pros: "The crew was great and the flight was great also. As the plane wasn't full, I was able to move my seat and have two seats which was lovely. Thank you"
Cons: "It was freezing on the plane. I had a jacket on and socks and used two of the blankets and was still cold. I also had tried to contact Iberia to order a special meal, but was not able to get through on the line even though I tried for several days. I also was not able to figure out how to order a meal on-line. I was disappointed with the choices of movies."
Pros: "Staff was friendly, bathrooms kept clean, and seats were comfortable. Entertainment was top notch."
Cons: "We kept trying to order water and food from our screens but the process was complicated, long, and ultimately didn't work. The system is buggy."
Pros: "Good seat spacing"
Cons: "Customer service was a low priority"
Pros: "Movies were good, seats were OK"
Cons: "Paying $85 for a 2nd bag"
Cons: "Felt like a sardine in a can."
Pros: "Missed flight as scheduled changed forward by half an hour and re-organising another flight was difficult. Had to fly from another airport in Spain and transfer was without assistance. Staff did a good job at sorting a solution. The return home on BA was excellent and very efficient."
Pros: "Commuter flight. Got me where I needed to go."
Cons: "Small plane, no leg room, very little carry-on space. All I had is a small backpack and I almost did have a place to put it."
Pros: "Not once have I had a positive experience on American Airlines. I actually booked this ticket 4 times before finally receiving a fully confirmed itinerary. Only to get on the plane in SLC and sit on the tarmac for 90 minutes causing me to miss my connecting flight. The replacement flights I again missed because American couldn't find anyone to give the travel voucher to an airport an hour away for the replacement flight they booked. I've never seen a more consistently incompetent company."
Cons: "On top of all of this, my bag is lost. I'm at my destination and have been for two days and American airlines all can't get me my luggage so I can start my vacation. This is the biggest joke of a company and I'm disgusted with their lack of accountability, responsibility for the problems they've caused and the insensitivity they've shown for their screw up."
Pros: "Good service. On-time"
Cons: "I got a seat automatically, and I can´t selected a preferred one."
Pros: "on time, nothing stands out"
Cons: "couldn`t choose my seat"
Pros: "Entertainment, the plane was newer"
Cons: "Why insisted in taking carry on luggage to the luggage compartiment if not able to handle it? My small case is lost!!!"
Pros: "The crew members always looked me in the eye and made me feel like a human being."
Cons: "Honestly my only complaint would be that I was not given both of my boarding passes when I first checked in in Munich and instead I had to go out and stand in a line for an hour to get my boarding pass for Las Angeles which made me just barely get to my gate on time."
Pros: "I was moved to an aisle seat b/c there was a couple that wanted to sit together. I appreciated that food was provided, but it felt very rushed. I enjoyed the in flight entertainment as it helped the time go much faster. The crew was very nice and did their best to keep passengers comfortable."
Cons: "The flight itself was probably the most turbulent flight i've ever been on. In addition, boarding and de-boarding took a long time. we had to just stand and wait for both - for a much much longr time that normal. They were able to make up the time in the air, but it felt unusually long to both board and de-board."
Cons: "You get on a flight and you can't even get water without paying for it. How cheap can you get. I got better service from Ryan Air."
Pros: "Seats are very comfortable compared to Emirates and other US Airlines."
Cons: "Crew only came around during service time. More choices on Food"
Cons: "Missed flight. Was difficult to find a new flight to NYC. They were finally able to get me on an Air France flight from CDG many hours later. I had to pay the bus fare from Orly to CDG out of my own pocket, and took over an hour to get there. They refused to compensate me in any other way."
Read more about SWISS
Safety measures for airlines flying to Tenerife
Airlines flying to Tenerife have enacted additional safety measures and adjusted policies to better accommodate travellers. Policies vary by airline.
Heightened sanitation
Daily cleaning, installation of cabin HEPA filters on flights to Tenerife
Mandatory masks
Masks required on board, masks provided on flights to Tenerife
Social distancing seating
Middle seats unavailable to book on flights to Tenerife
Pre-flight testing
Testing for antibodies, testing for symptoms for flights to Tenerife
Book Cheap Tenerife Plane Tickets
Recent return flight deals
Search by stops
Search by airline
Search by price
Recent domestic flight deals
Search by stops
Search by airline
Search by price