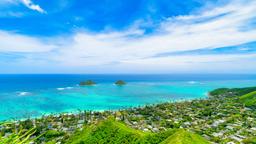 Find cheap flights to Kailua
Search hundreds of travel sites at once for deals on flights to Kailua
Top tips for finding cheap flights to Kailua
There is no major airport in Kailua. It is instead served by Honolulu Airport.
Book at least 1 week before departure in order to get a below-average price.
High season is considered to be January, November and December. The cheapest month to fly to Kailua is March.

Enter your preferred departure airport and travel dates

into the search form above to unlock the latest Kailua flight deals.
FAQs - booking Kailua flights
How to fly to Kailua?
What airports are near Kailua?
How far is Honolulu Airport from central Honolulu?
What is the name of Honolulu's airport?
How does KAYAK find such low prices on flights to Kailua?
How does KAYAK's flight Price Forecast tool help me choose the right time to buy my flight ticket to Kailua?
What is the Hacker Fare option on flights to Kailua?
What is KAYAK's "flexible dates" feature and why should I care when looking for a flight to Kailua?
Top 5 airlines flying to Kailua
Scores according to KAYAK customer reviews
7,9
Qantas Airways
Overall score based on 4 874 reviews
Cons: "Took forever to disembark from plane"
Pros: "Twice this trip, 2 qantas staff rectified our seating allocation so we could sit together as a family and i didn't even have to ask. The staff are always so pleasant and engaging."
Cons: "A mishap when allocating seats online, when i chose seats for us online (my fault i left it too late) there weren't any together...but the staff rectified this..."
Pros: "Such amazing service and hospitality on our flight from Jozi to Sydney. Old school 747 looking top class. Cabin crew on point. Simply an amazing experience. Best international flight I've been on in years."
Cons: "Flight was an hour late leaving. This caused me to miss the connection in Sydney (even though its gate was still shown as open when we arrived. There were a quite a few passengers booked on the connecting flight but Qantas made no attempt to get us on board it and instead re-booked us for the next flight which was scheduled for 2.5 hours later but, in fact, left nearly 3.5 hours later. Breakfast consisted of rubber egg."
Pros: "Comfortable seats, good food choices, great service."
Pros: "Seats were fine, crew was cherry nice and professional. Enough toilets for the size of the plane."
Cons: "Airplane food is always what it is."
Pros: "Personality and communication with passengers by Asian-featured cabin crew team member in my area was excellent Movies selection very good"
Cons: "Quality of food seems to have dropped."
Pros: "Temperature just right and pillows, blankets and better than average reclining seats"
Cons: "Food - too institutional. Bread over cooked, meats tough so couldn't eat more than half of any meal."
Pros: "On time departing and arriving.Flight attendants pleasant."
Cons: "Nothing...was a great flight"
Pros: "Nothing"
Cons: "Delayed flight without any explanation. Unable to check in on phone. Checking into this flight at the airport took over 2 hours. Hated everything."
Cons: "Missed as a result of delayed flight an hour the same as on the way out To Sydney which threw a wrench in everything. Both times "to clean the plane" get a system that works."
Pros: "It was the day before Christmas and all the crew were friendly and happy to be at work (of service) from check in to cabin crew. Just lovely thank you."
Pros: "I always enjoy the flights that have the in-seat entertainment."
Cons: "No complaints."
Pros: "Again, cabin crew is friendly and no last minute gate changes,"
Cons: "The food was gross, which could be a just a cultural difference in food tastes. There were no functioning USB charger ports on the return flight even though the ports were present. No wifi, which is a first. Most airlines I fly on these days always have some type of wifi. Lastly, the 'touch-screen' on the seat for entertainment barely worked. Buttons didn't work no matter how much you touched them. There was a delay and the selection of movies and tv were pathetic. I will not be flying Qantas again."
Pros: "Crew were good, much better than on the previous flight."
Cons: "Boarding was shambolic and all passengers on a 100% full flight were crowded into a small area near the gate with no clear idea of what was going on and ground staff could not be heard, it actually bordered on becoming dangerous. Full flight Poor maintenance of inflight entertainment system, sound jack ports loose and affects sound quality."
Pros: "Great at all."
Cons: "Nothing."
Pros: "It was a smooth uneventful flight. We arrived on time."
Cons: "The distance between the seats has decreased substantially. Reminds me of a Jetstar budget flight. The food being served in cardboard boxes was Aldo a big shock. For the cost of a qantas flight I expected more comfort and better food served"
Pros: "Boarding was quick and the crew was very pleasant."
Cons: "I noticed duct tape repairs on the chair in front of me. Also the armrest between my partner and my chair was broken and wouldn't stay up. The food was average. I've noticed a huge decline in food quality from 4 years ago. Also the airline's choice to serve stinky fish on a plane was questionable."
Cons: "Terrible procedures in Sidney and Los-Angeles with uncertainty, broken schedule , chaos and wasting passengers' time."
Pros: "Checking in and boarding was good and reasonably fast. Room available for everyone's hand luggage. Toilets were reasonable. Food in economy was ok."
Cons: "No hot USB port in economy. Inflight information system is old and screen resolution and contrast is not so good. Best to use own headphones."
Pros: "Service and food was pretty good."
Cons: "Didn't care for the movie selection. Not much of a variety."
Cons: "Na"
Pros: "Loved the leg room, kind attendants, great meals."
Cons: "The technology malfunctioned the entire flight. It was less than ideal."
Pros: "Crew on board were nice and helpful."
Cons: "No boarding announcements at Sydney airport. Food selections ran out."
Pros: "The crew were fantastic! Attentive, humorous, efficient and very professional."
Cons: "The plane is well outdated. Cramped seats for a 14 hour flight. Minuscule TV screens. The 747 is a health hazard for flights over 6 hours. Bring on a Dreamliner or an A383 for that flight - PLEASE!!!"
Pros: "The Wide Body 747, the friendliness of the Crew. The Food and Entertainment was Excellent Embarking and Disembarking was Fast and Orderly"
Cons: "Turbulence along the Route"
Pros: "Impeccable service, food, and overall experience from the crew. It has always been a joy to fly Qantas, and I'm glad to see that is something that doesn't change."
Cons: "If you are going to travel with a little one, have the common decency to help your poor wife take care of them as well. You had three seats, the entire middle aisle, yet you decided to take the open seat next to me so they could lay down together. That was nice, I get it, sure. But if your baby is going to cry for hours (and hours, it was a 10.5 hour flight, that poor kid must have been exhausted), pause the movie for a minute, and maybe try to help. I don't mind being inconvenienced for the little ones, I'm a dad of 4 myself, I've traveled a lot and know how it goes. But jesus christ, she's your wife, that's your child, try taking care of them."
Pros: "everything"
Cons: "nothing"
Cons: "I made the same flight last year on a newer plane. This time I missed having water bottles available at all times."
Cons: "Food: Japanese fried chicken was soggy. Economy space is cramped, and stuck next to a guy who invaded into my space and guy in front leant his seat back. Overnight flight but couldn't sleep when it was so cramped (when usually I can without problem on other flights)"
Pros: "Was bumped off fjight. Due to not being checked in by Jetstar. Crew was nice and put us on a later Hawaiian."
Pros: "Attentive crew Loved that they ranged in ages and races I also loved that the crew were helpful and cheery Crew interacted with my daughter well and always stopped to talk or smile at my daughter as they walked past Qantas are truly the best!"
Cons: "Lost a bag Charged for bags Made us check in our overhead bags-No quality carrier does that."
Cons: "All round excellent"
Pros: "Comfortable seat in coach on a long haul flight"
Cons: "Rude crew, sub par food, weird boarding process and ride boarding agent that kept my passport for an extended time, poor on flight entertainment aystwm"
Pros: "It seemed that being in seat 33, the crew kept forgetting to come back and get our rubbish. It seemed when they collected the rubbish, they were full at seat 32 row, come back and start at seat 34"
Pros: "We were travelling with our 7 month old baby for the first time and the staff on our flight were sooo amazing. They went above and beyond to help."
Pros: "The crew seemed very helpful and wanted to make it easier for families with children, so I moved from my row of 4 in the middle and got 2 seats on the side instead, which worked out great. I know some flights are more full and can't do this but it was really nice and made the flight more comfortable. Also the wine was a nice touch too :)"
Cons: "Didn't seem nearly as clean of an aircraft as the Virgin Australia flight I had taken on my way into Australia, but maybe it was a newer aircraft. Regardless, the toilet could have been a bit cleaner."
Pros: "Great crew on the flight. As usual the QANTAS crew and plane were excellent."
Pros: "Arrived on time"
Cons: "Qantas crew occupied other business class seats and were given preference for meals. When the attendant got to me, there was no selection left. flight attendant got my drink order wrong"
Pros: "cabin staff better"
Cons: "toilets appalling"
Pros: "Asked crew for water and they forgot about me"
Cons: "Poor attitude"
Cons: "The headphone jack in my seat was broken - the crew gave me a new headset, but it didn't do anything. It was difficult to get them to take me seriously. Also, fix the website. This is the second time I have not been able to book my seat correctly."
Pros: "Boarding was quick, efficient and orderly. Crew was great, friendly and helpful. A short flight so food consisted of a cookie that was not great. Read a book so did not pay attention to entertainment options."
Cons: "The cookie"
Pros: "A380-800 - direct and fast, very comfortable! Economy on Emirates is compatible with business class on some airlines."
Cons: "Service wasn't quite as good as usual, still better than any other airline of course :)"
Pros: "Service and fruit breakfast meal option"
Cons: "Seats outdated and uncomfortable. On this aircraft once the seat in front reclines there is no chance of any movement in your seat the very small entertainment screen is less than 20cm from your face. This was stuttering and glitching through the movies i tried to watch. Very sore after this flight from the seat."
Pros: "Flight was very comfortable, crew were excellent they had an issue with my pre-ordered meal done online but we sorted it and that wasn't a problem! Great airline"
Pros: "Some crew members were very friendly. Allowed me to do my prayers."
Cons: "We took a domestic flight from Sydney to Brisbane thereafter. The staff were much more friendlier, they checked on our kids and they even gave them toys and coloring books. None of this was done on my jhb to Sydney flight which was quite disappointing especially since it's such a long flight."
Cons: "Being getting a SMS on the morning of the flight to tell me that my flight had been cancelled and to call for further information. After being on Hold for too long, I was finally answered by a customer service agent and told I could get an earlier flight which meant that I literally had to leave home immediately rather than in the next hour and a half as planned. No apology on arrival at airport."
Cons: "Hopefully upgrade on monitors (touch screen was not working),"
Pros: "Great crew, easy process overall"
Cons: "Make 1st class cheaper and give free wifi!"
Pros: "Great crew."
Cons: "More food choices, but what we had was good."
Pros: "crew found me an outlet for laptop"
Cons: "nothing"
Cons: "The pork dinner meal option was burnt … al the way through."
Pros: "Nothing"
Cons: "Nothing"
Pros: "Appreciated stewardess comping wine because my husband and I couldn't sit together"
Cons: "Don't assume you will get a good fare just because you book 2.5 months in advance, have a Delta AmEx card, and use some of your earned miles"
Pros: "Seats were horrible, we all booked together and a bunch of my group got bumped to a different flight."
Pros: "Seats are way to small uncomfortable"
Pros: "One of the flight attendants was nice."
Cons: "5+ hours and just some bagged snacks. Had to wait forever for soda. Screen was difficult to work - touch wasn't working. Much smaller program selection than flights 6 days ago from RSW to LAX via ATL."
Pros: "Love delta's Customer service!"
Cons: "Was wearing shorts and flip flops and the A/C was on full blast which is at the bottom on the side so my feet and legs were freezing the entire flight!"
Pros: "Crew and flight"
Cons: "Price for food and number of bathroom available"
Pros: "I loved flying delta comfort. I'm going to do it more often."
Pros: "Snacks & drinks & TV movies good"
Cons: "One hostess was very rude & slow forget our headphones Kept getting me to help her with getting attention of other hostesses also very bad at giving snacks and kept my husband and another man waiting for 10 mins while she gathered rubbish despite repeated requests which would have been easy as she was at the front of plane obviously unsuited for this position"
Pros: "I liked that the plane wasn't full which was a surprise."
Cons: "Last leg of the flight as usual we had some plane on it's last legs with entertainment equipment from the 90's and that's being generous. My iPhone 7Plus is only a little smaller than the screen they would have you watch for five hours. Also the plane was old and noisy and seats were not really comfortable. But this is par for the course flying to Hawaii for some reason, no matter the carrier. Hawaiian Airlines is usually better but that's to be expected."
Pros: "Gal at the gate was most helpful. She corrected my boarding pass to zone 1 and put us in exit row. I have sat there before but it was really roomy although the seat seemed less comfy."
Cons: "Plane was much smaller than what I usually fly to Hawaii but the roomy exit seat made up for that. Downside was the screen was small so hard to see."
Pros: "Speedy boarding and deplaning."
Cons: "The gate agent appeared annoyed when I requested a seat change a couple of hours prior to boarding. She didn't offer assistance or an explanation. Just looked at me like ' in your dreams'. And flight attendants should really practice smiling more. Snacks offered on 5.5 hour flight we're pretty pathetic."
Pros: "Comfort Plus seating was good for the long flight, lots of choices for entertainment."
Cons: "Some crew members were rather cold in their manner, either disinterested or grumpy. Electric outlet didn't work. On screen entertainment touch screen was very difficult to use (unresponsive to touch)."
Cons: "When checkin documents The lady was having conversations and I had to run from C to E. Then through the line I had to step aside again because my boarding pass was invalid. Many steps to check documents but still at the actual gate the documents had to be checked again."
Pros: "In flight tracking"
Cons: "Irregular serbice"
Pros: "Attentive staff."
Cons: "Nothing. Great flight."
Cons: "Older plane and seemingly frustrated crew. They had very little patience."
Pros: "The gate agents were gruff, but helpful. Stewards were super friendly."
Cons: "Even though I had picked out two seats together, they had us separated. Very thankfully they put us back together after the fact - that was wonderful & appreciated. But entertainment system also didn't work, and as always, seats are disgustingly uncomfortable. Also odd that they made us check bags with so many empty overhead bins."
Pros: "The gentleman at the gate was super helpful and helped us check our bags at the gate."
Cons: "Zero leg room. Zero arm room. The entertainment system did not function. No food for such a long flight unless you pay more then the food is actually worth."
Cons: "The gate crew in New York were not in anyway representative of what you as a company are trying to accomplish. Rude, unresponsive, and way to controlling. I watched an 80+ couple who were in first class with me try to board early because of there mobility. "You need to get in line over there on the right" was the answer...sorry to see that happen with Delta !!"
Pros: "Liked choice of Biscuit, almonds or pretzel"
Cons: "I used mobile checking and did not get seat assignment till Boarding started"
Pros: "Let on time and arrived 30 mins EARLY."
Cons: "Had to pay for meal despite length if flight."
Cons: "The flight attendants were unfriendly and borderline rude. I felt like when I asked for anything or was just up stretching my legs that I was bothering them. There was also quite bit of turbulence in the first two hours- I have traveled a lot and I felt like it took the pilots too long to find a smoother altitude."
Pros: "The crew was very friendly and kept making rounds with water so we didn't have to get up looking for it. Free entertainment at our seats made the flight go by faster."
Cons: "No complaints, I was stuck in a middle seat but somebody has to sit there!"
Pros: "Friendly crew"
Cons: "Seats too close. Food lacks salads. Fruit salad tasteless--fruit not ripe--looks good, but no taste."
Cons: "Even with "Comfort +" the seats are horrible."
Pros: "Like the direct flight from Minneapolis to Honolulu and you even get a meal and snacks. Flight attendants were very friendly."
Cons: "Long flight but prefer the direct flight than having a layover."
Cons: "Missed our connection. Spent the night in Minneapolis. Luckily we had no urgent reason to get home to."
Cons: "The flight was over 20 minutes early"
Pros: "Comfortable flight, super crew, awesome non stop flight from Minneapolis. Could not ask for any better. Delta is the #1 airline."
Cons: "Nothing at all."
Cons: "Aircraft was smelling bad! Hygiene is the key"
Cons: "For the second time in one day, my seat would not recline!!! Very uncomfortable for an even longer flight than the first one!!"
Pros: "Crew was tentative."
Cons: "Lady besides me was eating something that smelt bad."
Pros: "I was notified about the delay via text before I left for the airport, which was nice. I would not have checked my email."
Cons: "Delayed for over 2 hours. I have never flown Delta before this flight and it wasn't a great representation. The flight attendants were nice but I was in a seat near the engine and it was making really weird noises. I fly almost every two weeks, so I'm used to engine noises but this was one of the loudest/most rickety sounding flights I have ever been on.. and I have flown Spirit a few times. It just didn't feel safe. Landing scared me a little too as I have landed in O'Hare countless times and have never flown so low to the highway upon entry. It felt like we were only a couple hundred feet above the cars."
Cons: "Air conditioner was not working properly and we were delayed over 3 hours waiting on the plane at the gate and tarmac. Then they had to de-ice the plane which added more delay. Lost too much time that could have been spent in sunny, warm Hawaii."
Pros: "The plane was modern with good entertainment options. Overhead storage was ample."
Pros: "Drinks were passed out twice while everyone was waiting due to flight delay. There was one flight attendant that was awesome. I had asked for coffee due to migraine. I was stuck in the last row, back of the plane & had seen other people with coffee. The flight attendant told me no, I would have to wait for 3 more hours for coffee at breakfast. A smiling face showed up within minutes & asked if I wanted coffee. She told me that when she hears someone else say "no" that she thinks it should always be "yes". She was the African American flight attendant (wish I would have got her name). She brought me coffee, offered tylenol & checked in on me again later."
Cons: "Food wasn't very good. Most of the service was fair at best, crew, no smiles, looked irritable. Our flight had been delayed about 4-5 hrs so passengers & staff grumpy. Poor selections on the movies. No charging stations in the seat. This plane was very noisy so I was really glad to have noise cancelling headphones. Very expensive to select seats as it was bought through a non-Delta site to get the desired connections."
Cons: "Flight was booked via Princess for a cruise. Flight from Vacoouver to LAX was through Delta partner Westjet. One schedule number and flight number for Delta, a different set of numbers for Westjet. Westjet requires you call them for seat assignment for a fee. Just not smooth!"
Pros: "entertainment options are great. The flights are plentiful, so lots of options."
Cons: "No options for vegans on 10 hour flight!! Shame on you!! Our needs should be considered."
Pros: "On my last 4 trips in 6 mos I've flown United, Delta, and Hawaiian, to Cancun Mexico on United Aug 2015' , to Puerto Vallarta on Delta December 2015, Hawaiian to Honolulu December 2015, and Again on Delta to Honolulu Feb 2015. Hands down Delta IS THE BEST, there nothing better then having Free movies to pass the time, from TV to HBO and SHOWTIME and Current Movies in the theaters TODAY music, games, etc even free headsets any eye cover to rest ALL FOR FREE Delta isn't so worried about charging for eveything, a happy traveler is a repeat traveler, that is DELTAS GOAL Happy repeat travelers I voiced my displeasure with Hawaiian after finding out on my Day flight over I get charged $10 for blanket n pillow and free ( bad ) meal. Then on red eye home it's free blanket and no food, I can bring my own better food, and blanket which I do, but to charge for entertainment is the worst thing ever, AND EVEN FOR SIMPLE MUSIC WAS A CHARGE, SUCH POOR SERVICE Delta hands down IS CUSTOMER SERVICE ORIENTED PERIOD DELTA DELTA DELTA I'M FOREVER YOUR HAPPY TRAVELER,"
Cons: "The snack boxs are kinda unappealing, I bought both and they were jost OK, But that's fine I can bring food simply enough and would have but I was running late, Happy traveler"
Cons: "My seat choice was ignored on one flight"
Pros: "I was able to fly standby so I arrived early and so did my luggage."
Pros: "Cabins, service, food and especially entertainment beat United by a mile.."
Cons: "Seating in economy is a little tight."
Cons: "Flight was delayed three times and took off 4hrs late"
Pros: "quick and comfortable"
Cons: "Lost my luggage"
Pros: "The flight was great and was on time. Down side, no entertainment at all."
Cons: "Lack of entertainment"
Pros: "More legroom than other aircraft, plentiful IFE (in-flight entertainment), and a USB charging point in the seat back near the video screen. Decent food and wine, great crew."
Cons: "We departed the terminal for takeoff but a passenger had a medical emergency requiring a return to the gate and off-loading along with finding the passenger's baggage down below. Not the airline's fault, of course, but maybe passengers should carefully consider their health before embarking on an 11.5 hour flight from one continent to another."
Pros: "On time, attentive staff"
Cons: "price"
Pros: "It was a short flight but everyone was proper and professional, as I like!"
Cons: "Nothing really"
Cons: "I'm not sure why the lady at the check-in desk was sooo rude and unwilling to help. Customers' presence was really bothering her..."
Pros: "Flight arrived 30 minutes early."
Cons: "The seats in flight are very small and not comfortable.Food quality also poor as they don't even provide fruits in flight.The food is junk."
Pros: "Only marked down on food and enteritis was a short haul flight so none provided as expected"
Pros: "The cabin crew were very nice, pilot announcements clearly audible"
Cons: "Check-in/bag drop area at Berlin TXL is poorly organized. Need an attendant to help with line management. No free snack on board — not even a peanut or a pretzel! Purchase only."
Pros: "Missed my connection. Been at airport 6 hrs to get to Milan"
Cons: "Boston crew not checking me in and missing my connection"
Pros: "Quick boarding, good crew."
Cons: "Greasy food."
Pros: "The Crew were great"
Cons: "Boarding could have been more efficient"
Pros: "I loved the new modern plane. It was a bit more comfortable and conveniently designed. Less like a cattle truck and more like a luxury bus."
Pros: "There was no flight"
Cons: "The flight did not take off. What little information we were goven was inaccurate. We called and were rebooked on another flight without being told it was overbooked and our tickets were standby . Dozens of other passengers had the same experience"
Pros: "Crew great, Food great!"
Cons: "Nothing"
Pros: "Nothing"
Cons: "Flight has now been cancelled twice. Communication by BA has been lacking. Flight now scheduled to leave 48 hours later than scheduled.See above"
Pros: "Excellent flight. Staff very helpful and professional."
Pros: "Lots of delays due to technical problems with the plan. Had to be moved onto another plane. More than 3 hour delay."
Pros: "Hostess was very nice, helpful and friendly. entertainment was ok and pilot was very informative on delays and info. I think the comic relief video is a keeper. People tend to watch just to see the characters and reactions"
Cons: "Seats were to close together, really squashed, no space for 2 arms on the arm rests and leg room is rubbish. Food is wasn't bad.. could do with more on the trays, seems there have been some budget cuts. Continental breakfast option would be really nice."
Cons: "No one informed me that I need a visa to UK even if am going just a transit. And when I called them they said we mentioned that you should call the embassy. And am sure no one calls the embassy after they booked a flight. I missed the flight they didn't let me travel. And didn't refunded me only the taxes. At least refund me the comming back ticket !"
Pros: "The meals were reasonably nice and the flight was on time"
Cons: "The entertainment screens were old and not clear and not easy to use. The crew was not efficient, not very friendly and not very accommodating. They offered minimal service, contrary to another crew on the A380 flight with BA going from LHR to JNB. Between flights, I guess I saw the better and the worse of BA."
Pros: "Boarding was a breeze, the A380 is so much quieter than the usual 747 and really clean. We arrived on time."
Cons: "As a silver Avios member I've gotten used to the cabin crew calling me on my name when they come and talk to me. This time they spoke as little as possible and it was all incognito. They seemed to be more interested in various Facebook updates than working business class."
Pros: "Good food, good service, everything on time."
Cons: "I paid for an exit seat and didn't get one and then I had the only seat with no entertainment for 11 hours overnight and no Joyce to move"
Pros: "Staff was extremely friendly"
Cons: "Seats were too close and comfort was hard for the long flights. I wish premium economy was better explained to one world partners prior to booking so there would be access to better seats."
Pros: "We boarded almost 1hr early, took off on time and landed just before scheduled."
Pros: "What a different experience in relation to last week!"
Cons: "No direct communication. Really bad"
Pros: "Great Crew, smooth operation. Efficient service."
Cons: "Boarded flight only to be unboarded at midnight: got to hotel 4am. Long delay in check in/appallingly disorganized. No communication from BA as to problem or when flight would go. Next day checked out of hotel and taken back to airport only to find flight not going as problem not fixed. Passengers taken back to hotel and checked in again! All this time, no official communication from BA. No attempt to reroute elderly passengers or those with small children. Very unimpressed"
Cons: "They did not do much to help accommodate us sitting together on the long flight. Poor food. Poor service."
Pros: "Nothing"
Cons: "Seating configuration was ridiculous as flight attendants constantly leaning across me with trays and their arms nearly hitting my face. Seat & bed functions didn't work. Privacy screen was a joke!"
Pros: "I'm sure there was something but nothing comes to mind."
Cons: "Lack of assistance regarding my missing belongings. Incorrect information relating to landing card to be completed when arriving in London. Stretching over me to pass food etc to passenger sitting facing other direction, and literally millimetres from my face, without any politeness having to do it. Configuration gives no privacy as you look at the passenger next to you. Functions of chair did not work. Pillow was thinner Than a piece of paper. Crew showed no concern."
Cons: "I HAVE FLOWN OFTEN ON OTHER AIRLINES & IT WAS THE FIRST TIME TO FIND OUT THAT BRITISH AIRWAYS ONLY ALLOWED ONE FREE CHECKED BAG AND I HAD TO PAY $200 WHEN I ARRIVED AT THE AIRPORT, $100 FOR THE 2ND BAG & $100 BECAUSE IT EXCEEDED 51 LBS"
Cons: "Each rep we spoke to said they couldnt help us and to just open a support ticket online.. Kept telling us they dont have a customer service team who can help us and its only available online."
Pros: "The flight attendants were cheerful and ever so attentive. Love & appreciate the hospitality rendered. I like that there is a vegetatian meal option too."
Cons: "I could do with a little more leg space but I suppose it is not possible. An ice cream as replacemenrlt perhaps?"
Cons: "breakfast was terrible. It was beans, mushrooms, and asparagus. It also came with 3 pieces of fruit. Coffee was also terrible. If you sitting in the middle seats there is no space. The man's arms sitting in the seat next to me were pretty much in my seat the whole time."
Pros: "nothing"
Cons: "Was not able to check in through to Cape Town, only JNB. When arrived in JNB, British Airways flight was not clearly identifiable from ticket (no flight number). Then the flight was delayed, and plane was old! Horrible experience"
Pros: "the food was good"
Cons: "the seats in economy were a little cramped."
Pros: "The staff is always friendly and working at it to make everyone feel welcome and happy. Thanks for the great effort! we do appreciate it."
Cons: "Peppers in the food does not make the food taste nicer, it just adds a flavor that i think does not add great value for airport food. It is the same with raw onions. Once in a container everything tastes like the onions. This has been done away with and my personal opinion is that the same should be done to the peppers. When peppers are added to food, you only taste the peppers and not the rest of the flavors of the food. Hope you find this helpful. Thanks"
Pros: "Crew were very efficient and friendly"
Cons: "Premium economy seats weren't as good as Singapore airlines ones. The seats had small screens and leg room was a bit restricted"
Pros: "everything was great except seating"
Cons: "they seated us separately instead of next to each other despite the fact that we selected to be seated together."
Pros: "I was so happy to be able to stretch out and sleep. The service was impeccable, although as a first-time passenger in this class, I felt a little overwhelmed by the new set up."
Cons: "Wish I knew what was in that spray can they had to empty before we could take off from Johannesburg."
Pros: "The flight"
Cons: "Customs"
Pros: "The boarding was efficient. The in-flight entertainment was decent."
Cons: "One of the two stewardesses in my section was quite rude. The other one was fine but the other one was awful and made snarky comments any time she was asked a question. Her customer service was terrible and she might do well in considering a different line of work. The seats were uncomfortable, but every airline has uncomfortable economy seating. Other than that, the airline lost my baggage. It has been almost two weeks since my flight and they still have not found it. I have been advised to file an itemized list of everything that was in my bag for reimbursement but I have been informed it will most likely be several months until I receive any payment. I have spent a lot of time waiting on hold to talk to anyone from baggage services and any time I have got through the people have been very unhelpful. I feel the airline should be going above and beyond to rectify the situation but thus far I have been doing all of the work. That is pretty poor seeing as the airline is completely at fault. WIth the terrible service that I have received so far, I am not holding my breath for that reimbursement check."
Pros: "Nothing"
Cons: "Everything Delayed boarding Delayed flight without informing us. 45 min Beverage (Apple juice and water was not cold) Airconditioning was non existent whille waiting for take off."
Cons: "The flight left late, so we missed our connecting flight from Heathrow to Dublin. The AA gate agent at Charlotte Airport told me that she had put on a later flight from Heathrow to Dublin, but when we went to check into that later flight, there was no record. The AA gate agent had told us a story that she didn't follow through with. So, we had t wait 4 hours in Heathrow before getting on an even later connecting flight. AA has REALLY poor customer service!"
Pros: "I like BA as they tend to have comfortable seating with a little extra legroom."
Cons: "The plane is definitely very tired. Some of the headrests were even broken. The plane does need an overall."
Pros: "Well mannered air hostesses"
Cons: "The delay"
Pros: "Good seat. Good movies."
Cons: "A better range of free food choices would be nice."
Cons: "In flight entertainment was broken"
Pros: "One of the crew members seemed to have a chip on his shoulder. Most other were nice."
Cons: "Flight entertainment it's kind of hard to set up depending on the device you own"
Pros: "The seat? Very uncomfortable"
Cons: "The seat for the longest flight could be more comfortable"
Pros: "I love the inflight entertainment"
Cons: "Half of the screens were down. No Gluten free options."
Cons: "Didn't get snack. WiFi entertainment wasn't working."
Pros: "M"
Pros: "Fast boarding"
Cons: "No WiFi at all on the plane. Entertainment was only their station on screens on the barriers. As often happens with American First Class staff, they did the requirements in the same way service is better at chipotle than Taco Bell. Interior plane noise was very loud. Must be the last year on lease"
Pros: "Good entertainment"
Cons: "Flight was delayed 3+ hours due to no qualified pilots available to fly to HNL"
Cons: "If we had access to the WiFi to watch shows earlier like United does, that would be nice."
Pros: "All the service was good"
Cons: "I am handicapped and there was no attendance at the gate once I arrive in Honolulu, no wheelchair assist to help me to the baggage terminal."
Pros: "Flight attendants were helpful"
Cons: "I missed my flight because of crew shortage."
Pros: "Flight was under 4 hours."
Cons: "No where to store carry on since everyone is allowed to bring larger bags than they should so you end up having to stuff everything under the seat leaving no room for your legs. Very uncomfortable!"
Cons: "Boarding crew did not realize I had priority boarding and split me up from my wife. Not a big deal, just annoying."
Pros: "Hated everything from Boston to Miami."
Cons: "The flight between Boston and Miami was so Disrespectful and noises from the Latinos kids without any good supervisions of the family of handling. Even Latinos blasting the videogames and movies on high volumes."
Pros: "Nothing"
Cons: "Had to Deplane 3 hour delay. No compensation no offerings no nothing."
Pros: "Great flight"
Cons: "everyone was friendly"
Pros: "Flight Crew were professional and accommodating throughout the trip."
Cons: "AA should inform customers via its App when they are the carrier for another airline. That way, one would know which terminal at LHR to go to. Check in was not good as there was no staff to assist or even an information kiosk in the immediate area. Had to go looking for one with all my luggage; they were having a group 'chat'. Then, instead of being helpful when asked to change seats, commenced to quiz me about why and what I did during my trip."
Pros: "Crew was nice and the staff at LAX was cool. Everything else was ok to good."
Cons: "My checked baggage got left behind at LAX. I got it the next day."
Cons: "This was the worst flight experience of my life I will never flyAmerican again"
Pros: "Great vegetarian meal."
Cons: "Rude gate agents who did not inform passengers timely about the 2.5 hours delay. Post the delay after the expected departure time, etc. Terrible experience."
Pros: "Beautiful new Boeing 777, comfortable seats. Smooth flight. Skillful landing. No delays."
Cons: "Nothing to eat - one cookie!"
Pros: "Same as above"
Cons: "Same as above"
Pros: "The crew on American Airlines flight #109 from LAX to HNL was excellent!"
Pros: "There were charging ports for every seat."
Cons: "The flight crew kept going onto the intercom for no reason. Every ten minutes or so someone would get on just to hold the button and let go or say enjoy your flight. Also, there was no food and didn't ask for anyone to board before zone 1, including us service members"
Pros: "Very smooth. Outstanding A-321 platform."
Cons: "No place to plug in my dying phone. All Group 7-9s had to check bags. This is unacceptable. Had to wait on connecting passengers (didn't know the airlines did that anymore). I am tired and have to go to work at my usual time since the flight landed late."
Cons: "Rude American Airlines staff. Flight delay of more than 7 hours. No accommodation given. One of the dirtiest airplane and traveling vehicle ever flown."
Pros: "Personal service and care by the ticketing to seat our family together"
Cons: "Flight was cancelled and we were never notified!"
Cons: "Missed my connection in London due to a computer malfunction that took over an hour to remedy. In getting to London, I was automatically rebooked, but with a flight that got me in 10 hours later than expected. I asked customer service about alternate flights, with or without connections, that might get me in earlier, but was given a quite curt, "that is not possible," and turned away. Even if that was the case, which seems unlikely given the multiple other flights arriving in Luxembourg from European airports earlier in the day, it was not particularly friendly."
Pros: "The economy seats were relatively spacious and had a full TV menu and outlet to charge devices."
Cons: "For a red eye they could perhaps ask people to turn off their lights, but it doesn't matter."
Pros: "Great service!"
Cons: "on a 7 hour flight over the pacific ocean and you dont provide a meal? you fly from egypt to germany, a 3 hour flight and you get a meal, so what's your excuse?"
Pros: "Liked that the restroom was near by (9E). Liked that there was the option of watching a movie."
Cons: "Didn't care for the choice of shows/movie on monitors. I paid for an upgrade for row 9 - and was unfortunately seated next to a very large man, which meant that there was no escaping the fact that our arms or legs touched. Obviously an older plane, because there were no outlets (again, paid for upgraded seats). Previous flight was WAY better and I was in the regular seat."
Pros: "Liked the little compartment above the tray for electronic devices and the outlet below helped keep my grandsons tablet charged for the flight! Liked the headrest - had flaps that folded out for support if you needed a nap."
Pros: "The onboard entertainment options were great."
Cons: "I don't understand advertising an outlet at every seat and not providing converters from the European outlets on an American domestic flight."
Pros: "WHAT FOOD.,,,,,,.AA DOSE NOT FEE US OR HAVE ANY ENTERTAINMENT,"
Cons: "NOTHING AA IS JUST AS BAD AS FIJI AIRWAYS"
Pros: "Missed a previous connecting flight due to delays, but staff was able to get me on a next flight out, two hours later."
Pros: "It was empty and there was a lot of room. It was nice and quiet. They still served snacks and drinks. Can't complain!"
Pros: "The least service I have seen among all the airlines I have traveled so far"
Pros: "Free military upgrade was awesome. Thank you AA. In flight entertainment was good because it was free. And thank you for the USB outlet, now if you could just do that for ALL domestic flights i would never fly anything other than AA. Also, my connection was late and AA held the flight for me and 11 others to our final destination to Honolulu. Thank you American Airlines."
Cons: "Some of the flight crew were awesome, and some reminded me of my 3rd grade teacher. Overall good but not great. Nothing to really complain about though."
Cons: "The flight attendants were not very pleasant; almost pretentious. One had a passive aggressive attitude towards an older couple next to me with questions regarding the exit seats. The flight attendant was short and quick to snap. This was the couples first trip to hawaii and the attendant gave them a sour impression leaving the plane. I was disappointed."
Pros: "Boarding was fast."
Cons: "No internet on flight. No movies on flight. Plane was older. Seats were uncomfortable."
Cons: "No food"
Pros: "No comment"
Cons: "No food or drink given to me. Deliberately ignored by crew."
Pros: "Never made it"
Cons: "Never made the flight thanks to hours of delays in chicago and in LA. I want my money back."
Pros: "I appreciated the cozy, light blanket they provided. The crew was punctual and professional, but not as friendly as Alaskan Airlines."
Cons: "Crying babies...but having had 5 of my own, it's forgivable. They & their parents have a right to fly also. I'm glad it was only for 2 hours, though. The rumors I've heard about American, trying to hook passengers with extra charges, with no other options, I found to be true. I was NOT happy with that at all ."
Pros: "Friendly, efficient crew. Short, smooth flight."
Cons: "Bit of a delay, no entertainment due to technical difficulties. No forewarning of the technical difficulties until after we were on board the flight. A gate announcement would have allowed time to find a movie on Amazon, or some other platform for the flight."
Pros: "Was offered complimentary food item and I am not sure why, perhaps my Star Alliance Gold status?"
Cons: "Boeing 777 economy seating is tighter with new seating configuration."
Cons: "One crew is rude while I was ordering food while she is delivering the beverage after the order time. She simply told me they don't have what I want to order and leave. After 5 mins, I pushed the service button and nobody responded. After half hour, I ordered the food from another crew passed by. After I landed, they suppose to return my stroller set at the airplane gate. But they said it is not there, ask us to wait at the airport gate. We walked outside and they broadcasted again, I didn't hear very clearly but followed most parents to walk out. We wait at the baggage claim for almost 1 hour and finally, the baggage crew came back to the gate and found our stroller."
Pros: "Really great service! Smooth flight!"
Pros: "quick overall flight"
Cons: "No food options other than purchased snacks on an 8-9 hour flight"
Pros: "All of the flight attendants except for Linda were nice and friendly. The entertainment selection was great and made a 10 hour flight go quickly."
Cons: "There was a flight attendant named Linda on the flight who was very condescending. I tapped her on the shoulder for a request and she told me it was not appropriate to do so because "as flight attendants, we get tapped so often." Then she skipped over me when serving the snack options because she didn't make "eye contact" with me although my tray was down and I had my wallet and credit card ready for payment. I have been flying with United to go home to Hawaii for over a decade and have never been treated so poorly by a flight attendant on this airline. I am seriously considering flying with Delta, Southwest, and JetBlue exclusively from now on after this experience."
Pros: "Quick boarding"
Cons: "Long flight"
Pros: "Entertainment had good choices. I was very comfortable in the chairs. The crew was overall friendly."
Cons: "Wish the entertainment came with tablets already installed instead if for purchase. Would be nice to have gluten-free options for snacks. Since my first flight was delayed and I barely made it to my connection, I had no time to grab something to eat at the airport. And being celiac, there was only a nut and fruit mix. Not enough to substitute for a meal. My biggest complaint however is with 3 hours left of the flight, i turned on the call button to request a beverage and nobody came. I waited 45 minutes, having to turn on the light 3 separate time because it automatically must have timed out. I couldn't get out of my seat due to seat belt sign. I looked back into the rear galley and 5 attendants were back there talking. Tried to get their attention. Nothing. Finally, I got up and went to get my own drinks. Being a server at hotel in waikiki, I understand that customer service is very important. And though I understand that they may have been busy and unable to answer my call, I could see that clearly was not the problem. They were just standing there and chatting. Very frustrating. Though they were friendly, they just simply weren't paying attention. I have to say in all honesty, I will not be recommending nor flying United airlines again."
Pros: "the flight was okay"
Cons: "Long story short due to weather I was told my flight left when in fact it did not and there were three opportunities for UAL to see that and put me on the flight and the failed. Cost me six hours of wasted time."
Pros: "We had arrived a little ahead of schedule"
Cons: "For an almost 6 hour flight, they chose a very small plane. Probably because they didn't sell enough seats on the flight so they downsized. Anyway, lots of people who boarded towards the end weren't able to store any carryon luggage. And as I listened to the crew talk to them, they weren't very nice about it. Sounded as if they were saying it's the passengers fault. We are allowed 1 carryon and 1 personal bag. For any flight that is longer than 3 hours, I believe the airlines should at least allow passengers to have 1 free check in. Then maybe we wouldn't be trying to carry everything on with us. Our flight to Hawaii wasn't very comfortable either. We had purchased economy plus but it didn't seem all that comfortable. Maybe because it was a smaller plane. I think it was a 737, not really sure but it had 3 seats on each side with no middle row. Food is for purchase! Outrageous."
Pros: "Unfortunately I won't leave until morning. However I can already answer this question. I will like the fact that I'll be seeing my only child after an entire year!"
Cons: "I didn't like the fact that United Airlines took time away from us. Because she's military I don't get to see her as often as I'd like. I booked my trip from October 5-16 2017 and our vacation together won't start until a day later. Some may say it's only a day but I say different and I should be compensated for my loss as well as so many other people that were traveling with me. My overall experience with this airline was horrible! I won't say I'd never use them again because you never say never BUT they will be my last resort!"
Pros: "They upgraded me and it was very comfortable. Didn't know till I was going on the plane. They sat me in the exit row and I'm very capable of doing what's needed in an emergency."
Cons: "Seats weren't as roomy as the newer plane and noisier."
Pros: "came early..."
Cons: "We could not take water with us to plane, traveled with kids 8 and 10. Did not get water even though I asked few times....kids started crying to get some water.....what is with the system??"
Cons: "United has recently added a 9th column (not row) of seats in economy, further narrowing the seats (and removing padding). The comfort has gone from barely tolerable, to intolerable. Also, this is an 8 hour flight, and food is only available for sale. Finally, they've changed their inflight entertainment options to work only via wi-fi. The problem is, the wi-fi on the plain is insufficient to handle the load of the people on the plane, so it keeps cutting out/crashing."
Pros: "Getting off the plane"
Cons: "The guy puked halfway through the flt and not one single flt attendant came even though they were serving drinks repeatedly to the dr sitting in the row in front of me. Also the flt was delayed as we waited almost an hour for people trying to connect which made me more upset since I was rebooked on that later flt because although my previous flt was there half hour before departure, we didn't have a gate to use which caused me to be 15 mins late for my original flt. Did they wait for me?! NO! I was rebooked. It's unfair that they stole an hour of life from every other passenger to accommodate a few. Back to the guy who puked, an hour after that he started shaking and grabbing his head and asking me why am I hurting his heart. Then incoherent blathering and then his last episode 20 minutes before we land in which he started hitting himself in the head saying he would die right now for his wife and how he's made mistakes. It was three separate incidents from this one passenger and not one flt attendant noticed? Yeah it was bad piled on worse stacked on top of never United ever again."
Pros: "The flight was not overbooked, there were no fights and there was plenty of space. Comfortable flight!"
Pros: "The crew was super friendly and nice!"
Cons: "Hardly any space and no type of entertainment whatsoever and NO chargers, not even a USB charge port."
Pros: "Overbooked and could not accommodate 3 guests who had tickets. Seems a bit crazy to think they are still over booking flights after recent incidents."
Cons: "Not to overbook and cause anxiety."
Cons: "Flight was aborted on the runway, we were returned to the terminal, and flight was delayed over 6 hours."
Pros: "The crew was great under very difficult circumstances. Team players for United."
Cons: "1. Flight delayed 7 hours due to mechanical issue(s). 2. The in-flight entertainment system was down/inoperable for most of the flight. 3. The menu item I wanted to purchase was not available. I was told that it was not even loaded on board and it was implied that maybe it had been discontinued????"
Cons: "5 minutes before we boarded they tried to change my seat without informing me.... luckily it popped up on my phone that my seat had changed I reserved an aisle seat when I made my reservations five days before the flight. All of a sudden they put me in the middle seat ...so I went to the counter and the person at the counter tried to tell me that I just changed to the aisle seat that I had which I actually have had for 5 days and she tried to tell me that I was lying to her I was not very pleased with United at all!!! I made it very clear and even showed her the email from 5 days ago where I had that seats all along the aisle seat that she took away from me and put me in the middle somewhere so three minutes later she told me to look at my phone and she changed me back but that's after she basically called me a liar and said I didn't know what I was talking about!! Worst US AIRLINE!!"
Pros: "More leg room on this flight than previous united flight."
Cons: "Entertainment worked for 20 min on a 5 hr flight with a 1.5 hr delay."
Cons: "Crew members were not friendly. There was no in-flight entertainment available, and no snacks that were complimentary."
Pros: "Boarding was quick and efficient."
Cons: "It seemed that there was a lack of preparedness before taking off from each stop."
Pros: "The crew was exceptionally friendly and helpful. Water and drinks were offered regularly. For those who had the app there was inflight entertainment. We paid for plus size seats and had enough leg room."
Cons: "I believe that on the long flights built in entertainment screens should be standard. Most people did not have the app and many spent 8.5 hours without anything to do. Food is not offered on this long flight unless you pay for it. You must walk to the very back of the plane where the food is in warmers. I got a hamburger and it was a bit dried out. Could have been worse...just hard to handle since tomato, lettuce and condiments were on the side. A larger person sat next to me and took use of the armrest between us which made me feel like I lost 4 inches of my personal space."
Pros: "Thanks for the ONE toffee cookie at the beginning of the 8 hour long flight."
Cons: "I have NEVER flown on an international flight and NOT received a complimentary meal or two...When I'm flying for 8 hours. On top of that the seats were very small and uncomfortable. I shouldn't feel a person grabbing a magazine or pulling down a tray when I'm sitting in the seat in front of them. There was one younger African American flight attendant with a light brown, long curl wig that didn't look like she wanted to be there. You can tell by all her eye rolls, sighs and not responding back to numerous thank yous given to her. I couldn't consistently watch a show or movie for 3 minutes thanks to the wifi and or app on MY Samsung tablet....it's SO sad that you guys couldn't have them already installed like other airlines. This airline is already in hot water, I expected MUCH better customer service. I will do my best NOT to use them again and tell others to do the same."
Pros: "The flight attendants were friendly for the most part."
Cons: "On both flghts we requested a bassinet for our 3 month old. We were told on the phone if one was available we were able to have it. Both flights had bassinets but we weren't allowed access to them. On our first leg the bassinet was in economy plus and we were economy. On the way home our fight was downsized to a smaller plane and the airline was too busy trying to cut 25 people off the fight they weren't able to give us a seat where the bassinet would be. We asked several flight attendants and got different answers from each one."
Pros: "The crew on board the flights were always friendly and Stern with unruly customers. Very good job in that department."
Cons: "I am 5'10 and 155 lbs I wasn't so cramped in the sets that when the person infront of me put there seat back I couldn't cross my leg or sit comfortable. I can't imagine what a person any taller or larger then me felt. Oh also the average size man sitting extra to me was spilling over my seat. Luckily he did not smell and was very apologetic. The only reason I booked through united was because of how cheap they were. But with Lon delays. Rude check in emoployees, bad snacks, zero in flight entertainment 7.99 to watch tv? Come on you have us trapped already. (returning to Hawaii) and one of the worst seating set ups of my life. Yeah I'll gladly go back to delta."
Pros: "They offered complementary snacks and water at the gate when the flight was delayed by 2 hours for mechanical reasons. After such a long and tiring day, when I went to buy a drink onboard, the flight attendant didn't charge me. It was done as a courtesy for the lengthy delays. This was much appreciated and honestly made the irritation with the delays disappear. It's amazing what a little thing like that can do for a person. All the flight attendants were gracious and helpful. Overall, they made the flight good."
Cons: "I had to run to make this connecting flight due to the previous flight leaving an hour late, only to learn the flight was delayed. It was delayed 2.5 hours for maintenance."
Cons: "Over 3-hour delay. Various text messages including one that indicated the flight was leaving 5 minutes earlier; then it was delayed again!"
Pros: "The crew was good. Direct with instructions and efficient."
Cons: "On a 5+ hour flight, I should not have to pay extra for the little TV, when other carriers are offering this in-flight entertainment for free. Nickel and dime-ing customers does not bring loyalty. I'll be returning to flying almost exclusively on Delta."
Pros: "That I made it home and had an open seat next to me"
Cons: "Service was unfriendly. Didn't have headphones, didn't have pillows. Seat was not much leg room. Plane had a hard landing with screeching tires, like a car that's spinning out of control. The passenger nearest me said that's the last time she's ever flying United, that she'll stick to Jawaiian from now on. I mirror her sentiments"
Pros: "We had economy plus seats, so I could still feel my legs and didn't have a near panic occurrence. Good news! The dents in my husband's knees from the previous flight are gone! A/C worked great."
Cons: "United flight attendants could use a good Dale Carnegie course. The attendants on our flight exuded "GO AWAY!" Our row mate (aisle) had a broken seat that she paid extra $$ for & she asked to be seated elsewhere. Attendant said there are no more seats. There was at least one seat in first-class; we could see it. She also asked for more pretzels......2 1/2 hours into the flight...the attendant said I gave them out already. One pack of pretzels? I wasn't offered any pretzels at all. And the movie choices....what?!?!?!?! I can't even begin to describe the disappointment that your "selection" of movies caused. This isn't a hop to Hawaii. It's long haul. Oh. And my feelings are still a little hurt I at being subjected to the SMELL of baking chocolate chip cookies that were being served in 1st class. Really? Superman vs Batman, Captain America, Barbershop II, Jungle Book, etc., AND having to smell cookies I can't have? It's just too much to take in on a 5 hour flight."
Pros: "The flight landed safely and was only a few minutes late after delayed departure of 25 minutes."
Cons: "A problem passenger ruined the flight for me and several others. He continually left his seat when the seat belt sign was on. I figured he was back smoking or vaping in the lavatory as he came back smelling strongly of after shave, bit seeing him weave around he must've been drinking. Then he stood in the aisle and poured more after shave down his shirt and outside his shirt. The smell was so strong it gave me a headache and make me sick to my stomach. Then he left his seat and sat behind us somewhere with a woman. A flight attendant told another man to come up and sit where he had been sitting. After the man went to sleep this guy came up and kicked him out of his seat. Then he asked the guy by the windows to switch seats with him which the guy did Kama then he proceeded to make him move several times as he had to get out and get out of his seat looking for something. I'm not sure how these things are handled normally but this guy really ruined for me. Aren't there consequences for ignoring all the rules? I probably won't fly United again."
Pros: "Nothing"
Cons: "How rude the women airline attendants are /the extreme lack of leg room"
Cons: "I Purchased 2 round trip tickets for myself and my son. My son had a change of plans and purchased another one way ticket to leave a week earlier. So his first leg of my purchase was not used. They resold that seat on May 27. So they made money Twice on that seat. Then when we checked in to return on 15 June. We were told his ticket had been cancelled and I had to purchase another ticket for his return. The flight was NOT sold out. My entire row of seats was empty. So I paid for 2 seats for the same flight. This is theft, coming and going and I am calling my lawyer!"
Pros: "I enjoyed very little about this experience. The crew was cordial however they lose the ability to perform simple tasks by the long standing protocols and overcrowded flights. Most of the crew are as unhappy as the passengers."
Cons: "The plane hit the brakes while taking off and returned to the gate due to a warning light. We were told nothing other than we needed to wait. They said the fix took 5 minutes but our wait took 2 hours. Not efficient. They rent out tablets for on plane entertainment, unlike every other plane I've ever flown, they make you pay to keep you happy during a 5.5 hour flight. Food was horrible. The seat did not recline and they eradicate every ounce of comfort to overpack the plane. The Captian made little announcements and the one he did make upon decent, started with "please fasten your seat belts, we are 65 miles away from Honolulu but...", I was sure the "light" came back on 30k feet about the pacific and we were going down. Finally - the last announcement from the head stewardess didn't include "Aloah, thank you for flying United". Seems minor but it goes to show they don't care anymore. That's the first time I hadn't heard the welcomed message after my 20th trip to the Islands. After my return flight I vow to never fly United again."
Pros: "Crew was friendly. It was a long flight, so glad that came around in between drink services to offer water."
Cons: "Not that much content on the entertainment device, several movies were only playing in Japanese and no option to change to English. My device kept shutting off at random times despite having full battery."
Cons: "We were frustrated because we chose United flights but then got put on Island air from Maui to Honolulu who has completely different baggage guidelines and ended up costing us quite a bit more because our carry-ones weren't 16 lbs or below. I don't like things like that, so I wasn't very happy with that part of the trip. I don't think that is United's fault-probably Kayak's. Flying in general just isn't pleasant anymore. The crews aren't happy or fun and they've gotten so cheap on everything, and charge you out the nose for everything. The airplanes weren't clean. My 2 year old had to brush off a seat of crumbs on her seat before she sat down! Just sad where it's gotten in this crazy world. We used to love to fly, and now we are just always glad to be done with the flights!"
Pros: "nothing"
Cons: "4 hr delayed departure. fine... better safe than sorry when there's a mechanical problem. BUT-- there was no compensation.. no free drinks, no free food worse: the flight left after lunch but there was only breakfast food (since it had been a morning flight). and THEY RAN OUT OF FOOD FOR SALE. despite the 4 hour delay. we were starving. then... we FINALLY arrive... and wait another full HOUR for the gate to be opened. because it had "timed out" (because we were so late?) and apparently, they have to call someone in from who knows where to unlock the gate... it took an hour! we basically lost a full day of our Hawaiian vacation"
Pros: "Crew was friendly"
Cons: "My husband, myself and 11 year old son were seated separately. We requested seats together. I was told by the desk staff that there were younger children also seated away from their parents. Once in board, I observed several families with adults seated together and children older than 11 seated together. Priority should have been given to younger children to sit with at least one parent. I was uncomfortable with my minor aged child was seated with strangers for a 5 hour flight. In flight online entertainment didn't work initially."
Cons: "Very rude lady working at United desk at LAX. I am a veteran and I have very bad anxiety and PTSD and my wife (who is active duty) were split up for the flight so we had asked to be seated next to one another since we had picked our seats online prior to flying. The lady was very rude rolling her eyes saying that there was nothing she could do for us besides us asking people to possibly switch seats even though my spouse had the United app open and showed two seats to upgrade too and she didn't even ask if we wanted to upgrade to be next to each other. At this point I had to take my anxiety medication and as we were taking off one of the flight attendants said we could ask about upgrading but yet the lady at the desk said nothing."
Cons: "This is an international flight from San Francisco to Manila. Because United has a policy of "meals for purchase" on domestic flights, the Sfo-Hnl and Hnl-Guam legs did not serve meals. Only the Guam-Mnl portion had dinner. The planes on each leg were cramped and old. Seats were old. No in-flight entertainment unless you rented a tablet. The fare cost around $720 which was not really a bargain since other international airlines like China Airlines and Ana were offering fares in the same ballpark fare. I made a mistake booking this flight and by the time I realized it, it was too late. I will never fly UA on international flights if there are other options. Asian airlines have newer planes with more legroom; customer service is better;and in flight entertainment and food offered. I intend to post a blog on travel sites "buyer beware.""
Pros: "The plane was nice."
Cons: "Over 1 hour late. We sat on the plane after boarding all that time. Late for things that should have been done before boarding ( fueling and more food). The movie and TV shows froze and skipped, so we're hard to follow."
Pros: "I upgraded to first class so the food and service was very good. Loved the super adjustable lay flat seats."
Cons: "Even in first class, it was clear United doesn't care about repairing anything that won't keep the plane from flying. The entertainment console was damaged to the point it wouldn't even fit back together and none of the headphone jacks were operational on an 8 hour flight. We were also understandably delayed by a medical emergency onboard but United saw fit to further inconvenience the entire plane of passengers by searching the cargo hold for the the deplaned passengers luggage long after they were gone, rather than send it back on the next return flight. The crew said the decision came from corporate and clearly thought it was as ridiculous as we did. Given that United was valuing this seat at well over $2k, I think it's reasonable to expect the amenities to be in good repair."
Pros: "The service was much more friendly and polite than the last time I flew united."
Cons: "Cramped seating very high food prices. Electric phone sockets didn't work AGAIN even though the green light was on. Couldn't charge my phone at all..."
Pros: "I liked the space in the economy plus and drinks were served often."
Cons: "It's was a 9 hour flight and the only snacks that were offered were the ones you had to pay for. I had a headache getting off the plane because I almost starved the entire ride. The staff was helpful but dead no character to them or atleast they didn't show it. Also as long as this flight was my screen froze for the last 5 hours but I didn't miss anything because I couldnt listen to the TV from the start. The female end where u put the headphone plug had something jammed in it so I watched watever my neighbor was watching and clued together what they were saying in the movie. Needless to say I was bored out of my mind and my stomach was not very happy with me. Hopefully my flight in 9 days is a lot better."
Pros: "Flights are o er booked. Not being able to get seat assignments until arriving g at airport is very frustrating g."
Pros: "Liked getting pillowcase blanket."
Cons: "Couldn't get WiFi on my devices. Light to illuminate my aisle seat shone in my neighbor's field of vision. Food choices for such a long flight were poor."
Cons: "Would prefer electrical outlets to keep devices charged if using them for entertainment"
Read more about Qantas Airways
Safety measures for airlines flying to Kailua
Airlines flying to Kailua have enacted additional safety measures and adjusted policies to better accommodate travellers. Policies vary by airline.
Heightened sanitation
Daily cleaning, installation of cabin HEPA filters on flights to Kailua
Mandatory masks
Masks required on board, masks provided on flights to Kailua
Social distancing seating
Middle seats unavailable to book on flights to Kailua
Pre-flight testing
Testing for antibodies, testing for symptoms for flights to Kailua
Book Cheap Kailua Plane Tickets
Recent return flight deals
Search by stops
Search by airline
Search by price