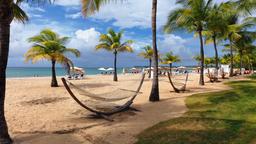 Find cheap flights to Carolina
Search hundreds of travel sites at once for deals on flights to Carolina
Top tips for finding cheap flights to Carolina
There is no major airport in Carolina. It is instead served by Luis Munoz Marin Intl Airport.
High season is considered to be June, July and August. The cheapest month to fly to Carolina is April.

Enter your preferred departure airport and travel dates

into the search form above to unlock the latest Carolina flight deals.
FAQs - booking Carolina flights
How to fly to Carolina?
What airports are near Carolina?
How far is San Juan Luis Munoz Marin Intl Airport from central San Juan?
What is the name of San Juan's airport?
How does KAYAK find such low prices on flights to Carolina?
How does KAYAK's flight Price Forecast tool help me choose the right time to buy my flight ticket to Carolina?
What is the Hacker Fare option on flights to Carolina?
What is KAYAK's "flexible dates" feature and why should I care when looking for a flight to Carolina?
Top airlines flying to Carolina
Scores according to KAYAK customer reviews
7,2
American Airlines
Overall score based on 46 801 reviews
Cons: "Feeling of being cramped"
Pros: "Crew was great!"
Cons: "Todo bien"
Pros: "Service from crew was fine"
Cons: "No delay! Got notification that our flight was one half hour earlier. Then boarded aircraft, and it had electrical problems. Delayed. We had to get off. Then board another aircraft."
Pros: "Time of flight"
Cons: "Aircraft had no screen, old, uncomfortable"
Cons: "Crampt space, cold cabin"
Pros: "None"
Cons: "Long delay"
Pros: "Movie options were good."
Cons: "The a/c was not working well and t"
Pros: "The service was excellent and the flight on time. Love American."
Cons: "The seats have been refurbished and if you are a plus size the seats are uncomfortable."
Pros: "Reliability that your flight will not be cancelled. Punctuality."
Cons: "They charge you $125 for a dog in cabin (JetBlue and Southwest near $100, Frontier $75). There is NO benefit, even with this extra amount of money. I was assigned to enter the aircraft in Group 8... I suggest AA the benefit to enter (at least) in Group 5 for people with PAID in cabin dogs."
Pros: "Service"
Cons: "Seats and space"
Cons: "Entertainment via internet could NEVER be really be done complitly. And the flight attendants did not know how to help costumers"
Cons: "Poor service"
Cons: "Dallas to San Juan San Juan Dallas American Airlines has the worst seat of any airline flown by us fare almost 2000 dollars for round trip and the seat is small hard uncomfortable even for a short flight this is no business class!!"
Pros: "On time"
Cons: "Cold cabin"
Cons: "The seats are very tight."
Cons: "Last minute cancellation and reschedule if original flight with 20 people hounding the gate for standby status. Craziness. These last minute revisions mist stop"
Pros: "Direct flight"
Cons: "Horrible customer service, excessive baggage fees, rude counter staff, no leg room, narrow seats"
Pros: "USB Outlets are nice to have"
Cons: "Nothing was bad on this flight"
Pros: "Schedule was punctual. The entertainment was superb. Good crew. The overhead bins were, for some reason, larger which aided the boarding process."
Cons: "I guess the lack of snack options but that is just the way it is nowadays."
Pros: "Nice crew clean airplane"
Cons: "Initial flight was cancelled after 2 hours delay. My next flight was scheduled the earliest possible by AA which was 24 hours later. No transportation,hotel or miles compensation for this. I had work and responsabilities the next day. TThe scheduled trip was supposed to take off at 7:45. Boarding started late and was very slow. My bag fit the meassurements and still was forced to check it (which I did not want to do as I did not want to be waiting an hour for my bag at my arrival as I had work early the next day. In addition there was airplaine traffic as it was "rush hour" instead of flying at 7:45 we departed almost at 9pm!!!! Have to pay for food Quality of tv monitors very poor And in an uncomfortable position No movie options No wifi although stated the aircraft has Non functioning electrical plug"
Pros: "Nothing"
Cons: "Never made it to San Juan to catch my cruise. To top things off I was a ship for two days without my luggage and underwears. Never again!!! Thank you JetBlue!!!"
Pros: "The pilot was a riot, the flight was on time. Again, nothing wrong, nothing special. As it should be (if only we had more leg and seat room, and I am pretty streamline)."
Pros: "Nothing"
Cons: "Super old planes, no had a tv."
Pros: "Puntuality"
Cons: "There seets are two small. And they dont sell alcohol. That sucks."
Cons: "The airline had trouble with the plane. After we waited 3 hrs in the plane they cancel the flight. They offer a hotel but it was very dirty"
Pros: "Nothing. My fight from San Juan to Miami on Friday Oct. 7 was cancelled because of hurricane Matthews, since I didnot buy a roundtrip with AA they did not reimburse or offer me a credit for my returning flight. I contacted AA in two ocassions and both times their personnel were impersonal and even rude to me with the whole situation. I ended up losing $250 because of choosing American Airlines. I will do my best to avoid traveling with American ever again, and I will spread the word, as well. I felt robbed, so unfair."
Cons: "Everything"
Pros: "Friendly polite staff. Plane left and arrived on time."
Cons: "No have owned screen TV"
Pros: "Everything"
Cons: "Nothing"
Pros: "Comfortable seat"
Cons: "Lack of entertainment"
Cons: "One hour delay sitting inside the plane with no pilot!! And to top it off, the air conditioner was off!! Will never fly American ever again."
Pros: "Overall good flight"
Cons: "I did not like the time needed for boarding/ settling in. But that is a factor of people not following instructions. Not the crew."
Pros: "No comment"
Cons: "No food or drink given to me. Deliberately ignored by crew."
Pros: "I was going home"
Cons: "Late flight no pilots andt broke my luggage."
Cons: "I didn't like the American airline people who checked my bag. She threw it because I told her nothing was breakable in it."
Cons: "Gg"
Pros: "Everything was on time, no delays."
Pros: "Should have individual tv's like jet blue does. There shoul be a family travel area for people travelin with todlers. better service and better food. Faster luggage pick up."
Cons: "Nothing. Expesive flights, an unprofessional flight attendant name Sarah, fighting with the customers. No entertainment. It was a nightmare"
Pros: "I live the service which make me feel good. Also the flight was very quiet and the crew help me in everything I asked."
Pros: "The great atendance and on time bording"
Cons: "There is no More options of free food included with the ticket fly and it was a longer flight and there wasn't no tv, no entertament"
Pros: "My window seat was all."
Cons: "I didn't get a call about the delay like other passengers, only an email at 7am as I was in line to check in for the 8:25am flight 395. The female crew members, a dark haired woman and a short blond haired woman both would have ignored me if the other two people seated by me did not also try to get their attention. The dark haired woman gave the guy next to me headphones and when I held out my hand she just looked at me and walked away as if she'd been called away. Which she hadn't she came back and started with the row immediately behind us and the guy next to me was nice enough to give me his. Also after nearly waiting 4 hours, 9 minutes before boarding we were given food vouchers and told to "run and hurry" and get food "to go" so most people didn't even bother using the vouchers because of that. I've had better flights with American Airlines, I just didn't know this one would be so poor. Definitely way below average expectations."
Cons: "After an 8hr flight from Madrid to JFk you dont need an 4.5hr delay on your connection flight."
Pros: "I had a hard time, the connection flight left us, the flight from Charlotte took to long and took off late."
Cons: "There were no more flights that night and had to wait till the next morning, I am hándicap and although they gave me a room in the hotel it was very hard, they took my carryon again and have to sleep like i was, very unconfortable."
Pros: "Service"
Cons: "Old plane for a long trip (Charlotte to San Juan) in First/Business Class with no entertainment. It was like flying in a "more space seat", without seat back entertainment. First time it happens. Have flown several times in First/Business Class from Miami to San Juan and it has been a totally different experience."
Cons: "1.5 hr on runway to rebalance load at then fight crew went over their work limit. Very poor planning."
Cons: "No tv in the two airplanes. The selection of food was poor"
Cons: "Business section was contaminated with roaches. Food is never great on commercial airlines but it was just not good plus the roach factor which had some passengers a bit uneasy about the food . There was no entertainment on a flight that is over 2 hours long. I was not offered any drinks up to the point where lunch was served. American needs to get their act together."
Pros: "I liked the perfect landing!!"
Pros: "Nothing, The flight didn't happen"
Cons: "Waited for 6.5 hours for the flight to get cancelled and rescheduled for a week later."
Pros: "Crew was very nice"
Cons: "Sits are very uncomfortable"
Cons: "Flight never happened because of hurricane yet I never got my money back. Natural disasters should qualify for a refund not a voucher."
Cons: "we took off over 1 hour late"
Pros: "Services , on time"
Pros: "All the way we had a great atencion from all the crew and airport facility thanks"
Pros: "Seat more comfortable and any entertainment."
Cons: "The seat."
Pros: "Food was ok"
Cons: "You don't have any free entertainment not even free music!!!"
Pros: "They gave me something to drink..."
Cons: "Didn't give us peanuts or any snack items and everything else had to be paid for which I think the pricing on those items were expensive that is abusive unacceptable and me as a military personnel I think there should be some kind of consideration in all those matters including paying for luggage $25..."
Pros: "Estaba supuesto ser un viaje barato y puntual"
Cons: "Pero no fue de esa manera yo soy un paciente esquizofrénico y padezco de vipolarida más tengo problema con el azúcar mas padezco de sleeping adnnea.y muchas otras condiciones.y mi vuelo no salió cuando. Tenía que salir.yo vivo en perth ambos y era muy difícil viajar para Mi en tren para luego tener que pasar todo lo que pase.deverian por lo menos recomendarme con algo desierta por todos mis inconvenientes."
Pros: "Free blankets for the long flight."
Cons: "Worst landing I've ever experienced on a plane. Had whiplash that gave me neck pains for several days after."
Pros: "Smooth boarding"
Cons: "No entertainment of any sort available unless paying."
Pros: "It was a good flight. The attendants were courteous and accomodating. There was nothing to complain about."
Pros: "Was fast and on time"
Cons: "Pushing back from gate took for ever due to mechanical problems and somebody got sick on the plane so their decision to wait until the person situation got better affected everyone else"
Cons: "Lots of delay, not so friendly flight attendants"
Pros: "very helpful"
Pros: "The service & how comfortable I was."
Cons: "That you have to pay for everything but I guess now a days every airline is doing the same thing."
Pros: "The personal are very amability"
Pros: "Love the crew!"
Cons: "The delays was horrible!!"
Pros: "Rate was very good and the time of the flight was perfect! Non-stop and all."
Cons: "I missed my second flight by 10 minutes due to a delay from my first flight and was only refunded a small portion luckily I found a good price with Jet Blue wich worked out better"
Pros: "On time, friendly crew and very reliable"
Cons: "Where's the food?? Gas prices have dropped significantly but all airlines still skimp on food, charge for bags and tickets are still pricey"
Pros: "El viaje de newark a san juan por united fue excelente. Por la linea aerea de American Airlines terriblemente FATAL. Habia un problema con el avion o la torre del vuelo miami hacia san juan PR. Nos ofrecieron estadia en un hotel supuestamente ellos corrian con los gastos ya q se atraso el vuelo y no fue culpa de ningun pasajero segun nos dijo una señorita del counter, resulta ser q el hotel fue el piso del aeropuerto de miami x 8 horas!!! Wow a la verdad q nos vieron la cara de bobos y nos cojieron de bobos tambien. Q trato mas injusto. No volveremos a viajar por AMERICAN AIRLINES asi mismo le dejaremos saber a todo el mundo el trato de esta linea con los pasajeros. Gracias a esto nos agravamos la espalda, costillas. Por culpa de ellos por tratarnos como basura. Eso no se hace!!!! Despues q estabamos sentados en el avion el piloto no llegaba y nos tuvieron q bajar del avion, esperar a que llegara otro piloto para volvernos a montar en el avion!!! Q mala coordinacion!! Esto es una falta de respeto!! Esta linea AMERICAN AIRLINES ES UNA PORQUERIA!!! No volvemos a viajar por esta linea JAMAS!!! Irresponsables!!"
Cons: "Nothing at all !!!! With AMERICAN AIRLINES THE WORST!!! We will NEVER travel by this linea aerea. Son una gran Porqueria!!"
Pros: "Everything was perfect, the crew was fantastic"
Cons: "Maybe a bit of food."
Cons: "It took to long to board the flight"
Cons: "The airline is horrible.. Poor customer service"
Pros: "Boarding"
Cons: "Excellent"
Pros: "The service since I am handicap"
Cons: "Comfortable and affordable!"
Pros: "What I like the most was that it was on time, also the crew was amicable."
Pros: "The flight it self was ok"
Cons: "The back and forth that I went thru between gate to gate and the last minute changes of the schedule"
Pros: "Everything! My grandparents needed special assistance with wheelchair and the crew was very helpful! They spoke Spanish and they were able to get a crew member to translate"
Cons: "Last row seats. Nothing of space, man seating next to me in the isle seat couldn't accomodate his legs inside the available space."
Pros: "The United App is a must. Having so many movie and tv options made the flight breeze by."
Cons: "The cabin was so uncomfortably hot. After passing by a second time with the drink cart, there was still another two hours left on our 4.5 hour flight. I hit the button to request a flight attendant, and after 15 minutes, one finally answered. I asked for water, and they stood over me while I drank it so they could trash the cup."
Cons: "I never took this flight since the San Francisco flight got delayed that when I got to the gate to board the Washington flight. The gates closed on my face literally. Awesome trip.! (Sarcasm included)"
Pros: "Boarding process on time."
Cons: "The waiting time for my connection flight."
Pros: "Getting from point a to point b."
Cons: "Lack of good free snacks. Not getting free bag checked."
Pros: "Service"
Cons: "Waitied in the airplane for about an hour till take off. Wasnt offered anything to drink till after."
Pros: "All very happy staff and super professional service."
Pros: "Boarding process"
Cons: "No food... Sporadic drinks.. Very cheap service"
Cons: "Not only did we sit on the plane for over an hour before taking off, but on an over four hour flight I was refused water towards the end. When I asked for more than one glass I was rudely told and I quote, "you know what? No. We have other passengers who may want water." Are you kidding me? I sat down feeling scolded and like I asked for something ridiculous. We landed after 2am and most of the passengers were sleeping and I doubt anyone asked for more water since I didn't see the flight attendant move again. Perhaps she was upset that I interrupted her from reading her paper? Extremely displeased with my experience. I"
Cons: "Their system canceled (it auto confused itself) my tickets and we almost lost the flight. Good thing I'm always 4 hours earlier or else their juggling of seats would have been impossible."
Pros: "Crew was really nice"
Cons: "An hour and 30 minutes delay"
Cons: "They should have more variety and quantity of food. to reach the back rows of seats, there to choose from. We not all eat snack box"
Pros: "The captain took a long trip in PR before land."
Pros: "Everything ok except the seats"
Cons: "The seats were uncomfortable."
Pros: "Pilot did a great job avoiding bad weather. Flight attendants courteous and the plane was impressive"
Cons: "Long flight had no inboard music or movies"
Read more about American Airlines
Safety measures for airlines flying to Carolina
Airlines flying to Carolina have enacted additional safety measures and adjusted policies to better accommodate travellers. Policies vary by airline.
Heightened sanitation
Daily cleaning, installation of cabin HEPA filters on flights to Carolina
Mandatory masks
Masks required on board, masks provided on flights to Carolina
Social distancing seating
Middle seats unavailable to book on flights to Carolina
Pre-flight testing
Testing for antibodies, testing for symptoms for flights to Carolina
Book Cheap Carolina Plane Tickets
Recent return flight deals
Search by stops
Search by airline
Search by price