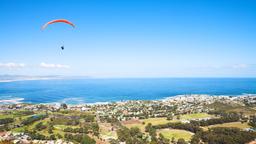 Find cheap flights from Ontario to South Africa
Search hundreds of travel sites at once for deals on flights to South Africa
FAQs for booking flights from Ontario to South Africa
How does KAYAK find such low prices on flights from Ontario to South Africa?
How does KAYAK's flight Price Forecast tool help me choose the right time to buy my flight ticket from Ontario to South Africa?
What is the Hacker Fare option on flights from Ontario to South Africa?
What is KAYAK's "flexible dates" feature and why should I care when looking for a flight from Ontario to South Africa?
Top 5 airlines serving from Ontario to South Africa
Scores according to KAYAK customer reviews
8,0
Cathay Pacific
Overall score based on 6 306 reviews
Pros: "The crew was good, not much as it was a red eye, but they were friendly and helpful"
Pros: "Apart from the delay everything was quite good."
Cons: "The delay of over 1 hour was a bit nerve-racking as we were close to missing our connecting flight."
Pros: "Could not take flight and could not get refunded"
Cons: "Refund money"
Pros: "Great crew, but I didn't really like the Economy Premium seat. Eva Economy I thought was better."
Pros: "All no!"
Cons: "Seats are too close!"
Pros: "Seat was fine. Crew were helpful"
Cons: "Movies were a repeat of the outbound trip"
Pros: "Flight was on time"
Cons: "Food Crew"
Pros: "Excellent crew"
Cons: "More comfortable seats"
Pros: "miracle fight landed on time"
Cons: "terrible food - poor entertaiment system with limited choice and old movies - crew always on the pa"
Pros: "Service"
Cons: "Nothing it was perfect .the flight was so excellent .no words to say"
Pros: "Cabot crew very nice an professional."
Cons: "I wanted an aisle seat but I got stuck with a middle seat."
Pros: "On time. Good service"
Pros: "Too cramped"
Cons: "Good flight"
Pros: "- Good food - Good choice of entertainment - Comfortable seats - Polite staff & well organized"
Pros: "They were really nice and the plane was pretty new"
Cons: "No bad experience"
Pros: "Every aspect was smooth and efficient."
Cons: "Food was ok. Toilets were not given any attention during the 14 hour flight. Overhead bins were full so i had to sit for 14 hours with my backpack at my feet"
Pros: "Flight attendants really attentive and friendly. Flight arrived right on time and at a close gate. Good food."
Pros: "Average flight. Nothing special. Pleasant flight crew."
Cons: "Baggage was delayed."
Cons: "Worst flight experience ever-"
Pros: "My checked luggage bag was damaged. I noticed the damage only after I I reached home. However, when I reported Cathay Pacific baggage staff were very helpful and professional. I know several airlines who hide behind bureaucratic procedures to stonewall customers. CP is not one of them. Excellent service, before, after and during the flight."
Pros: "I liked the fact that food was offered rather than the typical NA experience where you provide your own."
Cons: "Staff seems distant and uninterested at times."
Pros: "Short stop over"
Cons: "Flight stewardess keeps saying "we don't have this, we don't have that, we run out of it"."
Pros: "Very good service. Professional and friendly"
Pros: "Smooth flight , crew members were good"
Cons: "Food and chair space The head set was in a sealed bag , when I opened it I found 2 white hair inside !!! The blanket was soiled with chocolate in a sealed bag !! Delayed flight for an hour without timely announcement"
Pros: "Flight from Toronto to Hong Kong was late departing due to a snow storm. Most on the flight missed connections. Cathay staff were waiting on the jetway with plans for everyone that missed their connection to Sydney. Just impeccable organisation and service."
Pros: "Everything thing worked out well except for the food for my wife. Sitting all the way in the back wasn't that bad because no one was behind us and we could fully recline."
Cons: "Kayak or Cathay provided no options to select meal preference while checking in online more than 24hrs before departure."
Pros: "I received more than expected"
Cons: "Very good"
Pros: "On time Good service Nice crew"
Pros: "The flight attendants were top notch and very busy and efficacious. I was impressed that they were always so helpful, courteous, and energetic even after a 12 hour flight!"
Cons: "Very uncomfortable with POOR AIRFLOW, mid way in the economy cabin, next to window (seat 44k). It was like trying to breath through a straw. I asked flight attendant if they could check the air flow, and her answer was that the temperature was 23C and everyone one else had blankets. My concern was not with temperature but FLOW. SO I went to back cabin (6 rows back) and the airflow was much much better and I could actually sleep. So bottom line there is an airflow issue mid economy cabin on the central AC jets. They should address this by putting back in air nozzles or checking actual airflow on these jets. This is very uncomfortable on long flights. Not sure I would fly this jet again for this reason."
Pros: "Customer service and food was great"
Cons: "Planes are old do not have larger entertainment screens and don't have wi fi"
Cons: "Cramped seats."
Pros: "All the Cathay staff members I dealt with were great! At the airport they were very helpful in getting me onto another flight, as my flight had been delayed, which in turn would make me miss my second flight. All the cabin crews were very friendly. I think that the people that work for Cathay make up for a lot of what Cathay lacks in other aspects."
Cons: "There was not enough information about the flight delays and the causes for these delays. It was a little stressful and rushed as my layover in HK was quite short. The boarding process could be a lot better if people were boarded according to rows. Food on most Cathay flights in general was pretty disappointing. It would also be great to have wi-fi on the flights. Especially considering how long some of the flights can be."
Pros: "There was more leg room and the food was excellent!"
Pros: "Crew were nice."
Cons: "Very bumpy ride, and about a third of the entertainment touch screens did not work, including my sister's. Crew were helpful though throughout and gave us and others a $50 voucher for our trouble."
Pros: "Easiness to oil a flight with Kayak. Price is much cheaper as compared to other travel websites!"
Cons: "None."
Pros: "Comfortable flight"
Cons: "They ran out of the most popular food by the time they served us, and we were half way!"
Pros: "Crew was cordial."
Cons: "Again, would it be possible to have more Christian-friendly movies?"
Pros: "I do the Canada-Australia trip fairly often to see my family, and Cathay-Pacific is my new fave. Cheaper than the usual, no problematic stops in the US and everything went perfectly smoothly. Thanks for looking after me!"
Pros: "Business class service was the best I've ever experienced from any carrier."
Pros: "The crew was very cordial and respectful."
Cons: "My son did not do well with the food on the trip. He became ill. The food did not smell particularly delicious."
Cons: "Very uncomfortable! Cabin crew are not friendly, service sucks! Very dirty cabin. Very noisy because of crying children everywhere!"
Pros: "The crew on this particular flight were incredible. They went above and beyond on every aspect. The best service I've ever received on a flight and I fly 40-50 times a year."
Cons: "Passenger seat is very hard and after 12-15 hours in most uncomfortable."
Pros: "The efficiency of this crew was unparalleled"
Cons: "This was the least friendly crew I have ever encountered! Save one young gentleman, the crew was in such a rush to be efficient that the customer service suffered. The head stewardess was harsh, stressed and completely rude with both her staff and her crew. She snapped at several people during the flight and everyone was put on egg shells - not so comfortable for a 16hr flight"
Pros: "Nothing."
Cons: "Flight was delayed out of Toronto for two hours and we sat on the Tarmac with no explation. Insufficient food for a 15 hour flight with no snacks offered except for two minute noodles in a cup which they ran out of. Catered mostly for Chinese passengers. Entertainment was very poor too, only a small number of English movies with the majority of entertainment in Chinese. Crew were rude and dismissive. Overall a great disappointment."
Cons: "The food was salty."
Pros: "The crew was super friendly and attentive. Best in flight service I have received in a long time."
Cons: "The plane doesn't have usb ports to charge the phones, and as there are no screens or anything else, make sure you bring your battery pack."
Cons: "Need more leg room. Cramped for 8 hours is not a good thing"
Pros: "Crew was great, seating comfortable."
Cons: "seat comfort"
Pros: "The seat was ok, I paid $ 115 per Trip ( total of $ 230) just to sit at the emergency exit to have some leg room and then I am sitting next to the bathroom and people stepping on my feet because they tend to hang out around the bathroom."
Cons: "The flight attendant not wearing perfume. Food was very poor to say the least."
Pros: "Everything was just dandy!"
Cons: "Crew was rude and slow"
Pros: "Attendants were attentive and efficient"
Cons: "Getting from one the deplaning pad to a gate on the opposite side of the airport was daunting given that we were running 1/2 hour behind schedule. We made it with barely enough time, but our luggage did not."
Pros: "Same as above"
Cons: "SAME AS ABOVE"
Pros: "Everything went smooth. Very friendly, and felt warmly welcomed."
Cons: "A bit of long lines especially with the 2nd security point in Zurich."
Cons: "We were scheduled for a 55 minute layover in Zurich which was not nearly enough time. Our plane was 10 minutes late in landing but our next flight was delayed 5 minutes. We had to take a bus from the plane to the terminal, go through immigration with very long lines, take a tram to our departure terminal and then run to our gate which was at the end of a very long hallway. Luckily they held the plane but it was very stressful and exhausting getting to our plane."
Cons: "Swiss would not let me get off at Zurich tonavoid a 6 hour layover. After the layover the flight was delayed to Malone's a, causing me to miss my bus and making a total of 24 hours travel time. Disgusting mz"
Pros: "New plane"
Cons: ""Swiss" and punctuality are not anymore going together"
Pros: "service, food and chocolate"
Pros: "11min for airplane docking and going through passport control . I have travelled the world but never seen a more efficient way than at Zurich airport.kudos."
Cons: "I chose my seat online and when I got to the gate they changed my seat to the way back of the plane"
Pros: "The food wasn't bad"
Cons: "Business seats suck"
Pros: "Everything was very good. From the staff, to the food and comfort. Excellent!"
Pros: "Problem free."
Cons: "It was a great flight."
Cons: "All of it"
Pros: "Kindness"
Cons: "Mackenzie Gray/ My flight was cancelled due to bad weather conditions unfortunately. I'm upset that I never received my initinerary for my substitute flight! I tried online and calling the # that was provided no results. I managed to get thru to someone and they told me they would send the info to my email but they never did."
Cons: "The airline changed a seat reservation after I paid for it. The Swiss support staff told me on the phone they would call me back. They never called back. I called again and was told the seats are changed and I can't do anything anymore. The return flight seats also disappeared from the reservation. I had also paid for it. The support staff when I called again put back the seats for my return flight. I tried to check in online. Not working. Tried at least 50 times. Not working. Called the support staff. They told me to call the check in support center. I called the check in support center at least 50 times where mi was told the staff are busy and could not answer the call. I called at 6:00am next day where I was told by the check in support staff that my ticket had an issue which they did not know exactly what was the issue but prevented me to do a check in. I drove more than 2 hours to the airport where finally I could check in but I was told that my return flight seats had disappeared again. They managed to put them back again. I hope this time it's finally ok. The support staff on the phone told me I could get reimbursed for the seat reservation I had paid for for the on going flight. The Swiss staff at the airport told me there would be no refund. Swiss is terrible"
Pros: "Air hostesses were very courteous, friendly and the cabin was clean and comfortable. My flight from jfk to Geneva (then Zurich) was cancelled due to weather in Geneva (Swiss 23) so I got upgraded to a delta flight to Brussels then to Zurich Comfort+ !!! Thank you!"
Cons: "Flight from Zurich to Johannesburg: Swiss 288 (airbus a340-300) Sat in the last row of the Swiss air flight, economy, which was okay but our whole row video enternatinment system didn't work. You'd pick a movie and it wouldn't play. The games, camera and flight status animation all worked but not the movies. Air hostess tried resetting , still nothing. But it was a great opportunity to have a lovely conversation with my new German Friend Barbara and read my book! More lactose intolerant alternatives for breakfast which had much (cheese, yogurt, croissant) Other than those two , excellent flight. Thank you Swiss!"
Pros: "It was an 8.5 hour flight and we got fed 2 meals, 2 snacks and had lots of beverage breaks! We were delayed a little but it was due to an issue in France, not anything to do with the airplane, and the captain found a solution faster than he had originally said he would (with the help of the tower of course)."
Cons: "The legroom in economy is just as bad as you would expect."
Cons: "I bought economy class ticket! (I have a printout ticket as proof!) When I went to the airport i had a VERY UNPLEASANT surprise. I had a 23kg bag. Bording stuart said that my ticket is ECO LIGHT class and I don't have the right to any baggage. Worst thing of all was that the reason of my trip to Paris was my sister's graduation and half of the baggage was my formal wear and other half were presents for my sister! Your lack of transparency ruined one in lifetime special event- MY SISTER'S GRADUATION. I am very glad that you asked me for my opinion because I am using my free time to demand full refund, even tough the damage is much bigger than the cost of the ticket and it's irreplaceable."
Pros: "Too hot. Even after several requests nobody lowered the temperature. Very cold manners except for one attendant who was friendly"
Cons: "Service, Temperature, Attitude"
Cons: "My seat did not recline and my tv did not work"
Cons: "Seats have become tiny, crew were not very friendly. No ice on an 11hr15min flight , that was delayed almost 5hours!"
Pros: "staff were very helpful"
Pros: "The chocolate"
Cons: "The entertainment system in the main part of the plane was not working luckily I had a good book otherwise I would have been very upset."
Pros: "Almost nothing.."
Cons: "1) my seat was broken (didn't recline) 2) my USB charger... Broken.. 3) my food was in a metal container that was stamped and the ink from the stamp leaked and was pressed across my food. I was literally not about to eat the alphabet... (luckily, a nice attendant came by and apologized, as I know it was not her fault the food came out like this. 4) Rude attendant came over 25 mins after I had turned on my attendant button to ask for a bottle of water. (I turned it on while they were still serving drinks) (also forgot I needed water to take some medicine that required to drink a full glass) She came up to me and my fellow passenger, yelled at BOTH us while she was waving her hands our face. I mentioned to her "it's not polite to treat people this way" she moved her hands closer to my face thrusting her whole body over my fellow passengers face, and continued yelling at me about turbulence (while she's completely avoiding the rule herself.) He and I were both seated and buckled and not bothering anyone. She could've just taken her own lecture and kept ignoring the signal. I wrote about this in customer support letter that the 'NICE' and 'Helpful' attendant Gave to me that sincerely apologized for the previous attendants behavior."
Pros: "I had a super-short connection from Stockholm at Zurich (going to JFK), and I just assumed I'd have to be rebooted, but they held the plane for all of us! Entertainment was excellent, service was great - I really like the food, although I don't eat well on flights. Comfortable - I slept for a few hours. Really great experience (until I hit customs in JFK, but SwissAir has no influence on that :) )"
Cons: "Don't like to wait for no one 30 min inside airplane"
Pros: "nice and efficient crew. seats had good space for flight"
Cons: "no entertainment."
Pros: "Easy. Pleasant staff. I felt safe and happy."
Pros: "Great customer service."
Cons: "Breakfast was a strawberry yogurt, orange juice and a croissant. Sugar free options ie. Eggs, rye or whole grain bread are a few examples of sugar free breakfast items that could be provided."
Pros: "Business class was full so I could not get an upgrade. There were only 4 lavatories for economy. One of those was broken and there was no water in any of the 3 remaining ones. The crew had no water either and they could not make tea or coffee."
Pros: "The larding was terrible. I came in a wheelchair but am able to walk short distances. I spoke to man at the gate about boarding early and he said he would come and get me. But he did not and I had to push and shove with everyone else as their is no plan. Awful! Service was good. Lots of water and juice brought round in the night of"
Pros: "Great flying with Swiss!"
Cons: "seats were a bit tight! otherwise, great!"
Cons: "No plugs for USB chargers in economy. Entertainment units were broken."
Pros: "I like that Coke Zero was available."
Cons: "My chair was stuck in the fully reclined position for a good portion of the flight and my wife's chair was constantly being knocked into by the passenger behind her because his seat was too short for him. When the seat in front of me was reclined, the screen was only a few inches from my face. There was a loud, obnoxious passenger next to me who almost got into a fistfight with another passenger until the stewardess came to calm him down."
Pros: "Comfortable business class seats, much better than the updated Lufthansa footsie leg rests. Attentive staff. Puzzles for the children"
Cons: "Still no wifi on the Swiss Air A330. No live tv streaming. No big deal on red eye, but frustrating on long daytime flights."
Pros: "The crew was lovely."
Cons: "The seats were very cramped."
Pros: "Nothing"
Cons: "The most racist and unfriendly and uncivilized people ever."
Pros: "Entertainment, movies music were good selections. We enjoyed them. Although the headphones jack socket for my wife;s seat didn't work properly. They should maintain their equipment better."
Cons: "In Zurich if you travel to US or Canada, they have just before the gates some security check that ONLY verifies the passport. It seemed weird to me. Why are they not excluding transferring passengers from this nightmare. Because it is a nightmare. Long and disorganized lines where travelers, that have diverse leaving times, are trying to enter 4 check points that work slow and nobody manages all that mess. On the plane, absolute unnecessarily (they had extra unoccupied seats) they took one of our carry-on-s with the check in luggage. The seats are extremely tight and offer a very small place for the economy class. Nothing special about the food."
Pros: "Good entertainment"
Cons: "Couldn't control the airflow at your seat."
Cons: "There was adely because of bad wether. It made us miss the conection but none talked to us and explained what is going on."
Cons: "They didn't let me on the flight because I'm disabled pure discrimination"
Pros: "Crew was super attentive and kind"
Pros: "Service was fast"
Cons: "Better seats"
Pros: "Nothing"
Cons: "Proper communication"
Pros: "Not a lot"
Cons: "Customer service"
Pros: "non stop flight"
Cons: "Crowded, small plane. No air after people had boarded while fuel was being replenished (dangerous?), sitting at gate for 20minutes. This, after a 2 hour delay. Then a rough landing in Minneapolis- plane brakes sharply and suddenly, shuddered to a taxi rate of speed. simple snacks, not very good."
Pros: "Nothing"
Cons: "Worse experience ever, flight delayed, lost connection, many hours in phone trying to fixed and anyway lost the flight, spent so many time at the airport with the front desk so disappointed"
Cons: "You guys didn't allow me to get in this plane and i missed my flight."
Cons: "When we booked this trip via Kayak, we thought that we were booking on Westjet. Westjet knew nothing about the flight when we tried to check in."
Cons: "Plane had to divert from Salt-Lake City due to a storm. My son 17 years old traveling alone once in Salt-Lake City should have been given priority for an overnight stay instead of sleeping on an airport bench! Dinner + Breakfast vouchers would also have been nice compared to the 15$ food voucher..."
Pros: "Our flight crew were great. Pilots were great too."
Cons: "I missed my connection due to weather in Minneapolis. Was diverted into Milwaukee, but nope we are diverted to Chicago, but wait no we go to Milwaukee. Deboard into a close gate area. Rest rooms were closed. Then once refueling is done get back on and make Minneapolis at 12:15 am. Connection missed"
Pros: "The on board food was amazing, nothing like I'd ever had on a plane before. I was also pleased with the choices for entertainment."
Cons: "The seat was not comfortable in economy. I could not sleep and there were no air vents. Every time I tried to rest my head on the seat in front of me the screen would turn on and get super hot. I wish there was a cover or something you could turn the screen completely off."
Pros: "The flight attendants were amazing. 12 people had a connecting flight and they brought a shuttle bus. You dont see that kind of service any more 10 stars for that"
Cons: "Super small plane."
Pros: "The overall experience on the flight was quite pleasing. The flight crew created a warm atmosphere on what was a very cold morning. Seating was not the most comfortable but the wasn't unbearable."
Cons: "Delta should have a better food menu for those early flights unless the motive is to encourage everyone to eat an organic and wholesome meal prior to boarding, something we all should be doing."
Cons: "No food on board and we were hungry"
Pros: "Friendly crew."
Cons: "Slow boarding."
Cons: "No charging outlet."
Pros: "I liked the touch screen displays in each headrest. Seats and leg room comfortable"
Cons: "Boarding was somewhat unorganized"
Pros: "The crew"
Cons: "Timing"
Pros: "Flight was on time/ early."
Cons: "Have hot water for coffee and outlets for phones"
Pros: "The kind staff"
Cons: "Dirty bathroom on flight from Toronto Ontario to Atlanta. Smelled like urine."
Pros: "got there on time, no delays. very smooth"
Pros: "Boarding was smooth, attendants were nice and informative, and everything was on time"
Pros: "By"
Cons: "A three hour delay on the first flight and a hour delay on the second..."
Pros: "Crew was friendly!"
Cons: "Plane wasn't clean"
Pros: "The movie selection was good"
Cons: "Instead of a flight from Toronto to Atlanta.. it was a flight from Seattle to Atlanta, and I only had 45 mins to get to boarding because of the last minute flight changes."
Cons: "Customs massively backed up. Somewhat disorganized"
Pros: "Nothing."
Cons: "Flight left 2 hours late. Did not get adequate cabin service. Put in the back in an awful seat."
Pros: "Airline and airport staff were great"
Cons: "There was no time to eat. Nothing other than snacks. The time allotted was *barely* sufficient to get from gate to gate. We were starving when we got to our destination."
Pros: "On Time. Nothing else to say,"
Pros: "Friendly, leg room, on time."
Pros: "There was nothing I liked about this flight."
Cons: "Everything from beginning to end was horrible. They messed up on our seats so I couldn't sit with my parents who are both elderly and need my assistance. The flight attendants were rude (no greeting, no smiles). My TV did not work and my tray for food was dirty."
Pros: "Ice weather and flight cancelled, but they waited until the last minute to cancel it."
Cons: "Ice weather and flight cancelled, but they waited until the last minute to cancel it."
Pros: "Delta did find us a new route to get us to our final destination after west jet booked on a flight that was already sold out ."
Cons: "We had to add on an extra connecting flight . We had to then fly from Toronto to Detroit then on yo Atlanta ."
Pros: "Flight went off pretty well. On time no complaints."
Cons: "Somewhere somehow you need to know that, although partners, Delta and West Jet do not share computer systems and that they are two completely different airlines. This affects ,sometimes, how luggage is handled especially when you land in another country and you have to manually transfer your own - and nobody tells you. You actually change airlines. Itinerary implies West Jet controls the entire thing. Not the case. Better job economic explaining what to With luggage and that, while itinerant implies 1 airline, they are only partners and should be treated separately."
Cons: "Aircraft seemed shabby despite refresh of Comfort Plus, food was really mediocre. Steer clear of the Asian Veg option."
Pros: "The flight was pretty empty so my entire row was empty so very comfy and it was the new bigger plane so lots of carry on room too."
Cons: "Nothing...I have no complaints"
Pros: "The crew tried their best. The seats were average. The food ok."
Cons: "The entertainment is non-existent. Wifi wasn't even enabled. Four to five hours without ANY entertainment is totally unacceptable especially with teens and kids!!"
Pros: "Delta flew their way back into my heart this time around"
Cons: "have to wait 2 days for the flight, so i would say that's a pretty objective zero rating."
Pros: "Staff, Ease of boarding"
Cons: "Bring back in flight meals, please"
Pros: "The boarding was very organised and the crew very friendly. The snacks that they offer is great too"
Cons: "They had to change tires before we lelt in Toronto. And we spent more than one hour on the tarmac."
Cons: "Temperature was too cold"
Pros: "Service was fast and the inflight entertainment is free. Lots of movies to chose from, which is nice for the long flight."
Cons: "It was the most cramped I have ever felt in a plane and also the longest flight. Horrible combination. Some of the crew were snippy."
Pros: "The food"
Cons: "No entertainment"
Cons: "Bad"
Cons: "West Jet gave me a "fake" ticket delta would not let me board missed the flight I had to wake up at 3am to catch. This is after I finally made it to my hotel last night at 11:30 pm. This is completely unacceptable. NEVER AGAIN IN MY LIFE WILL I EVER FLY WITH THIS COMPANY!!!!"
Pros: "Once again, the people were friendly, but I did not really experience much since I went to sleep as soon as the plane took off. I did, however notice that the seats reclined a little more than normal (which was amazing for me). I had a comfortable flight and caught a great nap."
Pros: "The flight attendants were helpful, the flight was smooth."
Cons: "I was unable to check in online without a delta confirmation number and I had booked through west jet. The flight was delayed 40 min so I arrived later and I was removed from the flight. I got through security and customs with plenty of time and managed to get back on the flight. It was all around just annoying."
Pros: "The flight attendants were great! Super friendly and helpful with everything!"
Cons: "I'd love slightly larger snack portions."
Pros: "Staffing was great!"
Cons: "The fact is that it is illegal to pack Sardines at compact as you are packing us on your aluminum cans."
Cons: "More space on economy for long flights."
Cons: "Boarding was slow but they had increased number of wheelchair clients. Not their fault but was a known so the process could have been started earlier."
Pros: "Service was good. Flight attendants were friendly"
Cons: "The departure area at terminal 1 YYZ was crowded and not the most comfortable experience"
Cons: "Not much legroom and no tv's on a 10-hour flight"
Pros: "everything from the boarding and check-in process to in flight comfort."
Pros: "Overall"
Cons: "Space was limited"
Pros: "Nice touches like pillow and blanket, lots of movies and hot meals."
Cons: "My seat was very uncomfortable for such a long flight! It didn't recline and was cramped. Also I have terrible nut allergy and when I tried to communicate that to the flight staff the kept telling me to tell someone else."
Cons: "Be on time"
Pros: "The problem was with the booking, cancelled flights- under stable- but nobody willing to make it right. Flights still screwed up"
Cons: "Give some customer service to your paying customers. Don't make a bad situation worse. Practice a can do attitude. Very disappointed in customer service. Not the flight itself."
Pros: "I liked that we got served a lot of snacks and food :)"
Cons: "Nothing honestly! Smooth flight :)"
Pros: "crew"
Cons: "food screens"
Pros: "Never made it on this fliggt due to previous flight was delayed. Im stuck in London as of now. Never booking with kayak again"
Pros: "Smooth boarding."
Cons: "The cramped seats, not a lot legroom and people complained once you reclined."
Pros: "On board crew was friendly and helpful"
Cons: "Muslim meal does not mean all Muslims eat curry. It's rediculous that we cant have a decent English breakfast instead you get curry or some form of curry for breakfast, lunch and supper. Your so called Muslim meals are not suitable for kids!! There is no such thing as a Muslim meal either. It's simply called Halal otherwise then everyone else's meals should be called Christian or Jewish meals etc. Also I requested help with transfer to my last flight which was horrendous because I'm one adult with 4 kids ages 1 to 11 and my eldest has sever learning disability. I nearly missed my flight because our flight landed late and I was struggling to keep my kids safe and together while running for the next flight. Somone should have been there to help with transfer."
Cons: "There was no drink service because of "turbulence". I did not notice any turbulence."
Pros: "Service from Milan to Toronto was good"
Cons: "Service from Toronto to RdU not so good"
Pros: "Ended up flying with air canada after they switched us"
Cons: "Lufthansa switched us three times , and then when we got to the airport in toronto it was air Canada. They found our grandparents tickets but not ours. Ridicule our flight was supposed to be only 1h layover, inatead it's 6 and we are going to miss all our next travel accommodations."
Pros: "Air Canada is a great airline too"
Pros: "Crew was wonderful. One of the smoothest flights I've taken in a long time"
Cons: "Boarding was chaotic and basically a free for all rather than by rows( back of the plane first)"
Pros: "Clean aircraft, very friendly crew, good food, overall great trip."
Cons: "Requested for Hindu vegetarian meal by call and was informed we would receive on flight. Got on flight to find that Hindu vegetarian does not exist. Starved on both legs of flight. That is almost 24 hours. Plane should keep extras and customer service should give correct information."
Pros: "Firstly, the food was great!"
Pros: "The flight attendants all were very helpful and seemed to enjoy their jobs"
Pros: "Crew helped us with connections"
Cons: "Choice of seat came with a cost. Very uncomfortable seating. Not enough room."
Cons: "New plane. Very little legroom. New seat back pouches hold next to nothing."
Pros: "Crew was pleasant and helpful, even once we had a long delay"
Cons: "The cabin was very tight and the seats were very uncomfortable"
Pros: "I was upgraded after all the pressure from thehurrricane this was the icing on the cake"
Pros: "Easy flight and on time"
Pros: "Not much"
Cons: "Entertainment system wasn't working. 11 hour flight. Boring. No seat change available. No reading light, as light controlled by entertainment system. Seats in front of toilet cluster lit up every time door was opened. Crew were slow to react. Wasn't a priority. Ruined the excellent first leg of had from Philadelphia to Frankfurt. Do they run inferior planes to South Africa compared to USA?"
Pros: "nice and polite crew"
Cons: "no screens/maps with route information no enterteinment unless downloaded on your own devise, I had an Iphone which is too small to watch anything.... seat hardly reclined at all and felt extreemely uncomfortable"
Pros: "Liked the crew, the food, blanket and pillow."
Cons: "Frankfurt airport wheelchair service needs to be better administrated."
Pros: "Huge, new plane, lots of helpful crew, personal entertainment screen, chairs laid back more than typical"
Cons: "Window arm rest didn't move up, boarding was crazy because YYZ airport doesn't have the format to hold lots of people, how to board was a bit confusing, and turbulance."
Pros: "Our stewardess from Toronto to Germany was the best that I have ever had."
Cons: "Great trip."
Cons: "Having to pay to sit together."
Pros: "Crew"
Cons: "Smelly plane,uncomfortable chairs, AC didn't work properly (hence the smell).No screens, spotty Internet."
Pros: "Professionali customer service. Food and beverage service very good and generous. Love the European hospitality."
Pros: "The flight was really on time and the flight crew was just amazing. The overall experience was exceptional. Will recommend this servic to any one who will like to travel"
Cons: "Nothing"
Pros: "All the staff was very friendly and helpful."
Cons: "Terrible leg room."
Pros: "The flight attendant was very professional. The flight itself seemed quick and easy, and I believe we landed early despite being delayed for takeoff."
Cons: "I wish the head rests had the "wings" that help keep your head from rolling back and forth. Also I wish we had an option for our snack."
Pros: "My trip was from IAH to FRA by Lufthansa flight"
Cons: "crowded,"
Pros: "Good services fro pilot and crew members"
Cons: "Baggage allowed in Nigeria with attendant are hostile to passengers Samuel Fadiya"
Pros: "Good entertainment options, large bathroom area on a lower level"
Cons: "Food options and space"
Cons: "2 hours late"
Cons: "I will not fly on Air Canada again...Eventhough this is listed as a Lufthansa flight there was nothing Lufthansa about it. Terrible food. Overall miserable"
Pros: "the magazine selection prior to flight, bottle of water in front of each seat and crew were great, the pilot's landing was amazing! The seat in front of me had weird legs that made the room under the seat smaller than other seats around me. So you couldn't fit in the carryon fully under it as you could under the seat diagonally from me, however, this ended up being a huge plus since I could use the legs of this chair in front of me as stepping places to place my feet during flight. Since airline does not provide foot rest, it was great to have this to elevate the feet for a long flight. More considerations should be give to provide footrest or at least these kind of foot elevations."
Cons: "The dinner and breakfast were a bit disappointing, but not bad and not a deal breaker at all since the rest of the flight was wonderful. I noted comfort as ok, but that's applies to all airlines - the seats in economy and no footrest is very uncomfortable, but that's on all economy flights, so no deduction of points there. I do want to note that I needed a boarding pass at the gate and stood in line for quite a while (I was first in line) before I was even acknowledged by a lady who ended up helping me eventually. But she was so cranky! (there were 2 ladies - one busy helping the crew and putting around barrier - she was fine, the other with a head covering (putting this hear just to distinguish the ladies as one was doing a great job)- not sure what she was doing, but she plainly ignored me standing at the desk in front of her, I didn't say anything, just patiently waited until she acknowledged me, and then she printed the boarding pass for me, but she was way to cranky to be in the job that she is in - no need for that kind of attitude."
Pros: "Food, very well organized crew"
Cons: "No leg room, long flight"
Cons: "Flight was delayed 4 hours and resulted in missing FRA - DEL flight. No help at Air Canada with rebooking missed flight."
Pros: "I was seated in an exit row and there were pillows and blankets made available to every passenger."
Cons: "The scheduling of the in flight events made no sense. The cabin was dimmed for take off (logical, given that it was a red-eye). However, once we were at altitude, the lights were put back on to serve dinner. Several people were woken up by this and it took like 1.5 hrs because its a big plane. Also, it was like 9-10pm local time by this point so dinner made no sense! Then the lights were dimmed and people tried to sleep. The lights were turned on 1.5 hrs prior to landing to serve a light breakfast. So, 6.5 hr red-eye turned into about 3.5 hrs of actual sleeping time. I would've preferred to be left alone and given a bigger breakfast."
Pros: "The breakfast, one piece of poundcake, that was the only highlight, and one decent size bathroom."
Cons: "Boarding was unorganized, nobody knew what was going on, but the biggest disappointment is there were no movies there are no video screens on the entire plane so unless you bring your own device and have pre-downloaded Air Canada app there are no entertainment options at all! Who ever heard of a transatlantic flight that didn't have a movie? Make sure you download the app so you can at least watch the movies on your tiny screen."
Pros: "Salimos a tiempo . El business es muy confortable"
Cons: "La comida horrible . No se limpian los baños"
Cons: "No internet available (2020). For the my previous flight, a month ago, was the same problem."
Pros: "Very friendly and responsive crew. Announcements from the Capitan and chief of flight attendants are very informative and comforting. Seat positions: very good leg room (even in economy)!"
Cons: "Newer airplane, as 747s are kind of outdated now, especially for long distance flights. But overall had good experience with KLM"
Pros: "very nice crew"
Cons: "my bagfage was lost"
Pros: "Seats were super comfortable, bigger than most planes with extra leg room. Food was excellent and fresh, amazing Dutch cheese sampler was divine. No nonsense staff who had all connecting flight info on hand when we arrived in Abu Dhabi. KLM staff were friendly and efficient. Fabulous airline."
Pros: "Comfortable seat, great crew."
Cons: "Flight delayed, no USB port and no entertainment"
Pros: "Crew helpful. Food good."
Cons: "Better range of movies please"
Cons: "Flight got delayed 30 minutes"
Pros: "Great crew, comfortable seating with enough leg room."
Cons: "Provide dinner before getting to joburg, instead of a snack. Flight arrives late so dinner would be appreciated"
Pros: "No delay and nice staff"
Pros: "Crew was amazing. They adjusted the seating arrangements so there was an empty seat in every row to give passengers more space. Very thoughtful and much appreciated. They served delicious meals, snacks, and water. They provided headphones, blankets and pillows. They took very good care of us."
Cons: "This was just a short commuter flight from Lyon to Amsterdam for connection."
Cons: "The website I booked on and the Delta phone line on the printed ticket said that I had baggage when it turns out that I did not according to the check in staff and they made me pay."
Pros: "Lovely crew, very helpful"
Cons: "N/A"
Pros: "Good food, friendly service"
Cons: "More trash pickup; only one round of beverage service"
Pros: "Once aboard the plane, all went well and I experienced excellent service from the cabin attendants."
Cons: "The flight was delayed (again!) for some 40 minutes and I was worried that I would miss my connection flight in Atlanata. Fortunately the pilot made up for the delay (probably costing the airline thousands in fuel). It seems these days that every KLM flight I take is delayed. This stretch goes back to 2015! Yet KLM prides itself as being punctual. Not the KLM that I have been flying!"
Pros: "Everything is alright"
Pros: "NOTHING"
Cons: "Having to change my seat to accommodate a rude belligerent passenger, who had taken my seat, refused to move until spoken to by steward. She then made my flight a nightmare, until I let her sit in my aisle seat. Even then she was not satisfied, she abused me the whole flight damaged the screen so I could not use it until the steward fixed it. Demanded that I except any and all alcohol to give to her to drink. When I am tea total she then continued to abuse me. I asked the steward to move me he just shrugged his shoulders and said there was nowhere else. This is definitely my the worst flight I have experienced."
Cons: "wasn't able to take the flight since I missed it"
Pros: "Friendly staff"
Cons: "Leg room"
Pros: "Staff very pleasant"
Cons: "Evening snack was not the greatest breakfast was pretty food"
Pros: "Excellent service. A meal , drink and a coffee included which we were not expecting."
Pros: "I slept pretty much the whole time"
Pros: "The boarding was easy and you didn't have to wait inline for that long"
Cons: "KLM needs to upgrade the entertainment. It was very hard to see the images on the screen. The planes that KLM uses are old and they sure need to be upgraded."
Cons: "Boarding was confusing and disorganized"
Cons: "Customer service"
Pros: "Left ontime and service was excellent."
Cons: "We did not get two of baggage at the destination."
Pros: "Nice crew; clean plane; decent dinner"
Cons: "No entertainment system; insufficient knee space"
Pros: "Nothing really"
Cons: "Flew KLM 27 years ago and the airlines seem to be stuck in the same era. Food is poor quality... Have you recently checked the Gulf carriers."
Pros: "Great service"
Pros: "Flight crew was fine. Food was good."
Cons: "Checking in was extensive for unaccompanied minor. But gate crew was very unnattentuve and though we showed up as first in line, they did not focus, and kept saying to wait. Ultimately our son was last person on the plane."
Cons: "Boarding was delayed a little due to weather as was takeoff. Cant blame them for weather but the connection was very tight."
Cons: "Bag was lost"
Pros: "The flight was very good, specially considering it was a daylight one. Staff was friendly and servicial. Tue food was above the industry's average."
Pros: "Easy Boarding"
Pros: "Loved the service...everything was excellent"
Cons: "The bus class seat was a bit narrow at the feet"
Pros: "Crew was friendly..business class seat was very comfortable and seemed wider than most Nice power outlets great entertainment system"
Cons: "Row 6 in business is after the first 5 rows and Galley and restroom. Very awkward"
Pros: "Of the multiple international airlines I recently flew with, I would have to say KLM was by far the best. Relaxing atmosphere, comfortable seating, great in-flight entertainment, although I have the go-go in-flight data/entertainment plan with t-mobile (highly recommended), the flight included a decent selection of movies, television programs, etc. The food far exceeded typical "airline quality," even for an international flight - and included a fabulous little snack box with locally sourced gourmet and specialty items such as chocolate from Belgium, fine cheeses from France, and crackers from England. Drinks = gratis, and crew was exceptionally attentive and went out of their way to make flight as pleasant as possible."
Cons: "Nothing."
Cons: "Our flight was canceled from Amsterdam to Bordeaux and did not receive any direction and had to find alternate flights for ourselves with the personal expense of using our own cell phones. Then our luggage lost for 3 days. Not happy!"
Pros: "Free wee cake."
Cons: "Nothing in particular."
Pros: "Loved this 747! Crew was professional and food was very good."
Cons: "We had a long wait (25 minutes) at the gate because we were early."
Pros: "Fortunately, the plane was not full, so people could spread out a bit to create extra room. The food was really good! (surprisingly)."
Cons: "KLM's new configuration for this type of plane made the seats even narrower than before. While leg room was reasonable, the 3 abreast seating meant a lot of discomfort, especially in the row right in front of the restroom."
Cons: "Flight delayed, had to take two more flights and was a four hour trip turned into a 12 hour, 4 countries trip"
Pros: "Quick (relatively) flight."
Cons: "Skinniest seat ever. Couldn't even lean back. I now have hunchback."
Pros: "Wide selection of entertainment, food was good."
Cons: "Boarding unorganized, but that may have been more of a passenger issue then KLM"
Pros: "It was a short flight so it was O.K."
Cons: "Boarding was odd. Go to airport early and counters were not open, did on line check in so was able to avoid the self check in at airport. Also self check in luggage seems confusing with no ground crew to help. It didn't affect me but lots of confused passenger."
Pros: "Nice, turbulent-free flight. Food was good, service with a smile. Leg space was OK because Boeing 777s are usually better at this."
Cons: "Flight left over an hour late because of a sensor glitch. It is concerning when a technical glitch happens. But, the flight was smooth."
Pros: "Seat space was good for a short flight, inclusive of free snack and drink."
Cons: "Too much overoverhead luggage."
Pros: "KLM food and service are great"
Read more about Cathay Pacific
Safety measures for airlines flying from Ontario to South Africa
Airlines flying from Ontario have enacted additional safety measures and adjusted policies to better accommodate travellers. Policies vary by airline.
Heightened sanitation
Daily cleaning, installation of cabin HEPA filters on flights from Ontario
Mandatory masks
Masks required on board, masks provided on flights from Ontario
Social distancing seating
Middle seats unavailable to book on flights from Ontario
Pre-flight testing
Testing for antibodies, testing for symptoms for flights from Ontario
Book cheap flights from Ontario to South Africa
Recent return flight deals
Search by stops
Search by airline
Search by price
Recent one-way flight deals
Search by stops
Search by airline
Search by price
Flights to South Africa
Browse origins:
R13 692
R11 872
R9 882
R13 735
Browse destinations:
R9 882
R11 432
R14 176
R10 635
R101 860
R96 770
R21 356
R13 067
R12 171
R13 550