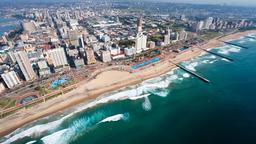 Find cheap flights from Ontario to Durban
Search hundreds of travel sites at once for deals on flights to Durban
FAQs for booking flights from Ontario to Durban
How does KAYAK find such low prices on flights from Ontario to Durban?
How does KAYAK's flight Price Forecast tool help me choose the right time to buy my flight ticket from Ontario to Durban?
What is the Hacker Fare option on flights from Ontario to Durban?
What is KAYAK's "flexible dates" feature and why should I care when looking for a flight from Ontario to Durban?
Top 3 airlines serving Ontario to Durban King Shaka Intl
Scores according to KAYAK customer reviews
8,3
Emirates
Overall score based on 15 475 reviews
Cons: "I wish the 777 had slightly wider seats like the A380"
Pros: "Good leg space and entertainment options"
Cons: "I was eligible for a complimentary hotel for my connection. However, in none of my correspondence was mentioned that I'm supposed to request a hotel ahead of departure. No emails from Kayak and neither Emirates. This is extremely disappointing and unnecessarily costly"
Pros: "Seat was very comfortable, and food was amazing"
Cons: "Some of the fixtures were falling off, and the side controller for the TV screen was not connected or working. It is to be expected from an Older A 380, but not a deal breaker by any means"
Pros: "Yes"
Pros: "Attentive crew. Responded to all requests right away."
Cons: "I think just entertainment - choice of movies ."
Pros: "The crew was very polite and professional."
Cons: "There could be more legroom."
Cons: "Evrything was fantastic"
Pros: "amazing customer service. great seats and interior. well on schedule."
Cons: "no window seats were available just some time after check in was open(at least when i got notification). Got airplane ears- pressure issue. This has never happened to me before."
Pros: "Food is good."
Cons: "Seats could have worked well. Infotainment could be better"
Pros: "Entertainment was awesome. Lots of new movies"
Cons: "Flight was 1 hr delay and we missed our connection flight. That was the most frustrating from the trip. Crew and aircraft was okay nothing special like I expected."
Pros: "Flight was delayed for 6 hours while we are in the plane, on top of my 13 hour flight"
Cons: "letting people know that flight will be delayed ahead of time"
Pros: "Leg room was excellent I even enjoyed the meals nice to have real cutlery rather than plastic Very efficient and smooth boarding Return of checked luggage upon arrival was prompt and efficient Flight attendants were super conscientious, friendly and VERY professional"
Cons: "Everything was GREAT"
Pros: "The entertainment system was excellent and the free WiFi was good. The food was good, it was a bit more than expected as were the numerous beverages. The service was excellent."
Cons: "The free WiFi was limited to a small amount of data or two hours."
Pros: "Friendly cabin crew, new movies"
Cons: "Long wait after boarding before takeoff"
Pros: "Went by Economy, upgraded to biz on way back. Both were great experiences. Biz class was excellent, I feel better than United."
Cons: "NA"
Pros: "The comfort and smooth boarding procedure"
Pros: "On time, chose the raw meal which was excellent."
Cons: "Nothing!"
Pros: "All the teem all the services"
Cons: "Non"
Cons: "Because the airline kept changing the gate numbers an this was my first time to fly alone. Plus I had to take a bus to a plane on the tarmac. I missed my flight. Tried to charge 600 for the same flight the next day. The people were rude an impolite at Dubai. It's very expensive airport. Do Not Fly with United emerites at all. Terrible just terrible"
Pros: "Smooth flight. Attentive crew. Good entertainment options"
Cons: "The toilet had no toilet paper so I used the paper hand towel and prayed it did not block when I flushed. The beef option was not that great. I should've chosen the chicken."
Pros: "Great crew. Not so good food. flat bed is a blessing. sleep throughout the flight."
Pros: "Not much"
Cons: "Flight attendants not friendly, some downright rude and looked like they hated their jobs (bumped into seats, rushed service, visibly irritated when people would ask for assistance), my video wasn't working properly and was told "it's an old plane, there is nothing we can do, it will be retired soon, we can get you some you some magazines", food was terrible."
Pros: "I liked the service provided."
Cons: "Would like to see decent vegetarian food options. Also please introduce some variance in your menu. the menu has been the same in the last 3 flights."
Pros: "What I like is the food served, the entertainment, and the toilet."
Cons: "Their services has drop, which is quite sad. As I heard from my Friend that Emirates is the best, but it seems not."
Pros: "Food is good . Service is good"
Cons: "Airline appear to be harassing passengers with excessive overage charges. DXB is supposed to be a shoppers paradise. They are weighing dutyfree bags too along with cabin baggage. Eg: they charged me $56 for 2 kgs overage. I am very disappointed."
Cons: "Very good"
Pros: "More space"
Cons: "Na"
Pros: "The flight was excellent, good service and excellent staff"
Pros: "The sitting is nice with good leg room"
Cons: "Can't think of anything I don't like."
Pros: "Everything from food to seating was quite comfortable."
Cons: "Boarding was a bit more difficult since they did not call boarding zones"
Cons: "This was a fraudulent charge!!"
Pros: "Food and entertainment"
Cons: "Some customers were allowed to drink to excess. Staff lacked the discipline to say no. Cabin staff showed clear bias to some customers. They chose to chat with passengers and neglected their duties. Little clusters of drinkers gathered in non seat areas away from their seats causing noise. Staff did not challenge this. Female staff too busy giggling with drunk men"
Pros: "The flight was superb."
Cons: "Nothing. Will always fly Emirates whenever I get the chance."
Pros: "Everything. The service, food, entertainment. This airline is phenomenal!"
Pros: "The AirBus A380 plane is amazing! Really great movie options too - almost too much choice."
Cons: "They randomly chose us to conduct a carryon bag search, which is fine. But they also randomly chose 100 other passengers and there wasn't enough information or staff to do this random check efficiently. Hence, we were more than an hour delayed."
Pros: "So easy to check in and tranfer at Dubai"
Cons: "Quite difficult at times to manage the film options on screen"
Pros: "Very good it's the best. Ik"
Cons: "Entertainment system was older version than the flight to Dubai. Also less legroom in this model 777"
Pros: "Same as above"
Cons: "same as above"
Pros: "The crew were friendly."
Cons: "wifi wasn't good - I couldn't connect. Wine choice wasn't good (white). Would have preferred a sav blanc"
Pros: "In my way to Dubai, I asked the gentleman not to put me in the middle, when I get in found myself in a middle row middle seat. Food choices chicken, steak, and stuffed zucchini all are nasty. Also, I was told that business class luggage comes out first that wasn't true on both leg of the trip. Also, I wasn't told that I have a lounge to hang out until the boarding time. In my way back it was same exact food menu service is mediocre at best very demanding flight attendants. Also the luggage came out towards the end . I told my friend I travelled with that this would be my last time to use Emirates airline"
Cons: "The flight being on time"
Pros: "flight attendants, food, nighttime lights, seats, movies"
Cons: "when the PA announcements came over the loud speaker, when i was listening to a movie, was extremely loud"
Pros: "A380 was superb. Really enjoyed being on-board of that aircraft"
Cons: "Dubai - Cebu leg. They managed to lose my suitcase and my understanding is that was done since the flight was full. I would appreciate if they didn't leave my suitcase in Dubai."
Pros: "The Airbus was very good -as comfortable as possible in Economy."
Cons: "It was a little noisy in our seats (we were next to one of the crew areas). But the biggest gripe was about the way we were treated when queuing. We all expect to have to wait our turn but it's incredibly frustrating when 1) the system isn't fair (eg splitting a queue into two then allowing those behind you to go to the front of a new line) and 2) treating us like second class by drawing a curtain in front of our faces so Business class people don't have to see us when they disembark."
Cons: "Food was not upto the mark. So many indians travel, do provide proper yummy indian food.!"
Pros: "Crew and service were great. Food was very good."
Cons: "Seats in economy are tight. Headphone jack is two pronged and no adapter so you are forced to use their cheesy headphones. Bring your own adapter."
Cons: "Flights are always good but back office staff is always careless not to bother any complaints or never solved any complaints they do not care of customer bcoz they have business thier is no other airline right now but in future may be they loose customer like me"
Pros: "Crew v good"
Cons: "Food .. Fish undercooked ... Aircraft bit dated"
Pros: "Entertainment and comfort are nice"
Cons: "Food quality and service were mediocre at best"
Cons: "No internet available (2020). For the my previous flight, a month ago, was the same problem."
Cons: "KLM lost my suitcase and did not deliver it until three days later... They refused to compensate me for having delivered the bag with broken articles inside (A pair of Rayban Wayfarers!)"
Pros: "The best airline ever! Super friendly crew and staff, great customer service and nice planes. Love KLM!"
Pros: "Very friendly and responsive crew. Announcements from the Capitan and chief of flight attendants are very informative and comforting. Seat positions: very good leg room (even in economy)!"
Cons: "Newer airplane, as 747s are kind of outdated now, especially for long distance flights. But overall had good experience with KLM"
Cons: "Keep the temperature at a more reasonable level. Blankets + two layers of clothing was definitely not enough."
Cons: "All of the less than good, obvious!"
Pros: "The pilot and the crews were helpful about the transit. Pilot make up a lot of time."
Cons: "Flight was delayed, had to run to my next connection flight."
Pros: "The crew were excellent and seats were comfy."
Cons: "Headphones for the entertainment centre.could have been better. Sound quality not great."
Pros: "Service and crew amazing friendly and went out of the way to Make u feel special even the pilots gave updates thru out the flight"
Cons: "Not being to help on the ground in Copenhagen with delta issues"
Cons: "Don't be late"
Pros: "Crew were great"
Cons: "Refreshments"
Pros: "Very friendly crew and on time with no problems."
Pros: "Very professional"
Cons: "Lost luggage"
Pros: "The seat was a little uncomfortable but the crew were amazing."
Pros: "Friendly crew"
Cons: "KLM lost one piece of my luggage"
Pros: "The flight crew was so friendly and the food was really good."
Cons: "This was just a short commuter flight from Lyon to Amsterdam for connection."
Pros: "Awful"
Cons: "Everything"
Pros: "Comfortable seat, friendly crew. Crew were conscious of recycling which I like a lot as there is so much waste on flight. Anything we can do to reduce waste is very welcome."
Cons: "Food wasn't very appetizing, pasta didn't have much flavor and I don't eat red meat so the other choice wasn't an option for me."
Cons: "The website I booked on and the Delta phone line on the printed ticket said that I had baggage when it turns out that I did not according to the check in staff and they made me pay."
Cons: "Long haul flight made pleasant by KLM"
Pros: "Food provided, staff kind"
Cons: "Was several hours delayed and check in took 45 minutes because they somehow lost my reservation."
Pros: "Cabin Crews was extremely good and hospital. Transfer point staff buggy / wheal Chair was good and second to none."
Cons: "Transfer point needs upgrade."
Pros: "All good"
Pros: "Good food, friendly service"
Cons: "More trash pickup; only one round of beverage service"
Pros: "The crew were amazing and the flight was very smooth."
Cons: "Keep up the good work"
Pros: "Everything OK"
Pros: "The crew was really friendly."
Cons: "There was a Force Majeur delay in Helsinki due to wings freezing that caused 20 minute delay to Amsterdam and made the interchange stressful."
Pros: "NOTHING"
Cons: "Having to change my seat to accommodate a rude belligerent passenger, who had taken my seat, refused to move until spoken to by steward. She then made my flight a nightmare, until I let her sit in my aisle seat. Even then she was not satisfied, she abused me the whole flight damaged the screen so I could not use it until the steward fixed it. Demanded that I except any and all alcohol to give to her to drink. When I am tea total she then continued to abuse me. I asked the steward to move me he just shrugged his shoulders and said there was nowhere else. This is definitely my the worst flight I have experienced."
Pros: "Crew was very friendly. Nice that wine was served without charge."
Cons: "Announcements from the cockpit were hard to hear. Food has been better in past."
Pros: "Amsterdam airport and Rome airport were as breeze to navigate, even only knowing English"
Pros: "Staff very pleasant"
Cons: "Evening snack was not the greatest breakfast was pretty food"
Cons: "Very slow service at checkin, was not even available when I arrived at the airport"
Pros: "Time and Good clean place.. in This case airpöane.."
Cons: "It was not entreteiment st all"
Pros: "I am so grateful to have been provided delicious and filling vegan meals on this long flight. Thank you for offering a dietary option that is compassionate toward animals and contributes less to climate change! Now if only the planes were powered by clean, renewable energy... Hopefully that will become a reality someday very soon! Oh, and also the crew on this flight was exceptionally kind and helpful. Thank you so much!"
Cons: "I did not enjoy the turbulence, which I suppose is unavoidable. More importantly, I felt quite guilty about the greenhouse gas emissions of my flight. I have decided to cut down on my air travel as much as possible as a way of reducing my carbon footprint."
Cons: "Didn't happen."
Pros: "Really friendly staff. Great service"
Pros: "I personally do not appreciate the food on this leg of the journey Food Ams to Dxb is GOOD!!"
Cons: "The snack & " solid eggs" in breakfast. Fresh fruit was good."
Pros: "Flight was lovely, crew were friendly and very helpful and food was delicious!! We travelled with assistance for mum and it was excellent and we were kept updated all through the flight."
Pros: "My bagage broke"
Cons: "I paid extra fee for extra bagage which was tv and i paid insurance my tv broke and no one responces for it"
Cons: "No proper info regarding cancellation. Staff was unfriendly and abruptly responded to passengers."
Pros: "Easy boarding, plenty of room"
Pros: "good service"
Cons: "KLM can't seem to figure out the order of boarding the plane. Should be business - priority - everyone else. Instead they do priority first, and that's usually two-thirds of the passengers. Also, really tired of the fake business class on these flights..."
Pros: "Of the multiple international airlines I recently flew with, I would have to say KLM was by far the best. Relaxing atmosphere, comfortable seating, great in-flight entertainment, although I have the go-go in-flight data/entertainment plan with t-mobile (highly recommended), the flight included a decent selection of movies, television programs, etc. The food far exceeded typical "airline quality," even for an international flight - and included a fabulous little snack box with locally sourced gourmet and specialty items such as chocolate from Belgium, fine cheeses from France, and crackers from England. Drinks = gratis, and crew was exceptionally attentive and went out of their way to make flight as pleasant as possible."
Cons: "Nothing."
Cons: "Our flight was canceled from Amsterdam to Bordeaux and did not receive any direction and had to find alternate flights for ourselves with the personal expense of using our own cell phones. Then our luggage lost for 3 days. Not happy!"
Pros: "No chargers or tv on planes"
Cons: "At Amsterdam we were told that our checkin luggage wouldn't be at Sydney!! Some low fat meals were terrible!"
Pros: "Wide selection of entertainment, food was good."
Cons: "Boarding unorganized, but that may have been more of a passenger issue then KLM"
Pros: "The crew was very pleasant and professional. toilets were very clean adequate overhead space"
Cons: "Very uncomfortable seats in Economy Comfort. Legroom and recline were OK but the seats were extremely narrow. No evening meal and breakfast was minimal"
Pros: "Nice, turbulent-free flight. Food was good, service with a smile. Leg space was OK because Boeing 777s are usually better at this."
Cons: "Flight left over an hour late because of a sensor glitch. It is concerning when a technical glitch happens. But, the flight was smooth."
Cons: "Excellent legroom, unlike flight out with American Airlines. I was just unlucky in choice of seat"
Pros: "Plane was new and good"
Cons: "Flight was 4 hours delayed"
Pros: "Very old aircraft. Looked extremely run down and many things were broken."
Pros: "Crew was amazing."
Cons: "First leg of our trip on British air on a smaller plane with lots of comfort and room. Our 2nd and long leg was on a larger and newer plane. Leg room and room for the tray table was so tight and uncomfortable for a long Flight. Paid extra for end seating and using British air for transfers through Heathrow as an American Air partner. Will try to avoid the extra cost in the future."
Cons: "Understand sometimes out of airlines control but reduce delays"
Pros: "The crew."
Cons: "The aircraft: too old! No charging ports, entertainment system horrible. The food was not super."
Pros: "Nothing really"
Cons: "Politeness during check-in, timeliness in providing gate information, having a person at the BA desk to help, being on time"
Cons: "Delayed and missed my connecting flight. Total cluster."
Cons: "Heathrow is the worst airport when you have a passenger who needs a wheel chair."
Pros: "Warm welcome, on time and comfortable"
Pros: "Helpful and friendly staff"
Cons: "Filth plane"
Pros: "There was a guy snoring before we even took off in the air and the cabin crew told him it waa disturbing some passengers and I was so grateful for that!"
Cons: "I missed the food trolly when I went to the loo because the journey only took an hour!"
Pros: "Nice aircraft! Very modern."
Pros: "Entertaiment"
Cons: "The crew could be quite curt at times"
Cons: "Poor service and communication"
Pros: "Gatwick is very well organized, making the boarding process very smooth. The flight to Amsterdam is short - only an hour. And the crew was friendly and efficient."
Cons: "We were late to our outbound flight due to our other flight being delayed from weather. We went to the ticket desk area, which was closed and were directed to another help desk. Once at the front the attendent refused to help us and sent us to another desk at the other end of the terminal. After waiting in another long line, the attendent told us we had missed all flights to Edinburgh. There lack of staff and customer service caused us to miss all flights and trains into Edinburgh. On top of that, we were notified our flight back to London would be cancelled because we missed our outbound flight and that she could not provide us with any credits or refunds that we would need to call customer service. We lost the money we spent on our Edinburgh hotel and had no way to get to our vacation."
Pros: "Timely."
Pros: "Crew were exceptional in service friendliness and attentiveness."
Pros: "Customer service."
Cons: "Entertainment need more movies"
Cons: "No WIFI"
Pros: "The crew were friendly, professional and extremely pleasant."
Cons: "I'm not a fan of the constant PA's during the descent. Playing a video about arrival procedures for an airport is extremely superfluous. Nobody pays attention and you just have to follow the signs when you get there."
Cons: "Rude staff at the airport. Short overlay did not have enough time to get our bags and checkin again that was ridiculous to have to check in again!"
Pros: "Courteous, helpful and on time. Good price as well."
Cons: "No complaints"
Pros: "Me and my husband were upgraded from world traveler plus to business class, which we are thankful for"
Cons: "We were unable to order special meal online and were told to contact onboard crew for meals. When we contacted them inflight, they said they don't have meals!!! And we were left to starve the whole night, while food was served for all around us. The really shocking thing is none of the crew had the courtesy to offer some snacks or bread. These especially when we were seated in business class!"
Cons: "There was a new born next to me and actually it was difficult to sleep."
Cons: "Flight canceled want able to rebook"
Cons: "BA/AA seats seem to be more cramped. No room in the overhead bin, too many passengers allowed to bring huge carry-on carts + bags. Stuck sitting in the middle with my carry-on bag, handbag and winter coat, glad I didn't buy any duty-free since there would not have been any room. Food service has declined, no snacks w/drinks, only packaged chips or cookies before landing."
Cons: "I had to pay for my standard seat selection, even within the 24 hour period. They wouldn't serve me tap water, I had to pay for a bottle. The boarding process was abyssmal. Not a great trip."
Cons: "As a Kenyan Passport Holder living in Canada on a PR status was denied right to travel to Kenya via LHR transit. WHY ? will you help us with our rights what compensation will help to alleviate the pain"
Pros: "Nice flight, great service."
Cons: "No complaints."
Pros: "Seated at front window seat where one can be overlooked, friendly attention and service by attendant was assured and most appreciated. Please thank her!"
Cons: "Seated at front window seat where one can be overlooked, a few times I was overlooked by same other attendant. No kudos for him."
Pros: "The flight was very good; however, two hours is barely enough time to make the transfer from Terminal 3 to Terminal 5 znd pass through security. The short transfer time creates unnecessary stress."
Pros: "The coffee was not free, but I had to purchase it. It was the worst coffee I have ever been served. No tadte, undrinkable, really. But, when I complsined, I was given a real coffee from business class at no charge. That was very nice!"
Cons: "no complementary drinks, coffee, snack, nothing? not very hospitable"
Pros: "Overall flight better London to Beirut l"
Cons: "Long wait over"
Pros: "Great entertainment system, and good food. Thank you for the free wine, blanket and pillow."
Cons: "Seats in the back are very uncomfortable. Seats are too close together. If the passenger in front reclines there is no room at all. I assume space was taken out to accommodate the first class cubes."
Cons: "I ordered a ginger ale onboard. When the stewardess took my order and went to swipe my card, he made a comment that sometimes they have difficulties with USA credit cards. He tried 3 different cards and then when nothing worded, he asked if I had pounds to pay with. I stated no, that I had Croatian crowns, Euros or US Dollars on me at that point in time. He then looked over at me and very rudely asked me why in the heck I ordered the drink to begin with. I was already embarrassed that he was having trouble with my cards so to yell at me in front of everyone so much to the point the lady in the next row heard hi and offered to buy my drink for me. I would like to point out that even he made the remark that the machine sometimes has difficulty taking US cards. How was I supposed to know that none of the three cards that I had on me wouldn't work. I never had any issues with either of those three cards after that incident. They worked just fine so it was clearly an issue with your machine not my cards. I feel it was very inappropriate for him to treat me that way (especially over a stupid soda). My luggage then didn't make it to Ibiza in time because it got stuck in London due to my short layover. If BA can't figure out how to get the luggage transferred within that short of a period, they should not offer flights that close to each other. Secondly, I left a really nice down pillow and bag on my flight from London to Ibiza and I checked the lost in found at the Ibiza airport and it was never turned in. I never recommend BA to anyone."
Pros: "Loved everything but the inflight entertainment."
Cons: "My inflight entertainment system was "flakey". The sound would go on and off. I could not hear the movie, most of the time. The flight attendant gave me a second set of ear phones, but clearly it was the unit of my seat that was broken or intermittently functioning. It made for a very long flight as it was daytime and I could not sleep with the passenger group so active. Ironically, on the BA flight over the book I was listening to on the entertainment system would stop and then now resume where it left off so I had al lot of trouble listening to that one, too. I am not a complainer and the crew was busy with the daily flight activities. I would not rank the over all enjoyment of this flight very highly as that is a long time to be bored. Unfortunately this was my first round trip to London with British Air and I have to say that it did not compare well to the several flights I have has on Virgin Atlantic. My travel mate made the reservations with BA when I had researched and selected VA. I think in the future I would go back to traveling on VA."
Cons: "My Entertainment device was broken"
Pros: "Great service and experience."
Cons: "The boarding was a little long."
Pros: "We arrived 15 minutes early at closest gate to passport control"
Cons: "No entertainment, expensive food, had to pay to check a bag"
Pros: "Usual efficient BA. Understated customer care"
Cons: "Flight was delayed. BA has started charging for sandwiches in economy. Have they decided to join the ranks of Ryan air and EasyJet? What next - Charging for food and drinks in economy on long haul and become like American, United and Delta? Where is the brand defferentiator? Someone in BA needs to understand that BA is perceived as a premium brand. Don't devalue it"
Pros: "Missed the BA flight, ended up flying on UA"
Pros: "Nothing"
Pros: "787-9 new aircraft with the total lack of space in economy, my worst transatlantic crossing in thirty years. DVT waiting to happen."
Cons: "Crew"
Cons: "The food"
Cons: "Older plane, no touch screen tv in head rest, no movies on demand, limited leg space"
Cons: "Would have liked the option of internet - even for fee on the 12 HR flight from London to La. otherwise great"
Cons: "airfare.com is truly awful, and I'll avoid using that service in future"
Read more about Emirates
Safety measures for airlines flying from Ontario to Durban
Airlines flying from Ontario to Durban have enacted additional safety measures and adjusted policies to better accommodate travellers. Policies vary by airline.
Heightened sanitation
Daily cleaning, installation of cabin HEPA filters on flights from Ontario to Durban
Mandatory masks
Masks required on board, masks provided on flights from Ontario to Durban
Social distancing seating
Middle seats unavailable to book on flights from Ontario to Durban
Pre-flight testing
Testing for antibodies, testing for symptoms for flights from Ontario to Durban
Book cheap flights from Ontario to Durban
Recent return flight deals
Search by stops
Search by airline
Search by price