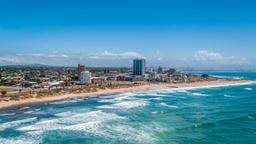 YUL - PLZ
Find cheap flights from Montreal to Port Elizabeth
Search hundreds of travel sites at once for deals on flights to Port Elizabeth. Bundle your flight + hotel and save!
FAQs for booking Montreal to Port Elizabeth flights
How long does a flight from Montreal to Port Elizabeth take?
Which airports will I be using when flying from Montreal to Port Elizabeth?
How does KAYAK find such low prices on flights from Montreal to Port Elizabeth?
How does KAYAK's flight Price Forecast tool help me choose the right time to buy my flight ticket from Montreal to Port Elizabeth?
What is the Hacker Fare option on flights from Montreal to Port Elizabeth?
What is KAYAK's "flexible dates" feature and why should I care when looking for a flight from Montreal to Port Elizabeth?
Top airlines flying Montreal Pierre Elliott Trudeau Intl to Port Elizabeth
Scores according to KAYAK customer reviews
8,3
Qatar Airways
Overall score based on 11 101 reviews
"My TV screen was freezing, it was hard to navigate. Everything else was just excellent."
Pros: "The crew was amazing. Food was great. Clean bathrooms. Great entertainment."
Cons: "We had our passports and boarding passes checked five times in the course of 2 minutes by five different people one after the next. My cabin luggage was searched right before boarding. I appreciate the need for security, but that was excessive and unnecessary. In the peak of the Corona virus craze, the security made all passengers take off shoes and walk without any protection. This is not Qatar Airways doing - New York JFK security B S, but I am sure airways companies have some say to change it."
Pros: "The Q-suite is exceptionally comfortable and the door really does make a difference. I usually have difficulty sleeping but the isolation from aisle traffic and ambient noise reduction was enough to allow some very good sleep. Staff experience was also exceptional - friendly and highly competent, looking to go the extra mile. Food was great and full menu available upon request."
Cons: "I did not find a gap"
Pros: "Food and leg room"
Pros: "Flight"
Cons: "Wheelchair was booked for me for both flight but i could not get that service. No one available for wheelchair. Very bad service."
Pros: "Everything"
Cons: "They are the best and air Canada should learn from them"
Pros: "Crew is good. Flight got delayed"
Cons: "Food is good."
Pros: "Crew was amazing and aircraft was clean and seats comfortable!"
Cons: "I would like to have more air fresheners during the flight as there are some people who eat special food and it smells so bad in aircraft"
Cons: "Boarding process, and in-flight entertainment and wifi"
Cons: "Seat comfort"
Pros: "Staff"
Cons: "Nothing for kids. First time i have seen that no toys for kids. No tv and entertaiment for adults"
Cons: "Great selection of movies and the food was really good as well."
Pros: "The Crew was amazing, the service social excellent. The Seat were so cramp, the best sales point fort business class"
Cons: "More space for shoulder and legs. Espicially for a 11h flight"
Pros: "Staff on the plane is fantastic."
Cons: "No option to pick a seat in economy class."
Pros: "Great service from all staff ,"
Cons: "Nothing"
Pros: "Nothing much except for Hamad Airport ."
Cons: "Food . Seats. Entertainment - half the time , the touch screen doesn't work."
Pros: "Stewards and Stewardess were very prompt and always had a smile!"
Pros: "Food was good, staff was excellent."
Cons: "Can't think of anything."
Pros: "I REQUESTED vegetarian meal and did not get, just veggies salad was given and staff was just saying they are sorry, that is all they can do,, Not even a decent dessert even after I REQUESTED again for it,, don't know if I will travel again with QATAR"
Cons: "HOSPITAL LIKE FOOD GIVEN,"
Pros: "The staff are great, the food is good."
Cons: "The seats are awful, especially on the 7 hour flight from Doha to Barcelona. Very narrow, marginal recline. Also the flight was very hot, my watch thermometer said 33° at one point"
Cons: "Qatar airways should allocate separate seating for families. The crowd was generally composed of labour from Qatar and other middle eastern countries making the flight an unpleasant experience. It felt like going to a factory shift at 4 in the morning."
Cons: "I am a very experienced traveller. I always book an isle seat, especially for long flights (this was 12 hrs.), so that I can get up and stretch my legs etc. The couple sitting beside me were upset that I did not take the window seat. When it came time to sleep, the wife stretched out over her husbands legs, who was sitting beside me. This meant her feet were coming on top of my legs, and her legs were forcing her husbands legs into my space, touching my leg - I had to put a pillow between my leg and his leg. I asked the Qatar hostess if she could please ask the couple to change their positions, so that my seating space was respected, resulting in no body touching. The hostess replied that she was not permitted to ask the couple to change their positions and be more respectful. Fortunately there was another unreserved isle seat and I was able to move. Due to the fact that airplanes have become cultural melting pots, thousands of feet in the air, I think it would be peacefully beneficial too all, if a very discreet announcement could be made at the beginning of each flight regrading seating etiquette, respectfulness towards others etc. this could also be printed in the flight magazine. Thanks in advance."
Cons: "I used Qatar airways 3 times so far. In the last flight, were a connection has 8 hours between 2 flights, they deny me to stay in a hotel. The last 2 flights which have exactly the same schedule, I used the hotel in that 8 hours between the 2 flights. I asked why, they told me that my ticket is not eligible to the hotel, although, I bought the last two times from Kayak, with almost same price. My first flight with Qatar Airways was on July 2017. My second flight with Qatar Airways was on August 2017. My third flight with Qatar Airways was on Jan 208."
Pros: "The THOUGHT it would be a nice flight than usual from Asia to the USA, but it wasn't. Doha Airport was an interesting stop early I'm the morning"
Cons: "No outlets on either flight or in the airport so can't use electrics for almost the entire trip. The seats are extremely narrow to the point out of unprobabability to have your own space even if sitting next to regular build person. Food was only ok and service was below average with trash often not collected and needing to request water etc"
Pros: "For the most part the crew were very helpful."
Cons: "Food quality and quantity."
Pros: "Comfortable, on time"
Pros: "Crew and food"
Cons: "It was a pretty old flight and had no tv in front! Huge disappointment. Probably they thought ppl flying from Doha to Colombo were ok with a low quality flight with no entertainment."
Cons: "Good service"
Pros: "Service"
Cons: "Just bathroom in end"
Pros: "The entertainment console is dismal"
Cons: "Comfort of seat size has shrunk!!! Good grief."
Pros: "excellent service always a pleasure to fly with QATAR Airways"
Pros: "Loved the food and entertainment."
Cons: "Not enough leg room and space between the chair in front."
Pros: "childrens meals and play packages. service was good, and bathrooms were kept clean. The meals were tastey and fresh."
Pros: "Crew was helpful On Time Flight Clean aircraft Good food"
Cons: "seat was not much comfortable"
Pros: "They had a surprise business class update waiting for me. Wonderful experience."
Cons: "Nothing"
Cons: "Poor choice of inflight movies"
Pros: "Didnt have food My mother has diabetes and she had one meal in her 14 hr flight Unacceptable"
Cons: "Meal plan customer service"
Pros: "Seats are comfortable with sufficient leg space and overall ambience of the cabin."
Cons: "I pre ordered Hindu meal. The meal selection by the airline was same from Karachi-Doha and Doha-Chicago. There was no choice of menu in the meal on such a long flight. Moreover taste of offered food was not satisfactory."
Pros: "The crew was fantastic!! They saved this rating."
Cons: "Old plane. No power outlet, no wifi, entertainment system was glitchy... if it was not for the crew, this would have been the poorest u could get. Doha security and transfer were unruly, long, and a mess. Terrible experience there. Nearly missed connection. Dreading going through there on return flight"
Cons: "My seat is changed without my approval.thats disgusting"
Pros: "Nice people"
Cons: "6-hour delays coming and going. Sounds like a an issue."
Pros: "Very kind and helping crew.. professional and helpfull"
Cons: "I dont have anything to complain about"
Pros: "It was a short flight, so no problems"
Pros: "On time, good crew, easy connection."
Cons: "Hard and tight seats for such long night flight."
Cons: "No leg room, very confining. Food so-so. I do not recommend traveling on this airline."
Pros: "No problems at all!"
Pros: "Absolutely nothing!!!!!!"
Cons: "The fact that our flight was cancelled without being notified. I will never make flight arrangements with them again!!!!!"
Pros: "Inflight services, food"
Cons: "Wheelchair services in India, person left in between and had to walk with pain in my foot for a distance."
Cons: "Worst customer service"
Cons: "They cancelled and did nothing to help via 2 hours of phone calls. I was heading to conference and they did nothing In Hong Kong the BA first class service was fabulous and got my travel arranged The idiots on the phone sounded like they had never flown"
Pros: "the price is why we chose BA, but never again"
Cons: "crew seemed bored and annoyed to be on the plane, seats were pretty awful"
Pros: "N/A on food and entertainment"
Pros: "Friendly crew"
Cons: "Food& entertainment"
Pros: "The crew were pleasant and helpful"
Cons: "The entertainment system is way behind many other carriers - poor variety of choice, and small poor quality screens"
Pros: "plane empty, speedy boarding."
Cons: "At least soft drinks should be free of charge."
Cons: "Incoming flight delayed so late departure"
Pros: "Good food and great crew!"
Cons: "Being 6'2" is the worst when traveling economic."
Pros: "There was so much food and entertainment options. The 11 hour flight went really quickly."
Cons: "I was overall happy with the experience."
Pros: "Helpful staff, very pleasant flight and even arrived early!"
Cons: "The fact that you had to buy even water."
Pros: "Not much"
Cons: "Our trip to Vienna from London was less appealing than the one from Montreal to London. No food, no entertainment and seat space was cramped which reminded me of my Air Transat experiences."
Cons: "The representative at Miami took forever to get a wheelchair. She did not pay attention to my ticket that states assistant needed until I said so. She was in a hurry n did not give me all her attention. I think she was rude and inconsiderate based on my age or don't feel like been bothered"
Pros: "Food was good , very comfortable seats and the time we departed to the time we arrive I will rate it 10 out of ten I felt as if I was on a 2 hours flight . It's was just one of those wonderful BA flight I can't forget"
Cons: "It's was just the hassle to get from Terminal 5 to Terminal 3 with luggage but made it all in all"
Pros: "The food was excellent. The service was one of the better ones."
Cons: "The forwyand rear facing business class seating is ok. But the window seats on the 2-3-2 configuration needs so me workout to get in and out. For a large person like me it was cramped and extremely claustrophobic."
Pros: "We got to London safely"
Cons: "This was a two leg flight. The British Airways leg between Athens and London was one of the worst flight I have had in the past few years. I will never fly BA in within Europe again! Passengers are required to pay for a glass of water The flight reminded me of attending a professional sporting event. The flight crew is turned into food, beverage, and merchandise vendors. London Heathrow Airport is one of the worst international airports in Europe."
Pros: "Friendly FA, good entertainment options."
Cons: "The seat density BA has put on the 787 is ridiculous for a long haul flight. Impossible for a grown adult to get comfortable with the narrow seat pitch on this aircraft."
Cons: "Pointless priority boarding if you get all priority passengers to wait for the rest of the flight.."
Pros: "No hassle with hand luggage"
Pros: "The airplane is large, even in coach you get decent leg space. The crew tries, but clearly not their best."
Cons: "every flight is delayed by a few hours, the plane smells like sewage, the seat next to mines clearly had vomit and they just left it there and told people around that a child may or may not have gotten sick and they said they don't know how true it is..??????"
Pros: "Friendly staff. The food was Ok. The flight was on time."
Cons: "My onboard entertainment system's headphone didnt work. I Was told there is nothing they can do about it, which is fair enough, but i dont think it was fair on me. People kept bumping into my shoulder but i guess there isn't much that can be done about it."
Cons: "increasingly reducing space. person sitting next to me overweight and made it uncomfortable for me during the entire trip."
Pros: "On time and staff"
Cons: "Too little space for seating!"
Cons: "No WIFI"
Pros: "The crew were friendly, professional and extremely pleasant."
Cons: "I'm not a fan of the constant PA's during the descent. Playing a video about arrival procedures for an airport is extremely superfluous. Nobody pays attention and you just have to follow the signs when you get there."
Cons: "Unfortunately, I couldn't travel as I was told to bring the credit card used in the booking of my flight. This was not explained in the booking option. Thus I would need a refund on my flight ticket."
Pros: "The crew were super helpful and attentive."
Cons: "Food was not the best, the leg room was ridiculously small and the entertainment system had some issues, but all in was a nice trip"
Cons: "12 hour delay. Very disappointed with British airways"
Pros: "I was traveling by British airways flight BA271 on 13 December 2017. The plane is old but comfortable. I was looking for USB pots I can't find it. Helpful crew and flight comfortable and landing was perfect. British always need to improve. Thanks"
Cons: "Flight was too long to reach Las Vegas"
Cons: "The flight left 2 hours late. The seats were cramped."
Cons: "Had to circle London twice because we were way too early."
Cons: "Sorry I can't give you feed back, because I missed flight due to my own fault!"
Pros: "The crew The nice and friendly staff at the airport"
Cons: "Assigning one luggage per traveller"
Pros: "There was sufficient leg room in seating."
Cons: "No drink or snack during flight. Made it seem like a cut-rate airline. Had to board across the tarmac and up the steps as if we were on a "puddle-jumper.""
Cons: "Asked for water when they were selling beverages, and was told sharply "not yet". Flight attendants did not make eye contact and never return for us or other passengers around us."
Pros: "This is was actually a flight operated by Qatar Airways and my first time with them. And you know what? It was like going back in time: this was exactly what and how BA used to be even 10 years ago. Thank you, Qatar, for wonderful service!"
Pros: "Good legroom and lots of space on the plane"
Cons: "All good"
Cons: "Food are discasting"
Pros: "Good service overall."
Cons: "When taxiing for take off, for some reason the plane was swerving back and forth in a serpentine manner like the pilot was navigating between puddles."
Cons: "While I prefer beef to be cooked rare to medium-rare (and mentioned this) on both legs the meat was well-done and dry. This is common to many airline steaks, and may be an unavoidable consequence of the limitations of preparing food on board. (Though I have had reasonably prepared meat dishes on certain AA flights). All dishes are highly under-seasoned, but a packet of salt and paper is provided, so this is not a curial concern."
Cons: "I was sleeping during meal time and when I woke up an hour later they told me that my meal was now below the temperature that they're allowed to serve it because it's dangerous. so I got bread instead. It's ridiculous either they serve me half the meal still frozen and the other half too hot too touch or it's considered unsafe."
Cons: "€75 to check a bag PER PASSENGER"
Pros: "smiles and kindness efficiency"
Pros: "Crew in the aircraft."
Cons: "Business class is packed with seats. Other passengers hopping over you if sitting in aisle and serving window passenger over you. No privacy if traveling alone. Very odd to be looking into another passenger eyes during service and landing and takeoff. Toilets not very clean and ran out of Toilet paper. No toilet seat covers."
Pros: "The service was excellent. Really liked the economy plus section and the little perks made a big difference."
Cons: "The steak was overcooked. The baggage return added an hour to my trip home (I know this is likely a JFK problem) They are still handing out landing cards and asking you to fill them out at JFK for US passports--stop!"
Pros: "The breakfast served in the route Abuja to Heathrow was very hot and tasty. The hostesses were great. Good service overall"
Cons: "Nothing"
Pros: "Crew were very accommodating."
Cons: "It was an older plane and the video screens were damaged. Made for an extremely long flight."
Pros: "Flights were on time."
Cons: "I had requested a wheelchair and never got one either way. Slowly but I walked it! Thank god I was not completely disabled."
Cons: "I tried to reserve my seat and do a 24 hr advance check-in - no luck. I was in the airport in Munich at 9am, could not get a boarding pass for the London-Boston leg and asked to have an isle seat reserved - no such luck!! I was squeezed in on a window seat in a row of 3. Try to get up when the 2 people in your row are deep asleep! I was disappointed that they did not honor my request, which was made online and supposedly held in the booking system. Heathrow is another story - terrible airport, no decent food. Oh, and BA even charges for water on the European flights. How low can you go?"
Pros: "Decent people running the flight. More or less on time."
Cons: "Cramped seating. No room at all for a laptop...which is very inconvenient"
Pros: "Seats great"
Read more about Qatar Airways
Safety measures for airlines flying from Montreal to Port Elizabeth
Airlines flying from Montreal to Port Elizabeth have enacted additional safety measures and adjusted policies to better accommodate travellers. Policies vary by airline.
Heightened sanitation
Daily cleaning, installation of cabin HEPA filters on flights from Montreal to Port Elizabeth
Mandatory masks
Masks required on board, masks provided on flights from Montreal to Port Elizabeth
Social distancing seating
Middle seats unavailable to book on flights from Montreal to Port Elizabeth
Pre-flight testing
Testing for antibodies, testing for symptoms for flights from Montreal to Port Elizabeth
Book cheap flights from Montreal to Port Elizabeth
Recent return flight deals
Search by stops
Search by airline
Search by price
Montreal - Port Elizabeth Flights