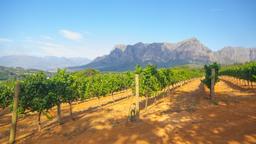 Find cheap flights from Lithuania to South Africa
Search hundreds of travel sites at once for deals on flights to South Africa
FAQs for booking flights from Lithuania to South Africa
How does KAYAK find such low prices on flights from Lithuania to South Africa?
How does KAYAK's flight Price Forecast tool help me choose the right time to buy my flight ticket from Lithuania to South Africa?
What is the Hacker Fare option on flights from Lithuania to South Africa?
What is KAYAK's "flexible dates" feature and why should I care when looking for a flight from Lithuania to South Africa?
Top 3 airlines serving from Lithuania to South Africa
Scores according to KAYAK customer reviews
7,9
Turkish Airlines
Overall score based on 23 113 reviews
Pros: "On time, friendly check in staff"
Cons: "Food was very poor in Turkish Airlines standards"
Cons: "The flight from Cairo to Istanbul was delayed one hour and I missed my flight from Istanbul to Houston and i had to get a visa for $30 in cash and spend the night in Istanbul thus I will be arriving a day late in Houston. I was offered no assistance to avoid missing my flight. I had to run only to find my other plane left without me..."
Cons: "Air circulation on the jfk ist flight was absent and my wife almost suffocated and has to get closer to an exit door to get some air. Last time to use turkish airline"
Pros: "Fligh on time."
Cons: "The food on board."
Pros: "Good crew and friendly"
Cons: "Food was not good for lunch as if it was spoiled. I knew two others that did not eat I am 6.0 and seats were tight but that is common across all airlines"
Pros: "The staff the staff the staff. They made the trip so enjoyable. The A330-300 aircraft was smooth and silent. Very impressed"
Cons: "The seats in business class were not as soft as they could be but very impressed overall and good value for the cost of the business class ticket"
Cons: "I was not notified, until I was already at JFK, about a 3hr50min delay in departure from JFK due to mechanical that happened in Istanbul many many hours before. Then the connecting flight at 11:15am IST/TLV was fully booked and I was booked only at 13:30 IST/TLV and therefore arrived more than 7 hours after my original schedule - due to a mechanical. According to IATA and international rules I am now due a full refund on my flight cost and will start proceedings against Turkish Airlines for this money. It was a nightmare for all the hours waiting. We also had to deplane in IST from the JFK flight on steps rather than into a gate!! Same with the TLV/IST flight. Terrible."
Cons: "It was an excelent flight. The cabin crew was very nice and the servise was excellent. The food was very delicious and it was Turkish food. The flight wasn't boring and we even didn't notice how time passed and we landed in Istanbul. We didn't need to wait for our luggage. Thank you very much."
Pros: "Friendly, charming and welcoming staff."
Pros: "Business class was money well spent."
Cons: "The boarding at the gate was a bit congested."
Pros: "Movies"
Cons: "Nothing! It's no comfortable at all!"
Cons: "Options for vegetarians were not really good."
Pros: "First leg (Mia to Instanbul) crew was excellent!"
Cons: "second leg (Istanbul to Johannesburg) crew were rude!!!"
Pros: "On time departure and landing"
Cons: "My mother was not provided with wheelchair at the Istanbul airport"
Pros: "The food, seevice, amenities and cleanliness were the best I have seen in economy class."
Pros: "Likes: The staff were prompt and friendly. The food was more varied and imaginative than on other airlines. Also, the fact that you get a refund, without any hassle, if you need to change your travel plans, makes this airline unique."
Cons: "Suggestions: A few more centimetres of space between the rows of seats would work wonders. A piece of fruit (apple or tangerine) would add to the enjoyment of the food. A wider range and variety of movies would increase the quality of the entertainment."
Pros: "Everything"
Pros: "Service, food, staff—all excellent!"
Cons: "The cabins on both flights were too warm."
Pros: "Free meal and drinkd"
Cons: "Flight was delayed but we were not informed of what's happening Too hot, air conditioning did not work"
Pros: "Great service in the airplane plus they offer some amenities like slippers, tooth paste and toothbrush, they offer you wet towels to clean and refresh yourself during he flight. Really good."
Pros: "The crew"
Cons: "Seats are not spaced enough. It is not big enough for a 6 foot 3 male caucasian. My Screen was broken."
Pros: "The flight was on time"
Cons: "The boarding process was not orderly"
Pros: "they do really their best- they have a good standard."
Cons: "english is hard to understand"
Pros: "Friendly staff good food. Good selection of movies."
Cons: "Might just be a cultural thing but the boarding was a clusterfuck. Not really any order compared to flying out. Everyone just kind of lined up without any regard to the boarding groups."
Cons: "Very disorganized the gate checking, staff ne d hospitality training . You ESP not have time for your queries and concerns . They are always in a hurry to finish talkign to you . Poor hygiene. The bathrooms are very dirty and has nomjand soap to wash your hands . Male staff in board come across unpolite. ingelt inwelcomed by the male flight attendant port side at the back.?"
Pros: "EVERYTHING !!!!"
Cons: "NOTHING TO UNLIKE"
Pros: "Food, service, condition of the aircraft"
Pros: "Good entertainment system with lots of options."
Cons: "The plane was uncomfortably warm throughout the (long!) flight, which made it difficult to get any rest."
Pros: "It's all great. Recommended"
Pros: "Food on board"
Cons: "Every thing they did to me Not wanting to speak english Not willng to help at all and shaking shouders when I asked a question thier only english no english And showimg no regard to of my problem I tell you what if This airline wants to earn my bunness then they must know not all of us speak turkish And I they are noy wlling to speak english then let Them only do busniss whith Turkish people only I am beyond dessapointed"
Pros: "Very helpful crew. Entertainment choices of movies, tv, music was excellent. Got on and off the plane quickly which was very appreciated."
Cons: "Seats were stiff-too upright to get comfortable for a long flight."
Pros: "Outstanding service Excellent food Adequate entertainment Seat recline was good for economy"
Cons: "For a long flight (8+ hours) legroom on this Airbus was quite cramped Again poor boarding announcements resulted in very chaotic boarding process"
Pros: "It is very hard to separate the hassle of air travel from the airlines so the size of your seat and the many security checks that infuence our opinion are beyond their power. The food, service, little overnight packet and staff were excellent."
Cons: "The general hassle of air travel. Small seats, little space and the herding thru security and long lines. You really have to be slim and trim to fit in the seats and walk the long distances from one gate to another. Great motivation for getting in shape and loosing weight."
Cons: "The layover was too long."
Pros: "Food, entertainment, crew were all great"
Cons: "Very cold in cabin"
Pros: "I eventually arrived at the destination."
Cons: "Difficult to communicate with cabin crew due to lack of English. Flight was delayed by 1 hour. General atmosphere on plane was chaotic I think due to the small plane and length of flight as large numbers of people needed to use toilets."
Pros: "Two full meals, snacks and drinks, a toiletry kit, and hand lotion in the bathroom. For a very long flight, it was very comfortable!"
Cons: "They ran out of homemade lemonade with fresh mint before I got any, and by the time I used the restroom, it was relatively unsanitary."
Pros: "Not trying to be flattering here but it really is a good airline."
Cons: "Arrived 30mins late; flight full and cramped"
Pros: "Everything"
Cons: "Waiting over 2h in the customs in Istanbul."
Pros: "Checking in personal Irem such a rude person who lies to clients. She lied me about checking bag and choosing sit also. I asked her to talk to her supervisor and she show me the girl sitting next to her was doing checking in also name is Bahar. I am 6'1" and 190 lbs and asked for exit row and they both told me all of them gone already. The thing is funny when I asked checking in was just began. After boarding I realized some exit sits are available. As a Turkish man who worked JFK for.Turkish airlines, I think this was awful experience. Turkish airlines and passengers deserve better service and honest employees"
Pros: "Comfort of the plane and pleasant crew. Food was terrific."
Cons: "Might have liked more option of current movies."
Pros: "The variety of films on show was decent"
Cons: "The crew skipped our aisle whilst delivering the toiletry bags, some announcements were made purely in Turkish without regard to English passengers. The boarding gate from Istanbul was opened much later than the advertised times."
Pros: "excellent food, service"
Cons: "There is nothing I've didn't like"
Pros: "Everything"
Pros: "very nice flight."
Cons: "The vegetarian dish could not be arranged in this case, although it was totally the fault of the third party website"
Pros: "Friendly crew."
Pros: "For such a long flight, I appreciate the airline's consistent service and determination to make sure everything was pleasant as possible. By the way, it was an 11 hour flight to Atlanta. I have no regrets on choosing Turkish airlines for my trip and I look forward to my remaining trips with this airline."
Cons: "I do not believe it was the fault of the airline, but I was unable to access Wi-Fi at Ataturk Intl. Airport."
Pros: "Thank you. It was very good and comfortable trip with a nice team."
Pros: "Smooth and easy flight"
Cons: "Food and drinks served late"
Pros: "Respect and politeness of the staff"
Cons: "Wi-Fi is not available on all flights also is easy to download the fllynet"
Pros: "The crew was efficient. They seemed to care about the passengers' comfort. Also, even though the flight left late, they made up the time while in the air. They are the reason with I gave the excellent rating, despite some other misgivings."
Cons: "Lufthansa food service seems to have been deteriorated somewhat over the recent past. Especially the snack before landing seems laden with mayo (plain bread might have been better!)."
Pros: "Super comfortable"
Cons: "Every think was very better"
Cons: "No complaints. Good vegan food."
Pros: "Everything"
Pros: "Smooth flight"
Cons: "Weird plane noises (typical of older Airbus planes)"
Pros: "Everything went well. No delays, lines or uncertainty. Great job!"
Pros: "Ended up flying with air canada after they switched us"
Cons: "Lufthansa switched us three times , and then when we got to the airport in toronto it was air Canada. They found our grandparents tickets but not ours. Ridicule our flight was supposed to be only 1h layover, inatead it's 6 and we are going to miss all our next travel accommodations."
Cons: "Poor food. Disorganized food delivery. Very poor service at the gate- family separated, no seats together, even it was booked as family flight. Will not fly lufthansa again."
Pros: "Wider economy seats"
Cons: "Metal box impedied foot space for 15 hours and monitor froze several times during flight"
Pros: "The service was outstanding!"
Cons: "Someone stole my phone charger :("
Pros: "Tout était impeccable."
Cons: "Nothing"
Pros: "Everything. Food, drinks and entertainment was great. The crew are amazing. Great flight. Pilot kept us informed of everything with delay of serving food due to turbulence."
Cons: "How long it takes you to get to Germany! But they have no control over that."
Pros: "Flight staff were kind and friendly"
Cons: "I could not push my seat back and the man in front of me pushed his back leaving me very little room"
Pros: "The crew was very friendly and helpful as I was traveling alone with my 1 year old."
Cons: "Nothing"
Cons: "Flight was delayed twice. 3 hour trip took 15 hours."
Pros: "I like crew members service"
Cons: "Didn't like seat was not comfortable plus some time smells bad in flight"
Pros: "Efficient checkin"
Pros: "Where is my bag"
Cons: "Where is my bag"
Pros: "The trip was fast"
Pros: "Nothing"
Cons: "Water was spilled on me by flight attendant. Luggage was left in Frankfort. Did not have clothes or medications, or daily necessities. Must wait 1 1/2 days to get luggage"
Pros: "Flight on time"
Cons: "Flight was delayed"
Pros: "Please continue to use newer, updated places."
Pros: "Lufthansa doesn't disappoint"
Cons: "Not much to ask for on a 60 min flight"
Cons: "The on board entertainment sucks you need to upgrade"
Pros: "Decent choice of entertainment options, though the selection of more recent titles was limited, food was fine for airline food. The crew was, as always on Lufthansa, pleasant, courteous and helpful."
Cons: "Flight left 20 minutes late"
Pros: "Terrific staff, efficient process"
Cons: "Bathrooms weren't working"
Cons: "The cabin got a little hot during the night and made it hard to be comfortable. Also, the seats lean pretty far back so I had little room in front of me when the person sitting in front of me leaned their seat all the way back."
Pros: "Everything"
Cons: "Not a thing"
Pros: "The flight was on time, the staff was attentive"
Cons: "1) I was assigned a different seat than I selected when booking. 2) Cake was served as the only food option - poor nutritional value."
Pros: "Lufthansa Flight from Cape Town to Munich canceled due to mechanical problems. Flight rebooked with great difficulty and confusion by Lufthansa. Condor and United picked up the pieces and got us home."
Cons: "We didn't like the total confusion and errors made by Lufthansa staff during the rebooking process after the flight cancellation."
Cons: "It was delayed by 9.5 hours!!!!!"
Pros: "The crew was very welcoming and attentive."
Cons: "That the price of the ticket dropped from when I originally purchased it by $500 and when I called for a refund of the difference I was told it could not be done. I also didn't like that we had to pay an additional cost for a seat selection. Selecting seats should be included."
Pros: "On time, nice staff"
Pros: "Very helpful crews. Any problems."
Cons: "Nothing"
Pros: "Munich airport is convenient and boarding went smoothly"
Cons: "This was an SAA plane, not Lufthansa. I have only had excellent service on Lufthansa. This flight again did not have a functioning entertainment system. I asked for this to be addressed and the SAA crew ignored the request and in the morning looked surprised to find out that several of the TV monitors had not worked at anytime on the flight. Not impressed."
Pros: "Excellent plane overall. Was late on one connection but so were a lot of other airlines due to high winds."
Pros: "The purser was very nice and professional, especially when some other crew members sometimes were not. Food was good and the seats were a bit less tight and narrow than in some other airlines."
Cons: "Our toddler kept pushing the call button, which was very hard to prevent. A first crew member told us to stop it without telling us how - which is quite difficult. Only the purser later helped us to find a solution by gluing something over it."
Cons: "My chair did not recline at all, which make long fly very uncomfortable. When I complained to fly attendant, she said that there is nothing she can do about it. The table in front of the chair was also very hard to open."
Pros: "As a Germany company all was in place on time and well done."
Cons: "All was good"
Pros: "Takeoff was on time and efficient."
Pros: "Fast boarding, on time"
Cons: "Too cold in plane, announcements too loud"
Pros: "All trip was good."
Cons: "not enough leg room, louder than expected engine noise"
Cons: "Leg space is tight"
Cons: "Agents in Budapest were not pleasant at all."
Pros: "Multiple entertainment choices. Food in Economy was better than expected and hot food was served at a good temperature."
Cons: "Tight leg room in Economy and the seat was a little hard."
Pros: "El entretenimiento"
Cons: "Demasiadas mascotas sin posibilidad de descanso. Un gato en ej asiento del frente que no dejó de hacer ruido y dos asientos atrás un pero en la misma situación. Debería tomar más medidas para el viaje de mascotas"
Pros: "Crew are the best!"
Cons: "Boarding was a disaster as my companion was selected for random search which held us up as there was no urgency to process us. Then there was no sign for where we should go since upper deck on 747 so we went in "economy" line as indicated on ticket and then was sent to correct line when we got to the front, wasting more time. The seatrs were the most uncomfortable I have ever beeon on for a long flight. I also paid extra to be in the exit row, to have people constantly congregating in front of us.The food was also mediocre."
Cons: "There was no amenities pack given in Premium economy. The food was ok. It would have been nice to have been offered another bread roll. Seat comfort was fine, but I kept getting hit by the separating curtain as the flight attendants went back and forth from economy."
Cons: "The Premium Eco seats are a catastrophe. They don't recline: the seats only slide down slightly but the upper part of your body doesn't move much. This makes for a poor experience, especially on a night flight. Except if you need the extra width, Eco has better value."
Pros: "Good aircraft, good service, on time, eventless"
Cons: "There are two types of foot-rests, both are a nuisance for people with long legs. The one popping up from below one's seat is extremely hard to put back in place. The metallic one folding down from under the seat in front cannot be secured back and is always in the way if the passenger needs to stretch his/her legs. This seems to be a new appliance, and I jut wish they would do away with it altogether. More is not necessarily better."
Pros: "The crew was perfect"
Cons: "No wi fi on the plane."
Cons: "I not get to go my flight, I couldn't get reimbursement"
Pros: "Exit row seat had much more space for legs, very much worth the upcharge for this seat."
Cons: "Cabin temperature was very cool for me. Never used a blanket on an international flight before, and used a blanke on this whole 9 hour flight. Maybe a function of the seat location? Not sure but I was cold."
Pros: "Not much, seats are super uncomfortable"
Cons: "Better code sharing with KLM"
Pros: "Everything! The service was exceptional!"
Pros: "Great food and friendly crew."
Cons: "Seatback system was old and not very functional."
Pros: "The new movies selection, food was very good, staff more friendly than previous flights"
Cons: "Boarding always a problem on MEA we have to wait too long in the queue"
Pros: "Very nice crew. Nice meal service and drink service throughout. Great choice of entertainment."
Cons: "Booked with my partner. Ended up sitting apart. Not good"
Cons: "WiFi"
Cons: "Flight was delayed by at least an hour leaving Paris - a regular situation I experienced with AF."
Pros: "The staff were very helpful and professional. The air hostesses regularly checked if I was ok and showed concern when I wasn't. They made what seemed a bad situation seem bearable."
Cons: "The food was not very nice and the option I wanted had run out. The entertainment was faulty and had to be reset several times. The comfort was below standard and needs to be improved."
Pros: "Over all everything was great, except the bags check in"
Cons: "Flying back to US, passsengers get charged for their luggage. Which this is not informed to us, neither On our email nor when we were checking ( for free) in Us"
Pros: "Good selection of movies"
Pros: "Staff was so helpful and attentive to our needs.Providing service with a smile."
Pros: "No extra charge for simple refreshments."
Cons: "I was treated like I am not supposed to ask for food and they had one choice of meal for me while they had 2 for the rest."
Pros: "Good size plane. It didn't end up being full so there was plenty of room to move around. Quick flight and easy."
Cons: "Nothing to complain about."
Pros: "Modern aircraft with power, big screens etc"
Cons: "Teenage crew, poor service (not even water brought on request, all "self service" at back of flight, and not being allowed a second drink with dinner), poor language skills (crew not very helpful when 2 hour delay meant I could miss connecting flight, suggesting I "walk fast")."
Cons: "I didn't have time to make it through customs. Missed my flight"
Pros: "Quiet! No noise-canceling earphones needed. Delicious food."
Pros: "Food, service, comfort"
Pros: "The entertainment screen was a small 4" screen. The movie selection was outdated. The screen in my seat did not work. Flight attendant said she would "call to have it reset" but it never worked. Fortunately, there was an adjacent empty seat that I moved to on my own initiative and without the flight attendant offering a seat change."
Cons: "It is very difficult to get around CDG airport with a disabled person. There is no shuttle. By the time we got to check in, we were ten minutes late. They would not check us in, and we paid over $700 to change tickets to the next flight. When I complained, I was told to stop being rude or I would get no ticket at all. My mother is 94 years old and we did the best we could given the circumstance."
Pros: "Very good male crew member. Pilot genuinely apologetic for the delay."
Cons: "After running due to a 1 hr 10 min change over between flights boarding didn't prioritise anyone but I got on fine. Only to be told at the departure time that there was a problem with the baggage hold and we were delayed. In total 50 minutes late leaving. Breakfast a simple brioche with nothing to add to it."
Pros: "Everything!"
Cons: "Screen broke half way through flight. Food was poor"
Pros: "The cabin crew was very good!"
Cons: "The economy premium seats are very uncomfortable"
Pros: "Nothing."
Cons: "They loosed our reserved seats, our luggage, food was awful, ground staff was disrespectful."
Pros: "The crew took care with calm and kindness of a man in deep distress and erratic behavior. Impressive. More generally , the crew showed respect and attention to all passengers. Not frequent."
Pros: "I didn't actually liked the entertainment"
Cons: "I just didn't enjoy the entrainment."
Pros: "Charmingly nice crew and involving captain"
Cons: "the delay of the flight, the drinks we had to pay in the lounge, some poeple got a 25$ compensation coupon and we didn't. The connecting time was about 1 hour and the luggage was not put on the plane to beirut"
Pros: "Nothing special"
Cons: "They start serving late the apperitif before taking off and take it back right after."
Pros: "This is what happens when you get roped in by a low price."
Cons: "Disorganization which led to not being able to pre-purchase baggage. Then bad info at airport which led to multiple trips through security trying to make weight on a bag that should have been checked but was told didn't need to. Ended up missing flight, having to rebook at full fare and no one knows where the bag that was checked is. STAY AWAY!"
Pros: "All of the crew were friendly and the flight was on time."
Cons: "No problems"
Pros: "Crew was friendly and polite, both beverages and an excellent lunch was offered."
Cons: "A delay was not ideal but nothing to worry about since the flight arrived on time."
Cons: "Freezing"
Pros: "Párizs Budapest kb 1 óra késés műszaki hiba miatt. egyébként minden rendbe volt."
Cons: "We were rebooked, which understandably happens for any number of reasons. However, we were not informed or asked about our preference until our luggage was checked through! The staff especially in Chicago where we began this awful experience couldn't care less about our situation. Then AIr France lost our luggage and provided no help in locating them. We had to rely on folks who had friends working in Zagreb Airport to locate them. Air France is incompetent, insensitive and unprofessional. If you have an important trip avoid Air France - they treat you like captives not customers."
Cons: "Our first leg from Paris was delayed and we missed our flight to Dubrovnik. We then had to hire a car and drive 6 hours to ensure we wouldn't lose a day more of our holiday."
Cons: "Too crowded"
Pros: "Punctuallity"
Cons: "Bording far away, got my cabin luggage and everyone elses into the cellar because ¨it didn´t fit in the plane¨. There was plenty of room, I had breakable stuff in my luggage, didn´t get the chance to choose. No entertainment AT ALL. Confort: no leg space at all. Not an AirFrance plane, subcontracted. Lousy food."
Pros: "Loved the movie selection and the food was good too."
Cons: "Too many interruptions. Every time there's an announcement, it interrupts the movies and some of the announcements were completely unnecessary and there were so many of them, it was like constant interruptions, really annoying."
Read more about Turkish Airlines
Safety measures for airlines flying from Lithuania to South Africa
Airlines flying from Lithuania have enacted additional safety measures and adjusted policies to better accommodate travellers. Policies vary by airline.
Heightened sanitation
Daily cleaning, installation of cabin HEPA filters on flights from Lithuania
Mandatory masks
Masks required on board, masks provided on flights from Lithuania
Social distancing seating
Middle seats unavailable to book on flights from Lithuania
Pre-flight testing
Testing for antibodies, testing for symptoms for flights from Lithuania
Book cheap flights from Lithuania to South Africa
Recent return flight deals
Search by stops
Search by airline
Search by price