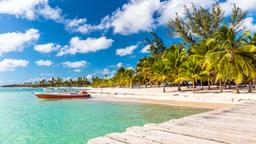 Find cheap flights from Johannesburg to Caribbean Islands
Search hundreds of travel sites at once for deals on flights to Caribbean Islands
Top tips for finding cheap flights to Caribbean Islands
Book at least 2 weeks before departure in order to get a below-average price.
High season is considered to be January, November and December. The cheapest month to fly to Caribbean Islands is October.
FAQs - booking Caribbean Islands flights
How long is the flight to Caribbean Islands from Johannesburg OR Tambo?
How does KAYAK find such low prices on flights to Caribbean Islands?
How does KAYAK's flight Price Forecast tool help me choose the right time to buy my flight ticket from Johannesburg to Caribbean Islands?
What is the Hacker Fare option on flights to Caribbean Islands?
What is KAYAK's "flexible dates" feature and why should I care when looking for a flight to Caribbean Islands?
Top 5 airlines serving Johannesburg OR Tambo to Caribbean Islands
Scores according to KAYAK customer reviews
8,0
Virgin Atlantic
Overall score based on 1 573 reviews
Cons: "Food wasn't great and not a lot of it. London to Orlando was good. Connection was good."
Pros: "Great crew, good in-flight movies. Good food."
Cons: "Wifi connectivity was poor for most of the flight. Plane was very hot it was difficult to sleep."
Pros: "Entertainment and helpful staff"
Cons: "Had worst seat on plane on outward because I didn't know I could pick a seat free of charge before online checkin This could be a lack of communication on Kayak/Last Minute.com as opposed to Virgin"
Pros: "Very friendly crew. We boarded about an hour before so we were ready to go well before time."
Cons: "The economy seats are not that comfortable and the screen for entertainment is sometimes difficult to use."
Pros: "the crew was very polite and professional."
Cons: "the aircraft is small and confined, only two toilets for the entire economy level passengers for a 6 hour flight. the online entertainment lacks variety and the food was okay."
Pros: "Nice crew"
Cons: "Comfort. Seats were very uncomfortable with absolutely NO leg room. I fly a lot and this was one of the WORST leg room experiences I had."
Pros: "Most of it was of a reasonable standard."
Cons: "Plane was full"
Pros: "Crew were great! Neck cushions on chair aren't adjustable and not comfortable."
Pros: "The business class seats are the best we've had. Plenty of room, nicely laid out, good organization design. The blankets were fluffy and very comfortable. Crew was super attentive and friendly. For such a long flight, it was very pleasant, will highly recommend."
Pros: "The crew was maybe average, that was still the best point."
Cons: "Extremely tight space. The food was almost inedible. Awful."
Pros: "I had one of the few empty seats next to me."
Cons: "The food is awful. Not enough toilets."
Pros: "Very short flight (43 minutes) No food, entertainment or beverage service. Staff did not check young children were strapped in prior to take off resulting in a two year old standing on dads lap throughout take off, flight and landing."
Cons: "Lack of importance shown to safety of young children."
Pros: "A smoothtrip run by great staff."
Cons: "Thé food was rather stodgy overall."
Pros: "- Presence of entire box sets of some TV shows was a nice touch that I made good use of."
Cons: "- EVERY damn movie is prefaced by 4 minutes of ads. - The touchscreens (at least in economy) are slow resistive screens that are horrible for fine control gestures (like slightly changing the volume or position)"
Pros: "I loved the food and the amount of it. There were so many movies and tv shows and music to choose from!"
Cons: "The seats weren't comfortable enough for me to fall asleep."
Pros: "Crew were great"
Cons: "Uncomfortable to sit for eight hours"
Pros: "Loved the food and ambiance"
Cons: "The on air entertainment was surprisingly low quality"
Cons: "luggage never made it to Boston? Don't know who's fault it was.Problem was corrected."
Pros: "Although we were badly delayed the cabin service was excellent in every way. Good meal , cheerful staff and well turned out."
Pros: "2 bags each 23 kilogram each total 46"
Cons: "Coffee. I don't know what it was but the worst coffee I have ever had and I tried it 3 times"
Pros: "Cabin crew were accommodating and nice throughout the flight. Meals were good and the service was quick. Large range of entertainment selection for the trip helped pass the time."
Cons: "The check in process and boarding process were very slow. It made going through security a bit stressful and I didn't have much time after going through the security to use the bathrooms or get a quick bite to eat before the plane boarded."
Pros: "Staff were excellent and very friendly, service was great, and the entertainment on board was very good."
Cons: "We were waiting in our seats for about an hour before take off due to a need to de-ice the plane due to snowy weather. I think everyone would have been more comfortable in the waiting area while this happened, or at least given the option to do so."
Pros: "Great crew, easy boarding, comfortable enough flight"
Cons: "Could have used a charger for electronics, especially because we were expected to use our own device for entertainment. Didn't order food, but didn't look digestible"
Pros: "Great Service. Truly enjoyed Economy plus!"
Pros: "I could sleep in peace the entire flight and the food. The little care packages we receive with a sleeping mask and ear plugs are also fun and useful."
Pros: "The flight crew from the mel to lax route were excellent. One was especially attentive to my 2 toddlers and gave me a bit of a break, something that has NEVER happened in over 40 flights traveling with children."
Cons: "I think something was broken in our section (mel to lax) as it was uncomfortably hot and the flight crew tried to get it cooler but could not. I've never experienced a flight that was too hot, usually the opposite. It was stifling."
Pros: "Check in was very smooth with very friendly staff. On board crew was very welcoming and service was excellent."
Cons: "Aircraft configuration of the 787-9 was very poor with 9 seats abreast making the seats very cramped and very poor leg room."
Cons: "I always think Virgin's meals are the WORST among those of all the airlines I use. PLEASE LET THE VIRGIN COMPANY KNOW THIS FACT. The touch screen of the DVD player did not work well so it was a frustrating experience."
Pros: "This is my new favorite airline. I loved the staff and all the amenities. I was so comfortable and the food choices were great. I felt like I was cared for and my comfort mattered."
Pros: "Not having to pay for a checked bag. The check-in process was very easy The bag drop-off line was pretty speedy."
Cons: "The airline stewardesses moved very noisy passengers next to me and talked to them the whole flight."
Pros: "Entertainment system worked well. Good choices."
Cons: "Food decent, but not enough fluids offered during flight . Was very dehydrated by end."
Pros: "Safe flight, good crew"
Cons: "Food quality was poor."
Pros: "Food was great, plenty of it also"
Cons: "I'm 6'4" and there was no acknowledgement by the crew that I was squashed into a tight seat."
Pros: "Food"
Cons: "Seat reclining happens even during meal time and landing! I had to ask crew to get passenger in front to put seat back upright during meal time!!! Crew should've noticed themselves and ask the passenger without my prompting!! So annoyed!! I complained to VA too"
Pros: "the food was very good and they hd a good list of selections of movies."
Cons: "the crew was very dry. they did not seem too happy."
Pros: "Nothing - except the toilets with tabs for lifting the seat & adjustable headrest. They forgot to load our toiletries overnight pack too!"
Cons: "The 787 has vastly inadequate Economy toilets - ONLY 4! For 200 passengers. Inadequate lighting for,boarding, unable to activate reading lights until AFTER TAKEOFF = groping in semi darkness, BAD! No window blinds = woken up by blazing sun in middle of 11 hr night flight, even with sleeping pills my sleep was wrecked, even with eyemask. Passengers penned in on narrow aisles by trolleys, unable to walk around plane & risk of DVT. Passengers disempowered by restricted space, lighting, mobility. I want more control over my personal mobility &, lighting. Horrible headsets (bring my own). This flight departed 2.5 HRs LATE from JHB & the crew & cavin service was SLOW. NO requested second cup of tea brought - I waited 20 mins & climbed over trolleys to get another one, even though it was requested of cabin crew. Do they just ignore us? Or forget?"
Pros: "They were were very kind and helpful to all passengers"
Pros: "I liked the food and refreshments and the on flight entertainment was good.."
Cons: "I didn't like the boarding process.every other flight I've been on they board plane by rows.on this flight everyone was boarding at same time which was annoying and held up the boarding process.."
Pros: "Very courteous and professional crews. Clean and comfortable plane. Pilots handled delay and weather superbly. Dinner was delicious."
Cons: "Dinner was great but could have used more snacks. Breakfast was ok. Movies were dated but okay."
Pros: "very incompetent crew carrying out orders for a very cheap airline."
Cons: "There was nothing to like, attendants were rude, seating was horrible, No room, no snacks, counter persons were even worse, tried to contact virgin australia over 12 times for booking confirm and itinerary, no replies ever, none from HQ in Brisbane. Virgin has NO customer service whatsoever, all they want is to take your money online and do nothing for paying customers. "Paying Customer", remember who we are??? The ones that pay for the worst service in the world. Well done Richard Branson!!"
Pros: "New Dreamliner aircraft was very comfortable with loads of leg room for a tall person like myself at 1.76m"
Cons: "My seat was directly under the aircon and it was blowing very cold all night which made it quite uncomfortable. Fortunately I had an extra blanket which I could wrap over my head."
Pros: "Plenty of leg room Open area for self-serve snacks and non-alcoholic drinks Food was very good Super friendly attendants"
Cons: "Watch out for checked baggage fees on short haul international flights. If you buy their saver fare, VA charges you $130 to check a bag at the check-in counter. Highway robbery in my opinion! Make sure you add a bag beforehand. Corporate greed at its worst."
Pros: "The crew left my breakfast in the sear next to me because I was asleep (unfortunately i didn't notice till I started to disembark...)"
Cons: "I couldn't get comfortable enough to sleep very well, even though I was in a window seat (which I can normally lean on)."
Pros: "The space you have with your legs is sufficient and the chairs are very comfortable. The food was really nice. I enjoyed the trip, although it was a long one."
Cons: "My video monitor didn't work so I couldn't watch movies, asked the crew twice to help and they never did. Then to top off a terrible 10 hour flight with no entertainment, my bag never made it. Worst experience ever"
Pros: "I liked the entertainment system, free adult beverages and boarding process"
Cons: "I don't like that they have you pay extra for picking seats that have no extras. No preboarding. No extra legroom."
Pros: "Entertainment system is great"
Cons: "Still very cramped. Cannot lower tray if you have anything in pocket (like an iPad or magazine) Should board rear section first."
Pros: "Great cabin comfort and entertainment. Very nice place to be."
Cons: "Cabin crew less warm and professionally nice than Virgin. One point that needs addressing is that when the cabin crew or, even more so, the pilot came on the PA, the sound level was so much louder than that of the entertainment system. You had people jumping out of their seats and it was very uncomfortable."
"very good"
"Felt safe. No bathroom lines since many toilets are located throughout the plane. Passengers did great at following the rules."
Pros: "On time!"
Pros: "Definitely pick comfort plus on this flight if you can. You can walk around a lot more on this flight compared to other flights. Food was really good! Recommend the overnight flights...."
Cons: "More leg room would have been nice..."
Pros: "Mal servicio; compre un tickets que no permitía escoger los asientos y nos seleccionó la última fila en cada vuelo. La diferencia entre ser priority y regula es bien marcada"
Cons: "Mejor trato a todo pasajero; se reconoce las ventajas de estar en primera clase pero el servicio debe ser excelente"
Pros: "Boarding was a fast and smooth process. Flight attendants were there to help with carry on luggage if needed. Always nice and do their best."
Pros: "The crew was not overly friendly"
Cons: "A lot of turbulence"
Pros: "Movies"
Cons: "Comfort. Jetblue offers betwee seats ne apacing betqeen rows"
Pros: "Great crew"
Pros: "Nothing to like."
Cons: "Cabin was way too hot despite complaining multiple times. Wi-Fi didn't work the whole flight. The entertainment system was down. Seats uncomfortable. Inept crew. Worst flight I've ever taken."
Pros: "Nice service"
Pros: "Love it"
Cons: "In the last months I have travel 3 times , this is the first with Delta. I can say it has been the best experience I had. Good entertainment, the access to texting and the variety of snacks make superior this airline."
Pros: "Crew was awesome. Very friendly."
Cons: "I'm 6 foot tall and I found my seat space feeling crowded. I found myself wishing for just 2 more inches of legroom. It feels that airplanes are being built for quantity of passengers, not quality of flight."
Pros: "Crew was very fast but not enough during boarding and people had brought oversized carry on luggage to the gate requiring stowing. We had checked a carry-on at check in and paid $30 while several people got theirs stowed for free which seemed unfair."
Cons: "The charging for checked luggage has created a situation that was unfair for all travellers and ultimately made the plane's departure late. This policy drives people to bring too much luggage into the cabin, putting at risk the safety of others and delays."
Pros: "The friendliness of the passengers and most of the crew."
Cons: "One of the younger female flight attendants was rude . She was collecting trash and took my neighbor's (aisle seat) trash but wouldn't take mine. I tapped her elbow to show that I had trash, she looked at me but didn't take it. She returned and still refused until I exclaimed. She rolled her eyes."
Cons: "Cabin was cold enough to store meat. Entertainment system was poor at best. And, of course, the seats were too small and uncomfortable. Time to start looking at other airlines."
Cons: "Delta seems to be running their interiors much hotter then ever I can recall. This flight was hot enough to drench my shirt with sweat."
Cons: "I was flying standby. I checked the list on line and my name was number 5. I get to the gate and there's just a handful of customers. The agent said there was enough seats for the standbys I wait and wait for my name to be called but no luck. My name wasn't cleared yet. Finally I was the next to last one to get a seat. The gate agent who didn't ask for my name tells me I was all the down at the bottom of the list. While I am glad that I got on I wish I knew what method is use to get your name on the stand by list?"
Cons: "Cabin was too hot since the very beginning. Even in first class."
Pros: "Great service by gate operators."
Cons: "TSA process"
Pros: "The counter assistant change my seats and my wife and me seat together"
Cons: "Hot cabin"
Pros: "Although our flight was fully booked. The crewmembers on this flight was professional, friendly and efficient. We boarded quickly and took off on time. We even arrived ahead of schedule. Each passenger was given free headphones and complimentary beverages and snacks. I love Delta they are a cut above the rest. They are constantly striving to put the customers needs and wants top priority"
Cons: "Tight seats need more legroom"
Pros: "Everything was perfect and most of all ON TIME Thank you Delta!"
Pros: "Arrived early. Got a beverage & snack which is becoming rarer with American carriers. Video selection was very good. Staff was nice and attentive. Overall a good flight at a reasonable price."
Cons: "Narrow corridor to seats"
Pros: "Everything escept the seat that was too small. I also had problems with the entertainment when trying to see movies."
Cons: "Seats too small ant could not watch Movies beacause the screen was defective."
Pros: "Comfort Plus seating was good for the long flight, lots of choices for entertainment."
Cons: "Some crew members were rather cold in their manner, either disinterested or grumpy. Electric outlet didn't work. On screen entertainment touch screen was very difficult to use (unresponsive to touch)."
Cons: "Flight was delayed over 1hr."
Pros: "Buen entretenimiento."
Cons: "La incomodidad de los asientos además que la escala fue de más de 6 horas y fuimos los últimos en abordar. Para colmo los asientos fueron los últimos de la fila y ni siquiera eran reclinables. Creo que deben tomar en consideración a las personas que estamos tantas horas en la escala y permitirles abordar primero además de darles asientos más cómodos más aún si hemos comprado los boletos con tanto tiempo de anticipación."
Pros: "Giid free sandwixh. Very good entertainment system. Good seats."
Pros: "Well, the seats and the lavatories are smaller than ever. And I am quite petite."
Pros: "Excelente"
Cons: "Older plane and seemingly frustrated crew. They had very little patience."
Pros: "Entertainment is very good"
Cons: "Send my carry on bag, outside."
Pros: "Late delay notification"
Cons: "Called the airline directly to verify the status of flight within 24hrs and everything was on schedule according to them. Even tho the airport at San Juan have not night arrivals due to the effects of Hurricane Maria, and on previous days the same flight had been moved to a morning schedule for that reason. I was notified of the delay within hours of departure of the connecting flight."
Cons: "Nothing"
Cons: "Small plane"
Cons: "The flight attendants were unfriendly and borderline rude. I felt like when I asked for anything or was just up stretching my legs that I was bothering them. There was also quite bit of turbulence in the first two hours- I have traveled a lot and I felt like it took the pilots too long to find a smoother altitude."
Pros: "Friendly crew"
Cons: "Seats too close. Food lacks salads. Fruit salad tasteless--fruit not ripe--looks good, but no taste."
Pros: "The flight left on time and we got in 15 minutes before the scheduled time. Awesome service from gate to gate."
Cons: "I didn't like that I had to pay for my bags and still purchase food on plane. The price for ticket is already overpriced to begin with. Fuel is cheaper, the planes burn less fuel due to updated design and still the tickets are three times the cost of five years ago. No one should have to pay for bags period. Show that you really care."
Pros: "Nothing"
Cons: "Employees at the Atlanta airport have a SERIOUS chip on their shoulders. Just when you thought seats couldn't get any smaller or closer together. Paid for priority boarding but the boarding pass still said zone 3. Employees could care less."
Cons: "It was late arriving to greensboro"
Pros: "Good experience overall. Pleasant staff. Movie features were wonderful and helped pass the time."
Pros: "Movie selection"
Pros: "Drinks were passed out twice while everyone was waiting due to flight delay. There was one flight attendant that was awesome. I had asked for coffee due to migraine. I was stuck in the last row, back of the plane & had seen other people with coffee. The flight attendant told me no, I would have to wait for 3 more hours for coffee at breakfast. A smiling face showed up within minutes & asked if I wanted coffee. She told me that when she hears someone else say "no" that she thinks it should always be "yes". She was the African American flight attendant (wish I would have got her name). She brought me coffee, offered tylenol & checked in on me again later."
Cons: "Food wasn't very good. Most of the service was fair at best, crew, no smiles, looked irritable. Our flight had been delayed about 4-5 hrs so passengers & staff grumpy. Poor selections on the movies. No charging stations in the seat. This plane was very noisy so I was really glad to have noise cancelling headphones. Very expensive to select seats as it was bought through a non-Delta site to get the desired connections."
Pros: "Food was OK. Crew was very friendly"
Cons: "No Entertainment for a 4 hour flight. Plane was very old."
Pros: "Although I am a vegetarian, It was nice Delta was serving sandwiches."
Pros: "newer aircraft; good entertainment options; large overhead storage compartments"
Cons: "cramped passenger space"
Pros: "Flight departed on time. Crew were friendly and efficient"
Cons: "Boarding seem to be chaotic, no boarding by group or seat number."
Pros: "Nothing"
Cons: "Poor customer service, was booked off twice without being informed."
Cons: "My flt from DEN was delayed so I missed my connection - it didn't happen."
Pros: "The crew was very nice and attentive, I really like the food on Lufthansa"
Cons: "The movie selection was limited and dated"
Cons: "Boarding process. Everyone boarding at once does not work well when it is a full flight"
Pros: "Thanks for the good care."
Cons: "Beta information for the flight"
Pros: "crew"
Cons: "food screens"
Cons: "This was a smooth as clockwork journey, the transit was easy and we were kept well informed about changes in the gate number"
Pros: "The crew on the jet were fine. The entertainment was good too."
Cons: "The crew at checkin we're pretty awful. They were rude and not very helpful. I witnessed 3 customers have poor service in front of me and then they weren't helpful with me either. The plane changed and I had paid for a seat and I lost my money and the seat I paid for and was never notified."
Pros: "Movie selection, drink selection, crew was awesome."
Cons: "Seats are not the most comfortable."
Pros: "The crew were very considerate. Also they have the best baby beds we have seen so far"
Cons: "The entertainment system was glitchy."
Pros: "Lounge was very clean"
Cons: "In a 10 hours flight Frankfurt to Atlanta only one main meal. Service was rushed job. My seat wasn't working and Tv remote didn't work."
Pros: "The Lufthansa service in rebooking."
Cons: "Lost bag- this was after my luggage tag was scanned and I was assured the bag was on the plane. Getting information from Lufthansa about bag status was impossible. Help phones were either busy or never answered. A black hole of no information until the bag arrived 30 hours later. Then a 45 min. At airport to get it back."
Pros: "The service and the entertainment system"
Cons: "Food was not up to the mark, which it almost always is. The crew were a little rude at times, which is also not very common with this airlines."
Cons: "Boarding process was a bit unorganized"
Cons: "No food or entertainment"
Cons: "Didn't like the breakfast at all"
Pros: "Crew. Meal good too."
Cons: "Bus rides to aircraft at Frankfurt"
Cons: "Boarding from terminal f sucks"
Pros: "Crew greeted every passenger with a smile on entry and exit! So nice. Delicious, large cookie for a short flight."
Cons: "Boarding was poor. Did not board back of aircraft first like Lufthansa does on other flights. Felt sardined almost because of a full flight"
Cons: "The seats are too close. When reclined it's not possible to get out."
Pros: "Great service!"
Cons: "Breakfast and movie selection could have been better"
Pros: "The service was okay."
Cons: "Not enough space between the seats and the seats are very tough. So hard you can't get comfortable"
Cons: "The boarding area was cramped."
Pros: "Friendly crew"
Cons: "when seats recline in economy you can barely get in and out of a seat"
Pros: "I liked that the flight attendants were courteous and attentive."
Cons: "The entertainment system is a compkeyfailure and is unresponsive to touch screen. The entertainment feels like it was done to please everyone. In the process the selections are of limited interest. Movies are not interesting and often not available. If this entertainment were on the ground it would be a train wreck."
Pros: "The boarding process is very efficient."
Cons: "Lufthansa's people are mostly good. But there are some obvious opportunities for people to be more friendly. Also, LH like many others continues to serve cold rolls and cold butter on international flights. KLM warms the rolls! It's the one small touch that would make Lufthansa's meal service so much nicer."
Pros: "Clean plane, decent entertaiment"
Cons: "the food was pretty much the same that we had during our previous flight from Moscow to Frankfurt and of the same mediocre quality. the plane was freezing cold - this was the first time in my frequent travels that i had to use the provided blanket. My girlfriend used 2 of them. When I called the flight attendant for the extra blanket using the bottom nobody showed up - I had to stop an attendant passing by to get the extra blanket."
Pros: "Everything was wonderful! Lufthansa is spot on from boarding, to in flight service to the moment you leave. They are helpful, friendly, fun and a wonderful crew where I know I'm in good hands!"
Cons: "Their silly 8 kg weight limit for carry on baggage was a surprise and really not consistently enforced. Couldn't go through the one pass customs line adding more than an hour to that part of my trip. Crew couldn't answer questions about dairy in the food."
Cons: "Meals served in the 2nd flight wasnt up to the mark."
Pros: "This was a short haul flight, it didn't have an entertainment system, just plain seats."
Cons: "I had to endure 10 hours sitting next to an obese passenger, who was to big to fit into his seat and had to rest his shoulder and elbow over my seat. The crew couldn't do much and so I had to shift myself sideways for the entire journey in order to make space for this obese passenger to rest his arm into and over my seat."
Cons: "They had overbooked the flight and asked to reroute me. I asked if I would still be able to get to my destination at the same time and to make sure I would have a window seat. Everything from the moment I said yes was a terrible. They rebooked me twice on two different routes when I was in the air. Said a steward would meet me (never happened) instead I was running to catch flights on different airlines in two different airports. The entire situation was disgusting. The running was with all of my luggage. Because of the rebooking I was in the last row of 75 rows on a plane with an additional connection. Every flight had delays creating more chaos for the next flight. The only helpful airline in the bunch was Delta."
Pros: "Crew friendly, good food"
Cons: "Cramped seating, can't select seat until checkin without paying (only airline we were unable to select seat)"
Cons: "Late flight with no explanation for the delay until after boarding left passengers in the dark and in some cases unable to communicate travel changes (when they could have used the airport wifi if notified in a timely manner)."
Pros: "Lit hands crew more caring and professional. All good."
Pros: "It was all together a pleasant trip."
Cons: "My chair did not recline at all, which make long fly very uncomfortable. When I complained to fly attendant, she said that there is nothing she can do about it. The table in front of the chair was also very hard to open."
Pros: "The flight was delayed two hours. I flew them 10 years ago and thought their seervice rivaled the Asian airlines. Now their service and seat comfort is near the cellar dwellars. The premium coach seat I paid extra for was the narrowest coach seat I have ever had the misfortune to sit in. I am a small man. 5'*8" 165lbs. The normal sized man next to me and I had to sit with our elbows pinned to our ribs. Eight hours of hell. I also had a totally irritating woman from syria behind me. She pushed and banged on my seat back the entire 8 hours. She had to have her loud mouth yapping most of the flight. That was the worse experience I have had flying. Also the attendents didnt care about me. I had to ask for tea. Had to ask three times as they were waalking off"
Cons: "The flight was delayed 2 hours. The seat was tiny , cramped and uncomfortable. I travel a lot. This is the first negative review I have written in 55 years of flying."
Pros: "SAS and BA can do better"
Pros: "Crew was nice."
Cons: "Very small cramped seats in business class. Would not fly again."
Pros: "Flight more or less on time - efficient"
Cons: "Baggage handlers on strike - airport chaotic - Swissport did poor job communicating waht was going on. One bag eventually arrived - took 3 hours second bag did not arrive and apparently did not get transferred in Frankfurt Told they would deliver bag - next day and would text and call - called at 4am !!! I just had come off 20hrs of travel. Phone on mute. No e mail. Now they say will deliver this evening - but no time slot so another wasted vacation day waiting for them to get their act together. Why can't they call/text me with a 30 minute window."
Pros: "Excellent Flight"
Cons: "Nothing"
Pros: "Still loads of leg room in economy which is great for a tall person like myself."
Cons: "The food, dinner and breakfast from Johannesburg to Frankfurt was not very nice and not the usual good standard."
Cons: "The seat in front of mine was reclined in the already cramped space provided, twice as far back as any other seat I could see. Please look into the recline on that seat for future passengers. The crew hit my seat, repeatedly with their carts and did not remember to offer drinks to us as they pushed it by. The airlines should consider removing that seat as an option to passengers if there is not ample room for the flight crew to maneuver around it. It made for an unpleasant experience overall."
Pros: "Much better than lax to frankfurt"
Cons: "Too much walking from one gate to another. Seemed as if I walked the whole airport."
Pros: "Entertainment."
Cons: "Staff was extremely sassy and unhelpful when I had been traveling for 40 hours."
Pros: "Late departure, full flight but good overall."
Pros: "Very prompt, good food. We encourage trip very much!"
Pros: "Clean plane , good crew ,"
Cons: "they didn't load my baggage from flight 1 to 2"
Pros: "Yeah Everything well organized"
Cons: "I believe so"
Cons: "Boarding was a disaster as my companion was selected for random search which held us up as there was no urgency to process us. Then there was no sign for where we should go since upper deck on 747 so we went in "economy" line as indicated on ticket and then was sent to correct line when we got to the front, wasting more time. The seatrs were the most uncomfortable I have ever beeon on for a long flight. I also paid extra to be in the exit row, to have people constantly congregating in front of us.The food was also mediocre."
Pros: "Great and friendly crew"
Cons: "In-flight system had some problems and seats seemed a bit uncomfortable"
Cons: "Staff Curtsy and overall gestures!!"
Pros: "Nothing"
Cons: "They have a terrible communication problem, they never communicated why the flight was late, they never communicated what they were doing or what was happening. Bad customer service. Bad communication with the client. They told us when I asked several times that we would not lose our connection and that everything was fine and that was not the case. We lost the connection. No one told us anything. Another problem was that the girl in the boarding process removed the suitcases tickets from the boarding pass and did not want to return them, and held it without any cause. Without that tickets we can not claim the bags. The flight staff went looking for us. Pretty sad and disappointed by their service. I understand that they were causes outside the airline but must communicate to the client. They cannot remain silent and say nothing."
Cons: "2 hours delays from LAX to CDG then additional two hours delay from CDG to CAI, this is disappointing"
Pros: "Exit row seat had much more space for legs, very much worth the upcharge for this seat."
Cons: "Cabin temperature was very cool for me. Never used a blanket on an international flight before, and used a blanke on this whole 9 hour flight. Maybe a function of the seat location? Not sure but I was cold."
Cons: "The food is usually very good, this time it was poor to disappointing- dark meat chicken.., tasteless & unhealthy....mushy fruit dessert choices"
Pros: "Spacious business class seats, excellent meals"
Cons: "Lack of ventilation in cabin, and staff refusal to turn heaters down (in September), very limited entertainment options."
Pros: "Entertainment system"
Cons: "Awoke to find ill man laying on floor in aisle next to me with oxygen. Shortly after... Passenger in seat near man on floor (diabetic but no one tells us anything) needs to lay across four seats with oxygen for heart issues for remainder of trip with staff and doctor on board nearby. Nevdr informed what was happening, never offered to move our seats or move iIl passengers. Glad all turned out ok. Could have given them more privacy and better informed other passengers."
Pros: "Great crew and entertainment. Terrible experience at CDG airport but that's the airports fault."
Pros: "Quick boarding, comfortable seating. Great food!"
Cons: "The seats and IFE were a bit outdated. Comfortable, but outdated. My family had issues with their screens and one had to use the remote as the touch screen was no longer functional."
Cons: "the tray was broken and the water felt all over. the flight was 1 hr delayed. All of us stood the 1 hr waiting to know what's next. We could sit."
Pros: "Entertainment system failed repeatedly."
Cons: "Entertainment system failed repeatedly."
Cons: "Plane is old and entertainment facilities are no longer appropriate"
Pros: "The crew was very helpful in all respects."
Cons: "Not getting everyone standing in line to board one hour and 10 minutes before scheduled departure."
Pros: "Crew was nice."
Cons: "Food could be better, or at least be provided an option to purchase an upgraded meal. Also, insufficient amount of drinking water provided to passengers."
Cons: "Seat was super uncomfortable. Could not fit in my legs at all, could not recline it enough. Maybe sufficient for a one hour flight, definitely not on an intercontinental flight."
Cons: "Excelente aerolínea"
Cons: "It was a great flight can't think of anything"
Pros: "The crew was efficient and friendly. The plane took off on time and landed on time."
Cons: "Boarding was slow and tedious. People still crowd around the boarding area despite there being row for the zones. Why they don't board from back to front is beyond me. The food was mediocre at best."
Cons: "More chose in meals. I flew to and from within a week. All I had were chicken, chicken and chicken for snack too."
Pros: "Fantastic Crew!"
Cons: "Seats are comfortable but tight."
Cons: "Air conditioning too cold. Wasn't offered an evening meal. My luggage went missing and I'm still waiting for it to be delivered."
Pros: "The flight crew on the flight was amazing. Went beyond basic needs and requirements."
Pros: "Flight was on time."
Cons: "Food could have been much better in comparison with other airlines."
Cons: "shuttle from terminal to plane takes a long time. Flight left late"
Pros: "I was given a great seat and the food was OK- not the Air France food of 5 years ago but still good"
Cons: "I didn't really use the in flight entertainment - the usual movies, tv etc"
Pros: "The Air France service was ok. Got me to my destination on time and alive."
Cons: "I flew out on KLM on what felt like a new plane. Amazing service, seat, temperature, entertainment and food. In stark comparison Air France's plane was old, too hot, poor entertainment choices and system and average food which for the French was surprising!"
Pros: "Boarding staff helpful with Disabilities; food services quick and pleasant; interior cabin temps appropriate."
Cons: "Why is boarding so prolonged? 1-Small children and elders cannot stand for 20/30 minutes 2-Why are various sections (particularly Economy), no longer boarded by rows. and from rear first...so people don't clog aisles, step over others, injure or be injured by heavy overhead moves?"
Pros: "Everything except the seat. Service ("would you care for a drink/beverage?") could be better."
Cons: "I paid for a"premium" seat on one of the emergency exit rows for the extra legroom. This was next to a galley. The seat itself was no more than 18" wide (NO EXAGGERATION!!) if not less. I had to sit on an angle (one butt cheek at a time) for 9 yours. I do not have a big butt either. This seat should have been a discounted seat, not a premium seat. I am so angry about this, I will NEVER fly Air France again."
Cons: "Flight was delayed 3 times and when I was finally put on a flight that was leaving, they failed to check the connection in Paris (Left me 10 minutes to get from the aircraft to the other plane!) I was moved to SAA in the end after a truly traumatic time in Johannesburg. This is not the first time I have suffered at the hands of Air France sadly. Needless to say, I wont be booking with Air France again."
Pros: "Service was excellent, top of line Food ,some of the best I've had on a airline Seats & pillows comfy But we were in La Première! Also the equipment- a380 was terrific"
Cons: "Only 1 bathroom (toilet) for all of first class"
Cons: "Initially the flight from Lima was delayed for almost 1:30 and then we lost this connection then Airfrance rebooking to SAS they tell us to take all our luggage's and check in again it's was awful and really bad from then walk and spend time we suppose to be quite at home ... the worst was in SAS have ano system and for 1.5 kilos extras you might pay 33€ so after long day and wait, running everywhere with all my staff I see to eat a 11€ menu at the airport with not more explanation from Airfrance .. really bad and worst services.."
Pros: "Punctual, great food in Premium Economy, friendly crew."
Cons: "Took over 75 minutes (after arrival) for baggage to arrive on the carousel. Boarding area did not have well-defined lanes for different groups."
Pros: "Boarding & crew (inc ground staff & check-in) all good."
Cons: "Food not great - not all menu options available. Limited choice of drinks. Very small, low-resolution, seat-back screens with a luggish & outdated interface. Limited choice of movies."
Pros: "Crew was welcoming"
Cons: "Space between the seats was too small."
Cons: "My baggage was broken"
Cons: "The air France flight was overbooked and we had been in standby until the last minute"
Pros: "Good service all around, personnel pleasant"
Cons: "Very difficult to find where to register with the flight but this is more tied to the way things are run by the airport"
Pros: "The crew is great, with their typical slightly humourous and casual French attitude. Great collection of international quality movies."
Cons: "Average and disappointing sitting space. The vegan lacto-ovo meal is disappointing."
Cons: "Disappointed to get delayed due to control tower issues at CdG. Landed more than 30 mins late in London"
Pros: "I liked the way a fligh attandant treated me and another two passengers. At the end of the flight he gave us a cup of strawberries for all. The food was delicious specially that pasta, it was yummy."
Cons: "TV was too slow."
Pros: "Nothing"
Cons: "Everything. AF changed seats without authorization or notification, separating a mother from her 3 year old daughter. Their entire attitude was "nothing to be done, now board plane and leave" no compensation was offered, nothing done to remedy their mistake or rude behavior and treatment"
Pros: "The crew was very nice and helpful."
Cons: "The food was really poor. The chicken was as dry as it can be. The food taste was poor. I flow 3 weeks ago with KLM and the food was pretty good for flight food. Plus I didn't get my baggage at the end."
Pros: "Boarding sevece was very nice and helpful Thanks so much"
Pros: "Movie selection was awesome! Food was good too."
Cons: "Too many interruptions. Every time there's an announcement, it interrupts the movies and some of the announcements were completely unnecessary and there were so many of them, it was like constant interruptions, really annoying."
Cons: "Very warm and stiffy air on board. Need change light. Very sad neon. Probably Boing style."
Pros: "Space"
Cons: "Couldn't adjust the seat and the cushion wasn't comfortable neither seat or back. The bottom back was like a board across the bottom and hurts."
"Flight canceled by airline. No refunds, no ability to talk to customer service. Terrible!"
Pros: "Decent service crew"
Cons: "Boarding, seating, comfort, media, food and general value.."
Pros: "Boarded and left on time"
Cons: "Food was awful. It was so hot I was fanning myself. I had a 11 hour flight and than a 10 hour flight after both British airways, and the same exact food. So I just went hungry. I smelled something amazing so thought I would get a good hot meal as my last meal since I had not had anything in 9hours, but nope, just got a measly cold sandwich. I won't book British airlines again for international travel, I'll stick to emirates."
Cons: "Hardly saw a steward in business class the whole flight. Must be part of BA's cost saving initiatives, but means you don't get food on time, offered drinks or even a menu"
Cons: "Distance between seats on the low side i.e. not much leg room. TV screen again on the small size in comparison with other airlines. Ear phones poor build quality and sound. Plastic cutlery. Small meal trays. No hand wipes with meals. In comparison with other airlines BA is only an average carrier."
Pros: "Flight was on time."
Cons: "Not applicable."
Cons: "Only one round of drinks served?"
Cons: "The people handling the boarding were rude and inefficient. Not a way to staty an 11 hour flight."
Pros: "Crew fantastic. Seats very cramped so hard when travelling alone with people crammed next to you. I am very short and still found seat cramped. Blankets skimpy. Heathrow to San Fran. Johannesburg to Heathrow was more comfortable."
Cons: "Most things I give a high rate on BA but travelling economy these days is very cramped especially as I did two long international legs with short four hour break between."
Cons: "Lost my luggage"
Pros: "Not much - inflated BA fare for mediocre offering; definitely not business class when compared to proper premium airlines."
Cons: "Cramped seats. Poor food. Disorganized boarding more soon to low cost budget carriers. Which is what BA competes against now, albeit for premium prices."
Pros: "The flight was great and was on time. Down side, no entertainment at all."
Cons: "Lack of entertainment"
Pros: "More legroom than other aircraft, plentiful IFE (in-flight entertainment), and a USB charging point in the seat back near the video screen. Decent food and wine, great crew."
Cons: "We departed the terminal for takeoff but a passenger had a medical emergency requiring a return to the gate and off-loading along with finding the passenger's baggage down below. Not the airline's fault, of course, but maybe passengers should carefully consider their health before embarking on an 11.5 hour flight from one continent to another."
Pros: "Breakfast was tasty"
Cons: "Food choices not good for lunch/ dinner"
Pros: "On time, attentive staff"
Cons: "price"
Pros: "Flight arrived 30 minutes early."
Pros: "Quick boarding, good crew."
Cons: "Greasy food."
Pros: "The Crew were great"
Cons: "Boarding could have been more efficient"
Pros: "I loved the new modern plane. It was a bit more comfortable and conveniently designed. Less like a cattle truck and more like a luxury bus."
Pros: "There was no flight"
Cons: "The flight did not take off. What little information we were goven was inaccurate. We called and were rebooked on another flight without being told it was overbooked and our tickets were standby . Dozens of other passengers had the same experience"
Pros: "Crew great, Food great!"
Cons: "Nothing"
Pros: "Nothing"
Cons: "Flight has now been cancelled twice. Communication by BA has been lacking. Flight now scheduled to leave 48 hours later than scheduled.See above"
Pros: "Excellent flight. Staff very helpful and professional."
Pros: "Lots of delays due to technical problems with the plan. Had to be moved onto another plane. More than 3 hour delay."
Pros: "Everything"
Pros: "Hostess was very nice, helpful and friendly. entertainment was ok and pilot was very informative on delays and info. I think the comic relief video is a keeper. People tend to watch just to see the characters and reactions"
Cons: "Seats were to close together, really squashed, no space for 2 arms on the arm rests and leg room is rubbish. Food is wasn't bad.. could do with more on the trays, seems there have been some budget cuts. Continental breakfast option would be really nice."
Pros: "The meals were reasonably nice and the flight was on time"
Cons: "The entertainment screens were old and not clear and not easy to use. The crew was not efficient, not very friendly and not very accommodating. They offered minimal service, contrary to another crew on the A380 flight with BA going from LHR to JNB. Between flights, I guess I saw the better and the worse of BA."
Pros: "Boarding was a breeze, the A380 is so much quieter than the usual 747 and really clean. We arrived on time."
Cons: "As a silver Avios member I've gotten used to the cabin crew calling me on my name when they come and talk to me. This time they spoke as little as possible and it was all incognito. They seemed to be more interested in various Facebook updates than working business class."
Pros: "Nice staff who are doing their best with the little they have."
Cons: "The planes are dated. No Wifi. Bad food. Limited entertainment. I was kind of shocked at how lame it was. I will never fly them again, if I can help it."
Cons: "No USB ports and entertainment options were just OK compared to other airlines."
Pros: "Easy no hassle trip home"
Cons: "BA will receive a specific letter regarding our out bound experience from San Jose CA, and I would hope to get to speak to a BA representative about our experience as well."
Pros: "Good food, good service, everything on time."
Cons: "I paid for an exit seat and didn't get one and then I had the only seat with no entertainment for 11 hours overnight and no Joyce to move"
Pros: "Larger seats, TV Monitors, headphones and pillow immediately available, meals and snacks and in-between water and tea services, Crew was outstanding. Boarding seemed awkward at the last since families and rest of seats load at one time at the last but still doable. I enjoyed my flight. Thank you."
Pros: "We boarded almost 1hr early, took off on time and landed just before scheduled."
Pros: "What a different experience in relation to last week!"
Cons: "No direct communication. Really bad"
Pros: "Great Crew, smooth operation. Efficient service."
Cons: "Boarded flight only to be unboarded at midnight: got to hotel 4am. Long delay in check in/appallingly disorganized. No communication from BA as to problem or when flight would go. Next day checked out of hotel and taken back to airport only to find flight not going as problem not fixed. Passengers taken back to hotel and checked in again! All this time, no official communication from BA. No attempt to reroute elderly passengers or those with small children. Very unimpressed"
Pros: "It was great. Staff was very nice."
Cons: "They did not do much to help accommodate us sitting together on the long flight. Poor food. Poor service."
Pros: "Nothing"
Cons: "Seating configuration was ridiculous as flight attendants constantly leaning across me with trays and their arms nearly hitting my face. Seat & bed functions didn't work. Privacy screen was a joke!"
Pros: "I'm sure there was something but nothing comes to mind."
Cons: "Lack of assistance regarding my missing belongings. Incorrect information relating to landing card to be completed when arriving in London. Stretching over me to pass food etc to passenger sitting facing other direction, and literally millimetres from my face, without any politeness having to do it. Configuration gives no privacy as you look at the passenger next to you. Functions of chair did not work. Pillow was thinner Than a piece of paper. Crew showed no concern."
Cons: "I HAVE FLOWN OFTEN ON OTHER AIRLINES & IT WAS THE FIRST TIME TO FIND OUT THAT BRITISH AIRWAYS ONLY ALLOWED ONE FREE CHECKED BAG AND I HAD TO PAY $200 WHEN I ARRIVED AT THE AIRPORT, $100 FOR THE 2ND BAG & $100 BECAUSE IT EXCEEDED 51 LBS"
Cons: "Each rep we spoke to said they couldnt help us and to just open a support ticket online.. Kept telling us they dont have a customer service team who can help us and its only available online."
Cons: "breakfast was terrible. It was beans, mushrooms, and asparagus. It also came with 3 pieces of fruit. Coffee was also terrible. If you sitting in the middle seats there is no space. The man's arms sitting in the seat next to me were pretty much in my seat the whole time."
Pros: "nothing"
Cons: "Was not able to check in through to Cape Town, only JNB. When arrived in JNB, British Airways flight was not clearly identifiable from ticket (no flight number). Then the flight was delayed, and plane was old! Horrible experience"
Pros: "Fast, courtesy of flight attendants, high tech, good meal"
Cons: "N/A"
Cons: "The air in the airplane was very cold and no blankets were provided. The aircraft seemed very old. Small movie screens on the ceiling, too far away to watch movie."
Pros: "Nothing"
Cons: "BA is the national flag carrier, operating from the newest terminal at the country's top airport. You would think that they could manage, in the 21st century, to get us to our flight on time, using an airbridge instead of 30 year old buses. Said buses were also too few in number so boarding took the thick end of 40 minutes as they shuttled back and forth. BA are a complete and utter joke. There is no excuse for this level of penny-pinching inadequacy."
Read more about Virgin Atlantic
Safety measures for airlines flying from Johannesburg to Caribbean Islands
Airlines flying from Johannesburg to Caribbean Islands have enacted additional safety measures and adjusted policies to better accommodate travellers. Policies vary by airline.
Heightened sanitation
Daily cleaning, installation of cabin HEPA filters on flights from Johannesburg to Caribbean Islands
Mandatory masks
Masks required on board, masks provided on flights from Johannesburg to Caribbean Islands
Social distancing seating
Middle seats unavailable to book on flights from Johannesburg to Caribbean Islands
Pre-flight testing
Testing for antibodies, testing for symptoms for flights from Johannesburg to Caribbean Islands
Book cheap flights from Johannesburg to Caribbean Islands
Johannesburg - Caribbean Islands Flights
Browse destinations:
R93 321
R62 566
R37 041
R16 689
R25 085
R16 733
R17 480
R18 330
R11 619
R16 147
R24 748