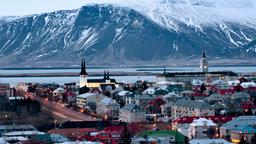 CPT - KEF
Find cheap flights from Cape Town to Reykjavik
Search hundreds of travel sites at once for deals on flights to Reykjavik
When to book flights from Cape Town to Reykjavik
Top tips for finding a cheap flight
Looking for a cheap flight? 25% of our users found flights on this route for R10 739 or less round-trip.
High season is considered to be December, January and February. The cheapest month to fly is April.
FAQs for booking Cape Town to Reykjavik flights
How long does a flight from Cape Town to Reykjavik take?
Which airlines provide the cheapest flights from Cape Town to Reykjavik?
How does KAYAK find such low prices on flights from Cape Town to Reykjavik?
How does KAYAK's flight Price Forecast tool help me choose the right time to buy my flight ticket from Cape Town to Reykjavik?
What is the Hacker Fare option on flights from Cape Town to Reykjavik?
What is KAYAK's "flexible dates" feature and why should I care when looking for a flight from Cape Town to Reykjavik?
Top airlines flying Cape Town Intl to Reykjavik Keflavik Intl
Scores according to KAYAK customer reviews
7,9
Lufthansa
Overall score based on 27 793 reviews
Cons: "The entertainment did not work good the entire flight"
Cons: "Beef main course overcooked and dry."
Pros: "Very confusing going through security."
Cons: "Not being delayed at takeoff. We didn't have enough time, as it was, to catch our flight to Boston and had to run to catch our flight. The scanners at passport control were also a problem."
Pros: "Planes were comfortable and well maintained."
Pros: "Great"
Pros: "Crew was amazing and seats were comfortable."
Pros: "Got to ride on a Boeing 747 Intercontinental!"
Cons: "It's hard to give a good review when the first of three flights is an hour late. Made me and my wife run through Frankfurt airport to make my connection. Only made it by 2 minutes. Frankfurt security was super slow and no one cares."
Pros: "Crew excellent...seats small and not too comfortable for business class."
Cons: "Due to a delayed flight the night before, we were rescheduled and consequently missed another flight. Nothing was done about this since it was a separate trip. We had to pay another $1300 for new airline tickets to get back to the US."
Cons: "Better selection of movies"
Pros: "crew wasn't friendly, seats are very narrow and uncomfortable"
Cons: "FOOD WAS DISGUSTING !!!!!!!!!!!!!!!!!!!!!!!!!!!!!!!"
Pros: "Cheerful and very helpful"
Cons: "The food could be better"
Pros: "The crew was excellent and the seats are v comfortable"
Cons: "I cant really think of anything"
Pros: "Crew was nice. I will go again with Lufthansa."
Cons: "Touch screens were not working well. Required multiple hard taps which disturbed the passenger in front."
Pros: "Friendly, helpful crew, decent food, good entertainment selection, comfortable seating. I would gladly fly Lufthansa again."
Cons: "We had to wait until just before boarding to receive seats together- we were 1 adult and 3 kids. It worked out. Other airlines have immediately seated us together. The entertainment system's response to touch screen direction was poor."
Pros: "The professional, friendly, accommodating, multilingual crew did an outstanding job to ensure all passengers felt comfortable and that their needs were met during the flight."
Pros: "Great reminder. Perfect communication about dalays etc. I will book through Kayak again"
Cons: "Nothing"
Pros: "Superb seats. Wide, enough length to strech the legs. Good entertainment - overall - loved it!"
Cons: "Food could be a bit tastier ..."
Pros: "Crew and flight were great,love the hot towels,constant drink service,clean up after"
Cons: "Food wasn't the best I ever jad on a flight,only reason this flight didn't get solid 5 stars from me!!"
Pros: "Entertainment is good with literally hunreds of movies. Even the screens are fairly good."
Cons: "It's nice to have digital magazines now of Lufthansa flights, but I am not sure why there are hundreds of movies but only ONE magazine to chose from."
Pros: "The food was pretty decent."
Cons: "The seats are uncomfortable and do not recline. The plane was old. No entertainment. For the money look elsewhere."
Pros: "Nothing. It was ok at best which is fine on a good day."
Cons: "Flight out was late due to the bus being late picking up the crew. We had to run for our connections. On the way back we were delayed again , leaving 20 minutes to make our connection. Security at Frankfurt was so poor. Of the potential number of lines available, there were only two operating despite the number of passengers, most of whom were late for their connections. It took us over 30 minutes to get through. Luckily the connecting flight was delayed over an hour."
Cons: "Plane was old and had no in flight entertainment"
Pros: "A regular predictable LH flightqq"
Pros: "Fast boarding."
Cons: "The usual flight discomfort, but the seat in front of me was broke. The person in it struggled to stay out of my lap, which I appreciated. The connecting flight had a non-functional screen and the reading light broke and flew across the cabin."
Pros: "Good choice of movies."
Cons: "The tightness of the seat arrangement when the row ahead reclined is extremely awkward. We are not large people but getting over the aisle armrest was very difficult to maneuver to avoid injury (falling). The security in Munich was upsetting in that one man yelled at me , "Get it out! Get it out! Get it out! because I put my electronics in one of the bins before my husband. I was confused as to what I had supposedly done and I said, "This is my husband" (who was removing his shoes) and this man's reply was "I didn't know that". We were not trying to cause trouble and we cannot understand why he had to yell."
Pros: "Cabin service and crew excelent"
Cons: "LH App not work had hard time getting seat and boarding pass online. Flight canceled LH 444 rebooked next day. While they not say I believe consolidation due to light passenger load. Long walk FRA outbound but short walk home bound. Went on bus to plane no jetway boarding."
Pros: "All good - flight, service all great!!!"
Pros: "Nothing really. It was an overall terrible flight."
Cons: "The crew was so bad. When asked for my special meal 2.5 hrs into the flight, they said you haven't ordered any, which in fact I had a month before my flight. The crew member instead insisted that "you should've brought your own food" not once but twice. No courtesy nothing. I was super disappointed. I fly a lot and this was hands down my worst flight. Also, the aircraft and seats were terribly uncomfortable (Boeing 747-8 Economy). Boarding took forever as well. Overall a very shocking experience from a very experienced airline otherwise."
Pros: "Courtesy"
Cons: "Needed more option in sports. Specifically Cricket"
Pros: "You guys did a great job. I've never seen boarding go so smooth, The self-serve boarding gate was better than any human."
Cons: "nothing"
Pros: "Lufthansa flights are by far the best way to fly transatlantic!!"
Cons: "There was light turbulence in some parts during the flight but the captain never turned the "fasted hour seatbel on" sign which was strange."
Pros: "The flight was operated by Lufthansa. There was a training flight attendant who exceeded the expectations."
Cons: "N/A"
Pros: "The check-in and boarding was fast, easy, great. The crew was very nice and good. The overall service was excellent."
Cons: "the food was on medium level compared to other airlines."
Pros: "The crew was nice and professional."
Cons: "We waited over an hour for two people to board the plane. After we waited, the couple didn't make it past security; so, we had to wait another 20 minutes for the company to take their luggage off of the plane. I was late checking into my hotel, which was in the process of being canceled."
Pros: "The first leg of our flight came in late, but the staff at the airport already had someone waiting for us by the gate to escort us to the connecting flight. And the staff was extremely organized and transported our luggage so that it made it to the final destination with us. All this happened in under 30 minutes. Great service"
Pros: "efficient."
Cons: "cramped. people are getting taller and taller. seats are getting closer to each other."
Pros: "The flight was comfortable, the crew very nice, the food good and many good movies to choose from."
Cons: "Could have used a few more snacks. But didn't bother to ask for any either."
Cons: "Nothing"
Cons: "I selected seats and when I got on the plane I was moved twice. The seats were very small and uncomfortable. The food was bad."
Cons: "At time confusion amongst the crew- received wilted salad- seemed the last rows had to take what was left over"
Pros: "Very polite and helpful staff"
Cons: "Food could be better"
Pros: "Both of our connecting flights were delayed thereby causing us to miss our final flight to LA. Now we are back in Munich where we started, waiting for a flight tomorrow."
Cons: "That we were told on the flight from Düsseldorf to Frankfort we would make our connecting and after running from Terminal A to Z, and seeing the plane on the Tarmac, we were told we were too late. And then the service associate at the Frankfort Lufthansa was incredibly rude, unhelpful and inaccurate."
Pros: "The crew was incredibly joyful, happy and patient. Always a smile throughout the long flight. Very willing to help. Nice new planes, liked the lower galley for restrooms. Very much appreciated the warm face towels at beginning of flight...would really appreciate a warm face towel at end of flight too. Good amount of water available throughout the flight, sometimes airlines are way too limited on amount of water they make available. Appreciated the wine and aperitif as well. Excellent flight! Would try to fly Lufthansa again!"
Pros: "Good entertainment options and nice choice of movies and TV. Complimentary drinks are good and service is frequent."
Cons: "Difficulty with Lufthansa's website made it so that I could only complete check in for one person in our party. When we arrived at the airport and they printed boarding passes, the Lufthansa agent re-assigned seats without asking or telling me and gave us all middle seats. Very poor form. Food was either average or bad, depending on what was served. Boarding is unorganized, with people lining up over an hour prior to boarding and almost completely ignoring their boarding groups."
Pros: "Airline people all very professional, welcoming, courteous."
Cons: "Almost missed flight from heathrow to Newark. Previous flight was delayed. No airline personnel at arrival gate in heathrow. Finally had to run from the after the multiple security and passport checks, for about 15 minutes and we were the last to board, before they took off. Huge risk of missing the flight altogether."
Pros: "The lie-flat seats were just great ."
Cons: "Storage space should be made available beside the seats , especially during take-off and landing. There is none right now , and that's in Business class."
Pros: "The movies in the flight"
Cons: "The temperature in the cabin was absurd. There were 3 people who fainted because it was an 8 hour flight, and the AC was not at an ideal temperature. I was sweating, and so was my mother. ABSURD"
Pros: "I got there"
Cons: "Endless waiting and lost luggage. Excuse was unpredicted weather conditions. It was snowing in Finland so they had to clear the Ice from the planes.. Snowing in Finland? How uncommon is that during December? I actually think most of this is poor ground handling In Helsinki."
Pros: "This is a great way to travel from Helsinki to Tampere and avoid the railway and train changing."
Cons: "The plane is not comfortable, but the flight is very short. It balances out."
Cons: "Slow on boarding. I was swipe-checked twice, including the one by the airline."
Cons: "The time. Ity was very delayed. Almost lost my last connection."
Pros: "Blueberry juice! I is now my favorite juice."
Cons: "The food was way overcooked!"
Pros: "The blueberry juice was good!!"
Cons: "Sitting by the bathrooms. There weren't even pretzels."
Pros: "Very nice staff. Probably one of the best flights"
Pros: "Nice crew that were helpful."
Cons: "Small plane, cramped seating."
Pros: "Express customs and immigration for connective flights with individual passes!"
Cons: "Total disaster. Back up lines at AA JFK . Staff at a loss, equipment ? Shortage of bins, no supervisors , ... deliberate chatting and slowing down upon manually going through majority of carry on."
Pros: "I loved the colors of the flight.light blue and green. Gave a peaceful ambience. The flight attendants were very courteous and smiling. Especially the women flight attendants. The food was excellent. It was interesting that the flight from Helsinki to Chicago served a Indian style dinner comprising of lentils, rice and chickpeas. I liked that too, though I prefer the meditarranean fare. I liked the boarding as they were very strict about families with children and gave them priority before other passengers."
Cons: "I did not find too many indian films which I would have liked, especially in a flight because Indian movies are 3 hours long and help to pass the time quickly :). I would have liked more variety in the Hollywood movies as well. They mostly had much older films and hardly any of the new releases while Emirates flight had lot many more new releases and oscar winning movies. They served the Indian amul cheese which is not worthy of serving on a flight, and they could have served some better cheese."
Pros: "The employee at the checkin counter in Oslo set everything up for us regarding our wheelchair and walker. She was extremely helpful, knowledgeable and kind. She arranged for a pick up in Helsinki with the airport's crew. They helped us unload the plane and then had a personal accessible bus to take us from where we landed (outside of terminal) to the gate of our next departure. The crew were all extremely professional and efficient."
Cons: "The leg room is never enough on the long flights. The flight from Chicago to Helsinki at 10:00pm was not nearly as good as the flights from Oslo to Helsinki to Chicago. The crew was not as pleasant, the lights were not turned off until after 1:00 am and then turned on hours before the light "breakfast" was served."
Pros: "Entertainment options were fine. Crew was courteous. Boarding was fast. Flight was on time."
Cons: "Economy seats were more cramped than other international economy flights I have been on. My knees were against the seat in front of me the entire 9-hour flight. There were supposed to be 2 options for meal, but by the time I was served there was only one remaining. The meal itself was passing."
Pros: "HiFly is awful. Terrible food. Really not much service. It gets you from point A to B ..... but not always. Our return flight was cancelled with no reason given. Instead of a 2pm direct we were put on an 8am with a layover. The only saving grace is that our transatlantic was on Delta, which was amazing."
Cons: "Awful food No service Outsourced both flights to a low budget third party carrier Canceled return flight with no reason or apologies OR compensation (as of this moment) provided"
Cons: "It is too hard to carry stuff on the stairs at the airports"
Cons: "Seats were too closely spaced. Like a coffin. Will probably not fly Finnair unless the price is next to nothing."
Cons: "Could not watch any video on screen. Crew tried to reboot my and my partner's screens but they did not work for the 9-hour flight."
Pros: "On time , excellent service"
Cons: "There is no wi-fi There is no possibility to charge your mobile"
Cons: "They let us board before fixing an electrical problem causing major delay. They needed a new part and they thought they could jerryrig a repair!"
Cons: "Something that was unpleasant was if someone spoke through the announcement system it would be very loud through the headphones if someone is listening to a movie or music"
Pros: "Good movie selection, frequent water refills, boarding was quick and easy with ample overhead stowage"
Cons: "Seat recline was broken, non-adjustable headrest, older flight crew less tolerant of passenger disrespect, not quite enough bathrooms, food had my stomach in knots"
Pros: "Felt captain on the original flight did everything he could"
Cons: "Boarded late, taxi' around for 3 and a half hours, deplaned as flight was canceled, waited 3 hours for next flight which was then cancelled. All understandable until the announced that the flight was reinstated only to be followed by an hour of the clerks unable to put people back on the flight which caused it to be cancelled. Sent to another airport except the free shuttle wasn't running, 50 dollar taxi ride later I got to sleep on the floor until the gates finally opened 5 hours later"
Pros: "Bulkhead seat Good choice of movies"
Cons: "Seat recline broken. Sarcastic male steward. Terrible food. Contracted Norovirus from the plane. Need to better disinfect between flights."
Pros: "That I made it safely to my destination. Updates from the cockpit were appreciated. Plane was nearly empty, so I was able to stretch out over severa seats."
Cons: "I haven't heard good things about American Airlines, and now I know why. Probably the oldest plane in the fleet. Entertainment was 2-3 fold down screens from the ceiling. I can't remember the last time I flew on a transatlantic fight with no entertainment- nearly 20 years ago I'm sure. Airplane food is never great, but food options were worse than normal. American Airlines customer service at JFK was horrendous, resulting in several passengers missing their flight. (I was there if 4 hours to spare, but had to wait 1hr+ to have my birthdate changed in the system.)"
Pros: "I had an empty seat beside me on both legs of my flight. This always makes flying more enjoyable. They fed us two meals both directions. There were pillows and blankets for everyone on your seat when you arrived."
Pros: "Staff was nice. Seat was standard."
Cons: "Small movie selection."
Cons: "One of the crew members was rude."
Pros: "The crew were trying to help and accommodate the bad situation."
Cons: "Couldn't check in online 24 hours ahead. When called Finnair on the phone, they couldn't check us in, told us we have to check in at counter, by then all good seats were taken and I couldn't sit next to my husband, and this is our honeymoon trip. It's a full flight and All upgrades were booked by then so couldn't even upgrade to business class. Requested a gluten free meal, no crew can figure out it that meal was on board (not in system nor on paper list), so at the end no food for me. I have been dying BA for last five years and this had to be the worst BA flight I have taken, absolute chaos at the check in counter and no organization. One BA counter agent Alexa tried to help but it is just too late. I expected more from BA."
Cons: "nobody from justfly and kayak even tried to argued that I didn't missed the flight and I was one of hundreds that was in line way before flight time"
Pros: "I was very pleased with the overall experience on the flight from London to Charlotte. The flight itself was very pleasant, the crew very accommodating, & the food, snacks & beverages very good. The entertainment provided was certainly suitable for my tastes & kept me occupied for the majority of the trip. There was also blackout time provided for sleeping. The seats were a little cramped, but overall I rate my experience as very good."
Pros: "Punctual and very good service from friendly crew"
Cons: "They don't give you options about what kind of food you prefer like carne / pasta , there is just one menu option. Any kind of snack between the two meals in a 11 hours flight. If you get hungry you will have to buy snacks on board . No legroom"
Pros: "American Airlines flight didn't even have tvs, chairs were old and outdated. Not worth the price. Now days there are some standards that are expected"
Pros: "The staff was friendly, the food was good, and the entertainment system worked perfectly."
Cons: "The gentlemen in front of me kept his seat reclined through the whole trip, making my space quite cramped. I know this can't be helped, but it does make the space a bit claustrophobic."
Pros: "I thought the BA/American/Finnair flight was excellent. The food was delicious both ways, much superior to United, American or Continental which I often fly. Excellent food, legroom, inflight entertainment (going out my row of seats - well, nobody could get any entertainment access) all was very good. Loved the newspaper choice when leaving Gatwick. I would definitely recommend again."
Cons: "Never picking up garbage (telling us the next crew will do that) The cabin a mess. NO LEG ROOM. Terrible."
Pros: "N/A"
Cons: "Small uncomfortable airplane."
Pros: "Everything was simple, straightforward, even a bit old fashioned. The crew was friendly, and the service was quick."
Cons: "No complaints!"
Pros: "Flight was half empty, room to spread out"
Pros: "Very friendly crew; easy boarding; lunch was tasty; pleasant trip overall."
Pros: "I am not sure why when i bought my ticket on kayak just fly was the company I had to deal with. They are extortionist. They should be deleted from your website."
Cons: "Tried to change my flight, line got disconnected, when I called back the fees went from 500 to 1100 - they couldn't justify why. I will never use kayak again if these kind of people is who I have to deal with coupled with awful customer service they hung up on me three times."
Pros: "Seats were comfortable with plenty of room."
Cons: "Plane was broken and we had to wait 3 1/2 hours to get a new plane. Crew kept awkwardly mentioning during every announcement that the delay wasn't their fault... My husband's entertainment screen was broken and flickering so much that all shows/films were completely unwatchable. My screen began flickering 1/2way through a film."
Pros: "On time arrival."
Cons: "Nothing really. Short flight so no entertainment."
Pros: "The crew was friendlier than on the other airlines we took on our trip. The seats were cramped (coming from someone average height) and the middle and window seats have a combined under the seat compartment so you don't feel like you have personal space. I wish the breakfast was more substantial, but other than that it was a wonderful flight and I would definitely take it again!"
Pros: "The food and Cava were excellent. So were the friendly staff."
Cons: "Seats slightly too small, but thankfully not as bad as American Airlines on the way over: that was horrible!"
Pros: "The staff were incredible and helpful. The entertainment made the flight go much faster. The airplane was comfortable and clean. Great flight"
Cons: "The passengers next to me smelled severely of body odor. I know that this isn't something the flight crew can do anything about but it made my flight really uncomfortable. Thankfully the seat next to me opened. So I loved a seat away- but even that couldn't mask the smell!"
Pros: "We didn't die"
Cons: "Poor air quality No leg room No room in the plane to move about or stretch Terrible food"
Pros: "A Good Deal,but when.we arrived in Miami there was not any finner counter,when to BA anf6 then we found the flight"
Pros: "Very friendly plenty of room on a 90% full flight."
Cons: "Wished they had offered water during the flight in addition to two times drinks service was offered"
Read more about Lufthansa
Safety measures for airlines flying from Cape Town to Reykjavik
Airlines flying from Cape Town to Reykjavik have enacted additional safety measures and adjusted policies to better accommodate travellers. Policies vary by airline.
Heightened sanitation
Daily cleaning, installation of cabin HEPA filters on flights from Cape Town to Reykjavik
Mandatory masks
Masks required on board, masks provided on flights from Cape Town to Reykjavik
Social distancing seating
Middle seats unavailable to book on flights from Cape Town to Reykjavik
Pre-flight testing
Testing for antibodies, testing for symptoms for flights from Cape Town to Reykjavik
Book cheap flights from Cape Town to Reykjavik
Cape Town - Reykjavik Flights