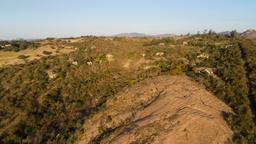 Find cheap flights from South Carolina to South Africa
Search hundreds of travel sites at once for deals on flights to South Africa. Bundle your flight + hotel and save!
FAQs for booking flights from South Carolina to South Africa
How does KAYAK find such low prices on flights from South Carolina to South Africa?
How does KAYAK's flight Price Forecast tool help me choose the right time to buy my flight ticket from South Carolina to South Africa?
What is the Hacker Fare option on flights from South Carolina to South Africa?
What is KAYAK's "flexible dates" feature and why should I care when looking for a flight from South Carolina to South Africa?
Top 5 airlines serving from South Carolina to South Africa
Scores according to KAYAK customer reviews
8,0
SWISS
Overall score based on 9 018 reviews
Pros: "Entertainment"
Cons: "I requested a vegan vegetarian meal and did not get it. I had to do with the regular meal which had a lot of dairy products to which I am allergic to. The space between rows of seats. It was really crammed in Economy and we are a petite thin family!"
Pros: "crew was friendly"
Cons: "seats were way too cramped - worst flight ever that way - what has happened to Swiss - there is no room - horrible!!!"
Pros: "vegan sweeties for the kids, so nice as my daughter usually has to say no. Also swiss chocolate - so good! Our veggie meals booked hadn't gone through on the system but we were found some they had anyway - wasn't very nice though."
Pros: "Crew was great, seating comfortable."
Pros: "Crew was fantastic"
Cons: "Boarding was delayed by 30 minutes. May have been beyond the crew control."
Cons: "seat comfort"
Pros: "Crew was very friendly. Seat a pretty comfortable."
Pros: "Both the flight crew and the flight attendants were great. It was the smoothest landing I have had it quite dome time"
Cons: "The HVAC system was apparently defective and passengers in the mid-section of the plane, myself included, were bundled up in winter jackets and blankets."
Pros: "Seats were comfortable and the crew was great"
Pros: "check in & boarding were ok"
Cons: "very uncomfortable chairs worset food crew were very unfriendly the plan was full with the smell of vomiting"
Pros: "Economy class had a bit wider seats. Included dinner, beverages, and breakfast plus snacks . Happy with Swiss Air."
Pros: "The crew were great and boarding went very smoothly."
Cons: "After such a smooth boarding we found we had to sit on the tarmac for an hour because of congestion at Zurich."
Cons: "Too hot. Too late. Staff could have been more accommodating. Online checkin was impossible."
Pros: "Best trip ever, flight crew fantastic. Great hospitality from the crew, pleasant and very personable. Will definitely fly Swiss Air again."
Pros: "Helpful staff and pleasant easy flight."
Cons: "I don't appreciate the bar being set so high, because now other flights will seem sub-par"
Pros: "I had a wonderful experience the whole way through."
Cons: "The TV froze and stopped working for me. Thankfully it was the last thirty minutes of my flight. Mine was the only that appeared to be broken."
Pros: "The food wasn't bad"
Cons: "Business seats suck"
Pros: "Friendly crew"
Cons: "No wifi"
Pros: "Crew helpful. Seats comfortable. Slept most of flight."
Cons: "Didn't bother me because sleeping but much of flight apparently the entertainment system had issues"
Pros: "My own seat had ample legroom, good crew."
Cons: "Faulty headphone jack and person who kneed me in the back whenever I recline my seat. 8 kilo limit on carry-on luggage."
Pros: "2 seats on outside sections not 3, so you can sit together as a couple and not have a random stranger in seat 3."
Cons: "Leg room is on the tighter side!"
Cons: "Mackenzie Gray/ My flight was cancelled due to bad weather conditions unfortunately. I'm upset that I never received my initinerary for my substitute flight! I tried online and calling the # that was provided no results. I managed to get thru to someone and they told me they would send the info to my email but they never did."
Pros: "Air hostesses were very courteous, friendly and the cabin was clean and comfortable. My flight from jfk to Geneva (then Zurich) was cancelled due to weather in Geneva (Swiss 23) so I got upgraded to a delta flight to Brussels then to Zurich Comfort+ !!! Thank you!"
Cons: "Flight from Zurich to Johannesburg: Swiss 288 (airbus a340-300) Sat in the last row of the Swiss air flight, economy, which was okay but our whole row video enternatinment system didn't work. You'd pick a movie and it wouldn't play. The games, camera and flight status animation all worked but not the movies. Air hostess tried resetting , still nothing. But it was a great opportunity to have a lovely conversation with my new German Friend Barbara and read my book! More lactose intolerant alternatives for breakfast which had much (cheese, yogurt, croissant) Other than those two , excellent flight. Thank you Swiss!"
Pros: "From the kind stewards to the easy meal service to my peace of mind, knowing I'll be well taken care off - SwissAir is the same gem it's always been."
Pros: "Boardoing 7h10; 7h25 announcement we would arrive on time 8h50. No further announcement, late departure. Arrival 9h25. - mo explanation. Luggage only at 9h50"
Cons: "Delay"
Pros: "Super service, nice crew. On time and flawless baggage transfer to my final destination. Could not be more pleasant experience. I would recommend travel with Swiss to all travelers. Thank you"
Pros: "On time departure; easy flight; seating was spacious"
Cons: "The extra charge for a bag!!!!!!!!!!! Would rather fly Southwest or Jet Blue or others that allow a mid size carry on"
Pros: "The next best thing to the hard-working and kind crew was the lighting design. Meals were OK, and I was delighted that the vegan meals I ordered for my travel companion were right there as ordered. Not a common occurrence of late, I'm afraid, so I congratulate Swiss one getting this one right."
Cons: "Legroom is non-existent. This was by far the most uncomfortable aircraft I have ever flown on, with the possible exception of an Ilyushin 62 operated by Tarom in 1983. I felt bad for the man in front of me, with my knees in his back. That is, until he reclined his seat and put my video screen in my face. Not much to watch anyway, but it was impossible to lean forward at all. Boarding at JFK was rather chaotic."
Pros: "On time departure. Nice crew Meals were fine for airline food. Would take again."
Cons: "Tight connection on Zurich."
Cons: "My seat did not recline and my tv did not work"
Pros: "Flight was fine. The attendants on board were friendly and efficient. The food was nice though there wasn't much variety in drinks."
Cons: "It was awful getting boarding passes and paying for check in luggage in Venice. I assumed we couldn't check in early online much like the earlier Lufthansa flight. Then when we got to the airport there were long lines to check in and no machines to self check in. When we finally got to the front of the line the woman said we had to pay for our checked baggage elsewhere and then come back for the boarding passes. Unheard of elsewhere. The people in the office where you pay for checked baggage took their time and chatted and had no sense of urgency. The first woman we spoke to apparently filled out the form incorrectly. We had to rush to get to the plane and we barely made it through long security lines. We almost missed the plane due to the lack of early information and check in, the cumbersome payment process, etc. It was the worst check in process ever."
Cons: "Headphones are real cheap and hurt the ears...plus it has two pin socket where you can't use your regular headphones...please change this!"
Pros: "Swiss has amazing crew. Incredibly polite and accommodating. Their food (for economy class seat) was very good to excellent. The new Boeing 777 is also a smooth plane to ride."
Cons: "The boarding process in Zurich was a free for all. There is not a "method" to their boarding (i.e. by row or zone) so all 300 passengers crowded around the gate. We paid $100 for exit seats but the seats were barely wide enough for me...a medium built thin male. Unfortunately this appears to be the trend. Swiss would do well to have a wide economy section."
Pros: "The chocolate"
Cons: "The entertainment system in the main part of the plane was not working luckily I had a good book otherwise I would have been very upset."
Cons: "The bar between the seats is not going up all the way"
Pros: "We had never flown Lufthansa, or in a A380. Upstairs in economy with 2 seats on the right side, it was very quiet and felt roomy. Service was on-par with other European carriers, so quite good."
Pros: "Even though the flight felt like forever, the cabin crew did such a wonderful job at making us all feel comfortable. The food selection was great and the fact that the staff was approachable was also a great plus. Will definitely fly again using Swiss air. Thank you"
Pros: "Great customer service."
Cons: "Breakfast was a strawberry yogurt, orange juice and a croissant. Sugar free options ie. Eggs, rye or whole grain bread are a few examples of sugar free breakfast items that could be provided."
Cons: "When I booked the flight I thought it was El Al so I did not order kosher food (as all El Al food is kosher). I only found out later that it was Swiss Air and I was unable to get a kosher meal."
Pros: "Do like flying on Swiss, but might have to rethink that. The food it fine and I really appreciate the gluten free meals. The crews have been very pleasant and helpful. Boarding on this last flight... Nov 2 from Zurich seemed a bit frenetic. Passports we checked once again and this seemed to be taking an extra long time. I do like the entertainment selections, but the seat TVs and remotes do not always work well."
Cons: "I do not like the cramped space that we are in. It was difficult for my husband and I to get in and out of our seats. The passenger in front of me pushed her seat back and it seemed as though she was righ in my face. She could not go upright as the person in front of her was pushed all the way back. This situation also makes eating difficult. The flight yesterday was extremely warm, which I had not experienced on my three former flights. I guess I will try your airlines once more and see how it is for a third trip."
Cons: "The flight crew was horrible. The desk crew inept. A wheelchair was requested but not there on checkin. Pre boarding did not happen as was supposed to. Older person male at desk was rude, insulting and sarcastic. This did not happen on Boston end. The person was there with wheelchair at the Boston gate and assisted us. Not in Zurich. What about handicap travel? Swiss????"
Pros: "The crew was excellent."
Cons: "The seats are too close to each other. \"
Pros: "Crew was great. Very helpful because I needed assistance due to back injury."
Cons: "Food was not very good."
Pros: "Friendly crew. Good food and entertainment. Comfortable seats."
Pros: "service personnel were excellent. Espresso is great."
Cons: "Business class main meal was disappointing."
Pros: "Generally clean environs and safe flight"
Cons: "Food was rather awful (other than the Movenpick ice cream). fold-out table and materials of seat seemed pretty cheaply made. Also not enough legroom. Hard to get service to come for your seat for extra water. Chocolate at end of flight was a cute touch."
Pros: "Good entertainment"
Cons: "Seat was broken. No leg room. Really no room at all if person in front is reclined."
Pros: "Nothing"
Cons: "The most racist and unfriendly and uncivilized people ever."
Cons: "Late taking off. Late arriving. Tiny plane, no entertainment system, took everyone's carryon. Had to wait to get carryon back."
Pros: "Fast boarding and off boarding"
Cons: "Crew wasn't as attentive. While my first flight (I had a layover) seemed extra attention and care was put into the cleanliness and order due to Covid, second flight seemed to be a little overcrowded."
Cons: "Seats could have been more comfortable. No space. Food made me sick."
Cons: "Everything was fine... I should have packed a snack because I'm always hungry! Will travel Delta again!"
Pros: "Flight attendant coughed in my face twice without covering her mouth while I was seated and she was passing out drinks and snacks"
Pros: "Not a lot"
Cons: "Customer service"
Pros: "There was plenty of space under the seat in front of me for my personal items."
Cons: "There was an issue with a part on the plane so the flight was delayed so it could get fixed before takeoff. That is not a big deal, I'd rather it be safe than on time. But the way crew and staff handled it was pretty unprofessional. No one seemed to know what was going on or what to do."
Cons: "Best option across the pond, amazing upgrade prices"
Pros: "Inflight entertainment was great. Movies, games, moving map. Best I've ever seen in main cabin for free."
Cons: "The seating was too cramped. It's extremely uncomfortable. Seems tighter both on knees and elbows."
Pros: "The crew was great and also the snacks."
Pros: "Quick Boarding Awesome staff"
Cons: "Plane too small to have any on board entertainment"
Pros: "Food good"
Pros: "Great service!"
Cons: "N/A"
Cons: "Leg room"
Pros: "It was on time"
Cons: "Plane too cold."
Pros: "Quick boarding, great seats and everything went on schedule."
Pros: "The fact that I was so relaxed."
Cons: "The food"
Pros: "We were deplained twice from two different plains going to LGA. We are now booked on a third plain going to JFK. Hope we can get home. I have a surgical appointment tomorrow."
Cons: "We bought First Class tickets. But we were downgraded How do you think we should feel ? We have been in Charlotte since 9:30 AM It is now 6:45 PM Should we use the train to go home?"
Cons: "Online check in didn't work. Called Delta 800# and rep said I needed to wait till I got to airport. Airport rep said I needed to use the KLM flight number, not the Delta number.W"
Pros: "Nicest staff"
Cons: "Nothing at all"
Pros: "El cumplimiento de vuelos"
Pros: "The pilot and the stewardess were very polite."
Cons: "Standing on line,it was slow cause only 1 person was help people check in. It would been better if everyone could check in with the kiosk machines. After half an hour than another person came to help. TSA move more fast cause so many people were working."
Pros: "The flight & landing were smooth, and we arrived a few minutes early."
Cons: "The entertainment system & WiFi were out. Wasn't able to charge my phone either as the outlets weren't functioning properly."
Pros: "They did take care of the situation in a timely manner and switched my flight were I made it in my time line . Switched to American from Atl. to Houston"
Cons: "Was informed the flight delay due to equipment ,"
Cons: "Aircraft seemed shabby despite refresh of Comfort Plus, food was really mediocre. Steer clear of the Asian Veg option."
Pros: "in Charlotte"
Cons: "delay on flight"
Pros: "The crew was extremely nice and helpful."
Cons: "Small crowded aircraft with minimal overhead storage. The seat pitch was so limited my knees were against the seat in front of me. The tray table couldn't be lowered completely. Small child behind me kicked my seat during the entire fight."
Pros: "Crew was friendly and efficient"
Cons: "Very minimal legroom. Screaming children behind me kicking my seat during flight"
Pros: "Service was fast and the inflight entertainment is free. Lots of movies to chose from, which is nice for the long flight."
Cons: "It was the most cramped I have ever felt in a plane and also the longest flight. Horrible combination. Some of the crew were snippy."
Pros: "Leo was friendly and helpful, a wonderful presence on the flight."
Cons: "Multiple delays in Atlanta"
Pros: "Nothing other than it was over quickly."
Cons: "Seat did not recline at all."
Pros: "I love being on a smaller plane/jet! Boarding was painless and I had no problems with my two small bags. Due to a mix-up in seating, I had both seats to myself! We even got in will before the scheduled time! De-boarding took far less time than "regular" plane/jet!!!"
Pros: "Leg room was descent"
Cons: "Excessive delays. Was scheduled to leave CLT at 3:21 PM, then rescheduled to depart at 423; then waited on the tarmac to take off for about 45 mins total; didn't arrive in NYC until around 718 PM; very long day with Delta Airlines."
Cons: "Nothing"
Pros: "Flight was on time and even landed early. Boarding was seamless with bag tag. Seats were comfy. Crew was professional."
Cons: "A drink with no napkins? I know airlines need to cut costs but what if I spilled my drink or want to wipe my hands after eating pretzels Delta? You can still provide napkins."
Pros: "The crew was personable and kept us informed regarding the trip. The Flight Attendant was very attentive and went above duty to ensure our comfort."
Cons: "I didn't t like the overall design of the plane - it was small."
Pros: "Flight attendant was excellent and pilots did a great job with weather"
Cons: "nothing."
Pros: "Nothing."
Cons: "Delayed multiple times. I have been traveling 13 hours and am still not in London."
Pros: "Having status. Always on time. They run their schedules like European trains."
Pros: "The customer service of the middle aged White frmale FA"
Cons: "The seats were small"
Cons: "lost mom's glasses"
Pros: "The crew & pilot were awesome. At least they provided snacks & water while we waited and kept us informed of delays the whole time."
Cons: "My flight was delayed then cancelled with no option to seek a seat on an alternative airline. I had to fly standby. Fortunately, I was able to get a seat on the 3:30 flight (my original flight was scheduled for 10:45am). When I arrived at my destination I was exhausted from spending all day in the airport!"
Pros: "There is no rating selection for not applicable under entertainment, unless your asking about watching other passengers."
Cons: "Leg room was awful, and flights left late for no reason."
Pros: "great boarding crew for an early morning flight."
Pros: "Free upgrade to Economy Plus"
Cons: "The flight was delayed an hour"
Cons: "My mother, Linda Thompson, has a progressive neuromuscular disorder, Dystonia. Along with this condition, stress can bring on non-epileptic seizures. My mother has had to endure one of these seizures due to the stress that this incident had put her through. As my mother's power of attorney, I am helping her vocalize this incident that she has experienced. The image below shows the spot where she was left, in the Atlanta airport, in her wheelchair. Delta airlines says they provide safe, accessible travel to all of their passengers. That includes providing an employee to transport physically disabled persons to and from their flights and to their shuttle. An employee accompanied my mother when she got off of her plane arriving in Atlanta from Charlotte. This employee was obligated to transport her where she needed to go. Due to her first flight being delayed, she missed her connecting flight in Atlanta, and had to stay the night until the connection could be made in the morning. They provided her with a voucher to a local hotel and a shuttle to that hotel. The employee who met her at the gate was obligated to help her get to that shuttle so she could get to her hotel in time. As many of us may know, Atlanta airport is one of the largest. You might need to take a train to get from one area to the next. It would be very difficult for my mother to walk that distance with her cane, and that is why she needed a wheelchair. The inconsiderate, selfish employee of whom needed to transport my mother to her destination was coming to the end of his shift. He attempted to hand my mother off to another employee at the desk while she was getting her voucher. Told her it was the end of his shift and he had to clock out. She told him, "You can't leave her here". Her statement, and the way she stated it, made my mother feel like she was a piece of luggage. She ignored it and let the employee take her on her way. She just wanted him to take her to her shuttle so that she could get to her hotel and rest. That did not happen. He strolled my mother along for a moment until they were out of site. They approached a gate, of which was empty, and he told her to wait here for an agent to come by. He left. She waited...and waited. No one ever came and assisted her. She was left like a piece of luggage in the middle of the Atlanta airport with no one around. My mother was treated like a bag that someone did not want to carry around anymore. This situation and the selfishness of that employee makes me think of who else could have been treated like this, or who else could be treated like this in the future. Help me spread this message so that something can be done about this issue. Delta has already been contacted, they do not care enough to do anything about it. I bet they will if this message gets heard by their potential future passengers."
Pros: "Airport staff was nice.. Boarding was good.. Flight attendants very friendly.. Smooth trip"
Cons: "Plane too small.. Nothing but one beverage given all flight"
Pros: "Staff all was good."
Pros: "This is how my trip started that day. Missed my checkin window by 10 mins do to waiting in traffic for 45 mins, because of wreck. Got to the ticket counter at 8:35 and my flight my was set to take of at 9:30. There wear others in the same boat as me, we where all flying with American. I will Never ever fly with American again! The Lady was so rude then she said we were disgrutle when we ask to speak to a manger about trying to board even though or flight didnt leave until 9:30. Not Military Friendly at all. So I ran down to Lufthansa and talk with a guy at the ticket counter that was understanding of the sistuation, he told me what to do once a Book my trip through Kayak he checked me in and got me right to the front and on the plane for the next flight that left 2 hours after my missed flight. I book my trip and got through Tsa all before my flight with american even took off. When I boared the plane the cabin crew was very helpful and laughing and joking with the passagners their smiles brighten my day and made me feel at easy. I was stressed out about missing my flight with American Airlines and that lady at the ticket counter that when on got my flight with Lufthanse I felt like they were my friends and that I have been flying with them before. I will always use Lufthansa when fliying back home back to the states! Thank you to flight crew and men and women at the ticket counters!!"
Cons: "If I could change one thing it would be better food, or the drink protion size or just give out canned drinks. But over all the best flight I have taken in a long time!!"
Pros: "New spacious plane, great crew, comfortable seats, good wine and partiffs. Anything thing is better than flying over priced crappy American Airlines and will avoid giving them a cent anytime I can. Lufthansa did a great job."
Cons: "I kid screamed all-the-way across pond all night. Maybe next force the parents to calm child down. Tough situation and had to really address that issue."
Pros: "The flt attendants were very good but not exceptional. The entertainment screen was the best I have experienced. Coach was as cramped as every other airline I have flown. Seats were not very comfortable. Food was delicious."
Cons: "Lufthansa, (and all other carriers) need to remove a couple rows of seats in economy class and give passengers the space they deserve. Seats on international flights need to be more comfortable also."
Pros: "Clean, quiet and the staff was attentive."
Cons: "The meal was average"
Pros: "The crew was fantastic, never bothered sleeping people, and had a great trip."
Cons: "Nothing, best transatlantic flight I've had so far honestly."
Pros: "Care was amazing plane was spacious and new lots of entertainment"
Cons: "Food could have been better"
Pros: "Clean and comfortable airplane"
Cons: "Entertainment wasn't working the entire flight"
Pros: "Flight was in time with no delays. Arrived in Germany early!"
Cons: "The size of the seats is horrible. Can barely move. When the gentleman in front of me declined, his seat actually hit me in the face."
Pros: "Very good customer service on flight. Love the way they treat their customers."
Cons: "Was surprised by the $60 fee to check in a bag. I know i bought this through kayak, but it would have been nice to have told that up front, and even further, if they had let me check 1 bag for free like everyone else."
Pros: "Service"
Cons: "A little bit turbulence"
Pros: "Good service overall. Great crew."
Cons: "Nothing in particular."
Pros: "Everything"
Pros: "Great reminder. Perfect communication about dalays etc. I will book through Kayak again"
Cons: "Nothing"
Pros: "Service"
Pros: "On board crew was friendly and helpful"
Cons: "Muslim meal does not mean all Muslims eat curry. It's rediculous that we cant have a decent English breakfast instead you get curry or some form of curry for breakfast, lunch and supper. Your so called Muslim meals are not suitable for kids!! There is no such thing as a Muslim meal either. It's simply called Halal otherwise then everyone else's meals should be called Christian or Jewish meals etc. Also I requested help with transfer to my last flight which was horrendous because I'm one adult with 4 kids ages 1 to 11 and my eldest has sever learning disability. I nearly missed my flight because our flight landed late and I was struggling to keep my kids safe and together while running for the next flight. Somone should have been there to help with transfer."
Pros: "We paid extra $200 round-trip so that my 6'4" tall husband and 6'2" son could have extra legroom. There was at least an extra foot of space between the end of their knees and the reclined seats in front of them. Wow. It was worth it! We had the aisle behind business class, and with only 3 middle seats vs 4, even our aisles were comfortably wide. The seat comfort has improved greatly from past flights on Lufthansa. The small pillows at each seat were comfy. We liked that the silverware was actually metal instead of plastic - nice! Loved loved loved the free good quality alcohol! Air temperature felt comfortable to us doing the entire flight – normally these flights are freezing cold."
Cons: "The food was so-so. Not shocking - but you asked. At least the rolls were tasty & we loved that true unsalted butter was provided!"
Pros: "The whole trip went smoothly. The price was right. There was a very bad storm in Charlotte before departure. Lufthansa made a delay, and I was very happy about that decision. They were very informative about connections, and emailed important information. Friendly, competent staff!"
Cons: "N/A"
Pros: "almost hrly refreshments courteous crew calm demeanor"
Pros: "The snack/ breakfast was not very good"
Cons: "Long flight"
Pros: "Everything worked very well."
Pros: "Friendly crew and great food. Didn't have to wait long to be boarded."
Pros: "food was above average drinks were provided often entertainment selection was great staff was well mannered and smiling"
Pros: "Flight crew was friendly and attentive. Airplane had good amenities. On time and smooth takeoff and landing."
Cons: "Nothing."
Cons: "4 hours delay"
Pros: "On time"
Pros: "Food was good. Flight attendants were good."
Cons: "Luggage didn't make it to my final destination . The fact my luggage was lost might have made my reviews of other areas more harsh than actuality"
Pros: "Nothing"
Cons: "Delayed and therefore missing my connecting flight. Still needed to check in on time as if flight was not delayed. Being stuck in AP for 6 hours. Carry on is ltd to 8kg. My empty carry on weights 6kg. What is next with airlines? Travel without luggage? Stop gauging your customers."
Pros: "This was my first trip to Europe and I flew Lufthansa. They really have it together on this airline. From the two meals served to the alcohol option I didn't choose, to the entertainment options on the screens to the attendants onboard. I can't find one fault with this process. I saved hundreds of dollars through this site! I'm currently only to my original destination and will update when I've returned to American soil."
Cons: "I wish I had a foot rest like those in first class, but then I understand why I don't."
Pros: "Clean aircraft, very friendly crew, good food, overall great trip."
Pros: "The Lufthansa flight from Charlotte to Munich and then toMumbai was excellent. Punctual, Food and the Service was good.the"
Cons: "The Air India did not transferred my luggage when I reached there midnight. The Air India Ticket counter opened at 2:30 AM only then they booked my luggage to Bangalore. The luggage was handled very poorly and they broke my Golf Carrier which I bought for $350 in September of 2016. The Airlines wanted to settle for $15 compensation."
Pros: "Easy checking"
Cons: "Worst hospitality. Asked for water, never came to serve. Had to remind and call couple of times. Said drinks were over specially scotch."
Pros: "Service was exceptional and prompt"
Pros: "On my way to meet my granddaughter & took Lufthansa flight! Very satisfied with the overall. Crew very friendly, helpful & knowledgeable. Smooth flight & super landing in Munich!!!"
Pros: "The Lufthansa crew is always wonderful as always."
Cons: "screaming and kicking child behind my seat, with no way to "escape". I had a severe cold and that was certainly not something I needed, I tried to get some rest, but that was impossible. The seats are getting smaller and smaller, hardly any legroom whatsoever. Also, what I had planned on bringing on the aircraft as carry on (which was my work equipment, tablet/printer etc), I had to check in as luggage because it was "overweight" meaning more than 8 kg and pay ADDITIONAL $200 (in addition to the $100 I already paid for one suitcase). I've seen many passengers with "heavy" carry on, which they were apparently allowed to bring into the cabin without any problems. I had never had to pay for any carry on, and I am seriously considering using another airline for future business travel."
Pros: "Best international flight I have been on. Staff was very accommodating."
Cons: "The wifi was not working, but we still had in flight entertainment."
Pros: "Great crew, polite and helpful. Pillow and blanket were a nice touch. Will use them again!!"
Cons: "The food isn't that great though it wasn't horrible. Plane was extremely warm both to me and some seated around me."
Pros: "Firstly, the food was great!"
Cons: "Late one hour. Apparently equipment failure"
Pros: "Outstanding service in cabin service, on time, legroom in economy."
Cons: "Seats a little hard. Very good instead of great."
Pros: "I was upgraded after all the pressure from thehurrricane this was the icing on the cake"
Pros: "I love how Lufthansa has always been on time for me. That is why I fly with them when I can."
Pros: "Not much"
Cons: "Entertainment system wasn't working. 11 hour flight. Boring. No seat change available. No reading light, as light controlled by entertainment system. Seats in front of toilet cluster lit up every time door was opened. Crew were slow to react. Wasn't a priority. Ruined the excellent first leg of had from Philadelphia to Frankfurt. Do they run inferior planes to South Africa compared to USA?"
Pros: "See above"
Cons: "The special meal I got was not the same as I ordered."
Pros: "The crew was great and loved the pre boarding with my children."
Cons: "That had to be the most uncomfortable flight to France I have been in. There was no leg room at all."
Cons: "Everything was good not great"
Pros: "I liked he cleanliness of the plane and failities, friendliness and professionalism of the flight attendence and Crew members. on time schedule and flight."
Cons: "The Food was terrible, I would rather have the Option to pay for something more edible"
Pros: "All the staff was very friendly and helpful."
Cons: "Terrible leg room."
Pros: "Everything on time"
Cons: "Nothing"
Pros: "Crew was friendly and helpful"
Cons: "That they gouge you buy making you pay for advanced seat reservations on top of already high ticket prices Plane configuration is too crowded. Food quality has declined significantly. The airline was premier at one time but has declined quite a bit"
Pros: "Boarding was efficient and the crew were nice."
Cons: "the seating is horrible. it was the tightest seating I've ever experienced."
Cons: "Klm is the best, even on a 40min they served small breakfast."
Cons: "Boarding at Florence is always chaotic but this isn't within the control of KLM or their crew."
Pros: "Confort and kindness"
Cons: "It was too cold"
Pros: "Muslim food"
Pros: "I was sorted on Row 3 and the drapes kept hitting the back of my head."
Cons: "Move the drapes a few more inches back."
Pros: "The aircraft"
Cons: "No overbooking next time!"
Pros: "Crew helpful. Food good."
Cons: "Better range of movies please"
Pros: "KLM never disappoints, the cabin crew was extremely kind and helpful!. The food was great, nice leg room in regular economy class, thousands of movies and tv shows...it was great!"
Cons: "Well there was a LOT of turbulence but no one can control the weather and shout out to the pilot for giving us such a smooth landing a rough weather!"
Pros: "Great crew, comfortable seating with enough leg room."
Cons: "Provide dinner before getting to joburg, instead of a snack. Flight arrives late so dinner would be appreciated"
Pros: "Crew was amazing. They adjusted the seating arrangements so there was an empty seat in every row to give passengers more space. Very thoughtful and much appreciated. They served delicious meals, snacks, and water. They provided headphones, blankets and pillows. They took very good care of us."
Pros: "The entertainment was amazing"
Cons: "The seats were a bit hard"
Pros: "The crew were really helpful with people who had tight connections because of the delayed flight"
Cons: "I wish they had WiFi"
Pros: "The crew was amazing and the food was great."
Cons: "Something did not go right with our booking so it took some work for the airline to get it figured out for us. Thankfully we had left plenty of time. But that was an unexpected stress."
Cons: "If only there was a way to be able to lie down and sleep - you would be pioneers in aviation"
Cons: "The overall travel was good, no wifi and the entertainment system had a faulty headphone connection, and no place to charge devices other than through a USB port"
Cons: "Faultless handling of weather delay, causing missed connection and flight transfer. A well oiled machine, thank you."
Pros: "Friendly and efficient crew. Flights were on time if not even early."
Pros: "Everything OK"
Pros: "Friendly hostesses"
Cons: "Flight was delayed 3 hours"
Pros: "punctuality of boarding and flight time"
Cons: "attitude of crew in business class: no sense of true hospitality"
Pros: "Time and Good clean place.. in This case airpöane.."
Cons: "It was not entreteiment st all"
Pros: "Nice to have a wrap for the snack."
Cons: "Would have preferred boarding by row - back of the flight first so would have been more organized."
Cons: "The cabin crew was racist! She asked me to move from a seat because she wanted another guy ( obviously from her country ) to take it! Rude and racist."
Pros: "Fabulous trip with friendly, helpful staff"
Cons: "Nothing"
Pros: "Cabin crew were very professional."
Cons: "Aircraft returned to gate due to fault and was delayed for 45 min."
Pros: "Food was just fine, movie selection very good"
Cons: "Uncomfortable seat cushions, lights were truned on too early (1.5 hours before flight landed)"
Cons: "I can't take the flight because i'm not Chilean and I don't have a reembolse or other flight ,... nothing . Finally I take other flight with other company"
Cons: "Food"
Cons: "Delayed!"
Pros: "Seats were comfortable"
Cons: "Flight was delayed by 2 hours. Could have gone to Amsterdam and come back in that time"
Pros: "Consistently high standards"
Cons: "Nothing"
Cons: "Tiny old cramped plane."
Pros: "The last two times we connected in Amsterdam to Humberside our luggage was delayed. This time it wasn't. The simple things give the greatest satisfaction"
Pros: "The flight was very good, specially considering it was a daylight one. Staff was friendly and servicial. Tue food was above the industry's average."
Pros: "Short-hop flight, fit for purpose."
Pros: "Thankful for coffee being served without charge. Not all airlines do that."
Cons: "Long stop over at Schiphol. Too Long!!!!"
Cons: "Our flight was canceled from Amsterdam to Bordeaux and did not receive any direction and had to find alternate flights for ourselves with the personal expense of using our own cell phones. Then our luggage lost for 3 days. Not happy! We ended up flying from Toronto to Paris then to Bordeaux. Lost my upgrade money for seats. Now have to deal with KLM for refund!"
Pros: "Price"
Cons: "Klm flight has very congested seating Getting information about eticket was pain"
Pros: "Everything was good. The crew was very friendly and attentive. The plane was comfortable, with great entertainment on the personal screens. The food was delicious. Flight was on time and actually arrived early, but then we had to wait for a gate (not the airline's fault)."
Cons: "No complaints at all."
Pros: "Good flight, we got a nice snack despite it being a short flight, the staff was great."
Pros: "The crew were very friendly and accomodating, plane was clean and boarding amd disembarking was efficiently handled."
Cons: "55 minute delay was not welcome."
Pros: "Special treat for King's Day Friendly crew"
Cons: "15 min late boarding 30 min delay leaving the gate Very little leg room"
Cons: "Flight delayed ... Myself and three other colleagues didn't have our luggage show up from KLM flight from Amsterdam to Brussels...even though all of our luggage was labeled "priority". Once in customer service line, we looked and saw that many of the other passengers on our flight also never received their luggage. We estimated that 20-25% of the people on that flight did not receive their luggage as they were in line with us for the same problem. Hard to understand how so many pieces of luggage could have been overlooked and not loaded on our flight. Obviously there is a huge gap in their quality system to ensure mistakes like this are prevented."
Pros: "Excellent service and comfortable flight"
Cons: "Flight delay roughly an hour"
Pros: "Nothing"
Cons: "Airlines had no record of our pets flying with. Missed our flight even though we were there over 3 hours prior. Ruined the last day of vacation. Now we are waiting for the promised help in Amsterdam. No one is here. No one knows anything. Feel like crying"
Pros: "A nice short flight"
Cons: "We had booked business on our flight to Milan, and it was extremely disappointing that on this sector they put us on the last seat in the back of the plane. There were plent of seats on this flight that had extended legroom. A bit of a mystery, why Westjet elected to put usin the last seats on the plane?"
Pros: "If you would like to learn more you can call me 628.600.8825 Very dissapointed"
Cons: "Fewer entertainment options than the delta flight. I got excited with that first flight."
Cons: "The food was not as usual."
Cons: "J'ai eu à payer un bagage supplémentaire sur internet à 160 euros. Mon compte a été débité et à l'aéroport de Dakar les agents au comptoir me disent qu'ils ne retrouvaient pas le payement du troisième bagage. J'ai été obligé de repayer le bagage comptant à 190€"
Pros: "Nothing, the flight was delayed, the plane too small for passengers to store their carry-on luggage, the ground staff did not upload all the luggage and left some behind in Nairobi on the tarmac, the crew lied about the luggage being uploaded. Terrible experience! Kenya Airways is becoming worst and worst."
Cons: "Everything, the flight was delayed, the plane too small for passengers to store their carry-on luggage, the ground staff did not upload all the luggage and left some behind in Nairobi on the tarmac, the crew lied about the luggage being uploaded. Terrible experience! Kenya Airways is becoming worst and worst."
Cons: "food"
Cons: "I not get to go my flight, I couldn't get reimbursement"
Pros: "Nothing"
Cons: "They have a terrible communication problem, they never communicated why the flight was late, they never communicated what they were doing or what was happening. Bad customer service. Bad communication with the client. They told us when I asked several times that we would not lose our connection and that everything was fine and that was not the case. We lost the connection. No one told us anything. Another problem was that the girl in the boarding process removed the suitcases tickets from the boarding pass and did not want to return them, and held it without any cause. Without that tickets we can not claim the bags. The flight staff went looking for us. Pretty sad and disappointed by their service. I understand that they were causes outside the airline but must communicate to the client. They cannot remain silent and say nothing."
Pros: "Not much, seats are super uncomfortable"
Cons: "Better code sharing with KLM"
Pros: "Fly was delayed.i was told my bag would go to end but it was not.instead of coming to the hotel 7pm i came 1am."
Cons: "Explain me to take the bag on time.it was almost left in the airport."
Cons: "I'm not sure that short-hop flights should serve solid food. The quality invariably disappoints. Otherwise, all is good with this flight."
Pros: "Flight attendant was rude to my non French speaking 12 year old. He ripped his charger out of the USB port and threw it at him."
Cons: "TSA was sketchy and gave a FULL search, part down, etc. I kept asking and the excuse kept changing. Final excuse ridiculous! Flight attendant could have not treated my son as he way he did. I was unaware that the usb cord being inputted during taxiing As was my son. He was horrible to him!!"
Pros: "The crew was nice and the seat comfortable."
Cons: "Never got the pre-ordered wheelchair in Paris and only after long negotiations at JFK. Also, Delta lost my checked bag between JFK and DCA."
Pros: "The flight departed on time and arrived early. The crew were all courteous and kind even to the man who was sitting next to me who seemed quite demanding."
Cons: "I am small but the seats seemed a bit too tight. The plane itself seemed a bit outdated."
Pros: "Entire trip was easy and comfortable."
Pros: "The crew"
Cons: "Seats! They were too small!"
Cons: "Flight was delayed by at least an hour leaving Paris - a regular situation I experienced with AF."
Pros: "Food was good, crew was very professional and courteous. Flight was smooth."
Cons: "Coach was cramped and the video system didn't work very well"
Pros: "En deux mots, tout était médiocre, avion, « nourriture » (si on appeler ça comme ça) même les hôtesses travaillaient avec une sale gueule.. Très déçu d'Air France"
Cons: "Le capitain et l'aterrisage"
Pros: "Good size plane. It didn't end up being full so there was plenty of room to move around. Quick flight and easy."
Cons: "Nothing to complain about."
Pros: "Everything was fine"
Pros: "Boarding this large plane went relatively quickly and orderly."
Cons: "Seats were tight and got a bit uncomfortable. This was a long flight. Could use a much better cushion."
Pros: "Food was good. Crew nice and professional."
Cons: "Landing was not so smooth."
Cons: "Leg space."
Pros: "Enjoyed my food, especially tasty for airplan fare!"
Cons: "Not enough leg room"
Pros: "Very helpful cabin crew and did well to communicate in English to me. Flight was on time and landed ahead of schedule"
Cons: "Entertainment system had to be rebooted as it did not work Small screen handset was not working for the entire flight food selection was not as big as KLM or China Eastern Bathroom on board was smaller than KLM or China Eastern which meant changing into more comfortable clothing for the night flight"
Pros: "Boarding for BUsiness class was fine. Seating was cramped."
Cons: "As I said in my rating, seating was cramped. Food was mediocre. Crew was pleasant."
Pros: "Nothing"
Cons: "The seat seemed smaller and space was very uncomfortable. The boarding process was very painful because we had to wait for a longtime."
Cons: "Couldn't make the connection....Overall....an aweful experience!"
Pros: "The space and the people"
Cons: "Nothing"
Cons: "The room between seats is unbearable."
Cons: "no vegeterian sandwiches very disappointed"
Pros: "Smoothness of flight and service"
Cons: "In a french airline, chinese-cuisine meal was more attractive than western. Unbelievable! Entertainment: films were either too old, or too uninteresting"
Cons: "Cramped, no cabin bag space, late departure with no communication and lost checked luggage. Not a great Air France experience."
Pros: "It was on time and the crew was good"
Cons: "The food wasnt upto the mark"
Pros: "Crew was welcoming"
Cons: "Space between the seats was too small."
Pros: "The check in process was much better in the CFG airport than SFO. Very organized."
Cons: "The food was mediocre on this flight. The seats also are surprisingly uncomfortable."
Cons: "Long delay during connection at CDG Unclear information about delay Repeated changes to boarding time Unable to take stroller during connection Had to go through security again at CDG, although same terminal (2E)"
Pros: "Missed connection and it was airport not Delta that was the problem. Not a good way to start a vacation. Rating is for the Paris Airport, not the flight crew or Air France employees. Still sitting in the airport when we should be at our destination."
Cons: "Hundreds of people missed their flights. Delta had us into Paris with an hour and a half to get to connecting flight. Missed flight due to huge delay in passport approval. They seemed completely unprepared."
Pros: "It didn't take longer to board! Crew with great attitude Take off and landing were just great"
Cons: "My sandwich, it contained too much pepper, I mean too muuuuuch My narrow seat No entertainment"
Pros: "Párizs Budapest kb 1 óra késés műszaki hiba miatt. egyébként minden rendbe volt."
Pros: "Cheap aircraft, not even headsets"
Cons: "Dirty aircraft, I expect more when I pay a lot"
Cons: "Our first leg from Paris was delayed and we missed our flight to Dubrovnik. We then had to hire a car and drive 6 hours to ensure we wouldn't lose a day more of our holiday."
Cons: "Wheel chairs for my ill and aged parents was not provided"
Pros: "Loved the movie selection and the food was good too."
Cons: "Too many interruptions. Every time there's an announcement, it interrupts the movies and some of the announcements were completely unnecessary and there were so many of them, it was like constant interruptions, really annoying."
Pros: "After riding in premium economy for the 8 hour flight we had, this one wasn't the same. No tvs, way less leg room, we were able to have a window seat which was great for my sister since before we didn't have the window seat option. The snack was good also."
Cons: "After riding in premium economy for the 8 hour flight we had, this one wasn't the same. No tvs, way less leg room."
Pros: "I liked their seats, I had enough space to get comfortable flying internationally for 14 hours."
Cons: "Just wish they served water a couple times more, because when you're in the plane for the whole day, 2-3 little cups isn't enough."
Pros: "Same as above, the crew was very friendly and the food was great."
Cons: "Seating was cramped and uncomfortable for a tall person."
Pros: "flight on time"
Pros: "The air France staff were phenomenal. Very professional and courteous. Almost so courteous you thought it was not genuine (however it was)...by end of the flight they made you want to write a letter on their behalf."
Cons: "Seat didn't recline as much as needed and was no in flight entertainment."
Pros: "We propelled through space and arrived safely at our destination. Big like! :)"
Cons: "The vegan meal was a plate of dough. All bread. Other flights have given fruit, vegetables, vegan yogurt, etc. But that's a small complaint. The extra leg room seats at the exit aisles I was offered don't recline. (This wasn't true on the next flight). At 5 feet tall, given the option, I would pass up on the extra leg room and take a reclining seat. This is something that should be made very clear before the flight!"
Pros: "Landed nearly 25 mins early, greatly helped in making the connection possible."
Cons: "Boarding via bus ride on the tarmac and climb the steps onto the aircraft."
Read more about SWISS
Safety measures for airlines flying from South Carolina to South Africa
Airlines flying from South Carolina have enacted additional safety measures and adjusted policies to better accommodate travellers. Policies vary by airline.
Heightened sanitation
Daily cleaning, installation of cabin HEPA filters on flights from South Carolina
Mandatory masks
Masks required on board, masks provided on flights from South Carolina
Social distancing seating
Middle seats unavailable to book on flights from South Carolina
Pre-flight testing
Testing for antibodies, testing for symptoms for flights from South Carolina
Book cheap flights from South Carolina to South Africa
Recent return flight deals
Search by stops
Search by airline
Search by price
Recent one-way flight deals
Search by stops
Search by airline
Search by price
Flights to South Africa
Browse origins:
R12 426
R12 233
R12 900
R24 629