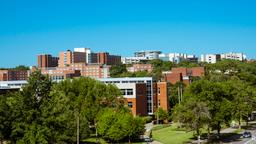 Find cheap flights to Iowa
Search hundreds of travel sites at once for deals on flights to Iowa. Bundle your flight + hotel and save!
Top tips for finding cheap flights to Iowa
High season is considered to be January, February and December. The cheapest month to fly to Iowa is January.

Enter your preferred departure airport and travel dates

into the search form above to unlock the latest Iowa flight deals.
FAQs - booking Iowa flights
Do I need to take a coronavirus (Covid-19) test before flying to Iowa?
What documents do I need to fly to Iowa?
What other coronavirus (Covid-19) restrictions are there in Iowa?
Can I fly to Iowa? Are there any travel restrictions when entering Iowa?
Can I fly to Iowa without having to quarantine on arrival?
How long is the flight to Iowa?
What is the cheapest flight to Iowa?
What is the most popular destination in Iowa?
How does KAYAK's flight Price Forecast tool help me choose the right time to buy?
Top airlines flying to Iowa
Scores according to KAYAK customer reviews
7,2
American Airlines
Overall score based on 45 963 reviews
Pros: "Smooth. We will definitely fly AA again."
Cons: "Lack of a crew delayed flight 4 + hours."
Cons: "It was cramped; it wasn't overcrowded."
Pros: "On time"
Cons: "We made reservations on Premium economy which was overbooked so we did not get a seat assignment until reaching the gate. However they upgraded us to business class so we were delighted."
Pros: "Great crew! Comfortable seats!"
Cons: "N/A"
Pros: "Quick boarding"
Cons: "Comfortable seats tv screens for seats"
Pros: "everything"
Cons: "snacks"
Pros: "Comfortable seat, no middle seat on my side of plane."
Cons: "After following out-of-date information to the furthest reaches of a sprawling and signage-deficient airport, I learned my departure gate was back where I'd come from. Having lost half an hour to my detour, I arrived panting and sweaty at the correct gate 12 minutes prior to departure - cutting it close, but before gate closing time. Or so American's procedures say. The gate was deserted; they'd closed early."
Pros: "It was on time"
Cons: "Delayed on the tarmac"
Cons: "The AA flight from NYC was late arriving at Heathrow, causing me to miss the connection. AA/BA was very good about orienting me to the new plan, but the delay was very inconvenient and being in the last row of the newly arranged flight to Lisbon was downright unpleasant."
Cons: "I lost my connection flight to Denver in Miami because of the delay luggage"
Pros: "Flight attendant was dilligent"
Cons: "Announcements were way too loud and they kept trying to sell us their new credit card. Bad enough being crammed into a tiny seat, but then you don't get any peace and quiet."
Pros: "Not much"
Cons: "Big hassle trying to get on an earlierflight ehich originally booked."
Pros: "There's no usb charger for my phone.there is no Monitor in front of me"
Pros: "Great films and tasty food"
Cons: "Had to run to gate after two buses to reach correct terminal. Saw info that flight was closing. Held up at gate due to confusion with my boarding pass. Limited leg room on flight. End of flight huge queues at Dallas airport for security. After a long flight a passenger does not need to be corralled through excessively long winding lines."
Pros: "I was lucky enough to have some really sweet flight attendants and was surprised (though maybe I shouldn't be) that we got a small meal."
Cons: "The economy class seats are just so uncomfortable and as soon as someone puts their seat back it is difficult to see the screen in front of you without putting your seat back as well. I suppose there are worse airlines..."
Pros: "I am so glad that there is a direct flight from Des Moi es to Philly. Our flight home arrived a little early and the crew was very responsive and professional."
Pros: "The crew were friendly and did their job effectively"
Cons: "Lack of seat space Planes seemed old Minimal overhead storage room—carry on fits all other airlines overhead but struggled to get bag in compartment Also, no help from crew with this Seats recline nearly into lap of person behind"
Cons: "There were 2 flights going to Roanoke at almost the same time. The other one was delayed by a lot; ours by a little. But personnel DIDN'T TELL US WHAT WAS GOING ON. We were all standing around wondering what was happening.It's the NOT KNOWING that is so horrible. We could tell from the screen that it was delayed, but it was clear the flight would leave much later than the screen said, but they wouldn't tell us anything!"
Pros: "The flight attendants were fantastic. They took great care of us the entire trip."
Cons: "Trying to figure out where to go in each airport for customs, integrations, and gate changes."
Pros: "Comfortable, very friendly helpful staff"
Cons: "Nothing, well I miss the movies shown on their divides rather than my tablet"
Cons: "They were late because of bad scheduling and the gate agent was rude"
Pros: "It was a larger plane than the first leg of my journey so I did not have to gate-check my carry on luggage."
Cons: "It was a bit of a bumpy flight during take off and landing. Flight was cold, but not freezing - tolerable."
Pros: "Pretty good dinner and breakfast, complimentary wine"
Cons: "Slow flaky entertainment system didn't work at all in some seats, needed multiple 10-minute reboots in other seats. I was unable to complete a 2 hour movie on a 9 hour flight. No internet."
Pros: "The food was great!"
Cons: "The new baggage rule limits you to two bags in business on international flights☹️"
Pros: "Safe, efficient and pleasant flight. I would fly American again. I appreciate getting a soda and snack included."
Cons: "No movie. I got "spoiled" on flight from Seattle to Phoenix with a movie perk. Was looking forward to another on the 2nd leg of our trip. I thought maybe it was an "American" thing. ... but apparently just got lucky on first leg."
Pros: "The pilot was a riot, the flight was on time. Again, nothing wrong, nothing special. As it should be (if only we had more leg and seat room, and I am pretty streamline)."
Pros: "You are pushed into 4 square inches. But the boarding and checkin process was much much better then the ny experience."
Cons: "Food and comfort"
Cons: "Finally took off at 12:15 AM on a flight scheduled to depart at 7;30 PM the day before!"
Pros: "There was a lot of extra room on the flight so it was comfortable. The meals were tasty. I was glad they gave us a few snacks in addition to the main meal and the dinner snack with the tart and the sponge taper very good."
Cons: "The monitors were very difficult to use. I had to press them multiple times to change the screen"
Pros: "On time and smooth flight"
Pros: "I paid for extra leg room and I got it. The only thing I was in the row right behind first class they require you to put all of your carry-on above even a purse. I had never had that before but I guess that's common practice."
Cons: "Poor snack options"
Pros: "Boarding was impossible! The line was longer than the jet bridge itself and we had to wait after being called for a 1/2 hour."
Pros: "Outstanding crew and pilot dealt with some tough weather issues"
Cons: "Checking one bag took 30 minutes. Very stressful"
Cons: "Person on my seat on previous flight puked and it had not been cleaned up. Puke in the seat tray and on the floor. My personal bag had pile all over it. Yuck."
Pros: "They were able to use the electronic boarding pass through the app which is nice. Boarding was really quick."
Cons: "The overhead bins didn't have enough space for carry on for everybody flying."
Cons: "Why are there no more blankets?!?! Or if there are - they are for First Class only. Ridiculous"
Cons: "A few crew members was rude"
Pros: "Not crowd, got a exit row seat. Plenty of room"
Cons: "In seat entertainment"
Pros: "Flight never happened, can I give 0 stars?"
Cons: "The flight was delayed three times and ultimately cancelled. I got no notification of the cancellation, only found out because I was constantly checking. Ticketing agents in the airport were overwhelmed and ignored most passengers, on the phone they were useless and offered no solution. I was attending a family funeral in the morning and after American offered no options I rented a car (another huge expense) and drove all night to get the my destination."
Pros: "Nothing"
Cons: "Being contacted even though reservation was cancelled the day it was made months ago. Caused unnecessary stress that I needed to call Airline to confirm cancellation."
Pros: "Staff was good."
Cons: "Lost bag for 24 hours, no entertainment on a 6 hour flight."
Pros: "No comment"
Cons: "No food or drink given to me. Deliberately ignored by crew."
Cons: "Advertised fare I purchase was for economy, where I would have a checked back and be able to pick my seat. I found out the day before that the airline wasn't offering either, even though I paid for it."
Pros: "The crew on both legs of our flight were very nice and accommodating."
Cons: "The crew and the people do the tickets are very rude"
Pros: "Cabin cleanliness is below average"
Cons: "Cabin service is average"
Pros: "On time and great professional staff throughout"
Cons: "Wi-Fi, as usual, was not working. Plus, there were no screens in the seat, so passengers have to rely on their own smartphones/tablets/magazines/books to keep entertained."
Cons: "The flight was delayed then to top it off we sat on the tarmac awaiting to off load in DesMoines. We spent just as much time waiting to off load as we did in flight!"
Pros: "Early arrival to DSM."
Pros: "Flight was good, nothing stood out as good or bad. It just seems like a very tight space (I'm 5'3 and less than 150 lbs)."
Cons: "Going through TSA in Newark Airport was HORRENDOUS. A TSA agent grabbed my things out of my hand and threw it on the belt without any consent from me. I was still unpacking my carry on, to abide to the rules and no she just wouldn't have it and was very rude."
Pros: "We were delayed taking off from Denver due to snow storm. The crew was communicative and accommodating."
Pros: "Very annoyed with the direct tv. No gluten free option for food/snacking."
Cons: "comfortable seating. nice staff. on time flights."
Pros: "Well, I got there."
Cons: "Purchased economy plus bundle. United employee closed gate in my face at ORD. United Club toilets were filthy and the worst of my problems was the ridiculous selection of teas. (Toilets outside of United Club much cleaner.) I had an economy plus seat, but this did not allow me to board early. So I boarded late and there was no seat in front of me. So I could not put my carry on in front of me. I asked if I could put my bag in top, but attendant told me that I had to ask the first class person in front of me for a favor and thank them for the favor. I did. But this was one of the more disgusting experiences that I have had on an airplane and I paid an extra 100 USD for the privilege of it."
Pros: "The crew was polite and professional. Thanks"
Cons: "Cannot think of a thing"
Cons: "Seats uncomfortable, crew rude to other passengers"
Pros: "Got me from point A to B"
Cons: "Cabin was freezing, very skimpy on drinks, coffee maker didn't work. Ask volunteers to move to back of plane to balance out weight."
Pros: "He was the epitome of the Friendly Skies. Chatted with whom wished to chat was quite near those that wanted to snooze on this early morning flight."
Pros: "The crew was one of most pleasurable group that I've flown with. Polite AND funny!"
Cons: "The plane was delayed in WA DC and the staff did nothing to help with transfers in Addis Ababa and I missed my connection."
Pros: "was"
Pros: "Will bw traveling to chicago then to iowa"
Cons: "Flight delay and itenirary changed"
Pros: "Nothing I wasn't on it I missed it because of you"
Cons: "My plans for travel were ruined because when I arrived at the airport for my flight I was told it was too late to check my bags, therefore I had to be placed on a later flight which then set off a chain reaction where I lost my rental car and missed various meetings at the event I was supposed to be at my final destination. The main issue was that when I purchased my ticket throughout Kayak YOU NEVER SPECIFIED THAT I SHOULD CHECK MY BAGS 45 MINUTES EARLY OR I WOULD LOOSE MY FLIGHT. YOUR LACK OF CLEAR INSTRUCTION SCREWED UP MY TRIP"
Cons: "I did not like sitting on the runway for 40 minutes I did not like to have to run to catch the next flight I'm 63 years old I do you dont like to run to the next plane"
Cons: ""Dish Network TV" $7 for every 2 hours, if you don't pay they just repeat the add in front of you for the entire flight. So greedy. This is why Delta is so much better. Tons of movies, newer, and FREE. United Airlines is terrible."
Pros: "The flight attendants were helpful"
Cons: "Two hour delay for no reason from Houston to SA"
Pros: "The people on the flight with me"
Cons: "The flight attendants were cocky and then my flight was worse overall my flights in all were horrible with united . I've never been sick on a plain and I got so sick for the landings"
Pros: "Arrival was late and United held the connecting flight! Thanks United."
Pros: "No-thing!!!"
Cons: "I was traveled no with my wife and my son to Des Moines andI documented our 3 bags in Mexico City and "the first surprise" was that they charged in Mexico n I he front desk about $27 USD per bag...it seemed that the bags were also passengers and " needed to pay"... The big other surprise was when we got to Des Moines and realized all the bags were opened!...my wife's jewelry was stolen!!!! UNITED AIRLINES SUCK!!!!!"
Pros: "The flight took off and landed on time."
Cons: "When I went to the gate in Houston to get my boarding pass for my second leg, the lady at the gate counter yelled at me because I didn't know my seat assignment even though I had already explained that I didn't know because I didn't have a boarding pass. On my original booking, I had chosen my seat to be a window, but when they rebooked me they put me in a middle seat even though there was a completely empty row in front of me. Then, to top everything off, they forced me me check my rollerboard carry-on because they said there was no more room on the plane, but when I got on I could see multiple spaces were still available. Another passenger and I were left to wait nearly 5 minutes on the jetway while the gate counter rep went to print our checked luggage tags. I asked the stewardess why I had to check mine even though there was plenty of space, and she said "it's hard to tell sometimes how much room we're going to have left." She also didn't offer any apology. All in all it was a terrible experience. I had to wait unnecessarily at various points of the travel process, had to endure a layover that was more than double what I had planned for, was forced to check my carry-on at the gate, and worst of all I missed a really important meeting. United obviously does not care at all about economy customers. Don't trust this airline! Book on Southwest or JetBlue - they actually care about customer retention!"
Cons: "The plane was delayed again n again from ,7:30 pm to 11:45pm"
Pros: "The passenger next to the window."
Cons: "The passenger on the aisle."
Cons: "We were told there wasn't anymore space for carry ons so I had to check my bag. I got on the plane and there was plenty of space for bags. There needs to be better more efficient communication about baggage space."
Pros: "The flight I was able to get on eventually had pleasant crew and arrived early."
Cons: "Where to start.... they "delayed" my flight for 11 hrs from 5:55pm to 0700am due to "weather" so no hotel or food vouchers would be issued. THEY ALSO SAID "don't bother going stand by for the other two flights leaving this evening as they will be overbooked or "cancelled" as well. When I walked to customer service they stated it was NOT cancelled but rather "rescheduled due to operational issues" then they put me on stand by for the next flight leaving in a couple hours. I boarded that flight only to be pulled out of my seat the last second before the gate closed saying there was an error and there were two "Fishers" and I was in one of thier seats. After closing the door and departing the gate the agent said "whoops" I guess it was a small child that was to be on the parents lap. "Sorry" as the plane left with an empty seat that I had been sitting in. After a long conversations with the supervisor they finally were able to book me on the last flight out that night arriving in DM at 12:15 in am. I had to dig my original boarding pass out of the garbage as they had refused to put me in first class... an upgrade I had paid for. After being lied to repeatedly about status of plane and bumped from flight due to incompetent gate agent I was able to finally procure a $10 food voucher (a beer is $11 at the airport. There are additional bungles including lost luggage and more to this saga but I think you get the picture."
Pros: "they switched our flight in boston to another flight which was totally inconvenient. then the connecting flight was delayed so we had a three hour layover. then they switched the terminal and flight time to an hour earlier than posted w/o our knowledge. that flight left and we were stranded in new jersey airport until 6 am the next day and had to rebook. now we will have to make another stop in san Francisco's before getting to portland oregon a day late. total joke."
Cons: "No help from the flight attendants before we landed to inquire to see if the connecting flight would wait - just MINUTES!"
Pros: "The hospitality of the crew."
Cons: "The amount of snacks that were served."
Pros: "Flight attendants, comfort and attention to detail were all good."
Cons: "Nothing comes to mind"
Cons: "Late night flight to begin with then mechanical issues so more delay which made it later. Chicago ground folks were very good at keeping us informed on the status."
Cons: "Same as above."
Pros: "It landed in Des Moines 30 minutes early."
Pros: "Flight, when it the air, was fine. But..."
Cons: "We arrived from Tampa about 8:00am to discover shortly later that flight 558 would be delayed to 9:30am. Then at 9:30 it was announced the plane is to be delayed to 10:30. Shortly after that announcement it was announced a gate change and further delay to 11:30. Then another delay to 12:20. finally departed."
Pros: "On time"
Pros: "The complimentary beverage"
Cons: "Seat space keeps getting smaller. My seat did not recline at all"
Pros: "Fast boarding, pleasant crew, nice leg room!"
Pros: "I have metal leg braces. The staff was helpful getting me from terminal to terminal. They were very helpful."
Cons: "Having a leg brace makes difficult I am blessed I can move a little without them. I had to move a short distance without my brace. No place to put it back on."
Pros: "Boarding started early and went very quickly. Seats were new and a leather type material , which is an improvement from old fabric seats. Nice headrests you could bend to support your head. Loved the new United app I downloaded for free which allowed me to watch movies and tv shows on my phone. We arrived at our destination 30 minutes early, which was a plus. Staff was friendly and helpful."
Pros: "The fact that you serve a small complimentary drink and snack on such a short flight was extremely appreciated. It seems most airlines either won't serve on a short flight or charge you extra. Also, I absolutely love the new seats on the planes you guys have been using for quite a while now. They're much more sleek/minimalist so they don't take up as much room. As a disabled person, the bulky seats still employed by many planes on other airlines are incredibly hard on me getting in and out of the seat isles. The crew was very efficient and kind. I also appreciate the thank you to military personnel that they announced at the end of the flight."
Cons: "My gate was moved a few minutes prior to scheduled boarding. It was a minor inconvenience. Flight was a bit late getting out, but still arrived at designated time. Complimentary Wifi would be pretty nice, but not expected."
Pros: "Great ticket counter staff!"
Cons: "Overbooking a flight by this much is obscene. When an aircraft goes down, everyone loses."
Pros: "nothing since the flight was delayed 4 times and ended up being canceled. No apologies or refunds were issued. This is not the first time United has ruined my vacation, but it's the last time I will use their services."
Cons: "The complete indifference of United."
Pros: "Boarding was nice, and fast, but inly because I'm handicapped. Crew was pleasant."
Cons: "I didn't like having to pay $4/2hrs for internet/movies for a 3 hour flight....$8 to watch a movie on a 8" screen?? Come on! If you have it available, why isn't it free or included in $600 ticket price? I'm 6'0" tall and weigh 218lbs and I felt like a sardine in a can. Seats are WAY cramped! They probably are comfortable for a 7 year old girl...."
Read more about American Airlines
Safety measures for airlines flying to Iowa
Airlines flying to Iowa have enacted additional safety measures and adjusted policies to better accommodate travellers. Policies vary by airline.
Heightened sanitation
Daily cleaning, installation of cabin HEPA filters on flights to Iowa
Mandatory masks
Masks required on board, masks provided on flights to Iowa
Social distancing seating
Middle seats unavailable to book on flights to Iowa
Pre-flight testing
Testing for antibodies, testing for symptoms for flights to Iowa
Book Cheap Iowa Plane Tickets
Recent domestic flight deals
Search by stops
Search by airline
Search by price