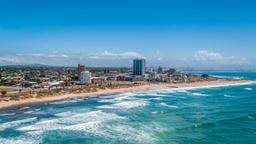 CDG - PLZ
Find cheap flights from Paris Charles de Gaulle Airport to Port Elizabeth
Search hundreds of travel sites at once for deals on flights to Port Elizabeth
FAQs for booking Paris Charles de Gaulle Airport to Port Elizabeth flights
Can I fly to Port Elizabeth? Are there any travel restrictions when entering Port Elizabeth?
Can I fly to Port Elizabeth without having to quarantine on arrival?
Do I need to take a coronavirus (Covid-19) test before flying to Port Elizabeth?
Can vaccinated people travel to Port Elizabeth?
What documents do I need to fly to Port Elizabeth?
What other coronavirus (Covid-19) restrictions are there in Port Elizabeth?
How long does a flight from Paris Charles de Gaulle Airport to Port Elizabeth take?
Which airports will I be using when flying from Paris Charles de Gaulle Airport to Port Elizabeth?
How does KAYAK find such low prices on flights from Paris Charles de Gaulle Airport to Port Elizabeth?
How does KAYAK's flight Price Forecast tool help me choose the right time to buy my flight ticket from Paris Charles de Gaulle Airport to Port Elizabeth?
What is the Hacker Fare option on flights from Paris Charles de Gaulle Airport to Port Elizabeth?
What is KAYAK's "flexible dates" feature and why should I care when looking for a flight from Paris Charles de Gaulle Airport to Port Elizabeth?
Top airline flying Paris Charles de Gaulle to Port Elizabeth
Scores according to KAYAK customer reviews
7,3
British Airways
Overall score based on 22 996 reviews
Pros: "It was incredibly quick!"
Cons: "They broke my guitar"
Pros: "The sit"
Pros: "Everything went smoothly and I was very pleased with flight experience from beginning to end"
Cons: "Initial delay and then take off delay because slot time had not been updated. Our family missed connections. Disaster follow up in terminal!!! So far far we have been over six hours from check in and are still not through immigration. This for an hour flight."
Cons: "The food was okay. The sandwich towards the end of the flight was not very good at all."
Cons: "For a first class flight, I think they gotta change everything. Concorde lounge in london outdated, bad food, no snacks.. on board monitor was so low in resolution that watching was a pain and movies with subtitles impossible to watch. Compared to LH Air France or any Asien Avery bad"
Cons: "One flight attendant was exceedingly rude during the boarding process, but thankfully she was not in our area."
Pros: "The seat was comfortable when it came leg room"
Cons: "N/a"
Cons: "Gate agent refused to let me carry on a suitcase that I have carried on dozens of flights (this specific suitcase) and I understand overhead limitations (I have more than 4 million air miles just between United and American Airlines). This was an A320 and I was about #10 getting on the flight. Space was not an issue. This added an hour to a 25 hour day to wait for luggage at LAX. And BA gives the agents an edge in that their test fixture has rounded corners to that a 22 inch suitcase that has hard square edges at the bottom (or wheels that make it square) won't fit in it. So the agent just points that it doesn't fit and you have to check. I was not happy from Paris to London."
Pros: "British Air reps took us through security and to the gate for boarding which was most appreciated after our check-in. Once on the plane the flight was great and the crew helpful. I wheel chair was waiting for us when we landed in London."
Cons: "We were told to check in at terminal 2A to British Air for our flight. BA was on the lower floor almost in terminal 2B and there were no signs indicating where we were to find their check-in. When we checked in they initially had no record of our continuing flight on Virgin Atlantic to the US. They checked our bags through to the US but could not give us boarding cards for the 2nd leg of our flight on Virgin."
Pros: "The boarding agent did not allow my traveling companion on Till the very last moment because of the size of his backpack. He this was our seventh plane ride in two weeks and nobody else has given us a problem.. After 10 days on the Camino DeSantiago the extra stress was not welcome.. Also short trip with the no there for each service was disappointing. Didn't see a whole lot of the crew. It was if they were taking a break the entire time."
Cons: "The amount of carry-on and size should not have been an issue with backpacks. They fit perfectly into the overhead compartments. Plus a snack and beverage service would have been nice"
Pros: "Not much. Eventually got to where we were going."
Cons: "I can't remember a more cramped and uncomfortable flight. Missed connection on way Paris and we arrived 6 hours late. It took British airways 3 days to get our lost luggage to us. Delayed on way back, adding 4 hours to our trip because the first plane was not "serviceable" and they had to get a replacement. They arbitrarily decide who has to much carry on luggage and force you to check it last minute at the gate while letting others with same size bags take them on the plane. Certainly no better than bargain flights and possibly worse. Why pay extra? No more British Airways for us."
Pros: "Once again, British Air provided excellent service and friendly staff for our flight from London to Boston. The Paris to London crew was not as accommodating and there were difficulties with language barriers in CDG."
Pros: "The food and the services. The plane looks new and clean. Many new release movies."
Cons: "seat space is too small and not comfort."
Cons: "no free dinks, including paid coffee, tea... I think it's ok. to pay for drinks, but not regular coffee, tea and water even it's short flight"
Pros: "I like the flight left on time"
Cons: "There were no self check in kiosk, only 3 people working to serve 50 took over and hour"
Cons: "The crew seemed very stressed about the flight being full and therefore was somewhat curt regarding baggage. Also, again not even a glass of water?"
Pros: "Your teammates, Fatou and Sarah at the check in desk in charles de gaulle made our lives doo easy after a stressful and ling journey. Their kind service and forethought helped us a lot."
Cons: "BA's poor customer service team who don't explain extra baagge charges correctly and don't have the decency to say they were in the wrong for not dealing with my issue correctly ans giving the run around"
Pros: "Fast boarding despite the flight was delayed and the crew did all what they could to do a fast process"
Cons: "They didn't tell you about the delays! We have to find out through different sources"
Pros: "It flies"
Cons: "No courtesy! At least soft drinks ought to be on the house - they even charge for water - disgusting compared to US airless that at least offer you nuts and a drink for free! BA is now in the EasyJet-RyanAir league! Awful!"
Pros: "I did a round trip to Paris. 1st portion on American Airlines. The difference was astounding as to friendliness, service, food, wine and entertainment the Brit Air back to NYC from Paris was 1000 times better than the 1st portion to Paris on American."
Cons: "There was a stop over in London that got a bit confusing at boarding time in Heathrow ...as a flight to another country was being boarded at the same time and the set up in the general terminal make for some confusion as to which line to get into."
Cons: "There was no food."
Cons: "It felt as though they had very minimal snacks/food for the trip as we only received one snack towards the end of the trip and one meal and it was an 8 hour flight. When I asked for extra snacks, they said there was none. This ruined my experience for me since I was hungry for most of the flight."
Pros: "Arrived early, earned oneworld status points."
Cons: "BA are a budget airline charging premium prices."
Cons: "Our flights were sold as British airways but operated by American Airlines. Yes, we flew economy and we were expecting small seats, but these seats felt extremely small. They pack so many seats into the space that there is no comfort at all in flying. It was a complete let down. Food was an improvement from our flight from LAX To CDG, but if was only mediocre at best. I really expected this flight to be better than those I've taken with Vueling, Iberia and Virgin but it was terribly disappointing. I would think twice before purchasing a ticket with this airline again."
Pros: "Everything"
Cons: "Nothing"
Pros: "Overall quick, easy and event free...just as flights should be."
Cons: "Plane got a little hot sitting at the gate and our seats were the only ones that didn't have air vents."
Pros: "Early, relaxed boarding process was excellent."
Cons: "Only strong negative was the absence of any free drinks or snacks. A cup of tea cost over 2 pounds - ridiculous!"
Pros: "Left on time"
Cons: "Charged me an extra 120 to check my bags"
Pros: "The staff very friendly and helpful"
Cons: "We missed two flights,made it on the third trip.when trying to get some help and information I felt like they were blowing us off ( employees at the airport in Paris) not so much British Airways.The first time we missed the flight it was because we were sent to the wrong gate,and we tried to get information we were told to sit down our plane would be next.We then had to start the process all over again going thru check in and security, proses was so slow we missed the second flight,then I had to go thru the process anion retrieving our bags,going thru check in and security the third time,by the time I got to the gate they were boarding. It was a nightmare and I got to feeling we would never get out of Paris.Not so sure I would want to go to Paris Airport again.? If I would use BA."
Cons: "When we went to check in on 6/30, the website said all legs of our reservation have been flown. We had to call British Airways and then the booking company (Webjet) to finally get things sorted out. British Airways counted our flight from JFK to CDG as a "no show" but in reality, we had just missed our connecting flight because of so many delays at JFK. We had received no notification from Webjet or British Airways of these changes and were told that our taxes were refunded for the return tickets."
Pros: "I liked the nice crew. Short flight from Paris and arrived in LHR little early. Even in economy, seats were confortable. The 1.5 hr Flight was very smooth and short."
Cons: "I can't say that there wasn't anything that I didn't like about this particular flight from Paris to London."
Pros: "I was unable to check in online because the sytem required me to have a visa which I did not need. This in turn did not allow me to upgrade my seat. Seats were available on the flight considering it was a 747-400 jet liner. All in all I was happy with the flight since no one sat next to me during the 7 hour flight."
Cons: "Entertainment. Food. The crew was great."
Pros: "Cleanliness"
Cons: "Attittude of Ground Staff and difficult to find check in counters at CDG airport"
Pros: "No comment."
Cons: "Flying in and flying out was a headache! Both times, the flights were delayed, therefore causing me to have to miss my connecting flights "BOTH times!!!!" I had to rebook and reticket my luggages throughout both travels! I will NEVER EVER book with Bristish Airways EVER again! Worst experience ever thus far! Worst part was that I had my elderly parents with me and I had to continuously make changes because of the flight delays, which put all of us in extreme stress! Made me sick to my stomach of how unprofessional BA staff were when it came to accommodating us due to their delays."
Pros: "NOTHING!!!"
Cons: "Although it was clear already around 9:30 that this flight (scheduled to depart at 10:25) would be severely delayed sue to fog in CDG and LHR, the local British Airways staff adamantly refused to assist in rerouting us either from Paris or from London to our final destination in Chicago. Their complete lack of cooperation was stunning and quite offensive. A different tune was played by the airport staff for international connections who helped us expeditiously and kindly to be rerouted on an United Airlines flight."
Pros: "For the last flight of the day out of Paris, surprisingly the flight left on time and landed ahead of schedule."
Cons: "Had to wait for a bus to take us a very short distance to T5. The flight was packed - too many people with large carry-on cases."
Pros: "Fast bag drop and quick efficient boarding. Flight wasn't full so plenty of space. BA still serves complimentary drinks and a small snack (crisps or biscuit) with the drinks."
Pros: "My luggage was lost and had to wait 2hrs."
Pros: "EVERYTHING"
Pros: "The plane itself had nothing wrong with it. They gave me priority boarding because I had a musical instrument with me as my carryon, and then let me put it in the flights crew closet so it wouldn't get damaged. I appreciated that."
Cons: "Flight check in was an unbearably long process, in a hot and stuffy area. Once through check in, the passport check line took over an hour. 100-150 people all corralled in like cattle, while ONLY ONE agent was checking passports to enter the security area. This was outside the secure area!!! Anyone could have entered here and executed a terrorist attack with large casualties. It was unsafe, uncomfortable, and unreasonable. Shame on you Paris Airport. Then the flight was late on arrival, and late again on departure, causing me to miss my connection to Los Angeles. This opened up a whole new list of botched customer services."
Pros: "Excellent aircraft, seems very new. Main meal served (I had vegetarian option) was great. Blankets provided were very nice. Good entertainment."
Cons: "The smaller snack served later in the flight was not good. I had the vegetarian option, and the items in the box were meant to be served at room temperature but I believe the box had been heated up with the regular meals, and everything in the box was piping hot - chocolate bar was melted, mustard packet was hot, lettuce on sandwich was wilted, dried fruit mix was hot."
Pros: "the crew were friendly and efficient"
Cons: "old plane uncomfortably seats no personal IFE"
Pros: "The flight and in flight service was excellent"
Cons: "the rebooking of this flight was terrible, our seats were re booked from British Airways to American Airlines but not ticketed correctly by BA. I had to call airfare.com support four time with no resolution to only end up running from BA back to AA ticket counters only to be met with multiple BA agents that did not take the time to just lookup our flight info correctly. It took multiple time to finally have a BA ticket agent finally correct the issue. Please dont use Airfare.com their support is the worst."
Pros: "The staff is always friendly and working at it to make everyone feel welcome and happy. Thanks for the great effort! we do appreciate it."
Cons: "Peppers in the food does not make the food taste nicer, it just adds a flavor that i think does not add great value for airport food. It is the same with raw onions. Once in a container everything tastes like the onions. This has been done away with and my personal opinion is that the same should be done to the peppers. When peppers are added to food, you only taste the peppers and not the rest of the flavors of the food. Hope you find this helpful. Thanks"
Pros: "Really the only thing I've found that is good your staff on the flight it's self. The on board crew are very good. Everthing else pretty much makes it terrible."
Cons: "First off they quote you rate and you pay. Then you find out that you have to pay more just to request a seat. Complete move motivated by pure greed and manipulating us the consumer. Even more so if you don't go and request your seat 24hrs before the flight they automatically assign you the middle seat so they can go and sell the better window and aisle seats. This pretty much makes me want to never use your greedy airline again. Also when I was boarding I get stopped and told my carry on was to large. THE VERY SAME ONE I BROUGHT WITH ME. Why is it too big now? They really had no answer other than they told me I had to check it. The lady was verbally aggressive with me about it. After I was backing down only because I was afraid of losing my flight she then requested a CC saying I had to pay for it. I was literally pulling things out of my bag holding in my hand for my flight. She insisted I had to pay for it. I pointed out that my ticket included 2 bags to begin with and I only used one she said it doesn't matter because its to big for the plane I have to pay. I'm beyond furious now as I'm dropping stuff out of my hands trying to manage everything. I'd like to point out this is just a small gym bag and its a lot smaller than my carry on suite case which I'm frustrated. I'm pretty much pissed off the whole flight to only be more at the end. When the plane lands and I'm getting off I notice every single person has a carry on suite case all of which are much larger than my gym bag. My freaking gym bag fits in the tiny locker at the gym. I HATE BRITISH AIRLINES they only succeed at swindling money from you."
Pros: "Great"
Cons: "Great"
Cons: "2 hr delay in Paris very poor choice of movies"
Read more about British Airways
Safety measures for airlines flying from Paris Charles de Gaulle Airport to Port Elizabeth
Airlines flying from Paris Charles de Gaulle Airport to Port Elizabeth have enacted additional safety measures and adjusted policies to better accommodate travellers. Policies vary by airline.
Heightened sanitation
Daily cleaning, installation of cabin HEPA filters on flights from Paris Charles de Gaulle Airport to Port Elizabeth
Mandatory masks
Masks required on board, masks provided on flights from Paris Charles de Gaulle Airport to Port Elizabeth
Social distancing seating
Middle seats unavailable to book on flights from Paris Charles de Gaulle Airport to Port Elizabeth
Pre-flight testing
Testing for antibodies, testing for symptoms for flights from Paris Charles de Gaulle Airport to Port Elizabeth
Book cheap flights from Paris Charles de Gaulle Airport to Port Elizabeth
Recent return flight deals
Search by stops
Search by airline
Search by price
Paris Charles de Gaulle Airport - Port Elizabeth Flights