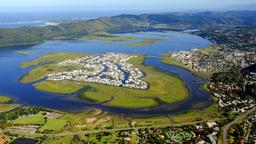 Find cheap flights from North Carolina to South Africa
Search hundreds of travel sites at once for deals on flights to South Africa
FAQs for booking flights from North Carolina to South Africa
How does KAYAK find such low prices on flights from North Carolina to South Africa?
How does KAYAK's flight Price Forecast tool help me choose the right time to buy my flight ticket from North Carolina to South Africa?
What is the Hacker Fare option on flights from North Carolina to South Africa?
What is KAYAK's "flexible dates" feature and why should I care when looking for a flight from North Carolina to South Africa?
Top 5 airlines serving from North Carolina to South Africa
Scores according to KAYAK customer reviews
8,3
Qatar Airways
Overall score based on 11 086 reviews
Pros: "The crew was amazing. very helpful and great services."
Cons: "While waiting in the check-in line, it would be better if one of the crew would come and ask the travellers if they have got everything. cause I had my Covid test and it was negative. However, they said that my final destination place won't accept my test. rather me waiting on the line that was not moving ahead at all, I could have sort things out some way. So, it would be nice if the crew would come to the passenger on the line just to make sure they have everything right."
Cons: "My flight time was changed but I didn't receive any email regarding the change"
Pros: "Great entertainment choices. Staff friendly and attentive, particularly nice is that they feed children first, and offer small entertainment gifts to them."
Pros: "Amazing service. Incredible comfort."
Cons: "Nothing"
Pros: "Crew was amazing"
Pros: "Good flight"
Cons: "As with all economy seating...it is cramped"
Pros: "Most of the crew was really nice and the entertainment choice was great."
Cons: "Asian Vegetarian meal was so-so. Dessert is never good for special meals. Boarding was particularly annoying as there was a document verification line and then the actual check-in. Even if you've done online check-in the document verification people will shout at you and tell you to line up."
Cons: "Improve quality of service and cleanliness."
Pros: "Seat was very comfortable and the flight was on time."
Pros: "Plane design was nice"
Cons: "Selecting food online was misleading; felt we had to select something then. We learned later that it was just special diets that required online selection."
Pros: "Overall great service!"
Pros: "Same again the crew were fab"
Pros: "While my Qatar airways flight from Houston to Doha (# 714) was almost perfect, flight #1335 from Doha to Nairobi was a huge disappointment."
Cons: "The flight attendants didn't seem to know what they were doing, food ran out before i got any breakfast, the IFE system for my seat didn't work,"
Cons: "My seats from Doha to Mumbai were very uncomfortable....37EFG. The 37D was a pain stepping out and in."
Cons: "Snack options were a bit limited for such a long flight"
Pros: "Flight attendants very nice"
Cons: "Boarding at JFK. PHONEY wheel chair users. Saw a woman with one leg who.REALLY needed one tough it out while others were just lazy. I saw them walking after wards. They just don't want to wait in.line. Handicapped should have wheelchairs but once they have them they should wait like everyone.else"
Pros: "Good service but need to improve food quality and quantity."
Pros: "Plane, crew, boarding"
Cons: "Coach class is not for long haul flights"
Pros: "Great food, great help when travelling with baby, affordable price. Entertainment system was a bit annoying with unusable unresponsive touchscreen and unintuitive menu."
Cons: "Nothing disposable about the airline but booling process gave me a headace"
Pros: "The lack of passengers on this flight gave me an amazing amount of room. Really makes the flights enjoyable when I can spread out."
Cons: "The food could use some work. The quantities are perfect. But the quality is definitely lacking"
Pros: "Flight attendant are very attending. Overall, excellent performance. love them and would fly again from Qatar Airways. Food was great and just the way we would like to eat."
Cons: "Some Cabin Crew are RUDE fromEven though Cabin Crew manage to gave us what we preferred to eat. They are the best. Doha -Kathmandu. They treated some senior citizens passengers who wouldn't understand english with some disrespect. In addition, we had some problem with meal that was pre-ordered. It was probably system glitch but our meal selection wasn't registered and Crew didn't have idea about our meal."
Pros: "Very comfortable flight and crew"
Cons: "The plain was very old."
Pros: "Qatar airways is the best in middle East"
Pros: "Late night flight and new cabin design was great. Crew was friendly and quick to respond to requests."
Cons: "Entertainment options need to be expanded. Mouthwash should be added in toilet."
Cons: "my flight from Boston to Doha was deleyed and Qatar Airways have no arrangements for the passengers at the airport, I spent more then 15 hours in the transit on those chairs, there was no help provided by the airline"
Pros: "The flight attendants was nicer on this flight then the US to Doha flight"
Cons: "Seats were not comfortable"
Cons: "Long flight on a 777-200. Crowded aircraft, crew not very attentive to call light, and food mediocre at best. Entertainment service was horrible, old movies and typical Qatar Airline selection of Bollywood films (Expected when flying from Doha, but not New Zealand!) Seat would not recline, but no option to move to another isle seat."
Cons: "They announced everything in English and Arabic and repeated the same announcement multiple times. The entertainment is good but frustrating that it is constantly interrupted with announcement about everything. I have never heard that many on any other plane. The announcement about customs paperwork was long and done 2 times in English and 2 times in Arabic. There safety video is soooo long and again is done in two languages. It was just all too much. Besides that everything was great."
Cons: "I will never fly this airline again! Terrible customer service. Would not offer us complimentary airport hotel stay for a 19 hour layover. Wanted us to switch and pay to an earlier flight. Never again."
Pros: "Comfort and Cleaniness."
Cons: "Food and ways to provide chairs - avoiding providing wheel chairs and food requirement."
Pros: "great service, food, friendliness of staff, clean plane"
Cons: "nothing"
Pros: "N/a"
Cons: "N/a"
Pros: "Nothing that i like"
Cons: "Delay, bad food, no strict rules about passenger moving seats"
Pros: "Could have done without the awful sexist ads they play on in flight entertainment."
Pros: "Very nice"
Cons: "Crews walking between the lines. They don't care pushing to others. They never said sorry for that."
Pros: "They make you feel welcome like you are a big deal unlike most US airlines. Ticamporn was a great hostess especially . Food was great as well."
Cons: "Narrow seats and little legroom."
Cons: "Check in crew in Lahore ganged up against me and wanted to extort £200 for taking me laptop on board along with my hand carry. No where in the world has an airline ever asked me for this, and I fly a fair bit. Since I didn't allow them to extort me, they forced me to throw away my brand new Delsey hand carry at the airport. I had no cover as they threatened to if load my luggage and not let me fly home. Not a 5 start airline from any angle. Will never use Qatar again!!! This was my first and last flight with them."
Pros: "My daughter gets airsick and one of the staff in particular was so helpful unlike some other airline"
Pros: "The crew was very nice and seemed very accommodating. The flight was on time to leave, or maybe even a few minutes early. The food was very good. Overall it was a very comfortable flight.Oh and the little toiletry bag was a very nice touch. I for sure used the socks in there and the toothbrush was bonus."
Cons: "I didn't have any issues on this flight. Everything was great for me."
Pros: "The entertainment choices were great."
Cons: "We sat in front of a row of children who kicked the back of my seat for 13 hrs straight. We spoke to a flight attendant about it early on in the flight, spoke to the kids and spoke to the parents. Then spoke to the kids and parents mid flight. And then spoke to them all, including a flight attendant towards the end of the flight. The issue was never resolved. We asked to change our seats but could not. We asked for the parents to trade seats with the kids and they would not. It was the worst, most uncomfortable flight I have ever taken. And I fly regularly for work and for pleasure. It was an absolutely horrible experience. I was actually in tears on the flight because I was so tired, uncomfortable and frustrated."
Cons: "The staff was very supportive"
Cons: "Being a replacement flight due to delays in original flight from London, the airways chosen our seats beside the emergency exit my son who is 15 and other customer asked to swap seats for safty reasons which I fully support. computer and staff should be smart enough to choose for my son a proper seat."
Pros: "Crew polite and efficient."
Cons: "Boarding process non-existent. Huge queue of 80+ people. Seats average comfort. Food bland. No entertainment other than on the overhead displays. Will avoid flying with this type of plane / flight."
Pros: "A380 FLIGHT! Woo Hoo!"
Pros: "on this trip, nothing."
Cons: "We had to walk from the one side of the airport to another, security check AGAIN (this was a transfer flight, why another check?), then we had to walk ALL the way back to where we just came from, as the boarding gate was close to where we got off. We wanted to go to the loo, but they said we are late. But we sat for another hour behind the gate and waited for the plane. At 01h00 in the morning after 12h of travel, not the best experience - and something that could be avoided."
Pros: "Good quantity and variety of shows on in-flight entertainment system which is important on 12+ hour flights."
Cons: "Food quality has gone down. Most flight attendants we encountered had poor attitudes - felt like they were doing us a favor when serving us."
Cons: "Better choice of movies and classical music"
Pros: "Great service in 1st class"
Cons: "All good"
Pros: "Crew was perfectly fine."
Cons: "Departure time was delayed due to over crowding in Zurich airport. Info on connecting flights and transfer requirements was insufficient, no offer to help those with tight connections, e.g., by trying to seat them at front of plane or help them get off faster. Missed connecting flight as a result!!"
Pros: "The crew was really great and helpful"
Cons: "Only thing that could have been better was ginger ale."
Pros: "Crew was great, seating comfortable."
Cons: "You could have had my luggage arrive. Now I don't know where it is"
Pros: "crew"
Cons: "children entertainment"
Pros: "Quick and easy."
Cons: "Attitude of the flight attendant."
Cons: "seat comfort"
Cons: "Guy behind me kept asking for a seat upgrade and when they didn't oblige spent the whole 11hours kicking the back of my chair in protest. I understand this isn't the crews' fault. But maybe the bid upgrade for seats isn't the best system?"
Pros: "Very short flight so pretty standard."
Cons: "The flight attendants and employees at the airport seemed completely miserable. I heard flight attendants telling passengers on multiple occasions that because the flight was short they couldn't help them."
Cons: "We were happy with everthing"
Pros: "Seats were very comfortable"
Cons: "The boarding was a bit unorganized"
Pros: "Crew was attentive and overall I enjoyed the flight"
Cons: "Food could have been better"
Cons: "Same reason as above."
Cons: "I asked the Chinese flight attendant in economy to please ask the man in front of me to put his seat up since the captain and purser had already asked us to do so in three languages The man in front of me refused to do so. She said she was going to start at the front of the plane and let him leave his seat back making it difficult to see my tv monitor. I thought that she should've said that it was time to put your seat up. It was frustrating that she didn't support me and the request of the captain. Your seats are very uncomfortable upright when the person in front of you has their seat back."
Cons: "Seats are too cramped for an international flight."
Pros: "Direct connection from San Diego to Zurich. Fresh, crispy and delicious bread on the flight!!"
Cons: "The food and service was better than that of American airlines, but no comparison to food and service of any Asian airlines (including Singapore Airlines, Thai Airways, Japan Airlines, ANA, Korean Airlines). The Edelweiss brand is too much based on outdated stereotypes and Heidiland. Nobody in Switzerland walks around dressed and make-uped like the stewardesses of Edelweiss air."
Pros: "The airplane was cool and the time for arriving was correct as well as easy to check in. The pilot was good and they told us who won on the World Cup tournament I liked that. There was a younger crew memeber she was reaaally nice."
Cons: "I asked when i got my ticket for a window seat and he said he gave me one but he did not in the two flights I got. I requested the crew for a window seat if possible since I had been feelin nauseated, it did not help that the guy sitting next to me had a really bad breat and smelled bad. They offered me a sit in the middle of the plane, that did not work well because I was feeling sick, being in between a big guy and a bigger lady was not going to help at all. There was an older crew member and she seemed to be kinda discussed with the trash even though she was using gloves. Food was ok but not the best. To top it off I told them that the headphones connection wasn't working and they only brought me a pair of new headphones. I tried mine and they didn't worked, so the whole 8 hrs of flight I was watching movies with sound only from on side. They didn't even bother, I guess cuz I am economy? Not sure I did see some free chairs in the lanes between economy and first class but they didn't even suggested that so I decided to suck it up and sit on my assigned chair. The bathrooms where dirty and smelled reaaally bad from the beginning that really was disgusting to be honest. I can let go many things but not that. I had to help the passenger sitting next to me cuz he didn't know how to do anything and didn't speak English, he was an older man, with signs I was able to show him how an airplane works. I never complain about flights but this one was tooo many little things. Oh and what about an international flight where I have to pay for a second bag! Really? I did it on my way to Europe and I thought I payed both and then I had to do it again. Whatever money I thought I could save was a lie because I ended up paying a lot more adding the bags and additional transportation for home based on the airports. I am not satisfied at all with the flight experience"
Pros: "The entertainment and food was very good. I also think having fresh fruit available in between meals is one of the most appealing things about SWISS."
Cons: "For some reason, one of the air hostesses refused to let me use the restroom. For over five hours I tried to use the restroom and she kept yelling at me to sit back in my seat, in spite the fact that several other people were using the restroom and several other people were up and moving about, she singled me out and wouldn't let me get up without harassing me. Eventually I appealed to another one of the flight crew who allowed me to urinate, but it was over five hours I had to pee and was inexplicably not allowed to."
Pros: "The food wasn't bad"
Cons: "Business seats suck"
Pros: "Staff and flight was really great. Everything went smoothly and on schedule. The plane was clean."
Cons: "The seating was almost unbearable. So small and cramped. Arm rest didn't go all the way up so very hard to cuddle with my seat mate (my daughter). I couldn't even put my arms by my side without pushing my seat neighbors off. Seat in front of me was in my lap. Hard to get out of seat to use restroom. Way to tight. Long flight from Boston to Zurich was so hard to bear. I understand making money...but this is ridiculous!!"
Pros: "The head fligh attendant was very nice and welcoming and informative she personally took care of our carry on to put in the check in..."
Cons: "I was not able to buy from the duty free discounted offers on the plane. The discounted shopping panflet was not on my LA/Zurich flight.... so I didn't see it and did not buy then.... And on my second part of the trip Zurich/Nice they refused to sell me to me from the Duty Free because they didn't have time..... :( The dark hair flight attendant in the back of that plane was not informative or nice....I had to talk to the head flight attendant in the front of the plane, she was more professional! Other than that everything was good!"
Pros: "Great seats,comfortable, food was delicious,good section movies. Friendly staff"
Cons: "Mackenzie Gray/ My flight was cancelled due to bad weather conditions unfortunately. I'm upset that I never received my initinerary for my substitute flight! I tried online and calling the # that was provided no results. I managed to get thru to someone and they told me they would send the info to my email but they never did."
Pros: "Air hostesses were very courteous, friendly and the cabin was clean and comfortable. My flight from jfk to Geneva (then Zurich) was cancelled due to weather in Geneva (Swiss 23) so I got upgraded to a delta flight to Brussels then to Zurich Comfort+ !!! Thank you!"
Cons: "Flight from Zurich to Johannesburg: Swiss 288 (airbus a340-300) Sat in the last row of the Swiss air flight, economy, which was okay but our whole row video enternatinment system didn't work. You'd pick a movie and it wouldn't play. The games, camera and flight status animation all worked but not the movies. Air hostess tried resetting , still nothing. But it was a great opportunity to have a lovely conversation with my new German Friend Barbara and read my book! More lactose intolerant alternatives for breakfast which had much (cheese, yogurt, croissant) Other than those two , excellent flight. Thank you Swiss!"
Pros: "I bought 2 tikets from Chicago to oscow and back for me and for my son. I live in USA, son lived in Russia but he received immigration visa and I had plan fly to USA with him. From Chicago I used my ticket and say SWISS staff what my son will have trip only from Moscow. I paid for 2 tickets around $1700. Today when we should have trip back to USA, SWISS company said what ticket for my son do not exsist. And I spent for new ticket 220000 rubles about $3600. Nobody in SWISS company do not said me what my tocket for son canceled. I am shoked !!!"
Pros: "I loved Swiss flights.. its staff and in flight expereince"
Pros: "I am a frequent flyer with swiss airline. Amazing crew, boarding, taking off and landing is on time if not a little earlier. However, I was quite disappointed with the enertainment package and food."
Cons: "I am a frequent flyer with swiss airline. Amazing crew, boarding, taking off and landing is on time if not a little earlier. However, I was quite disappointed with the enertainment package and food."
Pros: "It was a fast flight. Less people on the plain."
Cons: "I did not like that I was in a Swiss airport for more then 13 hrs and the company did not offer me a hotel for the night. Two I did not like that at the airport in zerik they don't take coins."
Cons: "Everything was great!"
Pros: "Service was great, friendly and courteous crew, smooth take off and touch down, meal was the best I've had traveling. Very long tiring flight, good hospitality is always appreciated."
Cons: "There was a short delay on take off but we arrived on time. The only problem that I encountered half way into a long tiring flight, I lost the volume on the entertainment system. The stewardess tried to reset it but it didn't work. I was asked to change seats but it was too much of a hassle. Was a bit disappointed. Not there fault."
Cons: "My seat did not recline and my tv did not work"
Pros: "Or print out a boarding pass. Much unlike our experience with Lufthansa flying from Boston through Frankfurt to Geneva."
Cons: "See sbove"
Cons: "The flight was cancelled in the middle of the night the night before, forced me to find another flight and re-book my morning 6:45am flight tickets at midnight for next morning. Not fun."
Pros: "Food great!"
Cons: "Limited space , very narrow and not very clean. I seated next to a dog, pet. The whole trip the dog was sitting on the floor next to me:(, although it was a very quiet and good dog. Crew not very friendly . They were tired I believe ."
Cons: "Very tight seating in economy for a transcontinental flight"
Pros: "I fly this line often, SWISS is immeasurably better than ElAl. The planes are modern and include an in-flight entertainment system, the food is light years better, the staff more considerate and attentive."
Pros: "It was nice to be given a 20 euro voucher for food and beverage, due to the 5 and a half hour flight delay."
Cons: "There was much confusion and no one seemed to know what was going on with this flight. By the time I reached Schipol all trains and trams had stopped. I had to pay an extra 40 euro for cab home that night."
Pros: "Great customer service."
Cons: "Breakfast was a strawberry yogurt, orange juice and a croissant. Sugar free options ie. Eggs, rye or whole grain bread are a few examples of sugar free breakfast items that could be provided."
Pros: "everything, the crew, the journey, the food and the entertainment as well"
Cons: "-"
Pros: "The plane is beautiful, comfortable and clean. The crew is happy and kind. The food is great! Overall my favorite Airlines as of my recent two flights."
Pros: "Very good service on board"
Cons: "Crammed into middle seats both way. Many/Long lines in ZRH/SFO"
Pros: "Ft"
Cons: "The lack of food choices. Even if you must buy them tgere should be choices"
Pros: "Food, service, beverages, film selection."
Cons: "N/a"
Cons: "NA"
Pros: "that the movie stayed on while people were filing out which made it less frantic and more chill. the lines at immigration were terrible"
Cons: "the calzone served just before landing was tricky because the inside was soupy and it was messy to eat"
Pros: "So far so good."
Pros: "Too short to rate but good overall"
Cons: "Nothing"
Pros: "Crew was very friendly and efiicient."
Cons: "Only negative was not related to the flight. I had a difficult time on the website getting checked in ahead of time."
"Flight was very good. Seats are comfortable and food and entertainment were very good. Crew is attentive and responsive."
Pros: "The planes took off and landed smoothly"
Cons: "Short connection time - way too short for this size airport. Never book a transfer in Istanbul with less than 2.5 hrs connection time. The airport adherence to covid social distancing rules was a joke. I think it was the worst experience and provoked a lot of stress. The boarding was also chaotic and business class did not board separately. The Meals on board were poor - fish or lamb (smelly) they quickly run out of pasta in business class. This whole experience was bad."
Pros: "Was perfect"
Pros: "Professional service. (Overall)"
Cons: "1.No punishment for smiling. 2.Giving the bread with clippers is great, But not enough: not if the passengers Didn't wash their hands. 3.Operating the seats (2 buttons)may Not be the easiest thing to do."
Pros: "Incredibly good flight with excellent crew and good food."
Cons: "If they use the new business class seat."
Pros: "Everything...the food was delicious, the staff was gracious and always went the extra mile."
Cons: "Turkish airlines broke my luggage. Made inquiry online, have not hurt from them."
Pros: "Food was tolerable. Good cabin temperature. Good lumbar support and pillow."
Cons: "Horrible leg space on the first leg of the journey. Air hostess we'e very inattentive. Asked for a blanket 3 times and still didn't get it. Also they had a poor attitude. Power outlets don't work on multiple seats. Oh and again no leg room. Zilch."
Pros: "Sleeping accommodations, storage, crew attentiveness in business class was outstanding. 5he business lounge in Istanbul was the best ever. Great airline."
Pros: "Attaturk airport, nothing about the flight itself"
Cons: "Rude staff & flight attendants."
Pros: "Comfortable seats, good service."
Cons: "To be expected, but no vegan options for food"
Pros: "Food"
Cons: "After bus arrived at steps kept on it 20 mins. 2 more buses arrived in this time. Still wait. Then let out all at once. Massive queues to board. Poeple not dressed for this. Poor babies crying Maybe 15 mins waiting in 2am cold on tarmac."
Cons: "I missed my flight from ABV to Istanbul. The customer representatives at the airport office couldn't help me find or place me on another flight. They wanted me to purchase a new ticket and pay full price instead of the difference. The flight ime on my itinerary was 12:15a on Sunday (instead of 00:15) which confused me. My flt coming to ABV, airline left my baggage in turkey too and had no representative at airport to inform us what happened. Seems airline treats flights to Nigeria this way"
Cons: "The flight was cancelled and I still didnt receice my refund."
Pros: "Comfortable and uneventful flight - just the way it should be!"
Pros: "Entertainment was good"
Cons: "Economy was tight."
Pros: "Food was cold"
Cons: "When i ask for help no one came"
Cons: "The flight was delayed leaving NY"
Pros: "they do really their best- they have a good standard."
Cons: "english is hard to understand"
Cons: "They refused to print my boarding pass when I made to the counter on time. Because I didn't have a boarding pass I could not make the flight and had to rebook for 3 days later"
Pros: "Good service, nice plane, comfortable"
Cons: "Took forever to clear out trays after meal. Istanbul airport was not nice, bathrooms wee disgusting and little to no air conditioning in airport"
Cons: "I had an isle seat and the isles were so tiny that everytime someone walked by to use the restroom, they would wind up bumping or brushing against me..... So that woke me up about 20 times as well as the crew hitting me with the drink cart."
Pros: "Food good movie selections and Nice staff"
Cons: "Nothing"
Pros: "Entertainment selection was ok."
Cons: "Seats some of the smallest. Staff inattentive. Pressed the attendant button 4 times. Every time ignored. Food provided was not what was on the menu provided. Boarding was a disaster. Over an hour in a terminal with lacking a/c. I want to say it was worth the price, but no. Was the worse flight I have ever been on."
Pros: "Nothing, sorry!"
Cons: "The middle seat that I got. The first 30min the plane was super hot plus it was very hot outside. When I boarded the plane, I asked if there were any exit row seats open. I was told no. I sat down 5 rows or so behind the exit. 15 min later the attendant started moving children from the exit rows to different seats. I raised my hand to be placed in the exit row but was ignored. The flight attendants were slow and rude. I asked for two white wines with my food, and was looked at with disgust. I was told that I can have one, and when I finished it, I could have the second one. I said ok. Well 30 MINUTES later I touch the attendant button and no one came. Finally after 5 min someone came to take my order. She quickly came back and said they were out of wine. This was a very disappointing flight."
Pros: "Unfortunately they do not use their best aircraft on this route, still good experience and surprisingly good food. On time and perfect service."
Cons: "Seats only average as far as comfort and room, and no personal screens for entertainment (unlike the route Athens-Istanbul, which is the same length as this one, Istanbul-Bari)."
Cons: "Food was dried out and tasteless"
Pros: "As above"
Cons: "As above"
Pros: "Crew was very nice. I got my special meal. I am very thankful for it."
Cons: "Kosher food was ok"
Pros: "I used the prime lounge in Istanbul and when it was time to go, I was able to practically walk on the plane without any wait. The seats were comfy and didn't have a ton of legroom but it wasn't bad. The staff we're friendly and helpful. The in-flight entertainment had a pretty impressive selection and had one of the best-designed interfaces I've seen so far (and I've ridden a variety of airlines). Last and most important, the food was hands down the BEST I've had on a plane. Turkish is killing it, they're my new go-to airline!"
Cons: "I really can't complain about anything, even if I try! Maybe the touch screen sensitivity on the entertainment console seemed a little off, but that's just nitpicking"
Pros: "Loved the service, comfort, entertainment, etc. All of this was very nice but it was also a short flight."
Cons: "The plane was late, we missed our connection. Turkish Airlines also lost our baggage."
Cons: "The food wasnt good .."
Cons: "Their audio system is very bad."
Pros: "Entertainment"
Cons: "Food"
Pros: "- No security lines when transiting at Istanbul. - Generally well organized. - Decent food and drinks selection on board. - Choice of Turkish and French wine in Economy. - About the same on other points as other leading airlines."
Cons: "- At Istanbul no long chairs for taking a nap during long connections when arriving on a red-eye flight (like they have at CDG or Dubai or many other airports). Overall, very crowded airport. - The plane had older entertainment system with no USB port to charge-up the cell phone nor a power outlet."
Pros: "Everything"
Cons: "Leg space a nighrmare!! Was uncomfortable for all the 13 hrs of the flight. Terrible experience"
Pros: "It was a 12 or 13 hour flight and except for sitting too much we were never uncomfortable. The service level made me think we were back in the 80's. Hot towels, attentive service, tons of food and free drinks. There was actually one meal that we would have eaten even if it wasn't on a plane. They gave out full size blankets and pretty fluffy pillows. (I bring our own anymore, because you never know if you will get one on most airlines, and if you do they're usually useless). Their entertainment system was amazing. We caught up on all the recently released movies that we've wanted to see for FREE! If only Netflix had this quality of movie offerings. They had fresh flowers in the huge bathrooms. It's that type of attention to detail you just really don't see anymore."
Cons: "Can't think of a thing that could actually be changed."
Pros: "None"
Cons: "Flight was delayed by one hour"
Pros: "Service when it was done"
Cons: "Infrequent service Crowded Entertainment system bad"
Pros: "Love everything... i was actually surprised... The crew was the bes"
Pros: "Organized boarding relatively on time take-off. Clean lavatories."
Cons: "The seating arrangements were awrful. The flight was not full passengers flying solo, like myself, could have benefitted from better seating arrangements. for example some passengers had an entire row of seats to themselves while people like me were stuck next to a window seat with a talkative passenger for 11 hours"
Pros: "Up to date movies!"
Cons: "Crew need to smile a bit."
Pros: "great food, good selection of movies, comfortable seats, quick and efficient boarding, clean, nice staff."
Cons: "it was a bit older than other planes I have had with turkish air."
Cons: "Terible transit info. No information / custmoer service help at all in Istambul. Rude and unwilling to help airport employees! Gate changet without notice/ almost lost transit flight.. Turkis airline crew did not come by during flight until breakfast. Sooo thirsty...."
Pros: "flights on time.."
Cons: "Our pre-ordered meals were not served"
Pros: "The entertainment selection"
Cons: "Boarding"
Pros: "Flowers in the bathroom! WOW! Hot rolls with meals! Wide variety of choices in online movies. Somehow my name was dropped from the Vegetarian Meal list. (It was there DEL to Istanbul, but not Istanbul to MIA). So, the chief made a grilled veggie plate for me that was excellent. Crew was very polite and handled the situation in a friendly & professional manner."
Cons: "I reserved an aisle seat. Due to lower back & hip problems I need to get up and stretch. Turkish Airlines changed my seat reservation to a middle seat. The woman next to me was rather large, took up a lot of real estate (took up her seat and overflowed onto mine) and was unfriendly. It was impossible for me to get up, or to stretch. I was unable to return to work today due to sciatica problems related to flight seating. (I checked with the flight drew. The plane was full. There were no aisle seats available even if I could afford to upgrade to another class.)"
"Me and my son are first time travelers! And we had a AWESOME flight!"
Cons: "So professional during this pandemic. I felt safe the whole time. Slept like a baby, the flight was so smooth."
Cons: "Mechanical issue put us out late, then weather kept us circleing for another 45 minutes. Spent the night at msp had to fly out the next day to final destination."
Pros: "Slept the whole way. Served wine."
Pros: "The crew's positive energy and great service were truly amazing. Kudos Delta!"
Cons: "Not enough leg room. Flights are costly enough and it just seems wrong to upcharge passengers for more legroom. Legroom should be standard outside of first /business class."
Cons: "Seat wasn't comfortable"
Pros: "Good in flight entertainment."
Cons: "More refreshments for longer flights."
Pros: "Not a lot"
Cons: "Customer service"
Pros: "Easy, fast, simple. Not crowded."
Cons: "Nothing!"
Cons: "Flight was cancelled and rebooking was poorly handled. Might get bumped from rebooked flight as well."
Pros: "Crew was very good."
Cons: "Seat assignment at gate was inconvenient b/c jt dissuades you from taking a bathroom break before the flight. They can't prefer that you go on the plane."
Pros: "No delays. Easy boarding."
Pros: "Clean Washroom"
Cons: "N A"
Pros: "Customer service on the phone."
Cons: "Delays all day on delta. On my way out and on the return flight."
Cons: "Our itinerary was canceled"
Pros: "Everything was on time & organized"
Cons: "I had to download that Gogo app to watch a move. That sucked"
Cons: "The flight was 2.5 hours late. Then it was freezing in the flight. I let the crew know and it warmed up at the front and back of the plane but it was unbearable in the middle. It took me two hours to warm back up!"
Cons: "Too much delay - departure was planned on March 15 @ 7 pm and take off happened on March 16 @ 12pm - a complete failure!!!!"
Pros: "The seats were awful .how many can squeeze in. .horrible"
Cons: "Room to breathe, move a little"
Pros: "Nothing"
Cons: "I missed my flight due to Tsa"
Pros: "The flight crew was so nice! Roomy seats and plenty of snacks!"
Pros: "No air conditioning. Sat at the terminal in 95+weather, many elderly on the plane in hot weather. Attendants said oh well well at least your not in the back of the plane. Also intercom was set to blaring with a high pitched squealing sound."
Pros: "Everyone is working the gate and on the plane were amazing!"
Pros: "Nothing"
Cons: "The fact that I couldn't change flights on the day of travel"
Pros: "Great service, on time."
Cons: "Could not print subsequent AeroMexico flight segment boarding pass."
Cons: "No Gluten free option"
Pros: "In flight Wi-Fi and entertainment is nice and helps pass the time."
Cons: "Boarding was slow, and contributed to a delayed take off to ATL. Flight arrived late and caused a missed connecting flight."
Pros: "Nothing... no movie, no food, just awful."
Cons: "I decided to cash in some miles for first class, what a waste. Never book first class on delta flying a short route, it's just not worth the money. The flight attendant had the ATL attitude, if you know what I mean."
Pros: "Delta is not a good place to be"
Cons: "Delta is not good on customer service"
Pros: "Smooth quick flight."
Cons: "I had to rebook as opposed to it being done by Delta. Cancelation was due to equipment."
Pros: "Flew in First Class. Felt very pampered"
Pros: "The boarding was easy, crew was super and the travel was awesome."
Pros: "The Delta check-in at RDU was terribly understaffed with only 2 agents handling baggage drop-off for a fully booked Boeing 757. I waited over 1 hour and got to the gate at the last minute. Poorly managed! The flight crew was great though! Very attentive service even in the economy class!"
Cons: "The food could be better."
Pros: "Service was fast and the inflight entertainment is free. Lots of movies to chose from, which is nice for the long flight."
Cons: "It was the most cramped I have ever felt in a plane and also the longest flight. Horrible combination. Some of the crew were snippy."
Pros: "The flight attendants were incredible the flight was great the movies for good great for our flight"
Pros: "Good flight crew"
Cons: "Flight was delayed with no explanation."
Cons: "After fully boarding the plane, we all had to leave because the air conditioning failed. We've traveled five times on Delta this year and every trip has had a significant delay."
Cons: "Flight overbooked and the gate paid no attention to how many bags were being brought onboard. Was forced to check my carry on. I hope it arrived."
Pros: "Flight attendants were extremely nice to my baby and me. Didn't feel rushed. Nice variety of snacks."
Pros: "there was NOTHING good about the trip from nc to atl to fl!"
Cons: "where should i start? my flight was delayed leaving NC to ATL. after standing in line for over an hr trying to speak to someone about the issue. i was notified on my phone i could keep my current flight or rebook of course i wanted to keep my current flight since it was my birthday weekend. i then called delta (in nc) for help since they told us we wouldnt make our 1030 flight and we might have to stay in a hotel that night until we could rebook the flight. not cool! i was told by a person (in nc)about what i should do once landed in ATL. they were beyond rude. they turned their backs or gave half answers. when asked about the hotel for the night they told me they werent going to handle that and i had to pay for a hotel AFTER i was just told by a delta agent that if i had to stay overnight my hotel was going to be covered. i then again called a delta agent in ATL after being informed that my status on the stand by list wasnt activated and i had less than 10 mins to make it to the next terminal and try to get activated and i would probably not get onto that flight to leave ATL. we were told that we had to stay in the terminal that night. my whole trip could have been ruined from the start from the flight being delayed in NC to talking to rude delta agents in NC and ATL. my flight status being one thing and then finding out it was something else. i never had to deal with something like this."
Cons: "All "carry-ons" were taken at the jetway, which was fine. But, when we landed, as passengers were trying to get off of the plane, the attendants were putting all of the collected luggage at the entry to the jetway. It created congestion. Then, anyone who had luggage, had to lineup against the side of the jetway, awaiting their luggage, and increasing the congestion. First, it was inconvenient. Worse, if there was any kind of emergency, I believe it would have created a unsafe environment. Very Poor Design & Process ! ! !"
Pros: "Everything was great. Staff were friendly and courteous, I only had one problem but even that was solved and I was taken care of."
Cons: "The only thing I didn't like was that wires got crossed and now I don't have my luggage because my check in agent from the start of my journey didn't send it to the right place."
Cons: "Delayed 2.5 hours"
Pros: "The flight was delayed, and delayed again, and finally delayed to 18 hours after original takeoff time. I was rebooked on a flight for the following after, and that flight has been delayed twice so far. Never again will I fly Delta."
Cons: "That I never made it to my destination"
Pros: "Very friendly and accommodating crew"
Cons: "Uncertainty re connections at JFK provoked some anxiety but the pilot and crew were helpful in allaying that."
Cons: "After checking in at a kisok I had to wait in a huge line for over 20 minutes just to drop the bag. This the second time I have had this experience with them."
Cons: "Everything that could have gone wrong with my flights, went wrong. On my way from LA to Raleigh (through Atlanta), I was affected by the weather conditions at Atlanta. I understand that the weather is beyond Delta's scope of control, but customer service is not. I had to wait in line at LAX for 8 hours to even get information on what had happened, and what solutions were available. The customer service call center was collapsed, and at the airport counters at one point there was ONLY ONE DELTA REPRESENTATIVE serving a line of more than 100 upset customers. This IS Delta's fault, and it is unacceptable. This definitely was under Delta's control, but in order to save a few dollars in overtime for emergency staff Delta was willing to let its customers make terribly long lines, miss their flights, their connections and consequently their commitments. It is disappointing to observe how Delta believes that a few dollars saved on extra staff and emergency measures can offset the irreparable long term damage to its business due to upset customers. My way back from Raleigh to Los Angeles was also a disaster. Without any type of explanation and nothing more than an email announcing the change, the nonstop flight I bought was replaced by a 1-stop flight with connection in Atlanta. This was NOT THE PRODUCT I PURCHASED. There is a reason I paid a premium for a nonstop flight, and Delta did not hesitate in providing me with a less valuable product without any explanation or refund. Delta prioritizes its operational metrics - an obsession to fill and overbook its capacity - over its customers' experience, one again under the foolish belief that short term savings in any way offset the long term damage of disappointed and alienated customers. I will NEVER FLY DELTA AGAIN. I will do whatever I can to transmit my experience to everyone I know. At a time where major airline carriers are in the spotlight due to abusive practices (i.e. the United passenger case), I still find hope in knowing that alternatives such as Southwest still put their customers first, over the ethereal benefits that a few-dollar savings in operational expenses can provide."
Pros: "Everything else good."
Cons: "N/A"
Pros: "Crew was friendly and apologetic"
Cons: "The AC did not work and we had to get off and hang out in the jetway for probably 45 minutes. Nightmare."
"No free food and free drink only one small bottle of water."
Pros: "Nothing"
Cons: "Never returned my money when the flight was canceled"
Pros: "Nothing!"
Cons: "Racists bastards!"
Pros: "Space, seats, movies."
Cons: "I was on a seat at the end, after my seat, the stewardess had their closet and they kept hitting (very strongly) the back of my seat with the door, all the time. They woke me up several times. So not good."
Pros: "Smooth and easy flight"
Cons: "Food and drinks served late"
Pros: "Clean and comfortable airplane"
Cons: "Entertainment wasn't working the entire flight"
Cons: "Lufthansa's needs to get their staffing act together. It took 1 1/4 hrs to check in due to insufficient staff & then once on board the flight it was announced there was no food available due to staffing shortages"
Pros: "Crew was kind but really bad quality price, bad food, no entertainment, lot of delays..."
Cons: "All"
Pros: "no drama ....just good, timely service."
Cons: "The seats are tight and sitting on the aisle is a bit uncomfortable for me but I didn't pay extra for a better location."
Cons: "No complaints. Good vegan food."
Pros: "Smooth flight"
Cons: "Stop overcharge people for 1 luggage :( very disappointed"
Cons: "Delay of more than two hours caused my booking at the hotel to be cancelled. Not only i lost all my money but have no hotel to stay What is your responsibility on that???"
Cons: "They made me weigh my carry on, but virtually no one else, despite the fact that my bag was the same size as most and smaller that others! I honestly felt like one of the gate agents were picking on me."
Pros: "The ground staff in Heathrow was helpful. They happily swapped me onto an earlier flight to Munich after I spotted delays out of Munich, allowing me ample time to connect in Munich airport"
Cons: "Lufthansa's narrowbodies have one of the most uncomfortable seats in the sky. These slimline seats are built with a central beam running vertically along the midline of the seat, making it very uncomfortable with your spine."
Pros: "The Lufthansa service in rebooking."
Cons: "Lost bag- this was after my luggage tag was scanned and I was assured the bag was on the plane. Getting information from Lufthansa about bag status was impossible. Help phones were either busy or never answered. A black hole of no information until the bag arrived 30 hours later. Then a 45 min. At airport to get it back."
Pros: "Responsive and kind crew"
Cons: "Always need more room without extra cost. Why have classes of passengers? Why not spread the space equally and allow all to be comfortable on international flights? All tickets one price?"
Pros: "The service was outstanding!"
Cons: "Someone stole my phone charger :("
Cons: "Departure was delayed causing me to miss my connection from Frankfurt to San Francisco."
Cons: "Crew at Newark airport unpleasant and dismissive."
Pros: "On time, no complaints"
Cons: "Crew was nice, but big push to check-in carry-on. There was in fact plenty of room in overhead bin"
Cons: "Where is my bag"
Pros: "Nothing"
Cons: "Water was spilled on me by flight attendant. Luggage was left in Frankfort. Did not have clothes or medications, or daily necessities. Must wait 1 1/2 days to get luggage"
Cons: "The flight was over 4 hours delayed and we only received a 10 euro voucher. The boarding process was chaotic and stressful."
Pros: "Very nice personals, I'm so happy."
Cons: "Nothing"
Cons: "Gate change made with no PA announcement; we'll, if you must, ok. But beginning boarding without telling anyone at all, making no announcements, not even in Hungarian, seems weird."
Pros: "It was a good flight with Lufthanza - nice and friendly crew, comfortable plane, good food."
Pros: "Customer service was excellent. Food was great. Even though the flight big planes they seem to handle the boarding process very well."
Cons: "Selecting the seats 23 hrs before departure."
Pros: "See above"
Pros: "everything was good."
Cons: "It was no choices with meal because everybody took the chicken. Food can be better. Stuff can be more cheerful..."
Pros: "The crew was very friendly"
Cons: "I had ordered a child meal but it was not available. Also they did not have a child pack for my son."
Cons: "The on board entertainment sucks you need to upgrade"
Cons: "The cabin got a little hot during the night and made it hard to be comfortable. Also, the seats lean pretty far back so I had little room in front of me when the person sitting in front of me leaned their seat all the way back."
Pros: "I paid an additional fee for a seat with more legroom....a great investment! Also, crew members were very attentive and courteous."
Cons: "All good"
Pros: "Everything"
Cons: "Not a thing"
Pros: "Air dolomiti - great service, prosecco in a real glass and with small sandwich provided."
Pros: "The crew was nice and professional."
Cons: "We waited over an hour for two people to board the plane. After we waited, the couple didn't make it past security; so, we had to wait another 20 minutes for the company to take their luggage off of the plane. I was late checking into my hotel, which was in the process of being canceled."
Cons: "Boarding"
Pros: "Friendliness of crew, punctuality of flight; complimentary plum cake; good selection of drinks. We were able to check in and choose seats online."
Pros: "Excellent service with pleasant, efficient staff. Special vegetarian diet needs met."
Cons: "They change the gate for transfer last minute"
Cons: "i could bring checked baggage from Bos-fra, fra-cdg, cdg-fra but it was taken from me on fra-bos flight as being too big! bag came out very late on baggage claim food was poor, they ran out of food, it was served late in my section and there was no choice left. one option only which i could not eat."
Cons: "It was delayed by 9.5 hours!!!!!"
Cons: "the seat. not suitable for a business category"
Pros: "The crew was awesome. Friendly, efficient and professional. I upgraded my seat for more legroom and it was simply amazing."
Cons: "Nothing to report :)"
Pros: "Munich airport is convenient and boarding went smoothly"
Cons: "This was an SAA plane, not Lufthansa. I have only had excellent service on Lufthansa. This flight again did not have a functioning entertainment system. I asked for this to be addressed and the SAA crew ignored the request and in the morning looked surprised to find out that several of the TV monitors had not worked at anytime on the flight. Not impressed."
Cons: "wheel chair crew ignored us during boarding. my mother had to walk to the gate which was very difficult"
Pros: "The amenities were a nice touch (headphones, blanket, pillow) and nice selection of current movies. The captain made timely announcements to update us where we were flying over and what our expected arrival time was in German and English."
Cons: "I was surprised that there were at least four dogs on the flight, some without a carrier. I didn't care for one of the meals which was mixed peppers with onions, cheese and potatoes. I thought the meals were overly salted but what airline's meal isn't."
Cons: "Nobody was cooperative to reschedule the fly for normal price we have to bay one way tickets"
Cons: "I actually lost money because of the misinformation -- was told there was a modification on my flight details and that I had to call the Lufthansa office. I called in and was never told that anything was wrong. I kept trying to check in online and got blocked at every trial... Cut a long story short, I showed up for my Lufthansa flight to only be told I didn't have the required visa for one of my layovers... I missed my flight, got no refund for it and got zero help in finding a solution to my problem. You could do better than that, Lufthansa."
Read more about Qatar Airways
Safety measures for airlines flying from North Carolina to South Africa
Airlines flying from North Carolina have enacted additional safety measures and adjusted policies to better accommodate travellers. Policies vary by airline.
Heightened sanitation
Daily cleaning, installation of cabin HEPA filters on flights from North Carolina
Mandatory masks
Masks required on board, masks provided on flights from North Carolina
Social distancing seating
Middle seats unavailable to book on flights from North Carolina
Pre-flight testing
Testing for antibodies, testing for symptoms for flights from North Carolina
Book cheap flights from North Carolina to South Africa
Recent return flight deals
Search by stops
Search by airline
Search by price
Recent one-way flight deals
Search by stops
Search by airline
Search by price
Flights to South Africa
Browse origins:
R14 788
R12 640
R39 299
R18 286
R11 944
Browse destinations:
R12 481
R16 036
R11 944
R15 267
R26 964