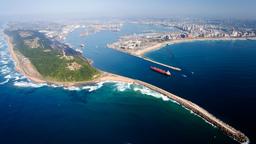 BKK - DUR
Find cheap flights from Bangkok to Durban
Search hundreds of travel sites at once for deals on flights to Durban
When to book flights from Bangkok to Durban
Top tips for finding a cheap flight
Looking for a cheap flight? 25% of our users found flights on this route for R7 339 or less one-way and R15 387 or less round-trip.
High season is considered to be November, December and January. The cheapest month to fly is June.
FAQs for booking Bangkok to Durban flights
How long does a flight from Bangkok to Durban take?
Which airlines provide the cheapest flights from Bangkok to Durban?
What's the cheapest day of the week to fly from Bangkok to Durban?
How does KAYAK find such low prices on flights from Bangkok to Durban?
How does KAYAK's flight Price Forecast tool help me choose the right time to buy my flight ticket from Bangkok to Durban?
What is the Hacker Fare option on flights from Bangkok to Durban?
What is KAYAK's "flexible dates" feature and why should I care when looking for a flight from Bangkok to Durban?
Top airlines flying Bangkok Suvarnabhumi to Durban King Shaka Intl
Scores according to KAYAK customer reviews
8,3
Qatar Airways
Overall score based on 10 996 reviews
Pros: "The seat that I picked."
Cons: "Running water in the bathroom"
Pros: "Good service from the crew and food was good"
Cons: "Flight was delayed and there are redundant checks before entering to the gate. No internet service in the flight and was a very long flight (14 hrs)"
Pros: "The service is really good. The only downside is that you have to be in Doha. But it's always nice to leave Doha."
Cons: "The push button entertainment system doesn't work well. You have to keep pressing buttons to make a movie play. And by pressing buttons, I mean, you have to hit the screen and wake up the person whose head is on the other side of the headrest."
Cons: "I truly enjoy this airline! No complaints"
Pros: "Staff was nice and polite and helpful to me. The plane is pretty much on time or little delay. The boarding is early but I guess it helps with getting everyone on board and be on time."
Cons: "There are 2-3 choices per meal for us to choose on the menu but some of the choice already gone by the time they serve us. I feel like menu is useless if we were forced to eat what have left."
Cons: "Qatar airline is one of the best ways to fly!"
Pros: "It was an ok experience, improved by the head of attendants at the end"
Cons: "Service was poor at the beginning, but improved to Qatar service as I complained to the supervisor of the attendants Julia"
Pros: "professional and courteous staff. Food is even better than a Lufthasa flights"
Cons: "DOHA to NY. I board the plane to find out that Qatar SWITCHED SEATS ON ME that I selected months ago without any notice at all! Got stuck in middle seat on the wing! I emailed Qatar you know what they said? "Seat assignments can never guarantee." No voucher or anything offered! Fly something else!!"
Cons: "Great selection of movies and the food was really good as well."
Cons: "Delay at landing"
Cons: "Really we enjoyed this fly"
Cons: "As above"
Cons: "Boarding"
Pros: "The planes were nice and the crew was nice."
Cons: "Every single flight we were on was delayed, with no explanation. The food was good on the plane, but almost every meal option I wanted was out by the time the crew got to my seat."
Pros: "Qatar airlines had the nicest planes I have ever been on, not to mention the most beautiful and clean airport."
Cons: "Screaming children; not the airliners fault"
Pros: "the attendants were always on top of things. One of best overall flights ever."
Pros: "I havn't flown a lot of international flights, but Qatar Airways is now my favorite"
Pros: "The Qatar Airways price."
Pros: "I would definitely travel again with quatar. Amazing trip long hours but they sure take care of the passenger. Love how they took care of my child"
Cons: "The entertainment did not include any music (classical or otherwise)."
Pros: "I like the extra space between the seats that most of their airplanes had; the exception was, I think, the 767. The crew went above and beyond to take care of your needs and always had a smile on their faces."
Cons: "The check-in process, leaving Bangkok and leaving Doha, was horrible. Why do I have to wait until 3 hours before my flight departs to check-in and get my boarding pass? This made for long lines and took about 2.5 hours to get a boarding pass in Bangkok"
Pros: "on my flight from bkk to Doha all the flight attendants were very helpful. One in particular with the name Mary Jane, was very helpful and she stood out among the rest. Thank you for your kindness and help when I couldn't eat some of the foods on board. Whom can I write an email to so that I can be sure that she gets noticed for her work? Thank you"
Pros: "Our meals were luke warm at best while the bread was still semi frozen. Food quality has always been low on Qatar flights but this time was the absolute worst. I fly with Qatar for work everything 4 months and that's solely due to convenience."
Pros: "I liked the crew"
Cons: "My first flight to DOHA was cancelled"
Pros: "view above"
Cons: "A gent was VERY tall. I couldn't put my seat back at all. The kicking was so bad I changed my seat."
Pros: "Everything was good."
Cons: "More movies, no wifi, better food"
Pros: "Economy treated like first class!"
Pros: "Nice people"
Cons: "6-hour delays coming and going. Sounds like a an issue."
Pros: "The price for the flight was very excellent. The entertainment was very good with the movie selections."
Cons: "In Bangkok, I've already checked in on line and all I have to do was drop off my bag and get a boarding pass. There was one to two person doing the checked in and it took about 40 minutes to get done, unacceptable. The lines for non on line check in went faster then the on-line and they have four times more people that was in the on-line checked in. In flight, the seat felt liked you're sitting on a rock after a couple of hours. I'm an aircraft mechanic who used to be a flyer with 7,000 flying hours."
Cons: "I was hoping to replace worldmate with you application. you got it wrong. I travelled from Doha to Guanzhou, Bangkok and back to Doha. I don't even know where Sohag is!!!!! Qatar airways did a perfect job as usual."
Pros: "Great personnels!!"
Cons: "Overall nothing but great Service!!"
Pros: "Good, newer wide body aircraft. Good service. No hassles, really. Would fly again. Overall good experience."
Cons: "Newest seating arrangement in 777 300 ER just too crammed. Used to be better. Nothing special about this flight, was expecting a little more space, a little less crowded, a bit better service. But my flight was short hop from BKK to HAN, last leg of flight originating in Doha."
Pros: "Everything"
Pros: "Respect the scheduel and well organize."
Pros: "The crew was great, trully world class service"
Pros: "Service"
Cons: "I've never had this huge an issue on check in. Set us back over 45 minutes, and we could not get the VAT refund. I will not be paying more to fly on Qatar again based on our incoming and outgoing issues. I wouldn't rate it any higher than other cheaper options."
Pros: "Always heard middle eastern airlines where greats and Qatar didn't disappoint. The staff was amazing and the seats were comfortable and spacey considering it was economy. If I could do it again I would definitely fly with them again."
Cons: "Nothing really. Only thing would be you had to be pretty specific with the staff not be woken up because they ensured you were fed and hidrates (not necessarily a bad thing)"
Pros: "The flight attendants were very nice and friendly. Qatar airlines also provided tons of food. Lastly the tv/games was a good source of entertainment."
Cons: "This flight was an older carrier and although it had a USB outlet to charge your devices it didn't work."
Cons: "Not allowing water on the flight made it extremely long and unbearable."
Pros: "Crew was great"
Pros: "Great flights. lots of room in economy."
Pros: "I don't like at all"
Cons: "Costumer service in Thailand was very bad and pool. Staff is so rude and looks down people."
Cons: "Seat is not comfortable at all."
Pros: "I like the space, equipment that work Space in comparison with other airlines but could be even better once human rights become more important than cashing in ( that is a comment meant for all airlines"
Cons: "The wifi was useless"
Pros: "I just flew from Bangkok to Miami, with a connection in Doha. The roundtrip ticket was about the weirdest one listed (less than $1000USD). For the price, it was a really good flight. The flight attendants were really nice. The seats were comfortable, food was more than decent, and there was a good entertainment system."
Cons: "Earlier in the year I flew a similar flight for a similar price on Emirates. Emirates I liked more for one reason in particular. Emirates had one attendant whose job was solely to clean the bathroom. I don't know about you, but I love the idea of a constantly cleaned bathroom on such a long flight. Qatar didn't have this."
Pros: "Great service, smooth flight...on time departures and arrivals."
Cons: "Some of the touch screens weren't working"
Cons: "I wish the 777 had slightly wider seats like the A380"
Pros: "Lay flat beds and vegetarian food"
Pros: "Entertainment is epic. Speed to get luggage and depart airport was excellent."
Cons: "Boarding crew had difficulty pronouncing "B" and "D", this caused some confusion. If they had said "B for Bravo", and "D for David", it would have helped them a lot."
Cons: "Stuff not helpful, rude and not helping at all despite us being with a baby"
Cons: "2 hour delay sitting in Bangkok airport due to sick passengers and their luggage getting off"
Pros: "Emirates has been my favorite! Best flight ever!"
Cons: "Everything was awesome."
Pros: "Emirates Airlines are the best Airlines in the world and I always travel with them all over the world"
Pros: "On thiime.Good Meal. Professional flight crew."
Pros: "Early landing great service loads of legroom as am 6ft 5"
Cons: "N\a"
Cons: "45 minute wait for luggage on conveyor belt"
Pros: "everything"
Cons: "The flight was delayed for an already tight connection in Dubai. We paid for extra leg room only to be seated by the toilets to watch people throwing up most of the flight. Those same people did not get on the connecting flight and so Emirates managed to take our bags off as well, so we end up in London for a months stay with no luggage. Promises that it will arrive before midnight not kept and currently still waiting for bags to arrive."
Pros: "Comfortable seat, good service and food, and a very comprehensive on board entertainment selection."
Cons: "A lot of background noise when using the supplied headphones"
Pros: "The service"
Cons: "Nothing wrong"
Pros: "Space"
Cons: "Breakfast could have been a bit better"
Pros: "The flight was quiet."
Cons: "Service is extremely slow."
Pros: "Attention to detail Great Entertainment Excellent food Pilot updates on timing"
Cons: "Movie channels and music could be easier to use"
Pros: "It was comfy, the crew seemed genuinely happy, and the food was good. Never going to complain about smoked salmon."
Cons: "I didn't like that my connecting flight was with another airline"
Cons: "Very good"
Pros: "The relaxed environment and the crew are amazing"
Cons: "There is always some passengers that drink a bit more than they should but.... there is nothing we can do with it"
Pros: "Excellent new plane good food friendly staff excellent entertainment"
Cons: "Staff not bring drinks regularly enough"
Pros: "Verry efficient and helpful even with oversize canvas painting,, didn't expect luggage to be transferred so quickly but the made it!"
Cons: "Delay and worry I would miss connection"
Pros: "Arguably the best service I've ever had on a flight"
Cons: "Had to stop movie 20min prior to landing as I was in emergency exit row"
Pros: "Everything from food to seating was quite comfortable."
Cons: "Boarding was a bit more difficult since they did not call boarding zones"
Pros: "The seats are relatively good on the newer A380s. The film selection was good."
Cons: "The meal was poor."
Pros: "Best airline so far for economy long haul flight, was emerites flight"
Cons: "No Arabs on board but everything in Arabic, no real issues. Would have been hard for my Thai girl to navigate on her own"
Pros: "Crew were friendly"
Cons: "Why are Emirates business Class seats on 777 so weirdly configured - you have to be a stick insect to squeeze out of bulkhead row 8 window seats because of hideous mock walnut trunk slung between the seats to house aisle TV screen."
Pros: "The in flight entertainment is as good as ever."
Cons: "The food was wore, the staff seemed less happy and the flight was overcrowded. Not a bad experience, really, but slightly worse than the same flight the previous year. Getting to be the world's best airline may be less challenging than remaining such."
Pros: "Great selection of entertainment"
Cons: "Some of the flight attendants skipped over my row while offering beverages. One person was asleep but i was awake and thirsty. I had to wait until an attendant was unoccupied to get some water"
Pros: "Service is phenomenal, comfort of the seats and in flight entertainment was fab."
Cons: "Food was mediocre, but then again haven't ever had a wonderful meal on an aeroplane before!"
Pros: "Flew Emirates coach Washington to Dubai to Johannesburg and Bangkok to Dubai to Washington in July 2017. New A380-800 planes were superb. Entertainment system is second to none. Staff is efficient and polite. Except for the "required crying babies" on each leg the plane is very quiet and peaceful. The check-in, however is a zoo. But better to put your best employees on the flights rather than on the ground."
Pros: "Seating and hospitality"
Pros: "crew food"
Cons: "i asked for a plus blanket, they did not provide me since the plane was full, though so many people were not using it and i felt cold; none help was provided"
Pros: "I like the meals"
Cons: "It is hard to request a window seat"
Pros: "Everything..."
Cons: "Do not like Dubai airport security setup and the distance one has to walk between arrival and departure gates is a joke especially when your over 70!"
Pros: "Food selection Wine not as good as usual"
Cons: "Boarding was chaotic. Why usher First Class into an area make ten stand up for ten minutes before boarding?"
Pros: "A380 Emirates get better every time"
Pros: "New roomy plane! Great customer service! Kind, friendly, attentive staff. Great airline!"
Pros: "Excellent all the way."
Pros: "Entertainment screens good - good range of music and also internet accessible"
Cons: "Food not very appetising. I did not eat much of it."
Pros: "Service, comfort, food, wine, all outstanding."
Pros: "Staff, Service, plane, food. Everything"
Cons: "I can't say a word against them."
Cons: "We fid not enjoy the close proximity of several screaming children who insisted in screaming at all hoyrs, making sleep impossible. What was concerning was the reluctance of the staff to intervene. Most disappointing as we did not have any sleep at all overnight."
Cons: "Another meal option was not available when it was my turn."
Pros: "SERVICE!!!! EXCELLENT!!"
Pros: "Entertainment was good, staff friendly and accomodating,"
Cons: "Food was just ok, breakfast lacking, only given croissant and yoghurt, the angled lie flat beds are not as good as the 180 degree lie flats, would be nice to have complete lie flats."
Pros: "Boarding"
Cons: "Food"
Pros: "Very friendly, courteous service. Boeing 777, spacious and quiet aircraft."
Cons: "Nothing!"
Read more about Qatar Airways
Safety measures for airlines flying from Bangkok to Durban
Airlines flying from Bangkok to Durban have enacted additional safety measures and adjusted policies to better accommodate travellers. Policies vary by airline.
Heightened sanitation
Daily cleaning, installation of cabin HEPA filters on flights from Bangkok to Durban
Mandatory masks
Masks required on board, masks provided on flights from Bangkok to Durban
Social distancing seating
Middle seats unavailable to book on flights from Bangkok to Durban
Pre-flight testing
Testing for antibodies, testing for symptoms for flights from Bangkok to Durban
Book cheap flights from Bangkok to Durban
Recent return flight deals
Search by stops
Search by airline
Search by price