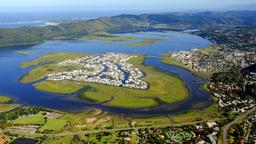 Find cheap flights from Alberta to South Africa
Search hundreds of travel sites at once for deals on flights to South Africa
FAQs for booking flights from Alberta to South Africa
How does KAYAK find such low prices on flights from Alberta to South Africa?
How does KAYAK's flight Price Forecast tool help me choose the right time to buy my flight ticket from Alberta to South Africa?
What is the Hacker Fare option on flights from Alberta to South Africa?
What is KAYAK's "flexible dates" feature and why should I care when looking for a flight from Alberta to South Africa?
Top 5 airlines serving from Alberta to South Africa
Scores according to KAYAK customer reviews
8,0
SWISS
Overall score based on 9 002 reviews
Pros: "sidefini landig, merci."
Pros: "The meals were awesome, flight great!"
Pros: "I liked that it was a straight flight from SFO -ZRH. On board entertainment was great."
Cons: "Seating is way to tight. Service from crew is nothing at all like it used to with Swiss. Nearly a smile from crew ( both legs of flight) mostly just hand motion when serving food. Food was a big disappointment too. It feels like all the good service is reserved only for business and first class !"
Pros: "Smooth transfer from Terminal 3 to the International Terminal. Great airport. Easy boarding, friendly crew and very smooth flight."
Cons: "I was very happy with my flight experience with Swiss."
Pros: "Nope"
Cons: "The service could have been so much better. Food was not offered according to seating arrangements and so meal choices were not enough"
Cons: "Flight was delayed an hour so we were rebooked. Spent extra day in Zurich, and missed our hotel reservation in San Francisco. San Francisco was not our final destination. We had to fly for more than 24 hours in one day(time change). We missed part of our family function. It's been an exhausting trip"
Cons: "Missed flight. Misplaced checked bag. Filed complaint with Swiss."
Cons: "This flight was poorly advertised as Economy Light. I had to pay $500 in baggage fees to being one checked ski bag round trip - more than the cost of my entire fare!"
Pros: "The crew was good"
Cons: "Place for the legs and better food"
Pros: "They had many snacks and meals. Staff was very friendly."
Cons: "The dinner taste was not great. Seating is very uncomfortable and small. Really limited on space if seat is reclined in front of you."
Pros: "This was a 12 hour flight that didn't feel like 12 hours. They movies and other entertainment was very good with new and older movies that didn't disappoint. The food was great all the way through to the farewell piece of chocolate."
Cons: "The seats on this flight were very tight. I am 5'8 and felt super cramped. The seats themselves were not that bad just small and not a lot of space. If you fly with them don't expect to kee anything under the seat with you. Also the whole boarding process is a big cluster! There is no real organization to the line or who they are boarding. Make sure you get in the line quickly or you could be waiting awhile."
Cons: "I am still in Budapest and was not able to fly back on my Hungarian passport."
Cons: "It was torture in the cramped seats"
Cons: "Terrible movie selection"
Pros: "We were pleasantly surprised at how good the food was! An added bonus was the chocolate they gave us. Crew was professional and courteous."
Pros: "Crew great service"
Cons: "Boarding was slow —delayed takeoff for nearly an hour"
Cons: "Because we missed our connection on our incoming flight, due to a delay leaving Newark by Swiss, Swiss cancelled our returning flights. So when we got to the airport on our return day, we were not booked on any flights. We were required to stay overnight and take a United flight home. Will avoid Swiss in the future."
Pros: "Overall everything was great"
Cons: "None"
Pros: "upgrade to business class"
Cons: "the flight was delayed, so I have arrivede later and was told that I should have been there for the original time..."
Pros: "Crew helpful. Seats comfortable. Slept most of flight."
Cons: "Didn't bother me because sleeping but much of flight apparently the entertainment system had issues"
Pros: "Courteous Service and excellent hospitality"
Pros: "The flight ,food entertainment was very good. But I don't understand the SWISS airline logic. When I did the check in in Prague and got my boarding pass the told me that the system picked me to have the additional random checkup at Zurich airport. Its ok. If it's done for security reason why to tell the people ahead of time that they will have additional checkup of bags and personal stuff. If you want to do it for security reason do it ( I want to be safe) but don't do it for the check mark , it doesn't make any sense and doesn't protect us."
Pros: "Very well organized company beginning with the website, check in, boarding and the flight."
Cons: "None"
Pros: "Best food and attention that I've had on an airline in 20 years. Really. I was telling a friend today, Swiss Air started with drinks, gave us a Parisian baguette sandwich, gave us a healthy breakfast of yoghurt warm croissant butter jam orange juice, drinks again, and several passengers surrounding me got special attention, one woman with a baby, a disabled person, and a teenager that was 6'5" was relaocated by the flight attendant without him even asking to a bulkhead seat for more comfort. You don't see this kind a attention to detail on any US flights or US airlines, so I noticed it. It was as if I was traveling back in the 70's or 80's when Airlines would compete for our dollars with their service. I mentioned to my friend that if I had a choice and Swiss Air was one of the choices, I'd choose Swiss Air over any other airline."
Pros: "Professional crew"
Cons: "Legroom!!!"
Cons: "Airbus 330 seats are too narrow and the arm rests too high. I am about 5'3" and weigh about 150. I can't imagine what a taller and/or heavier passenger must feel like in these seats. Also I dislike the "nickel and diming" philosophy used by most airlines these days making people pay an extra $29 to reserve a specific seat. Give me a price from the beginning with a seat assignment."
Cons: "Provided headphones are horrible and headphone jack only puts out mono when used with a regular set of headphones."
Pros: "Most things were great"
Cons: "Flight was delayed and almost missed my second flight"
Pros: "No problems."
Pros: "Great flight crew and equipment. Courteous and helpful."
Cons: "Rude gate staff who boarded economy and business all at once causing a 45 minute delay. Indifferent to passenger complaints and only had one boarding scanner for the entire flight. Slow and inefficient, and worst of all, unapologetic."
Pros: "Our of the 4 females I interacted with only Miishiie was helpful. The movies are a good selection. They were on time."
Cons: "I'm 6'2 and black. I asked if I could pay to upgrade to business class after viewing coach. They lied and said it was full when I could see empty seats. They bumped up a white female for free 3 hours later."
Pros: "All was good except the snack - it was ok"
Cons: "n/a - quick flight"
Pros: "Service ok"
Cons: "Horrible food, tvs didn't work, crowded."
Pros: "I liked everything.....the food, boarding, comfortable, the crew. It was excellent! Will fly them again."
Cons: "The movies were the same so coming back there was nothing to watch."
Cons: "Not enough leg room"
Cons: "I was taken away from boarding for a random check that took a long time due to not enough staff Entertainment system was broken for about 50 people, even after a reset. Terrible for an overseas flight. Food was very poor, staff lied about resetting the entertainment system. The plane took off 1 hour late and was not allowed to taxi to taxi to the gate for 1 hour, making us extremely late."
Cons: "There was a supposed difficulty with my entry in Europe when I tried to Check into Chicago. I thought that I had to cancel my flight. Swiss air representatives had to do much consultation, which took nearly an hour, while I was standing there the whole time. At the end, I was thanked for my patience and told all should be well and not even given a small upgrade for the distress this caused me. Traveling is disagreeable in general now, and personally, even moreso after this episode."
Pros: "Very prompt and courteus"
Cons: "Baggage missing for three days. Communication poor."
Pros: "seat too tight"
Cons: "I had a good seat, the plane was comfortable and the crew was nice"
Pros: "Professional Staff; best food on international flight ever."
Pros: "I enjoyed the service provided once we boarded the plane."
Cons: "The plane was delayed for over 5 hours. The transfer desk crew was not the most welcoming staff. Very rude."
Pros: "Perfect service, on time"
Pros: "Crew was very kind and accommodating."
Cons: "I was unable to choose my seat online due to Swiss system issues and when I called, customer service was completely unhelpful despite the 25 minutes I had to wait for someone to answer."
Cons: "Good overall"
Cons: "Boarding was awful. It was not claear where the line is for the business class and for the econom class."
Pros: "Staff were nice"
Cons: "Very old plane. Had a big metal box at my feet, could not stretch out. Tv screens old and hard to watch. Food was pretty bleak too. Very disappointed."
Pros: "The extra level of Swiss security at the gate. The highly professional cabin crew. The inflight food service was well above the norm. The demeanor of the flight deck crew was exceptional. I'm going to try and fly Swiss whenever possible now."
Pros: "the cabin crew were efficient and very pleasant."
Cons: "Seats not particularly comfortable, video system glitchy, film selection ok, not great. Food was airline food, not much you can say there. The connection gate staff were rude and forced me to check my hand luggage (even though I am disabed and first to board), which had all my medicines in and my computer. The flight wast full and didnt see any other bags gate checked, and there was a bunch of room in the overheads, they werent full. Then to add salt to the wound when we arrived our luggage was dripping water (and it wasnt running at our destination it was at the connection) several clothes were ruined or needed cleaning. As I was on the way to my fathers funeral this was an added pressure that I didnt need."
Pros: "Crew was great"
Cons: "Last second gate change was confusing and poorly communicated"
Pros: "Nothing"
Cons: "everything, never flying with delta again"
Pros: "Crew is amazing!"
Cons: "The Plane!"
Cons: "Older plane so the entertainment system was dated and the touch screen didn't work for me in certain areas, but otherwise it was a great flight. Efficient customs in Minneapolis as well!"
Pros: "Great entertainment features and free drinks."
Cons: "Ran out of certain types of food"
Pros: "Crew was gracious, kind, and accommodating; plenty of leg room and comfortable seat on the A321; liked the "My Flight" option on the screen"
Cons: "Real time video feed from cameras in the nose and underbelly of the plane in flight"
Pros: "No food, late by hour"
Pros: "The A330 was comfortable and the crew was efficient and cheerful."
Cons: "Delta is the best experience we've had of late."
Cons: "We left Salt Lake City so late that I missed all my train connections and ruined my plans."
Pros: "The crew was great."
Cons: "More food."
Pros: "Good snacks, comfortable flight."
Pros: "Did a good job despite the weather during the flight"
Cons: "Worst first class service. Only came by twice in two hour flight"
Cons: "The flight was delayed and it ended up being delayed for 4 hours and we had to take a cab to Detroit to catch our flight to Europe"
Cons: "My 'window' seat had no window! Feeling was claustrophobic"
Pros: "The entire thing, food, service, and ..."
Cons: "More room in each seat"
Pros: "Delta did a great job getting our checked bags from an overseas arrival to this flight. Boarding smooth."
Cons: "Seats are cramped in coach. Fact of life for all carriers."
Cons: "flight was delayed"
Pros: "It is a short flight, no inflight service but we boarded quickly and deplaned the same."
Cons: "Had to wait for some of the flight crew but that isn't anybodies fault"
Pros: "On time"
Cons: "Cramped not much leg room"
Pros: "Nothing"
Cons: "Delayed flight, b.s. about why we were late, kept changing the reasonfor being late, unfriendly service"
Pros: "The flight was actually ahead of time!"
Pros: "Quick and easy."
Pros: "Short flight"
Cons: "In SLC they boarded by row numbers and not zones. Weird..."
Cons: "Engine problems-2 hour delay"
Pros: "Like the airplane - Boeing 757. More comfortable than the 737."
Cons: "Don't like the towel dispenser location and function. Can't find it when standing and a bunch of them come out at one time."
Pros: "Friendly attitudes"
Pros: "Very comfortable and didn't feel cramped. Quick flight."
Cons: "No choice in snack and I couldn't eat what I was given. Staff appeared checked out and not bothered. No entertainment but it was a quick flight."
Pros: "CVG isn't a huge airport, but it has a good amount of things to keep you entertained/well fed."
Cons: "CVG security line isn't terrible, but there seemingly is ALWAYS a decent wait. When a flight is full, like this one, it's never very comfortable – even a short flight."
Cons: "could not check in on line as you did not give us the confirmation of the carrier we used which was not west jet the one you booked us through. You need to fix this problem for us to use you again"
Pros: "flight was canceled"
Pros: "On two of the legs of the trip they notice I was a tall person with long legs and upgraded me to seats with more leg room!! I didn't even ask. Thank you."
Cons: "On the way back there were open seats with extra leg room and I asked the gate attendant if it was possible to switch my seat to one with more room and they said they only could if I paid extra."
Pros: "Flight attendant gave me the can of Diet Coke and extra pretzels when requested. The entertainment was excellent, the TV screen in the the seats. Good choice of TV shows"
Cons: "Seats are miniscule"
Pros: "I liked the fact that the flight left on time and landed ahead of schedule."
Cons: "The flight was rough. The coffee was horrible though."
Pros: "Almonds as a snack. Pleasant crew."
Cons: "No entertainment and my table was broken. The air from the vents was also colder. Not much leg room and I have short legs."
Pros: "Flight went well and was smooth."
Pros: "The crew as well as the pilot gave a lot of information to the customer due to a delay of 10min. Very professional. The pilot even said good bye in person to the customers leaving the plane, I really appreciated it :) The whether conditions in Seattle were very bad (windy, bumpy, rain, and night) and the pilot landed the plane as a pro! Thank you!"
Pros: "Everything"
Cons: "Nothing. Delta is the best airline in North America"
Pros: "Snack choices updated aircraft"
Cons: "No entertainment options"
Cons: "There was a kid screaming on both flights and t was not a good time"
Pros: "For once the food was good"
Cons: "Screaming out of control children. Parents not caring that their children were constantly running up and down the aisles. Crew unable or unwilling to intervene."
Pros: "flight attendants were great."
Cons: "not enough leg room and space. The business class should be at the minimum for economy."
Pros: "On time"
Cons: "uneventful"
Cons: "One hour late after a stay over already 4 hours."
Pros: "I would like the airline service to do more for our veterans. Especially the 100% disabled veterans"
Cons: "Seats not comfortable enough"
Pros: "Good flight, professional people."
Cons: "Several hours was added to my travel day when my Calgary to Seattle flight was cancelled and I was rerouted from Calgary to Vancouver to Seattle. It seems to me that if an airline initiated change that significant occurs, I should have an option given me to change my itinerary."
Pros: "Ditto from above"
Cons: "Ditto from above"
Cons: "even though I paid for premium economy, the seating was still cramped shoulder to shoulder"
Pros: "Service."
Cons: "Boarding. Was late because 1- airplane arrive about 10 minutes late and 2-have to wait passengers coming from Orlando."
Pros: "Smooth flight for the most part."
Cons: "Better food choices. Better communication and better boarding procedures by rows or groups."
Pros: "Nice crew, friendly. Plenty room on flight as it not booked full. Flight left on time"
Pros: "Nice crew short flight."
Cons: "Not much flight was too short to say"
Cons: "More space on economy for long flights."
Cons: "This is the last time I perches a flight ticket from you."
Pros: "The seats were comfortable"
Cons: "The food could be better"
Pros: "Thanks for the good care."
Cons: "Beta information for the flight"
Pros: "Yes, everything was great"
Pros: "The problem was with the booking, cancelled flights- under stable- but nobody willing to make it right. Flights still screwed up"
Cons: "Give some customer service to your paying customers. Don't make a bad situation worse. Practice a can do attitude. Very disappointed in customer service. Not the flight itself."
Pros: "Everything was on time"
Pros: "Cabin crew and service"
Cons: "Left over 2 hours late and we missed our condo in Chicago and had to rebook and spend the night"
Pros: "Flight arrived early."
Cons: "Last two transatlantic flights have been hot. What happened to a nice cool flight and using the blanket if you are cold?"
Pros: "Not a long flight, overhead lockers had space although I wasn't helped to find somewhere. Crew lovely otherwise."
Cons: "Boarding from a connecting flight wasn't enough time, esp as our duty free purchases were selected for additional screening. Food was identical to what we had been offered on previous flight, and the outbound one."
Pros: "Great staff. Impeccable service. Nice flight."
Pros: "One flight attendant in particular was outstanding, Eva. Because of her, I would definitely consider Lufthansa for our next trip to Europe!! She mot definitely went above and beyond in her service and professionalism."
Pros: "On board crew was friendly and helpful"
Cons: "Muslim meal does not mean all Muslims eat curry. It's rediculous that we cant have a decent English breakfast instead you get curry or some form of curry for breakfast, lunch and supper. Your so called Muslim meals are not suitable for kids!! There is no such thing as a Muslim meal either. It's simply called Halal otherwise then everyone else's meals should be called Christian or Jewish meals etc. Also I requested help with transfer to my last flight which was horrendous because I'm one adult with 4 kids ages 1 to 11 and my eldest has sever learning disability. I nearly missed my flight because our flight landed late and I was struggling to keep my kids safe and together while running for the next flight. Somone should have been there to help with transfer."
Pros: "Service , timing"
Pros: "Very satisfied"
Pros: "The seats are comfortable and the plane was clean and well-presented."
Cons: "The flight left with a slight delay. As I boarded, I was issued a new seat in the middle, as opposed to the window seat I had selected. There was zero explanation for this change. When I approached the flight attendants about it, with a smile on my end, I was offered the equivalent of a shrug. As I gave up, I was also informed there was no more room in the overhead bins, so not only did I end up sitting in the middle (which I loathe), but also with my carry-on under my feet. I've always been a fan of Lufthansa, but I'm a little disappointed this time around."
Pros: "Food was excellent. Wide variety of entertainment options. Good German beer."
Cons: "Cramped seating in economy for the long flight with thin padding making me very aware of the knees of the man behind me."
Pros: "Clean aircraft, very friendly crew, good food, overall great trip."
Cons: "It took ages to go through the security check, although I have mentioned that I have a flight connection that is due to leave nobody gave a s..t, so I missed my flight. Now I'm waiting at the airport"
Pros: "All operations are handled consistently and efficiently."
Cons: "Like my outbound flight—the internet (which I purchased a 24 hour package for $19) was slow and, when I was logged off, could not log on again. Not sure if the backbone went down or if they had maxed out the number of users. But-was unable to use it for the bukx of the flight."
Pros: "Flew back last weekend in February. Transfer between plane from Barcelona in Frankfort (LH hub) to flight to Boston extremely chaotic. Masses of passengers all attempting to transfer to US bound flights. Insufficient staff from both Lufthansa and German border control to process or even organize the masses of people flying that day. Mob scene at transfer points. Not up to LH usual standards. Quite surprising as their passenger volume data should have alerted them to impending problems. Our flight was delayed over an hour for takeoff so USA bound connecting passengers (whose luggage was already on the planes) could be processed."
Cons: "Chaos and disorganization. Masses of connecting passengers unable to get to their flights anywhere near planned boarding time. Takeoffs delayed substantially."
Pros: "Flight out was delayed by four and a half hours, missed connection was a pain. Was not aware that Lufthansa changed their policy. To reserve seats you have to pay hundreds of dollars, which was not made clear while booking. Further the quality of their food was significantly degraded."
Pros: "Clean plane, efficient and professional crew"
Cons: "Food"
Cons: "Will need to add more recent movies for entertainment"
Pros: "Firstly, the food was great!"
Pros: "I was upgraded after all the pressure from thehurrricane this was the icing on the cake"
Pros: "Not much"
Cons: "Entertainment system wasn't working. 11 hour flight. Boring. No seat change available. No reading light, as light controlled by entertainment system. Seats in front of toilet cluster lit up every time door was opened. Crew were slow to react. Wasn't a priority. Ruined the excellent first leg of had from Philadelphia to Frankfurt. Do they run inferior planes to South Africa compared to USA?"
Pros: "all on time"
Cons: "seating very cramped"
Pros: "The crew was nice enough and the food was ok. Crew was great and served water and juice so many times during the flight! That was really good!"
Cons: "Movie selection was old and many movies aren't of interest. I tried to purchase something on the plane and the card reader didn't work. Lufthansa should update those card readers! Seats are becoming smaller and thinner which means more uncomfortable than they were already."
Pros: "all the flights were on time, the service was wonderfull"
Pros: "Crew was good."
Cons: "Not on time. Lost luggage."
Pros: "Movie selection, wine and food"
Cons: "Crying babies - outside of the crew control"
Pros: "All the staff was very friendly and helpful."
Cons: "Terrible leg room."
Pros: "Surprised by so many entertainment options!"
Pros: "Please see above. Typed in the wrong place."
Pros: "Service and entertainment were great. The food was somewhat better than most airlines with free beer and wine."
Cons: "The flight was delayed on departure by 8 hours. This caused us to cancel and rearrange hotels. The flight back had to make an emergency medical stop for 2 hours but this was not the fault of the airline and is understandable.."
Pros: "Overall great experience!"
Pros: "Fast boarding Excellent pilot"
Cons: "The flight was delayed for 45 minutes with not enough information for the passengers. The airport boarding crew were rude We were offered only a tiny pack of chips with bad taste and a drink No inflight entertainment at all"
Cons: "I don't care for disembarking to a bus. Business class could have had larger seats instead of leaving an empty seat between people."
Pros: "It was nice to have both a dinner served in a timely manner, the additional option of drink offered and the snack before arrival. Staff working the flight were polite and friendly. Thank you for providing both a blanket and pillow - which its own Lufthansa pillow cover. Sadly the Anticipation of a Lufthansa flight still rests on the laurels of years of recognized quality. Sadly the Anticipation was greater than the rewards."
Cons: "It is always so much easier to come up with the issues - wish I had more to add on the previous section. ENTERTAINMENT. Headphones provided required a two-prong jack option. There was only room for one prong - so only one ear had sound. The sound perhaps due to this limitation was poor and I couldn't hear the track. Consequently I choose one film with subtitles - which was helpful. The cabin comfort overall was on the chilly side and required the use of the blanket for the whole trip. Meals - the dinner meal served was a nice selection. However, the dessert was still cold - affected flavor. I think a nice bar of chocolate would have been equally welcome as dessert option. There was a small Ritter - which was nice. Lunch or pre arrival snack - really a poor excuse for what was served as pizza. Very doughy and little filling. The tomato was ok but the other selection served - was not a good choice. Not sure what it was. Also had anticipated a warm cloth before landing as a refresher. The seating is incredibly narrow. While most planes are forced into less space, this ride was particularly uncomfortable. I know that there are different model planes each with its own space limitations, advantages or disadvantages, but - frankly, I had expected better from Lufthansa. Finally, by chance having flown to Europe by Swiss Air - I reluctantly have to say that their comfort level, meals and refreshing cloth made it a more comfortable flight."
Pros: "leg room, entertainment, the pilot was informative throughout the flight"
Pros: "Food and service were excellent. I received instant upgrade as I went to board the aircraft. This was a first for me. A little ticket was printed out when I scanned my initial boarding pass at the automated entrance to the jetway. The ticket said I was reassigned a seat in premium economy (for free)!"
Cons: "There was nothing to not like about this flight!"
Cons: "The 24 layover in Chicago with no possible flight out. If I didn't make the rescheduled flight, I would have been at least 48 hours in the airport waiting on another flight. Because I was unfamiliar with the area and was not offered any accommodations, I didn't sleep the entire time I was in Chicago. I also had to stand in line for a very long time and by the time I was done rebooking my flight all the airport restaurants were closed. I understand there are flight cancellations, but it just would have been nice if the airport was a little more accommodating."
Pros: "Champagne in economy class plus food on a 2.5 hr flight! I am a fan of LH."
Cons: "thet lost my bag. two days later still not reunited. pasta dinner was horribly pasty"
Pros: "The flight was very good."
Pros: "Service from Chicago to Munich excellent! Air Dolomiti flight crew superb. All cockpit crews competent."
Cons: "Poor attitude and service in US from United flight attendants."
Pros: "Nice food"
Cons: "KLM lost my suitcase and did not deliver it until three days later... They refused to compensate me for having delivered the bag with broken articles inside (A pair of Rayban Wayfarers!)"
Pros: "The best airline ever! Super friendly crew and staff, great customer service and nice planes. Love KLM!"
Pros: "The plane size & comfort was excellent. The staff were very friendly"
Cons: "N/A"
Cons: "Boarding at Florence is always chaotic but this isn't within the control of KLM or their crew."
Cons: "All of the less than good, obvious!"
Pros: "Almost everything, especially the crew."
Cons: "Don't feel like anything should be better to be honest"
Cons: "Seats in economy section are very close together . There is not enough room for knees...especially for such a long trip."
Pros: "Good amount of space on the plane, lots of movies to watch, good food and drink."
Cons: "Fix the damn KIOSKS at Vienna!"
Pros: "Crew helpful. Food good."
Cons: "Better range of movies please"
Cons: "Not being 1 hour late"
Pros: "Seat was comfy and spacious for economy class"
Cons: "Vegetarian meal was okay but could be more enjoyable if served with bread at start of meal."
Pros: "Great crew, comfortable seating with enough leg room."
Cons: "Provide dinner before getting to joburg, instead of a snack. Flight arrives late so dinner would be appreciated"
Pros: "Crew was helpful and food was very good"
Cons: "There was no entertainment on the flight from Vancouver to Amsterdam and this on top of a two hour delay in taking off which led us to have to literally run to our gate in Amsterdam to make the connection to Mumbai"
Pros: "No delay and nice staff"
Pros: "Food, entertainment and crew was exceptionally friendly."
Cons: "Seats not great for such a long flight."
Pros: "The crew was attentive and the seat at economy comfort was comfortable at the "ok" level. It needs much mor3 to be super comfortable. The plug for the headphones was a mess! It was NOT possible to watch a movie and hear the sound too! I gave up! Not a great offering for the extra dollars..."
Cons: "So many things! Starting with the way assistance in the airport is offered to travellers with mobility issues! This is an important issue that needs to be revisited and changes for better service to be made!"
Pros: "Awful"
Cons: "Everything"
Pros: "Cabin facilities"
Cons: "They didn't bring one of my bags"
Pros: "One crew member was very good but all were not very available or checking on people. I had a seat that I purchased and it was very hard to recline I only found out that it did if fact recline it the last hour to hour and a half of the trip! It was a difficult push back to get it to recline"
Cons: "If I knew how to recline my seat earlier. I did try several times"
Cons: "The check in desk was late opening & the carry on luggage size was smaller than advertised on their website, so it had to be put in the hold. Open on time to prevent less stress to travelers & give more accurate information about cabin luggage."
Pros: "Friendly staff, great service on board. Way better value and service compared to the tacky Irish competition flying the route. Delta all the way"
Pros: "And i got it 2 days later. I had to buy a lot of items which were in my suitcase The returning of the suitcase was awfull. In tge end after many phone calls I received it On the 18/12 evening, 2 days after my landing"
Cons: "Flight canceled, poor communication from the airline to the passengers. Møre than 5 hrs delay"
Pros: "Nice flight ...was comfortable travel ...good food.Thanks"
Cons: "No such things"
Pros: "The flight to Gdansk took off and arrived on-time and the staff were professional."
Cons: "The flight to Amsterdam from Gdansk was late and I had to RUN to the connecting gate. 50 minutes is NOT ENOUGH time to go through passport control."
Pros: "Seats were very comfortable, food was excellent, the staff was very nice, cabin was quite and roomy."
Cons: "No outlets to charge digital devices, and need more bathrooms on board. I was able to sleep most of the 11 hour flight so I did not take advantage of the entertainment."
Pros: "Travel on Crostian Airlines did not pappen. KLM flight to Munich was cancelled and I was rescheduled on Air Setbia to Belgrade, the Split."
Cons: "That it didn't happen."
Cons: "Nothing good to say about this flight. The plane was old with no entertainment. The sits where very compact and not comfortable at all. The food was a sweet bread and water. The flight attendants were rushing and will take a while if you needed anything. I felt like I was taking a bus with graffiti all over the place."
Pros: "Cabin crew were very professional."
Cons: "Aircraft returned to gate due to fault and was delayed for 45 min."
Pros: "Delayed flight but staff apologized as for safety reasons."
Cons: "Very late arrival"
Pros: ".Very much on time with pleasant service."
Cons: "Can nit find much fault fir a short run!"
Cons: "Headset jack only worked if the headset plug was in EXACTLY the right spot."
Cons: "Crowded seating, 20-year old video system, headphones that did not match the two-jack system, lackluster service in flight. Generally my experience with KLM has been good, but this was well below average."
Pros: "Very friendly crew"
Pros: "Boarding was a breeze and the staff were lovely. Online check was very simple and easy to navigate."
Cons: "The amount of extras you have to click no to while checking in online."
Cons: "Dutch sub titels would be nice."
Pros: "The flight was great."
Pros: "The flight was very good, specially considering it was a daylight one. Staff was friendly and servicial. Tue food was above the industry's average."
Pros: "quick and relaxed"
Pros: "Everything. Staff incredible."
Pros: "That we didn't crash"
Cons: "Everything! The crew was rude, no entertainment whatsoever, late boarding, late departure and bad experience with the check in process both in app and on website."
Pros: "Of the multiple international airlines I recently flew with, I would have to say KLM was by far the best. Relaxing atmosphere, comfortable seating, great in-flight entertainment, although I have the go-go in-flight data/entertainment plan with t-mobile (highly recommended), the flight included a decent selection of movies, television programs, etc. The food far exceeded typical "airline quality," even for an international flight - and included a fabulous little snack box with locally sourced gourmet and specialty items such as chocolate from Belgium, fine cheeses from France, and crackers from England. Drinks = gratis, and crew was exceptionally attentive and went out of their way to make flight as pleasant as possible."
Cons: "Nothing."
Pros: "Everything - Checkin, crew, food, entertainment"
Cons: "Nothing"
Pros: "Very friendly and the food and drinks never stopped and no additional charges, a very nice experience over the bargain airlines, free in-flight movies, and entertainment, no cost."
Cons: "No complaints."
Pros: "Food and drink service"
Cons: "Boarding pass facility"
Pros: "We really liked the KLM people, from the check in crew to the flight attendants."
Pros: "Boarding was smooth and hassle free, crew were friendly and helpful, food and drinks were very good, entertainment system is awesome and up to date with latest contents, good flight overall"
Cons: "Cabin noise and air conditioning too cold, didn't sleep well"
Cons: "seats on Jet air flight are very uncomfortable"
Cons: "Exiting passengers from the rear exposed the entire flight as people had to walk past those seated from the back to front. Great social distancing and we'll done British Airways"
Pros: "No and no."
Cons: "Very crowded in.club class. Way lower standard for business class as compared to the other airlines."
Pros: "Crew was friendly and everything was perfectly on time!"
Cons: "4 hs delay"
Pros: "The flight was on time and landed early"
Cons: "The bags could have come out earlier and the food could be better"
Cons: "I made a mistake in my daughter's surname while booking online, BA refused ro change it at check-in and forced me to buy a new ticket for her."
Pros: "Leg room fantastic"
Pros: "The crew were very attentive and there was a large variety of in-flight entertainment."
Cons: "I am not a heavy set guy but the seats were unreasonably close to each other, this meant that when you eat a meal your elbows push into your sides making it hard to bring food to your mouth."
Cons: "Direct flights to and from South Africa to USA not via Middle East"
Cons: "Very narrow seats"
Pros: "The crew, the food and the smooth journey."
Cons: "Seating is a big problem. I am only 192 cm tall and cannot really fit my legs into the space. Have them out in the corridor"
Pros: "That the flight was on time."
Cons: "not applicable."
Cons: "Seat was broken. Reclines without requesting. Tray also needs attention. Seat 15C"
Pros: "Quick boarding."
Cons: "Nothing. Pretty good for a short trip."
Cons: "Mostly good."
Pros: "It was a short flight"
Cons: "Enough room to sit. The worst cramped seat I have ever had to fly in."
Cons: "Better business class seats"
Cons: "Delayed, twice!"
Pros: "New Years flight... very special. Great staff and grear entertainment on board"
Cons: "The flight data was not showing... could have been interesting especially on a New Years flight"
Pros: "This was a charter by BA. Airbus A320 with amazing legroom. Was slightly annoyed by them not having coffee ( to wake me up for the drive home) but I suppose I get why they weren't serving hot beverages."
Cons: "The beverages thing above."
Cons: "Don't like the business class seating configuration. The entertainment system played up and only worked in half the cabin. They tried to fix it without success"
Pros: "The A380 is roomy with large overhead bins. Its quiet and smooth. Flight was on time!!"
Cons: "It was impossible to select a seat in advance. I could not even get to seat selection at online checkin. It was very frustrating. When I went to BA in London and Los Angeles they said it was responsibility of AA and when I went to AA in London & Los Angeles they referred me back to BA. Why can I not choose seats like on other airlines????"
Pros: "BA in South Africa run a clean efficient airline. Planes are new crew well trained and food is good."
Cons: "Preseating totally random no matter your status. Booked state of my choice well in advance and was presented at the back of the plane on check-in"
Pros: "I liked that we landed 30 minutes in advance for both flights to and back, compared to the other parallel flight via SAA which was delayed 2 hours when we arrived back."
Cons: "I didn't like the cheese roll I asked for as the whole roll and cheese was literally stuck to the bottom and parts of the bottom of the roll were mushy. The staff were professional but lacked personality and seemed a little hollow."
Pros: "I liked the seats that I got. Staff were friendly and it was a comfortable flight overall."
Cons: "There wasn't enough drinks (water etc) coming around after meals."
Pros: "Food was tasty"
Cons: "Was delayed"
Cons: "Cramped seating with no leg room and dinner was barely edible."
Pros: "Quick and efficient boarding."
Cons: "The way that the crew (both in economy on right of plane) spoke to, and handled sensitive situations with several of the passengers in a loud and rather rude manner. This is not the British way that I have been accustomed to on previous BA flights, and is rather upsetting. The crew were very abrupt in general, and did not have that seasoned and polite demeanor which I expect from BA."
Pros: "BA moved me on to the Kulula flight without any fuss and gave me a meal voucher."
Cons: "I got to the airport to find that my 19:15 flight had been delayed to 22:15. I hadn't received any notification from BA and still do not know the reason for the delay. The only other option available was for BA to put us on the 20:20 Kulula flight to Lanseria and then shuttle us from Lanseria to OR Tambo. It really is not pleasant to get back home so late on a week night and not even be given any warning or any reason for the huge delay."
Cons: "Checked-in baggage got mishandled and haven't got any response from British airlines after 24 hrs of complain filed."
Pros: "Crew were excellent. Very friendly and helpful."
Cons: "Boxes under the seat in front took up legroom (but it did ensure good entertainment options). Could have offered some more drinks."
Pros: "The staff was great, friendly, helpful and professional."
Cons: "I thought the food lacked imagination, was skimpy and too hot. I burned my mouth several times. I really do not like having to pay for a booked seat. I have special needs at my age and so booking early is how I typically make sure I can access the bathrooms easily without climbing over sleeping passengers. I picked flight for the price, but in the end I should have stuck with Delta, KLM and Air France and got the extra miles as with seat bookings and only one bag allowance, what I ended up paying did not make it worth it. Oh well, live and learn. Seats were tight, anyone bigger than me would have really struggled."
Pros: "Friendly and helpful crew"
Cons: "My wife and I having to sit in separate seats when there were seats available next to each other. Being charged excess baggage when one suitcase was weigh under weight"
Pros: "Air hostesses were good"
Cons: "Poor food, and very little of it is given. poorly run airline. Too many unnecessary rules that don't apply to any other airlines that they claim to be in the name of security. Will not fly again."
Pros: "All the normal stuff of flying domestic."
Cons: "The way that my brand new suitcase was damaged on the flight and BA just said that handles are excluded from bag damage. Thus, they can do what ever they want with your bag's handles, manhandle it and not take any responsibility. My suitcase was clearly damaged by the way it was handled since i booked it in till i received it again and they just said sorry...there is nothing we can do for you!!! Now that is is poor customer service."
Pros: "I have physical limitations and required assistance stowing overhead luggage and help getting out of seat. Crew were terrific. Wheelchair assistance also great. Travels on my own."
Pros: "I was able to sleep without being disturbed."
Cons: "My flight was delayed 4 1/2 hours"
Pros: "Made up for time due to a big tail wind"
Cons: "Took off late and had to wait 45 minutes for luggage"
Pros: "Flight was on time,actually ahead of time."
Cons: "Aircon was not efficient. Very hot in the plane."
Pros: "The space on the A380 is nice, comfortable seats, and the crew was very considerate"
Cons: "No between meals drinks (like water, etc.) or snacks left out on this 11 hour flight. The seats are still a bit close together... for the comfort of a long legged man behind me, I was not really able to recline my chair at all."
Pros: "Aside from the typically narrow seats, the service included all the hallmarks of higher-tier service, such as hot towels, cloth napkins, a good meal, and so on. The crew was attentive, as well."
Pros: "Timely."
Cons: "The airplane was really old. The screens wouldn't start for a really long time. Very, very few options for movies and the screen and sound had terrible quality. Food was not really good."
Pros: "Staff was extremely friendly"
Cons: "Seats were too close and comfort was hard for the long flights. I wish premium economy was better explained to one world partners prior to booking so there would be access to better seats."
Cons: "$100 just to choose a seat ? $100 for a 2nd bag? A Kellogg's bar for breakfast? Shame on them."
Pros: "they boarded from middle of the plane which worked out very well"
Cons: "it was a 3 hr flight and all the food and drink you had to buy i would of thought they would of gave u something to snack on we sat at terminal for about a hr because they had to load a piece of equipment a certian way for it to b safe to fly (pilots explaintion) poor planing"
Pros: "Strong tailwind brought us in 30mins ahead of schedule."
Cons: "Nothing. Was a smooth and friendly flight. Cabin crew were courteous and efficient."
Cons: "Took forever to serve cold drinks and food. Said we were going to have a short flight due to tail wind so they would not serve hot drinks. Mean while we landed at the expected time of arrival."
Cons: "The fact that even water is for purchase is disgraceful"
Pros: "Great food. Ground staff were very accommodating."
Cons: "Flight crew attitude. Cramped seating."
Read more about SWISS
Safety measures for airlines flying from Alberta to South Africa
Airlines flying from Alberta have enacted additional safety measures and adjusted policies to better accommodate travellers. Policies vary by airline.
Heightened sanitation
Daily cleaning, installation of cabin HEPA filters on flights from Alberta
Mandatory masks
Masks required on board, masks provided on flights from Alberta
Social distancing seating
Middle seats unavailable to book on flights from Alberta
Pre-flight testing
Testing for antibodies, testing for symptoms for flights from Alberta
Book cheap flights from Alberta to South Africa
Recent return flight deals
Search by stops
Search by airline
Search by price
Flights to South Africa
Browse destinations:
R12 565
R14 614
R10 530
R22 576