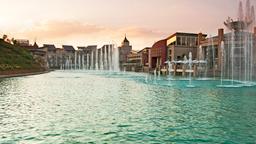 Find cheap flights from Alberta to Johannesburg
Search hundreds of travel sites at once for deals on flights to Johannesburg
FAQs for booking Alberta to Johannesburg flights
How does KAYAK find such low prices on flights from Alberta to Johannesburg?
How does KAYAK's flight Price Forecast tool help me choose the right time to buy my flight ticket from Alberta to Johannesburg?
What is the Hacker Fare option on flights from Alberta to Johannesburg?
What is KAYAK's "flexible dates" feature and why should I care when looking for a flight from Alberta to Johannesburg?
Top 5 airlines serving Alberta to Johannesburg OR Tambo
Scores according to KAYAK customer reviews
8,0
SWISS
Overall score based on 9 042 reviews
Pros: "The boarding process was easy"
Cons: "Some of the crew members were rude and inconsiderate - if you see that someone is sleeping, you don't stand at their seat and lean on it and shake it while you're waiting to give the security demo before take off."
Pros: "Crew was perfectly fine."
Cons: "Departure time was delayed due to over crowding in Zurich airport. Info on connecting flights and transfer requirements was insufficient, no offer to help those with tight connections, e.g., by trying to seat them at front of plane or help them get off faster. Missed connecting flight as a result!!"
Pros: "Crew was great, seating comfortable."
Cons: "seat comfort"
Pros: "Crew good"
Cons: "Baggage small bag forced to check"
Pros: "The crew were very friendly."
Pros: "I was gratified to see that the 777 Boeing aircraft have now replaced the older Airbus aircraft..... This is my sixth time traveling to Switzerland from San Francisco on Swiss....Their service in my opinion remains excellent......The cabin crew was cheerful friendly yet remained very efficient at the same time... The food was very good, , The two meals that comes with one's Ticket still also comes with complimentary beverage service .... and even a warm moist towel is offered towards the end of the flight ... not bad for a seat in coach ...."
Cons: "I had no complaints except that there was a 40+ minute delay in receiving our checked baggage..... this could have been a problem With the airport ground crew at Zurich airport ....."
Cons: "plan was late for any reasons...."
Pros: "Was smooth. From take off to landing. Captain kept us informed all the way to our destination."
Cons: "No complaints."
Pros: "Everything"
Cons: "That it wasn't a flight to denver"
Cons: "Seats recline too far so know leg room. I could not eat my meal."
Pros: "The food wasn't bad"
Cons: "Business seats suck"
Pros: "There was a very long line at the check in counter on the way back. Many people were nervous about missing their flights. Apparently the counter computers were out of order and they only had 2 stations to support the passengers at a very busy time. Other than that, everything was smooth and pleasurable."
Cons: "the boarding was weird because of the aircraft change and rearranging of seats. the computer reassigned us very strange, making us seating mostly in one are, while other rows were completely empty."
Cons: "Mackenzie Gray/ My flight was cancelled due to bad weather conditions unfortunately. I'm upset that I never received my initinerary for my substitute flight! I tried online and calling the # that was provided no results. I managed to get thru to someone and they told me they would send the info to my email but they never did."
Pros: "Air hostesses were very courteous, friendly and the cabin was clean and comfortable. My flight from jfk to Geneva (then Zurich) was cancelled due to weather in Geneva (Swiss 23) so I got upgraded to a delta flight to Brussels then to Zurich Comfort+ !!! Thank you!"
Cons: "Flight from Zurich to Johannesburg: Swiss 288 (airbus a340-300) Sat in the last row of the Swiss air flight, economy, which was okay but our whole row video enternatinment system didn't work. You'd pick a movie and it wouldn't play. The games, camera and flight status animation all worked but not the movies. Air hostess tried resetting , still nothing. But it was a great opportunity to have a lovely conversation with my new German Friend Barbara and read my book! More lactose intolerant alternatives for breakfast which had much (cheese, yogurt, croissant) Other than those two , excellent flight. Thank you Swiss!"
Pros: "From the kind stewards to the easy meal service to my peace of mind, knowing I'll be well taken care off - SwissAir is the same gem it's always been."
Pros: "good service, patient with passengers"
Cons: "For 9 hr flight the space between the seats in economy class was way too small. Im 1.75cm (medium) and I felt squeesed and very unconfitable not like in Lufthansa airplane flying from Newark to Dussldorf. (Flight only 6:15min) In addition, when front passenger moved his seat back on me I had a lot of difficulties with getting in and out of my seaat."
Pros: "It was an 8.5 hour flight and we got fed 2 meals, 2 snacks and had lots of beverage breaks! We were delayed a little but it was due to an issue in France, not anything to do with the airplane, and the captain found a solution faster than he had originally said he would (with the help of the tower of course)."
Cons: "The legroom in economy is just as bad as you would expect."
Pros: "Swiss Air is very nice, planes are clean, snacks on board were fantastic!"
Cons: "Why the ridiculous amount of money to check a small bag? For this reason, I would not fly Swiss Air. My fancy sandwich was not worth CHF 50."
Pros: "Boardoing 7h10; 7h25 announcement we would arrive on time 8h50. No further announcement, late departure. Arrival 9h25. - mo explanation. Luggage only at 9h50"
Cons: "Delay"
Pros: "Chocolate was good, a bigger piece, or 2 of them would be better"
Pros: "The service was great, the staff was very friendly and helpful"
Cons: "The business seats that we booked were normal economy plus seats with no one in the middle seat. The whole idea of booking a business class ticket is the extra comfort that comes with the lay flat seat or at absolute minimum on smaller planes the wider more comfortable seat. Neither of those were present on this flight. Calling this a business class is a rip off."
Cons: "Landed in NY @ JFK with a missing luggage. That happens, I know and it can be ok but the sad thing is the very poor the service offered to take care of it. I have tried to call, no answer, I tried the link they gave me to track progress: NOTHING.... Called customer service, they gave me that number and that link telling me it was the only way!!! I am so frustrated right now!!!"
Cons: "This plane was better."
Pros: "Service wa a ok."
Cons: "My seat did not recline and my tv did not work"
Cons: "The seats in economy were unbearable for anyone of normal size, as I am. It is not possible to sit in even bare comfort in them. Obviously I'll have to find another airline or factor a size upgrade into the price"
Pros: "Loved the smoked salmon!!"
Cons: "No wifi or tv"
Cons: "Provided headphones are horrible and headphone jack only puts out mono when used with a regular set of headphones."
Pros: "The punctuality."
Cons: "The food was not up to the mark."
Cons: "Delayed"
Pros: "Food was great!! Flight was so much better than the United flight I took to get there. Plane was much more comfortable and cleaner."
Pros: "It was quick and the crew was really nice!"
Cons: "No organization for boarding. It didn't matter what class you are in, everyone boards at the same time. business class o. The plane we were on was just the front seats....they were not larger seats."
Pros: "Food"
Cons: "Lack of screen for watching movies."
Pros: "There were a couple of stewardesses who were nice and helpful to the passengers. The food selection was fairly good. Drinks were available at regular intervals. Flight was comfortable except for some turbulence during landing."
Cons: "There was no pre-boarding for families with kids. They waited until the entire Business and First Class passengers boarded in Zurich before they allowed us. This was different in Mumbai where Swiss had families with kids board early. The airbus was not well maintained as fara s cleanliness was concerned. There were bathroom supplies on the toilet floor. Crumbs and food particles on the seats/crevices from the earlier flight"
Pros: "crew was great"
Cons: "my entertainment controller did not work and my daughters head phone plug would only half work."
Pros: "The crew was friendly and very attentive. The food was surprisingly good. I would definitely try to fly SWISS again."
Cons: "Not a big deal, but I missed the vents above the seats."
Cons: "Good"
Pros: "Food & beverage, onboard entertainment and beauty product in the bathroom was good."
Cons: "Service was okay and the seats were horribly uncomfortable. Not what I remember from Swiss when I use to fly constantly with them 2 years ago. Also, I was singled out by the crew at the gate and pulled aside. Racially profiling at its finest."
Pros: "Very friendly crew."
Cons: "Seating is too tight and uncomfortable and I'm only 5'6"!"
Pros: "Great customer service."
Cons: "Breakfast was a strawberry yogurt, orange juice and a croissant. Sugar free options ie. Eggs, rye or whole grain bread are a few examples of sugar free breakfast items that could be provided."
Cons: "Food: not so good! Entertainment: in the section of the new releases movies was old not new:) And my bag didn't come on the and :("
Cons: "Sound for on-screen entertainment not working. It was static-y all the time and completely cut out the rest of the time. I made various attempts to solve the problem, switching headphones, switching to my own headphones (which can't really be done because they have a two-prong jack and personal headphones are always one). I tried watching different movies, programs, music...it wasn't the material I was watching that was the problem. I asked the flight attendant to reset my console. That didn't work either. I just ended up reading my book the entire 9 hour trip."
Pros: "Real silverware. Great crew presence. Ice Cream and chocolate."
Cons: "Through no fault of the airline, there was a strong thunderstorm that delayed our flight. Little information was provided about the situation. It was obvious that we could not fly in the storm, but we were not informed about the likely departure time. The reason I gave a poor ranking is that my suitcase/pack must have been left out in the downpour on the top of the pile so all of my clothes were extremely wet when I reached Boston. The bag itself was wet so it was not a case of something leaking in the bag. I have had to wash all of the clothes and iron them."
Pros: "None"
Cons: "Terrible flight had to delay few times , we had to wait inside in the plane for more than 2 hours , they had me to check im my carry on in geneva layover even i had a personla stuff inside and with no lock , rude crew i never even fly with suiss i had toncome back with lugthansa because they had to delay the flight again"
Pros: "The crew was lovely."
Cons: "The seats were very cramped."
Pros: "Very friendly staff, a wide variety of entertainment options."
Cons: "I'm a pretty small person (5'4 and 110 pounds) and it was very hard for me to get comfortable. Not that you'd expect much out of an economy class seat."
Pros: "Great service"
Cons: "Friendly crew"
Pros: "Crew was solid."
Cons: "Don't change my seat. Not on time. No food. Luggage with legally checked firearm sent to the wrong airport."
Pros: "Highly attentive crew, extremely helpful, made a bad day bearable"
Pros: "It was one of the best international flights I've been on. Overall a very pleasant flight."
Cons: "Food quality is always an issue on flights."
Cons: "Food was terrible. Paid for first class, expected something better than coach. Our food choice was a ham sandwich, there were better choices but the crew took them for themselves so nothing left for the 1st class passengers. Similar situation on our eastbound flight the week earlier. I doubt if Delta knows or cares that this occurs. After paying more than twice the coach fare, we expect something better than a ham sandwich on a coast to coast flight."
Pros: "Flight to Atlanta was good going to watch a movie. Missed our connecting flight in Atlanta due to sitting on the tarmac for 25 minutes"
Cons: "Do not put your connecting flights one terminal miles away from the other terminal"
Cons: "Flight into Seattle delayed, flight out of Seattle to Minneapolis delayed flights out of Minneapolis to Bismarck delayed. Ran from gate F to gate c24 arrived at 10:23 p.m. Slight to the park at 10:25 p.m. and they closed the door on me as I was running up there. Ran across the entire terminal to get there and they would not let me on. Last Flight of the night to Bismarck. Missed my uncle's 90th birthday party. Would not give me food voucher. Delta gate agent told me she would lose her job if she did not close the doors 8 minutes prior. However the Minneapolis flight waited for 15 minutes for people to board that plane. How does that compute? Why would they not wait 3 minutes for me rather than pay the money to put me up in a hotel?"
Pros: "Not a lot"
Cons: "Customer service"
Pros: "No food, late by hour"
Pros: "Great comfortable seats"
Cons: "Crowds in airport"
Pros: "Good snacks, comfortable flight."
Pros: "The crew was great. Honestly, they remembered my face and greeted me when I saw them that night in the hotel."
Cons: "I can't think of anything. I had great service on the ground and in the air. All the personnel were kind and helpful."
Pros: "Matt was great. I had an exit row so it was comfortable."
Cons: "Deplaning takes FOREVER"
Pros: "New plane, video in every seat"
Cons: "Organizing boarding better. Confusion in rules."
Pros: "Crew and generous pours of wine"
Cons: "The food was at best edible"
Pros: "On time"
Cons: "Seats did not recline"
Cons: "Delayed"
Pros: "We arrived on time."
Cons: "All 3 monitors in our row were frozen the entire 6 hour flight. The "food" was horrid dueling pastas. Inedible. Seats didn't recline more than 10 degrees."
Pros: "Flight was great"
Cons: "The waiting area at gate 47 is a joke. Doesn't anyone care that it was filthy and had 10 seats for passenger waiting to board their flight?"
Pros: "crew kept a great attitude throughout"
Cons: "Having to find my boarding pass to deplane"
Pros: "Flight attendants seemed nice"
Cons: "Too tight in the seats"
Cons: "Aircraft seemed shabby despite refresh of Comfort Plus, food was really mediocre. Steer clear of the Asian Veg option."
Pros: "The LGA team did great in difficult situation"
Pros: "I told the crew I had a short connection time at a far terminal and I was worried because my seat was in the rear of the aircraft and they were able to move me up closer to the front to ensure I got off the aircraft quickly to make my next flight. That was amazing."
Cons: "could not check in on line as you did not give us the confirmation of the carrier we used which was not west jet the one you booked us through. You need to fix this problem for us to use you again"
Pros: "Good seat"
Cons: "Delayed by 1 hr"
Pros: "Service was fast and the inflight entertainment is free. Lots of movies to chose from, which is nice for the long flight."
Cons: "It was the most cramped I have ever felt in a plane and also the longest flight. Horrible combination. Some of the crew were snippy."
Pros: "Almonds as a snack. Pleasant crew."
Cons: "No entertainment and my table was broken. The air from the vents was also colder. Not much leg room and I have short legs."
Pros: "The crew as well as the pilot gave a lot of information to the customer due to a delay of 10min. Very professional. The pilot even said good bye in person to the customers leaving the plane, I really appreciated it :) The whether conditions in Seattle were very bad (windy, bumpy, rain, and night) and the pilot landed the plane as a pro! Thank you!"
Pros: "Everything"
Cons: "Nothing. Delta is the best airline in North America"
Pros: "Snack choices updated aircraft"
Cons: "No entertainment options"
Cons: "There was a kid screaming on both flights and t was not a good time"
Pros: "They kept me fed and hydrated the whole time, they let you watch brand new movies free, the seats are super comfortable. They allow a personal item and carry on at no extra charge."
Cons: "When they called for passengers with infants and those who needed more time they also called for anyone who wanted to check their luggage. So of course people cut right in front of me as I was about to scan my pass. What is the point of asking us to come up if they are just going to let people jump in front of me."
Pros: "For once the food was good"
Cons: "Screaming out of control children. Parents not caring that their children were constantly running up and down the aisles. Crew unable or unwilling to intervene."
Pros: "Who could ask for more?"
Cons: "N/A"
Pros: "Extra leg room with Sky priority"
Cons: "We upgraded to Sky priority but we're not allowed to load with Sky priority. They made us wait for Zone 3. We also did not get the designated overhead space we paid for and had to put our bags under the seat in front of us. A bit disappointing to pay $240 extra and not get what we paid for."
Pros: "Friendly staff and crew. On time efficient boarding. Security in SEA-TAC less than 5 min. Different snacks both flights. Prompt service. On time. Power sources at seats worked."
Cons: "Airport gate area in LAX filthy. No seats. Garbage cans overflowing. Bathrooms smelled like New Orleans street on a Sunday morning. Entertainment system broken."
Cons: "One hour late after a stay over already 4 hours."
Cons: "Boarding in LA was. Mess"
Pros: "The crew and the flight were all very pleasant. Highly recommended."
Cons: "Unfortunately the trip was marred by being stuck on the tarmac for the better part of an hour while we waited for out gate. Even when it became available however, we were forced to wait while ATC sent every other plain taxiing through our route which was clearly visible from our vantage point. Not an issue with Delta per se but nonetheless it left us all exhausted and frustrated."
Pros: "Staff were all polite"
Cons: "The least amount of legroom I've ever had. The most cramped I've ever been and I'm 5'2 and fly a lot. Also for a 5 hour flight, I should not have been as uncomfortable as I was. There's less cushion than before."
Pros: "The flight was quick, safe, and the crew was courteous and attentive."
Cons: "Nothing."
Pros: "Good flight, professional people."
Pros: "Smooth flight."
Cons: "N/a"
Pros: "I love the new entertainment sysem"
Cons: "Only one service on such a long flight? Should have done a second beverage service."
Pros: "Arriving"
Cons: "Cramped seats, poor food, inattentive flight attendants"
Cons: "Several hours was added to my travel day when my Calgary to Seattle flight was cancelled and I was rerouted from Calgary to Vancouver to Seattle. It seems to me that if an airline initiated change that significant occurs, I should have an option given me to change my itinerary."
Pros: "All went well"
Cons: "Nothing"
Pros: "Smooth flight, fairly comfortable seats in economy with adequate legroom (and I have long legs), flight attendants actually smile and are polite."
Pros: "Nice food"
Cons: "KLM lost my suitcase and did not deliver it until three days later... They refused to compensate me for having delivered the bag with broken articles inside (A pair of Rayban Wayfarers!)"
Pros: "The best airline ever! Super friendly crew and staff, great customer service and nice planes. Love KLM!"
Cons: "Boarding at Florence is always chaotic but this isn't within the control of KLM or their crew."
Pros: "The pilot and the crews were helpful about the transit. Pilot make up a lot of time."
Cons: "Flight was delayed, had to run to my next connection flight."
Pros: "Comfortable seat, great crew."
Cons: "Flight delayed, no USB port and no entertainment"
Pros: "Crew helpful. Food good."
Cons: "Better range of movies please"
Pros: "Seat was comfy and spacious for economy class"
Cons: "Vegetarian meal was okay but could be more enjoyable if served with bread at start of meal."
Pros: "Great crew, comfortable seating with enough leg room."
Cons: "Provide dinner before getting to joburg, instead of a snack. Flight arrives late so dinner would be appreciated"
Pros: "Crew was helpful and food was very good"
Cons: "There was no entertainment on the flight from Vancouver to Amsterdam and this on top of a two hour delay in taking off which led us to have to literally run to our gate in Amsterdam to make the connection to Mumbai"
Pros: "Crew was amazing. They adjusted the seating arrangements so there was an empty seat in every row to give passengers more space. Very thoughtful and much appreciated. They served delicious meals, snacks, and water. They provided headphones, blankets and pillows. They took very good care of us."
Pros: "The crew was attentive and the seat at economy comfort was comfortable at the "ok" level. It needs much mor3 to be super comfortable. The plug for the headphones was a mess! It was NOT possible to watch a movie and hear the sound too! I gave up! Not a great offering for the extra dollars..."
Cons: "So many things! Starting with the way assistance in the airport is offered to travellers with mobility issues! This is an important issue that needs to be revisited and changes for better service to be made!"
Pros: "Awful"
Cons: "Everything"
Pros: "Being fed was amazing and watching free TV was great!"
Cons: "I wish there were personal fans because it got uncomfortably hot sandwiched between people"
Cons: "We were changed from KLM to Airiltalia without any information sent so only because I tried to check in did I find out the flight on KLM was cancelled and we were changed to Airitalia. The Airitalia flight was very mediocre."
Cons: "I bought tickets thrue you for me two months ago Iit went well but on the last few days I also bought ticked for my brother and his wife and it was a disaster night mare for them bound for Montpellier too to attend a wedding the damn suitcase didn't get to final destination it was at Orlando but got"
Pros: "My seat at the window was great and the staff really friendly and courteous!"
Cons: "The check in desk was late opening & the carry on luggage size was smaller than advertised on their website, so it had to be put in the hold. Open on time to prevent less stress to travelers & give more accurate information about cabin luggage."
Pros: "Friendly staff"
Cons: "Security check at gate; No priority"
Cons: "Need more leg room!!! Larger meals needed."
Pros: "Friendly staff, great service on board. Way better value and service compared to the tacky Irish competition flying the route. Delta all the way"
Cons: "No reading light in my seat..."
Pros: "Crew's hospitality, good music, good destination material, terminal info, good system overall"
Cons: "Less legroom, storage space, bad food, few movie options."
Cons: "Poor food, flight attend and finally baggage missing. Overall experience is extremely bad."
Pros: "Nice crew pilot food and beverage"
Cons: "No wifi"
Pros: "Face recognition was amazing"
Cons: "Too hot on plane"
Pros: "Staff very pleasant"
Cons: "Evening snack was not the greatest breakfast was pretty food"
Pros: "Good services!"
Pros: "Cabin crew were very professional."
Cons: "Aircraft returned to gate due to fault and was delayed for 45 min."
Pros: "Delayed flight but staff apologized as for safety reasons."
Cons: "Very late arrival"
Pros: ".Very much on time with pleasant service."
Cons: "Can nit find much fault fir a short run!"
Pros: "The food service was good and the flight attendants were friendly."
Cons: "The plane was very uncomfortable. The seats were small, you felt on top of the person next to you, and there was no leg room. I am a pretty small person- I can't image how uncomfortable all of the taller passengers must have been."
Cons: "Headset jack only worked if the headset plug was in EXACTLY the right spot."
Pros: "The staff the facilities the food all ******. Will definetly look forward to choose both delta and KLM"
Cons: "Crowded seating, 20-year old video system, headphones that did not match the two-jack system, lackluster service in flight. Generally my experience with KLM has been good, but this was well below average."
Pros: "Very friendly crew"
Pros: "Boarding was a breeze and the staff were lovely. Online check was very simple and easy to navigate."
Cons: "The amount of extras you have to click no to while checking in online."
Pros: "Nice seats, comfortable."
Cons: "Again, no aisle seat for SkyTeam Gold member. Also, my baggage was lost. First bag arrived a day late, second after I had left Billund and it was six days before the bag with my clothes reached me. I was told I will have 100 euro credit for clothing, but in the winter and for 6 days, this was not even close to the amount I needed for clothing and necessities, to have my time here."
Cons: "Dutch sub titels would be nice."
Pros: "The flight was very good, specially considering it was a daylight one. Staff was friendly and servicial. Tue food was above the industry's average."
Pros: "quick and relaxed"
Pros: "Flight crew was pleasant and attentive. Seats were comfortable for economy as well. We were allowed to check in extra baggage for free at check in which really helped since we would be catching a connecting flight in Amsterdam"
Pros: "newer plane, good staff"
Cons: "need better and more food options, more often"
Cons: "OLD OLD plane with hard seats and tiny screens"
Pros: "Everything. Staff incredible."
Pros: "Overall, my trip to Cardiff via Amsterdam was smooth and delightful. I've flown a few short trips this summer and I was pleasantly surprised to find KLM still offered complimentary snacks. What a refreshing change!"
Cons: "There was no entertainment which is why I assigned that category only one star. The boarding process in Amsterdam could have been a bit smoother. Announcements were no clear."
Pros: "Boarding was smooth and hassle free, crew were friendly and helpful, food and drinks were very good, entertainment system is awesome and up to date with latest contents, good flight overall"
Cons: "Cabin noise and air conditioning too cold, didn't sleep well"
Pros: "Having exit aisle made a huge difference in comfort Crew were EXCELLENT"
Cons: "Food was not very good Tasteless and rubbery"
Pros: "Good food, good entertainment system, comfortable seating."
Cons: "Only one toilet working in business class. A crew member told me that it was a decision to fly with only one toilet to ensure no delay. There was a disgusting stench of sewerage for the complete flight from Amsterdam to Johannesburg. This was in all likelihood due to the broken toilet on the left side."
Pros: "They flew full speed to catch up with the delays."
Cons: "Departure was scheduled with one hour delay. When everyone was boarded they mentioned a leaking toilet. It took them 1,5 hours to disable the toilet. In the mean time, no drinks, no snacks, nothing. So we should depart at 18:00 but it became 19:30. Our first drinks and meal was no earlier then 21:00. The crew should have anticipated better that the technical problem would at least take one hour and give everyone a drink at least."
Pros: "The premium economy- it was the most uncomfortable - tight seats. The back of the seats are not reclining It's not worth the money you pay for premium services"
Cons: "The premium economy should be eliminated and should be labeled for what it is: couch class with some perks"
Pros: "Clean plane , good crew ,"
Cons: "they didn't load my baggage from flight 1 to 2"
Pros: "Very friendly crew"
Cons: "In-flight system had some errors"
Pros: "Cops is always a good reason to flight"
Cons: "They always change the gates, also too many disorders in the gate previous the boarding process, the process it is not clean. They took hand baggage aleatory to send to down and do not ask if we have fragile stuffs there."
Pros: "Entertainment system"
Cons: "Awoke to find ill man laying on floor in aisle next to me with oxygen. Shortly after... Passenger in seat near man on floor (diabetic but no one tells us anything) needs to lay across four seats with oxygen for heart issues for remainder of trip with staff and doctor on board nearby. Nevdr informed what was happening, never offered to move our seats or move iIl passengers. Glad all turned out ok. Could have given them more privacy and better informed other passengers."
Pros: "Not much, seats are super uncomfortable"
Cons: "Better code sharing with KLM"
Pros: "Seats are comfortable on Business Class. Service is good"
Cons: "Constant delays specially from CDG! Poor cabin service specially on this flight."
Pros: "Crew was attentive. Timings were spot on."
Cons: "Virtually no information at boarding which made everybody just make a huge line. Boarding they a bus, it was raining and we got wet."
Pros: "Incredible staff. Super polite"
Pros: "Boarding procedures and crew were top. Wines and beverages excellent and even in super economy water was served several times"
Cons: "The food could have been much better, should consider doing everything organic. As it was, the chicken in the meal was awful, the dessert terrible. The rice in the salad hard, almost uncooked. The only good quality food was the bread and the cheese"
Pros: "Entertainment system failed repeatedly."
Cons: "Entertainment system failed repeatedly."
Pros: "The whole crew is so kind"
Cons: "Delta made my whole first flying experience the best."
Cons: "No entertainment facilities"
Pros: "Amazing crews!"
Cons: "N/A"
Pros: "Crew was awesome!!"
Cons: "I paid extra for the seat, but there was a metal box under the seat in front of me that curtailed my ability to stow my carry bag, and my leg room. I am very diappointed that I paid above the normal seat charge as if there was a premium to this seat, but in reality it was a sb par seat."
Pros: "The airplane"
Cons: "Nothing"
Pros: "Crew was friendly and attentive but hard to understand"
Cons: "Airport experience was inefficient. Long unattractive walk, boarding was tedious: the automatic check-in was not helpful and required so many more staff. Random security check was redundant and chaotic."
Cons: "The fligh Washington delay more than a hour"
Cons: "Flight was delayed by at least an hour leaving Paris - a regular situation I experienced with AF."
Pros: "The staff were very helpful and professional. The air hostesses regularly checked if I was ok and showed concern when I wasn't. They made what seemed a bad situation seem bearable."
Cons: "The food was not very nice and the option I wanted had run out. The entertainment was faulty and had to be reset several times. The comfort was below standard and needs to be improved."
Pros: "Crew was nice although one fellow was a little too "nervous" and looked bossy"
Cons: "Food was awful. Asked for vegan meal they got it half right, as vegan is not vegetarian. And the second meal or snack as they say was not vegetarian or vegan at all."
Pros: "1. The flight attendant staff was very polite and cheerful. 2. The plane was clean and comfortable."
Cons: "1.The entertainment monitor did not function well enough to be able to watch. 2.The headset only function on one ear. 3. You could not hear announcements over the PA system"
Pros: "Over all pretty good for price."
Pros: "Efficient and smooth flight. Service was great and flight attendants were friendly"
Cons: "Nothing"
Pros: "The food was okay and the staff were friendly."
Cons: "My seat and several others around me were broken so that they would fall all the way back if we leaned back at all. The entertainment system kept crashing and forgetting what shows everyone on board we're watching. There were no air vents to control. The games crashed constantly. The usb hubs didn't work."
Pros: "Direct flight from Indy to CDG is great. The plane was not so full, so I hope business improves so we can keep it going. Very smooth flight, with good and friendly crew."
Pros: "Late leaving - no reason or apology. A bumpy flight all flight. Food almoat inedible. Seat gave bum axhe after 45 minutes. Staff friendly, but they dropped my meal"
Cons: "Nothing to like"
Cons: "The food was the worst airline food I have ever been served. I could not eat it. This is very disappointing for an airline like AirFrance which usually serves very good meals."
Pros: "The crew was very friendly and professional. The food very good"
Cons: "First the plane was delayed because of a technical issue that I think they should check before The plane was crowded and old."
Pros: "Yelling, cheering and literally rolling in the aisle made for a really annoying flight"
Cons: "Infusions bad behavior. Also, flight number was changed and AF. Was understaffed to handle questions on squirrelly luggage check."
Cons: "CDG is a monster. The distances are long . The signage is poor and when I asked for directions the diirections I got were wrong."
Cons: "Took very long from landing/ arrival until baggage could be collected. Priority luggage came out last!"
Pros: "Plane was clean. Pilots made up some of departure delay time in the air between NCE & CDG."
Cons: "Unorganized boarding process and minimal info or announcements regarding delay. Failure to respect SkyPriority status at boarding were disappointing. (Staff allowed it to be a bit pushy and chaotic and people were able to force their way in line, ahead of those who had been waiting in line.) Seats were okay but no recline and underseat storage was small. (Backpack wouldn't fit underseat and had to be stored in overhead.) Passengers crowding from back of plane upon arrival made it hard to deplane and felt rude."
Cons: "People may think,that the delay of the flight has set my mood for this review but I can ensure it has most definitely not. With all the bad weather, I was already very happy to connect right on time in Paris. However, a long haul A380 flight with such a tight seat configurstion is almost embarrassing for an airline. The in flight entertainment is at a very poor level, not only with the screen being very small and outdated, many of the movies are only available in French and the international selection very limited. The food was not much of a delight, whereas the presentation was nice. However, in all the 7 h between the services, nobody came around with refreshments in a completely booked flight, neither was announced that a trolly would be set for self service in the galley. Lucky the ones who got up and found out about. In terms of amenities, again, the airline is lacking of originality and saves cost. Bottom line: you get from A to B, but there are so many better competitors in the market, which I shall definitely consider on my next travel."
Cons: "Its been a week. My trip has ended. I still do not have my bags. Terrible customer service."
Pros: "Smoothness of flight and service"
Cons: "In a french airline, chinese-cuisine meal was more attractive than western. Unbelievable! Entertainment: films were either too old, or too uninteresting"
Pros: "Crew was nice and responsive"
Cons: "The overall experience is regular at best"
Pros: "Flight was only 50% full. Room to spread out."
Cons: "Leg room cramp. Flight arrived late as a result missed connection home."
Pros: "All of the crew were friendly and the flight was on time."
Cons: "No problems"
Pros: "Arrived on time"
Cons: "Cattle car accommodations"
Pros: "Premium Economy on AF Boeing 777 on this route is not "a little less than Business", but rather "a little more than Economy". Seats, in a 2-4-2 configuration, are hard but OK, as well as the pitch. Good screens and entertainment."
Cons: "With the main meal, AF serves only "ordinary wine", This looks and tastes cheap. On the same route and class, Vietnam Airlines serves premium wines, a nice touch that would not cost fortunes to AF! Also, the "Asian" choice for the main course did not look and taste like the real thing."
Pros: "The service and food were excellent plane was clean."
Cons: "No entertainment system"
Pros: "Standard stuff"
Pros: "The boarding process was smooth and the crew friendly. Flight ran on time."
Cons: "Unloading the baggage took over 90 minutes, and there was no explanation for the delay and nobody from Air France in sight on the ground in Boston."
Pros: "Wheel chair service at LAX is run by the airport. Their priority is to get you to your flight, not to a VIP room regardless of how early you check in."
Pros: "Boarding was fast and efficient. Flight attendant staff were friendly and very courteous."
Cons: "Vegetarian food choices are too limited. Snack and beverage availability on long flights like this are too few and far between."
Pros: "Same as above, the crew was very friendly and the food was great."
Cons: "Seating was cramped and uncomfortable for a tall person."
Cons: "To many announcements on a overnight flight."
Pros: "Great service by attendants Spoiled us with food"
Cons: "Not easy to find reader boards at Paris airport. Also security almost made us not make connection"
Pros: "Friendly crew, this is just a shuttle service. Not much to write about"
Cons: "They wouldn't fill my water bottle, gave me two plastic cups instead...."
Cons: "Exiting passengers from the rear exposed the entire flight as people had to walk past those seated from the back to front. Great social distancing and we'll done British Airways"
Pros: "No and no."
Cons: "Very crowded in.club class. Way lower standard for business class as compared to the other airlines."
Pros: "Crew was friendly and everything was perfectly on time!"
Cons: "4 hs delay"
Pros: "The flight was on time and landed early"
Cons: "The bags could have come out earlier and the food could be better"
Cons: "I made a mistake in my daughter's surname while booking online, BA refused ro change it at check-in and forced me to buy a new ticket for her."
Pros: "Leg room fantastic"
Pros: "The crew were very attentive and there was a large variety of in-flight entertainment."
Cons: "I am not a heavy set guy but the seats were unreasonably close to each other, this meant that when you eat a meal your elbows push into your sides making it hard to bring food to your mouth."
Cons: "Direct flights to and from South Africa to USA not via Middle East"
Cons: "Very narrow seats"
Pros: "The crew, the food and the smooth journey."
Cons: "Seating is a big problem. I am only 192 cm tall and cannot really fit my legs into the space. Have them out in the corridor"
Pros: "That the flight was on time."
Cons: "not applicable."
Cons: "Seat was broken. Reclines without requesting. Tray also needs attention. Seat 15C"
Pros: "Quick boarding."
Cons: "Nothing. Pretty good for a short trip."
Pros: "It was a short flight"
Cons: "Enough room to sit. The worst cramped seat I have ever had to fly in."
Cons: "Better business class seats"
Cons: "Delayed, twice!"
Cons: "Could have been on time - 40 minutes late"
Pros: "New Years flight... very special. Great staff and grear entertainment on board"
Cons: "The flight data was not showing... could have been interesting especially on a New Years flight"
Pros: "This was a charter by BA. Airbus A320 with amazing legroom. Was slightly annoyed by them not having coffee ( to wake me up for the drive home) but I suppose I get why they weren't serving hot beverages."
Cons: "The beverages thing above."
Cons: "Don't like the business class seating configuration. The entertainment system played up and only worked in half the cabin. They tried to fix it without success"
Pros: "The A380 is roomy with large overhead bins. Its quiet and smooth. Flight was on time!!"
Cons: "It was impossible to select a seat in advance. I could not even get to seat selection at online checkin. It was very frustrating. When I went to BA in London and Los Angeles they said it was responsibility of AA and when I went to AA in London & Los Angeles they referred me back to BA. Why can I not choose seats like on other airlines????"
Pros: "BA in South Africa run a clean efficient airline. Planes are new crew well trained and food is good."
Cons: "Preseating totally random no matter your status. Booked state of my choice well in advance and was presented at the back of the plane on check-in"
Pros: "I liked that we landed 30 minutes in advance for both flights to and back, compared to the other parallel flight via SAA which was delayed 2 hours when we arrived back."
Cons: "I didn't like the cheese roll I asked for as the whole roll and cheese was literally stuck to the bottom and parts of the bottom of the roll were mushy. The staff were professional but lacked personality and seemed a little hollow."
Pros: "I liked the seats that I got. Staff were friendly and it was a comfortable flight overall."
Cons: "There wasn't enough drinks (water etc) coming around after meals."
Pros: "Food was tasty"
Cons: "Was delayed"
Pros: "Quick and efficient boarding."
Cons: "The way that the crew (both in economy on right of plane) spoke to, and handled sensitive situations with several of the passengers in a loud and rather rude manner. This is not the British way that I have been accustomed to on previous BA flights, and is rather upsetting. The crew were very abrupt in general, and did not have that seasoned and polite demeanor which I expect from BA."
Pros: "BA moved me on to the Kulula flight without any fuss and gave me a meal voucher."
Cons: "I got to the airport to find that my 19:15 flight had been delayed to 22:15. I hadn't received any notification from BA and still do not know the reason for the delay. The only other option available was for BA to put us on the 20:20 Kulula flight to Lanseria and then shuttle us from Lanseria to OR Tambo. It really is not pleasant to get back home so late on a week night and not even be given any warning or any reason for the huge delay."
Cons: "Checked-in baggage got mishandled and haven't got any response from British airlines after 24 hrs of complain filed."
Pros: "Crew were excellent. Very friendly and helpful."
Cons: "Boxes under the seat in front took up legroom (but it did ensure good entertainment options). Could have offered some more drinks."
Pros: "The staff was great, friendly, helpful and professional."
Cons: "I thought the food lacked imagination, was skimpy and too hot. I burned my mouth several times. I really do not like having to pay for a booked seat. I have special needs at my age and so booking early is how I typically make sure I can access the bathrooms easily without climbing over sleeping passengers. I picked flight for the price, but in the end I should have stuck with Delta, KLM and Air France and got the extra miles as with seat bookings and only one bag allowance, what I ended up paying did not make it worth it. Oh well, live and learn. Seats were tight, anyone bigger than me would have really struggled."
Pros: "Friendly and helpful crew"
Cons: "My wife and I having to sit in separate seats when there were seats available next to each other. Being charged excess baggage when one suitcase was weigh under weight"
Pros: "Air hostesses were good"
Cons: "Poor food, and very little of it is given. poorly run airline. Too many unnecessary rules that don't apply to any other airlines that they claim to be in the name of security. Will not fly again."
Pros: "All the normal stuff of flying domestic."
Cons: "The way that my brand new suitcase was damaged on the flight and BA just said that handles are excluded from bag damage. Thus, they can do what ever they want with your bag's handles, manhandle it and not take any responsibility. My suitcase was clearly damaged by the way it was handled since i booked it in till i received it again and they just said sorry...there is nothing we can do for you!!! Now that is is poor customer service."
Pros: "Good preboarding with wheelchair in JFK a little more hectic in Heathrow but very useful because it is a very long walk."
Cons: "System for communication at Heathrow about what to do when arriving and looking for a wheelchair."
Pros: "I have physical limitations and required assistance stowing overhead luggage and help getting out of seat. Crew were terrific. Wheelchair assistance also great. Travels on my own."
Pros: "I was able to sleep without being disturbed."
Cons: "My flight was delayed 4 1/2 hours"
Pros: "Made up for time due to a big tail wind"
Cons: "Took off late and had to wait 45 minutes for luggage"
Pros: "Flight was on time,actually ahead of time."
Cons: "Aircon was not efficient. Very hot in the plane."
Pros: "Excellent service, the entire flight staff was friendly and attentive"
Cons: "The only thing I didn't like was the size of the drinks. Regular sized soft drinks, juice or water would have been better especially for 11 hours in a pressurized cabin. I had to ask several times for more water until I found a small water dispenser at the back of the plane where I could refill my water bottle without having to ask the staff. The attendants were always more than happy to give me extra water when I asked"
Pros: "The space on the A380 is nice, comfortable seats, and the crew was very considerate"
Cons: "No between meals drinks (like water, etc.) or snacks left out on this 11 hour flight. The seats are still a bit close together... for the comfort of a long legged man behind me, I was not really able to recline my chair at all."
Pros: "Aside from the typically narrow seats, the service included all the hallmarks of higher-tier service, such as hot towels, cloth napkins, a good meal, and so on. The crew was attentive, as well."
Pros: "Timely."
Cons: "The airplane was really old. The screens wouldn't start for a really long time. Very, very few options for movies and the screen and sound had terrible quality. Food was not really good."
Pros: "Staff was extremely friendly"
Cons: "Seats were too close and comfort was hard for the long flights. I wish premium economy was better explained to one world partners prior to booking so there would be access to better seats."
Cons: "$100 just to choose a seat ? $100 for a 2nd bag? A Kellogg's bar for breakfast? Shame on them."
Pros: "Strong tailwind brought us in 30mins ahead of schedule."
Cons: "Nothing. Was a smooth and friendly flight. Cabin crew were courteous and efficient."
Cons: "Took forever to serve cold drinks and food. Said we were going to have a short flight due to tail wind so they would not serve hot drinks. Mean while we landed at the expected time of arrival."
Cons: "The fact that even water is for purchase is disgraceful"
Pros: "Great food. Ground staff were very accommodating."
Cons: "Flight crew attitude. Cramped seating."
Read more about SWISS
Safety measures for airlines flying from Alberta to Johannesburg
Airlines flying from Alberta to Johannesburg have enacted additional safety measures and adjusted policies to better accommodate travellers. Policies vary by airline.
Heightened sanitation
Daily cleaning, installation of cabin HEPA filters on flights from Alberta to Johannesburg
Mandatory masks
Masks required on board, masks provided on flights from Alberta to Johannesburg
Social distancing seating
Middle seats unavailable to book on flights from Alberta to Johannesburg
Pre-flight testing
Testing for antibodies, testing for symptoms for flights from Alberta to Johannesburg
Book cheap flights from Alberta to Johannesburg
Recent return flight deals
Search by stops
Search by airline
Search by price