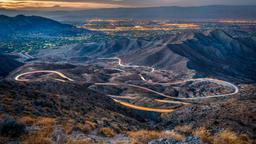 Palm Desert car hire
Search hundreds of travel sites at once for car rental deals in Palm Desert
Palm Desert, CA, United States
Palm Desert car hire information
| | |
| --- | --- |
| Pick-up location | Palm Desert |
| Hire locations | 6 |
Palm Desert car hire reviews and directory
╳
Hertz reviews
Car hire locations
Hertz
Locations in Palm Desert
74855 Country Club Dr.
+1 760 568 6200
| | |
| --- | --- |
| Monday | 08:00 - 18:00 |
| Tuesday | 08:00 - 18:00 |
| Wednesday | 08:00 - 18:00 |
| Thursday | 08:00 - 18:00 |
| Friday | 08:00 - 18:00 |
| Saturday | 09:00 - 12:00 |
| Sunday | |
10,0 Excellent
Nov 20 2015
Pros:
The car was clean. The price quote was on the money. All and all a good experience. The accepted a debit card after a soft credit check it was no problem.
A sub-compact instead of a compact
Cons:
Dents and cratches were not indicated on contract. Had to go back. Car was not clean in and out.
No car!
Cons:
Hertz didn't honor the reservation as it was same day and was told I should've booked it direct with Hertz. However, there were no cars available anyway so wonder why your reservation system showed availability.
Why bother?
Pros:
Nothing.. Actually the euphoric feeling receiving a confirmation for a convertible whilst booking a day in advance was rather favourable..
Cons:
Really didn't like showing up at Hertz rentals, with my confirmation number in hand after waving good bye to my ride feeling confident in my rental confirmation that I would be just fine; only to be told that my confirmation was worthless, they had no vehicles available. Furthermore when I replied that I had used "kyak" I was told that they hold no validity as they do not have access to the hertz inventory so they cannot accurately reserve anything!!! Thanks KAYAK! For making my wife's birthday a memorable experience.
Pros:
car was very clean and good on gas
Cons:
I was charged more than the quoted price of 160 even without insurance. I had input Palm Springs airport as pickup location, but when I arrived they informed me the car was at Palm Desert, about an hour away (my bad for not noting this?) However they did supply me with a car at Palm Springs airport. Thank you for that!
Bad experience
Cons:
Turns out the rental was at a resort and not at the airport like we thought where we arranged it to be. When we got to the resort they didn't have any cars left so were given a minivan to use which was really bad for mountain driving. Took an hour to switch it out when they finally had a car available. Rental place didn't have after hours drop off like we had booked it for and charged extra for us to drop it off at the airport that had the drop off time we needed.
Worst Car rental experience ever.Never again.
Pros:
I thought the location would be quick and convenient compared to the Airport pick ups. I usually go to Budget/Avis or Enterprise in Palm Desert to avoid the long drive Airport in Palm Springs. I am usually in and out in under 10 minutes after prepaying online. NOT this time.
Cons:
I arrived after my appointed time, not early. So I expected my pre-paid car to be available. It wasn't and I was told politely to wait, it was being washed.After 15 minutes I asked again. Stil being cleaned. I asked again after 30 minutes. I said I prepaid for a car at an allotted time, my car should be ready. The clerk told me, "You were late". I gave away your car. We don't have any cars right now." I was stunned. I waited over an hour, while I watched only 4 customers total be serviced, yet the clerk kept stating that she was so busy and overwhelmed. First was a drop-off. 2nd was a stranded couple who were told they would be picked up by Hertz at the mechanics and were not. 3rd was an elderly lady on oxygen who complained she'd been there an hour. The clerk told her, "You've only been here 20 minutes". When the lady walked over on her cane, The clerk muttered, "Shit" under her breath. So, I defended the lady be'cos I had been there over an hour and she was there before me. Clerk responded that she didn't like her job anymore and was tired of "customers with attitudes"! I told her it's not Customers with attitudes it's a lack of service. The customers have a right to be upset. She responded, "This is not an Airport. We only have a few cars and you see, there's only 3 of us here." referring to the car cleaning staff. A car finally arrived and clerk stated your car is here. Then she proceeded to help the stranded couple and walk out to do a car inspection. My daughter had been outside with the luggage and I told the clerk that, we had an appointment 4 hours away to get to. She said I could have brought my daughter inside. I responded. "Well, whoever thought it would take more than 10 minutes to pick up a prepaid rental?" The conversation turned unpleasant, I told her the company needs to have more than one person at the desk and needs to treat their customers better. She said the company is aware. I finally got the keys and was able to leave 1. 5 hours after arrival. Insane! Never again! Worst car rental experience in 30 years. I rent monthly at a minimum.Can't believe this "service" s on premise of the Marriott and reflecting so poorly on the resort.
Get a train instead
Cons:
They wouldn't accept my ID and were very condescending about it. I won't waste my time here again.
10,0 Excellent
Dec 9 2017
Convenient and efficient
Pros:
Pleasant and convenient
Service was beyond disappointing
Pros:
The car itself was fine. It was clean and had an almost full tank of gas. It didn't smell and it got me safely to my destination and back.
Cons:
My experience at the rental agency was one of the worst I've ever had. The car was not there when I arrived on time for my pick up. I had to wait almost an hour, and when it was finally ready, the computer system continuously failed and my agreement couldn't be completed. I understand that this was not the fault of the staff, however they were completely unapologetic and took no opportunity to compensate the 2 hours that I spent waiting for a process that should've taken 20 minutes. Being located in a Marriott especially, I was shocked at the poor level of service.
Enterprise
2 locations in Palm Desert
╳
Enterprise reviews
Car hire locations
Enterprise
Locations in Palm Desert
73088 Highway 111
+1 760 341 4470
| | |
| --- | --- |
| Monday | 08:00 - 18:00 |
| Tuesday | 08:00 - 18:00 |
| Wednesday | 08:00 - 18:00 |
| Thursday | 08:00 - 18:00 |
| Friday | 08:00 - 18:00 |
| Saturday | 09:00 - 12:00 |
| Sunday | 00:00 - 00:00 |
78385 Varner Rd Ste D
+1 760 341 4470
| | |
| --- | --- |
| Monday | 08:00 - 18:00 |
| Tuesday | 08:00 - 18:00 |
| Wednesday | 08:00 - 18:00 |
| Thursday | 08:00 - 18:00 |
| Friday | 08:00 - 18:00 |
| Saturday | 09:00 - 12:00 |
| Sunday | 00:00 - 00:00 |
10,0 Excellent
May 5 2017
Pros:
Loved all of the staff at Enterprise. We felt that they really understood how to make a travel experience memorable and trouble free. Will definitely use Enterprise for all of our car rental needs in the future.
8,0 Excellent
Sep 11 2018
Pros:
Great car, good mileage, clean.
Cons:
Their printer was down so we didn't get a receipt.
Usually Great Service - But Okay Service This Time
Cons:
Car was not ready at pick up time; The interior of the car was dirty; Didn't get the car I reserved - received a mid-size SUV and not an economy car. One way car rental fee was very high.
did not get car I signed up for
Pros:
Did not get a car I signed up for. signed up for mid-size sedan and got a SUV. Since i was driving a long distance I wanted to economize on gas mileage.
10,0 Excellent
Nov 11 2016
As usual I had a very good experience.
Pros:
In spite of the offices lack of vehicles available at an extremely busy time and the fact I had no reservation, Enterprise managed to arrange to set me up with a vehicle anyway. It was clean and we'll cared for. The staff in the Palm Desert, clearly scrambling to help the numerous customers they wore patient, pleasant and professional.
Cons:
Without a doubt the best thing about Enterprise is the very low costs to rent new cars. The additional services it provides, such as; pick up and drop off are very helpful and often necessary services.
9,2 Excellent
Dec 29 2016
Cons:
We wanted to drop off the van at Palm Springs Airport (having picked it up at Palm Desert) and were initially told that we could not do it under any circumstances.) However, when we called back we were told that we could do it for a $50 fee. This was acceptable because of the convenience to do so. Palm Springs Airport and Palm Desert are very close together so it was difficult to see why this alternate drop off was a big deal and required a "penalty fee". We gave plenty of notice and no other customers were inconvenienced. Frank Eppinger
Pros:
The gentlemen working at the location we picked up and dropped off our car was fabulous!!
kayak misleading
Cons:
I thought I was renting from Palm Springs airport (it said "on airport" ) but in actuality, it was a $50 cab ride away.
Misleading
Cons:
Booked the car at PSP, but they had it at city agent in town. So my rate was higher. Seemed like a bait and switch. Then, driving in CA my GPS put me on toll roads, but when I went online to settle up, I find that I cant because Enterprise and the Toll Rd guys have some kind of a deal that prohibits me from paying the tolls, so I will expect some inflated rate to settle up. There is something wrong here.
Cons:
The office closed on Sunday at noon and we arrived at about 12:30. We took a taxi from the airport, then had to pay for another taxi ride to another car rental office. We therefore wasted about $75 dollars on taxi rides. The second car rental company that we found, called Desert Rent a Car, had a free shuttle to the airport. I wish you would have recommended that one. I won't be using Enterprise or Kayak again.
Budget

╳
Budget reviews
Car hire locations
Budget
Locations in Palm Desert
74-881 Hovley Lane East
+1 760 776 9565
| | |
| --- | --- |
| Monday | 08:00 - 14:00 |
| Tuesday | 08:00 - 14:00 |
| Wednesday | 08:00 - 14:00 |
| Thursday | 08:00 - 14:00 |
| Friday | 08:00 - 14:00 |
| Saturday | 09:00 - 12:00 |
| Sunday | 09:00 - 12:00 |
8,4 Excellent
May 13 2017
Pros:
Was very good at pick up, and drop off , close to the airport, and the shuttle is convenient
Cons:
They charge you too much for gas, almost more than I paid for the car rental, i used only quarter of tank, and they charged me $70. There is no specific way to measure the gas used, whatever the person who check the car decide what to pay, so I recommend to put gas before the drop off
Cons:
Service of counter personnel. Car windows where smeared and cloudy.
10,0 Excellent
Jul 11 2020
Pros:
Pickup and dropoff was easy, and the car was clean when I got it
Cons:
nothing! The car was clean when I got it, the service was top notch, the return was seamless. nothing else I could ask for in a rental agency, you have my business next time!!!
╳
Avis reviews
Car hire locations
Avis
Locations in Palm Desert
74-881 Hovley Lane East
+1 760 346 7429
| | |
| --- | --- |
| Monday | 08:00 - 14:00 |
| Tuesday | 08:00 - 14:00 |
| Wednesday | 08:00 - 14:00 |
| Thursday | 08:00 - 14:00 |
| Friday | 08:00 - 14:00 |
| Saturday | 09:00 - 12:00 |
| Sunday | 09:00 - 12:00 |
Steering was off
Pros:
4 door, plenty of space, the pickup dropofff associate was very nice and efficient.
Cons:
On the freeway, the car drove very oddly. It was hard to keep the car straight; something with the steering or tires? There were moments when I was extremely uncomfortable on narrow stretches of high speed freeways. I explained to the associate upon dropoff and he attributed it to the size of the car. However, I have rented many economy sized cars and never felt that before. In the end, I would come back again to Avis but be more selective by test driving the car first.
Pros:
Was able to secure a same day reservation through Kayak with ease when my car broke down.
Cons:
At Avis, manager said there were no cars available for my reservation. Said next time, I needed to plan further ahead. I explained I was renting out of neccessity not pleasure. He seemed put out by the fact that I needed a car. I cancelled and went elsewhere.
No car available
Cons:
No response, no car available and no help.
Cons:
Car was filthy. Bloody Kleenex in side pocket. Could not see out of windows.
8,4 Excellent
Feb 16 2019
Pros:
Staff- they were uber understaffed but the gal there smiled and handled all the grumpy people. She was accommodating.
Cons:
More employees at peak dates
Pros:
Pick up was fine, quick. Easy
Cons:
Drop off was poorly done, understaffed
Eagle Rent A Car

Eagle Rent A Car
Locations in Palm Desert
58 travellers who hired a car in Palm Desert gave the car agency they used an average rating of 6,5
Car hire locations in or near Palm Desert
When to book a car hire in Palm Desert
Average daily price per month
Car hire prices as pick-up date approaches
Top tips for renting a car in Palm Desert
Book your car hire in Palm Desert at least 1 week before your trip in order to get a below-average price
FAQs about hiring a car in Palm Desert
What is the best car hire agency in Palm Desert?
How can I find a car hire near me in Palm Desert?