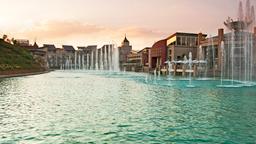 HND - JNB
Find cheap flights from Tokyo Haneda to Johannesburg
Search hundreds of travel sites at once for deals on flights to Johannesburg. Bundle your flight + hotel and save!
FAQs for booking Tokyo Haneda to Johannesburg flights
How long does a flight from Tokyo Haneda to Johannesburg take?
Which airlines provide the cheapest flights from Tokyo Haneda to Johannesburg?
What's the cheapest day of the week to fly from Tokyo Haneda to Johannesburg?
Which airports will I be using when flying from Tokyo Haneda to Johannesburg?
How does KAYAK find such low prices on flights from Tokyo Haneda to Johannesburg?
How does KAYAK's flight Price Forecast tool help me choose the right time to buy my flight ticket from Tokyo Haneda to Johannesburg?
What is the Hacker Fare option on flights from Tokyo Haneda to Johannesburg?
What is KAYAK's "flexible dates" feature and why should I care when looking for a flight from Tokyo Haneda to Johannesburg?
Top 5 airlines serving Tokyo Haneda to Johannesburg OR Tambo
Scores according to KAYAK customer reviews
8,6
ANA
Overall score based on 4 660 reviews
Pros: "Awesome crew"
Cons: "Old seating"
Pros: "Crew service is good!"
Cons: "The seat is really cramp and tight!!"
Cons: "N/A"
Cons: "Very uncomfortable seat. A bit rude flight attendant."
Pros: "Yes"
Cons: "Nothing."
Pros: "Comfort as usual"
Cons: "No idea"
Pros: "Great customer experience is what look for in any service, ANA delivers this in abundance."
Pros: "The crew was wonderful. Polite and professional. The meals were very good for economy class."
Cons: "The seats felt like there was no padding in the seat. The back was fine."
Pros: "Crew on ANA is always the best Also custom check in was amazingly fast, I went to the side custom check in by accident (there are two) It took less than 5 minutes, I didn't not know I had to fill another card to leave japan but it was super easy as there was a person to guide me + basic info"
Cons: "Other than chairs being more comfortable nothing really"
Pros: "There was lots of leg room. Crew was nice."
Cons: "One of our seats had a broken recliner button."
Pros: "Nothing."
Cons: "A pair of babies wailed and cried for almost the entire 10 hour flight. Was this ANA's fault? Of course not, but they could've suggested to the parents ways to help with their children."
Pros: "Attentive and friendly service, good food, fairly spacious seat."
Pros: "Staff was great!"
Cons: "Food wasn't the best."
Pros: "The cabin crew was great in services"
Cons: "Priority not thought"
Pros: "I enjoy ANA and choose to fly with them, normally a good flight"
Cons: "All our issues were another passenger, not ANA's fault"
Pros: "Zero"
Cons: "Asked specifically at the ticketing counter not to be seated in a non-emergency row. Were seated in an emergency row. For a 12 hour flight with seats that don't recline and nothing the on-board staff could do about the ticket counter's negligence and bad faith other than apologize. Seated upright for an overnight flight (for the second time on the same trip) for 12 hours. Not a pleasant experience. Had a feeling ANA would be bush league. This trip confirmed those suspicions. It wasn't the crew's fault (though they, unfortunately bore the brunt of my displeasure) so much as the counter's fault, but airlines charging what they are shouldn't be putting passengers or crew in this position. The ticket counter folks literally mislead us. They specifically told us that these were not emergency row seats and that we would have reclining seats and seatback displays in front of us like everyone else. The entire reason I asked is because we got stuck in the last row on the way in with seats that don't recline, which blows for a 12 hour red-eye flight. Instead we got seats that did not recline and a fold out screen that came from the right-hand arm rest. Not the end of the world if one had no choice, but certainly not what I paid for and certainly not what the ticketing counter people stated we were getting (under specific inquiry about the very point). The ticketing counter in particular seems to be skeevy, at best. To the detriment of their own crew, who is left apologizing for things they can do nothing about. As stated, this is a bush league international carrier. Avoid unless you love sleepless nights crossing the international dateline..."
Pros: "Their service"
Cons: "Foods"
Pros: "Service, staff, and food were all above-average as compared to other companies with whom I've flown"
Cons: "Spacing was a little bit cramped, and side-to-side leg-room was so cramped that my neighbor fell asleep, spread his legs and suddenly had no where to escape. Made sleeping difficult/impossible."
Pros: "I traveled with my wife and twin sons who turned two last month. It was our first time to fly with the boys, and we were nervous about the flight for this reason. Thanks to ANA's staff both on the ground and in the air, everything went very smoothly. When we arrived at Haneda Airport (around 1:30pm), we went to the Special Assistance counter to get a stroller. The staff was friendly and patient, and didn't rush us at all. (It took a little while to get our things in order.) I was surprised to learn that we could check in from there, drop off our checked luggage and receive boarding passes, as well as an airport stroller. In addition, the boy who was awake at the time received an ANA airplane clip. We didn't get to the gate in time for pre-boarding. I was dismayed to find out that we'd have to take a bus to the aircraft. We had the maximum number of carry-on bags, plus two babies, only one of whom was in a carrier, and we learned that the stroller couldn't go on the bus. A gate agent brought our carry-ons onto the bus. She found priority seats for us and a place nearby to fit a bag that couldn't fit on one of our laps. On board, the cabin attendants were attentive and friendly, and gave toys to the boys. When we arrived at Hagi-Iwami Airport, two of them even carried all of our carry-on bags off the plane for us. (They also helped with our carry-on luggage upon returning to Tokyo. In fact, we had forgotten to reserve a stroller for when we deplaned, and a flight attendant tried to find one near the gate, to no avail.) When I think about all the positive experiences we had in a span of about three and a half hours, I am amazed at all the different people who helped to make our journey easier. I cannot imagine it happening in my home country or on most airlines I have flown."
Cons: "Only the fact that we had to take a bus to the aircraft at Haneda, but the gate agents made it very easy for us."
Pros: "Nice 777 plane, good snack"
Pros: "I got a great value for money ticket from KAYAK, TQ!! ANA is an excellent airline, better service, better leg rooms and cuter crew members than than SQ!!"
Cons: "In flight meal could be improved"
Pros: "The in-flight entertainment is fantastic, always loaded with new movies to watch. The same free drinks (beer/wine/etc)"
Cons: "The boarding was terrible. They called for groups, asked everyone to form 2 lines, but after the lines were formed, closed one boarding lane. Some people were late to board for first-class, causing even more boarding delay and chaos. There were 5 crew at the boarding gate just standing and watching. I selected a seat closer to the rear of the cabin, which received much worse attention than any other flight with ANA. I didn't get asked for a drink until very late, and the second time around there were almost no drink selections available. My seat was also broken and would not recline. Aside from the actual airline, the passengers in the rear were very inconsiderate. There was a big family with several children running around/crying/playing with seat-back trays the entire 11+ hour flight. Again, this is not entirely the fault of the airline, but it was a discomfort."
Pros: "From start to Finish from ticketing to baggage claim we received Premier Customer Service !!!!!"
Cons: "The seats in economy are ok and not a good comfortable seat.. and needs improvement on food menu choices. But no problem boarding, the attendants are courteous and nice.."
Pros: "Good service"
Cons: "baggage was broken."
Pros: "ANA use the Boeing 787 for this leg of the journey. This is the best plane flying in the air right now."
Cons: "Nothing to dislike."
Pros: "It was short."
Cons: "Two key issues: 1. Split up seating 2. Required to pick up and check baggage with limited time due to customs check. 1. They split up all four of our seats (despite booking more than 30 days in advance). Our seven (7) year old daughter was by her self. So was our fifteen (15) year old son. When we addressed it to baggage check (part of major issue number 2), they put two seats together, across an aisle, with both children in them. We obviously just sat one of the adults with the seven year old. This was not just us. SEVERAL families had children seated alone and spread all over the plane. ANA needs to require grouped seating for children under thirteen (13) years old with an adult. 2. Tokyo Haneda is the only airport I can think of where I have to pick up and check baggage again just to clear customs. The flights were 1 hour and 45 minutes apart. With nearly an hour dedicated to getting baggage claimed and getting through customs, we barely had time to fix two of our split seats (see issue 1) and rush via a free bus route that took 6 minutes (luckily we were first stop) to get us to domestic terminal 2. We were then lucky again because we made it through security quickly and our gate happened to be right next to the security check we chose. Another side piece: Haneda Domestic Terminal 2 has four security check areas (A-D). We saw no identifying marks indicating which were closest to which gate. Our bags have already been through a bag check process. Feel free to run them through security scans. Don't make us wait to collect them just to walk them through the customs desk and check them again."
Pros: "Staff are super kind."
Cons: "---"
Pros: "Seats and service"
Cons: "No complaints"
Pros: "Staff were very nice. Very fast service as well."
Cons: "Seats were a bit uncomfortable"
Pros: "the place. new. lots of space for the legs. air inside the plane was better than others."
Cons: "kosher food is a no go. you need to improve this. also to hold fruits for vegi clients."
Cons: "seat labeling not clear"
Cons: "Felt very cramped, seats very close together, headphone jack comes out of the side of the armrest, should come out the front of the armrest, I busted the ends off of two of my headphone cables."
Pros: "The meals were delicious. Japanese option was a seafood bento and breakfast grilled whitefish. Tasted fantastic and well presented."
Cons: "The premium economy seat was about average. Comfort okay but not the best for sleep."
Pros: "Great service"
Cons: "Film selection is ok."
Pros: "Incredible service"
Pros: "Free alcohol on international flights is always a plus."
Cons: "The movie selection was not as expansive as I've seen previously."
Pros: "The crew was very friendly and attentive. The food was generous and very good"
Cons: "There really wasn't anything I didn't like"
Pros: "Efficent, courteous and reliable."
Cons: "Nothing in particular."
Pros: "Very clean plane. Nice and comfortable. Staff was very friendly. Lots of leg room. The seat doesn't till back, but instead the seat slides forward. I wouldnt mind to fly again with ANA. Terrific entertainment system and movies."
Cons: "Minor thing is the headset, which doesn't provide the best sound, but it will do. Food options can improve"
Pros: "High quality fit out, amazing flight crew, great food."
Cons: "Movie selection could be greater."
Pros: "Meal from KUL to HAN was tasty. The separation of the gravy based dish from the rice was a great idea to prevent the soak up. Personal touch screen responsive and quality definition."
Pros: "My 96-yr-old father was given an airport wheelchair after we checked his own transport chair. He was wheeled through security and to the departure gate. We were advised they changed us to a bulkhead row w/an unoccupied seat adjacent to his. Twice during the flight one of the flight attendants came to tell him that she would help him off the plane so to wait for her after the rest of the passengers disembarked. The meal was very tasty.Chicken karaage was not crispy but I wouldn't expect it to be. The rest of the items were well seasoned with the right consistency. Dessert was a flan custard with passion fruit sauce (very Hawaii!), even including a few seeds from the fruit as garnish."
Pros: "I slept most of the way home so didn`t use the entertainment."
Pros: "crew was very polite and everything was smooth."
Pros: "ANA staff are generally well trained (but are you really allowed to land with your laptop open on your lap as some people were?) ... good service overall, good movie selection, food varies from OK but boring to very good indeed ."
Cons: "Both meal A and B selections would have caused problems for people with shellfish allergies. One was a seafood doria so they have me the other meal. The other had a sauce with seafood extract in the ingredients. I can read Japanese so didn't eat it, but there wasn't any English information on it."
Pros: "The crew were fantastic and the meals were pretty good"
Cons: "Every time I'm on an airplane I'm seated next to several really sick people.. I know this isn't something you can control but it really reduces the comfort any healthy individual can have. I also didn't like the really long delay for the baggage after the flight. The on flight movie selection had not changed on the return trip which was 16 days later."
Pros: "Clean cabin. Courteous and friendly attendants. Inflight amenities were excellent. Meals were perfectly portioned and delicious!!!"
Cons: "N/A"
Pros: "Modern planes Clean planes Great flight attendants Comfortable seats in economy"
Pros: "The boarding process was easy and straightforward, the seats were comfortable and had individual entertainment screens, the crew was very polite and helpful. For meals, everyone was given a printed menu at the start of the flight so that meal options could be easily made."
Cons: "My only complaint is that I would have liked to see more frequent offers for water refills during the flight, since water cups are so small and staying well hydrated on flights is difficult but essential."
Pros: "Flat bed is wide and comfortable. Cabin crew was excellent."
Cons: "Terrible"
Pros: "Crew were helpful and attended to any needs that we requested. As I am a big person the seat is never that comfortable but Singapore Airlines seating is more spacious than other companies I have flown with."
Cons: "The food was not too attractive, better variety of main meals"
Pros: "Wonderful trip, Super nice Crew , perfect meal , great entertainment system"
Cons: "Can not be topped up"
Pros: "I always like Singapore Airlines. They should continue to be the best."
Cons: "Some flexibility to select food choices even if we book the flight in short notice."
Pros: "Same as above on SIN-BKK"
Cons: "Next time in B787 Dreamliner"
Pros: "Crew were really lovely and friendly. A bit of spacee on the plane which always helps"
Cons: "Nothing Better than average flight"
Pros: "Superb service."
Cons: "Meals were average for airlines"
Cons: "Seat space could be wider for working"
Pros: "Extra touches and super pleasant and courteous staff."
Pros: "Generally good Flight was operated by Silk Air"
Cons: "Entertainment score is not meaningful because of the short flight time."
Cons: "We ask for wheelchair help from Perth to brooome but it was not provided ."
Pros: "personel provided excellent service"
Cons: "food was ok. A faulty entertainment system did make our flight feel longer."
Pros: "Excellent customer service, helpful staff"
Cons: "Food was unpalatable - HNML. Needs to be improved, the beans in a tomato sauce looked like a tin of dice tomatoes was poured over the boiled beans. Chicken curry didn't taste good either as it was over cooked. Didn't relish the vermicelli dessert or the salmon. Thanks for the roll & lactose free butter, the cheese and biscuits"
Pros: "Good seats with great screens. Usb, headphone jack that works with regular headphones, and a regular power outlet! Tray tables upgraded overall and have a mirror behind a slide. Even the seatback pockets are better with multiple pockets including one that fits most mobile phones. The windows turn tinted blue instead of drawing shades down—what?!"
Cons: "would like regular water bottles to be available for drinking"
Pros: "Friendly crew I like that a lot. The diabetes food choice ecselent Thank you"
Cons: "The toilets were very dirty"
Pros: "I liked the food that was provided and the range of entertainment is up to date anencephaly plentiful, spoiling you for choice. The flight crew were very friendly and prompt to serve which was amazing"
Pros: "Consistency of high quality service. Beef goulash in economy was surprisingly good!"
Cons: "Impatient Caucasian passengers trying to squeeze past. Maybe put them further back next time! :-)"
Pros: "Finally, I could go to my final destination as planned by transmitted to Korean Air flights."
Cons: "My first flight of JetBlue from Olandor to New York was delayed that leading to my connecting flights to my destination were missed. Now, my suitcases have been missed, too."
Pros: "Ok"
Cons: "Delayed"
Pros: "check-in, priority lane, BKK-SKL, boarding, crew, cabin, disembark, baggage claim to cab home"
Cons: "baby crying throughout the flight"
Cons: "The plane was freezing - absolutely freezing. Too cold. There were not enough fluids given out. Given we could not even take water brought in the airport into the plane there needed to be regular distributions of fluids on the flight as there was on the flight from London toy Singapore. It is a long flight and being dehydrated on a plane is not a good thing."
Cons: "There was on flight attendance which I assume new. She was not able to manage to check with her colleagues whether there was still a food which I requested before giving me the answer. Also, to me little things like fold the cup holder before take off and landing is just a simple task to do without giving a lecture to the passenger when he or she might be tight up with kids."
Pros: "The staff were so friendly and helpful."
Cons: "Crew woke me up from deep sleep to raise seatback for meal service. Sleep versus food?? Should prioritise sleep every time on night flights."
Pros: "Food"
Cons: "Crew"
Cons: "Boarding at Singapore airport was shocking, as we had to wait 6 hours for our flight. Rating low to the crew mainly because of the ground staff as they were not very communicative to begin with about the explanation for our delay. Only when the passengers got a bit more vocal about wanting explanations, they started giving us a bit more information. All estimated times given for boarding the flight were incorrect by a big margin! Seemed more like they were giving shorter wait time for boarding just to please the passengers, where as they were well aware of how long the wait would be."
Cons: "The flights were always late causing us to miss a connection. Also when purchasing the ticket I was not informed of two extra stops that only showed up when I checked in."
Pros: "The flight was carried out by Lufthansa. The staff was very polite and helpful."
Pros: "AMAZING IN EVERY WAY. PLANES ARE OUTSTANDING SERVICE IS OUTSTANDING INFLIGHT STAFF ARE EXTREMELY POLITE AND FRIENDLY AND ELEGANT!:)) AIRPORT IS SUPERB THIS IS MY FAVORITE AIRLINE!"
Cons: "THE WEBSITE LISTS PRICES IN SINGAPORE DOLLARS AND IT IS ONLY IN THE FINAL STAGES OF A BOOKING IS ONE TOLD WHAT THE US $ PRICE IS. THIS NEEDS TO CHANGE. WHEN YOU CALL SINGAPORE AIRLINES THERE ARE VERY LONG WAIT TIMES."
Pros: "friendly staff top Service top Inflight"
Cons: "new aircraft, 2 x usb charging ports, 50+ movies, very quiet aircraft."
Pros: "I like the personal TV, my foot rest and water holder frequent water serve,"
Cons: "For me coffee is too strong, and I like the food on the way to Tokyo better than on the way back to LA"
Pros: "Great service. Really friendly and polite. Lots of current movies and TV shows to watch and provided earbuds with adaptors. Made the experience a lot more pleasant."
Cons: "The seats can be laid bag pretty far and the people in front of me decided to recline for a majority of the 10 hour flight. I wish the chairs either didn't do this or the flight attendants would have said something. I didn't feel like I had the authority to do anything about it. Also it was so warm! I have no idea if there was a fan."
Pros: "Delayed flight from Shanghai due to air traffic issues, so I had a 10 minute window to make my connection in Singapore. Ground staff was waiting for me with a small car after I disembarked to drive me to the gate. And I somehow made my connection. Excellent service. Obviously my checked bag didn't make it, but I was told in advance and was kept updated before boarding and immediate after I disembarked at my final destination. When I went to the baggage service counter, they were already ready for me, had filled out my paperwork, and just needed an address to confirm the delivery of my suitcase. I'm super impressed to this attention to detail."
Pros: "Red wine was good"
Cons: "The seats in economy are now Way TOO SMALL! You better start calling Economy - "Stearage"! Food was not as good as on past flights with SA. Movie selection not as good as past SA flights. Earphones supplied are horrible!!!"
Pros: "1) Crew very personable and accommodating 2) Food was good 3) Arrival on schedule 4) Entertainment system provided lots of choices 5) Baggage arrived in reasonable amount of time"
Cons: "1) Economy seating was cramped (long-haul flights should have more spacious seating) 2) Crying babies made flight almost unbearable 3) Process of leaving the plane took too long because only one exit door was used 4) Departure delayed by 35-40 minutes (made up in flight)"
Pros: "The food is good. The service is excellent, always smiling and attentive."
Cons: "Not enough quantity of each type of food. I did not get the cold noodle I want and end up eating sandwiches."
Pros: "Staff was the best, always smiling and going beyond expectations to assure you enjoy your flight and I certainly did. Take off was a breeze. Landing a little bumpy but nothing to cry about. I will fly Singapore whenever possible from now on."
Cons: "There was nothing that I didn't like."
Pros: "Service"
Cons: "Old planes and screens."
Pros: "Crew and boarding were efficient"
Cons: "Choice to have meal immediately after takeoff or just before landing. I chose to have it just after take-off but didn't expect not to have any breakfast. Not fun leaving the plane hungry."
Pros: "Getting up at 4am on a Monday (post Singapore 7s) - couldn't have been a better timing for a free upgrade (as the plane was full). Travelling on Singapore Air is always a pleasure - but that made it even better....."
Pros: "Entertainment was great"
Cons: "The food is getting worse"
Pros: "The service is amazing. The stewardess are always smilin and very helpful. If you'd like anything extra, just ask and they'll bring it right over. The entertainment onboard was top notch"
Cons: "I would have wished for better back supported seats. 14hrs on a flight isn't quiet the best."
Pros: "Really recommended . Wait alittle longer but i got a free tour go around Singapore ."
Pros: "Service was great, food was alright, was able to move from a middle seat to a window."
Cons: "The flight I was supposed to take from Nanjing to Hong Kong by Hong Kong Airlines in the afternoon didn't exist so I had to take a morning flight. Was given no warning and had to check on my own. The Singapore Airlines flight was on time though."
Pros: "Customer service , crew was nice"
Cons: "Food was terrible out of MEL.. Didn't have any choice at all.. Tasteless , should improve"
Cons: "Aircraft was dated with old business class seats which are worn. Minimal options in movies to watch"
Pros: "I have always enjoyed flying on Singapore Airlines. There were no delays on my connecting flight coming out of Tokyo to Los Angeles. The huge plane was like flying in a small "transportable town.""
Cons: "I had a long connection wait in Tokyo, but that was not too bad since I got a great price on the round trip ticket - less than $700!"
Pros: "Staff friendly and efficient"
Cons: "No social distancing‼️Service on plane just horrible"
Pros: "Excellent service for affordable price"
Cons: "Flight was delayed"
Pros: "Food was really good, staff was helpful and friendly and there was more legroom that I've often experienced. Also - flight was NOT packed - there was actually an empty mid-row seat!"
Cons: "Vegetarian meals can be better"
Pros: "NOTHING. Flight was canceled with no alternative."
Cons: "Flying a plane to a destination."
Pros: "The staff the staff the staff. They made the trip so enjoyable. The A330-300 aircraft was smooth and silent. Very impressed"
Cons: "The seats in business class were not as soft as they could be but very impressed overall and good value for the cost of the business class ticket"
Pros: "leaving and arrival on time."
Cons: "No leg space in economy."
Pros: "Good food, entertainment options, comfortable seat"
Cons: "Chaotic boarding process in Tashkent"
Pros: "Comfortable seats, good food and in flight entertainmen"
Cons: "None"
Cons: "Options for vegetarians were not really good."
Pros: "They boarded on time, took off on time, and the service was friendly."
Cons: "Nothing really."
Pros: "First leg (Mia to Instanbul) crew was excellent!"
Cons: "second leg (Istanbul to Johannesburg) crew were rude!!!"
Pros: "Entertainment"
Cons: "Crew are rude. They look always hurry, don't care what passengers need. Food is terrible, there is a menu, but when we ask for food on menu, they said no more, only this one left, so i skipped meal."
Cons: "The crew was not very warm and/or welcoming - they were short, impersonal, and kind of cold"
Pros: "We like that everything was on time. The food service was excellent and we enjoyed that entertainment was provided on such a short flight."
Cons: "The boarding process on the flights between Istanbul and Sofia were somewhat chaotic.We had boarding group assignments, but there were no announcements for these groups."
Pros: "Service, food, staff—all excellent!"
Cons: "The cabins on both flights were too warm."
Pros: "Great service in the airplane plus they offer some amenities like slippers, tooth paste and toothbrush, they offer you wet towels to clean and refresh yourself during he flight. Really good."
Pros: "Turkish Airlines always has decent food and entertainment."
Cons: "An hour late with no apologies. And seats are so small, the people sitting next to me were so large that I didn't have enough room."
Pros: "Food was good but needs bigger portion."
Cons: "Not many choice for drinks, some fly attendance need to know smiling is good ."
Cons: "Very disorganized the gate checking, staff ne d hospitality training . You ESP not have time for your queries and concerns . They are always in a hurry to finish talkign to you . Poor hygiene. The bathrooms are very dirty and has nomjand soap to wash your hands . Male staff in board come across unpolite. ingelt inwelcomed by the male flight attendant port side at the back.?"
Pros: "Overall was just ok"
Cons: "Dirty smelly bathrooms Bad breakfast"
Pros: "Great food, great plane, shortest flight."
Cons: "The restroom is too narrow on this plane, at least the one I tried. They ran out of one entree since everyone wanted chicken and not the fish. They should know this and make more chicken available and less fish. But I tasted both and both entrees were good. The "sour cherry juice" is great."
Pros: "Good entertainment system with lots of options."
Cons: "The plane was uncomfortably warm throughout the (long!) flight, which made it difficult to get any rest."
Pros: "Food, entertainment and the airline crew excelente"
Cons: "The seat a little inconfortable for me"
Pros: "Movie options and food"
Cons: "Not enough leg room"
Pros: "Professional and friendly staffing, comfortable flight."
Cons: "We realized when boarding to first flight that they did not included my son on next connection flight...oops when it was addressed they fixed it in a professional matter with appologies at boarding."
Pros: "Nice crew. Boarding and deplane was fairly easy and quick."
Cons: "Seats in coach are quite close and became worse when people reclined."
Pros: "It was nice"
Cons: "Food was not that nice"
Cons: "Seats were horrible - I've never been so uncomfortable on an international flight. Also, seat was broken and I couldn't push it back for sleeping. Flight attendant tried to help be but seat was broken"
Pros: "Had REAL silverware and great food. Also great customer service via the flight attendents. THANK YOU!"
Pros: "Outstanding service Excellent food Adequate entertainment Seat recline was good for economy"
Cons: "For a long flight (8+ hours) legroom on this Airbus was quite cramped Again poor boarding announcements resulted in very chaotic boarding process"
Pros: "Turkish Airlines has an excellent entertainment system"
Cons: "They used to have more legroom"
Pros: "The service and food"
Cons: "Seats are to cramped."
Pros: "The crew were amazing.. very helpful and accommodating! The food was also 5 stars, and the entertainment was great! Enjoyed every minute of it!"
Cons: "Boarding was not really done according to groups A, B, etc, but it was only a small holdup.. really nothing much at all :) Comfort was great, although a little more leg room might have been nice. But again, not a really big deal!"
Pros: "food was great, service-excellent, friendly staff"
Cons: "flight left an hour late"
Pros: "I eventually arrived at the destination."
Cons: "Difficult to communicate with cabin crew due to lack of English. Flight was delayed by 1 hour. General atmosphere on plane was chaotic I think due to the small plane and length of flight as large numbers of people needed to use toilets."
Pros: "Not trying to be flattering here but it really is a good airline."
Cons: "Entertainment system was present, but not working. Short enough flight that we didn't need it, though"
Pros: "Very bad meat and hospitality"
Pros: "Absolutely nothing, because it never happened."
Cons: "I don't like the fact that I'm stuck in a hotel in turkey without an inkling of when my flight will take off or if it will even take off. I was sent from desk to desk and everyone I spoke with said the same thing, "I don't know" , To every singlee question I had. I slept In the airport like a homeless person just to be shuttled around turkey afterwards in search of a hotel, and I say search because the shuttle that was provided went to 2 different hotels before we got to the one I'm in now. I'm disgusted, and afraid I won't even get a flight out of here."
Pros: "the people are so courteous and very nice"
Cons: "Buisiness class was so tight , kosher food was just ok"
Pros: "The variety of films on show was decent"
Cons: "The crew skipped our aisle whilst delivering the toiletry bags, some announcements were made purely in Turkish without regard to English passengers. The boarding gate from Istanbul was opened much later than the advertised times."
Pros: "excellent food, service"
Pros: "The crew on the flight was trying to do his best - but too late and too little."
Cons: "The flight was delayed in 22.5 hours. No information or instructions where to go or what to do was given. When little info was obtained by shouting of chinese-speaking passengers, it was in mostly in chinese - not English. For 22 hours we actually did not know what to expect. When we finally were told that there is a flight - huge lines to check in. No help with connecting flights was offered. when I asked to reserve a connecting flight - I was put on a connecting flight that I missed anyway because of further on-going delay. When I reached Istanbul - no help was actively offered. I had to arrange my connecting flight. No compensation was offered. When we asked for some food and water, we were sent to the lowest level lounge in Ataturk airport. Very poor Turkish Airlines experience!"
Pros: "great food"
Cons: "flight left about 11 pm, after dinner service was over the crew never offered water/juice at all until breakfast was served, hard to stay hydrated!!!!!!!"
Pros: "Much bigger plane, more space. WAY better."
Cons: "Insufficient information at boarding where we were going."
Pros: "The crew was very friendly. Plane very clean and comfortable. Service promt."
Cons: "The baggage claim carousel was not published in the airport. I did receive a message but my phone had been off during the flight so I didn't turn it on until much later."
Pros: "very professional, great entertainment"
Cons: "13 hours from Istambul is very very long."
Pros: "The food is always good!"
Cons: "Thry promide Wifi but it didnt work Touch screens- the touch works really bad"
Pros: "Space, seats, movies."
Cons: "I was on a seat at the end, after my seat, the stewardess had their closet and they kept hitting (very strongly) the back of my seat with the door, all the time. They woke me up several times. So not good."
Pros: "Everything"
Cons: "Nothing"
Cons: "We had a three hour departure delay in Munich"
Pros: "Smooth and easy flight"
Cons: "Food and drinks served late"
Cons: "Asked for ONE piece of bread, and such a big company. Didn't have ONE piece of bread to provide. Shame. But not surprised, considering the focus they had with onboard shopping, cut coat, and generate revenue very oriented."
Cons: "No complaints. Good vegan food."
Pros: "Fantastic seats are very comfortable. Makes long trips like this one actually enjoyable."
Cons: "For business class the food could be improved."
Pros: "A regional flight. On time and clean."
Cons: "nothing."
Cons: "I still think it makes more sense to board the seats in the back of the plane before those further forward. It is difficult to get past the people who stand in the aisle or take forever to try to put their bag in the overhead bin."
Pros: "Seat was excellent. I like the blanket and more than anything real silverware...unfortunately for bad food"
Cons: "Food real bad, hope it will be better from Frankfurt"
Cons: "Small plane, a price for everything."
Pros: "Plane was clean and a little more roomy than most long distance flights."
Cons: "Entertainment system in my row didn't work correctly. Flight delayed due to weather. On board announcements said Lufthansa would rebook passengers with connecting flights and tell us arrangements as soon as we landed. No sign of Lufthansa reps at arrival gate area and zero directions on where to go. Had to walk miles through Frankfurt airport , go through immigration and security again without any direction one where to find Lufthansa and when finally found Lufthansa service counter it was understaffed with long lines and confusion. By time we learned rebooking, we almost missed rebooked connections. So much for German organizing and efficiency."
Pros: "Very friendly atmosphere at boarding gate & helpful crew on journey, plus surprisingly good food foe economy class made for positive feel to this trip. Add to it the fact I caught a movie I'd missed seeing at cinema plus even getting a few hours sleep, this was probably one of my better long haul flights in recent times."
Pros: "The service was outstanding!"
Cons: "Someone stole my phone charger :("
Pros: "It was a short flight."
Cons: "I was allergic to ingredients in the in-flight meal. There were no additional options left by the time food got to me. The crew was indifferent about my allergy and seemed offended when I returned the food uneaten."
Pros: "The welcome drink was excellent! The food was fabulous...especially the warm bread! And the seat was so comfortable! Lufthansa has become my favorite airline! It was well worth every penny!"
Pros: "Friendly crew."
Cons: "Not much room in the seats. Very narrow. Not much space between the rows.Food is mediocre."
Pros: "Enough space for my legs, cabin crew okay"
Cons: "No entertainment"
Pros: "The staff was very friendly and professional. Entertainment selection was great. Food was exceptional. Flight attendents were attentive and served you throughout the flight."
Cons: "The leg room was cramped in economy like most airlines."
Pros: "Great service!"
Cons: "Breakfast and movie selection could have been better"
Pros: "Crew was great. The frequent offer of water on a long flight was appreciated. The flight was on one, smooth and pleasant."
Cons: "Meat in the casserole ( goulash?) was not chewable. Other meals were fine."
Pros: "Nothing"
Cons: "Water was spilled on me by flight attendant. Luggage was left in Frankfort. Did not have clothes or medications, or daily necessities. Must wait 1 1/2 days to get luggage"
Cons: "LATE!! This is rediculous for a flight company not to be able to board on time so I miss my connection and get stuck for 6 hours"
Cons: "Bought these tickets almost a year in advance. Never given the option to select seats. Both my husband and I were stuck in the middle seats or not together on each leg of our flight. Food was horrible on every leg. Husbands tv did not work. I am petite and seats too small even for me. never again will o give this airline my money."
Pros: "Boarding, seat and crew"
Cons: "Movies selection and audio offers"
Pros: "Friendly helpful staff."
Cons: "Delays."
Pros: "Please continue to use newer, updated places."
Pros: "Everyone at Lufthansa are very friendly so thank you everyone we love you"
Cons: "The on board entertainment sucks you need to upgrade"
Cons: "To change the gates takes about 45 minutes."
Cons: "The cabin got a little hot during the night and made it hard to be comfortable. Also, the seats lean pretty far back so I had little room in front of me when the person sitting in front of me leaned their seat all the way back."
Pros: "THE FLIGHT LEFT ON TIME."
Cons: "LUGGAGE IS LOST. THE FOODS WAS NOT VERY GOOD."
Pros: "Everything"
Cons: "Not a thing"
Pros: "Quality of service, personable flight attendants, comfortable seats, decent food quality."
Cons: "Entertainment system is average at best. More current and popular options for music and movies should be included. My system quit working during the flight and did not return to operation."
Pros: "The boarding was fast and efficient, and the entertainment system was modern."
Cons: "The pilot didn't get us over the intercom even once. No communication at all from the cockpit. Staff was ok, but not very friendly. Seats were very close together in my row (30)… but other rows had seats with more legroom m."
Pros: "as usual flight itself was okay"
Cons: "the flight was delayed by 50 min reason was because the flight crew was stuck in a traffic jam from kiev city centre to airport by 1h. the flight crew stayed overnight in Kiev city centre which is 30-40 min drive away from city centre and had time to own accord to have a walk around the city centre in the morning. So I wonder why the crew cannot travel earlier to airport taking into account potential traffic jams. Knowingly I trvaelled to the airport about 2.5h before departure and made it perfectly on time to the airport, even though working in the morning, whereas the crew couldnt make it. maybe Lufthansa should change their crew hotel policy in particular for towns with notorious traffic jams like Kiev.."
Cons: "They change the gate for transfer last minute"
Pros: "Don't like anything"
Cons: "Bad food delivery crew members always restless mood"
Cons: "It was my bad luck to be near two children whose parents would not keep them quiet and who played games on their screen for nine hours straight, shrieking the entire time. Nor did any of the stewards help or say boo to the parents."
Pros: "a service"
Pros: "Lufthansa was great . It was just that the weather did not cooperate in Boston."
Cons: "It was delayed by 9.5 hours!!!!!"
Pros: "Comfortable, clean plane and excellent, attentive service on board. We had little time between connections but airport staff offered to drive us, two seniors, to distant gate on his cart which was a lifesaver."
Pros: "Munich airport is convenient and boarding went smoothly"
Cons: "This was an SAA plane, not Lufthansa. I have only had excellent service on Lufthansa. This flight again did not have a functioning entertainment system. I asked for this to be addressed and the SAA crew ignored the request and in the morning looked surprised to find out that several of the TV monitors had not worked at anytime on the flight. Not impressed."
Pros: "I like the food when we fly in eaurope only"
Cons: "Took too long, unnecessary waiting, missed connecting flight"
Pros: "Flights were on time. Both Air Canada and Lufthansa Airlines Service, including sitting and boarding process were relatively smooth."
Cons: "12 hour long flight from Frankfurt to LA was exhausting."
Pros: "Food, very well organized crew"
Cons: "No leg room, long flight"
Pros: "Traveling with two kids ages 8 and 10. Kids got cards and a game to play. Also lots of movies and games to choose from in their seat. They loved the flight!"
Pros: "Wonderful flight, way more comfortable but in the other economy class I've been on"
Pros: "Our flight out of Amsterdam was roughly 30 minutes late. Since we were connecting to an International flight to return to the US there was no possibility we would be able to get to the International terminal through security and board our flight in the time available. So, Lufthansa staff met the connecting passengers as we disembarked, shuttled us via bus to the International terminal and ensured we made our connection. Finally, for airline food it was quite good (Vegan)."
Cons: "A movie player"
Pros: "Everything"
Pros: "The flight time are on time ."
Cons: "Good entertainment on broad"
Pros: "CBP info."
Cons: "Wish AA cabin crew would treat the customers as attentively and friendly as the JAL crew. The 8pm inflight dinner is horrible. Why would they serve the cold dishes for the first Japanese course? I got a diarrhea."
Pros: "Take off 20 minute early. Super on time."
Cons: "The food can be better."
Pros: "The crew was wonderful and friendly."
Cons: "The crew announced that there was limited food options on the flight (low supply). When a flight is 5 hours long, an adequate amount of food options should be available. Hand towels and toilet paper ran out during flight."
Pros: "Food and staff are great"
Cons: "Small space between seats"
Pros: "In flight entertainment and food were great"
Cons: "Wish seats were comfier and more legroom"
Cons: "Flight arrived over 40 min late and despite my connecting flight still being connected to the gate I was told I couldn't board. There were 5 people trying to connect to the same flight so it's pretty rediculous that we were told to rebook when the plane didn't leave the gate for 15 more minutes. This was the call of the airline and it was handled poorly. The rebooking agent was also extremely rude and seemed totally self absorbed. This was my worst flying experience out of approximately 50 flights this year. Never again American."
Pros: "My flight was amazing---amazing in the fact that I had to be on top of flight status and was rudely spoken to by the sellers of the ticket. They almost cancelled my entire trip, even though I paid for it, because while at work I could not pick up the phone when they called me. This site is seriously a scam to buy your ticket from. I survived and was able to go---but I would never encourage anyone to buy through this site, unless you just really love living a nightmare. If you love nightmares, why not. Go ahead."
Cons: "Kayak is a nightmare to buy your flight through."
Pros: "Meal and drink service was excellent"
Cons: "Economy plus is packed liked sardines and difficult to move from side to side. Also upgrade doesn't include priority seating. It should be included in any seating upgrade."
Cons: "Seats were very uncomfortable and that must have been the decision of the airline. We landed early and taxied and waited for a long time, more than 30 min until we actually pulled up at gate, also the airlines fault."
Pros: "Good service. The crew was very attentive. The pilots were very good about relaying Typhoon related issues to the passengers; and doing their best to get us to our destination as close to on time as they could"
Cons: "We booked our airline tickets at the same time and our seats were separate. This was the first time flying for my wife so she was very upset when we found out our seats were not together. We had to pay an extra $60 to have the seats moved to an exit seat."
Cons: "Assigned middle seat, no choice."
Cons: "My ticket was issued by JAL but it was printed oersted by American Air. I was confused which terminal I should go to checo in. I called JAL. i waited 2 hours. No answer. Then, I called AA. They said international. But i went to terminal 4 which is American Air just in case because it was OPERATED by AA. I was right! I hope someone gave me a correct info."
Pros: "Super nice plane. High tech . Comfortable. Good food"
Pros: "The selection of music and movies to watch was extensive and wide ranging. All the Star Wars movies as well as great Disney movies as well."
Cons: "Felt very rushed when eating. Once the food/drinks were dropped off, it seems right away the staff was ready to pick up and clean."
Cons: "This flight was miserable. Seriously, one of the worst flight experiences I've ever had. The leg room was absurdly small. I'm not a tall person and I only had one inch in front of my legs. When the guy in front of me put his seat back it pressed into my knees. There wasn't enough space to bend down and untie my shoes, let alone get something out of my bag. My shoulder and knee were touching the guy next to me (a complete stranger) for the entire flight and there was nothing I could do about it. This was a red-eye but I absolutely could not sleep because it was so uncomfortable, so when we landed I had a terrible migraine and was nauseous and disoriented going through customs. I actually had to sit down in the airport because I though I was gonna pass out while trying to carry my bag, that's how shitty I felt after this flight. On top of that, not being able to sleep on the flight really messed up my sleep schedule and so jet lag from the time change has been made even worse, so I'm completely out of whack and its so much worse that it otherwise would have been because of the horrible flight. Also the food was gross and there wasn't enough of it. Even now, I don't think I have really communicated just how shitty this flight was. I was actually angry when I saw my seat upon boarding, and I'm still angry about it now."
Cons: "I was expecting this to be a flight by Japan Airlines but it turned out to be an American Airlines flight. I was expecting and wanted to experience a flight from another airline."
Pros: "there were 2 meals"
Cons: "were unable to pre-select without incurring an additional fee so our group of four was split up"
Pros: "The crew was very good"
Cons: "The food was not good on this flight."
Cons: "The service was mediocre and the food was horrible! It made me sick!"
Pros: "I loved that kayak grouped all my flights together into one easily accessible travel guide. The convenience of it all helped me out tremendously during my first visit to Japan. Overall a wonderful experience!"
Cons: "Absolutely nothing."
Pros: "The entertainment selection was pretty good on the flight. That is my only positive experience."
Cons: "The seats were incredible jam-packed together. We had a 9 1/2 hour flight from Tokyo and could not even sit without our knees touching the seat in front of us. My tray table couldn't even properly extend -- the seats are so tight my tray just folded up on top of me. The food was BAD. 1/3 edible out of each course, consistently. I saw other passengers also dumping untouched trays of mystery meat that came as a side. They handed out egg-tomato-cucumber sandwiches which were inedible. The tomato had gone bad and the egg had a sour taste -- I gagged when I took the first bite. I'm especially disappointed with the seat spacing, though. I had a really difficult time getting in/out of the seating aisle to use the restroom. Even with our bags stored under the seat, I couldn't get in without tripping on/getting my foot caught in the strap of our purses/backpack. I couldn't even turn on one side without my arms or legs touching the passenger next to me -- sore neck, sore back, and still couldn't even get a wink of sleep. I will not be flying internationally with American Airlines again. They are the epitome of an airline trying to cash in on as many seats as possible. Save yourself the trouble and fly Japan Airlines directly -- their food was great and their seats were very comfortable."
Pros: "Very friendly gate agents & Flight staff"
Cons: "I wish they have two sheets. I don't like to sit next to stranger. And hard to go to bathroom"
Pros: "It's convenient that was next to a laboratory."
Cons: "It's convenient that my seat by a laboratory but since the way to laboratory is narrow the crews kept bumping my seat by the catering carts that kept woke me up while resting..."
Pros: "The different variety of movies that was shown as well as the usb port."
Cons: "No free wifi, more meals, and more drinks."
Pros: "This JAL flight was actually operated by american airlines using an american airlines plane. This flight was not great compared to the JAL flight we took to Haneda which was actually a JAL plane which was roomier and had pretty good food."
Cons: "Food was extremely salty, overly sauced. The breakfast options were salmon or omelette and i got salmon. It was spongy and didn't look like salmon. It must have been mashed with something else and reformed into a roll form."
Pros: "Crew"
Cons: "Small plane"
Pros: "Everything"
Cons: "Delayed a total of four hous!"
Pros: "I liked the promptness and great service I would fly with them again :)"
Pros: "JAL is awesome overall. Super friendly crew. It was a short flight so no good was given but I did get little treats. There wasn't a tv to watch anything but I survived."
Cons: "35 minutes off schedule"
Cons: "I was expecting to be on an JAL flight but it wasn't JAL and was operated by american airlines and I feel ripped off."
Pros: "The movie, game and music selections were good. However, my son was only able to connect to the Disney movies. Something was wrong with his monitor."
Cons: "Food was awful! Service was hit or miss. One flight attendant was very curt in asking about beverages. They seemed to be impatient. Also, comfort level was poor. I am only about 5'2" but I thought leg room space was tight."
Pros: "Boarding was easy and I liked the film selection."
Cons: "I was placed in the back of the plane and subsequently they ran out of the food option I would have chosen. There was only pork left which I cannot eat. I was left hungry and the stewardess was rude about it- I understand that she was likely tired as I was in the last row but it's literally her job. The flight was also pretty turbulent- which is usually worse in the back of the plane."
Pros: "Good variety of entertainment options. Wifi reliable"
Cons: "Food options were horrible. Need to offer non seafood/pork option."
Pros: "We bought the extra legroom. Worth it."
Pros: "I liked the boarding, entertainment, and food."
Cons: "I did not like the cramped legroom. The airline got greedy and crammed too many rows of seats in the plane, cramping the legroom for all the economy passengers. Legroom in economy was MUCH better on the Japan Airlines plane (also a 777) that I was on from Los Angeles to Japan. Legroom is always important, but especially so on long trans oceanic flights. I am inclined to avoid American Airlines in the future because of that.qa"
Pros: "Food, flight plan on the screen, selection of music and movies, that the lights were turned down for sleep, quiet efficiency of the crew"
Pros: "Roomy legroom and proximity to the restroom"
Cons: "There is limited recline."
Pros: "The staff was very nice and the movie selection in flight was among the best I've had on a plane."
Cons: "Food was decent but this is only comparing to Japan Airlines which I had on my flight from SFO to Haneda."
Pros: "Japan Team excellent in customer service"
Cons: "AA flight crew very poor and not helpful, I saw one of the flight crew almost fight with a customer over a baby crib. As per my experience I had a nice travel suit that I took off and flught attendant did not offer help. I have to store on floor."
Pros: "This airline is evil."
Pros: "Arrived at destination safely."
Pros: "The crew that showed up at the Departures counter when we all lined up to be reticketed for our flight that was cancelled the previous night was great."
Cons: "Our brand new 787 had a mechanical issue. We were scheduled to leave at 7:20pm and sat on the Tarmac until 10:45 while we waited for shuttle buses to take us back to the terminal. We waited in line for over two hours for hotel vouchers that they did not have. We paid for own our room and returned at 11am as instructed, but the plane needed a part that had to be shipped from the U.S. which pushed our scheduled departure from 2pm to at least 9pm. My family grabbed a bus to Narita for a 6:30pm flight. C'MON AMERICAN AIRLINES! COULD YOU SERIOUSLY NOT GET ANOTHER PLANE TO HANEDA?? OR AT LEAST PAY FOR OUR HOTEL?? The ground crew at Haneda was very kind but overwhelmed. Terrible experience. And it's the reason I don't fly American. In fact, KAYAK, I booked our flights on JAL intentionally to avoid American. The fact that these were partner flights on American completely and unpleasantly surprised me...also not a good experience."
Pros: "I did not get to fly out. Still waiting for my refund."
Cons: "I arrived to the airport Two Hours early. I had checked in online and obtained my boarding pass. I checked into Japan Airlines since this was the airline I chose. I get to the counter and I was told that I had to check into American Airlines. I rush to American Airlines and I was directed to check my bags in electronically. There was mass confusion, because people had no clue on how to operate the system. As my turn approached the system failed. By then I had 45 mins to board. I talked to a clerk and she directed me and the other people to the Custumer service desk. I waited my turn and time to board was approaching. They told me not to worry because the flight was delayed one hour. By the time I got to the counter, It was too late to board the already delayed flight. I spoke to a clerk via phone as i was at the counter and I wsa told I was to receive a refund due to the fact that this was not my fault. You caused a financial loos of money and time. as of yet I have not received my refund."
Read more about ANA
Safety measures for airlines flying from Tokyo Haneda to Johannesburg
Airlines flying from Tokyo Haneda to Johannesburg have enacted additional safety measures and adjusted policies to better accommodate travellers. Policies vary by airline.
Heightened sanitation
Daily cleaning, installation of cabin HEPA filters on flights from Tokyo Haneda to Johannesburg
Mandatory masks
Masks required on board, masks provided on flights from Tokyo Haneda to Johannesburg
Social distancing seating
Middle seats unavailable to book on flights from Tokyo Haneda to Johannesburg
Pre-flight testing
Testing for antibodies, testing for symptoms for flights from Tokyo Haneda to Johannesburg
Book cheap flights from Tokyo Haneda to Johannesburg
Recent return flight deals
Search by stops
Search by airline
Search by price
Recent one-way flight deals
Search by stops
Search by airline
Search by price
Tokyo Haneda - Johannesburg Flights