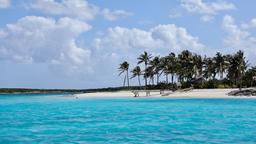 Find cheap flights to Exuma
Search hundreds of travel sites at once for deals on flights to Exuma
Top tips for finding cheap flights to Exuma
High season is considered to be January, February and December. The cheapest month to fly to Exuma is January.

Enter your preferred departure airport and travel dates

into the search form above to unlock the latest Exuma flight deals.
FAQs - booking Exuma flights
Do I need to take a coronavirus (Covid-19) test before flying to Exuma?
What documents do I need to fly to Exuma?
Unvaccinated Bahamian citizens or residents can not use a test taken in The Bahamas prior to travel for re-entry.
What other coronavirus (Covid-19) restrictions are there in Exuma?
Can vaccinated people travel to Exuma?
Can I fly to Exuma? Are there any travel restrictions when entering Exuma?
Can I fly to Exuma without having to quarantine on arrival?
How long is the flight to Exuma?
What is the cheapest flight to Exuma?
What is the most popular destination in Exuma?
How does KAYAK's flight Price Forecast tool help me choose the right time to buy?
Top 3 airlines flying to Exuma
Scores according to KAYAK customer reviews
7,9
Delta
Overall score based on 29 819 reviews
Cons: "Flight was almost an hour late to board and depart."
Pros: "I felt safe on this flight. Middle seats were empty, plane seemed clean, masks, etc. were in place. I flew Sun Country a few weeks prior to this and flight was overcrowded and COVID precautions were way insufficient."
Pros: "Definitely pick comfort plus on this flight if you can. You can walk around a lot more on this flight compared to other flights. Food was really good! Recommend the overnight flights...."
Cons: "More leg room would have been nice..."
Pros: "Super comfortable and inflight entertainment was amazing"
Pros: "The crew was very courteous and friendly"
Cons: "Delays Why is it always a surprise for the crew that the plane needs to be de iced in the winter"
Pros: "The airplane seats and entertainment were 150% bettter than American"
Cons: "The check in area felt cramped, understaffed and like a 4th rate airline"
Pros: "Free movies and drinks"
Cons: "Seats are uncomfortable as hell"
Cons: "No sandwiches for sale just snack boxes"
Cons: "Great flight but old regional jet"
Cons: "KAYAK did not informed us we have to pay for our luggage!"
Pros: "They were late and and tried to blame weather"
Cons: "Explain that we will get hotel and else... Cheep asses."
Pros: "One crew member was especially amazing"
Cons: "The rest of the crew were meh. This time there was no food. I pillows. Water leaking from the ceiling."
Pros: "Reliable - on time - good service - made up time for a late departure"
Cons: "All Good stuff"
Pros: "Quick board, quick flight and everything went smoothly."
Cons: "Someone to rub my feet, but that's wishful thinking."
Pros: "Food was so good. Crew was also very nice."
Cons: "Terrible flight ? Captain lied to to us and kept saying two more minutes 5 more minutes , etc Stuck for 4 hours . Plane had a problem and captain said it was glued and that was suppose to be like that"
Cons: "Departure delayed by 1hr30"
Cons: "They did not have a "gate available" for our arrival so we have been waiting in the plain on the tarmac for over fourty minutes and still waiting. This is ridiculous. We purchase tickets at delta for a plain that had a departure and arrival gate. This should not be happening"
Pros: "Everything was great except for the man that smoked in the restroom on the flight to Atlanta."
Cons: "A man smoked in the restroom on the flight to Atlanta, and I didn't see ANY kind of repercussions for his endangering all of our lives. I would've very much liked to see him detained for the remainder of the flight."
Pros: "Crew did not serve breakfast because flight arrived earlier How about better communication with pilot?"
Pros: "Everything went smoothly"
Cons: "???"
Pros: "Boarding and luggage check in were great. The flight crew and the flight itself were uneventful which is perfect."
Cons: "Snacks are the bare minimum and the restrooms could have been attended to more often, paper was piling up in the trash."
Cons: "Seats have no leg room!!!"
Cons: "I will avoid middle seat from now on"
Cons: "The seats did not recline/lean back. Especially on an overnight flight I was hoping to lean back a little to sleep."
Pros: "Comfort Plus seating was good for the long flight, lots of choices for entertainment."
Cons: "Some crew members were rather cold in their manner, either disinterested or grumpy. Electric outlet didn't work. On screen entertainment touch screen was very difficult to use (unresponsive to touch)."
Pros: "Prior military was offered to preboard and it was a very comfortable flight"
Pros: "Despite a delay, we arrived in White Plains on or close to schedule."
Cons: "The gate agent just kept going on and on about trying to make up the time from a delay (18 minutes ...hardly world ending). The lead flight attendant wasn't much better"
Pros: "What an easy flight. Run very well!"
Cons: "The crew seemed a bit tired, but it's the season"
Pros: "I love the snack choices and that entertainment was provided."
Pros: "Seats were comfortable ... enough. Boarding process, once underway allowed me to get overhead bin and stash my other luggage in the seat below me. Flight wasn't overly booked (85-95%) so there appeared to be room for others to stretch out. Now about that crying kid..."
Cons: "Ugh. Weather delays. The flight was scheduled to board about 7P but it arrived late and they had to not only unload the self-loading cargo, but clean up afterwards. Would be nice to get a better estimate as to how long it would take to board so that I could hang out in the lounge. In addition, departure from JFK was delayed as well, either we missed the IFR window or got stuck behind some traffic and I fell asleep on the plane only to wake up what seemed an hour later just getting ready to hit V1. No upgrade."
Pros: "Nothing really."
Cons: "Boarding process was horribly handled. Food was inadequate. Stewardess was saccharine. Bathroom door didn't shut completely. I was told this wasn't an international flight and therefore no free alcohol. Aero Mexico flight to Mexico City had much better food, free alcohol and more attentive service personnel. Also delays because of equipment problems."
Cons: "Older plane and seemingly frustrated crew. They had very little patience."
Pros: "On time departure and arrival. The Airbus plane has enough legroom for tall persons."
Cons: "Extremely long queue"
Pros: "Flight went well and was smooth."
Pros: "Crew very nice"
Cons: "Due to waiting so long on the tarmac, I almost missed my ground connection. Also, two persons with impaired mobility were deplaned while nearly all the remaining passengers waited. It has been my experience in the past that those with impaired mobility are assisted in deplaning AFTER the other passengers have deplaned. This only makes sense. Also, baggage handling was slow compared with my previous experiences. Seemed to be a hard landing."
Pros: "The entertainment is good; several new movies"
Cons: "The dirty seats, the awful food and wine"
Pros: "The entertainment"
Cons: "The boarding process is a bit backwards. They board by zones with the front of the plane going first, so if you're in the back you get stuck in the aisles waiting for these people to sit down. They should board the back of the plane first."
Pros: "Comfortable temperature in cabin!"
Cons: "The flight attendants were unfriendly and borderline rude. I felt like when I asked for anything or was just up stretching my legs that I was bothering them. There was also quite bit of turbulence in the first two hours- I have traveled a lot and I felt like it took the pilots too long to find a smoother altitude."
Cons: "requirement to wait for seat assignment until at the gate"
Cons: "As a Platinum AFK/KLM Skyteam member I was NOT allowed to use the Delta Lounge. On the flight the meal choice was poor and the staff were not really geared to serving regular clients. The movie choice was poor. I expected better!"
Pros: "Friendly crew"
Cons: "Seats too close. Food lacks salads. Fruit salad tasteless--fruit not ripe--looks good, but no taste."
Cons: "Delta doesn't manage their flight schedules and personnel with backup or standby crew in order to assist whenever there are delays across domestic flights. The plane was late to arrive at the gate and we were also told that while the pilot was ready to take off, we couldn't leave because we were waiting for a flight attendant to land from Pittsburgh (we were in La Guardia airport in NYC). delta would rather I convenience the flyer instead of hiring more personnel or figuring out standby or backup plans for delayed flights."
Pros: "Flight Attendants!"
Cons: "When flight arrived late, the plane then required maintenance. After boarding, we were told the fuel vehicle was out of fuel. A small fuel truck was then called in, and it failed to operate. The Captain made a decision to deboard due to outside temperature with little air-conditioning...amd mid-deplaning...fueling was complete amd passengers were told to go back to seats. Flight Attendants were amazing throughout this incompetent ground crew ordeal.!!! Captain was Great as well...his effort kept all informed and sought the best possible outcome for his passengers!!!"
Cons: "Late taking off, and then unable to get to gate on arrival"
Pros: "Cookies"
Cons: "Space"
"Boarding went fine, the plane was clean, and the crew was very friendly. Seats were a bit cramped, but that seems to be typical on all airlines anymore. Cookies and pretzels were offered as were beverages - the usual. I'd fly American again."
"My flight was cancelled and I wasn't even notified!!! Horrible service!"
Pros: "Yes made sure mask was in place"
Cons: "No"
Pros: "The crew was kind."
Cons: "The cabin was way too cold and no blankets were provided due to COVID. No blankets I get, but the cabin temperature made 3 1/2 hours seem like 5."
Cons: "Never heard the announcement for boarding resulting in me missing my flight. If it were just me I'd say all my fault but there were 12 people that did not hear the announcements."
Cons: "Flight was 2 hours late, and forced a full on sprint to get to a very distant gate in Philly for layover"
Cons: "First time we have flown First Class on American Airlines and service was outstanding and perfect! Thank you for an amazing experience!!"
Pros: "Very smooth boarding process. Made an announcement early that later groups would have issues with finding overhead space and asked for volunteers to check bags at the gate at no charge. Made things go very well without any delays."
Cons: "Nothing to improve. Very well run."
Pros: "Nothing. You're horrible."
Cons: "You could have been on time. You could be accountable. You ruined my wife's 40th birthday by failing to fulfill you're end of the deal."
Cons: "I purchased 3 tickets and one was not used as the guest could not make the trip. The airline sold the seat that I already bought and paid full price for and I was not issued a refund or a credit for another flight. As fas as I see it, that seat was mine and shoould not have been fiilled by another indiviidual."
Pros: "Pleasant flight crew!!"
Pros: "some what and it could be better"
Cons: "the help you get from the crew and if they wouldn't make so many gate changes"
Cons: "Notify us sooner about the 2 hour delay. Had to know there was not a pilot available."
Cons: "No concerns What I expected for a quick flight"
Pros: "The crew at the check in counter were very help and just outright awesome. Having missed my flight they were kind enough to find a seat for me on another flight. So I say Weldone to them"
Cons: "As I am tall the seats especially the middle seat was a nightmare espcially when people pullback their seats back. need more space to stretch your legs on long flights"
Pros: "It was ok. Got there safe and sound. That's what counts."
Cons: "N/A"
Pros: "Nice, efficient crew. Wheel chair & motor cart waiting for me as requested. Good flight."
Cons: "Cabin oppressively hot during boarding, stayed a bit too warm. Never found the power outlets that the plane profile in magazine claimed were on the aircraft."
Pros: "Loved the seat back lcd entertainment"
Cons: "Not accepting Apple Pay. Who wants to dig out the wallet."
Cons: "Airplane did not have plugs for phones nor head recliners"
Pros: "comfortable seating, lots of movie choices. food and drink selections were nice.Galley snack choices were underwhelming"
Cons: "Staff was fair, but nothing compared to the service on JAL from CA to Tokyo. Very loud throughout the flight pushing the drink cart through the 8 Business Class rows instead of just delivering drinks to the 32 people in the section. Once the initial food & beverage service was complete, the service practically disappeared unless i sought them out in the galley."
Pros: "The seats seem to be shrinking. The flight was flawless."
Cons: "Tight seats, but I guess that is going to be the norm now."
Pros: "Flight was delayed by approximately 90 minutes. Attendant was friendly."
Pros: "Quiet, flight. Full but you wouldn't have known it. Had an issue with lavatory door not closing right. Turns out an AA mechanic was a passenger and fixed it!"
Cons: "I didn't find out until in the air that I needed to download the AA streaming app ahead of time to watch movies on the plane"
Cons: "The 2 hour delay."
Cons: "Missed connection due to the crew delay and the runway being shut down to only one."
Cons: "Food and drinks could be better"
Pros: "On this flight back to Arizona they arrayed mutt husband and I together, unlike on our way to Spokane. That was much better. We had more leg room this time."
Cons: "The seats are hard, fine for young people, but difficult for older people with arthritis and Auto immune diseases, such as fibromyalgia."
Cons: "Seat back in front of us broke. So my partner and I had to move to other seats during landing."
Pros: "Ensured that the connecting passengers boarded the flight."
Pros: "Roomy seats"
Cons: "Long wait for clearance"
Pros: "I liked the way the AA gate supervisor too charge of the problem and solved it, with great deal of personal imvolvement and follow up. Also check-in crew was very much the best. I would say that AA showed the best of passages care to me. Truly outstanding."
Cons: "Because of a mixup, though not of AA doing, I was literally forgotten at the gate. However, AA personnel showed the very best of can-do attitude and got me home for Thanksgiving. I am very proud of everyone working at AA at the TPA airport."
Pros: "The agent at the desk helped seat us together after our disastrous 1st flight. Crew was friendly & upbeat, great service."
Cons: "Old plane No entertainment No place to plug in/charge devices."
Pros: "Selection of movies, food, air hostess"
Cons: "There was no personal screen like most flights have now. We had to watch the movies on the general screen overhead; however, the sound for the headphones didn't work so we couldn't enjoy those movies. The flight was a non-stop 9hr flight, which made it seem very long without having entertainment."
Pros: "Flight attendant was friendly and gave great service!"
Pros: "LIKED NOTHING. 5.5 hour delay on a redeye?! What's to like?"
Cons: "EVERYTHING was poorly handled by AA for this delay. You're at LAX, no pilot? no 1st officer? Where's the planning? And we boarded the plane on time, deboarded the plane, they gave us warm drinks and pretzels and cookies to tide us over. 5.5 hours later? we take off. Nothing AA did was done right for the customer."
Pros: "The attendants helped you with all your needs. They were professional and fluent in the languages necessary to help the passengers. Very impressed"
Cons: "Good was good. Snacks and beverages were awesome."
Pros: "Snacks, meals, movies"
Cons: "Too squishy Flight attendant didn't give us a card to fill out for customs. She just walked right by quickly without asking."
Pros: "Good meals"
Cons: "Could not get seats together with my husband"
Pros: "Missed the flight. Money was not refunded."
Cons: "Nothing"
Pros: "It was a very short flight so not too much to go wrong."
Cons: "I had a carry on and a laptop case that fit under the seat. The laptop case has wheels and a handle. The gate agent said I need to check one bag, even though I could show that the laptop case was within the specs for fitting under the seat. When I tried to argue with her, she said, "One of your bags is going to be checked--which one is it going to be?" Bad attitude."
Pros: "Flight was on time. Smooth flight."
Cons: "In flight entertainment was below expectations"
Cons: "Baggage took 1 hour after arrival1"
Cons: "Flight was delayed two hours then canceled."
Cons: "The wifi entertainment stopped working for me half way through the flight"
Pros: "Very good , fare price and nice flight"
Pros: "The crew that showed up at the Departures counter when we all lined up to be reticketed for our flight that was cancelled the previous night was great."
Cons: "Our brand new 787 had a mechanical issue. We were scheduled to leave at 7:20pm and sat on the Tarmac until 10:45 while we waited for shuttle buses to take us back to the terminal. We waited in line for over two hours for hotel vouchers that they did not have. We paid for own our room and returned at 11am as instructed, but the plane needed a part that had to be shipped from the U.S. which pushed our scheduled departure from 2pm to at least 9pm. My family grabbed a bus to Narita for a 6:30pm flight. C'MON AMERICAN AIRLINES! COULD YOU SERIOUSLY NOT GET ANOTHER PLANE TO HANEDA?? OR AT LEAST PAY FOR OUR HOTEL?? The ground crew at Haneda was very kind but overwhelmed. Terrible experience. And it's the reason I don't fly American. In fact, KAYAK, I booked our flights on JAL intentionally to avoid American. The fact that these were partner flights on American completely and unpleasantly surprised me...also not a good experience."
Pros: "We left 55 minutes late. Person at counter was annoying. Kept grabbing the microphone, think he liked hearing himself talk. Wanted to valet all the carryons but there was room in the airplane for them."
Cons: "being late and uncomfortable seats."
Pros: "The boarding at GYE was very smooth and the GYE terminal is very comfortable."
Cons: "The check-in process at GYE needs to improve. Not many people in line and it still takes an hour get checked in. Plane crew waiting much longer to serve the food. That made sure I would get less rest on and overnight flight. Worst of all, after the crew served the food, the never came to pick it up. Just makes it uncomfortable to have a tray of trash on your tray table for 3 hours."
Pros: "Crew was excellent on both legs. Pleasant, accommodating. Good overhead storage space. Free tv was nice although I didn't watch it."
Cons: "Cramped! I'm 5'2" and could barely get my underseat bag in and out. Very late boarding and departure. Don't like the glass of soda and they don't hand you the can but that's just me. And, of course, we boarded very late."
Cons: "it was really bumpy"
Pros: "Price line is better not thief like you yu take my money for nothing my husband not traveling your given me fake tickets . bring my money back on my account. am gonna take to court yu fukin beach.yubstolen my money"
Pros: "Great value"
Cons: "The seats weren't very comfortable, but I could make due."
Pros: "It's been a while since I have flown United, but I was pleasantly surprised by how great the crew on both of my flights were. I flew basic economy and was treated better and had as much leg room as with "upgraded service" from another carrier with an American name. After this experience I'll go out of my way to book on United. Thanks"
Pros: "The flight was nice and easy. Great food and service."
Cons: "Plane is still yet to be upgraded to full Polaris experience"
Cons: "We didn't have food on our flight, but ordered it at a cost. We didn't get the food or pay for it."
Pros: "Seats were spacious"
Cons: "United lies about baggage fees. When booking off of kayak, they charge to assign a seat and they charge to carry on or check your baggage. BAIT and SWITCH."
Pros: "Decent food and drink selection in the economy. It's a newer plane then what United flies in the domestic. Decent entertainment options."
Pros: "One if the bathrooms was closed and a second one had no running water."
Pros: "Great staff, pleasant flight, nice options on the screen to choose from, etc."
Pros: "United combined two half full flights, left us on the plane waiting for the second flight passengers to load"
Cons: "Yet another United flight delay and cancellation.United combined two half full flights, left us on the plane waiting for the second flight passengers to load"
Cons: "A very old B757. late departure. No explanation."
Pros: "Flew First Class, so: - Got to eat an drink good stuff... - Plane/seats were clean"
Cons: "But it could have been Economy because: - Had to ask for everything, even a greeting and a welcome aboard drink - Cabin Crew's attitude was very poor; the looks we got! - There was no on-board entertainment or Internet available - Crew gave us outdated customs forms so everyone was delayed because we had to locate proper forms and fill the out upon arrival"
Pros: "I ordered a special meal and it was delicious! Because I have dietary concerns, I often have to order a special meal. Usually, I find that the alternatives meals are second thoughts and thus can be rather tasteless. I was very thankful for my meal."
Cons: "The plane was so tiny we were packed in it like sardines. I am a rather small person (barely 5 feet tall) and usually have no complaints about space on a flight but even my knees hit the back of the seat in front of me."
Pros: "Very nice flight attendant and the landing was very smooth."
Cons: "I'm not a fan of the waffle cookies, wish they had a couple of choices of snacks."
Pros: "The flight attendants. Especially Meagan and Heather. Amber was a,sweetheart too. I had the same attendants 3 out of 4 of my flights that weekend. So cool. When they realized it was me again they spoiled me rotten. So good I feel like unless I have those 3 as my attendants I won't fly United again"
Cons: "No food options. No free food"
Pros: "the price of the flight"
Cons: "have to pay for movies, uncomfortable seats for a 5 hour flight."
Pros: "No delays, kind people, fast flight, what's not to like?"
Cons: "I paid for the entertainment and I had no sound. Flight attendant handed me a very full glass of orange juice from an awkward angle that I had to reach over my seat and back cussing me to spill a few drops on the passenger next to me. She wasn't thrilled and the attendant just walked off. I was really awkwardly embarrassed."
Pros: "Not much lots of crying kids, fully booked, so no escape"
Cons: "It just sucked. Delta on the way to NYC was great and this one was awful."
Pros: "That i made it home"
Cons: "This flight is always late. And the original arrival time is late to start with."
Pros: "I liked the ticket counter person who helped straighten things out. When I arrived"
Cons: "When I arrived st 3:30am I found out that the first leg my flight had changed. The ticket person convinced the person she spoke with on the phone to confirm the change and not make me call the 3rd artsy booker. Unfortunately, I lost the seats that I had paid extra money to book. Everyone wants to blame everyone else!"
Pros: "Nothing"
Cons: "Everything the customer service reps were very rude and condescending. United is awful I'm not sure how they are still in business. The rep refused to help me because she was getting off in 10 mins."
Pros: "Really friendly staff, communicative, helpful. Gave good directions. Plenty of leg room on flight."
Cons: "Beyond the control of United, but LAX is a nightmare of an airport. Traffic control caused delays, airport staff more of a hindrance than helpful. Border control mumbling and barking orders at people like they're cattle. Not the best way to welcome tourists, but at least United Airlines crew made up for it with their smiles."
Cons: "Great flight"
Pros: "The entire service from boarding to flying was efficient and punctual."
Cons: "The snacks and no beverage, however I understand the flight was super short."
Pros: "It was quick but full"
Cons: "Charging extra for checked bags is unfair and expensive after paying for the airfare!"
Pros: "Stewardess was friendly and understanding. She handled the situation well."
Cons: "We diverted to JFK instead of Newark, waited 1.5 hours on the tarmac to refuel. Given little info on what we could expect. Arrived in Newark 3.5 hours after original arrival time."
Pros: "The crew was very helpful to make us feel comfortable and they really worked as a team to make sure it went smoothly."
Cons: "The seats were really tight to move around."
Pros: "Rebooking me on another flight was uncomplicated."
Cons: "We had a long delay in Boston that resulted in missing my connection. I only had 10 minutes from gate to gate to make my connection. I understand that the FAA levies heavy fines on planes every minute that they are late. If so, how does it explain the delay in Boston of almost an hour? Needless to say, I was NOT happy."
Pros: "The flight from Houston to St. Louis was delayed b/c maintenance had to "work on something." I think with something that vague and when you're boarding a plane that is the size of a small buss, you should be kind enough to let us know what that maintenance wS. You could even make something up just to put us at ease."
Cons: "Our plane was United, so I don't think this reflects on Lufthansa, but rather United. The plane entertainment was extremely outdated and there was not enough room in the overhead containers for everyone's carry-ons. This problem made boarding a very long and aggrevating process."
Pros: "The flight was fine. Trouble is, it's not a Luthansa flight, it's a United Airlines flight. That's not clear when you book, and the reservation shows up with the confirmation number on the Luthansa site. We had to call them to find that the flight was actually United when we went to book the boarding pass. It didn't flag the flight as united...it would look up and find the reservation, then the web site would simply hang when we tried to print the boarding pass. That's poor customer service to say the least. I get that the Star Alliance and other partnerships are eroding brand, but this should have been listed as United."
Pros: "The actual flight itself was fine."
Cons: "The flight was delayed. I was told it was due to "weather issues", and that i'd more than likely miss my flight, and that there was nothing they could do about it. I ask the guy to print me some sort of itinerary to show my work, and it shows "mechanicall issues", not weather. Confirmed this with their website. I was told I'd probably be arriving in Seattle around 1-1:30AM. By pure chance, my flight from San Fran to Seattle was ALSO delayed (due to a late incoming flight), so I was able to board my original connecting flight. However, this still put me in a bad situation. I use public transportation, which wont be running by the time I arrive. LooKS like I'll be forking out $50+ for an Uber or Lyft home. Thanks, United. I only ever get delays when I fly United."
Pros: "She was very friendly and on task."
Cons: "Nothing. She was great."
Pros: "not much"
Cons: "rude lady"
Cons: "My bag was misplaced after being gate checked, it ended up going to baggage claim, not a huge inconvenience, but after all our trouble with United, it was frustrating and we were tired and not interested in waiting for our bags (which is why we took carry on only in the first place)."
Pros: "It wasn't a big plane, so the seats were on the smaller side. Nonetheless, it wasn't terribly uncomfortable. Fast boarding process."
Cons: "North Bend's baggage handling is very slow to unload the aircraft and get the baggage up to the turnstile. This is a bit odd, considering there is only one aircraft on deck at any given time requiring unloading."
Cons: "Less than friendly staff at the desk. The gate was changed on us and again no United app updates or texts until much later."
Pros: "The crew was very courteous and I lost my boarding pass and I was so worried but when I got off my first flight there was a rep for united at the gate who told me how to get a new one it was awesome"
Pros: "Great flight"
Pros: "There was one really nice flight attendant but it looked like she had to do everything! I never saw the other person who was supposed to help her."
Cons: "We were stuck on the Tarmac when we arrived for an hour. They said it was because of lightning but the storm had passed in 20 minutes so for 40 minutes it was just raining. We had no idea what was going on."
Pros: "Flight crew was top notch. Quick baggage claim."
Cons: "One gate agent spoke rudely to a passenger for throwing something in her trash can, she could have stated what she needed to more kindly, especially in front of other customers."
Pros: "Getting home finally"
Cons: "Miscommunication with customer service regarding stand by flights, representatives were extremely rude, spent 7 hrs at airport during departure and 7 at airport during arrival, constant gate changes and that's just to say the least"
Pros: "It was yes fine"
Cons: "Bagged show up at the wrong belt in Houston"
Pros: "Nothing"
Cons: "Flight attendees were very rude and the flight from Chicago to Louisville. The plane was delayed by an hour for maintenance, the plane was disgusting, very dirty and nasty."
Cons: "Hours and comfort was horrible"
Cons: "I didn't get what I paid for and the person next to me got more than they paid for. I expect a refund."
Pros: "the cute college girl I met."
Cons: "The flight was delayed. The plane was different and so the seats were different. I ended up between people instead of my window seat. Flight attendants were barely capable of loading luggage in overhead bins. The process took way longer than it should have. Upon arrival, 3 flights shared a carousel and nothing was arriving for an extremely long time."
Cons: "The coach seats don't recline enough to allow for sleeping. your head just falls down and you wake up because of not enough incline."
Read more about Delta
Safety measures for airlines flying to Exuma
Airlines flying to Exuma have enacted additional safety measures and adjusted policies to better accommodate travellers. Policies vary by airline.
Heightened sanitation
Daily cleaning, installation of cabin HEPA filters on flights to Exuma
Mandatory masks
Masks required on board, masks provided on flights to Exuma
Social distancing seating
Middle seats unavailable to book on flights to Exuma
Pre-flight testing
Testing for antibodies, testing for symptoms for flights to Exuma
Book Cheap Exuma Plane Tickets
Recent return flight deals
Search by stops
Search by airline
Search by price