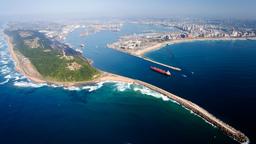 Find cheap flights from Scotland to Durban
Search hundreds of travel sites at once for deals on flights to Durban
FAQs for booking flights from Scotland to Durban
How does KAYAK find such low prices on flights from Scotland to Durban?
How does KAYAK's flight Price Forecast tool help me choose the right time to buy my flight ticket from Scotland to Durban?
What is the Hacker Fare option on flights from Scotland to Durban?
What is KAYAK's "flexible dates" feature and why should I care when looking for a flight from Scotland to Durban?
Top 4 airlines serving Scotland to Durban King Shaka Intl
Scores according to KAYAK customer reviews
8,3
Qatar Airways
Overall score based on 11 090 reviews
Cons: "Needs more improvement"
Pros: "Service and entertainment"
Cons: "On boarding and on time departure"
Pros: "Food was ok"
Cons: "There should be someone to guide for connecting flights"
Pros: "Every things was great ."
Cons: "Lots of noisy babies / young children"
Pros: "The A330, despite being an old plane, had really good recline."
Cons: "The entertainment was very outdated."
Cons: "Unorganized too shaky flight made me sick to stomach ,foods are not good service not good"
Pros: "I liked everything. Plane ride was nice and I felt welcomed. Had a good experience."
Cons: "The boarding process was ridiculous. The staff delayed boarding of zone 2 passengers until ALL zone 1 passengers could be located and boarded which could easily have delayed takeoff. They went so far as to page missing zone 1 pax several times and asked people sitting on gate area which zone they"
Pros: "Food"
Pros: "Service by the crew was outstanding, but special mention to Deepika who made sure I had a Business Class experience out of this world, always smiling and checking if I needed anything"
Cons: "The food and the wine selection did not impressed me. Qatar needs to make some changes."
Pros: "professional and courteous staff. Food is even better than a Lufthasa flights"
Pros: "Everything was just average to poor."
Cons: "Baggage was not handled properly. Food is just average. Crew looked very tired, they are probably too much overloaded with work and the airline has poor scheduling of shifts for their crews."
Pros: "Liked comfort and srvice"
Cons: "Doha to Lahore flight plane was a bit older than Edinburgh was new and exciting"
Pros: "Excellent food, service and comfortable seats."
Pros: "While my Qatar airways flight from Houston to Doha (# 714) was almost perfect, flight #1335 from Doha to Nairobi was a huge disappointment."
Cons: "The flight attendants didn't seem to know what they were doing, food ran out before i got any breakfast, the IFE system for my seat didn't work,"
Pros: "In time me ,food ,clean"
Pros: "Boarding process was good. But security check is inconsistent at different locations within the Airport terminal."
Cons: "Poor Seat comfort. Too narrow seats. USB charger were not working. Tamil language movies were very few. Crew was efficient but were not polite and not cordial."
Pros: "The Crew has been excellent"
Cons: "When I arrived at the Airport in Arusha (JRO) my reserved row 23 aisle seats for the DOH to JFK segment were changed to the (last cabin section row 31); also my aisle seat was changed to a middle seat Food was better from JFK to DOH Entertainment was lacking - movie and TV selection was poor for 20+ hours of flight time"
Pros: "Ended up having spare seats beside me. Planes were new and in great condition. Staff were very good."
Pros: "Lots of entertainment"
Cons: "Originally I was assigned a wonderful seat but then I was put in the back by window it was very cramped and noisy. The flight stuff was mediocre and the food was not that good either. Big difference from the flight over"
Pros: "All crew were nice"
Cons: "Diabetic food not palatable,. No Mango juice, did not serve Diabetic meal earlier. I had hypoglycemia.."
Pros: "Entertainment and food was good."
Cons: "Long flight from Doha to LA."
Pros: "Flight crew was quick to provide food and drinks but quality of the food was not as good as Emirates."
Cons: "-carry-on did not fit on center overhead compartment unless I put it side ways, which then takes up space for other passengers. Same carry-on suitcase fit nicely on Emirates airplanes. Basically, carry-on overhead compartments have been made smaller on purpose or by engineering error, and this makes me not want to fly Qatar airlines again. Less food options. I went to the Gally and they only had kitkat bars for food. Emirates offer fruit, sandwiches, and many choices at ALL TIMES of the flight for economy class."
Pros: "everything went smoothly, no delays, boarding was easy and quick"
Cons: "Rules"
Pros: "From Joburg to Doha, the plane was clean and the food was good. . From Doha to Washington, not so much. I went to 3 bathrooms and all the sinks were stopped up."
Cons: "The food from Doha to Washington was beyond awful!!! I wud scrap that whole menu PLEASE. I WAS SEVERELY DISAPPINTED. The previous Quatar flight, the food was different and very good. Please check on this. Also, the sinks were stopped up. Gross."
Pros: "Being able to sleep."
Cons: "Food was not good. Rice was not fully cooked."
Pros: "Food was good. Service was great. Bathrooms were clean. Refreshing experience."
Cons: "Requested Asian vegetarian mean but available was non vegetarian. Led screen did not working."
Cons: "Food is not fresh and seats are not comfortable. Very little leg room."
Pros: "The flight was on time. It was quiet so no boarding issues done quickly. Food was good. Good choice of flights."
Cons: "No Wi-Fi. Grew not a friendly. Seats are very hard after 6 hours. The dreamliner is already aged. The screens are in poor condition already."
Pros: "Crew were nice as always and the toilets were clean."
Cons: "Movie selection wasn't that great and food was disappointing. My meal was cold and unappetizing. Vegetarian food can be delicious and vegetarian meals used to be good in QA. I've noticed it declining in quality over the past year. Bread is always cold and hard and vegetables are sometimes tasteless. I also never get good dessert :( luckily, the cabin crew giving out food still had some other food I could eat so I just gave back my special meal which was cold and unappetizing."
Cons: "On O-Hare Airport, Qatar Air Line's staff is very rod, I never recommend to anyone. Now if anyone ask from me then i refuse to buy Qatar Aiway ticket then they buy Emirate or other air line tickets"
Pros: "Flight. Conections"
Cons: "Change flexibility, helpfulness"
Pros: "Airport staff."
Cons: "4 hour flight wolith no entertainment system and old aircraft was a huge drop I am frequent Qatar airways customer, and this flight was the worst"
Pros: "I liked everything about it."
Cons: "My trip was to long but it wasn't there fault. I was so tired."
Pros: "Incredible staff, fast boarding, great entertainment center."
Cons: "Breakfast frittata was like rubber."
Pros: "Nothing"
Cons: "There was nothing to like. Considering my travel experience with Qatar & middle eastern airlines they've gone worst. The aircrafts need to be upgraded especially on long flights. Food was horrible and so was the entertainment. Would not recommend or fly Qatar again."
Pros: "Lots of space as the flight quite quiet. Very friendly staff."
Pros: "Overall - Flight was good."
Cons: "Food quality should be improved. Most of the staff were very courteous, except on two minor request. I guess the stewardess was a little stress due a very demanding passenger, but should not be reflected to other customers."
Pros: "Nothing at all"
Cons: "Poor management didn't provide a hotel for layovers more than 12 hrs"
Pros: "The entertainment was great."
Cons: "N/A"
Pros: "Schedule of flight"
Cons: "Space between seats were smaller"
Pros: "I was upgraded to business class for the first time in my life. The food was good, and plentiful, in both classes. The stewards were accessible and friendly, the seats were comfortable. The movie selection was good"
Cons: "I was trapped in the window seat, because my neighbors were sleeping. Not Qatar's fault"
Cons: "N/A"
Cons: "The flight heading back from Scotland was delayed due to mechanical issues and we missed connecting flights. Although that being said, they did provide vouches until we knew the status of our plane."
Pros: "Nothing"
Cons: "delays with little information and compensation"
Pros: "The plane was neat, clean and the services was world class. I was made to feel at home with service always at my finger tips."
Cons: "Nothing to report."
Cons: "I wish the 777 had slightly wider seats like the A380"
Pros: "Good experience overall"
Pros: "The crew was amazing and their service was very attentive to customers."
Cons: "Not having crying infants onboard"
Cons: "The boarding process at Addis Ababa airport was late, slow and very disorganized. Once on the plane, it was very chaotic as passengers did not wait for people to put bags in the overhead bin without passing by, and not all overhead bins were open for loading. Please control this process better."
Cons: "Nothing"
Pros: "The entertainment is fantastic"
Cons: "The crew, not very hospitable"
Pros: "Relaxing Cabin crew were awesome"
Cons: "Not that I can think if"
Cons: "Food"
Pros: "Not really there service are not like before"
Pros: "Friendly cabin crew, new movies"
Cons: "Long wait after boarding before takeoff"
Cons: "Emirates sent a notice that the flight was cancelled on a flight from SF to the Maldives - with about 6 hours notice. They put me on a plane two days later. Zero interest by the airline helping. We found a flight on Turkish but paid an extra $500. Zero interest in helping. Last time sensitive ever on Emirates."
Cons: "Ahmedabad is the worst of Indian international airports. Emirates can't manage that zoo."
Pros: "Good overall service."
Cons: "seat was ok staff are very rude food was poor and cold on first flight"
Pros: "The other services was okey"
Cons: "The checking in at the airport terrible"
Pros: "Smooth flight. Attentive crew. Good entertainment options"
Cons: "The toilet had no toilet paper so I used the paper hand towel and prayed it did not block when I flushed. The beef option was not that great. I should've chosen the chicken."
Pros: "Modern spacious plane, on-board experience all fine. Flat beds in Bysiness are great."
Cons: "Boarding is shambolic - no signs, no announcements, first class passengers get herded into a large pen with the others , which leads to no reliable priority boarding. Flight was delayed 25 minutes (advised by kayak not Emirates); no acknowledgement of it - departure boards never reflected it, no announcement."
Pros: "Entertainment is good. I like food"
Cons: "Everything is good but boarding stuff needs more improvements."
Pros: "Excellent trip"
Cons: "Despite me telling the crew a number of times that he temperature was FAR too low, no change was made. Now I am not a first time flyer and I know flights can get cold. I had a sweatshirt, socks, shoes, two blankets wrapped and it was still cold to the point that I put the blanket over my head. When I looked around the flight almost every single person was completely wrapped in blankets and had hoods, sarees, and scarves wrapped around their heads. I had my 1 year old infant who already had a head cold that I feel was worsened by the cold dry air. I spent my first few days in Kolkata pretty sick. I know the cold air doesn't cause the illness but it certainly worsened any stuffy nose I had into a full blown cold and chest congestion. I was VERY upset by the discomfort on this flight especially after having a wonderful flight with Emirates from New York to Dubai. I really felt like the crew did not care despite clear discomfort the passengers were feeling. It was incredible how visible the discomfort was yet nothing was done to fix the temperature. The freezing cold air kept blowing right on everyone theoughout the flight."
Cons: "Very good"
Cons: "No Bassinet provided. Staff was not friendly One of them was very rude. Food was not good. Couldn't get a vegetarian food"
Pros: "my flight didn't come, it was cancelled and still, I'm struggling to book or find alternate solutions."
Cons: "my flight didn't come, it was cancelled and still, I'm struggling to book or find alternate solutions."
Pros: "Staff were quite attentive. All requested were promptly fulfilled"
Cons: "Service took a long time once on the flight. We left Sydney at 7pm and didn't receive any food or drinks for at least an hour and a half."
Pros: "The flight was on time!"
Pros: "Everything from food to seating was quite comfortable."
Cons: "Boarding was a bit more difficult since they did not call boarding zones"
Pros: "Crew was friendly, food was good and entertainment great. Space between front row seats in economy class was good."
Cons: "all good."
Pros: "I really like the entertainment and the air cameras."
Cons: "I like everything"
Cons: "Electronic entertainment is poor and the whole experience rather depressing no matter how hard the crew tries"
Pros: "Helpful staff,gave me seats requested,meals pretty good,good entertainment,even got to see despicable me 3 and didn't need a kid."
Cons: "Would have loved business class,but what can u do,only thing was I had to remind about my skywards miles.."
Pros: "Hard working, friendly, and effective team. Your customer care is matchless!"
Cons: "I only have one objection. The crew lost control of restroom cleanliness toward the end of the flight. I know this is a challenge on a long flight, but your crews normally do better."
Pros: "Was overbooked from start -"
Pros: "The ICE system was a perfect way to spend 13 hours on a plane. I watched a movie, listened to music, even watched part of a live broadcast NFL game during the trip. Much appreciated!"
Pros: "Your staff is professional and endures difficult situations patiently and professionally. Kudos to them,"
Cons: "No wi-fi even though the flight was advertised otherwise. I chose Emirates because of wi-fi availability. The reason I was given for non-availability of Wi-Fi was that the airplane was brand new...which seemed a little convoluted for these times."
Cons: "We already quoted vegetarian but they failed to serve vegetarian, but they arranged substitute that is happy to me."
Cons: "The crew was welcoming and helpful. The plane was clean.... the food was pretty good."
Pros: "enjoyes my trip"
Cons: "N/A"
Pros: "Excellent"
Pros: "Magnificent plane lots of space friendly crew."
Cons: "The person behind me was kind of irritating"
Cons: "All seats are occupied airplane is completely full making it difficult for crew to serve passengers and time consuming to do regular activities."
Cons: "Broke my bags."
Pros: "I was surprised to receive a pair of socks, sleeping eye cover and toothbrush/toothpaste. Great courtesy and attention to detail by the flight crew."
Pros: "Everything!!!!!"
Pros: "Being able to sleep comfortably Great staff Food good rather than great but not easy on flight. Well chosen good wines. Chauffeur service to & from airport Ease of checkin"
Pros: "I always see the best experience with emirates"
Pros: "The crew were friendly."
Cons: "wifi wasn't good - I couldn't connect. Wine choice wasn't good (white). Would have preferred a sav blanc"
Pros: "The in-flight entertainment was good, with many, many options to choose from. The headphones provided were certainly more comfortable than anything I have experienced on other airlines."
Cons: "The boarding process is chaotic. Especially so in Dubai. Moreover, they do not allow a laptop bag in addition to the normal carry-on baggage. Every other airline I have flown allows this. What is even more frustrating is that a women's purse is allowed, so I saw women carrying giant bags with their laptops, etc. in those bags, whereas I had to stuff mine into my carry-on briefcase. This is not normal (as in, other airlines allow it), is not mentioned in the ticket, not mentioned while given the boarding pass, BUT is strictly enforced at the very last minute right before entering the plane."
Pros: "• Food was good •The flight was comfortable and I felt saved •The crew was very nice •The flight was cheap compared with service •The entertainment was excelent but you need to add more songs from Africa ."
Cons: "food was not served on time. crew was not attentive. didnt respond properly"
Pros: "The entire experience was first rate- an excellent web-based support network from flight planning through on-line checkin. Airport experience at both MXP and JFK was excellent.. attentive, efficient ground staff- as were aircrews on both our flights with Emirates. Top class, attentive.. really enjoyed the flight. And, we pushed back spot on time both legs."
Cons: "They work the aircraft hard and it shows in small details.. broken latch in the head, bits of trash in the seatback pocket... but still head and shoulders above their competition. Oh, and it'd be nice to have bar service better coordinated with dinner.. the bar showed up quite a while after dinner was handed out. Tough if you prefer wine with your meal."
Pros: "Staff were polite"
Cons: "The seating space is horrendous, I am 5 ft 8 and felt like I was sitting with my knees at my chest, horrible horrible seating"
Pros: "Terrific hot breakfast in bus. class"
Cons: "Window did not darken like the others."
Cons: "Boarding at Florence is always chaotic but this isn't within the control of KLM or their crew."
Pros: "Muslim food"
Pros: "The crew."
Cons: "The time between flights."
Pros: "The crews were pretty great!"
Cons: "The regulating of the temperature."
Cons: "The plane is so old..,"
Pros: "Reclinable seats."
Cons: "The food!! The lights could be dimmed as it was a night flight."
Cons: "Flight got delayed 30 minutes"
Pros: "Very friendly crew and on time with no problems."
Pros: "The friendliness of the crew"
Cons: "Flight 2 hours delayed, started boarding but had to wait on line 10 more minutes on boarding ramp for plane door to be opened, upon landing in Dublin had to wait on tarmac for anther 15 minutes for stairs to arrive and be connected to airplane. Then had to wait another hour for checked luggage...."
Pros: "the drinks"
Cons: "seat reservation. having to pay for luggage...."
Pros: "The space at my feet with the chair in front was a bit akward."
Cons: "Not being seated next to small kids. Perhaps they should have a separate section? ;-)"
Pros: "The crew was great! The food was also much better than other airlines. And passing out whole bottles of water was much appreciated."
Pros: "The crew"
Cons: "Seat comfort"
Pros: "Crew were friendly and helpful. Moved me up front in the plane so I could make my connection."
Cons: "Not having to walk outside in Edinbur4gh to board the flight."
Pros: "The crew was nice and helpful (our flight was 2h late so they put us on the one before in business class for us not to miss our connection)"
Cons: "A lot of delays, on both flights. We spent twice as much time waiting than flying."
Pros: "The earphones for out two seats only worked intermittently, but the Purser, Lee-Ann handled it professionally and pleasantly. That was the only disappointment in an otherwise pleasant flight"
Cons: "The earphones could have worked!"
Pros: "I love the food"
Cons: "Lost all our bags so couldn't ski"
Pros: "Lovely crew, very helpful"
Cons: "N/A"
Pros: "Seating is tight. The crew was great !"
Cons: "As we landed we had to wait on the plane for an hour and a half because another plane (Spirit) was in our "parking spot." This made it very difficult for people and connecting flights."
Pros: "On time and friendly crew"
Cons: "Boarding needs improvement"
Pros: "great crew and comfortable flight."
Cons: "sceens in the plane to show map and direction of travel"
Pros: "Best airline in the business quick efficient and outstanding service What else can you say"
Pros: "Nothing to mention"
Cons: "Crew was rude when I asked if there was a vegetarian option for the snack. I did request special meals for the trip. Even if they did not have a vegetarian option, they don't need to be rude!! Boarding was ridiculous. we were supposed to form a line and wait. Would have been a lot better if they boarded by seat numbers. Also they made me check in my fairly small and light carry on bag resulting in its contents arriving broken!"
Cons: "Landlords gave an unpleasant service! Which continued with late of 50min of the flight, they didn't do anything to help/ to provide the passengers the answers. The food was cold It was comfort place to sit. Bad experience with KLM"
Pros: "Crew was very friendly. Nice that wine was served without charge."
Cons: "Announcements from the cockpit were hard to hear. Food has been better in past."
Pros: "Was happy to pay extra 45.5 pounds for laugages which was hidden"
Cons: "Not happy to pay extra money for my case"
Cons: "The flight advertised meals..a small pastry was served an hour into the flight. I asked when the meal would be and was told a few hours...which turned out to be breakfast..i wated all night for food that only came an hour before landing. Now hungrey and tierd.I.will not be flying klm ever again !!"
Pros: "The cabin crew was so kind, efficient, and attentive. All meals and snacks were delicious."
Cons: "The cabin crew was racist! She asked me to move from a seat because she wanted another guy ( obviously from her country ) to take it! Rude and racist."
Pros: "He missed it due to having a 32 minute layover, which he ran all the way to board."
Cons: "he had no choice but to look at the closed door of his flight, and wait an additional 7 hours and they didn't even give him a voucher for food. I'm his mother, I'm currently visiting family in Scotland, so couldn't help him much. I'm pretty disgusting and disappointed by the whole experience."
Pros: "Lovely staff, good food, great movies."
Pros: "Everything. A truly faultless experience!"
Cons: "Nothing"
Cons: "I don't like the limited choice of drinks on these short KLM flights."
Pros: "Usual professional and friendly service from my airline of choice for most destinations."
Cons: "Nothing"
Cons: "Not only was there free food but they tried to sell you a bunch of stuff. Not a moments piece."
Pros: "great choice of entertainment content, friendly crew"
Pros: "The staff was fast and curteous."
Cons: "There is not anything to complain about besides the usual discomfort of travel."
Pros: "The staff were friendly and all smiles. Seats were comfortable and we had a quick, smooth flight from Edinburgh to Amsterdam. The breakfast supplied was an egg and mayonnaise sandwich plus a drink, which seemed about right and very Dutch in character."
Cons: "It was rainy and necessary to walk outside to access the plane; the staff should give their customers a heads-up so that jackets can be donned. Additionally, the check-in queue seemed rather sluggish."
Pros: "Price"
Cons: "Klm flight has very congested seating Getting information about eticket was pain"
Pros: "."
Pros: "The constant supply of food that was offered to you. The crew was nice and always helpful."
Cons: "The process of boarding in Amsterdam was not organized and felt more stressful than it needed to be."
Pros: "Speed, crew, and reliability."
Cons: "Food wasn't good, no entertainment or accessory plug ins, and seats were worn out! Not comfortable at all. Great leg room though."
Pros: "Loads of leg room"
Cons: "Loved everything"
Pros: "The crew were very friendly and accomodating, plane was clean and boarding amd disembarking was efficiently handled."
Cons: "55 minute delay was not welcome."
Pros: "captain was great."
Pros: "Unexpected surprise--even on a 1 hour flight at noon, they gave us a sandwich!"
Pros: "The crew saw I was travelling with my young son; baby and elderly parents. We were placed at the front of the crew and were kind enough to allow me to board first."
Cons: "Most passengers had to put cabin bags into the hold. These were taken at the gate, it would have been nicer to have had this notified by text or when checking in so the bags could have been left at the check in desk."
Pros: "Very good crew who were welcoming and attentive"
Cons: "We were placed at an international gate, had to wait for stairs (for the rear of the plane) and then a bus to the terminal. We arrived early but by the time we had waited for steps, bus etc, we were late!"
Pros: "Premium Economy was very comfortable"
Cons: "Food was delivered in a hurry just after we embarked A bit more relaxed would have been better"
Pros: "Friendly Crew"
Cons: "delayed for 2 hours"
Cons: "All good."
Pros: "Lovely staff"
Pros: "All crews are kind, friendly and excellent services, the handling of missed flight is good."
Cons: "The plane is too old lots of things falling apart, toilet door, tv screen and its remote control ect .."
Cons: "Nonexistent leg room. Made me check my carryon bag but did come to reclaim pretty quickly. Couldn't even get water without a charge."
Pros: "Good seats at back of plane"
Cons: "Food"
Pros: "Getting off the plane"
Cons: "It is ridiculous to have elderly passengers made to carry heavy luggage up and down multiple steep stairways. This happened in Dublin, Edinburgh and of all places, Heathrow was the worst. There is no excuse not to have level walkways and Entrances to these large planes. Totally unacceptable given the prices we pay to travel."
Pros: "All the flight attendants were so friendly and helpful! Nothing"
Cons: "Nothing"
Cons: "I would have appreciated knowing ahead of time that 1) I was seated at the emergency exit, 2) that as a result, I would not be allowed to have my carry-on at my seat. Communication would have been appreciated."
Pros: "On time"
Cons: "This is the second time your plans have been late! You were late leaving from Venice to London Heathrow on August 1 which I barely made the flight to Glasgow and then coming back your flight is late leaving Edinburgh to Heathrow And my luggage doesn't make it again! You don't even serve water on the airplane which is ridiculous! Your flight crew were nice but you really need to be on time or not schedule flights with such short layover times!"
Pros: "My first domestic flight with BA for years yet the service imo has got even slicker and better. From check-in to boarding to disembarking and all ahead of schedule, I doubt if I would fly domestically with anyone else."
Pros: "Entertainment and amount of food and drinks served was adequate"
Cons: "3 different delays totalling over 2 hours then sat on the plan waiting to take off for another 30+ min with no regard to connecting flights, passenger confort, etc"
Pros: "The modern plane and comfortable seats, fast boarding with little queue"
Cons: "The new strange self check in and baggage drop proceedure"
Pros: "Par from below the flight was great as always"
Cons: "CSD was rude and not nice to his fellow staff member in economy. Small delay but not a common thing"
Cons: "Boarding takes longer on BA than any other airline I've flown on. Breakfast was awful. Cream cheese on a white roll tastes like paste. You'll really could be doing better than this."
Cons: "We had a carry on and were flying business class. They made us check in the bag but it was clear that it could fit. They said it was a busy flight so we had to give our bag up to check in. We arrived on the plane and there was plenty of space to put our luggage. It was not a friendly experience especially paying the premium to fly business. They were very direct and non forgiving. Crew on board were nice though!"
Pros: "Nothing"
Cons: "Everything"
Cons: "Luggage did not follow me. Still without."
Pros: "Why have they destroyed this once great airline. Better choice of destinations and better prices and similar poor service from the Budget Airlines..Once I return I WILL NOT fly BA ever again."
Cons: "Paying top dollar for the fare and the being asked to pay for the food and drink which was hugely overpriced anyway. They are now an Expensive no-frills budget service airline."
Pros: "They may not always tell you everything, but they seem to think of their passengers first. I was worried about getting my bag out of the overhead bins which ended up three rows ahead of me. I thought I was going to have to exit the plane from the rear since that was how I entered and wondered how I would get my bag. Turns out this was not the case as everyone would exit from the front."
Cons: "Being seated at the rear of the plane. This was not the flight seat I chose and paid for at booking originally. Do not know what happened with that. I needed to make an international connection within an hour and half for boarding and was nearly the last off the plane. Made it just fine, but felt lucky airport seemed not so busy. I am not sure about pre-booking seats being worth it as my way home I did not seem to get any of them."
Pros: "Nice legroom in world plus."
Cons: "Wish there was live TV for sports."
Cons: "BA loaded drinks but no food onto flight. They "forgot". Paying only by credit/debit card is a time consuming nightmare. Without food, they were faster. Accept cash. Or allow pre-purchase online."
Pros: "Crew was great. Process of boarding and disembarking was fine."
Cons: "Space in regards to seating is inadequate"
Pros: "Good experience."
Cons: "Nothing."
Cons: "Rude flight crew!"
Pros: "That the flight was not bumpy and due to bad entertainment I had good views out the window"
Cons: "Tight seating, old airplane, a bit dirty, most info was in Spanish!? Could not hear overhead announcements,"
Pros: "Left and arrived on time! Comfortable aircraft"
Cons: "Nothing"
Cons: "Disorganised"
Cons: "We had to cancel flight due to Hurricane Irma change of flights from London. BA refused to let us rebook or change flight. Poor poor customer service! I will never fly BA again!!"
Pros: "There was sufficient leg room in seating."
Cons: "No drink or snack during flight. Made it seem like a cut-rate airline. Had to board across the tarmac and up the steps as if we were on a "puddle-jumper.""
Cons: "Boarding security very bad"
Pros: "Nothing"
Cons: "The flight was overbooked and I spent e hours in the airport getting rebooked, shuffled, finding my checked luggage, and being treated like an inconvience. I will never fly British Air again."
Pros: "It was the beginning of school holidays so mobbed but we all got on the plane"
Cons: "Security at Edinburgh was tough for thise of us not used to the 'clear bag' policy. One steward (German guy? ) seemed to be in a permanant bad mood. And once we got to Heathrow, the jet bridge did not work, so we could see our luggage leaving the plane before we did!"
Pros: "Not much"
Cons: "The boarding crew from Edinburgh did not allow me to bring my carry on despite it being very light and within size restriction. They said this was because the plane was already full with others' luggage and could not handle my bag for safety. Had to shove my things in a Tesco carrier bag and in my daughters small backpack on wheels. The backpack broke later as it was not made to carry more than a few books. And to top it off, the suitcase I was made to check never made it on my connecting flight to Chicago. I am still waiting for it to be delivered 36 hours later. This suitcase is virtually empty. Well, it's actually carrying a pair of sunglasses and my phone charger. totally inconvenienced and the crew saved the plane from being dangerously overloaded by an empty suitcase. Absolute nonsense."
Cons: "The queuing process was not efficient, the packing of people on a shuttle bus was dangerous with the number of people squashed onto the bus and then we had to wait on the bus for quite a while for the determination to be made that the flight was ready. Once on the flight, the hanging flap that separates the first class from economy, was loosely hanging and rattled fiercely and on lift-off swung back toward our faces. We had to pay 4 pounds for a coke and weird coffee. Then we had to circle London while we waited to land because of the IT mess in London."
Cons: "Not many choices on direct flights from Edinburgh to Shannon our final destination. Waste of time having to fly to London first for a connecting flight"
Pros: "Good and professional services. This flight was a short one but everything went as expected."
Cons: "I don't like the LHR airport as the layout is confusing and too big. The shuttle between terminals are not easy to take."
Pros: "Going through immigration in Dublin and the flight over behind well managed"
Cons: "Security in Dublin is a bit disorgation going from the U.K. Into the US terminal. I lost my global entry card in the process and not much one could do with that process"
Pros: "Flight was comfortable. Reached 20 mins before time Leg space was ample."
Cons: "Lost my bag"
Pros: "It was a short flight, so didn't need much."
Cons: "Charged for food, even water. Boarding pass had one gate, but flight actually boarded from a different gate. No one there to tell us, no announcement. Good thing I checked board. No entertainment system."
Pros: "Everything on the flight was fine the crew was great and the seats had a comfortable amount of legroom."
Cons: "I was shocked to learn that my ticket did not include any check in baggage allowance. Plus the charge of £60 per bags for our travel party of three was just rude. I was also disappointed to Learn that BA would not honor my One World Saphire status in anyway and give me a free checkin."
Pros: "Clean plane, efficient cabin crew, very slick boarding."
Cons: "Nothing to make it stand out from the other providers(Flybe, Ryanair, easyJet) as all complimentary offerings have disappeared."
Pros: "Nothing"
Cons: "Air conditioning did not work in my section of the cabin The entertainment center felt like a 1960s generation VCR, esp the navigation and video quality. The selection was terrible. Food was terrible and unhealthy. Toilet seemed to have an air leak, extremely noisy air being sucked down sink. Aircraft appeared old and obsolete."
Pros: "Great crew and service"
Cons: "Uncomfortable seats. Not only no space to get comfortable but the seats themselves are not comfortable. We had better constructed seats on the hopper from Edinburgh to London. It is unconscionable that long flights are so uncomfortable!"
Pros: "The flight was very good- nice that food was served even on a short flight- crew was very nice- everything was easy."
Read more about Qatar Airways
Safety measures for airlines flying from Scotland to Durban
Airlines flying from Scotland to Durban have enacted additional safety measures and adjusted policies to better accommodate travellers. Policies vary by airline.
Heightened sanitation
Daily cleaning, installation of cabin HEPA filters on flights from Scotland to Durban
Mandatory masks
Masks required on board, masks provided on flights from Scotland to Durban
Social distancing seating
Middle seats unavailable to book on flights from Scotland to Durban
Pre-flight testing
Testing for antibodies, testing for symptoms for flights from Scotland to Durban
Book cheap flights from Scotland to Durban
Recent return flight deals
Search by stops
Search by airline
Search by price