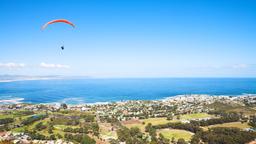 Find cheap flights from New Mexico to South Africa
Search hundreds of travel sites at once for deals on flights to South Africa
FAQs for booking flights from New Mexico to South Africa
How does KAYAK find such low prices on flights from New Mexico to South Africa?
How does KAYAK's flight Price Forecast tool help me choose the right time to buy my flight ticket from New Mexico to South Africa?
What is the Hacker Fare option on flights from New Mexico to South Africa?
What is KAYAK's "flexible dates" feature and why should I care when looking for a flight from New Mexico to South Africa?
Top airlines flying from New Mexico to South Africa
Scores according to KAYAK customer reviews
7,9
Delta
Overall score based on 29 266 reviews
Pros: "It was nice that middle seats were not filled."
Cons: "It was silly that the flight attendant said we had to pull mask up between bites of food."
Pros: "Crew was kind and helpful. Very clean and made sure we were able to sanitize and keep our area safe."
Cons: "Loved it!"
Cons: "I didn't flight because I was tested Covid-19 positive ! I am waiting for AeroMexico to contact me to get and flight back to Minneapolis !"
Pros: "The chargers and movies on the flight. The seat was comfortable. The flight attendants where awesome. I loved the flight!"
Cons: "No changes!"
Cons: "There should not be a pay wall around the internet in today's day and age"
Pros: "Leg room in comfort +"
Cons: "Removal of food trays could be done sooner"
Pros: "Everything was GREAT !!"
Pros: "I like the comfortable seats and the entertainment feature found on every seat."
Cons: "Not much. Delta is superior"
Pros: "There was those head rest flaps on my chair head rest. Checkin my luggage was seamless."
Cons: "Boarding process was bit disorganized."
Cons: "I used 7900 points to upgrade to "comfort" and nothing about it was comfortable. I was squashed between a window and a large man and my tv screen kept flickering on and off. I actually felt like I had less space overall than I would have in a regular seat."
Pros: "The seat was very comfortable even as a basic seating and the entertainment options were great."
Cons: "The voice from the pilot was very loud and would be too much if I had my headphones on."
Cons: "Disembarking could be more efficient"
Cons: "Too much delay - departure was planned on March 15 @ 7 pm and take off happened on March 16 @ 12pm - a complete failure!!!!"
Pros: "I was seated in economy comfort. Compared with Delta's Econoomy Comfort, I felt that the KLM seat had more legroom and greater recline."
Cons: "The dinner was awful. No choice of meal. Everyone got a small plastic contained filled with macaroni in tomator sauce. Nothing else. Incredibly bad. Breakfast was better. Sausage and eggs, melon, yoghurt. But who is in the mood to eat at 2 am?"
Cons: "I now know the downside of buying through Kayak, the ticket is non-upgradable even when seats became open and I offered to pay for the upgrade."
Pros: "Boarding was very smooth and the crew were helpful, efficient, and polite. There was a good assortment of entertainment."
Cons: "I ordered the beef tenderloin, medium. It came out extremely rare and I had already eaten some by the time I realized; the entire plate was filled with blood. I ended up sick to my stomach for the remainder of the flight. Average height to tall individuals do not fit well laying down in the seats."
Cons: "Delayed 3 hours"
Pros: "Smooth flight."
Cons: "Tight seat. Small space."
Pros: "The attention to detail from the crew, and the friendliness"
Cons: "Poor service"
Pros: "Great customer service. Crew was super friendly and flight was smooth and on time."
Pros: "Boardin process was Ok"
Cons: "Due to several issues we were delayed in 3,5 hours"
Pros: "The chargers worked in neither airplane."
Cons: "The chargers worked in neither airplane."
Cons: "It was smelly. Anyone who does not smoke can smell old smoke. Yuk. Also, smells like a neighboring passenger has bowel issues. Ick"
Pros: "On Time. Nothing else to say,"
Pros: "The flight was on time. Airport personnel were courteous & efficient. Airplane was clean. Pilot was friendly. A passenger had a peanut allergy so Delta distributed almonds, instead. Nice. Overall, I like Delta."
Cons: "Leg room was just barely adequate. It was a small plane-nothing could be done about that."
Pros: "Good movie selection"
Cons: "Just about everything else was mediocre"
Pros: "In-flight entertainment Nice crew"
Cons: "The Delta seat assignment and boarding process The flight was delayed"
Cons: "price could be cheaper"
Pros: "I don't know what Delta could have done better on this two leg flight from Albuqueque to Miami via Atlanta . Yes we were in First Class and it was a (groan) 6:05 AM flight which meant that we were probably on time. But Delta's 737-900 (to Atlanta) was very comfortable, the crew did everything well and the breakfast was quite good. (Make sure you try the quiche). We had the same crew on the next leg to Miam, who were surprised and gave us a warm welcome. There were only snacks in 1st for that short segment, but they were all we wanted."
Cons: "Air turbulence over the Midwest storms."
Cons: "was a difficult transition from delta to west jet in Toronto and we almost missed the flight"
Pros: "We traveled first class. Plane needs an update. Seats were not comfortable and did not work correctly. the crew had to continually pull the seat cushions up and reset the elec mechanism b"
Cons: "Copilot was an hour late, inexplicably"
Pros: "Food good, wine OK"
Cons: "Discomfort bad"
Pros: "Loading process, seats and drinks were great"
Cons: "No TV on back of the seat but thankfully the ladies next to me were very entertained"
Pros: "The variety of what you could listen to or watch. Liked the way the seats reclined. Plenty of leg room (I am short)."
Pros: "Everything went smoothly."
Pros: "Not much to like here. The new crew was pleasant"
Cons: "Old crew was surly. Plane had much problems and finally replaced. Left 5 hrs late. Delta claims it doesn't have to compensate for a late flight - just a cancelled one so guess which this was The baggage fees are obscene and the gouging of the customer is immoral. No wonder people hate the airlines."
Pros: "The in flight entertainment and the pilot being informative about what was going wrong at the Atlanta airport."
Cons: "The insane process that followed the flight of rebooking - it would have been VERY HELPFUL to have access to the inflight internet so that I could have rebooked my missed connection before we landed in the ATL airport where it was past midnight and there were hardly any staff available for us to talk to and the lines to speak to anyone took literal HOURS to get through."
Pros: "The flight attendant was wonderful and was funny on the flight. Kayak kept me informed of all gate changes and delays."
Cons: "The Delta app did not update about any of my gate changes nor were they announced by the gate agents."
Pros: "Quick, efficient boarding. Good crew. Comfortable seats. On schedule."
Cons: "I showed up 2 hrs before the flight. Was told the flight from Toronto to Minn was delayed 30 minutes and go stand in line to speak to an agent. There were approx 20 in line yet only 2 gate agents at 4:30pm. One of the gate agents kept helping the Premium members and bypassing the standard line. The other agent was in a coma as his average person at counter was 10 min. Finally get to counter and they hand me a boarding pass going via Salt Lake in 30 minutes. But has a 3 hrs layover in SL. I then get to US Custom check for US residents re-entering and the line was a good 30 minute wait. You would think the Delta folks would have accounted for that line. I had to ask everyone in front of them if I could skip in front as the plane was now departing in 10 min. I had to then run on a bum knee and was the last to board. The agent at gate was saying we were calling your name but did they think I could have been stuck in customs? On that short of a window they should have walked me through Customs to make sure I got on a flight they wanted me to take versus my scheduled flight."
Pros: "New and improved food options!"
Cons: "Boarding took more time than usual. They were able to accommodate less carry on baggage."
Pros: "Staff were courteous. Captain explained reason for delay."
Cons: "Over 20 minute delay to begin boarding with no explanation. Boarding process very slow due to excess carry ones needing to be checked."
Pros: "Well after going through a terrible storm to get to the airport we were given a opportunity to up grade to First Class for a very reasonable rate. That was great."
Pros: "Row 19 on a 737ER is great for room, as long as you don't plan on reclining (I rarely do in a daytime flight)"
Cons: "A little overcautious regarding seating the cabin crew because of possible turbulence, but better safe than sorry, I suppose. However, it is a common occurrence on this particular leg, so don't board knowing you might need to take a "break" before you get to Atlanta."
Pros: "I was cleared for standby! Flight attendant at the stl gate is always friendly and willing to help! I love her!"
Cons: "I waited almost 6 hours on the phone the night before the flight to get on standby! Almost didn't get the flight! Was charged $50 only to not get on my next flight because it was over booked! Flight attendant was very rude!"
Pros: "Seats, video and overall comfort are all very nice on the new 900's."
Cons: "Nothing."
Pros: "Entertainment system and extremely on tolime!"
Pros: "crew was great"
Cons: "N/A"
Pros: "The crew was great"
Cons: "All seats were booked, no covid-19 social distancing"
Cons: "Slightly more leg room"
Pros: "Nothing"
Cons: "Be on time. Run planes that aren't constantly breaking down."
Cons: "Never heard the announcement for boarding resulting in me missing my flight. If it were just me I'd say all my fault but there were 12 people that did not hear the announcements."
Pros: "Everything operated according to schedule."
Pros: "The in flight entertainment was amazing, crew was super friendly."
Cons: "N/a"
Cons: "Flight was delayed and we almost missed our connecting flight, but the pilot was on our side and we made it just in time!"
Pros: "Someone got sick but the crew helped her right away. An ambulance was already waiting for her. Flight despite this arrived on time."
Cons: "Snacks"
Pros: "Like clockwork. New plane."
Pros: "Desde PR comenzó todo mal por supuesto desperfecto y los de servicio al cliente su solución fue que no podía hacer nada, cuando llegara a Miami resolviera lo de mi próximo vuelo. Fue un pésimo servicio"
Cons: "Pudo haber sido resolver para no perder la conexión a mi destino final."
Cons: "the fact that they rushed everyone only to have you wait in the ramp"
Pros: "Nothing"
Cons: "Flight got delayed which caused me to miss the last flight for my connecting flight."
Cons: "American is the worst. Antiquated bins and electronics. Tired planes."
Pros: "Smooth pleasant flight, on time departure and arrival"
Cons: "No food. 5 1/2 hours flight and we were offered one biscotti pkg. paid extra to sit in an exit row and never offered any food even to buy. Unpleasant attitude from flight attendants."
Pros: "Good boarding and on time departure."
Cons: "1) Very uncomfortable seats and spacement between the seats too small and you feel very cramped specially when the person in front of you reclines his seat you can hardly move. 2) Very poor attitude of crew member when asked a question when she was serving drinks. She had a very unpleasant face, and her attitude was like she was not happy on what she was doing"
Cons: "2 published delays and then another 30 minues waiting to push away from gate. Almost 2 hours late"
Pros: "On time! That pretty much says it all. I think American did a great job at everything they had control of."
Cons: "Having connecting flights that seem like they are miles apart. I'm sure there is a good reason for this but it is annoying to have to change concourses at these huge airports."
Pros: "Roomy seats"
Cons: "Long wait for clearance"
Pros: "On time and what was advertised. Considering that the flight was after Thanksgiving and very full, we still had a good experience."
Pros: "Flight was smooth, left on time and arrived early. All the staff were friendly, even humorous."
Pros: "Crew very quick and efficient in service"
Cons: "Over crowding, boarding is a jungle,"
Cons: "Deben explicar con claridad las políticas de equipaje en vuelos operados por American Airlines."
Pros: "Customer service in general"
Cons: "Boading could be smoother. Some customers had a hard time to put a luggage into the upper compartment and blocked a passage."
Cons: "Not a fan of baggage fees especially this high for only one checked. Next time Southwest Air, I guess."
Cons: "I wish they have two sheets. I don't like to sit next to stranger. And hard to go to bathroom"
Pros: "Boarding went well / flight crew was friendly"
Cons: "Food - meh even for airline food Entertainment - shared tv with no sound and no ear phones and it was an international flight?! We went back in time 20 +yrs"
Cons: "20 minute departure delay. More than 30 minutes at baggage claim"
Pros: "I will only book a flight on a 777. The wifi and movies are a great perk!!!"
Cons: "N/A"
Pros: "Snacks and entertainment"
Pros: "Did not have to pay to check our baggage!"
Pros: "Nothing"
Cons: "All. The worst airline in the world"
Pros: "Missed a previous connecting flight due to delays, but staff was able to get me on a next flight out, two hours later."
Pros: "Everything was very pleasant for myself and my four year old grandson. Have never had any problems flying with American Airlines. Thank you"
Pros: "Wrong airline, sent me to wrong gate, almost missed the flight. If I wasn't lucky enough to need a wheelchair, I would probably still be in Phx! Not happy at all, to say the least. I had to grease the palms of about 7 different wheelchair pushers. A bad day all around."
Pros: "Nothing"
Cons: "My flight was delayed almost 2 hours and when I went to ask the lady at the kiosk a question I was basically told to go sit doWn and be quiet"
Pros: "Tvs on last flight"
Cons: "Overnight delay in Dallas."
Pros: "Nothing"
Cons: "Tiny seats in Economy, BA on the way to New York was so much better! Faulty seat which wouldn't recline properly and faulty entertainment system!! Having to pay extra for seat choice and then getting a tiny with no leg space or side space, again the BA plane on the way out was much better"
Pros: "Very nice crew. Full meal"
Cons: "Internet is kinda hard to get connected to sometimes."
Pros: "When it comes to travel, there is always something that can go unexpected. Is that happens to you and you come to AA counter with a positive attitude they will make sure you are satisfy with your service."
Pros: "Flights were on time and smooth. Some of the planes were fairly new."
Cons: "Paid for each bag, on one regional flight the.plane was falling apart on the inside with no padding on the seat, armrest padding coming off the seats in multiple seats."
Pros: "The crew and all employees were very nice and did their best to ensure that my travels went smoothly. The flight was not so comfortable but I didn't mind much. Over all good flight"
Pros: "Very rude and plane was hot. No air conditioning"
Pros: "I received help from the staff at the airport when I wasn't sure what to do."
Cons: "My flight was changed a few times so I was sitting in the airport for seven hours before I was even informed on which flight I would actually be on. Horrible experience."
Cons: "Flight delayed. Seats are not very comfortable."
Pros: "We have no other complaints. It was all good."
Cons: "There was no air conditioner on the airplane . made it very uncomfortable ."
Pros: "On board crew were friendly."
Cons: "The lady working the gate said they do not upgrade service members to first class and could not upgrade our seats. She told us that all American Airlines have different policys in different states. Which is strange."
Read more about Delta
Safety measures for airlines flying from New Mexico to South Africa
Airlines flying from New Mexico have enacted additional safety measures and adjusted policies to better accommodate travellers. Policies vary by airline.
Heightened sanitation
Daily cleaning, installation of cabin HEPA filters on flights from New Mexico
Mandatory masks
Masks required on board, masks provided on flights from New Mexico
Social distancing seating
Middle seats unavailable to book on flights from New Mexico
Pre-flight testing
Testing for antibodies, testing for symptoms for flights from New Mexico
Book cheap flights from New Mexico to South Africa
Recent return flight deals
Search by stops
Search by airline
Search by price
Flights to South Africa
Browse destinations:
R16 920
R16 737
R109 381
R25 063