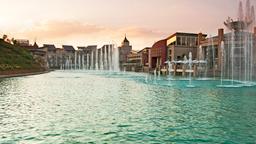 Find cheap flights from New Mexico to Johannesburg
Search hundreds of travel sites at once for deals on flights to Johannesburg
FAQs for booking flights from New Mexico to Johannesburg
How does KAYAK find such low prices on flights from New Mexico to Johannesburg?
How does KAYAK's flight Price Forecast tool help me choose the right time to buy my flight ticket from New Mexico to Johannesburg?
What is the Hacker Fare option on flights from New Mexico to Johannesburg?
What is KAYAK's "flexible dates" feature and why should I care when looking for a flight from New Mexico to Johannesburg?
Top airlines flying New Mexico to Johannesburg OR Tambo
Scores according to KAYAK customer reviews
7,9
Delta
Overall score based on 29 266 reviews
Cons: "Nothing"
Pros: "On time"
Pros: "Crew was awesome"
Cons: "Nothing"
Pros: "I appreciate the choice of snacks."
Cons: "The coffee served on the flight was lukewarm."
Pros: "Not a lot"
Cons: "Customer service"
Cons: "You shouldn't schedule a flight for a plane that is due to have scheduled maintenance. It's not like this should come as a surprise to you. Also, there was at least one over-served passenger on board who became loud and obnoxious, shouting obscenities."
Pros: "It was ok"
Cons: "Seat the family together"
Pros: "Everything went smoothly. Everyone was helpful."
Cons: "Everything was great!"
Pros: "Got to Houston on time"
Cons: "WiFi that I paid for on Delta didn't work, flight was delayed at take off due to waiting for restroom supplies; lead flight attendant had a major accent and was difficult to understand. She also stated to keep my mother's walker outside the plane when entering the plane"
Pros: "New plane, video in every seat"
Cons: "Organizing boarding better. Confusion in rules."
Pros: "The service by delta employees for this leg of my journey was beyond great. The leg room was above average."
Cons: "Leg room. Never can have enough leg room."
Pros: "Crew had pleasant personalities.. not stoic annoyed faces"
Cons: "People should wait their turn getting off the planes "Wait until the seat in front of you is empty," says the elementary school teacher .."
Pros: "Everything"
Cons: "Nothing, keep at it"
Cons: "Seats could've been assigned ahead of time"
Cons: "On my opinion Delta is one of the best airlines. Staff are friendly and they made me feel service. They are really nice and they.take care of been on time and anything you ask them they are there to answer. Great airline"
Pros: "Really nice flight crew who braved the storm to get us home when everyone else was getting cancelled."
Pros: "Nothing"
Cons: "Everything"
Pros: "We were on time"
Cons: "The plane was terrible. Trim pieces falling off the seats. In very rough shape. The crew did ok, nothing terrible but the service was mediocre and they were very stingy with the snacks and drinks."
Pros: "Boarding was fast and well planned. The pilot was talking to the passengers politely, was updating about the flight every time when it was turbulence. The crew is very smiling, sweet and nice. The snacks are good and fresh. Very clean airplane with a good fresh odor. Good job! You are fantastic!"
Pros: "On time. Connecting through Atlanta is quick and efficient"
Pros: "I didn't"
Cons: "There was an issue when taxing to the runway and we had to be towed back for repairs. The problem was as we waited there was no AC for too long. The staff was also very unfriendly. 2 times they hit my seat with their cart. I was just not a great experience"
Pros: "Swift travel!"
Pros: "Flight attendants were wonderful, seats were super comfortable"
Cons: "Lateeeeeeee so so so so lateeeee"
Pros: "I've been beaten down to expect a bus ride on flights. However, Delta surprised me. The crew members we're kind, and did the best they could to keep us comfortable."
Pros: "It was everything you look for on a plane. Friendly crew. Lots of space. Clean. Lots of entertainment. Plenty of space for luggage."
Cons: "I loved it all."
Pros: "Flight was late leaving JFK. I paid extra for Comfort Plus and had the most uncomfortable seat ever. My back ached during and after the flight. Absolutely the worst seat ever that I have had flying. While it was a short flight we were supposed to get serviced during the flight, but there was no cabin service unless you were in 1st class. So much for the perks of Comfort Plus as there were none. Not even a glass of water. Wow! When we landed late obviously because we left late we were late and there was no ground crew to get our plane to the gate so we sat for over 1/2 hour on the taxi way waiting for ground crew to be available for us to get to the gate. To add insult of injury when we did get to go to the gate there was no gate available for use so we had to deplane in the rain down the emergency stairs. They said that if you had a problem with the steep stairs that they would make other accommodations. Probably would have been another delay so we all carefully went down the steep slippery stairs. I doubt that the stairs met any OHSA or safety requirements except for emergency issues. They were wet and slippery. This was the absolute worst trip that I have taken with Delta. It will seriously influence my future trip decisions."
Cons: "Not being on time. Not delivering service stated. Sitting on a taxi way for extra time. Having to disembark down steep slippery stairs, basically an emergency exit. This trip was late from start to finish."
Cons: "insufficient overhead luggage space"
Cons: "Delta scheduled us a connection with only 35 min of layover. We had to go from Concourse E to A and the plane was several min late.We barely made it before the gate closed 10 min before pushback."
Pros: "Airline was clean and upgraded, flight departed and arrived on time. Crew was courteous and professional."
Cons: "NA"
Pros: "The space"
Cons: "No TVs"
Pros: "The crew was outstanding, polite, and professional."
Cons: "Seats were comfortable, but much too crowded. The seating would have been very good for children but for adults it was much too crowded. My knees were up against the seat in front and my back is sore from having to spend most of the trip twisted to try to fit into the small space. Also, my seat was is row 16 and was called a "premium" seat and I was charged an extra $24 for it. I did not find it any different than all the seats around me. What was the extra charge for?"
Cons: "Aircraft seemed shabby despite refresh of Comfort Plus, food was really mediocre. Steer clear of the Asian Veg option."
Pros: "good price but older plans"
Cons: "please do not use plastic forks and spoons"
Cons: "All went well"
Pros: "Happy with the choices of movies available"
Cons: "All was good, possibly add healthier food options"
Pros: "1000s of movies and shows to watch. Plenty of overhead bin storage. Alcohol beverage service included. Crew was great."
Cons: "Baked chicken dinner was gross."
Pros: "Service was fast and the inflight entertainment is free. Lots of movies to chose from, which is nice for the long flight."
Cons: "It was the most cramped I have ever felt in a plane and also the longest flight. Horrible combination. Some of the crew were snippy."
Pros: "The stewards and flight was overall fine. In fact I found the stewards to Atlanta from West Palm very accommodating."
Cons: "I have reservation on booking Comfort plus next time I fly though. There appeared to be no difference in the seating or service as economy. A lesson learn I guess. I will atillflyDelta but stick to economy. I saw no perks"
Pros: "I was able to get a gluten free snack"
Cons: "Tried to get an upgrade at the gate and they said our ticket wouldn't allow it."
Pros: "Upgrade to first class"
Pros: "The crew had the most amazing attitude. Very friendly. It really makes a big difference. Seemed like the positive attitude was contagious. Thanks to them."
Cons: "The seats were entirely too close. Not enough legroom. Legroom was easily two inches less than typical. I am 6'4" and I could not get my knees to go behind the seat in front of me. I had one knee in the aisle and the other between the two seats in front of me. I know I'm taller than average, but I don't think I'm asking too much. Just want to be able to sit normally."
Cons: "I'm not sure what to say about Delta and their maintenance program. On a three part trip, Delta cancelled two of the flights giving maintenance as the reason. So it appears they are flying planes until they breakdown. Besides making me not trust the flight worthiness, the cancelations turned my 8 and a half hour trip into a 25 hour trip forcing me to spend the night in the MEX airport."
Pros: "The staff onboard was friendly and attentive. They made every effort to make sure I had whatever I wanted. Boarding was quick and easy. The onbaord entertainment system had a large selection and I was never without something worth watching."
Cons: "The first class accommodation isn't as good as advertised. The seat is supposed to completely recline allowing you to sleep. Unfortunately if you're 6 foot or taller there isn't enough room. Other airlines like Emirates gives you more room in their business class so it's disappointing to see United 1st class is so cramped. The screens for the onboard entertainment system in first class are lower quality then those used in coach."
Cons: "Three hours late leaving Paris. Missed our connecting flight to saint louis. Not much help from Delta."
Pros: "Delta Comfort seats"
Cons: "Shuttle driver stopped to talk to a friend thus making me late snd missed my connecton. Rude agents at gate and when I called and spoke to a Delta representative, was told that they would have never put me on that flight due to short connection time. To which I replied that thet is an issue between Delta and their business withthe booking site and the customer should not be to blame"
Cons: "Economy seating was cramped and painful. I sat in a window seat and couldn't hardly move freely enough to get my seatbelt on; and I am a petite female!!"
Cons: "Very small spaces for everything."
Pros: "Like the online check in and advanced seat assignment"
Cons: "It's only a 45 min flight so no ptoblems"
Pros: "Entertainment system and extremely on tolime!"
Pros: "crew was great"
Cons: "N/A"
Pros: "The crew was great"
Cons: "All seats were booked, no covid-19 social distancing"
Cons: "Slightly more leg room"
Pros: "Nothing"
Cons: "Be on time. Run planes that aren't constantly breaking down."
Cons: "Never heard the announcement for boarding resulting in me missing my flight. If it were just me I'd say all my fault but there were 12 people that did not hear the announcements."
Pros: "Everything operated according to schedule."
Pros: "The in flight entertainment was amazing, crew was super friendly."
Cons: "N/a"
Cons: "Flight was delayed and we almost missed our connecting flight, but the pilot was on our side and we made it just in time!"
Pros: "Someone got sick but the crew helped her right away. An ambulance was already waiting for her. Flight despite this arrived on time."
Cons: "Snacks"
Pros: "Like clockwork. New plane."
Pros: "Desde PR comenzó todo mal por supuesto desperfecto y los de servicio al cliente su solución fue que no podía hacer nada, cuando llegara a Miami resolviera lo de mi próximo vuelo. Fue un pésimo servicio"
Cons: "Pudo haber sido resolver para no perder la conexión a mi destino final."
Cons: "the fact that they rushed everyone only to have you wait in the ramp"
Pros: "Nothing"
Cons: "Flight got delayed which caused me to miss the last flight for my connecting flight."
Cons: "American is the worst. Antiquated bins and electronics. Tired planes."
Pros: "Smooth pleasant flight, on time departure and arrival"
Cons: "No food. 5 1/2 hours flight and we were offered one biscotti pkg. paid extra to sit in an exit row and never offered any food even to buy. Unpleasant attitude from flight attendants."
Pros: "Good boarding and on time departure."
Cons: "1) Very uncomfortable seats and spacement between the seats too small and you feel very cramped specially when the person in front of you reclines his seat you can hardly move. 2) Very poor attitude of crew member when asked a question when she was serving drinks. She had a very unpleasant face, and her attitude was like she was not happy on what she was doing"
Cons: "2 published delays and then another 30 minues waiting to push away from gate. Almost 2 hours late"
Pros: "On time! That pretty much says it all. I think American did a great job at everything they had control of."
Cons: "Having connecting flights that seem like they are miles apart. I'm sure there is a good reason for this but it is annoying to have to change concourses at these huge airports."
Pros: "Roomy seats"
Cons: "Long wait for clearance"
Pros: "On time and what was advertised. Considering that the flight was after Thanksgiving and very full, we still had a good experience."
Pros: "Flight was smooth, left on time and arrived early. All the staff were friendly, even humorous."
Pros: "Crew very quick and efficient in service"
Cons: "Over crowding, boarding is a jungle,"
Cons: "Deben explicar con claridad las políticas de equipaje en vuelos operados por American Airlines."
Pros: "Customer service in general"
Cons: "Boading could be smoother. Some customers had a hard time to put a luggage into the upper compartment and blocked a passage."
Cons: "Not a fan of baggage fees especially this high for only one checked. Next time Southwest Air, I guess."
Cons: "I wish they have two sheets. I don't like to sit next to stranger. And hard to go to bathroom"
Pros: "Boarding went well / flight crew was friendly"
Cons: "Food - meh even for airline food Entertainment - shared tv with no sound and no ear phones and it was an international flight?! We went back in time 20 +yrs"
Cons: "20 minute departure delay. More than 30 minutes at baggage claim"
Pros: "I will only book a flight on a 777. The wifi and movies are a great perk!!!"
Cons: "N/A"
Pros: "Snacks and entertainment"
Pros: "Did not have to pay to check our baggage!"
Pros: "Nothing"
Cons: "All. The worst airline in the world"
Pros: "Missed a previous connecting flight due to delays, but staff was able to get me on a next flight out, two hours later."
Pros: "Everything was very pleasant for myself and my four year old grandson. Have never had any problems flying with American Airlines. Thank you"
Pros: "Wrong airline, sent me to wrong gate, almost missed the flight. If I wasn't lucky enough to need a wheelchair, I would probably still be in Phx! Not happy at all, to say the least. I had to grease the palms of about 7 different wheelchair pushers. A bad day all around."
Pros: "Nothing"
Cons: "My flight was delayed almost 2 hours and when I went to ask the lady at the kiosk a question I was basically told to go sit doWn and be quiet"
Pros: "Tvs on last flight"
Cons: "Overnight delay in Dallas."
Pros: "Nothing"
Cons: "Tiny seats in Economy, BA on the way to New York was so much better! Faulty seat which wouldn't recline properly and faulty entertainment system!! Having to pay extra for seat choice and then getting a tiny with no leg space or side space, again the BA plane on the way out was much better"
Pros: "Very nice crew. Full meal"
Cons: "Internet is kinda hard to get connected to sometimes."
Pros: "When it comes to travel, there is always something that can go unexpected. Is that happens to you and you come to AA counter with a positive attitude they will make sure you are satisfy with your service."
Pros: "Flights were on time and smooth. Some of the planes were fairly new."
Cons: "Paid for each bag, on one regional flight the.plane was falling apart on the inside with no padding on the seat, armrest padding coming off the seats in multiple seats."
Pros: "The crew and all employees were very nice and did their best to ensure that my travels went smoothly. The flight was not so comfortable but I didn't mind much. Over all good flight"
Pros: "Very rude and plane was hot. No air conditioning"
Pros: "I received help from the staff at the airport when I wasn't sure what to do."
Cons: "My flight was changed a few times so I was sitting in the airport for seven hours before I was even informed on which flight I would actually be on. Horrible experience."
Cons: "Flight delayed. Seats are not very comfortable."
Pros: "We have no other complaints. It was all good."
Cons: "There was no air conditioner on the airplane . made it very uncomfortable ."
Pros: "On board crew were friendly."
Cons: "The lady working the gate said they do not upgrade service members to first class and could not upgrade our seats. She told us that all American Airlines have different policys in different states. Which is strange."
Read more about Delta
Safety measures for airlines flying from New Mexico to Johannesburg
Airlines flying from New Mexico to Johannesburg have enacted additional safety measures and adjusted policies to better accommodate travellers. Policies vary by airline.
Heightened sanitation
Daily cleaning, installation of cabin HEPA filters on flights from New Mexico to Johannesburg
Mandatory masks
Masks required on board, masks provided on flights from New Mexico to Johannesburg
Social distancing seating
Middle seats unavailable to book on flights from New Mexico to Johannesburg
Pre-flight testing
Testing for antibodies, testing for symptoms for flights from New Mexico to Johannesburg
Book cheap flights from New Mexico to Johannesburg
Recent return flight deals
Search by stops
Search by airline
Search by price