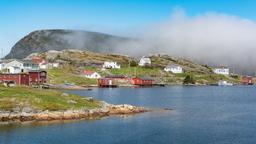 Find cheap flights from Johannesburg to Newfoundland and Labrador
Search hundreds of travel sites at once for deals on flights to Newfoundland and Labrador
Top tips for finding cheap flights to Newfoundland and Labrador
High season is considered to be January, November and December. The cheapest month to fly to Newfoundland and Labrador is November.
FAQs - booking Newfoundland and Labrador flights
How does KAYAK find such low prices on flights to Newfoundland and Labrador?
How does KAYAK's flight Price Forecast tool help me choose the right time to buy my flight ticket from Johannesburg to Newfoundland and Labrador?
What is the Hacker Fare option on flights to Newfoundland and Labrador?
What is KAYAK's "flexible dates" feature and why should I care when looking for a flight to Newfoundland and Labrador?
Top airlines flying Johannesburg OR Tambo to Newfoundland and Labrador
Scores according to KAYAK customer reviews
7,9
Delta
Overall score based on 29 261 reviews
Pros: "The crew was nice"
Pros: "Definitely pick comfort plus on this flight if you can. You can walk around a lot more on this flight compared to other flights. Food was really good! Recommend the overnight flights...."
Cons: "More leg room would have been nice..."
Pros: "Fly attendants have no knowledge of hospitality. They arguing with customers and refusing to assist, blaming on company policies. My friends were assigned seats next to a toilet. No folding options. One of our friends has a back pain problems and got stuck for 5 hours. There were seats available upfront and Manager Gina could simply change our seats instead of dry "there is nothing I can do" I am not recommending this airline."
Pros: "Not one of my good experiences with Delta. Two hours delay in the flight"
Cons: "Information on the flight delay as communication was. at least very poor. Also A 220 was ok but First Class was so so"
Pros: "The cabin crew was helpful and professional"
Cons: "Having better time performance . The first leg of my trip was so delayed that I almost missed my connection."
Pros: "Delta refused to let us reserve a bassinet seat, and kept telling us to ask them later. They ultimately were not able to to provide one. They were the least accommodating of all the airlines we have asked."
Cons: "Better customer service."
Cons: "I wanted an aisle seat."
Cons: "Two bags delayed between JFK and MSP."
Pros: "What did you like? Decent meals, no charge for cocktails, blankets, pillows and head sets for everyone, friendly flight attendants, excellent entertainment options."
Pros: "Crew was kind"
Cons: "No delays"
Cons: "The food not so much breadddd"
Pros: "Having the whole center three seats to myself. The food and beverages were really good as well."
Cons: "Both flights were significantly late to depart. Also the WiFi on the transatlantic flight was out."
Pros: "Didn't like security. They were rude"
Cons: "Security"
Pros: "Crew was very attentive and friendly"
Cons: "Boarding could be better."
Cons: "Don't call it "food." the meals were terrible. Also stop creating so much single use plastic."
Pros: "The crew was polite but not overly friendly or welcoming."
Cons: "Boarding was orderly but it was hard to hear the announcements of the zones. I flew economy and it was like flying in a frozen sardine can. There was absolutely NO leg room. At 5 ft, 2 " if I found it difficult, I cannot even imagine how a taller person felt. I wore a coat, sweater, and scart , and warm socks, and I was still freezing the entire trip. It took me 20 minutes to thaw out after arriving. It was quite uncomfortable."
Cons: "Crew was rude and made everything seem like a chore."
Pros: "Overall experience"
Cons: "Food"
Pros: "Everything! Flight-Flight Attendants-Peanuts-Coffee-Pilot"
Cons: "I'd love to have a free fruit or veggie snack. Just a small bag"
Cons: "The seats were in bad condition, I was surprised as Delta usually has well cared for interior and exterior airplanes."
Cons: "mi luggage has not arraive! im in the city with out stuff and it will delay my trip schedule"
Pros: "Entertainment, crew, food"
Cons: "The seats were a little tight for an international flight"
Cons: "Plane was late numerous times. Boarding was painful"
Pros: "Crew members on plane were fine, but crew at JFK airport needed training in customer service skills."
Cons: "Big delay because no running water in bathrooms, which caused me to miss 2nd flight. Seating was ridiculously tight. Check in online was problematic."
Pros: "Flight crew is helpful. We travelled with my 82 year old mother who needed some assistance, especially for our short connection times, and they made sure she and our whole group made it to the connections on time."
Cons: "Old cramped untidy and limited drink service"
Pros: "I araised safely in New York and all my luggage finally arrived. I suppose that is good but so much else was bad, very bad."
Cons: "The morning of my flight I got a notice the departures time was changed by one hour later but to still arrive at the airport at the same time. So I ended up spending almost four hours at the airport before leaving. Boarding was a mess as "groups" were not called but everyone just rushed the gate in mass and we're let on. Staff were functional but looked and acted surly. It was a functional flight in that I arrived at my destination but it was not managed and I did not feel my business was wanted-only my money."
Pros: "Clean bathrooms and great refreshment choices"
Pros: "Ended up with earlyish boarding and exit row legroom."
Cons: "Online check-in was an ultimately unsuccessful confusing nightmare. Having either a codeshare flight or a passenger with a new passport would probably have been enough to break the online check-in system, and we had both. Straightened out in the airport, but required waiting in a long line where late arrivals for flights an bhour before ours were given priority. Frustrating not to have a seat assignment until boarding had already begin (would have gone SWA if we wanted that mess)."
Pros: "Comfort Plus seating was good for the long flight, lots of choices for entertainment."
Cons: "Some crew members were rather cold in their manner, either disinterested or grumpy. Electric outlet didn't work. On screen entertainment touch screen was very difficult to use (unresponsive to touch)."
Pros: "I had the opportunity to send my carry on to the final destination. The flight was overbooked and there was no place to put carry on on the top place."
Cons: "I did not have the chance to choose my seat. I traveled sandwiched by two overweighted guys. I was holding my arms and was literally compressed by the gentlemen. Horrible experience. If I had the chance to choose my seat I would pick the corridor, and had a little less embarrassment and sweating."
Pros: "Very comfortable and didn't feel cramped. Quick flight."
Cons: "No choice in snack and I couldn't eat what I was given. Staff appeared checked out and not bothered. No entertainment but it was a quick flight."
Pros: "Traveling mid day and on Tuesday.....it's my new favorite!"
Cons: "I booked through kayak and received an e-mail saying "you're booked!" with a flight itinerary and everything and then I got to the airport and they told me I had no ticket to get on the flight and no payment had ever been made and that to get on the flight I would have to pay over $1000 for a seat !!!! The original ticket I bought was under $400. I was NOT happy with this at all - Kayak screwed me over and I expect compensation."
Cons: "Older plane and seemingly frustrated crew. They had very little patience."
Pros: "Crew was very helpful."
Cons: "Food was terrible and check in can be more organized."
Pros: "Short no frills flight that was comfortable with no issues."
Pros: "Free entertainment of new and older movies, free meals (although still typical airline food"
Cons: "Can someone please improve airline food?! They definitely fed us a lot, which is not something that usually happens on coach flights, but the main entrees were quite soggy."
Pros: "Boarding went well, departed on time and arrived pretty much on time."
Cons: "My entertainment system didn't work. I brought it to the attention of a flight attendant since all the attendant lights weren't". So they were having a glitch I the system. He said he had them reset mine. Hee must have furthermore until they did the beverages. They tried twice, nothing worked. No movies, no audio, no light. Nothing done, no compensation. NYC to Seattle, a long flight tho not even read my magazines."
Cons: "Hurricane Irma, I was lucky enough to get a refund do to the natural disaster."
Cons: "It was announced that there would be lunch shortly after takeoff and then a snack about 2 hours before landing. The lunch was ok, but then the snack (multiple small items) was offered about 4 hours before landing and then an additional snack (mini pot pie) was offered about 2 hrs before landing. This is too much action for people who are trying to get some sleep. Also, abrupt and hard landing."
Cons: "Missed our connection due to a 30 flight delay because crew duty day and crew rest and had to rebook on a later flight on the same day. Downgraded from first class by the airline without any compensation."
Pros: "Nothing"
Cons: "Never made it on this flight and in the end my luggage was lost."
Pros: "The flight attendants were great! Super friendly and helpful with everything!"
Cons: "I'd love slightly larger snack portions."
Cons: "The flight attendants were unfriendly and borderline rude. I felt like when I asked for anything or was just up stretching my legs that I was bothering them. There was also quite bit of turbulence in the first two hours- I have traveled a lot and I felt like it took the pilots too long to find a smoother altitude."
Pros: "Friendly crew"
Cons: "Seats too close. Food lacks salads. Fruit salad tasteless--fruit not ripe--looks good, but no taste."
Pros: "Plenty of entertainment options Frequent meals and snacks Attentive service from flight crew"
Cons: "Boarding process was slower than anticipated One of our bags did not make it"
Pros: "The flight attendant. Lovely and professional."
Cons: "At 6'4", seat access could be better."
Pros: "Got to the destination"
Cons: "Everything"
Pros: "As previously stated hated having to go through security again"
Cons: "Chocolate"
Pros: "Everything except delay"
Cons: "Nil"
Pros: "Comfortable seating, good food served by this airline"
Cons: "The woman seated next to me had the worst body odor ever and this was a 10 hour flight-nearly brought me to hurl. She was the mother of s flight attendant as well, and was constantly brought amenities from the first class cabin. Really not appropriate for the rest of us in premium economy"
Pros: "The crew was very nice and attentive, I really like the food on Lufthansa"
Cons: "The movie selection was limited and dated"
Pros: "Crew very good"
Cons: "Could not check in online or get seat reservations in advance (other flights for journey allowed us to choose seats when we booked flights). This meant we were sitting separately and groundstaff suggested we were on standby, which we definitely weren't! Very irritating and unnecessary."
Pros: "The issue is not with Lufthansa but with the Berlin Airport. First of all, It is not clear that you have to do the checkinn at terminal B and then come back to the gate where you have to go pass security. This is when it gets even more complicated, the line is long and slow, there is only one security arch and xray machine, is took us almost an hour to go through."
Cons: "The issue is not with Lufthansa but with the Berlin Airport. First of all, It is not clear that you have to do the checkinn at terminal B and then come back to the gate where you have to go pass security. This is when it gets even more complicated, the line is long and slow, there is only one security arch and xray machine, is took us almost an hour to go through."
Pros: "The crew were very considerate. Also they have the best baby beds we have seen so far"
Cons: "The entertainment system was glitchy."
Pros: "Same as above same as a bove"
Cons: "Same as above"
Pros: "Lounge was very clean"
Cons: "In a 10 hours flight Frankfurt to Atlanta only one main meal. Service was rushed job. My seat wasn't working and Tv remote didn't work."
Pros: "Very friendly and professional crew"
Cons: "Outdated entertainment system on the plane"
Pros: "Crew members were friendly."
Cons: "Bathrooms need freshners, many passenger, infants , kids use it. It smell not unclean ."
Pros: "Lovely, can-do crew and generous beverage service, even in coach. Good movie."
Cons: "Sardines in a can. For 10 hours. Why do they let people recline? And this old 747 has been rode hard and put up wet. Lots of broken light switches, etc."
Pros: "Crew was great, boarding great, honored request for vegan meals"
Cons: "8+ hour flight is difficult with limited leg room- United is spending so much money putting Pod seating (or laying) options up front .... but Economy seats are ridiculous. Clearly we are. It that important. Row 34 window seat has a big metal box so Zero legroom"
Cons: "First, Lufthansa lost our baggage from Hamburg to Los Angeles. Then, the delivery company (Direct Courier Services) Lufthansa uses was completely inept and unprofessional - every single one of their employees is a complete moron. We didn't end up getting our baggage for two and half days so we were wearing the same clothes that we left Germany with. Then, after being told by Lufthansa customer service to submit receipts for clothes we had to buy, never got reimbursed or even the courtesy of a reply. After flying Lufthansa for over a decade, will never use this airline again. Epic fail."
Pros: "-Flight attendants were wonderful, courteous, and attentive to all. -The pilots kept us informed of the status of the flight -The flight departure and arrival were on time as promised."
Cons: "-nothing"
Pros: "Overall it was a good flight."
Cons: "The dessert could have been better than a Kit Kat chocolate bar."
Pros: "Keeping in mind it was an economy class, I thought the flight was fine. Decent food. I would have preferred some with a heavy cheese sauce. I had gotten sick in Egypt and I felt lousy (dizziness and headache). Despite my physical condition I thought the flight was okay. Crew were professional and airplane was clean. Beer to drink. Other than the fact I was sick, I enjoyed the flight."
Cons: "The dinner option was okay. I felt the heavy cheese sauce pasta was a bit too rich. Other components to the dinner was fine."
Pros: "Asked for an extra pillow - handed that straight away. Excellent food - loved every meal, both portion and quality. Boarding process was smooth too. Pilots are always great."
Cons: "Would have been nice to get upgraded to premium economy since they had seats available."
Pros: "It was a good flight. Crew, boarding, food were good."
Cons: "Very narrow seats."
Pros: "There was nothing I liked. The walk was too long at Frankfurt"
Cons: "My granddaughter of 3 years had painful ear block and the crew was so unfriendly about it unlike other airlines that try to offer remedies."
Pros: "Friendly crew"
Cons: "when seats recline in economy you can barely get in and out of a seat"
Pros: "every thing was good, so comfortable for a long flight"
Pros: "Amazing service."
Pros: "The boarding process is very efficient."
Cons: "Lufthansa's people are mostly good. But there are some obvious opportunities for people to be more friendly. Also, LH like many others continues to serve cold rolls and cold butter on international flights. KLM warms the rolls! It's the one small touch that would make Lufthansa's meal service so much nicer."
Pros: "The crew was nice."
Cons: "There were a lot of screaming/crying children on the flight, turning up the headphones to as much as I could bear did not eliminate the noise. I ended up developing a cold after the flight, it was not a great vacation."
Pros: "Everyone are friends"
Pros: "I thought the crew was OUTSTANDING. The food was good and so was the entertainment. I LOVED the toilets being in the separate area downstairs. I also really appreciated the temperature: very comfortable and not freezing cold, but not hot either. Again, GREAT crew!!! Very pleasant flight!"
Cons: "The flight was late leaving and arrived late, which made my connecting flight experience a nightmare My connecting flight arrived late, and I nearly missed my next flight. I had to go through border control (and relevant queues), running up and down multiple never-ending multiple escalators, then take a train to change terminal only to find out the gate had been changed to the furthest one in the terminal. I literally RAN all the way from deplaining to boarding. It was a night mare. I would have missed my flight if I had walked instead of running"
Pros: "The staff was professional all the way from check in to boarding to flight attendance ..."
Cons: "I liked everything .. everything was done professionally."
Cons: "Was an on time departure. Quick. Uneventful. We did have to board a bus when we landed, which took a long time."
Pros: "The seats on the leg of this flight were much more comfortable and there was normal space for feet."
Cons: "The boarding here was completely unorganized. After people had just been in a crowd, they attempted to have people love up, which was futile. Some of the seats were dirty and/or unkempt. The snack option wasn't to my liking and may have been the cause of a stomachache later."
Cons: "I had to endure 10 hours sitting next to an obese passenger, who was to big to fit into his seat and had to rest his shoulder and elbow over my seat. The crew couldn't do much and so I had to shift myself sideways for the entire journey in order to make space for this obese passenger to rest his arm into and over my seat."
Cons: "They had overbooked the flight and asked to reroute me. I asked if I would still be able to get to my destination at the same time and to make sure I would have a window seat. Everything from the moment I said yes was a terrible. They rebooked me twice on two different routes when I was in the air. Said a steward would meet me (never happened) instead I was running to catch flights on different airlines in two different airports. The entire situation was disgusting. The running was with all of my luggage. Because of the rebooking I was in the last row of 75 rows on a plane with an additional connection. Every flight had delays creating more chaos for the next flight. The only helpful airline in the bunch was Delta."
Pros: "Crew friendly, good food"
Cons: "Cramped seating, can't select seat until checkin without paying (only airline we were unable to select seat)"
Pros: "Food is very good for airlines"
Cons: "No entertainment set unless you have a tablet"
Pros: "On a flight from Oslo to Germany to Charlotte, we only had 55 minutes to connect in Germany. Lufthansa held our plane due to their error in some runway and docking issues and we, as well as 25 other were escorted to our connection by Lufthansa staff. Excellent customer service even though it was their fault. They just did the right thing and did it well."
Cons: "I would have expected that there be much more time for gate connections. If you have ever been in the Munich airport, it is very large and navigation takes time.."
Pros: "Service was very good."
Cons: "Start the flight either during the day or evening and not at 3:00 am in the morning. It disrupts the whole night sleeping schedule. I know Indians will take anything but Lufthansa can make a good start on these timings."
Pros: "Clean large toilets. enough of them so you need not wait. toilet area large so you can walk around. Crew friendly and always anticipating our needs. I liked the hot towels handed out twice during flight. Also the 2 delicious hot meals and snack. The captain didn't turn on seat belt sign at all; others turn it on after 3 or 4 seconds of slight turbulence and leave it on for the next 30 minutes even when it is smooth after that."
Cons: "nothing"
Cons: "Boarding was delayed by 30 minutes but they did not inform us of the delay so everyone stood in line the entire time."
Pros: "LH is a good airline to fly. The 747-8 is very cramped in economy but an Airbus gave a bit more room on the return."
Pros: "Due to unforeseen circumstances, I needed assistance with boarding. I attempted to ask the check in agent at the boarding gate and she was extremely rude to me as well as other passengers. The assistant's behavior displayed annoyance and an unwillingness to assist passengers."
Pros: "flight left on time"
Cons: "arrived on time with no problems"
Cons: "6 hour delay , no explanation given whether the original flight was cancelled or not, bags have been lost. Complete chaos."
Pros: "Food , great service"
Pros: "SAS and BA can do better"
Pros: "Excellent Flight"
Cons: "Nothing"
Pros: "Very attentive flight attendants -- esp. liked the frequent offerings of juice and water; wine with meal was also appreciated. I will fly Lufthansa again!"
Cons: "For evening flight from DC to Frankfurt, I would have liked meal served a bit earlier so that we could have longer opportunity to nap before arrival."
Pros: "Still loads of leg room in economy which is great for a tall person like myself."
Cons: "The food, dinner and breakfast from Johannesburg to Frankfurt was not very nice and not the usual good standard."
Cons: "The seat in front of mine was reclined in the already cramped space provided, twice as far back as any other seat I could see. Please look into the recline on that seat for future passengers. The crew hit my seat, repeatedly with their carts and did not remember to offer drinks to us as they pushed it by. The airlines should consider removing that seat as an option to passengers if there is not ample room for the flight crew to maneuver around it. It made for an unpleasant experience overall."
Pros: "Very professional and courteous staff. Thanks, for an enjoyable experience."
Cons: "We had no complaints and I am confident any concerns would have been immediately addressed."
Read more about Delta
Safety measures for airlines flying from Johannesburg to Newfoundland and Labrador
Airlines flying from Johannesburg to Newfoundland and Labrador have enacted additional safety measures and adjusted policies to better accommodate travellers. Policies vary by airline.
Heightened sanitation
Daily cleaning, installation of cabin HEPA filters on flights from Johannesburg to Newfoundland and Labrador
Mandatory masks
Masks required on board, masks provided on flights from Johannesburg to Newfoundland and Labrador
Social distancing seating
Middle seats unavailable to book on flights from Johannesburg to Newfoundland and Labrador
Pre-flight testing
Testing for antibodies, testing for symptoms for flights from Johannesburg to Newfoundland and Labrador
Book cheap flights from Johannesburg to Newfoundland and Labrador
Recent return flight deals
Search by stops
Search by airline
Search by price
Johannesburg - Newfoundland and Labrador Flights