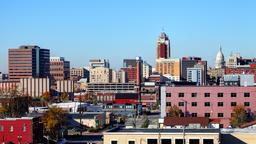 JNB - LAN
Find cheap flights from Johannesburg to Lansing
Search hundreds of travel sites at once for deals on flights to Lansing
Stay informed and receive email updates for when travel restrictions ease for Lansing.
FAQs for booking Johannesburg to Lansing flights
Can I fly to Lansing? Are there any travel restrictions when entering Lansing?
Can I fly to Lansing without having to quarantine on arrival?
Do I need to take a coronavirus (Covid-19) test before flying to Lansing?
What documents do I need to fly to Lansing?
What other coronavirus (Covid-19) restrictions are there in Lansing?
How long does a flight from Johannesburg to Lansing take?
Which airports will I be using when flying from Johannesburg to Lansing?
How does KAYAK find such low prices on flights from Johannesburg to Lansing?
How does KAYAK's flight Price Forecast tool help me choose the right time to buy my flight ticket from Johannesburg to Lansing?
What is the Hacker Fare option on flights from Johannesburg to Lansing?
What is KAYAK's "flexible dates" feature and why should I care when looking for a flight from Johannesburg to Lansing?
Top airlines flying Johannesburg OR Tambo to Lansing Capital City
Scores according to KAYAK customer reviews
7,2
American Airlines
Overall score based on 46 284 reviews
Pros: "movies"
Cons: "snacks provided"
Pros: "Nothing. Will never fly American again"
Cons: "Better customer service at the gate."
Cons: "Once again.... too much advertisement!!!! I just want to enjoy my vacation."
Pros: "American really exceeded our expectations on both overseas flights on this trip. Good food, nice service, plenty of in-flight entertainment."
Pros: "Pretty efficient for a completely full flight."
Pros: "Flight on time!!"
Cons: "Cramped space, no leg room. Seat 17A won't recline"
Pros: "Crew was nice and helpful and flight was smooth. The movie made the trip even better."
Cons: "Nothing"
Pros: "Nice Crew. Very accommodating."
Cons: "The input for the headphones were not working properly at my seat location on the flight. Seat #10c on a A321 Airbus from Miami to L.A."
Cons: "Taxi time to gate was almost half hour."
Pros: "No. they put me in the middle of aisle seat. It is hard for me to get up for use the bath room."
Cons: "I am an old man also I have a bladder problem. They should assign my seat by the aisle so I can get up when I want to use the bath room. Also they are a lot of empty seats."
Pros: "Everything was great and we arrived ahead of schedule."
Pros: "Everything"
Cons: "Excellent"
Cons: "Flight was very late"
Pros: "miserable. Flight."
Cons: "I've tried to respond twice now with a long detailed answer only to get booted out of the page. In short you and Flyus.com are criminals that ripped me off for over 430 dollars U.S. will never use you again"
Pros: "Seats were nice, flight was efficient, arrived early."
Cons: "Gate agent spoke so ridiculously fast and swallowed so many sounds that it was virtually impossible to understand most of what he was saying. Most importantly we all missed that our roll-on bags wouldn't fight in the overhead bins. As a result many people pulled their bags on and fought and struggled to force their luggage above, only to give up. The on-board agents recognized early the problem and then proceeded to allow many other passengers to stroll by them with their large roll-on bags, only to delay the boarding process and frustrate everyone. When making their safety announcement the flight attendant was clearly competing for fastest speaking human and rushed through at blazing speeds. In all my 30+ years of travel, I've never heard anything like it."
Pros: "The pilot made up for a lot of time. The flight was said to be 1 hr 40 minutes about but we touched down after about only 1 hour in the air. Deboarding was quick."
Cons: "The flight was delayed three times. We eventually boarded and then spent another 30 minutes waiting to taxi. Another narrow plane with not much room."
Pros: "Nothing"
Cons: "I did not make it there."
Cons: "I tried to change my seat to an available window seat several times after online check in opened using the app and consistently received error messages so ended up stuck in a middle seat."
Pros: "The movie selection on the flight was stellar."
Cons: "AA let me know that our flights were delayed to MIA, which would in effect, make up miss out connection to get to Kingston, Jamaica. They tried to rebook us, but for the NEXT day. So after calling, I got my ticket rebooked for an earlier flight, but I couldn't do the same for my boyfriend's. At the airport we requested he check in as standby, however, the rep checking us in said he couldn't. We asked for other flights arriving on the same day at the original ticket & even looking across partner airlines, he said there was nothing. Hard to believe, but then eventually said he found something by way of Lax to AZ to MIA & then KIN that would arrive later that night. We quickly took it because it was getting late to check in for TSA for my flight, only to find out later that the ticket he printed was for arrival the next night - not at all what we agreed upon! What a waste of time, as if the money we spent on this vacation didn't mean anything, and when I called to get compensated, I was told to write in to AA. Write in. It's 2018. Who can I speak with to get compensated for our time & money being wasted? I understand it may not have been within AA control, however, I would have liked for them to have cared that we were inconvenienced as paying customers, instead of being told, in action & in words, that the inconvenience we were being put through (to no fault of our own) was no big deal & we should just suck up the money we are loosing as a result. Very disappointed ☹️"
Pros: "Boarding, crew, frequent refreshments."
Cons: "Entertainment was virtually non-existent"
Pros: "I met a lot of nice people in the sane situation."
Cons: "The flight was delayed from 10:30 pm to 12:30pm which resulted in scrambling for a car and hotel"
Pros: "The crew interacts with people serving great food and drinks constantly. The seats were very comfortable with lots of leg space. There are lots of entertainment to choose from."
Cons: "We were delayed because of the weather which couldn't be helped."
Pros: "arrival to the destination"
Cons: "booking through kayak was a nightmare. they serve no purpose othan than to collect a fee and add zero value and provide no support after the transaction. it is pointless to use this service as no one at Kayak can help you after the purchase, and we all know airlines are useless when it comes fo customer service. never again! american airlines was even worse with their customer service when trying to get seat selections preserved when the airline was updated from British to American airlines. American airlines lied over the phone and was even more rude in person. JOKE"
Pros: "nothing, didn't happen"
Cons: "The process of trying to rebook using a third party purchase and a code share ticket."
Pros: "Nothing at all"
Cons: "It was very hot inside the plane and dificult to sleep No breakfast when we arrived in Brazil In Lima, after the flight from Miami, the period for the connection to Brazil was very short. At the airport, when I inquired about attention to get through the security line, the answered was that we have to ask for permission to pass before the passagens that was waiting in queue."
Pros: "there were 2 meals"
Cons: "were unable to pre-select without incurring an additional fee so our group of four was split up"
Pros: "The food was fabulous!"
Pros: "Food service was good."
Pros: "Wheelchair was ready in La Guardia airport, but transfer from gate C to gate B had impossible stairs or shuttle outside. This option required another security check which was terrible. TSA personnel was rude and incompetent. In the end there was no need for such scrutiny and we were released, but the emotional impact lasted for hours."
Pros: "seat was comfortable. flight almost on time food was poor"
Cons: "food was poor"
Pros: "I liked the overnight trip. I got to sleep. Great crew. Not alot of passengers."
Cons: "Had to pay for snacks and tea."
Pros: "A great flight."
Cons: "Nothing I can think of."
Pros: "Can't think of anything good"
Cons: "SEE: Customer Relations request #1-249830721"
Pros: "The person at the luggage area, she gave me the ticket, very nice and polite the only professional person."
Cons: "Didn't let me take my hand luggage, small that complies with the size and told me only at gate, I said I had things that could brake and showed no concern and they would send it to my final distinction instead giving it to me in the end of first flight...I've been traveling around the world and the disrespect for customers and poor service of most of US carrier is amazing... some African companies are much better. on the second flight, almost two hours delay, the plane from philly to Lisbon, old, just s few tv screens, exactly like the North Korean airways..., bad food, my tray stayed with me the whole fly, flight attendant not very professional with no concern for customers and job."
Pros: "On time Friendly attendants Great service Mike in First Class was awesome"
Cons: "No complaints"
Cons: "Missed that flight because my finair was delayed at Helsinki"
Pros: "Seats were comfortable. Entertainment was appreciated. Flight was smooth and landed early. There was just no offer of food unless for purchase and I was hungry and look forward to that. Even just a bag of pretzels!"
Cons: "See above"
Pros: "The crew was generally happy and friendly."
Cons: "No video on a transcontinental 767?? Are you kidding? Stupid excuse for being 2hrs late due to mechanical. They blamed it on something completely foreseeable and plannable. This plane is older than the plan I took my first flight on as a kid in 1984. I thought united was bad but then I experienced American. At least the crew were not jerks."
Pros: "Food. There was dinner (and wine) and breakfast. Check-in was quick, flight departure was on time."
Cons: "I nearly missed my flight because I did not have a seat for a flight that I bought a ticket for at full price. Which, would lead one to believe that I would have a seat on said flight. However, coming to the gate an hour before boarding the personnel working gate the said he was having computer difficulties and could not get me a seat and it would be 10 min. I continued to return till boarding to find out I had no seat and I was on standby. Upon going to customer service they replied the airline oversold tickets and every airline does this as if to make this practice ok. Well being in sales myself and if I were to sell x amount of product to one customer ( or several) I better make sure I have it all there to deliver. People rely on you schedule wise. It nearly shot a meeting I had to make in the foot. Very disappointed with the airline and the way things were handled."
Pros: "The PWM airport, ALMOST makes air travel tolerable. Great little airport. Crew was pleasant, Seemed to enjoy their work. That, alone makes a huge difference in an industry that truly doesn't put customer service anywhere NEAR the top of the priority list."
Pros: "Very friendly staff, on time, most of all very comfortable."
Cons: "The Oppurtunity that could improve is the boarding in plane to have passengers board in groups."
Pros: "Staff was friendly"
Cons: "Cabin was cold and no blankets available."
Cons: "seating was very uncomfortable crew was extremely rude no entertainment at all for the 5 hours flight"
Pros: "El problema es que el vuelo estaba sobrevendido y han cerrado las puertas antes con lo cual me he quedado abajo sin pode abordar. En el aeropuerto de Denver habia solo dos personas en el securty check por lo cual la demora fue involuntaria en mi caso. Cuando estoy haciendo la fila para ingresar al avion (esyando en la misma cola antes de ingresar) me informanque no podre embarcar..(claro ya habia designado mi billete a otras personas. pesima atencion y pesimna experiencia con los empleados de ese vuelo. Denver a Miami"
Cons: "Pilots flight like crazy and the second plane was dirty"
Pros: "Not VERY overcrowded"
Cons: "Nothing"
Pros: "Because our plane sat on the tar mat in both White Plains and D.C. for over 40 minutes after an hour delay, we missed our connection to Knoxville. AA refused to offer any assistance with a hotel or rental car and literally ran through their script versus showing any empathy. Terrible experience and will never fly AA again."
Cons: "Because our plane sat on the tar mat in both White Plains and D.C. for over 40 minutes after an hour delay, we missed our connection to Knoxville. AA refused to offer any assistance with a hotel or rental car and literally ran through their script versus showing any empathy. Terrible experience and will never fly AA again"
Cons: "Flight was delayed by 1hr 20min. Had to wait inside the plane because they forgot to put fuel into it on time. Flight attendant was very rude, full of anger, almost threatening"
Pros: "They were efficient and courteous in distribution of beverages and collecting garbage"
Cons: "They let out 5 rows at a time which was good, then sort of have up after the first 10. But good concept in keeping things orderly"
Pros: "The crew was incredible. The flight was 4 hours late."
Pros: "Crew wasn't very friendly. Seemed as if customer experience is no longer a goal. Could do with some smiles & improved service. Seat was comfortable though & pilots did a wonderful job flying. Great take-off & Landing."
Cons: "Service"
Pros: "Seats are uncomfortable and close to the point there's no reasonable leg room."
Cons: "Have serviceable planes to go, United has an unacceptable rate at this. Leg room and seats are horrible."
Pros: "Hours and convenience of airport destination."
Cons: "Seats are horrible. No space no kind of adjustment to the seating positions. Extra for a check in bag? Ridiculous! Are you supposed to fly with just your wallets."
Pros: "Customer service was super"
Cons: "Nothing. Everything was great"
Pros: "The staff was kind and flight was smooth"
Cons: "The plane was small and cramped. I could barely bend down to get my bag from under the seat in front of me and I'm tiny. I can just imagine how bigger people felt."
Pros: "Can't think of a darn thing."
Cons: "There were no power outlets or USB ports on the plane (at least in coach). Strange for a cross-country flight. Also, if you drop something or want your bag from under the seat in front of you, forget about picking it up unless you want to ask your seat mate if they mind your head in their lap. I am a small person, but not a contortionist. Limited entertainment."
Cons: "Seats were too small."
Pros: "See above"
Cons: "see above"
Cons: "I had seats selected with my travel companion TOGETHER and when we boarded we were bumped to middle seats at the rear (the least desirable seat in the plane, separate from one another). I had select d seats when I purchased. The reassignment was not requested by me nor was it presented to me. I bought a specific seat and it was given to someone else. I am not happy with this."
Pros: "People who help me with my 87 year old mother we extremely thoughtful."
Cons: "I did not like having to exit plane on the tarmac. It was difficult for my 87 year old mother, and the if the weather had been bad this would have been very unpleasant and extremely difficult for everyone!"
Pros: "The crew was nice and tried to be helpful. There were charging stations and free WiFi!!"
Cons: "I have a gluten allergy so I couldn't eat the pretzels. Despite loading the United app I wasn't able to get the free tv to load during the flight."
Pros: "Excellent flight crew was awesome"
Pros: "I like the price and the time of the flight. Thank you"
Cons: "N/A"
Pros: "No food or entertainment. Crew very friendly. Tony plane"
Pros: "Enjoyed watching DIRECTV and sleeping"
Cons: "The aircraft was full and they had a nonworking lavatory. And I asked the flight attendant that the lavatory was broken and he told me no there was somebody in there and he lied."
Cons: "Delayed flight."
Pros: "Nothing. Absolutely nothing."
Cons: "First, our flight UA 194 was redirected back to SFO after 2 hrs of flight due to problem with weather sensor device or something of flight. Then we were cheated and provided with Economy class seat from FRA to MAA for the next day. We paid for full Business from SFO to India but our connecting flight was changed to Economy seat. Very very very poor and fraud technique from United crew. We are very sad about this and we will never ever take United or Lufthansa again. Never ever + we will request all our relatives to abandon these kind of cheaters."
Cons: "No WiFi. It wasn't working."
Cons: "Booked on flight next day but much less convenient than original direct flight."
Cons: "I didn't get on it because you cancelled the first flight"
Pros: "Very narrow seats."
Cons: "The seats are very very small ,its very annoying"
Pros: "Nice spacious quick flight."
Cons: "No free Wi-Fi"
Cons: "No gluten free options"
Pros: "Let us sleep without disturbing!"
Cons: "Flight was cancelled and it was too much confusion with no answers. Took forever to be helped. Would not pay or offer a discount for hotel room. Didn't receive a food voucher."
Pros: "The crew was pleasant."
Cons: "Delayed for an excessive amount of time before the flight was finally Cancelled. Got stuck waiting for over 7hrs before the flight was eventually cancelled. Barley made it home in time for my grandfather's funeral as a result."
Pros: "Quick flight, beautiful day, interesting company sitting next to me very pleasant flight."
Cons: "The flight was overbooked and they were offering vouchers for later flights, wasn't a bad thing, though, I'd have done it."
Pros: "As a military member, this airline offered me TSA checked, and I was able to go thru the line with my shoes on (small victories on such a trivial delight) the crew made it their best during the flight and kept a positive attitude."
Cons: "This airline is same as others, squeezing your $$$$ for every level of comfort. I can't believe the seats are so closed together i felt I was on an airborne mission. Unable to rest or lean back not even an inch! I wonder what's on their minds when they make these money decisions, hey!! you are sitting a human being not a mat on your truck . You have to pay for entertainment even on a 5 hour flight. Thank God the crew and Captain were amazingly good and decent."
Pros: "Friendly flight attendants"
Cons: "Forced by gate agents to put a tiny (5 inch) shoulder bag (like a tiny man-purse) into my carry-on. United blamed this dumb harassment on TSA. Huh? Super petty & annoying - the bag was tiny!!"
Pros: "Friendly and polite! Crew."
Cons: "Middle seat. Space too small."
Pros: "Food was good"
Cons: "Anything the flight was delayed a couple of times and then the terminal was changed at the last minute"
Pros: "flight was safe and on time"
Cons: "I could not find any free options on the entertainment system to watch"
Pros: "Texted notifications of the many delays and changed gates until it finally left"
Cons: "Flight was delayed due to mechanical issues AND a delayed crew"
Pros: "It was alright"
Cons: "It was united I should have used LAN"
Pros: "It look less time than stated. The flight was smooth. The scenery was beautiful."
Cons: "It was a little too cold on the plane."
Pros: "Friendly staff, good air craft, on time."
Cons: "Wifi and tech issues."
Pros: "I like the attention inside the airplane"
Cons: "I didnt like the.attention outside the airplane. Imissed my.flight.due to the short spaces.between conections and the long lines in migration. This happens to me.every.time i take Washington conection"
Pros: "Download the United App (before takeoff! Or you'll have to pay). The App has some good movies and you can watch them free of charge."
Cons: "Nothing"
Pros: "The plane was extremely filthy and it made for an uncomfortable flight."
Cons: "See above."
Pros: "."
Cons: "."
Pros: "I liked the StroopWaffel. Was given an extra one by the attendant. The flight was quicker than scheduled. The attendants and pilot were very friendly."
Cons: "Our flights to and from Minneapolis were booked a few months in advance. On our flight from Den to SA, all three of us were in the center seat, in different sections. That displeased me."
Cons: "The airplane had a engine issue I believe and the flight got delayed and I lost my connection.."
Cons: "Flight was delayed from 9:20 to 1am because of no captain. There were minimal updates unless someone went to ask them. I think it's ludicrous to have to pay for a movie or a snack at 5am on a flight that should have already landed. I've flown plenty of other airlines that are sensitive to delays and accept responsibility. United did none of this."
Pros: "Free movies and TV shows between Newark and Houston"
Cons: "That the first checked bag is not complimentary."
Pros: "Everything ‼️"
Read more about American Airlines
Safety measures for airlines flying from Johannesburg to Lansing
Airlines flying from Johannesburg to Lansing have enacted additional safety measures and adjusted policies to better accommodate travellers. Policies vary by airline.
Heightened sanitation
Daily cleaning, installation of cabin HEPA filters on flights from Johannesburg to Lansing
Mandatory masks
Masks required on board, masks provided on flights from Johannesburg to Lansing
Social distancing seating
Middle seats unavailable to book on flights from Johannesburg to Lansing
Pre-flight testing
Testing for antibodies, testing for symptoms for flights from Johannesburg to Lansing
Book cheap flights from Johannesburg to Lansing
Recent return flight deals
Search by stops
Search by airline
Search by price
Johannesburg - Lansing Flights