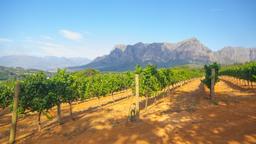 Find cheap flights from Jamaica to South Africa
Search hundreds of travel sites at once for deals on flights to South Africa
FAQs for booking flights from Jamaica to South Africa
How does KAYAK find such low prices on flights from Jamaica to South Africa?
How does KAYAK's flight Price Forecast tool help me choose the right time to buy my flight ticket from Jamaica to South Africa?
What is the Hacker Fare option on flights from Jamaica to South Africa?
What is KAYAK's "flexible dates" feature and why should I care when looking for a flight from Jamaica to South Africa?
Top airlines flying from Jamaica to South Africa
Scores according to KAYAK customer reviews
7,9
Delta
Overall score based on 29 829 reviews
Cons: "Not make me check my carry on when there was adequate room in plane"
Pros: "The comfort of the seating, the flight crew, and the services Delta provides. I always have a pleasant time flying with them."
Pros: "Awesome crew and great flight"
Pros: "Being on time"
Cons: "Nothing you guys did great thankyou so much."
Cons: "The flight attendants were fantastic!"
Pros: "My flight arrangements were not found I had to purchase new tickets and spend additional money for something I had already paid for I wasted all day and it was the worse experience ever."
Cons: "Refund my money back"
Pros: "The staff at Delta are always friendly and helpful and they were able to squeeze me onto a very full flight."
Cons: "The boarding crew wasn't friendly"
Cons: "Way too cramped"
Pros: "Korean air is a step above the rest. Best airline in the business"
Cons: "No WiFi on the flight, but there is so much media offered you really forget"
Pros: "live tv, watched the formula one race"
Cons: "Seats were not comfortable, and the side panel at my feet was broken off and i could see through the floor of the plane"
Pros: "The A330 was comfortable and the crew was efficient and cheerful."
Cons: "Delta is the best experience we've had of late."
Cons: "They were great"
Pros: "Crew was great"
Cons: "It was FREEZING throughout the entire flight. Freezing. No blankets. Missed having screen in seat but was able to start a movie on my phone so it was fine."
Pros: "Got to Houston on time"
Cons: "WiFi that I paid for on Delta didn't work, flight was delayed at take off due to waiting for restroom supplies; lead flight attendant had a major accent and was difficult to understand. She also stated to keep my mother's walker outside the plane when entering the plane"
Pros: "In flight service was fast and well organized. The dinner was very good. Flight was turbulent free and no isues."
Cons: "The plane was at the gate but it took over an hour for international inspection and a long time for the plane to be cleaned."
Pros: "Crew was incredibly friendly"
Cons: "Wifi was not working on this flight"
Pros: "Crew was friendly"
Cons: "Food was not good"
Pros: "Crew was great as always. Friendly and professional"
Cons: "We had a delay that complicated our getting home but all ended up OK"
Pros: "Crew was very attentive and friendly"
Cons: "Boarding could be better."
Cons: "Seating was cramped in economy, but you get what you pay for!"
Cons: "Sat in comfort+, bbut never offered any sort of snack. Not sure why it is considered an upgrade."
Pros: "fast flight"
Cons: "Wi-fi sucks"
Pros: "The crew, the food, the amount of beverages served"
Cons: "Leg room"
Cons: "N/a"
Pros: "I like flight comfort in air"
Cons: "Crew member were rude and pilot feels like never fly plane before , he landed in high speed and our plane jumped back in air , two passengers almost had heart attack ! We're taken out on medical bases"
Pros: "flight attendants"
Cons: "As soon as we all were boarded we where told there was a mechanical issue. Sat on the boarded cramped flight for 2 hours until issue was fixed. If there was a mechanical issue then the plane should've not been boarded until it was fixed. Much rather have waited in lobby for 2 hours than on a plane with no food and water. Or at least alllowed us to deboard while issues where resolved."
Pros: "Crew was wonderful, fine flight, very prompt"
Cons: "Was unable to board an earlier flight without paying $75. If there are seats it shouldn't be so difficult to be moved."
Pros: "Jamaica security and boarding, despite a crowded airport and gate, was very quick. Appeared chaotic but was friendly and efficient. Boarding was orderly and efficient. Flight was smooth, seats luxurious (comfort+ aisle and window seats with an empty center!). Arrival into ATL half an hour early."
Cons: "Only one offer of beverage on 3 hr. flight. "Food" at dinner time was chips or crackers. Arriving 1/2 hour early we sat on tarmac for 50 minutes before reaching gate. 20+ minute walk to customs, 30 minute line."
Pros: "on time, good food, good films enough space to sleep in economy."
Cons: "the stewardess only went up one side of the plane offering eye shades and when i asked for one she seemed really miffed."
Pros: "Getting home in one piece"
Cons: "Why do airlines schedule 2 flights for the exact same time in the exact same gate? Just to watch passengers squeeze in like cattle??"
Pros: "A screen with free movies is nice."
Cons: "Nothing."
Cons: "The flight was delayed for 4 hours."
Pros: "Staff. Beautiful excellent"
Cons: "Need more food"
Pros: "great staff . clean. current movies"
Cons: "n/a"
Pros: "Everyone did try to be helpful but it seems that no one at Delta really knew anything that was going on today"
Cons: "The fact that I missed yet another connection because of a Delta issue. The difference is that this time there was not another connection for me to go to and I was told I would be provided a hotel in Atlanta which was not the case. I had to transfer to a flight 2 hrs away from my home only to still be on the floor of Atl airport because they are unable to appropriately de-ice planes."
Pros: "On time departure and arrival"
Cons: "We landed at 2:14 p.m. but did not get our luggage until 3:38 p.m., with "priority" because we were traveling business class. Dozens of bags that were not "priority" preceded ours."
Pros: "The crew boarded us efficiently, and got us off the ground on time, but the boarding experience is not pleasant."
Cons: "The food selections are limited. The crew ran out of popular items in the economy cabin. The personal seat lighting on the B-767 never quite worked. I eventually gave up on it. The overhead bins were too small for many roller boards, which caused some passengers to be perplexed. Delta should offer some inducements to encourage passengers to gate check bags."
Cons: "Much older plane. Not as comfortable as some other planes I've been on."
Pros: "Staff on the plane was courteous although they skipped half of us for snacks & forgot some requests for water"
Cons: "Was not able to check in online. Was not able to select my seat online. I was told I would be able to do both of these things. Spent 30 minutes trying to find a number to someone at Delta to check in & select seat. I was in Australia & all Delta offices were closed because it was Sunday. Although I had an internationally calling plan, no calls to Delta US would go through. finally found someone through a back channel that would help me. We boarded an hour late, and staff would not answer any of our questions about what was going on or how late we would arrive (they sped up the fight so that we landed on time). Flight ran out of drinking WATER after the first service. Half of our section (Economy Plus) was skipped for snacks. An unruly child was allowed to scream for almost the entire flight & was running up & down the aisles. NOTHING was said to the parents by staff members. Was absolutely the worst behaving child with who I've had to fly."
Pros: "I liked that we finally arrived."
Cons: "I didn't like the lack of communication on Delta's behalf by their employees throughout our plane delay process. We were very delayed, and would be getting alerts on our phones before anyone told us what was going on. The forced us to change planes and didn't explain what the plan was or how we why we were transitioning. A lot of passengers had to ask each other what was going on, due to this lack of direction."
Pros: "On time"
Pros: "The plane was not very full and I was selected to move be from row 30 to row 16. All seats in that row were empty. That was very nice."
Pros: "Very Comfy plane."
Cons: "No food or beverage service"
Pros: "Exit row seat with no seat in front. Was able to stretch legs."
Cons: "No space."
Cons: "Almost everything"
Pros: "Nice staff"
Cons: "Cleanliness. There was a ton of garbage in business / frost class back pockets. Seats were dirty. Tray tables were dirty. Not the best entertainment options."
Pros: "the crew was great! boarding was a breeze - not a single flaw!"
Cons: "Honestly, one of the best flight experiences ever."
Pros: "Boarding"
Cons: "Direct tv sucks! Had to watch trailer 3 times before movie started. If switched to another movie it started part way. Flight attendants instead of one long announcement made three announcements few seconds between thus cutting in and out of movie."
Pros: "The crew was attentive, professional, and courteous"
Cons: "5 hour delay"
Pros: "Great crew!"
Cons: "Everything was pleasant."
Pros: "Thank you for the number of refreshments including drinks and a snack. Entertainment options were great."
Cons: "The seat was so hard to get comfortable in. I'm only 5'9" but I kept getting bumped into as I was sitting in the aisle seat. Also my seat 23C's headphone jack is broken - I had to play around with my headphone cable input to get enough contact to hear everything."
Cons: "Flight carry on baggage mandatory green tag check in. Very small flight. green tag Baggage being asked to be taken from b baggage carousels after waiting for a while. At baggage carousels the baggage arrival delayed by 30 mins. Flight had rough landing"
Pros: "Everything"
Cons: "People that were on the plane should throw away their garbage and stop being slobs"
Cons: "The airline cancelled my return flight home from a Venice without notifying me because they said I was. "No show" on my previous flight over. This was absolutely not true. To cancel someone's flight and not alert them is highly unethical."
Cons: "Ground crew and in Jamaica was horrible. They asked me if I have flew United before when I asked her a question."
Pros: "Good flight, nice staff."
Cons: "Food not the greatest and flight over-crowded."
Pros: "Nothing I like about it ."
Cons: "Food suck . Seat not Comfortable . Entertainment Not much options. Lightning to bright . This flight nothing compares qutar airlines!"
Pros: "Was good and all went well."
Pros: "the arrival on the other end"
Cons: "on tarmac 1-1/2 hours conflicting info....went from delay due to traffic/weather, to extended flight time due to reroute, to asking 10 people to volunteer to get off or 10 would be chosen to have to get off, 4 people volunteered, was holding my breath to be "picked off" when the 4 people were let back on and we took off an hour late. the flight steward spoke so unreasonably fast you couldn't understand a word she said and she had an overall bad attitude....very disappointing from United"
Pros: "I reached home"
Cons: "The WORST leg room in economy The WORST entertainment in economy The WORST customer service in economy The WORST food in economy. And I'm companring with other US carriers (American, Jet Blue, Delta, Southwest) -- NOT even international carriers."
Pros: "Quick flight, faster than schedule. Flight attendant was good."
Cons: "Absolutely no leg room or arm space in the seats on US express jets. If the flight were longer than an hour it would make for an absolutely miserable experience."
Pros: "Organized boarding. Left on time and arrived early at destination."
Pros: "The plane, crew and boarding was great, and the food and drinks were quite good. Legroom in standard economy class was passable for a 6'2" person."
Cons: "I booked through the United website as trip from US, have Silver status on United, and Lufthansa's policies of not allowing advance (1-2 mo before flight) seat selection (never on UA nor LH websites) are just horrible. Hard to get through on 800 number, and 1 day before trip answer was still to do it in Frankfurt. Economy plus was $1000 more/person, and even then no guarantee I could choose a seat far in advance. Then, at computer kiosk in Frankfurt, they had a wrong diagram of the plane,as we ended up on what turned out to be a no-recline row which I would never get. I'm 6'2", 230lbs, and wasn't able to sleep on that flight. Had I been able to reserve a seat behind a bulkhead or in exit row 2mos in advance, I would have been fine."
Pros: "Not a whole lot, the flight and comfort were fine. The flight attendants were great."
Cons: "There was NO entertainment on board unless you paid $7.99, including watching the progress of the flight from Montego Bay, Jamaica to Newark."
Pros: "boarding was smooth and easy"
Cons: "Our 5:25am fight out of San Francisco was delayed by 33 minutes, which was fine. However after we boarded we drove around the tarmac for a good 40 minutes before actually taking off. We were given no reason by the pilot."
Pros: "Made up all delays in the air"
Pros: "Quick, easy flight with a really nice flight attendant."
Cons: "Really small and uncomfortable plane. I feel like they should phase these small planes out. Seats are not wide enough for a regular sized guy."
Cons: "United Express flies out of Terminal A at Newark (EWR) and routinely they do not have Precheck lanes open. Despite flying on the Saturday after Thanksgiving they only had one mixed security line open. When I asked TSA they said they simply weren't staffed to have a Precheck line open. Everyone was working diligently but this happens every time we fly United out of Newark. Traveling with 2 small children it is incredibly frustrating to have to go through the full security line, take off our shoes, and take all of our electronics out of our bags."
Cons: "I don't like that you have to purchase WiFi and movies. My first flight was with JetBlue and they provide those things for free. I do not understand why United doesn't do the same. Overall I was disappointed for the amount of money I spent on the flight and being told I'd have to purchase movies and WiFi"
Cons: "I've never had a problem bringing two backpacks on a plane but United makes sure they charge you for that second bag even though there was plenty of overhead space. I also went to the kiosk and it printed my bag check receipt but not my boarding pass and I had to run back from security to get it when I realized. Crew was nice and flight was smooth but everything before that point I could have lived without."
Pros: "Pleasant crew on ground and in air. Flight was on time departing and arrived ahead of schedule into SF. Nicely done!"
Cons: "Cacelled then delayed twice. United workers are also very rude. I give them a big ol"
Pros: "Complimentary drinks"
Cons: "Boarding was long"
Pros: "The crew was cool very nice and helpful"
Cons: "Too cramped and took forever to board"
Cons: "I think, on a five hour international flight that you should not have to pay for your entertainment. Really cheap. And if you have a couple of kids? Since the Go App works for free in the states, why can't they offer that."
Pros: "Service"
Cons: "Nothing"
Pros: "The fact that the flight was untime and the staff courtious"
Pros: "i was slow getting off the plane but a person was waiting patiently. when i boarded the plane a flight attendant helped me figure out why my luggage wasnt going easily into overhead compartment and at the end of flight helped me get it out."
Cons: "aisles on plane too narrow to get luggage easily down aisle"
Pros: "Crew"
Cons: "Boarding. Board by inside seat to outside seat and it'll go much faster."
Pros: "Smooth flight. Great landing."
Pros: "The snacks that was given"
Cons: "There was a delay leaving and while we was in the air."
Pros: "That transportation was available in Chicago."
Cons: "No problems."
Pros: "Download the United app, it makes the flight better."
Cons: "Na"
Pros: "Very nice crew."
Cons: "Olane was way too small. Plane was hot. Plane was noisy. Would bever take that flight again."
Cons: "My flight was delayed by a hour and a half. They originally advised us that the delay was due to cleaning the inside of the airplane for the next passengers then they said they were fueling the plane then finally admitted there were maintenance issues with the plane. The delay cause most people to miss there connecting flights and have to stay the night since it being late evening. Inconvenience to customer"
Pros: "Seating felt like cheap european carriers. Limited seat pockets as they try to improve legroom. Didnt let seats come back too far. so design of the cheap seating actually worked as i was not pinned in seat when jerk in frong of me put seat back."
Cons: "Aisle Narrow. People at checkin were grumpy...telling us to get back ...."
Cons: "The flight was very warm, I paid $300 for a one way and was assigned a seat in the very last row that did not recline next to bathroom which was smelly. The air just wasn't fresh and made it difficult to rest l. No entertainment provided"
Cons: "Ron working the check in desk at United gate B67 to B79 was extremely rude, condescending and combative. I was appealed & offended by him and the way he spoke to me. I also observed his poor treatment of other passengers I will not longer use United Airlines for my flight needs"
Cons: "Canceled the morning flight to Denver, missed connection arrived late to Minneapolis!"
Cons: "Overpriced food that didn't look good and very expensive entertainment options"
Cons: "Luggage over bins should limit one bag per costumer ., passenger broading in group 4-5., space for one bag over their seat. ., and not be penalty because if broading group ,"
Pros: "In air television .. Seats were comfortable. Arrived earlier than expected"
Cons: "Enjoyed the entire flight."
Cons: "freezing on plane"
Cons: "The flight from Newark was delayed and caused me to miss my flight from SFO to TPE. The gate staff on arrival did nothing to help ensure that I would make the flight. I chose United because i expected reliable service, instead I got the worst ever experience with an airline."
Pros: "The flight arrived 20 mins early."
Cons: "Had to wait too long to pick up luggage at baggage claim."
Read more about Delta
Safety measures for airlines flying from Jamaica to South Africa
Airlines flying from Jamaica have enacted additional safety measures and adjusted policies to better accommodate travellers. Policies vary by airline.
Heightened sanitation
Daily cleaning, installation of cabin HEPA filters on flights from Jamaica
Mandatory masks
Masks required on board, masks provided on flights from Jamaica
Social distancing seating
Middle seats unavailable to book on flights from Jamaica
Pre-flight testing
Testing for antibodies, testing for symptoms for flights from Jamaica
Book cheap flights from Jamaica to South Africa
Recent return flight deals
Search by stops
Search by airline
Search by price