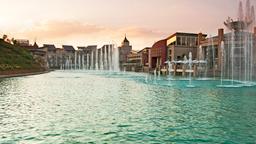 JAC - JNB
Find cheap flights from Jackson to Johannesburg
Search hundreds of travel sites at once for deals on flights to Johannesburg
FAQs for booking flights from Jackson to Johannesburg
How long does a flight from Jackson to Johannesburg take?
Which airlines provide the cheapest flights from Jackson to Johannesburg?
Which airports will I be using when flying from Jackson to Johannesburg?
How does KAYAK find such low prices on flights from Jackson to Johannesburg?
How does KAYAK's flight Price Forecast tool help me choose the right time to buy my flight ticket from Jackson to Johannesburg?
What is the Hacker Fare option on flights from Jackson to Johannesburg?
What is KAYAK's "flexible dates" feature and why should I care when looking for a flight from Jackson to Johannesburg?
Top 3 airlines serving Jackson Hole to Johannesburg OR Tambo
Scores according to KAYAK customer reviews
7,9
Delta
Overall score based on 29 260 reviews
Pros: "We were very efficiently boarded, however there was a mechanical problem. The flight attendants helped every one know where their connecting gates were, as we have exactly 9 minutes to make that connection."
Cons: "We were very efficiently boarded, however there was a mechanical problem. The flight attendants helped every one know where their connecting gates were, as we have exactly 9 minutes to make that connection. We would like to give a shout out to the baggage team that were able to transfer our bags in such a short amount of time. And also to the San Jose flight that we did for four of us."
Pros: "Customer service as always"
Cons: "Nothing!"
Pros: "the plane didn't crash."
Cons: "honesty. 29 minute flight took 3 hours. first they blamed it on waiting for luggage, then they likely realized there were no connecting fllights, so that excuse didn't work, then they were 'closing the cargo doors' for 45 minutes, then they had to de-ice as the plane had now sat for 4 hours instead of 45 minutes, had it left on time."
Cons: "If they had noticed the first plane was extremely hot before boarding everyone and leaving the gate and if once they found a new plane they had bothered to put fuel in it during the hour we deplaned, walked to a different terminal, and reboarded. Also, if they had passed out drinks or snacks during the flight."
Pros: "Not a lot"
Cons: "Customer service"
Pros: "The planes are made for humans not for monkeys as in some other airlines. Leg space was way better."
Cons: "I wish you could make your ticketing categories simpler. It is too complicated and cumbersome. May be you have a new category of over 75 olds."
Cons: "Food is always bad."
Pros: "On time"
Pros: "Comfort is excellent"
Cons: "When traveling with the pet, personally always travel to Puerto Rico, we take our cat, I would like Delta to have the option of making the reservation online until paying for it, although you should always call to confirm, that would be super excellent."
Pros: "Helpful crew."
Cons: "These planes are tiny. Our equipment was B717."
Pros: "The Movie selection was pretty good for such a long flight."
Cons: "Seats front to back is WAY too short in economy. Person in front of me put their seat back putting my movie screen 2in in front of my face. Plus, when a meal arrived, I had to put my elbows into my neighbors seat to cut because I couldn't put them front to back. Crew seemed uncaring."
Pros: "Amazing crew"
Pros: "Quick boarding"
Cons: "More water offered by crew"
Pros: "The crew was great. Flight was on time. Although crowded, boarded went smoothly."
Cons: "Checking bags in Reno was a bit chaotic. Only one representative was there to assist when we arrived an hour before the flight. When others arrived to assist, people went directly to counter and were helped before those of us who had been waiting in line. My seat back screen did not work ."
Pros: "This had one of the best attendants I have encountered. She was extra friendly and made us feel good."
Cons: "I booked a business class ticket through klm, but it was a delta code share flight. Delta was unable to locate me in their system, and I had to contact klm myself to straighten it out."
Cons: "Plane left without me because they don't know how to put gas in the plane in Jackson"
Pros: "Not comfortable a little but scary on the flight to Detroit. Way better coming back to Denver"
Pros: "Nope"
Cons: "They my flight"
Pros: "It was quick"
Cons: "Horribly shaky. Thought I was going to throw up. The male flight attendant came off as rude. Just happy I got off the plane alive because it was rough"
Cons: "There was no food or entertainment. There was a problem with the seat of the person in front of me. He couldn't keep his seat straight and his head was in my lap throughout the flight."
Pros: "Nothing"
Cons: "No food, no outlets, a terrible delayed not explained to passengers."
Pros: "The chargers worked in neither airplane."
Cons: "The chargers worked in neither airplane."
Cons: "One of the older male flight attendants was not polite. Got a ride, short response when asking him for anything."
Cons: "flight rerouted to LAX!"
Pros: "The seats."
Cons: "In typical Delta fashion they boarded, deplane, board it again and then beat the plane. Blamed it on weather even though a full maintenance crew was beneath the plane in the entire time and, for the coup de gras moved a new flight an hour later 30 gate down. Classic Delta hopefully they'll be out of business in a year"
Pros: "Friendly service, comfortable seat, on time, no issues."
Cons: "Aircraft seemed shabby despite refresh of Comfort Plus, food was really mediocre. Steer clear of the Asian Veg option."
Cons: "Delayed for no reason"
Pros: "The plane went where it was supposed to go."
Pros: "We got on the plane and it went to where it was supposed to go."
Cons: "Customer Service was horrid except for last attendant. At one point one rep sent us running out of a secured area to retrieve our luggage and then go to British Airways for connection. We had 45 minutes in front of BA ticket rep to get us on BA182 and they took so long we missed the boarding due to reps slow processing to issue ticket. Then we were stuck outside of secured area."
Pros: "nice people"
Cons: "need more free food and drinks"
Pros: "The flight was ontime, boarding was okay. Disembarking seemed a little slow."
Cons: "Seats have gotten narrower and closer together and it was a new plane which seemed to have more slope to the wall which meant even less room in the window seat. Too warm in the plane"
Pros: "Service was fast and the inflight entertainment is free. Lots of movies to chose from, which is nice for the long flight."
Cons: "It was the most cramped I have ever felt in a plane and also the longest flight. Horrible combination. Some of the crew were snippy."
Pros: "The professionalism of Delta employees, timeliness of flt."
Pros: "Great upgrade program"
Cons: "Slow unloading of luggage"
Pros: "Flight was on time"
Cons: "Wifi wasn't working for a while and it was a plane without screens"
Cons: "I forgot my wired ear phone so I purchased the earphone. I knew i shouldn't expected anything for $2 but really I couldn't hear anything at all to watch the movie. It's used to be free, now even paid the quality of the stuff is really suck."
Pros: "We'd paid extra for main cabin so hot to choose seats and got in flight entertainment.. Staff were friendly."
Cons: "No free wifi."
Pros: "How can airlines help screaming children?"
Cons: "Screaming child on plane for 30 minutes have me a headache- perhaps flight attendants could offer something like coloring books or stickers to help in the future. When I got too baggage claim the baggage claim not listed. Ticket agents declined to help, so I was walking all over try g to find which claim area to go to which was frustrating."
Pros: "Friendly staff"
Cons: "Every flight was delayed"
Pros: "I got to destination. Baggage claim was quick."
Cons: "Flight was delayed due to waiting for a tardy flight attendant. Landing felt a little hard. No announcement about baggage carousel prior to disembarking."
Cons: "I have never been to Billings, so I find it rather difficult to review this flight that I have never been on."
Pros: "Everything was smooth from start to finish, and the flight landed 10 min. early! Can't ask for more!"
Pros: "Service"
Cons: "Long delay"
Pros: "Good uneven full flight"
Pros: "N/A"
Cons: "BYOjet cancelled my flight"
Pros: "Fairly comfortable, seated in an exit row. It was an early flight on an A319. Always nice to have free seat back entertainment. Crew was friendly and accommodating."
Cons: "Flight was overbooked"
Pros: "It was an uneventful flight. The entertainment system worked well and food was good."
Cons: "The lights kept coming on every few minutes making sleep nearly impossible."
Cons: "Self-check-in at Munich was unnecessarily complex. Same for procedure to check in luggage. Also, the passport had to be inspected twice despite being already in the secure zone."
Pros: "Smooth and easy flight"
Cons: "Food and drinks served late"
Cons: "Great"
Cons: "Food"
Cons: "More chicken"
Pros: "Plane didn't crash."
Cons: "Boarding totally chaotic, someone was in my assigned seat, plane was very late, food was crappy, no legroom , seat and armrests uncomfortable , constant screaming babies, smelly passengers, music only came out of one speaker, music kept jumping from one song to another and then back !"
Cons: "We missed our connection due to the delay and they could only rebook us on flights that made us miss an entire day or our vacation."
Pros: "Crew were amazing not stingy with the drinks. Boarding was easy and smooth"
Cons: "Would prefer flying with partner United though. Think they offered a better service on board"
Pros: "The airline staff was great. Everyone really helpful."
Cons: "No complaints. Good vegan food."
Pros: "Staff were excellent. Helped me with storing my insulin in the fridge."
Cons: "Departing the plane into steps to z bus carrying heavy bags with no help."
Pros: "The serviice was very good enjoyed traveling with this company."
Cons: "The tv screen was outdated and difficult to use. The headphones were very outdated and did not like that there was no option to use my own headphones because of the aux option not availble."
Cons: "There is definetely not much space for passengers in economy' especially for such long flights and when the seat in front of you is inclined. Not pleasant to eat nor to watch movies. I had to slid in and out my seat whenever I wanted to go to the bathroom."
Pros: "They are prompt and very fast at loading and unloading. Quite a bit better than any other airline I have used. Leg room on small airplanes was good in economy, but not as good on larger jet to USA. The servers offered me ice in my water bc I am American. I appreciated that so much since I'd spent the last 12 days in Europe where no one serves with ice!"
Cons: "nothing"
Pros: "The service was outstanding!"
Cons: "Someone stole my phone charger :("
Cons: "The air on the plane was unable to be controlled."
Pros: "Some of the food was hot Good movie selection Peesonal entertainment screen"
Cons: "Some food was not hot No extra breat was offered No air conditioning for most of the flight, ...disaster No earphones for the first hour and the last 30 min"
Pros: "Boarding process and email updates."
Cons: "Business class on European domestic flights is nothing more than coach seats with no one seated in the middle. Better than coach, but not by much and not worth the extra money."
Cons: "Unfortunately the flight was delayed for 6 hours so we had hard time at Boryspil to book another flights to Los Angeles. After talking to 4 different people at cashier booths for an hour, we finely got tickets with Austrian lines to our destination city. I wish that Borispol Airport team could be more prepared(provide more customer service personal) to solve the problems such as a flight delay in order to serve better the passengers in stressful situations."
Pros: "Monitor in front of me did not work during the whole flight."
Cons: "Monitor in front of me did not work during the whole flight. The seat was really crammed in and not enough leg room."
Pros: "Had ridiculously long bus ride from terminal to plane. Plane was parked on the outer reaches of the airport. This happens far too often on Lufthansa when connecting in Franfort. Build more gates!!"
Cons: "Business clsss sweats on A321 were coach seats with the center seat left empty. Not sir it is worth the higher fare."
Pros: "Efficient"
Cons: "Delay in the arrival/departure of the flight, presumably due to the strike the day before."
Pros: "Loaded plane from both ends, giving fast boarding time."
Cons: "Limited entertainment on this short flight."
Pros: "crew friendliness"
Cons: "selections in entertainment system is very old."
Cons: "We flew economy so didn't expect much, but these seats were VERY narrow. I usually will tuck my legs up on the seat to sleep. No way, this seat was simply hip width. No room to shift from side to side."
Pros: "Comfortable seat. Food better than average"
Cons: "Crew seemed a bit rude"
Cons: "Boarding and take off was very delayed for a flurry ,this delayed my connection and made my total trip awful.i was traveling with a kid but still given last seat .Food was okay and crew was helpful. After having travelled to US lot of time I felt this trip was very tiring and frustrating."
Pros: "It was a long flight overseas they did a good job of keeping everything under control when there was a medical problem on board and you get what you pay for. Ok legroom"
Cons: "Their ability to work with you on issues such as lost bag is so disgusting that i dont think ill fly with them again I had to call them every time, consistently on hold for 30+ min at a time just to get to someone who could work with me. They hung up on me 3 separate times thus restsrting the issue. DO NOT LET THEM GIVE YOUR BAG TO BAGGAGEEXPRESS!!! You will never see you bag again. 1/10 customer service"
Pros: "Nothing"
Cons: "Water was spilled on me by flight attendant. Luggage was left in Frankfort. Did not have clothes or medications, or daily necessities. Must wait 1 1/2 days to get luggage"
Cons: "We sat at a very very bad seats. No space for the legs. And when we wanted to go to the rest room it was so narow we couldn't get out or up."
Pros: "The entertainment was good."
Cons: "Many things. Starting from the online/mobile check in process via United airlines. I was not given any other option but to check in through the United website. On that website I was not allowed to check in for my Lufthansa flights and i was stuck with seats I did not want in my 2 long intercontinental flights. This has happened before. Lufthansa has no option to check in online if my first flight leg is united. This is a very big drawback and also the reason I would not prefer to fly Lufthansa again. United is bringing the quality down."
Pros: "Great service across the board! Wonderful, experienced staff!"
Cons: "Seat space was inadequate. My shoulders are 4 inches wider than the seat space including both shared arm rests."
Cons: "The on board entertainment sucks you need to upgrade"
Cons: "The cabin got a little hot during the night and made it hard to be comfortable. Also, the seats lean pretty far back so I had little room in front of me when the person sitting in front of me leaned their seat all the way back."
Pros: "Everything"
Cons: "Not a thing"
Cons: "It was delayed by 9.5 hours!!!!!"
Pros: "Great job in general"
Cons: "The B747 is big and takes longer to board and longer to get your bag. WIFI is expensive at about $19. Seats are cramped or that's what I felt."
Pros: "Faster then any other airline. Supersonic jet ..."
Pros: "Munich airport is convenient and boarding went smoothly"
Cons: "This was an SAA plane, not Lufthansa. I have only had excellent service on Lufthansa. This flight again did not have a functioning entertainment system. I asked for this to be addressed and the SAA crew ignored the request and in the morning looked surprised to find out that several of the TV monitors had not worked at anytime on the flight. Not impressed."
Pros: "entertainment and food was good"
Cons: "My wifes luggage was lost, no followup at all from Lufthansa (main) or in Seville which was our destination. We had to call to find out any information. Once the bag was found and delivered to Seville, Lufthansa personnel again did not tell us nor would they deliver the bag to our hotel as the driver had already left. We then had to wait another day to have the bag delivered to Granada. Terrible customer service, the bag was missing for four days causing us to spend time shopping for clothes rather than experiencing the city."
Cons: "Flight delayed 1.5hrs after landing in Denver."
Pros: "Big plane and there is a lower level for toilets that makes it easy for passengers to access and not be close to bathrooms"
Cons: "Movies choices were not current. Haven been on Delta and United, the choices on Lufthansa were not that good."
Pros: "I havd to buy a whole new flight. from mechanical errors. it was horrible. I have no help"
Pros: "See above"
Cons: "See above."
Pros: "Free entertainment to compensate for the delays."
Cons: "Mechanical issues grounded the plane, had to wait 3 hours for new plane."
Cons: "The gate printed on my ticket was not the gate the plane departed from. Not only was it not, but there was no announcement or warning this would happen. I only realized because 15 mins after the scheduled boarding time I went to find out what was going on. There should have been an announcement."
Cons: "Flight attendants barely spoke English and didn't offer us a beverage for the flight. It was a small plane that was very loud and a small backpack barely fit under the plane. All in all, it took us 30 hours in airports and on airplanes to get to Riga, for one appointment."
Pros: "You'r aamazing, great deals! Thank you!"
Pros: "Check in was good. Everything was orderly and on time."
Cons: "Fairly cramped for an international flight."
Cons: "They overcrowded a flight in the middle of a global pandemic which shows they do NOT prioritize the health and safety of their customers."
Pros: "Love this airport. It's clean and comfortable!"
Cons: "I had been told there was a restaurant and there was one tiny coffee bar with little to no food. Most likely covid related but still probably one of the best airports I've been to"
Cons: "The remote on the arm rests werent working correctly for the inflight entertainment. My menu button didn't work. It was stuck on ESPN. The armrest is really an awkward set up. I don't want to keep shifting and possibly nudging my neighbor. Wish they touch screen like Delta, American, Air Canada,etc."
Pros: "Fast and friendly"
Cons: "I was flying with Air Canada. The UI for watching movies was not good, it had a hard time to respond to the inputs. It was also hard to move the videos forward to the part I needed. Plus, the audio wasn't working well with my own earphones."
Pros: "Comfortable plane. I love United Express."
Cons: "Nothing."
Pros: "The premium plus seats are quite nice! Excellent movie selection too."
Pros: "Good flight, nice staff."
Cons: "Food not the greatest and flight over-crowded."
Pros: "Not much"
Cons: "Cheap seats. And why were we not seated together when we booked way in advance?"
Pros: "New Polaris Business"
Cons: "Cabin crew"
Pros: "The plane, crew and boarding was great, and the food and drinks were quite good. Legroom in standard economy class was passable for a 6'2" person."
Cons: "I booked through the United website as trip from US, have Silver status on United, and Lufthansa's policies of not allowing advance (1-2 mo before flight) seat selection (never on UA nor LH websites) are just horrible. Hard to get through on 800 number, and 1 day before trip answer was still to do it in Frankfurt. Economy plus was $1000 more/person, and even then no guarantee I could choose a seat far in advance. Then, at computer kiosk in Frankfurt, they had a wrong diagram of the plane,as we ended up on what turned out to be a no-recline row which I would never get. I'm 6'2", 230lbs, and wasn't able to sleep on that flight. Had I been able to reserve a seat behind a bulkhead or in exit row 2mos in advance, I would have been fine."
Pros: "Service and crew were much friendlier coming back from Rio."
Cons: "Food was terrible, seat as uncomfortable."
Pros: "Free streaming IFE is nice. Crew was friendly."
Cons: "3 independent instrument failures made us 2 hours late and I missed my connection."
Pros: "Service, space, and staff of course!"
Cons: "Entertainment is boring and tired, United use to offer better free shows and movies!"
Pros: "Repairs caused a long delay, they kept us informed but it was a hurry up and wait forever"
Pros: "N/A"
Cons: "Long delays in both trips. 6 hours stuck in Munich & 24 hours in Luxembourg. Asked to get on earlier flight-was told not possible even though 27 seats open. Not possible to check in online and chose seats."
Pros: "No food or entertainment. Crew very friendly. Tony plane"
Cons: "Lost my luggage, ruining my trip."
Cons: "Noisy intrusive kids-clueless parents no help from crew"
Pros: "The food was good, the flight was comfortable, the flight attendants were friendly."
Cons: "There was a boarding agent at SFO who was extremely rude. I went to the counter to ask a question, and he blatantly ignored me. Finally, I said "I have a quick question," to which replied bluntly "What is it?" I then asked whether there were TVs on the flight, and he just said "No" and turned his back to me. Extremely rude."
Pros: "Movie selection!"
Pros: "Crew was mostly friendly"
Cons: "Leg room has vanished"
Pros: "Nothing"
Cons: "Flight was cancelled rerouted with Delta"
Cons: "I understand that many things in aviation are unpredictable, but the flight did arrive late and then once boarding was completed we then waited in the plane for an hour before takeoff as not everything was completed for the plane to be able to leave."
Pros: "Crew was attentive and professional"
Cons: "Boarding from front to back sets up jams in the aisles Could not swipe cards for entertainment"
Cons: "Had to wait an hour to receive luggage at terminal Small airport at midnight is unacceptable."
Cons: "United ruined our checked car seat. They spilled jet fuel on it and it stinks. No response from them on a compensation claim! Be on guard!!!"
Pros: "The flight was on time and the crew was great. No complaints for the air and the ground team at all"
Cons: "WiFi and TV it's way too expensive No free options to entertain yourself. At least give us a USB port on the seat to access my mobile device. Very narrow seats"
Pros: "Comfortable seats, decent drink options"
Cons: "Boarded late. There were no seats at the gate so everyone had to just stand around waiting to board. No announcement or apology. Took 25 minutes after we landed for the first bag to come down the chute at baggage claim. My first class dining options were chips, pretzels, or a banana. Short flight but still."
Pros: "Crew was very pleasant under the adverse situation"
Cons: "A two hour and 10' flight became a three hour wait, then we boarded only to have to de-plane now because mechanical issues. Then walk to the other end of the terminal and re-board yet a second time. Total time at the airport and travel time for this short flight is: 8 hours"
Pros: "Seats at least in economy plus were acceptable with enough space between seats to allow you to move around without disturbing the entire plane. My row 11a-c did not have a window"
Pros: "5 zones with specific lines make so much sense! Worked well. The seats were some of the smallest I have ever had, so not impressed and since I am tall, a bit of a deal breaker. I am normally a delta fan, so won't be switching anytime soon. All else worked fine...a short somewhat turbulent flight so no water/drink service, which is understandable."
Cons: "Seat size and leg room!"
Pros: "I like that I was able to get on the plane, and get to my destination."
Cons: "I was the ONLY seat overbooked on the flight. The crew basically told me I was out of luck and that I had to be rescheduled for tomorrow. In the last minute, someone didn't show up, and I got on the flight. I don't believe they tried hard enough to give vouchers away to the passengers. In addition to that, why was it overbooked to begin with? This is either a major error by KAYAK or United. Either way - awful experience to go through at 6:30am."
Cons: "I was traveling with someone and the tickets were purchased at the same time but we weren't seated together."
Cons: "Seating is just cramped!"
Pros: "I loved how helpful and kind the staff was. There was an issue with seating and they sorted it out in a quick and professional manner."
Cons: "The seats were uncomfortable when sitting for long periods and the seatbelts could have been a little bigger."
Cons: "Bad snacks. Need biscotti"
Pros: "Over all it was a great flight aside from the rain delay but that's Mother Nature for you"
Pros: "That it was a short flight"
Cons: "Yet another delay. It took me a total of over 30 to FLY across country with United. I could have driven in that amount of time."
Cons: "Everytime I was about to board there always seemed to be a problem with the flight it didn't even miss. Having so many problems caused delays. When other people including myself had other connections to get to and made me run through airports and I actually missed a flight and instead of taking one direct flight to Puerto Rico I had to take two more flights."
Pros: "The flight attendants gave a full can of soda vice pouring into one single cup."
Cons: "Nothing"
Pros: "Easy and on time!"
Pros: "Nothing"
Cons: "No food in a flight over 5 hours I flew with Bangkok airways last month and they serve full diner in economy flight from Siem Riemp to Bangkok It's horrible that United don't have money to give at least a fruit or something for people that flight economy."
Pros: "Food was good. Legroom was good."
Cons: "Lack of water."
Cons: "Additional fees for extra space were 1/3 the cost of my flight"
Cons: "Flight was delayed by over 2 hours. Then halfway through the boarding process there was a glitch in the system and I believe that they lost the seat reservations, which delayed us even further."
Cons: "No leg room at all and I'm not that tall"
Pros: "Checked in through united app - said see agent for seat assignment. This was a connection from Orlando to Milwaukee"
Cons: "I went to the gate agent who was rude, no smile - just said "I have to get checked in I will call you". I waited . She beckoned across for my name. Then called me up with her finger. She asked if I had a ticket (hadn't looked for my name correctly) she told me I'd have to wait until all had boarded and a volunteer gave up their seat. I did get on(last one)- Never a smile or an explanation. Will not fly united again. There are plenty of choices."
Pros: "Crew."
Read more about Delta
Safety measures for airlines flying from Jackson to Johannesburg
Airlines flying from Jackson to Johannesburg have enacted additional safety measures and adjusted policies to better accommodate travellers. Policies vary by airline.
Heightened sanitation
Daily cleaning, installation of cabin HEPA filters on flights from Jackson to Johannesburg
Mandatory masks
Masks required on board, masks provided on flights from Jackson to Johannesburg
Social distancing seating
Middle seats unavailable to book on flights from Jackson to Johannesburg
Pre-flight testing
Testing for antibodies, testing for symptoms for flights from Jackson to Johannesburg
Book cheap flights from Jackson to Johannesburg
Recent return flight deals
Search by stops
Search by airline
Search by price
Jackson - Johannesburg Flights