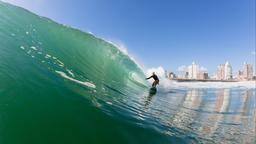 Find cheap flights from Illinois to Durban
Search hundreds of travel sites at once for deals on flights to Durban
FAQs for booking flights from Illinois to Durban
How does KAYAK find such low prices on flights from Illinois to Durban?
How does KAYAK's flight Price Forecast tool help me choose the right time to buy my flight ticket from Illinois to Durban?
What is the Hacker Fare option on flights from Illinois to Durban?
What is KAYAK's "flexible dates" feature and why should I care when looking for a flight from Illinois to Durban?
Top airlines flying Illinois to Durban King Shaka Intl
Scores according to KAYAK customer reviews
8,3
Qatar Airways
Overall score based on 10 974 reviews
Pros: "Having social distance space to take a nap"
Cons: "I sat in the middle seat of the middle of the plane and the staff kept skipping me during meal and drink service because they assumed the other side took care of me. So that was annoying. I had to keep flagging them down."
Pros: "The check-in crew in Chicago was very nice and efficient. The flight crew on-board were not friendly, they were very curt and rushed, and did not go out of their way to be helpful."
Cons: "Friendlier staff during the flight. Better food for breakfast. The connection port for my headphones did not work...I would not have been able to watch movies if I hadn't brought my own single connection head phones."
Pros: "The crew was really nice and very attentive."
Pros: "Food is delicious"
Cons: "Paid WIFI this time was horrible for the half of the trip WIFI don't work"
Pros: "The aircraft was comfortable and the electronic amenities were decent and needs improvement"
Cons: "Free WiFi and Dancing boys"
Pros: "The flight crew/staff were professional and very helpful and accommodating to the passengers from check in to deboarding."
Cons: "Seats were a little close, especially for a long flight, with meals."
Pros: "The crew was great."
Cons: "Food wasn't that great."
Pros: "The crew was amazing. One of the onboarding staff was exceptional. Some onboarding staffs were unfriendly."
Cons: "Not allowing a laptop bag unlike Etihad, Emirates and other airlines was a bummer."
Pros: "Very courteous, friendly, professional flight crew and gate crew."
Cons: "Nothing to mention...very pleased"
Pros: "I was at airport 1 hour before the flight time But they already closed the gate, and I missed the flight, and my return flight is gone too Omg to much for me"
Cons: "I wish you can do something for me Because the tickets is really expensive"
Cons: "Refund my ticket"
Pros: "This was my first experience with Qatar & it was outstanding. Crew members are extremely courteous & helpful. The aircraft seats in economy class were roomy & comfortable. Bathrooms were kept clean throughout the long flight. Food was very good as was the selection of flight entertainment. Can't thi"
Pros: "Q-suites are fantastic."
Cons: "Boarding was a mess. Premium boarding line was tied up by economy passengers and ground crew did not turn them back"
Pros: "seat was great"
Cons: "flight attendant should be nicer"
Pros: "The crew was very friendly and helpful throughout the flight"
Cons: "The boarding process in Chicago wasn't great. Zones were not used"
Pros: "Delighteful experience"
Cons: "Better guidance at transit stop"
Pros: "Plenty of room to move around"
Pros: "Food was excellent and the crew updated us through out the flight"
Cons: "That fee for overweight was excessive"
Pros: "Q-suits. Very comfortable and private. Great upgrade to the 777. WiFi now available for very reasonable price"
Cons: "Bus transfer to Termial 5 is VERY poorly organized and takes over an hour. This makes it harder to get to Terminal 5 even if you don't have to clear security again. Seats had a bar under the padding at about the position of my hips. Uncomfortable to sleep for several hours"
Cons: "Ord to Doh: People kept window blinds open all through 15 hour flight Flight temperature kept very warm"
Pros: "Good food and good hospitality"
Cons: "The gentleman next to me had broad shoulders, so I spent most of the flight with my body a bit twisted, and eating without being able to move my right arm normally was undesirable. The cabin was kept a bit warm throughout the flight. We had a long wait (30 - 45 minutes after leaving the gate) before takeoff."
Pros: "Video on Demand at each seat in coach. Friendly staff. Also patient staff, what with the languages they have to cover with each flight. The airline goes everywhere so it's impossible to say what anyone will be speaking."
Pros: "B777 Dreamliner is dreamy. Lots of overhead luggage space. Decent leg room (could always be more). Great individual entertainment screen for long transcontinental flights. Flight staff was a mixed international crew, very friendly, unpretentious, polite and just nice compared to other airlines. The planes they use seem very new. Would definitely recommend Qatar Air over Aeroflot any day."
Cons: "Food was decent for airline food but nothing to rave about and as with most airlines uses too much plastic packaging. Although I was pleased that some of the flights used metal flatware, but still too much waste in the industry in my opinion. Also, the headphone jack was not compatible with my headphones. The type used on the 777 is the dual pronged one. I did not have an adapter so had to use the crappy headphones that are provided."
Pros: "Courteous and friendly staff, on the plane and at the airports. Gave advice and directions when asked. Asked about time for food serving and said anytime you want something, come to the galley."
Cons: "A chorus of crying infants..."
Pros: "Great service and crew"
Cons: "I'm a 6'3" in shape man. I selected the bulkhead seats for extra leg room. Great crew, but my shoulders stuck past the seat edge 3" on both sides. Qatar should revise their claim of most room in cabin - this 12 hour flight was one of the roughest I've had in a long time comfort wise."
Pros: "Good food. Great staff and service"
Cons: "I wish there was more seating room and unusually long waiting time for toilets."
Pros: "Checkin crew was rude and was not at all respectful"
Cons: "Checkin crew was rude and was not at all respectful"
Cons: "Boarding at JFK very disorganized. Poor system. No vetting of wheel chair users many fakers."
Pros: "Every thing is great."
Cons: "Food Seat great service"
Cons: "Delayed"
Pros: "On demand entertainment systems seem standard, as I've flown Qatar several times and always had it. Friendly staff. And Doha is a great connection airport."
Pros: "I have made more than 6 round trips on Qatar Airways for AMD-ORD-AMD in last 18 months and can not be happier!!"
Pros: "Cabin crew including the ground staff were awesome in providing best of its class customer service. Food and entertainment onboard was really good."
Pros: "My flight from Chicago to Doha was late to come in and there was a gate agent waiting for us and two other passengers with a sign when we got off the plane. He told us that our flight had already left but he would get us on the next one. We ended up getting seats on the next flight but then were also given the option to get a temporary visa and explore Doha for the night. We opted for the comped night which included a very nice hotel and $100 in meal vouchers. We absolutely LOVED Doha and the hotel and food was fantastic! I don't think I have ever received better service from an airline or a hotel. We ended up walking around Souq Waquif and the downtown until 1am (we are two young females!) with no issue and just used Uber to get to and from the hotel. Everything was so well laid out for us! No complaints whatsoever!"
Pros: "smooth and on time with efficient service."
Pros: "Hospitality, boarding process"
Cons: "Food was slightly undercooked (chicken). Should have better process to check for that"
Pros: "Enjoyed the food and the service from the crew. Plane was new and relatively new and comfortable."
Cons: "The check in agents were not very polite or helpful. They did not offer much assistance and help for a first time customer on Qatar Airways. My bags were also not loaded onto the plane and had to arrive on a later flight"
Cons: "Luggage items are missing."
Pros: "It was excellent."
Cons: "It was excellent."
Cons: "No consistency with hand luggage. My companions and I were held to strict weight limits. Others were getting on with three and four bags."
Pros: "The entertainment options were fantastic! The flight attendants were very cordial and hardworking."
Cons: "I was very pleased with my flight. I really have I complaints."
Pros: "Vegetarian food options"
Pros: "Inflight services, food"
Cons: "Wheelchair services in India, person left in between and had to walk with pain in my foot for a distance."
Cons: "Boarding staff give us wrong advice to make extra money from the passenger. They also pressurized us to decide quickly. our each check in baggage was over weight 1 KG or less than 1 KG due to faulty scale at home. Instead of giving us a choice or advice that you are allowed two more hand bags. They pressurized us to make one baggage over weight from all 7 bags and harassed us to do it quickly because they are closing counter in 20 minutes. That's how they charged me another $65. Also they lied on the counter that your seats are in a row but when i went into the plane our seats were separate. Lesson learned don't trust the person over the counter of Qatar airways."
Pros: "Everything"
Cons: "The boarding was unusually long. We stood in line for twenty minutes to board the plane. This was difficult for many. The staff and airlines were unorganized and scattered."
Pros: "A380 FLIGHT! Woo Hoo!"
Pros: "Smooth flight, staff very attentive, lots of great new movies to watch from"
Cons: "Staff kept reaching past me to shut my window without asking me first. Very rude."
Pros: "The crew we're good"
Cons: "Very less leg room"
Cons: "I wish the 777 had slightly wider seats like the A380"
Cons: "Mechanical problems delayed the flight 1 1/2 hours. Other than that, the flight was good."
Pros: "Supportive to my family needs traveling with 2 babies"
Cons: "I was offered an upgrade to 1st class, but not to my wife, I m thankful but had to decline the upgrade. I was hoping for more courtesy for an upgrade to us both as traveling couple rather than to one only"
Pros: "Everything except food"
Cons: "Food"
Pros: "The flight was not packed so I got three seats to myself to sleep. Emirates has a lot of little touches like glow in the dark stars stuck to the cabin roof."
Cons: "Couldn't locate the call button for flight attendants and the lines to the bathroom were long."
Pros: "Friendly cabin crew, new movies"
Cons: "Long wait after boarding before takeoff"
Cons: "Online Check-in didn't work properly, so we had to check in at the airport. They were understaffed and it took us over an hour to get through check in. The customer service was horrible, and we were only allowed to bring a backpack for a carry on, forcing us to check our one carry on bag. This made our two long flights uncomfortable with nothing to change into once we landed in Dubai and still had another 8 flight to Johannesburg. The flight itself was overbooked, and we then had to place our backpacks under the seats in front of us, giving us no leg room for 13 hrs."
Pros: "Comfort"
Pros: "Excellent food and serving"
Pros: "Nothing"
Cons: "If you want upgrade you should bay 2100 USD why it's a upgrade not new ticket !!"
Pros: "Smooth flight. Attentive crew. Good entertainment options"
Cons: "The toilet had no toilet paper so I used the paper hand towel and prayed it did not block when I flushed. The beef option was not that great. I should've chosen the chicken."
Pros: "The food and the entertainment was great! Very comfortable seats."
Cons: "The cuatomer service at checkin was rude and the gate staff in dubai was also very rude i will never fly with them again."
Cons: "hh"
Pros: "Staff was wonderful, food goood !"
Cons: "More you to stretch out"
Cons: "Food"
Cons: "Very good"
Pros: "Amazing flight to travel for long travel! Relaxing! Easy to adjust in the whole flight! Crew was giving an awesome service!!"
Pros: "Perfect"
Pros: "Everything from food to seating was quite comfortable."
Cons: "Boarding was a bit more difficult since they did not call boarding zones"
Pros: "I liked the options for entertainment and comfort."
Cons: "Crew and Boarding crew were not at all respectful, they were very rude."
Pros: "I slept well since I updated to business class."
Cons: "Service was awfull. Noticed the air hostesses showed discrimination while serving meals and attending the passengers like me. I had a very positive experience in the past but not on this trip."
Pros: "Cabin crew"
Cons: "Nothing i like even."
Pros: "Very helpful, attentive staff who made the flight as pleasurable as possible for us. One of the staff helped me switch from the full row I was in to an empty row which made the long flight so much more comfortable."
Pros: "customercare was good. Thank you."
Pros: "New aircraft."
Cons: "Not enough storage space. Beds not the most comfortable. No wi-fi."
Pros: "The crew and overall experience was great. Comfortable travel conditions and crew was very responsive and proactive in comfort."
Cons: "Food was mediocre, nothing special."
Pros: "excellent services thanks"
Cons: "services provided to impaired handicap persons ,need improvement thanks"
Cons: "I shouldn't be forced to change my seat just because a hostess told me to then she was rude to me because I didn't then I finally changed my seat and she was ok- I don't think this is appropriate"
Cons: "WiFi services were inadequate."
Cons: "Nothing"
Pros: "Very nice check in, because the people weren't rude. They accepted my luggage and gave me my passes."
Cons: "Everything was great!"
Pros: "Service, comfort"
Cons: "Too much costly for a Tuesday flight. But rest all good"
Pros: "Everyone was very plesant. The flight dinner was tasty."
Pros: "The environment was good and clean The food was on time and fresh"
Pros: "Had salmon which was amazing"
Pros: "The crew were friendly."
Cons: "wifi wasn't good - I couldn't connect. Wine choice wasn't good (white). Would have preferred a sav blanc"
Pros: "Crew v good"
Cons: "Food .. Fish undercooked ... Aircraft bit dated"
Pros: "The good was good and the staff treated us with respect."
Cons: "When I reached at Dubai l could not get a seat to come to Boston as they had overbooked. But it was a blessing for me as I was given a free round trip ticket from Boston to Kenya to use within one year and for that I thank you."
Cons: "Checkin process takes long"
Pros: "Courteous in-flight staff, delicious food."
Cons: "Long distance travel at single stretch on Chicago - Dubai sector."
Pros: "Service has become repulsive and terrible that a frequent traveling in Emirates like me for past 15 years is considering to find an alternative."
Cons: "Service, the interior and almost everything is poorly managed. The inflight after ringing the call bell for 10 minutes, was disgruntled to attend to us, literally screamed at us saying she was busy in the back and we need to be patient. She took an additional 10 minutes to bring us some water. Her attitude was inexcusable and offensive. I have been a loyal flyer making at least 2 travels in a year with Emirates and I'm ready to switch now."
Cons: "The temperature was set too high"
Pros: "Very friendly, courteous service. Boeing 777, spacious and quiet aircraft."
Cons: "Nothing!"
Pros: "Tons of entertainment options and $1 wifi. Don't expect fast speed but works for just fine for email and slow browsing."
Cons: "Flight wasn't booked, so people scrambled to take over middle sections. If you weren't in middle you were somewhat in a comfort trouble."
Pros: "Good crew lots of food and open bar."
Pros: "The Airport handling staff I happen to deal with in Chicago and Dubai were very courtios and helpful . Same goes with the in flight crew ....too good ."
Cons: "There's nothing I can think of EXCEPT , they did not give disembarkation cards to fill in the aircraft befitting landing which caused everyone lot of inconvenience after landing at Hyderabad airport ."
Pros: "Wonderful staff, service, food, drinks, entertainment Dubai terminal is amazing & stopover was worth it"
Cons: "10-across seating in a 3-4-3 layout on a 777 is unbearable for a 13.5 hr longhaul flight like Chicago to Dubai Passengers' arms ended up on top of one another in this totally full flight--hence "Armsie" class if you like to play armsie with strangers Fly only if you are very thin with narrow shoulders + hips"
Read more about Qatar Airways
Safety measures for airlines flying from Illinois to Durban
Airlines flying from Illinois to Durban have enacted additional safety measures and adjusted policies to better accommodate travellers. Policies vary by airline.
Heightened sanitation
Daily cleaning, installation of cabin HEPA filters on flights from Illinois to Durban
Mandatory masks
Masks required on board, masks provided on flights from Illinois to Durban
Social distancing seating
Middle seats unavailable to book on flights from Illinois to Durban
Pre-flight testing
Testing for antibodies, testing for symptoms for flights from Illinois to Durban
Book cheap flights from Illinois to Durban
Recent return flight deals
Search by stops
Search by airline
Search by price