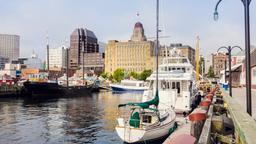 Find cheap flights from Durban to Canada
Search hundreds of travel sites at once for deals on flights to Canada
Top tips for finding cheap flights to Canada
Book at least 4 weeks before departure in order to get a below-average price.
High season is considered to be July and August. The cheapest month to fly to Canada is May.
FAQs - booking Canada flights
How does KAYAK find such low prices on flights to Canada?
How does KAYAK's flight Price Forecast tool help me choose the right time to buy my flight ticket from Durban to Canada?
What is the Hacker Fare option on flights to Canada?
What is KAYAK's "flexible dates" feature and why should I care when looking for a flight to Canada?
Top 4 airlines serving Durban King Shaka Intl to Canada
Scores according to KAYAK customer reviews
8,3
Qatar Airways
Overall score based on 10 971 reviews
Cons: "Wearing a face vizor on top of the face mask is silly"
Pros: "The portion for LAX to Doha was fairly comfortable and crew was helpful.. they kept running out of meal options by the time they reached us mid flight .. Doha to Bengaluru portion was less classy— the TV/ remotes etc didn't work well and overall service not as good .."
Pros: "Nothing"
Cons: "Be more professional"
Pros: "Qatar is the BEST First Class airline in the world."
Cons: "Everything was amazing!"
Pros: "Crew was awesome"
Cons: "Food quality need to improved"
Pros: "Amazing crew. Great service in economy."
Pros: "YES--best airline for sure!"
Cons: "Congratulations on achieving excellence."
Pros: "I got a very good seat."
Cons: "Qatar in Belgrade didn't tell me about alchocol bottle I bought in the Duty Free and that i could not go with it all the way to melbourne even bag was sealed and receipt was visible. I lost $ buying, because custom in Doha had to take bottle. Its not right. Qatar custom could see in Belgrade and didn't tell me and the same in the Duty Free shop."
Cons: "Thank for everything it is excellent"
Pros: "The crew was excellent. The plane was new."
Cons: "There was a limited choice in movies. Boarding and deplaning took a while."
Pros: "Everything is perfect"
Pros: "Food was okay and crew was okay"
Cons: "Seats were very narrow - Etihad has better seats. Entertainment system had poor sound"
Pros: "The Crew was only Alright this time, not has attentive jas the first Time, but still good"
Cons: "Overall IT was a great trip, but the Seat are still the best Selling point for business class, not vert confortable for a 7h et 12h flight"
Cons: "Te long transit time in Qatar."
Pros: "Many movies (entertainment) I got front seat with leg space (comfort)"
Cons: "Some water dripped from the ceiling on flight 736 Doha to Montreal, seat 37a. I am usually hungry on long flights and would have liked more food."
Pros: "Flight was 80% empty, but it was amazing anyway, slept through most of it"
Cons: "Staff constantly woke me up for snacks and drinks, which is good on one hand but I was sleeping so deep that it was a bit annoying."
Pros: "I liked that the flight was not full and I was able to use the entire row of seats and lie down as straight as possible to get some sleep. The crew was very friendly and allowed us to sleep most of the flight --- I guess they figured that most of the travelers prefer to just sleep and not be disturbed during a 15-hour flight. There was a good selection of movies and shows to watch to pass the time. I liked that there was time to go on the city tour of Doha and that there is a counter at the airport for the city tour."
Cons: "My flight started in Kathmandu and the layover for the connecting flight from Doha to LAX was 12 hours. I hope Qatar can come up with a schedule that will reduce the layover down to less hours while still giving passengers time to go on the city tour, if they want to."
Pros: "The other two seats in my row were not occupied"
Cons: "The excessive and second security checking at Doha"
Pros: "Q-suites and business class flight crew."
Cons: "Everything from check in up to boarding. Ground staff lacked hospitality. Disappointing frequent flyer program."
Pros: "Customer service"
Cons: "Food"
Pros: "the staff were friendly and accomplished good travel nothing was too much for them."
Cons: "nil"
Pros: "Nothing was spectacular."
Cons: "No lounge in Philadelphia took my Priority Pass. On the flight, the woman in front of me threw her chair back without asking and almost had hot coffee all over me. When I asked her to put her chair up, she got mad. She went to staff to insist she could put her chair back. I showed them that I was indeed in a back brace for a health condition and that I needed opportunities to move and shift, cross legs to release tension, etc. Staff sided with the rude woman, who, given the chance to move to an equal seat on the opposite aisle where she could recline, refused to move. I was very frustrated and have never been treated with such discrimination regarding my health concerns."
Pros: "I got free internet on this flight: sponsored by Ooredoo. You can get 8MB for free! Breakfast was good quantity"
Cons: "Entertainment Oryx One, lunch quantity aswell. FPML had one tray, VJML and AVML had the same packed wrap."
Pros: "Food and flight attendants were excellent in Business Class"
Cons: "Sitting near bathrooms was a bit noisy and difficult to sleep"
Pros: "Wonderful crew. Pretty nice and clean plane, I wish the normal distances between chairs were a bit bigger. My knees hurt. Flight was very smooth, landing seamless."
Cons: "Boarding in jfk is always a nightmare, and this was not any better. Huge crowds blocking the hallways, boarding started 15 minutes late, departed late - therefore arrived late and we missed the connection to Kiev, had to spend 8 hours in Doha."
Pros: "The insight service was good. Kind and welcoming attitude of the stewards are appreciated. There was no guile but genuine"
Cons: "Answers from the staff was felt by me from the time I checked in Dallas to Bangalore and back.I will travel again by Qatar airways only. Please buy the air India inc ."
Pros: "Good food and good hospitality"
Cons: "they need to do family section"
Pros: "I fly a lot, and I notice when things go well. There is nothing I can complain about with Qatar; their equipment is up-to-date; their service is first-rate; their record for on-time departures and arrivals is excellent, and their food is good! I will gladly fly with them in the future."
Pros: "B777 Dreamliner is dreamy. Lots of overhead luggage space. Decent leg room (could always be more). Great individual entertainment screen for long transcontinental flights. Flight staff was a mixed international crew, very friendly, unpretentious, polite and just nice compared to other airlines. The planes they use seem very new. Would definitely recommend Qatar Air over Aeroflot any day."
Cons: "Food was decent for airline food but nothing to rave about and as with most airlines uses too much plastic packaging. Although I was pleased that some of the flights used metal flatware, but still too much waste in the industry in my opinion. Also, the headphone jack was not compatible with my headphones. The type used on the 777 is the dual pronged one. I did not have an adapter so had to use the crappy headphones that are provided."
Pros: "Short flight, seat pitch OK and food adequate. Good crew."
Cons: "Bus boarding always chaotic"
Pros: "excellent service always a pleasure to fly with QATAR Airways"
Pros: "Overall nice"
Cons: "Same as above"
Cons: "Food poor- no variety"
Pros: "Office staff was cooperative Overall flight was good"
Cons: "Ground crew was rude in behavior - not all but briefing counter staff"
Pros: "Ease of boarding process,"
Cons: "Food while going to Hyderabad. Unfortunately, we have ordered Lacto Veg thinking they will provide milk etc. That food was horrible"
Pros: "We had requested wheelchair assistance. And the way helper was assisting us its not professional services. Which Qatar Airways promissi g to us."
Cons: "Helper was literally dragging two whelchairs at a one time. Means two passengers sitting on two different whelchair was pulled by one helper. I actually want to share video with airline so they will understand what they are promissing and what they are providing to their customers."
Pros: "It was a direct flight with good food and movies to choose from"
Cons: "Small cramped seats in economy"
Pros: "Crew was nice. Food was excellent."
Pros: "Good entertainment choices"
Cons: "One of the rudest check-in staff I have ever dealt with"
Cons: "Poor communication about transfers. I also had to throw away 20 pounds of things or get charge $800"
Pros: "'Low cal meal for you?' Sorry embarrassing. Nothing low cal really bread butter potato corn thing ... kinda gross, just ate rice which is not low cal. Still waiting for my luggage ... driver will now have waited over an hour... sorry ..."
Pros: "Ground Crew was friendly and did adjust my seating."
Cons: "Food quality was average. More choices needed."
Cons: "Boarding this flight consisted of minimal organization on the crews behalf, the Gate's security machines were off, people scattered everywhere with not enough seats to fit everyone. When entering the gate (with security machines turned off keeping in mind everyone has already passed general airport security and is only trying to enter the gate. Staff would direct passengers towards an attempt at creating a boarding queue. Once passing the gate doors and walking towards the queue directed by staff, it seemed to be a normal occurance to have another staff memeber shout at you and redirect you another way. Getting scolded by gate employees and requested to remove all electronics turn them on and being requested to remove most clothing items at the gate while everyone is watching with security machines off while only selecting a few passengers seems to be a regular occurnace in Doha & with Qatar Airways. People standing all around, no queues were initiated by staff, instead staff would push through passengers to get to the front instead of propretly annoucing the boarding through an intercom. No matter how loud staff was screaming their sounds were drowned out by the passengers which turned boarding a full translatlantic flight into a chaotic scene. Once on the flight I noticed the headphones provided were broken, I politely requested a new pair...from 3 different employees...which took over 20 mins to replaced. Qatar Airways prides itself on quality unfortunately as an economy passenger I have yet to experience any of that other than when it comes to good on flight entertainment."
Pros: "Qatar Airways Is Fantastic Service"
Cons: "Service and Food Selection"
Pros: "Qatar is not glitzy. Better than that, it was straightforward and relaxed and comfortable. Crew was pleasant and helpful."
Pros: "Qatar Airlines was amazing food was great and the flight attendants catered to passenger needs."
Pros: "First of all I have taken Qatar airways to Europe and US HOVER when it comes to Third world like Asia and Africa the send thier most dirty broken airline!!in thialand the pressure was not right according to pilot we stayed on the run way 4 HOURS offered water wrf.? No one communicated with US I think your airline is typical Arab mentality unless you are white I. E American you don't give a shot about your costumers this is the second arb line I droped I will never take ur plane ever!! When I got to Doha all they did was through stupid voucher for food missed my flight no apology rude as staff disgusted y their behaviour and lack of care missed imprtant meetings NEVER AGAIN RACIST AIRLINE TREAT WHITES WITH RESPECT IT NOT BLACK'?? REALLY WELL I I'LL TAKE MY MONEY AWAY THEN I will make Co viols decision to never fly with u"
Cons: "Everything racist disgustinget and never will take this airline nasty dirty broke down twice stayed in the plane for 4 hrs no one apologised"
Cons: "The delay from Bahrain to Doha. We delayed around 30 min. On the plane before take off."
Pros: "Flight was nice and on time"
Cons: "No toothbrush toothpaste and eyes shades provided"
Pros: "The crew was amazing"
Cons: "Nothing, absolutely loved it"
Pros: "Pilot does not waste time chatting. Still too much chatter (interrupting movies) but less than on other airlines."
Cons: "Entertainment system is Windows based and designed by a moron, especially CC behavior. Shows ads (LOTS) before each movie. Pops up window chrome every time you dismiss PA announcements. Very few movies/TVs (even those from the US) have CC."
Pros: "They were very supportive.. Thanks."
Pros: "I was happy with all aspects of the flight"
Pros: "The seats were very comfortable, good entertainment"
Cons: "Poor gluten free options"
Pros: "Great value"
Cons: "It took a long time to get a beverage and food"
Cons: "Emirates could do better!"
Pros: "Hotel stay on your long hold"
Cons: "Needs to improve in all sections"
Cons: "Vegan food was served with BUTTER how can this be vegan? NEED MORE Healthy options instead of Pan cakes etc made of Enriched Flour... Upgrades have become.alsmost nil. Emirates is making a huge profit but is not sharing with its passengers... had to wait one whole hour to get our baggage"
Cons: "The Crew could be more friendly"
Pros: "seats and entertainment"
Cons: "food. simple option"
Pros: "The crew was awesome, seating is never comfortable for a long flight."
Cons: "I do not recall any plane departing the dock on time. All Airlines need to work on boarding quicker and leaving on time."
Pros: "Service was excelleny"
Pros: "the people working on the plain and airport."
Pros: "We survived"
Cons: "Plane was cramped and old. We watched all of our luggage sit on the tarmac and told attendants who did nothing. Who knows when we will get it back"
Pros: "Flight delayed 7:16 hours"
Pros: "I must admit....this is one of the best experiences I have had flying and I fly this route a lot. I was traveling with an Elder who required a wheelchair and every step of the way it was smooth and the crew was attentive."
Pros: "The cabin crew are helpful. the in-flight entertainment is superb."
Cons: "The selection of food, the seat is uncomfortable"
Cons: "By the time the food cart reaches rear zones , there are not much left to choose from. It should be better managed so all passengers have a chance to pick the food of their choice."
Pros: "Everything"
Cons: "Nothing"
Cons: "Didn't leave the UK, volcano"
Pros: "I have been traveling with Emirates (and only Emirates) for several years. On board crew and food were excellent."
Cons: "Since the air craft was new WIFI was not yet available."
Pros: "I flew round trip on their flagship Airbus 380 from Toronto to Dubai, about 13-14 hours. Crew was great, plenty of food and drinks, about 3x meals, lost track of how many drink runs, maybe 5x. It was almost too much food & drink! The in-flight entertainment was great, touch screen was fantastic, USB port, even power outlet, on back of seat, plenty of entertainment choices from movies, to video games, to trivia, I even got a kick out of all the camera's mounted on the outside of the plane with all the flight tracking details available on screen, plenty of bathrooms. Its such a big plane it didn't even feel like you are flying. I'm 6'4" so I always choose an aisle seat so i can at least stretch one leg out, the crew was even mindful not to bump my elbow or even my leg when it was extended out into the aisle while i was asleep...which was more than accommodating to something I shouldn't have been doing! Overall Excellent, I wish every airline was like Emirates. They're bringing back the old school service and class airlines used to be like. I know people don't dress up while they air travel anymore, but I'll be dressing up the next time I fly Emirates! ;)"
Cons: "Nothing comes to mind."
Pros: "Seat was really comfortable and leg room was excellent. In flight entertainment will keep you busy."
Cons: "Nothing. Emirates are the best!"
Pros: "Pleasant n Polite crew, good service"
Pros: "Everything except boarding and internet"
Cons: "Boarding was chaotic they need to have better communications... it was a free for all! I did not at all like the way they make you think you are getting free wifi but in reality it's a hoax!"
Pros: "Overall very good"
Cons: "This seemed far different from emirate flights that I'm used to. Over the years their service has decreased but the 1 meal and sub-par snack I got for an 8.5hr flight was poor, likened to a budget airline. This is the second flight recently I've been on that the drinks come so long after the meal you don't even get to enjoy your cola with the meal. The first food cart should have colas if there won't be another cart to come along until 30+ minutes later. I also expected Emirates to provide an eye patch, an 8 hr+ flight in the night time hours in worthy of an eyepatch. Budget airlines do not provide this, but I expected Emirates to. Lastly, I don't think it's necessary to hand out a menu indicating there is something to look forward to when the food is of quite poor standards for Emirates, standard for all other airlines. Maybe the Durban to Dubai route stocks he flights with less experienced crew, this is the impression I got; a much less refined group of people on the plane."
Pros: "Boarding process followed at LHR #3 was well done and organized, made good use of passenger's time. Desk personnel at LHR #3 was professional, as was crew on aircraft into Dubai."
Cons: "No breakfast (had sticker on seat to wake up if needed) and ended up awake whole flight. Flight for LHR to Dubai did not provide breakfast although 1950 -> 0550 red-eye flight"
Pros: "Overall service and special attention to kids"
Cons: "Inadequate washrooms"
Pros: "The cabin crew"
Pros: "Nice trip"
Cons: "Every thing"
Pros: "Good flight attendants."
Cons: "The planes still seem dated on the interior, but entertainment system is expansive."
Pros: "The crew was great in everything that they did."
Cons: "Nothing"
Cons: "Everything"
Pros: "Everything"
Cons: "Nothing"
Cons: "In this flight the flight attendant thought she was doing us a favour,although seated in 26F,preference of food was finished,there was no Pepsi,and felt I was treated badly because of my color and dress mode."
Pros: "Everything"
Cons: "Nothing"
Pros: "Normal checking process completed and waiting at gate early."
Cons: "Flight initially was said to be 1 hour late and then it was cancelled altogether. There was no information about why and what are the next steps. People were just following blindly as the group moved, finally everyone was led out of the airport after immigration cancellation, then to baggage claim where we had to collect all checked in big bags and board a bus to take us to hotel . The hotel was good but getting there with the big bags for just a few hours and then the flight was scheduled for night (12 hrs later than original schedule) They could have just held the checked in baggage with them, or arranged an alternate aircraft to arrive sooner."
Pros: "Great service, comfortable seats, and great entertainment ..the food isnt too bad depending if ur not a picky eater, but overall its the best"
Cons: "N/a"
Pros: "More spacious and easy navigation on entertainment screen. Good food."
Cons: "Flights are always good but back office staff is always careless not to bother any complaints or never solved any complaints they do not care of customer bcoz they have business thier is no other airline right now but in future may be they loose customer like me"
Pros: "sitting and staff"
Cons: "food option"
Pros: "Crew members including. Ground staff were good. Food & Entertainment nice."
Cons: "At Dubai experience was not good. They kept our Boarding pass with them only. Could not converse with us."
Pros: "Up to date movies"
Cons: "The boarding in riyadh airport was crowded because it included all economy class travelersat once, it should start from A category till the last group. This should be rectified."
Pros: "Unlike most reviewers, I never have a good experience with Emirates.However, Crew (this time) was very accommodating and did their best to make this a comfortable trip."
Cons: "Boarding was delayed about 45 minutes. We were called to board but left standing in the tunnel while ground crew cleaned. We began to taxi and people were still storing their luggage and walking around."
Pros: "My ankle was fractured and the crew (both at the desk and in the plane were very supportive. My experience was better in India (as Delhi airport) than in Dubai and Boston."
Cons: "See above comments."
Pros: "So rude crew"
Pros: "Seats were very comfortable. Plane interior was in new condition, including electronic window shade tinting."
Cons: "Staff was not particularly warm or attentive. Was never offered more to drink, and after asking for more wine was ignored."
Pros: "Perfect"
Cons: "Nothing. Flight was amazing"
Pros: "Services is good ."
Cons: "Food can be better"
Pros: "The crew was professional & friendly"
Cons: "Food was terrible honestly, entertainment system didn't work on 1st flight."
Cons: "All of the less than good, obvious!"
Pros: "The crew tried to be helpful but were equally frustrated with the ground crew."
Cons: "Follow your own policies. Allow people to board (economy plus) with their hand luggage who have followed all the rules and chosen a seat in the front of the plane. My daughter and my KLM approved baggage were taken by the boarding crew while allowing other passengers to go with more than allowed"
Pros: "Planes were on time and connections made."
Cons: "One bag delayed as not put on flight and food could be better."
Cons: "Don't be late"
Pros: "General flight journey"
Cons: "Late departure. Rush to connect."
Pros: "Entertainment was amazing"
Cons: "Seats a bit hard"
Pros: "The crew was great but the seat wasn't as comfortable and didn't have much leg room."
Pros: "Nice aircraft"
Cons: "Unexpected refueling stop. 2 hr delay Lost connection Reached destination after 18 hr delay"
Pros: "Seating is tight. The crew was great !"
Cons: "As we landed we had to wait on the plane for an hour and a half because another plane (Spirit) was in our "parking spot." This made it very difficult for people and connecting flights."
Pros: "The crew was very nice"
Cons: "Uncomfortable seat but it's only a 1 hour flight so not a big deal."
Pros: "Smooth and faster than expected trip. I felt free to get up and walk around on this long flight. Food was good. I sat in seat with extra leg room for the first time and it was worth it"
Pros: "Crew was good"
Cons: "Food"
Cons: "I ordered Wheel chair for my parents but one of them didn't get it at all. When my parents were checking in for flight they asked the representative about meal selection and she didn't answer their questions properly and because of that my mom didn't get proper Hindu Vegetarian food on flight instead she got Egg omelet which she couldn't eat. She has to eat just fruits. My mother is a diabetic patient and she needs a food every after some time. I never had such a bad experience before with any other airlines."
Pros: "Short flight and being able to escape from drunk belligerent Passenger on previous flight"
Cons: "Nothing"
Pros: "Friendly hostesses"
Cons: "Flight was delayed 3 hours"
Pros: "Overall booking and airport was ok. Food was also actually quite good."
Cons: "A comfort of the seats... well its economy class in the end. Entertainment was just dreadful - small screen with visible pixels - I was unable to watch any movie."
Pros: "Shirt flight but well catered, boarding was efficient and quick."
Cons: "Not lots of legroom but adequate for an hour long hop. It was cold on board and also had to board via steps from outside"
Cons: "Very slow service at checkin, was not even available when I arrived at the airport"
Pros: "Restrooms clean, decent food and drink, nice cabin crew."
Cons: "No complaints"
Pros: "Friendly crew."
Cons: "So many people on a 747!!"
Pros: "I am so grateful to have been provided delicious and filling vegan meals on this long flight. Thank you for offering a dietary option that is compassionate toward animals and contributes less to climate change! Now if only the planes were powered by clean, renewable energy... Hopefully that will become a reality someday very soon! Oh, and also the crew on this flight was exceptionally kind and helpful. Thank you so much!"
Cons: "I did not enjoy the turbulence, which I suppose is unavoidable. More importantly, I felt quite guilty about the greenhouse gas emissions of my flight. I have decided to cut down on my air travel as much as possible as a way of reducing my carbon footprint."
Pros: "Travel on Crostian Airlines did not pappen. KLM flight to Munich was cancelled and I was rescheduled on Air Setbia to Belgrade, the Split."
Cons: "That it didn't happen."
Pros: "The flight crew was nice. Plane departed/arrived on time."
Cons: "I paid €60 extra to sit in the emergency door seat to get more leg room but once.i was in the plane learned for more leg room I accepted a smaller seat next to a bathroom and no entertainment. I could not store my belongings near me. No power outlet to charge my devices for my own entertainment on a 7 hour flight. Dealing with constant traffic for the bathroom. I sat in the middle seat between two hours other men. It was a constant struggle arm space. After 7hours in the air I could not wait to get off the plane. If I didn't actually pay an extra €60 for the seat I may not feel bad but I feel like I might have been better off without paying for the "upgrade""
Pros: "The staff were professional and friendly The food was very good and plentiful The inflight entertainment has lots of choices The bathrooms remained clean All in stark contrast with BA with who I did the same flight 2 weeks ago and all the above points were very poor"
Cons: "Nothing"
Pros: "Very friendly crew"
Pros: "Just great crew."
Cons: "Not comfortable at all and will not book KLM again."
Pros: "Short-hop flight, fit for purpose."
Pros: "Professional, welcoming and very friendly crew, well-maintained aircraft, comfortable seat and good food. Keep up the good work, KLM."
Cons: "Not much to comment on here."
Pros: "Wider seat than most business class"
Cons: "Row 6 in business is after the first 5 rows and Galley and restroom. Very awkward"
Cons: "The leg room on the long flight was less than I would have wished and it was particularly bad when the person in front put their seat back. this was a day time flight and it would have been good to have a bit more room to use a laptop."
Cons: "The bags where damaged from the staff"
Pros: "The cabin crew, the flight and communication and the cleanliness of the plane."
Cons: "It was really unclear which desk to use at Birmingham airport to check in. It was extremely stressful for a first time flier as I had no idea what to do - the desk location wasn't marked clearly and when no staff were there it wasn't clear that the desk was open."
Cons: "The fact that there are different airline carriers for one flight is hard. In my second flight they made me check a bag which was considered a carry on during my first flight"
Pros: "Food and staff were great"
Cons: "Entertainment system old and not as many options as other KLM flight. No power on aircraft for charging"
Pros: "Flight attendants tried their best given what they had to work with."
Cons: "They can not retire these old Boeing 747's soon enough. Due to mechanical problems, our flight arrived at LAXfour and a half hours late and further problems with the cargo door caused an additional one hour delay of our take off."
Pros: "KLM fed a sandwich even though the flight was only 2 hours. The crew was pleasant. Getting through the Amsterdam airport to catch a connecting flight with only an hour to do so was no big deal. Airport staff was pleasant and helpful."
Pros: "Very good flight, excellent service and good food."
Cons: "I requested low fat meals. The first one, was OK. But they forgot my request for the second one."
Pros: "The service, entertainment, food, the crew, the aircraft were excellent."
Cons: "They put us in a Transavia plane."
Pros: "Overall very nice flight, even comes with free drink and snack"
Cons: "I slept didn't have snack offered and no entertainment"
Pros: "Having exit aisle made a huge difference in comfort Crew were EXCELLENT"
Cons: "Food was not very good Tasteless and rubbery"
Pros: "A nice short flight"
Cons: "We had booked business on our flight to Milan, and it was extremely disappointing that on this sector they put us on the last seat in the back of the plane. There were plent of seats on this flight that had extended legroom. A bit of a mystery, why Westjet elected to put usin the last seats on the plane?"
Pros: "10 hour flight - I was well looked after, regular drinks, the food and snacks were good enough and tasty. The in flight entertainment was good - latest movies and worked a great variety of tv, books and movies. The airplane was modern and comfortable"
Cons: "I was in Business Class. The pillow appeared to be used on the flight from London to Antigua so i threw it on the floor in front of me. You would think with coronavirus it would be sealed like on American Airlines. No sandwiches or anything except some nuts and a small diet coke. I had to ask for a second one. It appears they only care about the people from London. Deplaning was from the middle door and it was a free for all. They have no idea about service well at least not in this leg."
Cons: "Pre boarding at the gate was slightly chaotic"
Pros: "Crew"
Cons: "American airlines connections were terrible"
Pros: "Good service"
Cons: "Old plane, no power chargers, cold during the flight"
Pros: "Again staff at mobility assistance were excellent! We were late leaving and pilot made uptime.They really seemed to care about passengers"
Cons: "Flight from heathrow to Manchester stopped it being excellent alll round as flight delayed over an hour"
Cons: "When allotting seats to seniors, BA could have been more considerate and not placed them in middle seats"
Pros: "Good service and crew."
Cons: "Seats were very very narrow."
Cons: "Baggage delayed on arrival"
Pros: "This was a charter by BA. Airbus A320 with amazing legroom. Was slightly annoyed by them not having coffee ( to wake me up for the drive home) but I suppose I get why they weren't serving hot beverages."
Cons: "The beverages thing above."
Pros: "Crew, food"
Cons: "I had to pay for the luggage. I thought it was included."
Cons: "I cannot even begin..."
Pros: "The staff was very friendly, professional and personal. Had a great seat with extra leg room and the washrooms were always clean. The staff were generous and prompt with the food and beverages and very accommodating."
Cons: "It was a long haul flight so the seat got a little uncomfortable near the end."
Pros: "The way the crew interacts with passengers one has the feeing that we were all one big family! Special hats off to Freedy who worked on this flight on my way to Canada and was very interactive with us , he made us felt really welcoming , as long as he has to give us his service , Staff keep up the good work. All of you did a fantastic job . Pilot did a great job a few pot holes that was out of his control but all in all a great flight"
Pros: "Good food great service"
Pros: "BA is reliable in many respects. 1- Timely 2- Friendly staff 3- Decent food served in a timely manner 4- In a BA flight, you know exactly what you get"
Cons: "The airlines are pushing people to upgrade with those ever shrinking seats. I had a slightly above average size gentleman seated next to me and the seat was so tight he had to totally take over the shared arm rest and our shoulders were rubbing most of the time. That's not a way to spend 9+ hours"
Pros: "Great flight"
Pros: "Comfortable seat, great food and service. Very quiet and smooth ride on the upper deck of an A380."
Cons: "Worst issue was the noisy baby at the front of the cabin - no airline seems to have a good solution to this problem!"
Cons: "My flight never happened due to the cancellation."
Pros: "Crew are really the highlight. Food and seats are good in business class."
Cons: "Boarding was a bit chaotic. Passengers were bunched up outside the departure lounge - not sure if there were lines or not. Got sorted when we got into the lounge."
Pros: "staff very considerate, decent food with several snacks in-between, would fly them again readily"
Pros: "The time schedule was right, no delay"
Cons: "Nothing to say really."
Pros: "Good staff and food"
Cons: "Seats could have been better"
Pros: "BA moved me on to the Kulula flight without any fuss and gave me a meal voucher."
Cons: "I got to the airport to find that my 19:15 flight had been delayed to 22:15. I hadn't received any notification from BA and still do not know the reason for the delay. The only other option available was for BA to put us on the 20:20 Kulula flight to Lanseria and then shuttle us from Lanseria to OR Tambo. It really is not pleasant to get back home so late on a week night and not even be given any warning or any reason for the huge delay."
Cons: "Service was incredibly slow Seats were tight No USB port or charger Tiny entertainment screens Forced to check laptop despite this not being a standard with any other airline for the same route"
Pros: "The flight attendants were great, helpful and polite. The food was delicious and there was planty leg room. A great airline to fly with and I'd highly recommend them."
Cons: "Nothing, all was great."
Pros: "Excellent vegan meal selection!"
Cons: "No Wifi, average movie selection, cramped space, 2+ hour delay (half of which was spent sitting on plane)."
Cons: "The food was not that good, the beef was like a brick and the service Poor , I asked for water twice, by the time it arrived I already had finished, same for bread I had to ask for bread, was not offer, if I didn't asked for the main course in the lunch portion on the flight they were taking away the tray after the salad and fruit, I did not like the salad, I tried mine and my Husbands that was salt restricted and they were Awful. I travelled business class, the flight was packed."
Cons: "Service is awful, last time I or my family using ba"
Pros: "The food was delicious and the meals spaced reasonably. The movie selection was very extensive. The crew was readily available for most issues that cropped up."
Cons: "An elderly disabled passenger was allowed to seat in closed off seating and store her canes under her seat causing them to jut out into the aisle. As she required a wheelchair to get on and off the plane they should have reseated her somewhere with more leg room and easier access to the restrooms"
Pros: "The quality of food let it down but crew cheerful and helpful throughout the flight!"
Cons: "Not good enough to let back of plane consistently have no choice of food because it has run out. Maybe alternate end of plane you start service to avoid this happening."
Pros: "The meals are delightful and the people are very respectful."
Cons: "Size of seats in economy"
Pros: "Online check in & boarding pass on your phone using BA app."
Cons: "Seats are quite cramped"
Pros: "Flight on time, flight attendants were great."
Pros: "Prop plane but on time with professional staff"
Pros: "Because of the cabin crew strike the old biddies pushing the trolleys were smart enough to give the passengers double the quota of wine to keep us quiet so we didn't mind the slow food service. I had an excellent flight sleeping thru half of it."
Cons: "The audio provided by the ear buds provided produced very poor results, probably causes long term hearing loss."
Pros: "Wonderful customer service and hot meal was a lovely treat!!"
Cons: "Missed flight due to connection delay"
Pros: "flight attendants excellent...food was not good.but Fri is were great. Thank you"
Cons: "Drinks service with no snacks, limited films just very much a cattle class experience like any of the big American airlines. Before, if given a chance and the prices being more or less equal I would pick BA over other competitors. Interior of the plane was slightly tired and needed better cleaning."
Cons: "Tried to change my return flight from Phoenix to Miami. Typical Legacy rigid inflexibility made it impossible."
Cons: "general boarding en mass.prefer orderly by "zone" boarding"
Pros: "The ground crew at checkin were friendly."
Cons: "The old aircraft that looked like it had seen better days. The old entertainment system that was jittery and crashed."
Pros: "Great crew good service, except a little unorganized at the gate. Best service I've gotten compared to other airlines I've experienced."
Cons: "Food was a little cold. Sitting in the middle of the row is the worst most uncomfortable in economy."
Pros: "I was seated on the upper deck of a 747 (63K) and had plenty of room. The cabin was quiet even though the plane was full. Service was excellent. I enjoyed the food. Cabin crew were great."
Cons: "The entertainment system was old and didn't have the selection of programs available on newer aircraft. Flight map was not at all detailed. Time for an upgrade BA! Boarding was a bit of mess. BA has so many different categories of who gets to board first that it got to be very confusing. People couldn't understand if it was their turn or not and people kept being turned away to wait their turn. It would be far easier if people were given a number from 1-5 like Air Canada and they call those numbers which are also printed on your boarding pass. I was flying business class and I think it a terrible cheek that they charge extra (in my case $129-$159 EACH WAY) to select your seat in advance. That's insane considering what I have already spent on the business class ticket. Seems like a money grab to me. I usually fly Air Canada, and this high extra charge will probably make me think twice about flying BA in the future."
Cons: "The low resolution screens and limited programming compared to other airlines and aircraft"
Pros: "Very organized. Weather delay due to fog was unavoidable but made up time enroute"
Cons: "Would have like a few updates at the gate, but staff did not update."
Pros: "Pleasant flight crew"
Pros: "Great food."
Cons: "Not much space for a long flight."
Pros: "Boarding was quick and efficient and the crew was friendly and very helpful. The one flight was on time, but the other can be excused because of a technical fault on the plain. Safety is priority #1 so although a 3 hour delay was not nice, i'd rather be safe than sorry!"
Cons: "The food was absolutely appalling on both flights... We received a cheese snack. It was an old sesame seed bun ,with a very thin, small slice of cheese which you could hardly taste on it. With that they placed cucumber, that does not add to the taste of the dish, but only makes the bread soggy. There is also a piece of lettuce on that is past its crunchy freshness it is supposed to have. The last ingredient is sun-dried tomato that was the only ray of light for a poor effort of a snack by BA. I can truly say that during the past year BA's in flight food service on local flights, are on a downward spiral and almost in the dumps."
Read more about Qatar Airways
Safety measures for airlines flying from Durban to Canada
Airlines flying from Durban to Canada have enacted additional safety measures and adjusted policies to better accommodate travellers. Policies vary by airline.
Heightened sanitation
Daily cleaning, installation of cabin HEPA filters on flights from Durban to Canada
Mandatory masks
Masks required on board, masks provided on flights from Durban to Canada
Social distancing seating
Middle seats unavailable to book on flights from Durban to Canada
Pre-flight testing
Testing for antibodies, testing for symptoms for flights from Durban to Canada
Book cheap flights from Durban to Canada
Recent return flight deals
Search by stops
Search by airline
Search by price