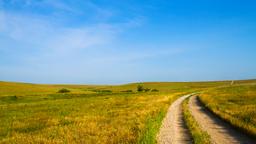 Find cheap flights from Cape Town to Kansas
Search hundreds of travel sites at once for deals on flights to Kansas
Top tips for finding cheap flights to Kansas
Book at least 1 week before departure in order to get a below-average price.
High season is considered to be June, July and August. The cheapest month to fly to Kansas is April.
FAQs - booking Kansas flights
How does KAYAK find such low prices on flights to Kansas?
How does KAYAK's flight Price Forecast tool help me choose the right time to buy my flight ticket from Cape Town to Kansas?
What is the Hacker Fare option on flights to Kansas?
What is KAYAK's "flexible dates" feature and why should I care when looking for a flight to Kansas?
Top airlines flying Cape Town Intl to Kansas
Scores according to KAYAK customer reviews
8,3
Qatar Airways
Overall score based on 10 971 reviews
Cons: "No gate for departure or arrival. No business class longe in Cape Town."
Pros: "Best crew we've ever had."
Cons: "Qatar website needs work"
Pros: "Boarding was smooth."
Cons: "The crew were not attentive. I needed milk for my child but they never came back. Their food was HORRIBLE and only two choices and both spicy and tasted disgusting. Honestly the worst flight for me with Qatar airways"
Pros: "Absolutely nothing."
Cons: "Everything. Firstly the flight was delayed, these things happen but nevertheless I end up missing my connecting Qatar flight to Belgrade, put into a horrible little hotel for 24hrs without my bag, no clothes or toiletries. At one point during the flight once everyone had their chairs reclined one hostess told me to not put mine so far back?!?! Then when asked well then person in front of me has to move theirs forward and her response no they don't. Absolutely shocking. To think I wanted to upgrade to business class. I'm traveling the globe over the next year and thought let me try Qatar but never again with this type of service and how they treat their customers."
Pros: "Always on time"
Cons: "Food bad. Much better taste at the lounge in Doha"
Pros: "Service was okay."
Cons: "Could have been more customer focused!"
Pros: "The food and entertainment"
Pros: "Crew is amazing"
Cons: "The Entertainment screen wasn't working"
Pros: "Attentive and efficient"
Pros: "Entertainment and food is always great with Qatar!"
Cons: "After I got in my seat an Islamic lady came and said that I was in her seat. I looked at her ticket and while it was the right seat number, she was on the wrong flight. I got a stewardess to help her. She had gone through 3 boarding pass checks and was still on the wrong flight. They let her fly!"
Pros: "The crew was amazing and delightful"
Cons: "The crew was amazing and delightful but should provide food to kids first before even those special diet or vegetarians."
Pros: "The plane was new and spotless, the crew did everything possible to make the flight great. Food service, and Wine and Cocktails were always served with a smiling face and it made you think of flying many years ago. Service cleanliness of the restrooms and staff were top notch"
Cons: "Nothing really."
Pros: "The A330, despite being an old plane, had really good recline."
Cons: "The entertainment was very outdated."
Pros: "Crew was very friendly"
Pros: "Food"
Pros: "wanted an isle seat because of back issues and was arranged without any hassle."
Cons: "17 hour transit in Doha and no accommodation was provided. Though I booked it from a third party I belive QA is at least responsible for making sure that the vendors let the user know that there will be NO accommodation provided. This information is also not readily accessible when searching online."
Pros: "perfect"
Cons: "better food"
Pros: "The Service is always great, entertainment system is great and the food is even good."
Cons: "I liked everything!"
Pros: "I liked that the flight was not full and I was able to use the entire row of seats and lie down as straight as possible to get some sleep. The crew was very friendly and allowed us to sleep most of the flight --- I guess they figured that most of the travelers prefer to just sleep and not be disturbed during a 15-hour flight. There was a good selection of movies and shows to watch to pass the time. I liked that there was time to go on the city tour of Doha and that there is a counter at the airport for the city tour."
Cons: "My flight started in Kathmandu and the layover for the connecting flight from Doha to LAX was 12 hours. I hope Qatar can come up with a schedule that will reduce the layover down to less hours while still giving passengers time to go on the city tour, if they want to."
Pros: "exellent in everything"
Pros: "The plane was relatively new, the original departure time was also slightly delayed, but overall it wasn't that bad."
Cons: "The hot food has some room for improvement, although it tasted good, there was hardly any vegetables in the chicken dish."
Pros: "The staff wad nice"
Cons: "I have requested sea food and I was told that no request was made and they do not serve it any more."
Pros: "Business class seats were comfortable."
Cons: "No WiFi, Poor list of shows"
Pros: "From the exceptional lounges to the cleanliness of the plane, the food options in business class and the flight attendants , Qatar Airways was excellent"
Cons: "The only issue was the movie options for the Hollywood options. There should have been more newer releases for such a long flight."
Pros: "Plane was clean and modern. Staff was very courteous. An overall pleasant flight."
Pros: "Great crew, as usual."
Cons: "Ugh, The seat in front of me had some box taking up 1/4 of my leg-room. I get that the box probably contains some crucial equipment, but can you at least round the edges so I can lay my leg against it without cutting off my circulation to my foot? Other than that, typical Qatar luxury (as much as you're gonna find in coach)."
Cons: "Flight was diverted to Kuwait, due to poor condition for landing in Doha and we loose connection to Bucharest."
Pros: "see above"
Cons: "see above"
Pros: "Entertainment"
Cons: "They re issued my boarding pass Doha, for Dallas flight and gave us the last seat on the plane, even though I chosed the seat at the time of booking. Food was ok, but when we asked for the chicken they didn't had it. It's an international flight of 15 hours with food shortage???"
Pros: "Exceptional staff, nothing too much trouble. The aircraft is new and all facitlies great. Will fly with Qatar again"
Pros: "Staff very friendly. Loved the adjustable headrest as I am shorter and this is the first time flying that my neck was so comfortable I didn't need my travel pillow! Food was excellent!"
Cons: "Nothing!"
Pros: "all"
Pros: "The crew on my side of the cabin was very good."
Cons: "Not having available air for the center seats made our flight a truly awful experience. The older style seats are actually more comfortable for taller and larger people. My wife was virtually ignored by the male crew on her side of the aircraft."
Cons: "It was all good"
Pros: "First of all, I want to preface this by saying that virtually every airline is better than the major ones working in the US (American, United, and Delta), and Qatar Airways is amongst this number. The entertainment selection was excellent, the best of any flight I've ever been on. The flight attendants were excellent, again, much better than those on American carriers (I am American, FYI)."
Cons: "The food was terrible. Of course, we know this about airline food, BUT I have been on Qatar Airways flights with GOOD food in the past, so I know it can be better. Also, I sat in the baby section, which also happens to be where they put long-legged people. This is no one's fault, but suffice to say, do NOT sit next to 4 5-month olds for a 15-hr flight! Interestingly, since all flight attendants were women, about 50% of the flight did listen to them since there were many conservative Arabs onboard from Qatar or Saudi Arabia (i.e., those who are taught not to listen to or respect women). This made for some frustrating sites to witness but it's obviously not the airline's fault. Poor women!"
Cons: "Plane configuration; seats were a bit cramped, knee space."
Cons: "I checked in a couple of hours after checkin open but unfortunately I could not get my preferred window seat, got a middle instead. But still the leg room would have been ok but the middle seat (second row behind the bilkhead row) had the front passenger's entertainment system arranged across the footwell, not sideways, so it completely blocked the footwell and prevented any stretching of the legs. I am a tall passenger and this caused much discomfort on the flight, I had to keep getting up to walk around. I also found the seat bottom quite uncomfortable (not enough padding I think), butnghis could have been made worse by the footwell issue. Regards Neil"
Pros: "Nt bad"
Cons: "Attendants were skiving at the back"
Pros: "Crew"
Pros: "Excellent service and aircraft! Top tier entertainment and food and wine."
Cons: "NADA!"
Pros: "Seat and space"
Cons: "Food was pathetic."
Pros: "The crew were highly welcoming and nice."
Cons: "The Oryx screens had a lot of glitches and the brightness was very poor. It wouldn't let me change the language and the controller was stuck."
Pros: "The entertainment was great."
Cons: "N/A"
Pros: "Crew was friendly. Flight left on time!!!!!! :)"
Cons: "Food was served too late. Unable to get a bottle of water as I was dehydrated."
Cons: "Only 1 meal on a six hr flight was stingy. - not even snacks. Unfriendly staff. No opportunity to choose seats despite checking in online the day before - we were allocated 2 adjacent seats but there were none others shown as available on the entire aircraft."
Pros: "The staff was amazing! I started I get a headache- probably because of low blood sugar, and one of the attendant provided me with constant water, ginger ale, and chocolates. It was so sweet- she didn't have to make sure I was okay, but she chose to our the kindness of her heart!"
Cons: "The cramped quarters. I had a very tall person sit practically on my lap the entire flight, as he leaned his chair back the entire time. It left no room for me to use the table for my laptop. I was fortunate that no one sat next to me on my first flight, but for the second one I was not so lucky – so I couldn't work on my schoolwork."
Pros: "Qatar Airways is a nice airline and it's obvious they work on making your flight a pleasant experience with a lot of food, entertainment, etc"
Cons: "My flight was delayed 4 hours upon initially arriving to the airport. While it was important for me to be there when I found out this information because I needed to reschedule my connecting flightso due to the delay, this should not be required. Qatar Airways, knew the flight was going to be delayed at least 10 hours before they announced it. They should have already began the process of rescheduling connecting flights and figuring out problems before passengers arrive to the airport. I probably spent 45 minutes at the ticket counter working things out."
Pros: "The Airbus A380 double decker was very roomy and a wonderful plane to fly on. I loved this flight and it seemed like the flight breezed past very quickly. They had all of the star wars movies so I was very happy. Oh and the kids meals on these flights are huge. They seem bigger than the adult meals. So your child will not be going hungry for sure."
Cons: "Boarding was very strange. We had a 4 hour layover. We had to stay out in the hallway until about 30 minutes before boarding began. This was uncomfortable for passengers as there were very few seats and many took to sitting on the floor. The segregated room for boarding had plenty of seats but was locked off for some reason. We literally only got into the room just 5 minutes before we boarded. I thought this entire process was very backward. They need to let passengers use the room for longer periods. It was pretty stupid that we had to sit on the floor because they wont allow people to sit in the room with the chairs..."
Pros: "The flight was smooth and on time."
Cons: "The plane is really small. I was injured as the person sitting in front of me let his seat back on my legs and caused my knee to swell. The guy sitting next to me was constantly yelling and was very rude to the flight attendants."
Pros: "Great crew! Very friendly!"
Pros: "Everything from hospitality to the ease of the flight. Captain communicated to put all at ease during this time in which this pandemic has gotten many fearful of flying. Great landing as well."
Cons: "Everything was great!"
Pros: "Being on time"
Cons: "Nothing you guys did great thankyou so much."
Pros: "Crew was very nice, professional."
Pros: "Standard boarding The plane was on time"
Cons: "Better boarding process.Such as the one used by Southwest"
Pros: "Great crew serving God beverages and meals. The was a variety of Entertainment from which to choose."
Pros: "surprisingly spacious seats. plane felt brand new. on screen entertainment was great, and relieved to have charging inputs for my device in the seat."
Pros: "Afert we have to comeback to the GATE in Atlanta,the next Aiplane was good and the flight was great."
Cons: "Well,the trouble was not the Crew or the Air Steward,but it was something wrong with the start the engine."
Cons: "Issues with connecting flights so had to sit in different place, seat was broken"
Pros: "The check in counter personnel was VERY UNHELPFUL. I was running late to previous Delta flight baggage delay. The counter person would not let me check in even though I still had good 45 mins before take off. AND THE PLANE WAS DELAYED BY 40 MINUTES ANYWAY! I never made the flight, had to take train."
Cons: "The entire Delta customer service was a nightmare. Delayed flights, literally lying supervisor who escalated a dispute, absurdly poor service. ASSISTING A PASSENGER WITH A TRANSFER TO ANOTHER DELTA FLIGHT AFTER THE FIRST ONE WAS DELAYED IS "NOT A GUARANTEED SERVICE". Seriously, it is basic courtesy!"
Pros: "Flight staff friendly and everything went smoothly."
Cons: "Always wishing for roomier seats."
Pros: "Boarding went smoothly and was dry efficient. 45 min flight. We arrived 12 min early."
Cons: "Trash in seat pocket"
Cons: "Going to Delta today to see if they can help me...we'll see!"
Pros: "the people were Awesome!!flight crew were very personable and easy to get along with, as well as get in touch with."
Cons: "where to start, I am not a huge overweight person. I have 26-28" shoulders and longer legs then most 5'-10" people have. That said, you should not be required to hold your arm out and hold the seat back in front of you so that you are not elbowing or shouldering the people beside you. sitting sideways on a seat I paid extra for doesn't seem like a great flight to me."
Pros: "The plane had more leg room and felt less confined because of higher ceilings."
Cons: "The 2 bathrooms in the rear are VERY narrow. I'm average size and barely fit. Also, the waiting area in terminal 3 at LAX is very crowded and noisy and the options for charging portable devices is minimal. I will definitely avoid Delta if I have to go through LAX."
Cons: "We thought we were flying AirFrance as our emails came from them and were surprised to learn after waiting in the AirFrance baggage drop queue for 30 mins that we were in the wrong place."
Pros: "Boarding from back to front. Making early boarders wait to the side when they tried to embark too soon."
Cons: "All the people standing in line prior to boarding."
Pros: "The fact that I was so relaxed."
Cons: "The food"
Pros: "Food and service was amazing."
Pros: "The counter assistant change my seats and my wife and me seat together"
Cons: "Hot cabin"
Pros: "Late, crowded, bumpy"
Pros: "seat was fine."
Cons: "A/C was blowing right on our heads. Asked to have the A/C turned down. They said sure. The nothing. Asked again? Nothing. 3rd time, my neighbor and the people in the seat ahead told them that we were ll cold. Nothing! I was sneezing by the time we landed."
Pros: "The flight was smooth and on time. We even arrived a little early in Rochester."
Cons: "LaGuardia Airport was the worst airport I have ever been in. It was so crowded that people were sitting on the floor! The gates are squished together with totally inadequate seating. It was extremely noisy."
Pros: "The crew were nice and friendly. The plane was new with lots of amenities"
Cons: "The new plane has NO leg room at all. It's the worst leg room i've Experienced for such a large plane. I'm 6'1" and my knees would only fit if I spread my legs wide and sit back deep into the chair."
Cons: "Flight was delayed over 1hr."
Pros: "flight attendants"
Cons: "As soon as we all were boarded we where told there was a mechanical issue. Sat on the boarded cramped flight for 2 hours until issue was fixed. If there was a mechanical issue then the plane should've not been boarded until it was fixed. Much rather have waited in lobby for 2 hours than on a plane with no food and water. Or at least alllowed us to deboard while issues where resolved."
Pros: "Seat was upgraded."
Cons: "The boarding process is quite confusing with all the different categories of people prior to the actual listed "zone" boarding. As an example, if you have a "Zone 2" boarding pass, you think you will be second to board when in reality that means you are second to last to board. After those who need extra time, those with small children, active military, premier, whatever.... all that covers about 2/3 of the passengers. Then of course there's all the stepping over those who already boarded which seems to slow the process overall. It would be better to ask these questions when making your reservation. Then, the zones would be appropriate based on how you made your reservation to begin with."
Pros: "Nothing"
Cons: "The leg room is ridiculously small."
Pros: "Once we boarded the plane, we still had to wait for the pilots to arrive and then for them to run through their pre-flight checking before we could get underway."
Cons: "The flight was delayed and the departure gate moved at the Atlanta airport 3 times to 3 different concourses before we were finally able to depart around 1 hour later than scheduled."
Cons: "Gate attendant was extraordinarily rude"
Pros: "it was easy to navigate ."
Pros: "Very comfortable and great crew."
Cons: "N/A"
Pros: "Nothing"
Cons: "Let me just say that I'm a loyal Delta costumer until now. The flight attendants (the two women) were an absolute nightmare. They were so rude and condescending. I was carrying with me my service dog and a bag containing an expensive medication (it couldn't go on the top bin). Despite being in the comfort class and having the seat next to me empty, we were tight for space. The flight attendants were unreasonable and forced me to put my medication on the top bin despite the fact I had told them it was extremely delicate, that it that to go upright, and that I needed to keep it with me. They did not listen and pressured me into giving them the medication. The medication could have easily gotten broken. Thankfully it didn't but this is no way to treat a human being."
Pros: "They gave me extra pretzels and 2 cans of soda"
Cons: "The seats were awful.. Miniscule"
Pros: "Delta never used to be my first choice in airlines, but of my recent experience with them has been excellent. The people from the counter to the plane have been professional and courteous. This is why I will fly with them more frequently."
Cons: "Planned my trip for my birthday/10 year anniversary. The first leg of the trip, flying from ft Lauderdale to atlanta was ok except for the pilot having to circle around bc he was too close to the airplane in front to land. This made us supposedly late to our connecting flight which by the way was not supposed to leave before 8:10. My husband and I arrived at the gate about 10 minutes before only to be told that the door was locked. Needless to say, we weren't the only ones. When we got up to the desk, the attendant was extremely rude. I was having a conversation with my husband about a dog that had just passed us . She immediately made her way into the conversation asking me what i was saying. I told her I was talking to my husband about the dog and under her breath said : " I'm sure you were." I then told her that i was more than sure about what I was talking about. We get booked on another flight and my seat was the only one without a working monitor. We asked the suitardess to see o If there was anything that could be done They tried to reset it to no avail. Since we didn't say anything else, it was forgotten about. My husband shared his screen with me so that I wasn't totally bored on the flight. Not the way I wanted to start off my birthday but I'm glad that nightmare is over Delta really needs to retrain their employees on customer service bc it leaves a lot to be desired!"
Pros: "The flight attendants were incredible the flight was great the movies for good great for our flight"
Pros: "Service was exceptional, flights were on time and in some case, early, and communication throughout was clear!"
Pros: "Polite and thoughtful crew took care of our needs. Beverage service came through at least twice. Crew persevered through difficulties with the in-flight entertainment system and finally got it to work for us. :)"
Cons: "N/A"
Pros: "Nothing"
Cons: "I'm a frequent flier and was treated poorly, seated in the last seat and last row despite paying more than $1,000 on ticket. Awful."
Pros: "The flight got us from Anchorage to Atlanta on time."
Cons: "No A/C vent controls for each seat. No reading light for seats. No flight attendant call light buttons were accessible. NO WiFI or video entertainment. Coach plus seats were just like the rest of coach, just in front of them. Seats would not adequately recline. The plane was still PACKED."
Pros: "Flight Attendants!"
Cons: "When flight arrived late, the plane then required maintenance. After boarding, we were told the fuel vehicle was out of fuel. A small fuel truck was then called in, and it failed to operate. The Captain made a decision to deboard due to outside temperature with little air-conditioning...amd mid-deplaning...fueling was complete amd passengers were told to go back to seats. Flight Attendants were amazing throughout this incompetent ground crew ordeal.!!! Captain was Great as well...his effort kept all informed and sought the best possible outcome for his passengers!!!"
Cons: "Late"
Pros: "The crew was great and nice. Very professional and clearly made safety number one."
Cons: "We had an issue with the rudder that led to an aborted take off. Then when we finally got to RDU the ground crew was not available to marshal the plane in."
Pros: "singing crew member, especially nice for Mother's Day"
Cons: "This flight was on a Transavia codeshare with Delta and a real downer after coming from a Delta One business class segment. An uncontrolled mass boarding, crammed in seating, no amenities and charges for a drink of water made this a pretty crappy flight. The crew was nice though."
Pros: "Great helpful​ happy staff, made you feel welcome. Good atmosphere and peaceful. Food excellent."
Cons: "On transatlantic flight , seats comfortable but inadequate recline for a night flight and no footrest."
Pros: "Frequent food offerings throughout the flight."
Cons: "Boarding the plane was not easy. We had to show our passports to a man who quizzed us on where we were coming from, where we were going, and asking questions about our luggage. After that we had to go through another security point and scan our boarding passes, but most people could not get through with our boarding passes, so we had to get in another line to show our passes to our agent. It was very stressful since we were running late since the border control line was so long! While it was stressful, I am glad that they were careful regarding the security,"
Read more about Qatar Airways
Safety measures for airlines flying from Cape Town to Kansas
Airlines flying from Cape Town to Kansas have enacted additional safety measures and adjusted policies to better accommodate travellers. Policies vary by airline.
Heightened sanitation
Daily cleaning, installation of cabin HEPA filters on flights from Cape Town to Kansas
Mandatory masks
Masks required on board, masks provided on flights from Cape Town to Kansas
Social distancing seating
Middle seats unavailable to book on flights from Cape Town to Kansas
Pre-flight testing
Testing for antibodies, testing for symptoms for flights from Cape Town to Kansas
Book cheap flights from Cape Town to Kansas
Recent return flight deals
Search by stops
Search by airline
Search by price
Cape Town - Kansas Flights