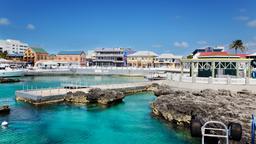 Find cheap flights from Cape Town to the Cayman Islands
Search hundreds of travel sites at once for deals on flights to the Cayman Islands
Top tips for finding cheap flights to the Cayman Islands
Book at least 3 weeks before departure in order to get a below-average price.
High season is considered to be June, July and August. The cheapest month to fly to the Cayman Islands is March.
FAQs - booking Cayman Islands flights
How does KAYAK find such low prices on flights to the Cayman Islands?
How does KAYAK's flight Price Forecast tool help me choose the right time to buy my flight ticket from Cape Town to the Cayman Islands?
What is the Hacker Fare option on flights to the Cayman Islands?
What is KAYAK's "flexible dates" feature and why should I care when looking for a flight to the Cayman Islands?
Top airlines flying Cape Town Intl to Cayman Islands
Scores according to KAYAK customer reviews
7,2
American Airlines
Overall score based on 45 730 reviews
Cons: "Almost 2 hr delay - put fuel in a wrong tank."
Pros: "Crew members were okay"
Cons: "Wifi could be better"
Pros: "Very friendly and accommodating."
Cons: "tv screens on the back of seats"
Pros: "Crew was amazing, we were well-fed and service was great!"
Cons: "Captions for the hearing impaired, but not possible unless there are individual TV's. I understand that this was an older plane--a "classic." Hoping that entertainment will become more accessible in newer planes"
Cons: "More comfortable seating. Fortunately this flight was also late in departing so I was able to make the connection!"
Pros: "Yes"
Cons: "Dunno"
Pros: "The crew was fantastic and very nicely got us into an earlier flight and allowed my wife and I to sit together for our 10th anniversary"
Cons: "The entertainment apps were difficult to use"
Pros: "WiFi entertainment system."
Cons: "Hard seats, no arm padding. No power to recharge phone and iPad."
Cons: "American Airlines continues to lag in their ability to proactively communicate updates to their customers. Then to top it off, they lack empathy and a true ability to accommodate customers."
Pros: "Crew on board are great."
Cons: "American keeps canceling and changing schedules. They cancelled flight section and took it out of my itinerary. Then took over 3 calls and 2 hours on hold to fix."
Pros: "I was on time"
Cons: "Compensation for your mistakes"
Pros: "On time"
Cons: "Gate D60 is the gate from hell. I was told to go to a different number gate 3 times, and no direction board to reference. Worst airport ever. The staff are rude and could not understand most overhead announcements because their accents and talking super fast."
Cons: "2.5 hour delay on the ground - very poor communication from Crew"
Pros: "Nothing"
Cons: "The spacing between rows, the aisle and size of seats were terrible. I will go back flying British Airways and Lufthansa!!!!!"
Pros: "The crew was good"
Cons: "Paid $330.00 +/- for a one way ticket. Some how i messed up on the date and had it for 8/3/18 instead of 8/2/18. Had to pay an additional $500 + for the change. I understand that the fault didn't lie with AA, however, the rate for changing the ticket borders on the ridiculous. I have to travel quite a bit as of late for work, I am doing all i can to Avoid using American. There were others on the flight that paid for first class that didn't pay as much as me and i was stuck in boarding group 6. It really feels as though American is only in it for the dollars, not the customer service."
Pros: "We got to our destination aver 12 hours late."
Cons: "In addition to being rebooked approximately 12 hours after our original flight, this flight left about 40 minutes late."
Pros: "The trip was fast and efficient. The crew was very friendly and we had no issues."
Cons: "lots of branding stuff-watching any video had you go through 3 minutes of commercials. I must have watched the same commercials over 20 times."
Pros: "It was a really fast flight. Twenty minutes from wheels-up to wheels-down."
Cons: "Plane is more suitable for passengers under 5'11". At 6'7", I wasn't an ideal passenger!"
Pros: "Crew friendly.Flight arrived early.Boarding was smooth."
Cons: "Seats not comfortable."
Pros: "The plane had really soft, puffy, comfy headrests. These were the best headrests I've ever encountered on any flight. I wish these were on every plane."
Cons: "1. Departure gate gets inexplicably moved to an entirely different concourse. 2. Gate agent offers to check bags through to destination, then when I go up, offers to gate-tag my bag. Why did you say you could check the bags through, then? 3. The long, ridiculous AA boarding process consisting of 9 groups and 2 short lanes, taking about 20 minutes to get 30 people outside. 4. 30 people wander around outside on the tarmac, trying to find a sign for Albuquerque. 5. BAGGAGE HANDLERS tell some of the passengers that the planes have been switched, and we should now board the plane marked Flagstaff. 6. Gate agents come outside, receive information from -- again -- BAGGAGE HANDLERS -- and then tell everyone to go back inside. 7. Once inside, gate agents tell passengers they have no idea what is going on, where they will be departing from, or when. 8. Gate agents tell passengers to go through the (long, ridiculous) boarding process a second time, and get on the second plane on the left. 9. A couple of PASSENGERS remind the gate agent that the baggage handlers specifically said that plane was not going to Albuquerque. 10. Gate agents change their minds, and tell passengers to get on a different plane. 11. We finally get on the damn plane."
Pros: "Each of the flights arrived on time"
Cons: "Documentation initially was a bit vague around which legs of the 2 Stop Flight would be handled by American and which would be handled by Latam though that is probably more of the website problems"
Pros: "Arrived slightly early. The crew was efficient and friendly. The interior and seats looked new."
Cons: "Nothing was negative."
Pros: "Too many commercials on the TV before being able to watch the show."
Cons: "The aisles are not wide enough and people continue to hit me with their luggage and hand bags. Always the people waiting block the entrance of the gate when it is time to board."
Pros: "Everything went smoothly."
Pros: "Courteous professional staff!"
Cons: "I couldn't imagine a smaller space for traveling - rediculously small!"
Cons: "Coach seating is too tight"
Pros: "Crew was outstanding"
Cons: "Hurried beverage service since arriving early. R"
Pros: "Everything."
Cons: "No problems."
Cons: "Good flight!"
Cons: "Boarding chaos at Miami airport."
Cons: "Flight was 4 hours delayed"
Pros: "I usually don't like or at the meal in coach, but I had a ravioli pasta dish that was great. Also the wine was a much better quality then what I have been getting on the other airlines."
Cons: "On my particular row of seats the power outlets were dead. The flight attendant tried to reset, which reset the entertainment but the outlet remained dead. Used the USB port to charge."
Pros: "Timely I have no complaints. The flight went well."
Cons: "Timely I have no complaints. The flight went well."
Cons: "Seating. Plus our previous flights on American were horrible. Too many delays to note. (Late plane, mechanical issues, boarded anyway, sat on plane 2 hours, sent to a new gate, delayed, boarded, sat on new plane 2hrs waiting for food truck (chips), etc. Trip from hell"
Pros: "Quick and easy boarding"
Cons: "Uncomfortable seats"
Cons: "crew did not pick up the food tray for a long time crew borderline corteous"
Pros: "Boarding was quick, but rushed."
Cons: "- plane was extremely hot, no A/C until boarding was complete and on the runway. So about 45 minutes of heat. - no entertainment units - no food, just pretzels and cookies, one drink - seats not comfortable, even with Main Cabin Extra"
Pros: "Crew was very friendly, flight arrived ahead of schedule, planeside check-in for baggage was expedient"
Cons: "The plane departed at least 15 minutes late but the departure time was never updated to indicate the flight was delayed...even when it was ten minutes past the beginning of boarding and the plane had not even arrived yet. Felt like an exercise to improve flight scorecard performance. The flight landed at least fifteen minutes early...but we didn't have a gate..and ended up departing the plane​approximately on time...but planeside checked baggage took almost thirty additional minutes to finally return to the plane full of waiting customers. Felt way too long....and the ground crew didn't seem to appreciate that most people had a connection..."
Pros: "Fabulous crew and service, absolutely fantastic."
Cons: "Having to get off!"
Cons: "Crowded seating, smaller seats."
Pros: "Efficient boarding. Plane clean. Seats lean back far but that being said the individual in front of you ends up in your lap."
Cons: "As night went on a couple of the flight attendants in the premium cabin seats with standard legroom appeared grumpy and short with patrons. No gluten free options. In flight entertainment and reading lights not working for my dad or I. A long flight for that to be out."
Pros: "Entertainment was free."
Cons: "Had to wait for mechanical issues so we were delayed."
Pros: "All"
Pros: "Boarding was smooth. Flight was on time. Some weather en route but pilot was able to avoid the turbulence. Overall a good flight."
Cons: "Unrelated to the flight- but immigration and customs in Grand Cayman was slow. 200+ people arrived on this plane and there ware 4 immigration agents although they had more stations. We spent about a half hour in line in each- immigration and then customs. Rental cars is another situation to be aware of regarding insurance."
Cons: "American delayed the flight 7 times before cancelling it. They then put me on a flight 7 hours after the initial departure time. That flight was delayed 7 times and then they cancelled it. I wasted 10 hours at the airport."
Cons: "Horrible disorganization at boarding. Board from back to front for goodness sake...its common sense."
Pros: "The flight attendant was nice"
Cons: "The flight was delayed by almost 2 hours. Then when we got on the plane we sat on the runway for over 2 hours. We weren't offered any food or beverage until after 2 hours of sitting on the runway. First class was given drinks before the plane even went to the runway. They were very inconsiderate of us in coach. First class was more important. All we got was a drink and crackers after 2 hours of sitting on the runway"
Pros: "While waiting to board an American pilot sat next to me and was very pleasant. I appreciated his conversation."
Cons: "Delayed getting out of Sacramento. The connection anxiety was intense. we landed as my connection was boarding. De-planing was chaotic and un informed. Seemed like we stood a good 10 mins before the doors opened...some info would have helped. Sometimes they give the gate numbers and everybody on that plane needed to go somewhere. the attendants were not helpful, the one announcer had an accent, a little hard to understand and asked that we all be kind...ok that I can do."
Pros: "The flight was on time!"
Cons: "Boarding and deplaning always takes a long time."
Pros: "Had the whole of 3 seats to myself. Was a fast and pleasant and direct flight. Flight attendants gave me the option to take the row. Nice of her."
Cons: "Food selection and tastiness ... room for improvement."
Pros: "It's actually United airline in service. The first flight from Brussels to Washington, everything was great! The crews were amazing, food was surprisingly good. The flight from Washington to Los Angeles was extremely terrible, crews were rude and impatient. Service is like budgeted airlines."
Cons: "More comparable service throughout the journey."
Pros: "No, uncomfortable seats and cramped, forced to check bags"
Cons: "Another airline"
Cons: "When flight is delayed (by taxing for 45min or delayed take off of 3h40) allow passengers who are trying to connect disembark first."
Pros: "Pilot spoke with confidence and crew handled delay will"
Cons: "options for new rider poor"
Pros: "Lots of leg room!"
Cons: "The seats to close ,tv did not work"
Pros: "It got us to London. My bags were quickly available."
Cons: "The seats were SO. UNCOMFORTABLE. I didn't sleep at all and have a headache because of them. Absolutely atrocious. The food was meh. One of the flight attendants was so rude I dreaded every time she headed over. I'll be flying with Delta in the future."
Cons: "Storms in Newark caused a huge delay - not the airlines fault, they did the best that they could in the situation."
Pros: "Service was good"
Cons: "Delay of over 1-1/2"
Pros: "The flight from BHM to DEN (my connection) was re-routed due to poor weather in DEN. What was supposed to be a 3-hr flight, turned into a 5-hr flight. Thank goodness my layover was originally 3.5 hrs, so that extra time in the air cut into that wait time at the airport, but at least waiting at the airport would allow me to move around and stretch my legs, and not be stuck in THE tiniest plane seat I've ever experienced."
Cons: "Being stuck on the plane for 2 hours longer than the original flight time of 3 hours made my legs ache. The seats were SO incredibly tiny, and there is very little room in the pocket on the back of the seat in front of you. You can't fit a water bottle, and barely my tiny purse or e-reader device. Please do away with these super-tiny seats."
Pros: "Crew on board was good"
Cons: "United intentionally overbooked first class. Told me that I would have the privilege of taking an economy class seat for the same price I paid for first class. Then were stunned I was not thrilled with their generosity."
Cons: "Flight was canceled"
Pros: "Quick boarding, friendly, well done"
Cons: "None"
Pros: "Flight left on time, landed early and the staff were excellent."
Cons: "The entertainment options were limited having to purchase wifi, and the seats did recline very much."
Pros: "The crew and flight attendant were very courteous and engaging. Great customer service. I noticed a gentleman who was boarding the plane and asked for some water and the attendant dutifully and courteously provided him some very quickly."
Pros: "On time"
Pros: "I liked that the suitcase was stowed"
Cons: "Waiting 11 hours for a flight to Portland"
Pros: "The crew was efficient"
Cons: "The entertainment couldn't be downloaded without their application"
Pros: "Staff was friendly"
Cons: "Flight was delayed 100mins and lots of turbulence in flight"
Cons: "My flight was delayed (not due to weather) almost 4 hrs"
Cons: "Delays hrom Houston toCR"
Cons: "Our flight was an hour and a half late. The seats are very new on this configuration is perfect. The entertainment system is old and you pay for everything."
Pros: "the personnel were polite and personable and eager to help"
Pros: "flight made me too tired to like anything"
Cons: "flight delay"
Pros: "Fast flight"
Cons: "Taxiied longer​ to the take off area than the actual flight time. One woman asked if we were driving to Austin."
Pros: "The crew were anxious to please"
Cons: "Temperature was warm and we were given a smaller version of the cheese and cracker option. Accessing the entertainment wasn't easy and it was only available on ones own personal device. There were no screens anywhere"
Pros: "Efficiency, punctuality, courteous service"
Cons: "Small aircraft, for the sector."
Cons: "Customer service"
Pros: "The people on the plane were friiendly enough, the customer service once we were on the ground was terrible"
Cons: "United Customer Service Blamed weather for a delay, I am a pilot and didn't see any weather delays posted for Newark. Even if there was weather, they didn't hold our outbound flight and missed it by 15 minutes. Didn't comp us for a hotel, had to stay in Jersey out of pocket, Jersey is busy, dirty, smelly, and overcrowded. Not enough infrastructure for the people. We were lucky we got there 2 hours prior to flight time and had TSA Pre Check."
Cons: "They flight left an hour and thirty minutes late so I missed my connecting flight now I'm stuck in the airport overnight NEVER FLYING UNITED AGAIN"
Pros: "Comfort of business class was ok"
Cons: "No vegetarian food. Delayed flight by more than 4 hours :-("
Pros: "Not applicable. Do love the size of the Tulsa airport and ease to get to United gates. Yummy waffle snack!"
Pros: "Got to destination safely"
Cons: "Don't fit in the seats at all I am 6'7" tall Person in front can't recline And I don't fit at all"
Pros: "Smooth ride and on time staff was great"
Cons: "I didn't like that I had to pay for my luggage that was really horrible they find anywhere to nickel and dime you but glad they let mine be a carry on"
Pros: "All fights.. On time made it home safely Friendly crew both ways.."
Cons: "Entertainment should be easier to access.. And Free!!"
Pros: "nothing"
Cons: "they have the worst customer service."
Cons: "They kept pushing back take-off, pretending we were going to board, and then rambled into the microphone so no one could hear what they said."
Cons: "1hr late to board because of a missing flight attendant. They could not get replacement for an hour."
Pros: "Great movie selection and functionality."
Cons: "You had to download the app prior to flight to use entertainment."
Pros: "Same as above"
Cons: "Same as above"
Pros: "There was one really nice flight attendant but it looked like she had to do everything! I never saw the other person who was supposed to help her."
Cons: "We were stuck on the Tarmac when we arrived for an hour. They said it was because of lightning but the storm had passed in 20 minutes so for 40 minutes it was just raining. We had no idea what was going on."
Pros: "On time. Organize boarding"
Pros: "The flight itself was uneventful and went as expected."
Cons: "We were instructed to hand in our hand luggage before boarding the plane which meant we had to wait in a long one after the flight to get the luggage back. HOWEVER, the plane had plenty of overhead luggage room to accommodate our luggage. We were told by the cabin staff that the gate personnel don't always check what size plane it is before requiring everyone to hand in their luggage."
Pros: "Crew was so friendly and helpful"
Cons: "I couldn't watch the movie on your website. It kept buffering. I also had a very limited choice on movies since I didn't have the app. I was very uncomfortable in my seat."
Pros: "The crew for the most part was friendly and courteous!"
Cons: "I appreciate that the pretzels/peanuts/sodas/juice come with the flight; however, the quality of the choices were low in my opinion. I recommend if possible food/snack choices that are organic, non-GMO and/or all natural."
Pros: "The crew member was ok."
Cons: "????¿"
Pros: "The crew was excellent"
Cons: "They change my gate departure Three time I less than two hours I have a bad back is hard for me to move around that fast."
Pros: "I cancelled this flight.....not sure why Kayak keeps sending me these emails."
Read more about American Airlines
Safety measures for airlines flying from Cape Town to the Cayman Islands
Airlines flying from Cape Town to the Cayman Islands have enacted additional safety measures and adjusted policies to better accommodate travellers. Policies vary by airline.
Heightened sanitation
Daily cleaning, installation of cabin HEPA filters on flights from Cape Town to the Cayman Islands
Mandatory masks
Masks required on board, masks provided on flights from Cape Town to the Cayman Islands
Social distancing seating
Middle seats unavailable to book on flights from Cape Town to the Cayman Islands
Pre-flight testing
Testing for antibodies, testing for symptoms for flights from Cape Town to the Cayman Islands
Book cheap flights from Cape Town to Cayman Islands
Recent return flight deals
Search by stops
Search by airline
Search by price
Cape Town - Cayman Islands Flights