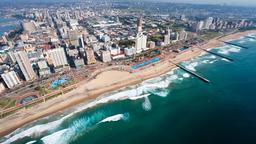 BUD - DUR
Find cheap flights from Budapest to Durban
Search hundreds of travel sites at once for deals on flights to Durban. Bundle your flight + hotel and save!
FAQs for booking flights from Budapest to Durban
How long does a flight from Budapest to Durban take?
Which airports will I be using when flying from Budapest to Durban?
How does KAYAK find such low prices on flights from Budapest to Durban?
How does KAYAK's flight Price Forecast tool help me choose the right time to buy my flight ticket from Budapest to Durban?
What is the Hacker Fare option on flights from Budapest to Durban?
What is KAYAK's "flexible dates" feature and why should I care when looking for a flight from Budapest to Durban?
Top airlines flying Budapest Ferenc Liszt Intl to Durban King Shaka Intl
Scores according to KAYAK customer reviews
8,3
Emirates
Overall score based on 15 482 reviews
Cons: "I wish the 777 had slightly wider seats like the A380"
Cons: "Food."
Cons: "Crew didn't manage noisy passengers at business cabin"
Pros: "Food"
Cons: "Service, boarding, entertainment system was old difficult to navigate"
Pros: "Lamb and chicken were good but kids didn't like the kids meals.."
Cons: "2 of the female crew members had attitude problems when asked simple questions by passengers. One was an Urdu speaking flight attendant and the other was a blonde woman. Regret I didn't get their names. Please work with them on being nicer with passengers."
Pros: "Everything was excellent."
Pros: "Seats weren't all that comfortable."
Cons: "Service and meals were good."
Pros: "Leg room was excellent I even enjoyed the meals nice to have real cutlery rather than plastic Very efficient and smooth boarding Return of checked luggage upon arrival was prompt and efficient Flight attendants were super conscientious, friendly and VERY professional"
Cons: "Everything was GREAT"
Pros: "Smooth flight"
Cons: "I wished I was in business class..."
Pros: "Friendly cabin crew, new movies"
Cons: "Long wait after boarding before takeoff"
Pros: "ICE is amazing, excellent food also in economy, comfortable seats."
Cons: "If you sit on the double seats in the back you have to wait a lot to get off the plane."
Pros: "Boarding was efficient."
Cons: "The crew was non existent when something was needed, and a flight attendant tried to move us from our purchased seats to accommodate a woman who moved 3 times. While the attendant was mistaken; he insisted on seeing disturbing our sleep and asked to see our boarding pass as if we were not being honest. All that he said was , "oops, wrong row" and moved on as if nothing happened. No apology, nothing."
Pros: "Food, staff, flight"
Cons: "Cabin luggage limit, too long layover"
Pros: "The a380 business class was the greatest flying experience I ever had. Second to NONE! Must try and book if possible. I fly a LOT and this was just absolutely amazing."
Cons: "Nothing really! Although they do run out of food options so sit as far in the front as possible."
Cons: "there is a technical issue with the headset input and thus the entertainment system did not work."
Pros: "The staff was quite helpful in many ways and checking in was easy with online booking. For an economy flight, the quality of the food was good."
Cons: "I found it difficult to navigate the screen on the airline. Everything else was fine and I am happy with the airline."
Pros: "Smooth flight. Attentive crew. Good entertainment options"
Cons: "The toilet had no toilet paper so I used the paper hand towel and prayed it did not block when I flushed. The beef option was not that great. I should've chosen the chicken."
Cons: "Before I start my complaint I would like to say that my family and I had 6 emirates flights this year and 5 of those flights were very good and we thoroughly enjoyed our traveling with emirates but this 1 flight came out to be the worse flight of my life. I made online check-in and chose our seats and all was successful but when we reached the airport and I opened my app, it displayed that online boarding pass was not available. After moving slowly in a long queue, when I reached near boarding counters, an official checked my name in a list and informed that there was some new tax applied on us and thus I had to visit counter 5 or 6 to pay that tax. We joined the queue of counter 5 but it was not moving at all and I noticed some people being served at counter 5 who were not in the queue, thinking that counter 5 might take longer, I joined counter 6 queue where there were only 1 family and 1 passenger ahead of me, for next half hour we stood there but that queue didn't move. Finally after some time another counter called me, he confirmed that I had made online check-in. We were given boarding passes and were asked to wait for tax processing, After another 15min, we were given all papers and were requested to move to the immigration counter. After immigration when we were going through final security check, the emirates official asked me to hurry up, I showed him that the security process was going on in front of him, upon that he asked why I was late to airport, I informed him that I made online check-in and I was required to be there 90min before the flight but I was there 150min before the flight and it was in front of him how long the tax processing took, upon that he said that I should have been at the boarding counter 240min before the flight and that I should be aware of the facilities at the airport (although it was my 1st time there). I had not made any complaint on what had happened so far to anyone and I was not rude to anyone although I was with my wife and 1.5 years old son who was crying coz of warn weather and thirst, we couldn't provide him with water coz we were standing in queues all the time. But hearing such comments from Emirates official were quite unbearable but still I stayed calm and reached at the gate. When I handed over the boarding passes, I was told that my boarding pass was missing and I was quickly blamed by emirates officials that either I reached there without a boarding pass or I had lost it. When they checked in their system it showed that I was already boarded, I understood that they gave my boarding pass to someone else but they kept on saying that I had lost it and also informed the same to plane crew, then they made a manual boarding pass for me and let me pass the gate. We were the last passengers to enter the plane. When I reached at my seat, there was someone else sitting there, upon taking attendant's help, it was discovered that the passenger sitting there had my boarding pass."
Cons: "Food"
Cons: "Very good"
Pros: "entertainment, legroom"
Cons: "unacceptably atrocious customer service by crew at checkin. i was starting to think i accidentally got a wizzair ticket instead of emirates. shockingly poor manners."
Pros: "Travelled Business Class - a great experience."
Cons: "Slow to board."
Pros: "Everything from food to seating was quite comfortable."
Cons: "Boarding was a bit more difficult since they did not call boarding zones"
Pros: "Total service extended was very nice"
Pros: "Business class entertainment and comfort very good."
Cons: "Service was very bad. I had to get up to go get drinks and rarely saw the steward."
Pros: "Pleasant n Polite crew, good service"
Pros: "Food and entertainment"
Cons: "Tiny seats. No leg room. No storage under the seats."
Pros: "Very nice staff. The journey was very smooth"
Cons: "NA"
Cons: "The connection in Dubai was horrible. The 30 minute bus ride is so ridiculous. It's very difficult to even find the Business Class Lounge. No greeters. No signage. Terrible service. Even pajamas are not provided in Business Class --- unlike on Qatar Airways."
Cons: "Overall handling of delay and missed connection flight was disappointing. The meal voucher that was given was of no use. Absolutely disappointed with the overall handling of the situation that day."
Pros: "Entertainment system is good"
Cons: "Comfort. Cramped and crowded. Crew doesn't enjoy their job."
Pros: "Fantastic flight from start to finish lax to dubai. I was offered upgrade to business class from economy for $1000 USD which was well worth the cost as the 15 1/2 flight can be tough in economy. The a380 is smooth, much more quiet and is pressurized to lower altitude than most planes so you do get off feeling more refreshed. Service and food were good and the inflight entertainment is first class with hundreds of movies on demand."
Cons: "Took 50min after deboarding for luggage to arrive at baggage claim but I'm told that's not the usual and emirates staff were there to apologize and let us know of the unusual delay."
Cons: "I did not get the seats I selected when booking"
Cons: "Seat assignment and boarding process"
Pros: "I love the experience of fly with kayak and look forward to many more"
Cons: "Nothing. Everything was expected from a good flight."
Pros: "This was a short flight, but still they served coffee, tea, and food. Amazing."
Cons: "Not much to say. All was fine on such a short leg of the trip"
Cons: "Nothing"
Pros: "Nothing! An old vintage 777 flown with bad entertainment systems. Remotes were not working properly. Screens were rebooted again and again. Very very old aircraft. Poor maintenance"
Cons: "Nothing! An old vintage 777 flown with bad entertainment systems. Remotes were not working properly. Screens were rebooted again and again. Very very old aircraft. Poor maintenance. An extremely poor show my emirates who call themselves a premier airline and this was a POOR SHOW!"
Cons: "The touchscreens on the 777s were a bit unresponsive."
Pros: "travel was pleasant"
Pros: "The crew were friendly."
Cons: "wifi wasn't good - I couldn't connect. Wine choice wasn't good (white). Would have preferred a sav blanc"
Pros: "I love the wide variety of beverages. I also enjoyed how many times they passed through the cabin to offer us drinks."
Cons: "I have been on the newer planes and the TV functionality is great. However, the older versions have poor quality TVs with horrible functionality. The touch screen does not respond to your finger and sometimes you can't even get the remote to work. They definitely need to update the technology on all planes."
Pros: "Very comfortable flight. Had a few hours sleep also. Very happy."
Pros: "Nothing"
Cons: "Awful"
Cons: "Flying east from Brazil by Emirates to join my friend in Dubai and then not allowed on the aircraft because I missed the gate by 5 mins. The next flight was two days later!!!"
Pros: "I liked the lounge access and the crew were all nice. Entertainment options were good."
Cons: "the business class seats were cramped compared to other airlines i've used before. The wireless touchscreen controller on my seat was unresponsive and so frustrating."
Pros: "Crew v good"
Cons: "Food .. Fish undercooked ... Aircraft bit dated"
Pros: "I loved the hospitality and the attention to detail throughout the flight."
Pros: "service"
Cons: "none"
"There was no flight. Flights got cancelled. Kayak or British never informed us. I had to call so many times and wait hours to get to talk to someone. Made my vacation pretty bad. I still havent heard from anybody. No apologies, nothing. Just horrible!"
Cons: "How many people allowed to travel per plane during COVID"
Pros: "The crew was attentive and friendly. The seat was relatively comfortable. My special meal was good."
Cons: "I was frustrated with the entertainment system. I watched one film, and that was fine, but immediately after, I could no longer watch anything, even the film I watched previously, and it turned out that something had happened to all of the screens in my central section. Even after rebooting the system, it would not work again."
Pros: "Overall good flight"
Cons: "Free snacks and drinks"
Pros: "good food"
Cons: "the entertainment system is outdated"
Cons: "Offer water or soft drink without buying it."
Pros: "Food and in-flight entertainment.0"
Pros: "Great pilots and communication. Good boarding and gate crew."
Cons: "No entertainment, limited drink service. Flight was rerouted and very poor reimbursement provided."
Cons: "We Flew business class. Very ordinary."
Pros: "New planes, good food, professional crew."
Pros: "It left when I needed it to"
Cons: "Price. Crazy business fare for a very tight uncomfortable coach seat. No entertainment. Food was pretty awful."
Pros: "The crew"
Cons: "The seats seem to get smaller and smaller and on the short flights, you do not even get a free drink."
Pros: "Boarding was fast."
Cons: "Not even a complimentary cup of coffee or tea, just tap water."
Cons: "Sat near the back. Pre dinner drinks ran out before they got to us. When they came back with more, they skipped us by starting further back. We brought that to their attention and got our drinks, but they never offered drinks again."
Cons: "Flight was delayed"
Pros: "Nothing."
Cons: "Because of the weather in London the flight from Budapest was delayed over an hour. By the time we made it to the connection flight in London they closed the gate and never made it our next leg. We got rebooked and made it to New York where we were supposed to get a hotel room. Never happened. Sleeping on the floor in the terminal."
Pros: "Two seats next to me were free!!! Food was good!"
Cons: "Luggage delivery at HFK was extremelly slow!"
Pros: "comfortable seat, tasty food, pleasant attendants"
Cons: "Overly focused on pre-birding security while handling it in a very amateur way in Bud. Water and Food service offered for lunch and then not even a glass of water for 8 hours. Poor entertainment options."
Cons: "Entire trip was cancelled due to a missed connectio in Chicago on Sept 3 and inability to rebook because all flights were overbooked the following day."
Pros: "Who would guess - the food."
Cons: "reading lights were never fixed during flight."
Pros: "The crew on this flight were awesome!! They were friendly, warm, and very accommodating throughout the flight. Legroom was decent and overall flight was comfortable."
Cons: "There could have been more options with the food. Because we are vegetarians we were stuck with pasta and pizza-related food for the 11 hour flight. Quality of food was good however."
Pros: "Food and entertainment was good."
Cons: "The flight was delayed over and hour and then we waited on the tarmac for about 45 minutes, all the while having to keep our shades open and the cabin was hot."
Pros: "Only marked down on food and enteritis was a short haul flight so none provided as expected"
Cons: "Virtually impossible to feel comfortable that I had successfully checked in. The app kept telling Facebook me I wasn't checked in. AND when I went to review the checked baggage policy to make sure I didn't have to pay for my first checked bag (there was a "YES" notice on a prior screen that made me wonder), the app didn't give me a way to "return to finish check in". Quite unsatisfactory in this day and age. Otherwise, the flight was lovely."
Pros: "British airways allows a roller carryon and a personal carryon, even for this cheap flight."
Pros: "The crew was very polite and nice."
Cons: "I have never seen seats with such little leg room."
Cons: "My flight from Budapest departed late (for unspecified reasons), which caused me to miss my connecting flight at London Heathrow."
Pros: "Boarding was smooth, aided by being one of the last to board as I was relaxing in the lounge! Boarding was started earlier than listed and complete by the boarding time, long before the flight was due to leave. Crew were polite and courteous, even going to some extra effort to get me a semblance of a meal."
Cons: "Booked this flight every last minute and didn't order a Vegan option at the time. Was flying business over lunch time so a meal was served. However there was no vegetarian option on the menu. I expected there to be a vegetarian option at least, and I would work around my dietary choice, but with no vegetarian option, this was impossible to do. In the end the crew managed to rustle up something from the Crew meal and I was able to then have snippets of meal segments that suited my requirements. How could this be prevented in the future? Make available a vegetarian choice on all meal served flights. A Meat eater can eat vegetarian at a push but not the other way around. I know if might be too much to ask to make that a Vegan option as standard, because then every one can eat it, but just putting that out there."
Pros: "Staff"
Cons: "Seats are uncomfortable and dusty/worn. Food is below average. Lounge is the worst of all among all the London lounges. Food and beverage in business lounge is like a school cafeteria level."
Cons: "Arrived a day late and fly on an old plane"
Pros: "almost nothing"
Cons: "waiting long time for check no meal on board"
Pros: "Behavior of board personnel"
Pros: "Great staff except for the idiot who kept walking back and forth with his loud shoes purposely seeking attention. Good wasn't so bad as typical plane food."
Cons: "Flight was delayed. Not many entertainment selections."
Cons: "Didn't not make it the flight because the Wheelchair took forever to pick us up from there a aircraft"
Pros: "Seats were much more spacious than expexted. Must have been an older plane where they did not bother to reconfigure the seating"
Cons: "Surprised to find that beverages were no longer free. Took for ever to deplane, just made my connecting flight."
Pros: "The crew was friendly."
Pros: "Updated flight info by kayak ."
Cons: "Delayed flights and missing baggage"
Pros: "It was replacement flight by Qatar Airways. I wish they would replace all BA flights."
Pros: "The trip was adequate in all aspects for a short haul flight"
Cons: "N/A"
Pros: "Crew and boarding was fine."
Cons: "The plane was 30 minutes late. We had to circle around Heathrow a few times before got permission to land. After landing we could not get to our gate for an extra 15 minutes.."
Cons: "I didn't have a flight to Baltimore. This was a booking error; one of many mistakes AA made in a 24 hour window."
Pros: "It got me to LHR alive."
Cons: "It was freezing. They thought they were transporting penguins instead of people. Everybody was wrapped up un blankets, jackets and hoods. So uncomfortable for almost 7 hours."
Cons: "at least they could have given us some water or juice free of charge"
Pros: "Very old 777 that was also dirty. Food was lousey. BA has turned into a low budget airline"
Pros: "Happy stewards"
Pros: "Clean plane"
Cons: "We booked World plus, extra money, and they put us in the last row against wall where the seats hardly recline. I complained but we were well into our flight when we told the stewardess she did not get back to us regarding changing seats. She came back about 20 minutes laterwith unacceptable seats,far from our overhead and we could not sit together. We declined. My husband had to board early because his foot was in a special brace after recent surgery. They could only move him to a center seat where he would hae to risk someone stepping on his foot. We are 70 years old.We had one small meal on an 8.5 hour flight."
Cons: "No complimentary drink / snack / sandwich on a ~2 hours flight that travels at lunchtime."
Pros: "Staff all very pleasant."
Cons: "Forced to check carry-on bag at the gate at which point they apparently gave me a baggage claim ticket with someone else's name on it. Because of all the uncertainty when they decided to do this, it was not caught until the bags did not show up at my final destination. They were however very pleasant while incorrectly marking our bags."
Read more about Emirates
Safety measures for airlines flying from Budapest to Durban
Airlines flying from Budapest to Durban have enacted additional safety measures and adjusted policies to better accommodate travellers. Policies vary by airline.
Heightened sanitation
Daily cleaning, installation of cabin HEPA filters on flights from Budapest to Durban
Mandatory masks
Masks required on board, masks provided on flights from Budapest to Durban
Social distancing seating
Middle seats unavailable to book on flights from Budapest to Durban
Pre-flight testing
Testing for antibodies, testing for symptoms for flights from Budapest to Durban
Book cheap flights from Budapest to Durban
Recent return flight deals
Search by stops
Search by airline
Search by price
Budapest - Durban Flights