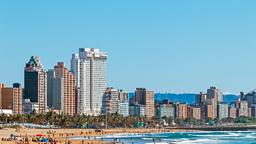 Find cheap flights from Belfast to Durban
Search hundreds of travel sites at once for deals on flights to Durban
When to book flights from Belfast to Durban
Top tips for finding a cheap flight
High season is considered to be November, December and January. The cheapest month to fly is March.
FAQs for booking flights from Belfast to Durban
How does KAYAK find such low prices on flights from Belfast to Durban?
How does KAYAK's flight Price Forecast tool help me choose the right time to buy my flight ticket from Belfast to Durban?
What is the Hacker Fare option on flights from Belfast to Durban?
What is KAYAK's "flexible dates" feature and why should I care when looking for a flight from Belfast to Durban?
Top airlines flying Belfast to Durban King Shaka Intl
Scores according to KAYAK customer reviews
8,3
Qatar Airways
Overall score based on 11 034 reviews
Pros: "Yes loved it"
Pros: "Very comfortable and enjoyable flight"
Pros: "Crew were so much helpful, really appreciate, my wife got sick, they have been amazing"
Cons: "Seats be little spacious"
Pros: "The seating was very uncomfortable and cramped I"
Cons: "I'm really not sure. The seat felt like I was sitting on a rock and I had a lot of trouble moving so as not to disturb the person seated next to me."
Pros: "Crew is amazing and very courteous. The seats were very comfy and food was awesome. Thanks."
Pros: "The crew was really nice and very attentive."
Cons: "Getting on and off the plane took some time, but doesn't it always? Economy class was slightly more comfortable than many other airlines, but nothing to write home about. Qatar Airways really shone in the food, the service (both onboard and off) and the entertainment. Good experience."
Pros: "Flight attendants were very polite."
Cons: "The seats could be more wide."
Pros: "It was like flying in a Four Seasons but better."
Cons: "Boring movie selections. 80% Marvel films."
Pros: "On time departure and arrival. Hard working crew members."
Cons: "No slippers for long flights."
Pros: "Crew is amazing"
Cons: "The Entertainment screen wasn't working"
Pros: "Every thing"
Cons: "Service"
Cons: "Delays twice which cost me lots of stress and taxi $"
Pros: "Everything is perfect"
Pros: "Yes"
Pros: "amazing"
Cons: "better food"
Cons: "Our flight was delayed from Hyderabad to Doha and they did not allow us to board the flight as connecting flight from Doha to Dallas would have been left. They did not have seats for next day , the earliest we could go was 2 days later. They did not apologize or compensate for delay."
Pros: "Efficient, and courteous,seats too were comfy, neat amd clean"
Pros: "Everything"
Pros: "Food was quite good along with service"
Cons: "No entertainment or tv monitors - 6 hours of no movies!!!"
Pros: "Everything was perfect !!"
Pros: "The plane was very new and wasn't crowded."
Cons: "The arrival time was slightly delayed but overall it was okay. The hot food again can be improved as the chicken dish had no vegetables (even though there was a side salad dish). The waiting lounge at Doha airport gate was a bit cramped, and the bus ride from the gate to the aircraft was also a bit long."
Pros: "Overall the flight went well. Flight attendants were attentive and boarding went fairly quickly and flight was smooth."
Cons: "The bathrooms ran out of water. Not a great movie selection and almost didn't have any choice for lunch."
Pros: "Polite crew, food was pretty good."
Cons: "Did not have the duty free item I pre-ordered. I asked the crew 4 times about it, four times because they said that they would check but they never got back to me to tell me that it was out of stock; until I pressed the issue."
Cons: "Seat didnt fit to me."
Pros: "The on flight entertainment is great. It's very accommodating especially for long flights."
Cons: "Onboarding was ridiculous. They merged two gates together with no instructions to the large crowd of people boarding the plane. We were scheduled to start boarding at a certain time and we didn't actually board until 45 minutes later. When we asked the attendants when we would begin boarding and did they have any instructions they were extremely rude, laughing with one another and taking selfies. When we we asked for the third time they brushed us off with a time frame. It was extremely disappointing."
Cons: "Poor service, long layovers with not enough lounge space. Misguiding customer service"
Pros: "The visit to the lounge is always refreshing. The service at the shower area is great however policing of people using phones in the quiet zone should be enforced"
Cons: "The good got used a bus gate which is acceptable however this typically takes additional time if there is a connection flight"
Pros: "I fly a lot, and I notice when things go well. There is nothing I can complain about with Qatar; their equipment is up-to-date; their service is first-rate; their record for on-time departures and arrivals is excellent, and their food is good! I will gladly fly with them in the future."
Pros: "Crew were great and sincere"
Cons: "Qatar gave problems changing flight for emergency purpose and had produced all documents but they wanted further documentation which could not have access because at,a foreign country. Felt they don't care and it was all to do with money which had to pay."
Pros: "Good food. Great staff and service"
Cons: "I wish there was more seating room and unusually long waiting time for toilets."
Pros: "Great service and excellent flying!"
Cons: "Food was a bit dry"
Pros: "The cabin crew, the cabin crew, the cabin crew. Enough said. They are thoroughly trained and exhibited unparalleled professionalism"
Cons: "Ground/baggage handling in ATL. Bags took 40-50 minutes to show up on carousel. The ground staff at ATL dropped the ball when everything else was going so smoothly"
Pros: "Unfortunately..."
Cons: "...as mentioned, I don't have the pleasure of rating this flight because of the boarding delays and missing the flight. Very disappointing."
Pros: "Very nice arrangements, the seats were comfortable, the food was delicious, and the staff could not have been more hospitable. I would be delighted to fly with Qatar Airways again."
Cons: "Dely to time"
Pros: "Friendly crew, good entertainment options"
Cons: "Nearly empty flight and twice got assigned seat in very front with screaming child. Going had to move to nonreclining seat after 1st 12 hour flight. Assigned last seat in plane going even though short layover - had to run after 12 hours on plane since got last bus to terminal and waited, waited, waited for final passengers, not fun. Way back flight changed and no accomodation made (a lounge, room, anything) for 7.5 hour layover "you'll just have to hang in there" in middle of night even though others on my tour with same issue in dubai got a room included. With added stress of going through qatar which i booked because of longer layover so wouldnt miss connection just before political decree announced, i will do anything to avoid qatar again despite the very friendly crew. And having to wrap my camera equipment to check it, get extra insurance, such a pain."
Cons: "The Qatar stuff at Nairobi airport was very rude when I tried to ask for their help. She was extremely inpatient and showed us angry face. Totally disappointed and not expected from an airline claimed to be one of the best."
Pros: "Everything is good"
Cons: "Everything fine"
Pros: "Seats were roomy and leaned back quite comfortably. The gluten free meals I had were fantastic, which I've never said before of an airplane , even regular meals."
Pros: "Flight was not crowded, room to stretch out. Food and service was good."
Cons: "Difficult boarding procedure."
Pros: "Excellent service on all 6 legs of the itinerary. Great selection of food and wine and entertainment. Superb seating layout in business."
Cons: "Frankly nothing!"
Pros: "food"
Cons: "Worst customer service ever seen in my 15years of flying experience. Initially charged $1000 for 3 tickets for modification of return trip - confirmed the same and tickets issued (i'm fine with this). But, after i made arrangements for new date, I got a call saying calculation error and asked to pay another $500 leaving me no choices. How can such a reputed airline have no tools to calculate the pay? Other airlines offered one-way for half of the price i paid. On top of it, online helpdek promised front line seat to satisfy me but nothing was offered even if i ask explicitly. Simply declined saying i am not in priority list. Why do they make false promises? Friends, Just don't fly in Qatar for food....."
Pros: "Very comfortable seats with lots of space and pillows blankets and other ammenities. It was a 13 hour flight and the staff came by many timea with drinks and snacks"
Pros: "The Steward on this flight was excellent. Very attentive and pleasant. He asked at the end of my flight how was everything. Food was good ."
Cons: "This flight was better than the flight going out to Doha , then to Abu Dhabi. You guys were late landing,and as a result I almost missed my connecting flight, was rushed thru the airport like a lunatic by one of your Reps. Then was told my luggage may not be in Abu Dhabi when I arrive, which it was not. My paid for seat wasn't available and had to sit in the back. Had to fill out a lost luggage report in Abu Dhabi. Was promised my luggage by 4:30 pm . Didn't receive it until 2:30 am next day. Missed my whole first day of vacation as I had no clothes , toiletries, etc . Very angry, and feel I should get a substantial discount on my next flight in March to Dubai. Totally unacceptable !!!!!!!"
Cons: "This was also a good flight it was just a bit more cramped than the Qatar Flight Los Angeles to Doha so I preferred that flight over the Doha to Singapore"
Pros: "Boarding on time. Crew was very nice except food option."
Cons: "My wife didn't get veg food she is looking for. We asked crew and they said they don't have."
Cons: "Worst customer service"
Pros: "Overall the flight was great"
Pros: "Crew great"
Cons: "No social distancing enforced, I was sat next to another person (no spaces between booked seats)"
Cons: "old, worn out plane, outdated. Very tight connection in LHR, I made it but my luggage didn't."
Cons: "Missed our connection because of problem w jetway"
Pros: "Nothing British airways was fine"
Cons: "Your website messed up and booked my flight for the wrong month. I booked sept 20 2019 and your site errored out. Eventually it booked the flight but apparently it was for oct 20, 2019 and I couldn't get a refund because it was through kayak not British airways. I'm never using kayak ever again"
Cons: "Nothing"
Pros: "The crew was fantastic"
Cons: "It took 3 people to check my bag something was wrong with the system ... the airplane was super hot for first half hour or so because there was a problem with air conditioner."
Cons: "Constantly late! Unreliable and missed my connecting flight, AGAIN!!! 4 out of last 10 flights I have had lost luggage. No apology, it's "just BA"."
Cons: "British Airways did not correctly issue ticket to American Airlines and we have to wait another day before departure. Resulted in my loss of monies on various reservations"
Cons: "Everything"
Pros: "Yes but when you offer a blanket deliver a blanket :)"
Cons: "When you offer a blanket or to heat up the food follow through :)"
Pros: "Stress free trip - fine all round"
Cons: "Auto check in wouldn't recognise passport (YET AGAIN- and not only mine)! Was seated to rear of aircraft and coffee trolly didn't get to me before 'seatbelts fastened for landing' announcement.."
Pros: "the crew was accommodating"
Cons: "i was asked to pay to check in my luggage :("
Pros: "New plane."
Cons: "Plane was late to arrive so we were delayed about 30 min. However we had sufficient notice from BA and KAYAK regarding the changes."
Pros: "All of it we left and landed ahead of time"
Cons: "Extremely unsatisfying, to the point of not wanting to fly BA again. If I had not had previous satisfaction with Kayak on other flights, I might not use it again. They my bags for 3 days and had hideous communication about it. Had no feeling that anyone could be reached about or that anyone cared at all. Late takeoff again. There was an impossible amount of time left under even the best curcumstances, to go from one flight to another, resulting in flight being missed and being sent to another city and losing my money on ground transport that was prepaid. The communication issue is the worst of it all. Massively frustrating."
Cons: "Too hot, meant to arrive 5 mins early but ended up 15 mins late as we sat on the runway for about half an hour without air conditioning."
Pros: "On time"
Cons: "Couldnt pick seat after checkin. They put me in the middle in the back row even though there were better seats left empty right next to me. baggage would have cost 100 pounds to check. Flight was not exactly cheap at 200 pounds. Will just fly the budget airline next time over british air since. I expect better accomodation for these prices."
Pros: "The cabin crew were excellent. The food service was very good. Entertainment choices were abundant and generally good."
Cons: "Reaching our connecting flight. The Bataan death march comes to mind—concourse 3 to 5, oh my! Having got through all the hurdles including incomprehensible up, down, up again down again escalator rides and security pat down for my wife we got to Concourse 5 where we learned our plane was leaving from C gates, but not which C gate. So we looked for directions to C gates. The only signage was for C gates 52 to 57. Common sense would lead one to believe that C gates 1 to 51 existed somewhere in the terminal; but no they do not and not many people are aware that they don't. There has to be a better way. Perhaps before Brexit becomes a reality you could lean on Germany's vaunted efficiency to help clean up this nightmare scenario."
Cons: "There was a charg for ALL drinks & food! This made the service process quite long & cumbersome."
Pros: "The attention of the flight attendents. And tht We were on time."
Pros: "I always fly AA but this time was a nightmare"
Cons: "The gate agents put me on a wild goose chase as they made an error on the time of my flight departing. My wife and I were sent to three gates and finally was apologized to by the manager on duty. Our flights were changed for free put we lost 5 hours of travel. My wife started IVF treatment today... and she was uanbale to sleep before her 7am appt ( got home at 3am) Very stressful!!!"
Pros: "Efficient processes. All went to plan"
Cons: "Tight seating. Old plane. Entertainment screen sub par"
Pros: "Quick flight, drinks available."
Cons: "I recall a snack being served on my first BA London-Belfast flight. Apparently that's no longer done?"
Cons: "Mixed up boarding arrangements, length of time to disembark, being coached to the terminal. ok these add up as stress for business travelers on a deadline for meetings"
Pros: "The video was hilarious Crew were chatty, friendly, but professional Great, clean environment that felt very safe Everything was spiffy"
Cons: "Lost luggage. Can proceed. Must by new tickets from SaS and may miss boat"
Pros: "No one could help. Finnair wouldn't issue a refund. British Airways were not helpful."
Cons: "Everything"
Pros: "All good"
Cons: "Nothing wrong"
Pros: "The dinner was surprisingly good! Movie selection was great and the wine was also surprisingly decent."
Cons: "The economy seats are extremely close together. I'm not a large person 5'6") but my knees were practically touching the seat in front of me. There seems to be an inch or 2 more of space on American carriers, which makes quite a difference on a trans-Atlantic flight."
Pros: "On time and easy."
Cons: "BA have stopped giving free snacks and drinks which was always refreshing and different to other airlines! It set them apart but it's just back to another airline now!"
Pros: "Flight was on time and boarded well"
Cons: "This was a codeshare with Iberia and the seats were incredibly close with barely room to fit a small person, much less the 6'+ person who was next to me and had to put his legs over onto my side. Had a hard time getting my bag down between the seats to put under the seat in front of me. And everything was a cost, even water. Note to self, carry water or a drink on the plane if you think you will want one."
Cons: "I know it's not the fault of this flight, but some idiot decided to check in for their flight, check a bag, and not get on the plane. They had to get their bag off the plane, and it delayed us an hour. We missed our connecting flight in London. Had to spend the night. Not happy!"
Cons: "According yo the kayak app on the moment of booking the flight was going to Heathrow, but it went to Gatwick. In addition, the tariff did not include one checked luggage as shown on the app as well. Really disappointed with my first use of kayak."
Pros: "He was courteous, highly efficient and kind. Also, Captain J. Cook made a very smooth landing."
Cons: "Bread could be more defrost or warm. But cold bread seems a common thing on airlines."
Pros: "Food and entertainment was good."
Cons: "Most of the flight attendants were nice. However, on one flight a couple of them were rude. One made a comment "you are making their job hard". I was sitting across the aisle from my mother who is 80 years old and was getting her entertainment set up since she is technically challenged. I told him that I didn't mean to make his job hard. After that, he then smiled regularly to make up for the comment. Also, one of the flights we had to buy coffee, water, or anything other non-alcohol beverage we wanted to drink. Not sure why on one flight we didn't get free beverage service when all of the other BA flights provided it."
Pros: "I had extra leg room."
Cons: "The TV screen was in a stick and it had been used so much that if I didn't pull it forward all the way it would not stay up. Then when you try to put it down it hits the wall in front of you and doesn't tuck in."
Pros: "Fast boarding and very efficient and welcoming crew members."
Cons: "Nothing to note about the flight. One downside was parking at arrival on Heathrow outside the terminal and having to get a bus."
Pros: "The crew on the plane were nice."
Cons: "British Airways misplaced our luggage for three days, and would give us no further information than "it will arrive soon." So, we were stuck near the local address we had provided in case they called for 2 full days. They refused to give us a more precise time as to when they would be delivered. Well, at one point they did say that they would be delivered at noon, but they weren't. Throughout the entire time waiting for the luggage to be delivered, there was no sense of urgency or concern on the part of British Airways. It seems missing luggage is just Business as Usual at British Airways."
Pros: "Comfortable, great crew and food/drink options, free upgrade. They are the best!"
Cons: "N/a"
Pros: "The crew inside the plane was amazing"
Cons: "As soon as i got to the check in window i was informed my flight was delayed and I had planned everything to be on time and since my flight was one hour late it kind messed things up a little bit. It seems that british airlines had a delay on purpose just to have a full flight, i wanted to change seats im a skinny guy and i was seated between TWO BIG people my elbows had to be tucked in all the time"
Pros: "We arrived safely at our destination. Our bags arrived at our destination. Plenty of room in the overhead compartment. Due to a security snafu unrelated to the airline, we arrived at the gate after boarding was over but the gate crew were gracious and welcoming and let us board. The male flight attendant was quite nice. The entertainment screen choices were decent, and the hand-held controller was a great improvement over the touch-screen variety. There were multiple lavatories available. There was a decent amount of space by the lavatories that we could use for stretching and exercising. The wrap they gave us for high tea was pretty good."
Cons: "Seats were very cramped. I was sitting on the right next to the window, and there was no room for me to extend my right leg while facing forward; I had to twist to my left and extend my legs under the middle seat in front of me (fortunately my wife was next to me so I could do this). In addition, the passenger seated in front of me decided to recline his seat, nearly knocking over my drinks in the process, which left me with very little usable space. I haven't ever felt that cramped on an international flight. The main meal was very low quality. I had the pasta and it was quite awful; the sides were quite bad, as well. One of the female flight attendants was rather testy and unpleasant throughout the flight. She, and another female flight attendant, seemed put out when passengers asked questions about the food offerings, as though we should already have known what was being served. One passenger had just woken up and seemed confused and the flight attendant was quite impatient with him. The flight attendants were quite stingy with the water and only poured out a little bit at a time; they also came very infrequently, which meant that we had to keep pressing the call button to ask for more (which made us feel bad about bothering them). They would not give us a whole bottle of water, saying that there was not enough, but did, when we asked, provide multiple plastic cups of water at a time, which just seemed wasteful (of cups, not water). The timing of drink service was also perplexing: they did not offer drinks at least 45 minutes before or after bringing the boxes of salty "movie snacks"."
Pros: "Food"
Pros: "What a different experience in relation to last week!"
Pros: "Routing"
Cons: "English airline food. Flight attendant's after shave too strong, started me sneezing every time he walked by."
Pros: "Everything was fine until I ate my breakfast."
Cons: "My special kosher meal cause me to immediately have stomach cramps and estreme nausea - within 20 min of eating it. I had horrible pains and could not use the bathroom due to landing. Upon landing I ran to the use the restroom and the staff promised to keep an eye on my bags. When I exited the bathroom after being violently ill, no one was on the plane except the cleaning staff, and no one was keeping an eye on my bags. I found my purse unzipped. Luckily nothing seems to be stolen. I proceeded to vomit and have food poisoning symptoms the next few hours while waiting for my connecting flight to Rome. I vomited through the entire flight to Rome - no one seemed particularly concerned. No one asked if I needed a hospital. British Air would not take a report about the food poisoning onsite. Nothing was done to help me change my flights to avoid flying so sick or make any helpful suggestions whatsoever."
Pros: "Everything went very smoothly."
Pros: "Getting off the plane"
Cons: "Late departure and inefficient gate service. Seats very uncomfortable. Food was inedible. Otherwise, had a great time."
Cons: "The food"
Cons: "The food was not that good. The crew wasn't smiling at all."
Pros: "Flight from Venice to philly was good besides the fact it was delayed 2 hours"
Cons: "The 2 hours delay"
Read more about Qatar Airways
Safety measures for airlines flying from Belfast to Durban
Airlines flying from Belfast to Durban have enacted additional safety measures and adjusted policies to better accommodate travellers. Policies vary by airline.
Heightened sanitation
Daily cleaning, installation of cabin HEPA filters on flights from Belfast to Durban
Mandatory masks
Masks required on board, masks provided on flights from Belfast to Durban
Social distancing seating
Middle seats unavailable to book on flights from Belfast to Durban
Pre-flight testing
Testing for antibodies, testing for symptoms for flights from Belfast to Durban
Book cheap flights from Belfast to Durban
Recent return flight deals
Search by stops
Search by airline
Search by price