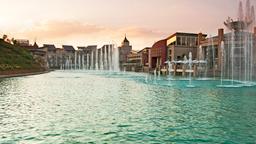 PEK - JNB
Find cheap flights from Beijing to Johannesburg
Search hundreds of travel sites at once for deals on flights to Johannesburg. Bundle your flight + hotel and save!
When to book flights from Beijing to Johannesburg
Flight prices as travel date approaches
Top tips for finding a cheap flight
The cheapest flight from Beijing to Johannesburg was found, on average, 77 days before departure.
Book at least 1 week before departure in order to get a below-average price.
High season is considered to be December, January and February. The cheapest month to fly is March.
FAQs for booking Beijing to Johannesburg flights
Which airports will I be using when flying from Beijing to Johannesburg?
How does KAYAK find such low prices on flights from Beijing to Johannesburg?
How does KAYAK's flight Price Forecast tool help me choose the right time to buy my flight ticket from Beijing to Johannesburg?
What is the Hacker Fare option on flights from Beijing to Johannesburg?
What is KAYAK's "flexible dates" feature and why should I care when looking for a flight from Beijing to Johannesburg?
Top airline flying Beijing Capital to Johannesburg OR Tambo
Scores according to KAYAK customer reviews
6,5
Air China
Overall score based on 5 755 reviews
Pros: "Food - Free dinners even for economy class. Entertainment - Every seat has a TV that offers multiple languages and tons of blockbuster movies from a variety of genres. They also offer many television shows in multiple languages and genres and video games. Roomy- The seats are as non-roomy as any airplane. However, the flight attendants don't give you any trouble when you want to just get up and walk around and talk to people. It gives the plane a roomy atmosphere. You can go to spacier sections of the plane to hang out."
Cons: "Nothing."
Pros: "Food - Free dinners even for economy class. Entertainment - Every seat has a TV that offers multiple languages and tons of blockbuster movies from a variety of genres. They also offer many television shows in multiple languages and genres and video games. Roomy- The seats are as non-roomy as any airplane. However, the flight attendants don't give you any trouble when you want to just get up and walk around and talk to people. It gives the plane a roomy atmosphere. You can go to spacier sections of the plane to hang out."
Cons: "Nothing."
Pros: "It was a very cheap flight, so flying the family back to NZ from the UK, for what we paid, it was great."
Cons: "Plane food was quite average, on the first flight LHR-PEK flight the plane was a bit old and the entertainment system was nearly shot, but the second flight PEK-ALK was a dream liner, which was fantastic. For the price we paid, there was nothing we could complain about, would definitely flay again."
Cons: "No entertainment"
Pros: "the timliness the processing at beijing the helpful checkin people at the akl airport. The baggage delivered promptly and without breakage. The crew worked hard to ensure"
Cons: "the shops at air port are expensive the toilet sinks were slopping and did not drain well the airline apologizing for the lack of food choice before each service pl advise airline to ask for choice at the check-in or at least make a note of the preference through email, makes life easier for them and the passengers. announcements were in chinese and the english ones were not very clear . it would be good if the announcements also came up on the seat screens CLEANLINESS WAS AN ISSUE with the overhead lockers not clean to the pull up table and magazine spaces not clean"
Pros: "Very good service on board, crew very attentive and polite."
Cons: "Lack of communication with customers in change of situation. Airline had to change the aircraft and as a result all passengers had to be transported to the new aircraft by buses rather than via boarding bridges. It was the longest airport shuttle ride ever because no one told us what to expect. People complained. But airline could have managed expectations better by giving notice to customers what will happen next, customers will be more forgiving that way."
Pros: "Sometimes the flights are half-empty, meaning you can get a full row to yourself if you're lucky."
Cons: "The seats were very cramped for an international flight and half of the foot space was taken up by an installed box of sorts. The "foot rest" also dug into my upper shins the entire flight (I had it in the upright position, but I have long legs). The food was really bad, basically inedible. Not just on this flight but on all the Air China flights I've been on, and both food options are usually identical other than the option between fake chicken or fake beef or seafood. The flight is super structured (referring to my 13-hour flight), that you're not allowed to sleep when you want because they have such a regimented schedule of when to turn on/off the lights, etc. On multiple occasions the flight attendants have turned off my tv monitor while I'm in the middle of a movie just because it appeared I was sleeping. With my 1 hr layover in Beijing that ended up being less than 10 minutes due to a delay, I made the rush through security quick enough, but my bags did not and needed to be shipped to me a day later at my destination. Air China purposefully schedules flights with such short layovers, putting customers' travel at risk. Not a major issue, but the crew surprisingly also had pretty limited English on the Beijing-Washington DC flight. For connecting flights, I have no expectation of English language ability, because it doesn't involve travel to an English-speaking country. However, if you're flying to the US, you should expect to communicate in English well, at least one of the cabin crew."
Pros: "In-flight entertainment was pretty good - I watched 2 movies and a couple nature documentaries. Food was decent."
Cons: "Seats are horribly uncomfortable especially for a tall person. The "C" shape plus the headrest jutting out so far make it impossible to get comfortable enough to fall asleep and there is very little leg room. I had finally drifted off when my friend poked me awake because they were serving dinner even though there were about 4 hours left in the flight. I was half asleep and had no appetite so I ended up giving them the whole tray back. There was also a shrill toddler several rows ahead of us who was yapping loudly for the entire second half of the flight. I obviously understand that children will be children and it was a long flight, but would have been nice if staff had asked the parents to try to quiet him down as they were not attempting to do so at all. Finally, our bags did not make it onto the next flight in time."
Pros: "Was the cheapest option at the time, and quality wasn't worse than the others"
Pros: "The dumpling. The on board staff were very pleasant and had a lovely glass of coke cola with ice bit small though."
Cons: "After 30 hours of travelling and no problems my luggage got lost on my last flight. I still haven't got it yet, my medication was In there and it has ruined the whole trip for me. I am so upset with service I can't begin to explain the pain I am now suffering. I have no clothes other than what I'm wearing. I have no toothpaste or toiletries. I feel ashamed of myself as I have dirty clothes on. I am truly not satisfied with my service. I have been let down to the highest order."
Pros: "Ran on time"
Cons: "Food and drink options are limited"
Pros: "The on time performance also inflight Meals"
Cons: "Check in for Departure"
Pros: "on the plane, Crew in CA are great! Food is delicious! Entertainment is very good!"
Cons: "I had a terrible time yesterday when I had to transfer from CA 4120 to CA 429 in Chengdu Shuangliu to Sydney. When I got off at Shuangliu airport From CA 4120 at 23:50pm, there was no airport bus to transfer me from T2 to T1 international Departure at Chengdu Shuangliu. I have to run in the dark nearly 2 km to catch 1:20 am CA 429 to Sydney Australia. Really bad international service in Chengdu Shuangliu!!"
Cons: "It was not a pleasant stay in Beijing airport... The staff were very rude and not helpful.. I had to fight for the wi-fi code and I had to fill out a form, for a pass to get out if the airport... I waited over 90 mins in line, only to be told I was I the wrong line, in the first place ??? !!"
Pros: "Nice carrier. Enough leg room and clean flight"
Cons: "Entertainment had very limited options. I had booked my flight through travel agent vayama. I would never ever recommend people to use that travel agency. It takes approx 35-45 mins to contact customer care, you are way better off taking the tickets from airline as they cannot help much if the tickets are done through agency and not airline directly. Moreover the agency charges additional fee over and above airline fees for any changes"
Pros: "Food was okay but nice to have a small snack in between the 2 meals; felt a bit hungry from Washington Dulles flight to Beijing."
Cons: "The problem is the time Air China to make the connection flight. It only allows one and half hour from the flight from Hong Kong to Beijing and the latter to Washington Dulles. When the plane touched down in Beijing, it took over half an hour just to taxi to the gate. I have to run literally from the gate to the immigration and to TSA. I had also cut the line to get to the front so I don't missed the connecting flight. There were people screamed and yelled about our action (I Have 2 other couples under the same situation and don't want to miss their flight). But I finally made the security understand that we were told by Air China (with the red Air China round sticker) that we should cut the line to get to our plane. This is second time happened to me and Air China won't wait to close its gate when departure time arrives. I am not sure what will happen if I miss the connection. I stranded one night in Beijing with Continental couple years ago because of typhoon and was told the airline is not required to do anything for you because of weather related. But the connection issue needs to be addressed as I am sure some of my fellow passengers had missed their connecting flight yesterday. For now, I will stay away from Beijing connection ( ie no more Air China) until the latter makes some realistic adjustment to its connecting schedule. This is not difficult but they need to be aware and lessen stress to its customers. Beijing airport authority needs better facility with properly trained personnel to facilitate the transfer process. I had used Tokyo and Seoul with so much ease. Beijing needs to get up"
Pros: "This flight was a codeshare bw Cathay and China air, which lead to confusion on the ground at Beijing (did we book at Cathay or at Air China - even the Air China staff did not know initially) Small seats, very average food, entertainment system not up to scratch in terms of being easy to use and responsive. Relatively inexpensive flight but I would Stump up The $ next time and make sure I'm flying with someone of a higher standard"
Cons: "No personal entertainment but a lot of leg room"
Pros: "My previous flight was delayed so I missed the plane I was scheduled for, but Air China found me a replacement flight that was only a couple of hours later. Despite the extra passengers from the delayed flight the plane still had a few empty seats and I was able to take an exit seat for extra legroom (I'm 6'5"), although I will still upgrade in future."
Cons: "On the flight out the plane was really warm, so this time I dressed on that basis, but the flight was really quite cold. I guess I'll have to figure out a changable set of cloths in future."
Pros: "The Beijing/Osaka flight was a smaller simpler plane than the Heathrow/Beijing one, but cconsidering the amount of time both flights take relative to each other, I think it had the better balance of the two."
Cons: "The only thing I'd suggest is while the Crew were great and did offer drinks a number of times, the first drinks run seemed late - although that might just be a combination of needing to wait until the plane has reached full altitude and the desire to clear the unpleasant Beijing air."
Pros: "Flight was good but my luggage case was broke the two wheels have been broke off make my case not useable as it has two holes were the wheels was"
Cons: "suit case was broke wen I was given it at ho chi ming city two big holes where the wheels was I have taken photos also"
Pros: "I disliked their judgement decision because I have entered India in the past by land and was eligible for a tourist visa with a proper USA passport..The judgement of the staff at the airport was related to ,You do not have a visa now you can not got on the plane.I explained as a tourist I can get one when I arrive at customs India as a tourist entering Indian .The staff had a meeting taking an hour or more and the flight time was approaching I begin to worry, they continued to stone wall me and then stated you cannot get on the plane and the airline will not refund your ticket price.you are at fault no visa a visa is required to get on the plane .I was sad I had to sleep at the airport got a hostel iin a m"
Cons: "I couldn't watch movies on the flight all the writing was in Chinese so the flight was boring"
Cons: "You name it, I've flown it, but Air China takes the cake for all-around worst experience on a plane. For starters, the idea of customer service hasn't made it's way to Air China. The staff were cold, at best, and rude, at worst. The food is one step below prison food. In my opinion, it was inedible. Every Air China flight I took (and I took 4) were the most turbulent I've ever taken, almost as if the pilot was purposefully trying to rattle us. Finally, one of the most annoying things about Air China is not being able to check in via app. Their tech is from 1987, so you have to go to their airport counter and endure long lines. I will NEVER fly with them again."
Pros: "Crew was friendly helpful"
Cons: "I ordered muslim food but they said they don't have"
Pros: "There is nothing I liked about Air China. It is a joke of an airline."
Cons: "Things I didn't like: 1. Cannot use smartphones during the entirety of the flight: customers should be warned that smartphones are not allowed to be used during the entire flight. I would not of chosen this horrible airlines if I'd known. I would of gladly spent hundreds more on another airline to avoid this inconvenience. I saved games and movies I wanted to play onto my phone for my 20hr flight and learned from the flight attendant that phones usage was not permitted. What a waste. Plus their movie selections were very limited and a complete joke compared to American, Delta, Virgin, or JetBlue. 2. Food: HORRIBLE TASTING FOOD. Air China should be ashamed of themselves to represent "Chinese food" in this way. I found 3 out of 4 of my meals completely inedible and absolutely disgusting. 3. Most cramped seats I've ever flew in: These seats are just tests to see how much you can put up with flying."
Cons: "Horrible communications! Requested an upgrade and was told the system was down then on return trip requested upgrade again and was told that it had to be done at check in which means returning to main terminal by tram and going through security again as the girl at the boarding desk returned to playing with her phone. There was more than 50% first class seats unfilled, good news for investors. On the tv monitor we were watching our final approach as we bypassed the airport and made three 360 degree turns 50 miles out for 30 minutes and not one word from the Captain what was happening, very nerve racking. Never fly Air China again!"
Pros: "Cheap ticket"
Cons: "Air China still doesn't let you use your phone at all during a flight even on airplane mode which is problematic when all of your music, podcasts, and audiobooks are on your phone. The food was terrible and in a 13 hour flight we were offered no snacks between our two terrible lukewarm meals. The flight attendants were not very helpful or friendly. My boyfriend was having stomach issues and they wouldn't let them sit in an empty seat next to the bathroom for a few hours. They also booked our tickets with only an hour to switch and had to be rushed through security."
Cons: "No hotel provided for 24 hour stop over. Also the bags were not checked in for the whole travel so we had to collect the bags and carry them for whole time. It was really pathetic experience. The officers at the Beijing Air China counter don't understand English which made the simple conversation more difficult. We had to pay for the hotel, taxi and food."
Pros: "Meals were decent, Staff was VERY attentive, courteous and polite. Ride was very smooth. Didn't hear much from the pilots, which is ok!"
Cons: "The no-phone, no-internet rule is absurd. I could have really used some internet-for-purchase on a 13 hour flight. Some movies were only in Chinese with no subtitles and the games seemed to require a separate controller with X/Y buttons. Overall blah score entertainment. Announcements were too frequent an intrusive, especially when they're repeating the same thing 2 minutes apart. Also, the weird rules--shades must be up during takeoff, but must be down while we were in the air. Seat must be up during meal time. Learn to chill a little China Air."
Cons: "I was given permission to have priority boarding because of my son. When I advised the ticket agent of this at the gate she attempted to deny us pre-boarding even though I explained I was given permission. When I wouldn't back down she let us in reluctantly. Then she proceeded tell an additional security check right before the doors to check me because I was suspicious. She followed this will telling them to check me thoroughly and slowly. This made me even madder because I was the only one they did this to. Everyone else that was randomly (randomly I might add because it is supposed to be random) got swiped with a little wipe and was let through. I had to take articles of clothing off and have all by carry on bags gone through. Even my 6 year old sons whose bag I was carrying because he couldn't. This set off my son by the way who doesn't do well with the stress of boarding because of all the people (which is why we needed to pre-board the plane). So I had to have a friend leave with him to board the plane and couldn't be there for him because of this one agents problem of me not doing what she said and standing up for myself and my family. Oh, and by the way I was very respectful when speaking with her and their could have been no confusion between the language as I was speaking to her in Chinese."
Cons: "No ability to charge smartphone or laptops"
Pros: "Boarding was efficient"
Cons: "A lot not to like. In consistency following their own rules - i.e. asking some passengers to move from crew seats but allowing others to sit there, phones are not allowed to be used on flight mode but iPads etc are (even though both are capable of emitting radio waves). Food is very bad, even for someone familiar with asian food. Most of the staff cannot speak English properly. Constant announcements throughout the flight, even for minor things for example announcing the sale of duty free items"
Pros: "Friendly staff on flight. Low cost business class ticket."
Cons: "Lost luggage needed for meetings, takes three days to recover. Coffee is gross, 3in1 powder. Only one water bottle on flight so I got dehydrated. Food is gross."
Cons: "cannot access the reservation or checkin at Air China site"
Cons: "Seats too small"
Pros: "Nothing"
Cons: "Air China sent us an email that were we rebooked on a later flight. Even, so the staff in Beijing charged us a $300 change fee. We called customer service and was told that no one could help us. We spoke to management at the airport and were told we had to pay fee to get our luggage back. It was horrible. Besides that, our section of the plane did not have AC during the 13 hour flight from NY to Beijing, the planes are dated and so is the in-flight entertainment offered. they also ended up losing the luggage they were holding hostage. Overall, a terrible experience."
Pros: "Flying on Air China typically works for my travels to Los Angeles. I think they are a great choice given the cost and services : )"
Cons: "The departure out of Beijing was delayed some 1.5 hours because of one person who apparently left his passport near the gate prior to boarding. It was a full flight. I was just stunned that they would inconvenience hundreds of people whose schedules, including mine, were affected by their decision. May be it was a policy issue. But the crew didn't explain it very well, seemed more sympathetic towards the individual. While that was a kind solution to that one individuals but I wondered about the judgement of the crew. It was very frustrating for the rest of the people waiting onboard. Also this was the first time booking through justfly.com because it seemed the cheapest but the hidden (additional) cost was in the seat selection stage afterwards. Kinda misleading."
Cons: "No entertainment because no individual screen for movie"
Cons: "The flight was delayed 2 hours without any notification on signage in the airport. When there is a delay, posting an estimated time of departure is a basic courtesy. Because they did not do this, and multiple flights were delayed for the same gate, the gate was extremely crowded. When an earlier delayed flight was boarding, there was no announcement and no indication on the signs! As a result, some people were uninformed of their flight departure! There was also a tremendous amount of jostling and pushing to allow people to board. This is clearly a problem for the ground crew and airport to make more efficient and flyer-friendly."
Cons: "Seat is small and uncomfortable Landing late Food test not good poor customer service Drink should serve more often"
Pros: "I was extremely pleased with the flight attendants. They were excellent at all times. Very professional and friendly. I was particularly surprised at their approach to any passenger who could potentially cause problems for the flight or other passengers. I'm American and to be frank, we are total jerks in flight. You tell an American to put away their mobile device and as soon as you turn your back they're back at it. Americans in general are unreasonable people. The flight attendants' approach to solving problems before they have an opportuniy to become problems was a sight to see, friendly, non-confrontational. They brought beverages around at regular intervals which was very comforting. Also, not only were blankets and pillows at every seat before takeoff, but they were fairly decent. Very comfortable. On a US carrier you can expect to be charged extra for any little thing, and so you don't even bother to ask for it. On Air China you don't have to worry about it."
Cons: "I had my iPad so entertainment wasn't a problem, but checking out the listings there was inadequate entertainment for a twelve hour flight for any passenger who didn't bring their own as I did. On my twelve hour flight from Beijing to Los Angeles, they only had one meal. And this was after the flight had been delayed. I couldn't understand why they thought it was OK to provide only one meal for a twelve hour flight."
Pros: "Crew members are very nice and kind"
Cons: "But it takes more just being nice to be a good service. I always flight business and occasionally first class within the Star Alliance system. I'm a Chinese and I love my people. By still keeping my Chinese citizenship after 27 years living in US may show that. But I have to say my dear Chinese crew members always miss some details on service. For instance, this time on my way back to JFK, they woke us up five hours before landing to serve us the light meal, that other Star Alliance airlines usually do around two hours ahead of landing. I took Air China four times in the past 10 months and they always did the same thing, even though I specifically requested that don't wake me up if I'm sleeping. They turned on the cabin lights and talked with passengers next to me very loud. I hope it's not the case that they serve the light meal so early in order to get their jobs done earlier ahead of landing. Other Star Alliance airlines never do this kind of thing."
Cons: "I didn't like that FlightNetwork confirmed my flight, but then never ticketed it. I did not realize till I was at the airport and it was too late. my whole family was late to our vacation and had to re-purchase a last minute ticket to leave the next day instead. This does not reflect on AirChina, but the Kayak booking process. Reading some other reviews here, it seems this happened to others. Terrible!"
Cons: "The staff were rude and over all air china is quite disorganized. Their website barely works and it was impossible to get any real answers out of the agents on the phone. I tried to request a celiac or gluten free meal and it took 3 phone calls to get an agent who was aware there were even choices. Also, as I'm aware I'm flying in another country I would have like to see more English speaking competence amongst staff flying an international flight from Asia to Canada and back. The staff were not helpful. Like drones with no time for you. This to me is not service. And an airline is providing a service."
Pros: "Airfare was a good price."
Cons: "Departure from Newark was 1.5 hours late because of a lame reason, the luggage couldn't be loaded on the plane in a timely manner. When I arrived at Beijing, they encouraged me to run to my connecting flight, even gave me a sticker and had people directing me, but it all seemed like for nothing as I wasn't even fast tracked through security. Not only did I sprint a mile across the terminal for no reason as the flight departed when I arrived at the gate, they couldn't even properly direct me where to get a new ticket for the next flight. About 100 people missed the flight so I don't know why they didn't hold the connecting flight as it was the last one of the day. Very poor service and organization the entire length of the trip. The flight the next day was late as well!"
Pros: "Ppl r ok to work on plants,"
Cons: "Almost everything is sucks, I will never forget these horrible experiences in my life."
Pros: "Hard to find anything that was worth mentioning as outstanding - boarding happened without any hickup and food was average/good."
Cons: "TV screen did not work - 15 hour plus flight, it is a big no-no! Crew not very helpful - language barrier very huge and almost impossible to understand "English" used by crew and on intercom. example: Ladies and gentlemen - sounds like "fishermen" We are taxying towards the runway - came out as ... "we are taxying the wong way" - thankfully we ended on the right runway."
Pros: "Movie selection was okay, could have been better but there was enough to make a 12 hour flight passable."
Cons: "Traveling from Bangkok we were required to go through security twice more at Beijing from some reason, and then again prior to boarding our carry-ons were checked again and all water/liquids taken from us. This became a problem because after the initial meal and drink service there was no service for more than six hours. For at 12 hour flight only two meals were offered. The flight attendants were scarce and unwilling to help people, even closing the curtains to their work areas. My girlfriend is on medication and shouldn't become dehydrated so I was forced to "acquire" a bottle of water from the service area when the attendant left. The food was atrocious, far worse than when we flew from San Francisco to Beijing for some reason. I believe the crew was understaffed and tired. Overall it was extremely disappointing and I will do my best never to fly with them again, or through Beijing airport."
Read more about Air China
Safety measures for airlines flying from Beijing to Johannesburg
Airlines flying from Beijing to Johannesburg have enacted additional safety measures and adjusted policies to better accommodate travellers. Policies vary by airline.
Heightened sanitation
Daily cleaning, installation of cabin HEPA filters on flights from Beijing to Johannesburg
Mandatory masks
Masks required on board, masks provided on flights from Beijing to Johannesburg
Social distancing seating
Middle seats unavailable to book on flights from Beijing to Johannesburg
Pre-flight testing
Testing for antibodies, testing for symptoms for flights from Beijing to Johannesburg
Beijing - Johannesburg Flights